Brazil v. Ghana
World Cup Finals
Tuesday 27th June 2006
Leipzig
Another day, and we're off on our travels once again, this time to Leipzig.This is the last of my World Cup jaunts and it concerns a game (not the one featured in the title) that no-one knew about but just to let you know that England were triumphant. It's not such an early start today so we have time for a leisurely breakfast before departing up the hill for the railway station.
It's a good job Jan is with me today because you have to be wary of some of these trains. As usual, it was spotless and already waiting at the platform as we got there, but it was in fact going to two different destinations...Leipzig and Dresden. By that, I mean that they are in fact in opposite directions. What the German rail service have done is join both trains together for part of the journey, the carriages are then uncoupled and go their seperate ways. This is all well and good, so long as you know whether you need to be on the front part of the train (for Leipzig) or the rear carriages (for Dresden).Once again it's baking hot and it's shorts weather, as it's been since I arrived here. There's no game actually taking place at the stadium in Leipzig, we just wanted to do a bit of sightseeing and shopping and watch the Brazil game at the fan village there on the big screen.
We arrive just before noon and let me tell you Leipzig station is some building. As well as it being the main station for this part of the country it's also like a small shopping centre as there are shops on THREE levels...it's bigger than Crystal Peaks ! We spent a while shopping there and then onto the game that nobody knows about....... Germany v. England. In most of the big railway stations and department stores they have these small 'activity' areas. These usually consist of inflatable chairs shaped like footballs, a television showing recent highlights of the tournament, a couple of football game consoles and about half a dozen table football games, all laid out on a carpet marked out like a football pitch. Well, while we we're passing we saw that one of the table football games was empty so we decided to have a game. Let me tell you, the qualifying game in Munich when England beat Germany 5-1 was just a taster to the latest match in which England triumphed 10-3 and we didn't even need any penalties at the end ! Let me just write that down again, England beat Germany 10-3.....(sorry Jan, I couldn't resist it ) The goals were going in from all angles, even the keeper got on the score sheet. As always, Jan was gracious in defeat (well let's face it....it doesn't happen that often does it?) I'm a bit wary of going over the top with the celebrations though...(I mentioned the war once...but I think I got away with it !) as Jan had the train tickets and I didn't fancy making my own way back to Plauen.
After that it was time to head over to Augustusplatz which is where the fan fest is being held. It's right in the heart of the city in front of the opera house and is actually split into two smaller areas so as to allow the trams to carry on running as normal. It's fairly cloudy at present so it's not as hot as it was in Nuremberg, but pleasant enough to sit out in. It's also not as crowded as the previous game we attended but that may be due to the fact that it's a week day so people are back at work, although the area does start filling up as the game commences. There are quite a few Brazilian supporters here, resplendent in all their colours, although it's not the good looking ones you usually see on the tv pictures ! The majority of the crowd have come to cheer on the underdogs , Ghana. We've got a good view towards the back of the arena and guess what ? Tanja's brought a book to read !!! Well, to be fair, she's had to put up with football just about everyday, and she still glances up at the screen every now and then. Brazil take the lead after five minutes when fat boy Ronaldo runs through to put the ball beyond the keeper and in the process breaking local hero Gerd Muller's all time scoring record in the competition. The underdogs are not overawed by the opposition and create quite a few good chances for themselves, but fail to take advantage of them.Brazil then score a second goal just before half time, despite the player being offside twice in the build up, and the ball actually went in off his knee, how jammy is that ?
At this point we'd decided to head home as it was a choice of staying to see all this game and missing the Spain/France game later, or leaving now in order to be home to watch that one in the comfort of the apartment. The journey home was straight forward and after we'd all been reading for a while I remembered I'd got a card game (Uno) in my bag, so we spent the last half hour playing that which was a laugh, especially when Tanja accused us of 'ganging' up on her.Back at the apartment Tanja prepared some supper and we all sat down to watch the game. At least I wouldn't have far to go when it was time for bed as we were all sitting on it, being as it's a sofa bed ! It wasn't the end of my television viewing of the World Cup, but it was a nice ending to the travels, the experience and atmosphere has been absolutely fantastic and of course it's been great to be staying with Jan and Tanja whose hospitality was out of this world. Oh well, only three weeks or so and it'll be pre-season ! Until next time....
Happy Travelling
Trev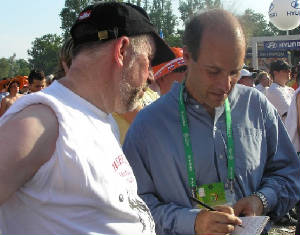 Show Trev a notebook and he'll simply go on....and on.....and on !!!
England v. Ecuador
World Cup Finals
Sunday 25th June 2006
Nuremberg
Okay, I know the game is not being played in Nuremberg, but we're going there for the day to watch the game on the big screen at the Fan Fest site. It's an early start as once again we wake up to beautiful sunshine. We're out of the apartment by 7.30am and the autobahn is empty as we drive towards Hoff. It's already 21C and it's not even 8 o'clock yet. Jan and Tanja are wearing their England t-shirts today. I've got my Sheffield F.C. t-shirt on , so I expect to be noticed and people to ask me about 'The Oldest Club in the World'. We arrive at Hoff railway station and the train is already there waiting. Unlike our railway system, the Germans have their trains at the station before the time they're due to depart. It's a very pleasant journey through the countryside and the train is very clean and smooth to ride on. When we arrive there are already quite a few Dutch fans here, ready for their game against Portugal later tonight. In fact, the Dutch supporters have made Nuremberg their base whilst they are still in the competition.
We catch the tram out of the city centre and go off and spend a few hours in the zoo. Before we leave there we decide to grab a meal as it'll probably save us queuing up somewhere else, and at least we have a comfy place to sit, out of the way of the blazing sun. After we've fed and watered we make our way back into the city centre and are just in time to change trams and get the connection to where the fan fest is being held. You can actually see the Nuremberg stadium from where we are. Once we're through security there's a big open space with different stalls around the edges. Some are souvenir stalls, they're already selling baseball caps for half price of the teams that have been knocked out. There are also stalls of some of the sponsors, and finally there's a kind of mini eating area where you can buy food to eat, from just about every nation that's taking part. Then of course there's the beer outlets and loads of tables to sit at. The major colour around today is orange as there are hundreds of Dutch fans here already, singing and chanting away. There were even a small group of them in kilts and Doc Martens !
Once we've had a look round, and a drink or two we make our way through the security barrier into the 'arena' where the big screen is. There's a smaller stage next to it where a band have just finished playing and two guys are now onstage presenting the game to be shown and giving away freebies of tee-shirts and badges. We find a good place to stand, right in front of the screen about half way back. There's a group of English fans just in front of us, as well as Dutch, Portugese , German and Mexican too !
It's a good job we had some drinks with us and our caps as it's 35C and the game hasn't kicked off yet. Once it starts everyone is very orderly, making sure they don't block anyone's view of the screen. The game's not very inspiring but the atmosphere here is good. Half time arrives and the fruit stall is doing a roaring trade selling portions of watermelon, you ought to see the size of the pieces, they were massive ! There's a couple in front of us who are going to the Holland /Portugal game later tonight and they're talking to this other guy who's enquiring how they got tickets. Apparently it was this blokes brother-in-law, who can get anything (within reason), so this single guy asks if he can get him a ticket for tonight's game too. A quick call on the mobile and the first guy says, "Yes, he's got some tickets spare" Second guy asks, "How much?" First guy replies, "Well I told him (brother-in-law) that we're good mates, so he'll let you have one for 600 Euro's" I've never seen a guy drain of colour so quickly ! He soon went off the idea, telling the couple he'll make do with watching it here or in a bar instead.
The second half starts and there's journalists and cameramen coming through the crowd, interviewing people and taking photo's and film for the local papers and tv stations as well as farther afield. One guy stops to ask Jan and Tanja some questions, being as they're all decked out in England colours, Jan tells him "You'd be better talking to him (pointing at me) as he's the only one of the three of us who is actually from England" Anyway, this guy (Mike Knobler) is a journalist from the Atlanta Journal and was over for the duration of the tournament, following the fortunes of the U.S.A. team and also doing a general article about the World Cup experience. He asked me a few questions about the England players and also my thoughts on the World Cup so far, so I gave him my answers and, as he was looking at my tee-shirt I was telling him about 'The World's Oldest Football Club' and also plugging the website, sadly though, I wasn't mentioned in the finished article which was published a few days later (Jeanie had checked it out over the internet). Thankfully England get a break as Beckham once again scores from a free kick. Most of the people around us go wild, jumping up and down, but being careful not to spill any beer as it was too damn hot to waste ! Despite some nailbiting moments, that's how the game finished and we could breath a sigh of relief.
After another brief look around the stalls, which are now a sea of orange due to yet more Dutch supporters arriving, we make our way out to the tram terminus. It's very crowded but at least it's not claustrophobic like it was on the underground in Berlin. It's still bloody hot though, and once we'd scrambled onto the tram back to the city centre we sat back to enjoy the ride. I'd forgotten I'd got one of those portable fans in my bag, so took the opportunity to use it. Tanja was amazed and so I gave it to her to use. The breeze from it was also cooling down two old ladies who were sat behind her, so she showed them what was making the cooling breeze and even gave them a go with it. They were laughing away as Jan was explaining who I was and were very grateful as they got up to leave the tram.
Back in the city centre and it's a lovely Sunday evening with people strolling about, not just football supporters either. There was an impromptu concert taking place near the old town bridge and further on in the town square the Dutch had set up their own festival site called Orange fest, with live bands on, stalls and of course numerous big screens to watch the match. We strolled up to the castle, and had a great view of the city and also the stadium lit up on the horizon. It's lot cooler now, the temperature had dropped to 32C !
It was time to make our way back to the station, and as we walked along, every cafe and restaurant had portable tv's on outside so their customers and passers by could watch the game out in the open. There were even people sat on the floor outside the show windows of the electrical store watching the game there ! We just have time to call for a snack and a drink then we're off to board the train, which is already in ten minutes before it's due to depart. It's a nice relaxing journey back as we take a nap, read and also get the score of the Holland /Portugal game from someone sat near us. At least the train is terminating at Hoff, so if we all fall asleep at the same time we know we won't end up at the other side of Germany before realising we've missed our stop ! Once at Hoff it's into the car for the short trip back to the apartment, made even better by the fact that there is no traffic about and there's some good music playing on the radio. Also we play a game of 'dodge the wildlife' as we see foxes wandering across the road on more than one occasion. It's past midnight again by the time we get in, and the temperature is still like summer here...21 C. Just time for a cuppa before falling fast asleep after another amazing day. Until next time....
Happy Travelling
Trev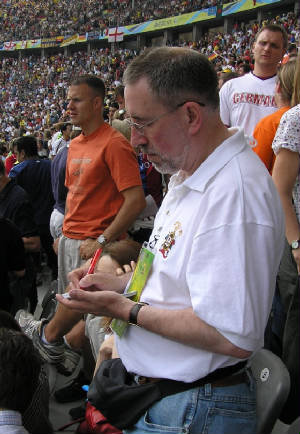 Ukraine v. Tunisia
World Cup Finals
Friday 23rd June 2006
Berlin
Well, I'm here at last in Germany, savouring the World Cup atmosphere for myself as I take a holiday staying with our German Posse...Jan and Tanja. As I said, when I opened this 'Travels', I'm here, it's a pity that my case isn't (again) !! Everything was fine when John and Helen dropped me off at Manchester Airport on their way to the National Football Museum in Preston. The case was checked in in plenty of time, I wandered around a while, got something to eat then went through to departures ready to board. 'My' plane was late arriving, so it took longer to get it cleaned and ready for the trip to Frankfurt, in fact we were over half an hour late in taking off. I thought that maybe we would make some time up in the air...well, you know what thought did. We actually touched down just 10 minutes before I should have been boarding my connecting flight to Nuremberg. Now for those of you who don't know, Frankfurt is the largest airport in Germany, so you can imagine, it's bloody massive and a lot of the planes can't actually taxi up to the terminal buildings. So you're left just off the runways and have to get the courtesy bus to the terminal. Well, after having the bus trip, it pulled up at terminal 1. I want Gate 42 for my next flight which is right at the far end of Terminal 2 !! By now, the Nuremberg flight should be just about ready to finish boarding, so I half run and half stagger my way through around the terminal with my carry on bag slung over my shoulder. Luckily, (ha !) as I'm still using the same airline company my case should automatically get transferred. I reach the gate to find it deserted, just then one of the stewards appeared. She said, " You're very lucky sir, we were just about to close the doors."
I gasped my thanks and went on board, thankfully I had a seat to myself as I was sweating like a pig. In fact my breathing had only just returned to normal half an hour later as we touched down in Nuremberg ! At the baggage carousel I wait for my case, and wait...and wait. Yes, it's happened again, it's gone missing. Last time it happened, it was still in Manchester while I was in Munich, this time it's still in Frankfurt ! Luckily I packed some essentials (including Jaffa Cakes!) and the airline also gave me a toiletry bag with everything in, including a tee-shirt ! The airline said they would deliver it tomorrow (Friday), but I explained that no one would be in as we'd be out all day for the game. Just then Jan arrived, and I told him the story, so he organised for it to be delivered Saturday morning instead. It's a nice drive back to Plauen as we catch up with all the news and then time for a quick supper (with Tanja making sure I eat all my fruit and vegetables), then watch Brazil against Japan before retiring to bed as we have an early start in the morning.
The big day and we're up and out of the house by 7 am. First stop is a few blocks away to pick up Gottfried (Jan's dad), and then it's off to Berlin. Tanja is just learning to drive, so Jan and his Dad are giving her some help as she asks questions about certain aspects of driving. I'm sure she'll get the hang of it, she's good at everything else ! After half an hour she's 'resting her eyes' (now where have I heard that one before?). In fact it's not long before we all take a turn of a little sleep, all apart from Jan, thank God. I even manage to get some reading in too (Bill Bryson - Notes From A Small Island. I recommend it.) By half past nine we're ready for a break so we pull into a rest area and occupy one of the tables as out comes the pre-packed snacks that Jan and Tanja have prepared. Gottfried has also brought food for us all too, so we won't starve, that is a fact. After a half hour sat in the sun we're refreshed and ready to carry on our Journey. It's not long before we arrive on the outskirts of Berlin and park the car in a suburb that Jan knows from when he attended a course here last year. A short walk and we're at the underground station, we've already seen some Ukrainian fans doing exactly the same thing as us. We're all wearing our tickets around our necks like press passes (the wallets were issued when the tickets were purchased). Another advantage is that anyone who has a ticket has free access to all public transport ! Are you listening First Mainline? First stop once we reach Berlin city centre is straight into a posh department store (a sort of German version of Coles) as we are all bursting for a pee! Then it was over to the media centre which had been specifically set up for the World Cup. The best way to describe it is...you know after every match, no matter where it's being played the BBC always went back to Gary Lineker in that studio overlooking the Brandenburg gate. Well, after every match and at half time, German television went live to the media centre where they had the same format of pundits, but also an audience of fans too, who could watch the game being played on numerous screens around the stage. Then it was a steady walk over to the fan fest...the village set up for all the fans which was free and this one is actually set up right behind the Brandenberg Gate. Through security to check we had no weapons and then it opens up into one big area containing merchandise stalls, beer and food outlets a massive stage and a gigantic screen to watch the games on. There's another screen further along the main route so people don't have to crane their necks to see what's happening. Even now, the place is awash with colour for as well as a fair few Tunisian and Ukrainian supporters, there's people from all over the world wearing their countries colours. Everyone is so friendly, and despite the banter between rival sets of supporters it's all friendly as people swop camera's to have their photo's taken with different sets of supporters, all decked out in their national colours and costumes. It's almost one o'clock now, so we make our way back to the underground to get the train to the stadium. Even with three hours until kick-off the train is packed out, luckily they run about every ten minutes so there's little delay as like us the fans want to get to the stadium to savour the atmosphere. It's an absolutely gorgeous day with the sun beating down with just a very gentle breeze every once in a while, which is very refreshing.
Once at the terminus you have a short walk through a wooded area and then you're there. A big expanse of open land with the stadium standing proud at the end of it. Today though, there is no open land to speak of as once again we go through a security check and then into an area filled with different stalls for food and drink and all the sponsors involved in the World Cup. We've got plenty of time, so we wander around, have a drink and a hot-dog and then make our way towards the main entrance. Built for the 1936 Olympics, there are two large columns at the gates with the five rings of the Olympic movement on them. Through another security check and then you're in the stadium grounds. It's still the original outside stonework from all those years ago and, because of the landscape, it's actually sunk into the ground, it certainly looks pretty impressive though. I come all this way to watch a game and who do I see ? A bunch of Bradford City fans ! They've been here for a week already and have managed to get tickets for this match. They're off to see England next...they've not got tickets, but are just happy to visit the cities where the games are taking place, it seems that that's what a lot of fans have been doing and I can't blame them as the overall atmosphere in the country is really friendly.
We eventually find the entrance we have to go through, down a little gangway and then WOW ! There it is, the stadium spread out in front of you. Having seen it on the tv it looked impressive, but to be there is just fantastic. It's an amazing sight as we walk down towards the block where we're seated, and what a view we've got too, just eight rows from the front. In fact I can even direct you to where we were as the tv cameras were facing us. We were just to the left of the half way line, on the gangway behind the McDonald's advert. No wonder the tickets cost more than watching Sheffield's home matches for the whole of this coming season !
Pre-match entertainment comprises waiting for the FIFA World Cup dancers...24 bronzed 18 to 24 year olds from the competing nations. I was hot before......I'm burning up now, I could do with one of John's blood pressure tablets, or two , or three!!! We're surrounded by fans from all over the place. A lot of Germans are here, but also, Australians, Swiss, Italians, and that's just in the immediate vicinity, not forgetting of course the Tunisians and Ukrainians. I got to see Shevchenko as he came out to warm up. Good job really as I don't suppose Jose Mourinho will have him playing here at Bramall Lane when Chelsea come to town. He'll not want to see him get injured against Warnock's cloggers (steady on Mr H., I may have to start censoring your Travels - Deano)
At last it's time for the game as the teams emerge into the sunlight. We've already seen it countless times on the tv, but as the national anthems are played (and respected by all the fans) it brings a lump to your throat. The first half seems to fly by. Both sides create good chances but it remains goal-less. The big talking point was the dismissal of one of the Tunisian players just before half time for a second bookable offence, much to everyone's surprise, especially the Tunisian ! Even the Ukrainian players were surprised. The officials were from Paraguay, so perhaps they have different rules over there as some of the decisions have been quite erratic. Even when the half time highlights are shown on the big screen it's still impossible to understand how the player got sent off.
One thing about the security here is that they certainly don't intend any fan getting onto the pitch. If they did they would deserve a medal as first of all they have to clear the moat in front of the stands (it's not filled by the way). Then there is a line of stewards about every ten yards, if you're still on your feet by then, you have to tackle the armed security guards and finally there's the advertising hoardings to jump over. They must have had advanced information that some daft Englishman was intending to do a streak at the game. Instead, the said person was busy munching on some Jaffa Cakes recently imported from Firth Park Co-Op !
Both teams start the second half in a negative fashion, plenty of passing but no one venturing forward to attack, which brings whistles from the crowd. At least we are all enjoying ourselves as a series of Mexican waves go around the stadium, even the V.I.P.s are up on their feet joining in ! The game then livens up with good chances for both sides. On 70 minutes Ukraine get a breakthrough when Shevchenko is bundled over in the area for a penalty. He takes it himself, scores and runs over to the mass of supporters behind that goal. That's the way it finished, so at least 'our' adopted team won !
There's no rush for us to leave, so we hang around inside for half an hour or so, and we're not the only ones as other fans just stand about taking in the scene for one last time. We eventually take a slow walk back to the underground and it's still really crowded as we push our way onto the platform. When the train arrives it's one big free for all, now this IS a game of sardines. If you're a shy person, then you certainly won't be by the time you get off as you're packed that tight together, you're almost wearing the other persons clothes, trust me to be stood with a bunch of hairy Tunisians !! Everytime we stop at a station and the doors open (we're stood right at the entrance of one) we take a few breathes of air before being closed in again. Everyone is in a good mood though, we even have a guy banging out a rhythm on a drum as the Tunisian supporters start singing. We finally get off at Potsdammer Platz and go for a coffee and cake and a sit down as we watch the people walk by. We went by the media centre again, only this time it was packed out as they were doing a live broadcast. We then walked up to see the Brandenburg Gate from the other (front) side. Then it was off along the famous Unter Den Linden towards Alexander Platz, doing a little souvenir shopping along the way. We had no set plan as to when we would go back home, so Jan's dad called his wife to tell her to go to bed as it would certainly be very late when we did arrive home. It was funny because there was no one around us and no traffic noise, but it was like he was shouting down the phone because she was so far away, Jan told him that most of Berlin could hear him ! The cafes and restaurants have got the evening game (France v. South Korea) on their television screens so we occasionally have a glance at them to see what's happening. The place is steeped in history and you could spend a couple of days here but we needed to make our way back to the car. The train is empty as we ride the few stops to where the car is parked. It was almost 1am by the time we got back to the car, and before we set off for home we finished off what was left of our picnic. It must have looked pretty weird to anyone looking out of their windows at these four people stood at the back of the car chatting, eating and drinking in the middle of the night. Then it was off home as we sat back, relaxed and closed our eyes (I'm good at that !). Thankfully Jan kept his eyes open all the way home, mind you, we did have the radio on which was playing some good stuff, all classic rock and pop songs, I spared them the pain of my singing as I was too tired to remember the words of the songs, so I just hummed them in my head (there's plenty of empty room in there!) We drop Jan's dad off and finally get home about 2.30. We've been up about 20 hours and it's been such a fantastic experience. I finish the day off with a cuppa and the thought that I'll be re-united with my luggage in the morning.
Until next time......
Happy Travelling
Trev