FT REPORT SAYS CLUB TO SELL ARCHIVE.... (30th April 2011)
Today's FT Weekend reports that Sheffield FC is to put it's archive and original set of 1858 set of rules up for sale at Sotheby's in July. The sale is expected to fetch upwards of £1.2 million and Chairman Richard Tims is quoted as saying this sale will secure the club's future. At the moment this to be verified by the club and nothing has appeared on the official site as yet, although Twitter reports Official press release to follow on Tuesday.
THE PICS ARE THE TOPS FOR SHEFFIELD FC.... (29th April 2011)
Rushall Olympic receive the top prize from supporters of Sheffield FC judging their away day experiences over the 2010/2011 season.
Rushall Olympic FC were delighted to receive correspondence from fellow league club, Sheffield FC highlighting that the Pics had won the top prize in their season long 'On the Road Review', where their supporters ranked their away match day experience.
In total the Sheffield FC supporters visited thirty three grounds in different national leagues and applied marks out of ten for categories – Ground, Refreshments, Facilities, Home Fans, Stewards / Officials and Programme and placed the Pics top of the league with fifty points, just pipping the more glamorous surroundings of Northwich Victoria by just one point. Rushall Olympic's match day programme, compiled and designed by Darren Stockall came in for special praise, earning a maximum ten out of ten mark and being tagged , 'the best in non-league'.
Rushall Olympic's Vice-Chairman, Nick Allen is delighted with the praise for the Pics: 'It's really gratifying to know that all the hard work that goes on at the club is being channelled in the right direction. We are ambitious and want to win prizes on the park, but when away support from a club with real stature, history, community spirit and proper footballing people as Sheffield FC take the time to rank their experience at Rushall Olympic as the best of the season, it emphasizes the special quality that non-league football possesses.'
'We do get embarrassed about the areas of work that need doing at our ground, but we work within restrictions with local authorities that hampers funding and makes progress slow. This recognition shows that it's not all about just shiny new stands that defines the essence of non-league football – it's about a spirit and a bit of heart and soul. We all know about the ups and downs in non-league football, but sometimes it's great to stand back and reflect on what a great and unique product non-league football is'.
A contingent from Sheffield FC, including judges of the competition made the trip to Dales Lane to see Rushall Olympic beat Brigg Town 3-0 in their play-off semi-final to present a prize of a barrel of speciality real ale to the Pics in recognition of topping their away day leaderboard.
SHOWIE TO MANAGE CLUB.... (20th April 2011)
Sheffield FC is pleased to announce the appointment of Mark Shaw as First Team Manager. Mark will be joined by Pete Shuttleworth as Assistant Coach and Chris Adam as Player/Assistant Coach. Supporters are welcome to meet the new management team at our last home game of the season on Saturday v Romulus.
Mark has been appointed after a rigorous selection procedure where the quality of applications surpassed our expectations. We would like to pass on our best wishes and good luck to all the unsuccessful candidates.
We would also like to thank Ian Whitehorne and Paul Rodgers, who have overseen some outstanding performances from the team during their caretaker period, culminating in a 5-0 victory over promotion chasing Brigg Town this week.
All at BTF wish Mark all the best in his new appointment.
NEW BTF FORUM IS GO!!!...... (19th April 2011)
A group of Sheffield FC supporters have banded together to create a new forum presence on the internet. www.behindtheflag.info has been launched as the new place for fans, officials and even players to post their comments about all things to do with the World's First Football Club.
Stuart James, co-founder of the original Behind the Flag website, says the results of the past month's labours to get this project off the ground have been worthwhile. "For sometime Club and its supporters have been a bit behind the game as far as football forums go; the official site's forum has an air of inaccessibility about it with its 'register to view' situation, whilst the original BTF forum – even though it was easier to view – was far from regulated and had a reputation for being a little lawless. The new forum marries the merits of both of these two, at the same time removing the problems fans experienced, and eliminating all the negatives. What we hope to have achieved is a happy medium, where you can read all the latest news and gossip from around the Club, without the need to register. Also, you have the opportunity to register and post your views, without the fear of some anonymous 'internet assassin' shooting you down."
"We have gathered together a dedicated team of administrators and moderators, who will help manage the forum to avoid unnecessary conflicts or controversy. We aim to work in tandem with officials at the Club to get all the up to date info out to the fans, and get all those questions you have at the back of your mind answered, keeping the best interests of Sheffield Football Club at the fore. Whilst the site is still a bit of a work in progress, it will hopefully serve as a great reference place for fans, players and officials of ALL levels of Sheffield FC – from first team, down to kids' levels – to share those important bits of information, whether it is travel arrangements or social events. It will hopefully build into a massive resource for all involved; all we need is for as many people to join in as possible."
The technical groundwork for this project has been done by Sheffield FC supporter Rich Stevenson, who has laboured long and hard to give the forum a unique look and feel, and is extremely proud of the end results. "We've come quite a way from the original idea of the forum, and have made several changes to the way it looks and works, ending up with what is now a fairly original and user-friendly message board. The beauty of this board is that we can make changes to suit our needs, building in any new ideas and amendments as and when they are required, unlike ones that are mass-made and are used by several other clubs and supporter groups. The look is pretty unique, and the team have done a great job in helping getting it to this point. We just hope we can get the interest to make the hard work all worthwhile."
The registration process is remarkably easy; choose a "User ID", create a password and supply a valid e-mail address, and within minutes you can start posting. If you just want to have a look at the new site, or keep tabs on the news as it happens, simply point your computer to www.behindtheflag.info and read what everyone's got to say without any obligation. Better still, sign up and join the BTF community, getting behind a true family club.
BTF FORUM - LATEST UPDATE .... (29th March 2011)
Many of you will have noticed the lack of updates and the inability to post on Behind the Flag's popular forum over the last few weeks, this is due to a major upgrade that many supporters felt was necessary.
A new forum is in the process of being developed, based on feedback from both supporters and officials, and should be ready for use in the next couple of weeks. Sheffield FC supporter (and I.T wiz) Rich Stephenson and BTF stalwart Stuart James are working in tandem to create a discussion board that will be the main reference point for fans of all things Sheffield FC related, covering all areas of the Club - from First Team, Reserves and Youth to Ladies, Club 1857 to Travel, and if you fancy a Statto's Paradise and General Chat area.
We are hoping that as many SFC supporters with web access join as possible, although it isn't going to be mandatory if you only wish to view and not post, however it is hoped that the number of registered users and posters will take an active part in making this venture a success. More news will follow as the updates start to snowball.
At a meeting on Monday to discuss the appointment of a new manager for Sheffield FC, it was decided to shortlist a number of candidates and invite them to interview with the intention of appointing a manager by the end of the season. Ian Whitehorne will continue as caretaker Manager for the foreseeable future until such time as an appointment is made.
Today's edition of The Star contains the following:-
Manager Chris Dolby has quit the oldest club in the world, non-league Sheffield FC.
He is unable to carry on at Dronfield due "to losing players that I have brought to the club due to the financial restraints".
Dolby, aged 36, said: "I don't feel my ambition is matched by the club's board to retain the necessary players to gain promotion.
"I've brought as much success as is possible given the current crop of players.
"I thank everyone for their support. I want to be managing where success on the field leads to increased revenues re-invested into the squad."
Meanwhile, the club have yet to release an official statement and the official site continues to show a distinct lack of any information around the latest developments.
Manager Chris Dolby, assistant Ian Whitehorne and staff member and former player Paul "Buck" Rogers hosted a 90 minute Question and Answer session at the Coach and Horses on Wednesday evening, writes Roy France. Attended by 16 Sheffield FC fans it turned out to be a constructive and informative event with plans made to hold another towards the end of the season. Assistant Manager Gav Smith was unable to attend due to family commitments.
The key points emerging from the discussions were as follows. Realistically Club will not qualify for the play-offs this season following the results over the last three weeks so the main aim of the rest of the season will be to finish as high as possible in the league, retain the Senior Cup and to lay plans and build for next season. The management have a target of gaining promotion to the Evo-Stik Premier League within two years.
Chris and Ian explained the budgetary constraints within which they have to work, to ensure that the Club operates within "the black" and not to put 153 years of history at risk. The recent press speculation regarding the HMRC bill caused undue alarm as the Club paid all due bills on time. Players wages were higher in 09/10 but have been reduced overall and it is believed that Sheffield FC have an average playing budget compared to other Clubs in the League.
There is obvious difficulty in attracting players from higher leagues to Sheffield FC but the management are constantly looking to improve the playing squad and are working hard behind the scenes to either bring players in from lower leagues or local senior sides. Recent examples include James Gregory, Oliver Banks, Callum Harrison and Jamie Hadfield. The strategy is to blend these youngsters with the more experienced players in the squad. It was pointed out that whilst the younger players may have the talent they will improve as players once they have more games and experience under their belt.
Whilst there was some frustration that the trip to India interfered with the regular season fixtures it was understood that there were benefits to the Club financially and exposure on a global scale. For those who travelled it gave them the experience of a different culture and the chance to play in front of large crowds. The general day to day Club activities now have separate financial arrangements than the football side but funds raised on the non-football side can be made available to the football budget. The Chairman and others are working constantly to obtain major sponsorship but have suffered frustration there too and were obviously disappointed regarding the outcome of the 2018 World Cup Bid. Better news on the sponsorship front is expected around the end of this season.
It was pointed out that the average age of the side has dropped from around 30 to around 22. However many of the younger players were playing at this level for the first time. Some of these younger players have made individual errors in games but it is part of their learning curve. Goalkeeper Dan Whatsize may have made a couple of crucial errors leading directly to goals but this is the lot of a number 1 and all present acknowledged the numerous excellent saves he has also made. Dan is showing great enthusiasm and has to travel far to play and is also training with Macclesfield. Gregory also travels to play. Adam Burley had to leave due to work commitments and the distance involved in travelling.
The recent marked difference in home and away form was discussed. It was agreed that even in defeats there have been pockets of good spells. Chris felt that the team felt under pressure to perform at home before the fans and was working on turning this around by encouraging players to be more relaxed. Away from home there have been some excellent performances recently and he felt this was down to being under less pressure to perform. Ideally he would like to rest some of the younger players as too many defeats could shatter their confidence but the squad is too threadbare at present.
Some players have recently left for increased wages elsewhere and this was inevitable given the reality of the situation. Matt Outram left for his own personal reasons. Kirk Jackson has left due to work commitments while it was hoped to have Chris Adam back in the squad soon. Chris had been helping Curtis Woodhouse with preparations for a boxing bout.
Paul Rogers confirmed that the aim on the field is for a blend of youth and experience. He was hopeful that there would be an improved playing budget in 2011/2 and that there would be major sponsorship available to create a sustained income over many years. Chris and Ian have identified a list of players they would like to bring in for next season and work is ongoing to make this happen. The recent home defeats have enabled the management to identify where the team needs strengthening. It was acknowledged that we don't have enough vociferous leader style players on the pitch at times but Brian Cusworth does an excellent geeing up job in the dressing room. The fans want to see more of the experienced players geeing up the younger players if they make a mistake.
Steve Woolley's injury is quite serious and he may be out for a couple of weeks. In terms of him playing at left back this is a personal choice as Steve started his career there and is naturally left-footed. However Chris pointed out that the buck stops with him, he is the manager who determines who plays week in week out.
In terms of working with the players in general on coaching there is a very limited time period for this which can be as little as an hour per week on a Thursday night. Chris's preferred playing format is 4-4-2 with two wide men but will adapt depending on the circumstances and player availability. Chris spends as much time as possible with players on a 1-1 basis, giving advice and analysing what they did in certain match circumstances. Chris's philosophy is to play creatively in the final third, aiming to create width by playing balls inside or around opposing full-backs and getting forwards to run at defenders with the ball. Chris explained the boxing and zoning of players positions on the pitch given certain circumstances, e.g. from a goal kick. Very few teams in our league play a roll out the ball from the goalkeeper style.
It was noted that the team's disciplinary record had improved after a very poor record at the start of the season. This was due to clamp down and warnings to those involved. Players have to pay their own fines for yellow and red cards. Youth player Nick Galloway has been released due to an act of indiscipline in an U-19 game.
Matt Roney was praised for his display in goals at Goole. (Matt has some experience as a goalkeeping coach!) The management felt that the loss of a goalkeeper galvanised the team in the same way as going down to 10 men can do.
A number of supporters present stated that this event was a great way of communicating the issues which the management faced. It was agreed that communication was vital and that this could be continued through the Club Programme Notes but also via a regular blog on the official website and Behind The Flag site. This will be arranged.
The idea of the club charging for teamsheets was raised, particularly for those who had already purchased a programme and did not know the exact line up. The programme could be amended so that there is a squad list with tick boxes. It was noted that there were plans for an improved programme for 2011/2 in terms of print quality. Also supporters buying programmes at away games noted that the information on Sheffield players is often out of date, by a couple of years in some cases. Can Sheffield FC send up to date information to other clubs, to be discussed at a Committee Meeting.
The demise of the Club Shop was raised and those present felt we were losing out on being able to buy merchandise and fund raising.
In terms of Club location it was still the longer term plan to move to Olive Grove. Paul stated that there were plans to improve the current ground, e.g. by developing the field behind the far side into 5 a side pitches or an all weather pitch in line with the original plan of the Club being a community resource in Dronfield. In term of the actual playing surface Paul said there were plans involving Pete Bowden to improve it by investing and also to reduce the number of games played on it by the Reserves playing elsewhere in 2011/2. There are plans afoot to use the stadium for other events in the summer e,g, Charity Events, Bands.
The structure of the season was discussed. It was agreed that there are probably too many Cup competitions but they were obligatory to enter and also to field a near full strength side. The season could have begun earlier in August which would have reduced the fixture pile up we now face due to Cup runs and the weather. Paul to take up with Evo-Stik. Despite this we will be going all out to retain the Senior Cup and will be fielding a strong a side as possible against Frickley who will be out for revenge for their FA Cup defeat.
The Club have a couple of scouts who watch future opponents and provide a report for the management. This is done voluntarily.
The Ball of Steel, to be placed near the M1 at Meadowhall, will recognise that Sheffield is the home of football.
In summary, as can be seen from the above, a wide variety of topics were covered. A further similar session is planned for later in the season with an exact date to be advised.
We've had an e-mail from Tipton's Paul Myatt this evening giving us a few updates to the Awaydays that appeared in Saturday's programme and on the site. Admission for the game was agreed by both clubs to be £6 (not the £5 that is normally charged for League games) , we at BTF apologise for any inconvenience this may have caused. Also Paul has asked me to warn everyone about the potential hold ups and for your information allow a bit of extra time if you are coming via the M42 / M6 north, as the stretch from M6 Junction 5/ 6 to Junction 9 is slow most evenings due to the volume of traffic coming out of Birmingham and with Villa being at home there will be a bit more traffic around junction 6 by Villa Park. Needless to say, Tipton want as many of us to be there in good time!
Don't forget to say thanks to Paul for that when you go through the gate!!!
An update around coach travel to Tipton for the FA Cup Replay on Wednesday. There are very few places left on the second bus now (down to FIVE spaces as I type this) , and anyone wishing to snap one of these should contact Ian Feeley at the Club, by e-mailing ian.feeley@sheffieldfc.com as soon as possible. The bus is due to leave the Coach and Horses at 4.00.
This coming Saturday's FA Cup tie against Tipton promises to be a big day - with a big prize at stake - a place in the First Round proper for the winner. Enough has been made of the fact amongst those potential First Round opponents are Rotherham United, Chesterfield and Sheffield Wednesday. To get behind Sheffield FC on this momentous day it is suggested that anyone with Sheffield FC flags (however old or homemade) brings them down to the Coach and Horses ground and display them for the world to see.
On top of this Club are having a special offer on children's admission, under 16s being admitted free with any paying adult. With Tipton planning to bring a fair few up from the West Midlands, it promises to have a great Cup tie atmosphere, so get down early to guarantee a good viewing place!
Following on from from a successful end of season that saw them land the County Senior Premier Division title, and the County Association Cup, Club's Reserve outfit play host to Dublin side Ballyfermot United in a prestigious pre-season friendly (Saturday, August 7th - kick off 2.30).
United play their games in the Leinster Senior League, one of the Irish football pyramid's most respected set ups, and finished in a respectable seventh place in last season's table. In amateur football terms in Ireland, United could be described as a big club, although in the not so distant past, the club dropped a couple of levels from the top division (one level below League of Ireland) and it's only now that they are showing signs of recovery and some real ambition to climb back to where they feel they belong.
It promises to be an interesting encounter, and as the first team aren't playing on that Saturday, why not get along to Coach and Horses and show your support... and after the game, why not join the tourists in the pub for a few swift ones!
Sheffield FC have added a local legend to their ranks this week, signing ex-Sheffield United player, and professional boxer, Curtis Woodhouse. Curtis left full time football at 26 to take up professional boxing with an aim to become British champion within 5 years.
Curtis said "I'm really excited about this move there's a real buzz about the place, I had some of my happiest times playing football in Sheffield and made some great friends there. I hope a few of them decide to come up and watch us."
Manager Chris Dolby said, " you only have to meet Curtis to realise we've not only got a great player, but a real character too. You don't think twice when you get the chance to sign a player of his quality. We have fifteen games to go and this league has never been tighter. At 19, Curtis was Sheffield United's youngest ever captain, so he will bring with him some real leadership at a time when we need it most."
As Club prepare to pay their own tribute to our own Trevor Herrington tomorrow at our home game with Goole AFC (kick off 3:00), BehindTheFlag are inviting everyone who knew Trev to join us for a pre-match drink in the Coach and Horses pub and share your stories of our recently departed friend, meeting around 1:30 - we'll also be returning to the C&H after the game for a little more Memory Lane stuff. At the game, Sheffield FC will be inviting everyone to join in a minute's applause, in appreciation of the work Trev did for both SFC and BTF.
Naturally the tributes have been flooding in from those who knew Trevor, many of which can be found on the BTF Forum, but one which caught our eye was a text received from ex-Club manager Dave McCarthy - now working in Hungary with Ferencváros: "So sorry to hear about Trev. He was a top bloke and I really appreciated all the support he gave me when I was manager of Club. He supported me right through, even at Don Valley, and we shared some great Sheffield FC moments together. Please pass on my condolences to all his family and friends. I'll raise a glass to him tomorrow night out in Hungary! Trev - a Clubbie and a true gent!"
Friends and work colleagues were joined by Sheffield fans and officials who turned out in significent numbers today at Grenoside Crematorium to bid farewell to Trevor Herrington. After the short service many returned to Trev's home to reminisce and chat about the many incidents, mostly humourous, that had occurred during the twelve or so years Trev had loyally followed Club both home and away. The club intends intends to pay it's own tribute to Trev before Saturdays home game against Goole.
It is with much sadness that we have to let you all know that our dear pal Trevor, passed away this afternoon after a short illness. Trev was diagnosed with cancer shortly after Christmas and even just over a week ago he was extremely positive about the future. However, during the latter part of last week his condition deteriorated rapidly and news of Trev's passing came today. We'll miss him greatly.
We have received word that services for Trev are scheduled for 21 January 2010 at 11:30 a.m. They will be held at Grenoside Crematorium South Chapel. For advice on floral tributes please contact Co-operative Funeral Service Suffolk Road Sheffield - phone no. 0114 276 0211.
Sheffield's reward for their 4-3 win over Harrogate RA in last night's League Cup clash is a third round tie away at Ossett Town on Tuesday 24th November. Or should that be home ???!!! Club used Ingfield as their home ground for a couple of games in the late 1990's when Don Valley Stadium was unavailable. One of these games was an FA Cup clash with Atherton Laburnum Rovers, which the visitors won comfortably. Let's hope for a better result this time !
Chris Adam is unavailable tonight as under the terms of his loan Worksop don't want the player to be cup-tied. Steve Woolley is also out as he starts his five week suspension. On the plus side, Ashley Longstaff comes back into the squad, as does Will Senior after his five week ban. Andrew Potter also returns to the squad whilst Andy Gascoigne is having a run out with the Under 19's.
Laurence Gaughan may have made one of the shortest career appearances in SFC history (including Dave McCarthys and Lee Walshaws run outs for the first team a few seasons ago !). The ex- Liverpool and Celtic player, who made a substitute appearance at Cammell Laird and was carried off with a head injury shortly after coming on, is currently having trials at Chesterfield and is likely to turn out for their Reserve side this week.
Kick off tonight as usual is 7.45pm.
Due to unforseen circumstances this coming Sundays charity match between Chris Waddle's Sheffield Wednesday All Stars and a Sheffield United All Stars team, at Sheffield FC's BT Local Business Stadium, has had to be postponed. The game will be re-arranged for a new date in the near future, but as yet, that date has to be confirmed. Everyone involved with the fixture would like to apologize for any inconvenience, or disappointment, that the postponement has caused.
Tim Surr, pictured, along with Paul Glossop......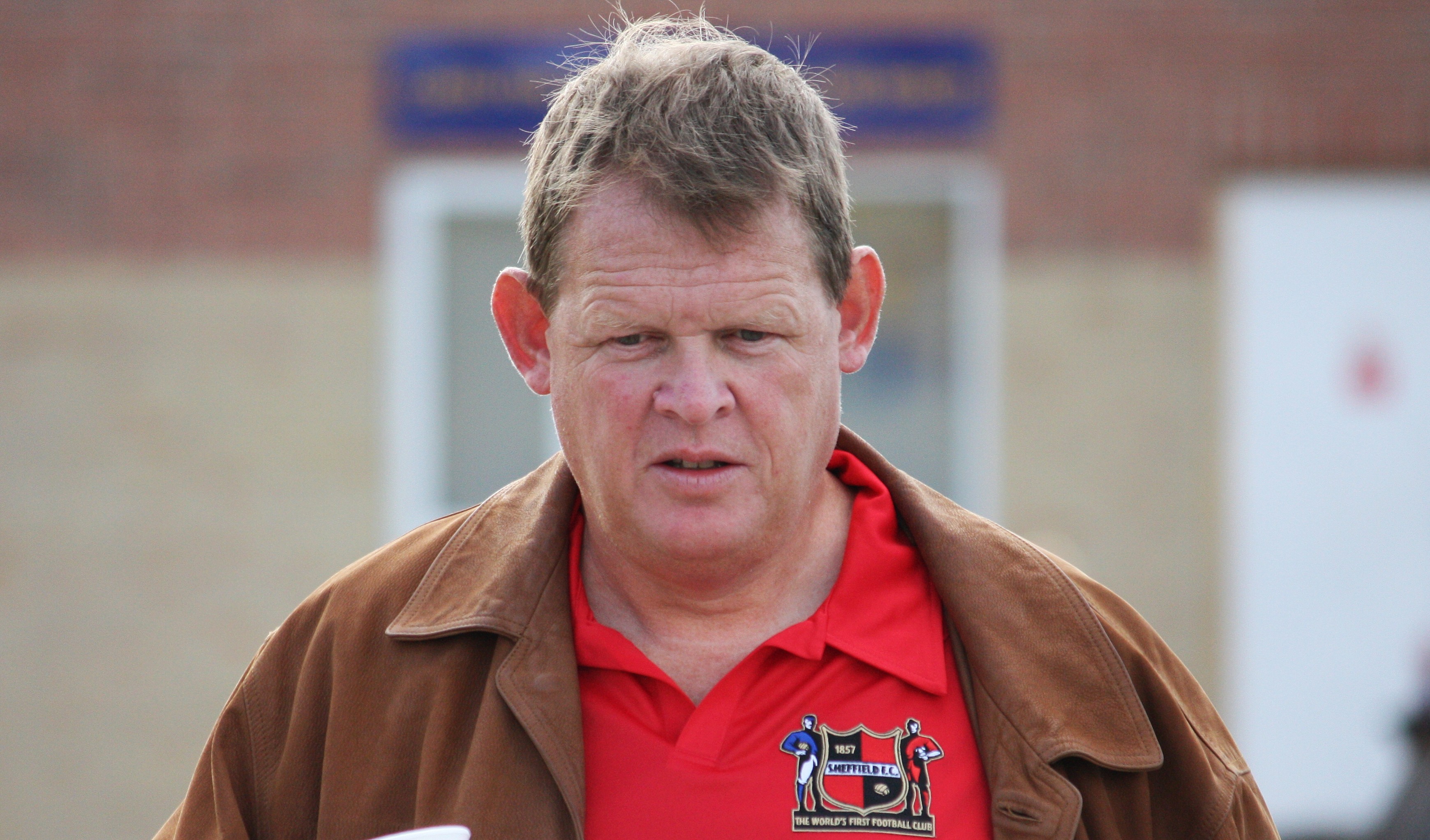 are organising the All Stars Charity Friendly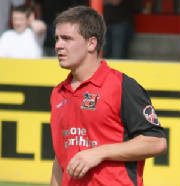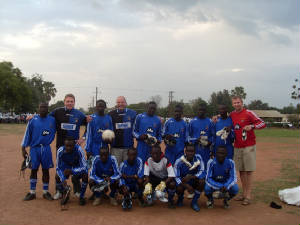 HOBBO RETURNS, CLEAN UP DAY & TICKET PRICES
(24th June 2009)
Manager Chris Dolby has started the process of building his squad for the forthcoming season and on Monday night held a formal signing session for the players currently available and not on holiday. Amongst the group was former Sheffield favourite, centre back Jon Hobson who joins us from Belper Town, for whom he was skipper last season and was voted Players Player of the Year in 2007-2008. Training for the first team commences next Tuesday (30th June).
This coming Saturday (27th) the club has it's annual pre-season clean up day at the stadium and all supporters and friends are welcome to come along and help with the tidy up. Bring along any tools etc that may be of use and obviously appropriately dressed.
Admission prices for the coming season remain unchanged. Admission is £6 (£3 for concessions). These prices also apply to the forthcoming friendly games although unlike last season there will be no season ticket on offer to cover these games. The season ticket prices for all league games also remain the same - £70 if bought before the end of July, £90 thereafter. Concessionary season tickets are priced at £20 if bought before the end of July and £40 after that date.
SHEFFIELD FC PRE-SEASON FIXTURES
News is starting to filter in of Club's usual pre-season campaign, here are the dates of the fixtures we have so far...
Monday, 6th July 2009 - Ferencváros (home)
Tuesday, 14th July - Sheffield United (home)
Saturday, 18th July - Stalybridge Celtic (home)
Wednesday 22nd July - AFC Emley (away)
Saturday, 25th July - Hutnik Kraków (away)
Tuesday 28th July - Parkgate (away)
Saturday, 1st August - Ilkeston Town (home)
Monday, 3rd August - Chesterfield (home)
Thursday 6th August - Armthorpe Welfare (away)
Saturday 8th August - Retford United (home)
CONGRATULATIONS TO SHEFFIELD FC RESERVES -
COUNTY SENIOR LEAGUE DIVISION ONE CHAMPIONS 2008-2009
South Kirkby Colliery 2 Sheffield FC Reserves 4 - Match Report HERE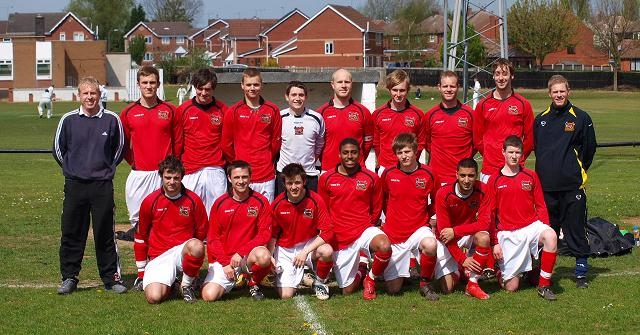 Back row: Dave Morris (manager), Joe Jerrison, Janni Lipka, Joel Purkiss, Liam Smith, Andy Taylor (captain), Elliot Simpson, Keith Cronin, Josh Jones, Shane Kent (Coach)
Front Row: Lloyd Gelsthorpe, Jon Linnell, Eamonn Chapman, Danny McKenzie, Danny Beech, Simon Bria, Keir Hannity
Matt Outram is the BTF Player Of The Season - above, John Shepherd presents Matt with the now customary bottle of champagne. Many thanks to all who contributed to the award with financial support and of course the votes throughout the season.
Chris Dolby is without Matt Outram and Jack Muldoon for Easter Monday's home clash with Stocksbridge. Andrew Potter is also out with an ankle injury. Jani Lipka comes into the squad, along with recent signing Lee Cooksey.
Manager Chris Dolby hands a first game between the posts tonight to Tom Cross. Dolby takes the opportunity of looking at his goalkeeping options with a view to team building next season and sees tonight's game as a good opportunity to look at Cross. However, the Manager stresses that this in no way reflects on the performances of Marc Furniss. Out of tonights side are Matt Outram, who completes his two match ban whilst Matt Roney and Leon Wainman are both unavailable.
For tonight's home game against Lincoln United, Jordan Eagers and Matt Outram both face fitness tests whilst Daz Winter is back in the squad after his one game loan spell at Hallam at the weekend. Meanwhile, Stewart Copnell is left out of the squad for the game following a potential breach of club discipline after Saturday's dramatic last gasp victory over Willenhall. The club are conducting a review to determine the full extent of the alleged incident.
There are doubts over the fitness of Matt Roney, Leon Wainman and Matt Outram for tonights clash with Kidsgrove Athletic. However, David Graham is set to make his debut up front and Daz Winter is available for selection again after completing his recent suspension. Kick off as usual is 7.45pm.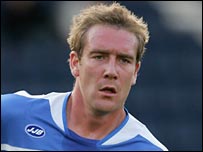 Ex-Wednesday striker David Graham has put pen to paper and signed for Sheffield FC. The former Rangers, Wigan Athletic and Scottish U21 player has joined Club after the conclusion of the players six month spell at Lincoln City. The 30 year old, 5' 11" front man also had prolific spells at Torquay United, where he scored 47 goals in 120 appearances, and Huddersfield Town with 9 goals in a 16 match loan spell. Graham is expected to start in tomorrow nights home game with Kidsgrove Athletic.
Leon Wainman and Matt Roney are in line to make their return debuts for Club at Retford United tonight. Stewart Copnell is also included in the squad as the club wait to discover the latest verdict on the strikers next suspension for offences committed with his previous clubs. However, Manager Chris Dolby is without Daz Winter due to the influential midfielder now having to serve a two match ban.
Last night's postponed clash with Grantham Town has been re-arranged for Wednesday 15th April, kick off 7.45pm.
Tonight's scheduled home game against Grantham Town has been postponed due to a heavily waterlogged pitch. Despite work on the pitch by the groundstaff to save the fixture, the pitch has so much standing water that a walk on the playing surface was not necessary by the officials to determine the outcome. Next scheduled game is Retford United away a week tonight.
Manager Chris Dolby has been active again in the transfer market and Sheffield welcome back another old boy in former favourite, winger Matt Roney. Signed from Glapwell, Matt goes straight into the squad for tonights home game against Grantham Town.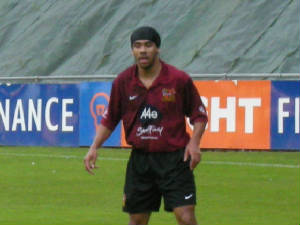 Jordan Eagers and Adam Fretwell are both rated 50/50 for tomorrow nights home game against Grantham Town. Back in the squad following his recent operation is Mickey Goddard and also included is Leon Wainman (pictured left), returning for his second spell with Sheffield. Kick off as usual is 7.45pm.
There will be late fitness tests for Jani Lipka, Lloyd Gelsthorpe and Matt Outram before tomorrows home league fixture against Loughborough Dynamo, while Andrew Potter misses out due to a back injury substained during the warm up on Tuesday. Daz Winter is available to play despite his sending off for two yellow yards at Goole. Other news as Mick Goddard came through Thursday night's training session and will probably come into contention for a place in Tuesday night's home game against Grantham Town.
Manager Chris Dolby takes the same squad from Saturday's seven goal demolition of Spalding United to The Victoria Pleasure Grounds tomorrow night for the clash with Goole AFC. Kick off as usual is 7.45pm.
Club certainly tiptoed through 'The Tulips' and more this afternoon at The BFS Stadium, putting visitors Spalding to the sword with a seven goal demolition job. An early own goal, two Jordan Eagers strikes, one a penalty in the opening half set the tone for the remainder of the afternoon, with Steve Woolley, Man Of The Match Matt Outram, Stewart Copnell and Jani Lipka completing the rout.
Daz Winter is likely to be on the bench for tomorrows clash with Spalding, whilst Stewart Copnell and Gavin Smith return from suspension. Jordan Eagers however is only rated 50/50.
Confirmation has been received that tonights home game v Belper Town definitely goes ahead as scheduled.
Pete Bowden, the Bright Finance Stadium groundman, has confirmed today that signs are positive for tomorrow night's home game against second place Belper Town going ahead. The extensive work done by Pete on the pitch to ensure optimum drainage of the water after the weekend thaw appears to have worked. Unless there is a deterioration in the weather tomorrow it is anticipated a pitch inspection will be unnecessary. The weather forecast is good with no rain predicted.
In an attempt to make use of all available networking services, BTF has opened it's own grouping on Facebook. To join, simply go to the Facebook website and type Behind The Flag in the search facility. Then add us to your friends. We'll see how this develops and hopefully it will provide us with another avenue to get information out to the SFC supporters.
This morning's 10.00am pitch inspection has resulted in the game at Shepshed being postponed. Heavy overnight frost, coupled with the recent bad weather combined to make the pitch unplayable. We now wait to see how The Coach & Horses pitch shapes up to the recent conditions for Tuesday night's scheduled home fixture.
Marc Furniss is set for his goalkeeping Sheffield FC Northern Premier League debut at Shepshed tomorrow....if.....the game goes ahead. Furniss has been drafted into the side following Leigh Walker's departure to Belper. Marc has been involved in first team action already this season, most notably in the League Cup win over Durham City and the sides unfortunate Presidents Cup exit at Halifax Town. Also back in the squad are Rob Cam and Jani Lipka following injury. Stewart Copnell meanwhile is forced to sit out the clash as he starts his suspension following five bookings sustained with previous clubs.
If the game is called off before we depart for the Shepshed then the site and Forum will be updated, and BTF Mailing List subscribers will be e-mailed.
MINI SEASON TICKETS NOW AVAILABLE................11th Feb 2009
IT'S OFFICIAL - SHEFFIELD v GOOLE POSTPONED.........7th Feb 2009
PIES & PROGRAMMES CANCELLED - WAITING FOR THE REF !.........5th Feb 2009
CLUB IN HUNT FOR NEW KEEPER AND SKIPPER !............2nd Feb 2009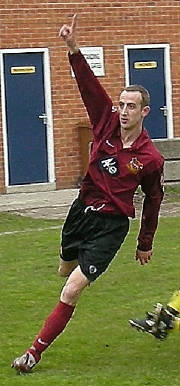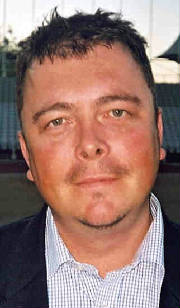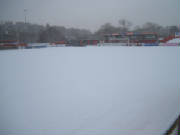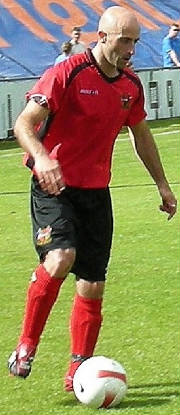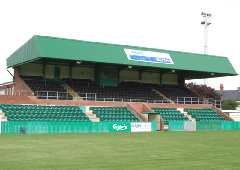 ...and the winners are SHEFFIELD FC !!!! After a game played in what were practically monsoon conditions, Club overcame the UniBond Premier Division outfit Guiseley 2-1 at the BFS tonight, with goals from Mick Goddard and Asa Ingall. This was the visitors first defeat in all competitions this season and Sheffield's reward is a trip to Blue Square North team Blyth Spartans, a 150 mile trek into the North-East - the match report can be found HERE.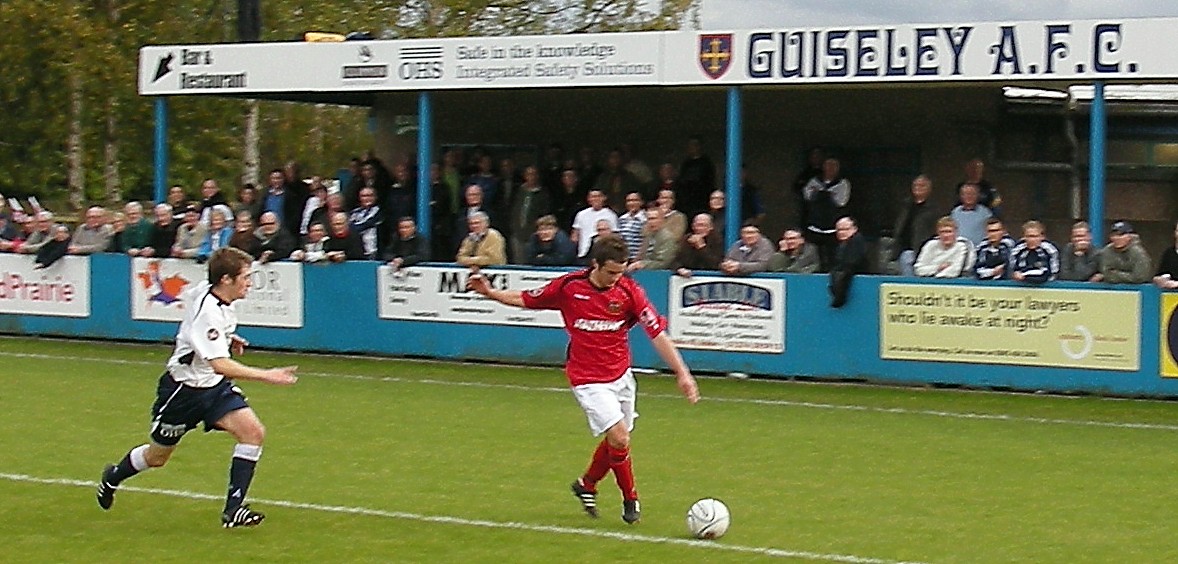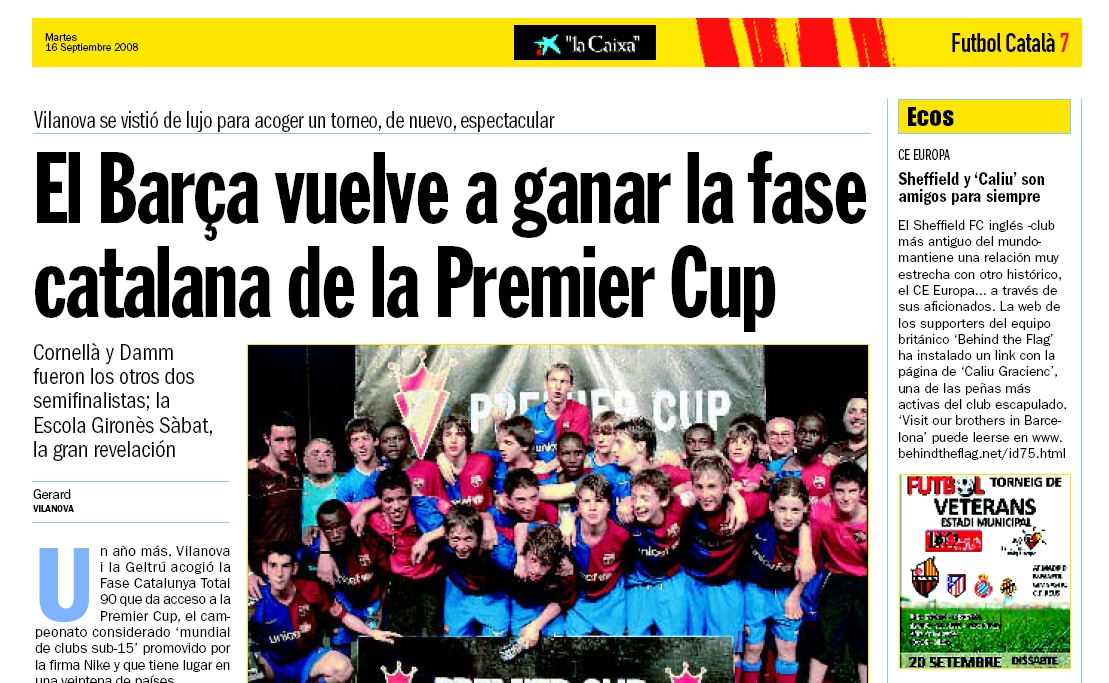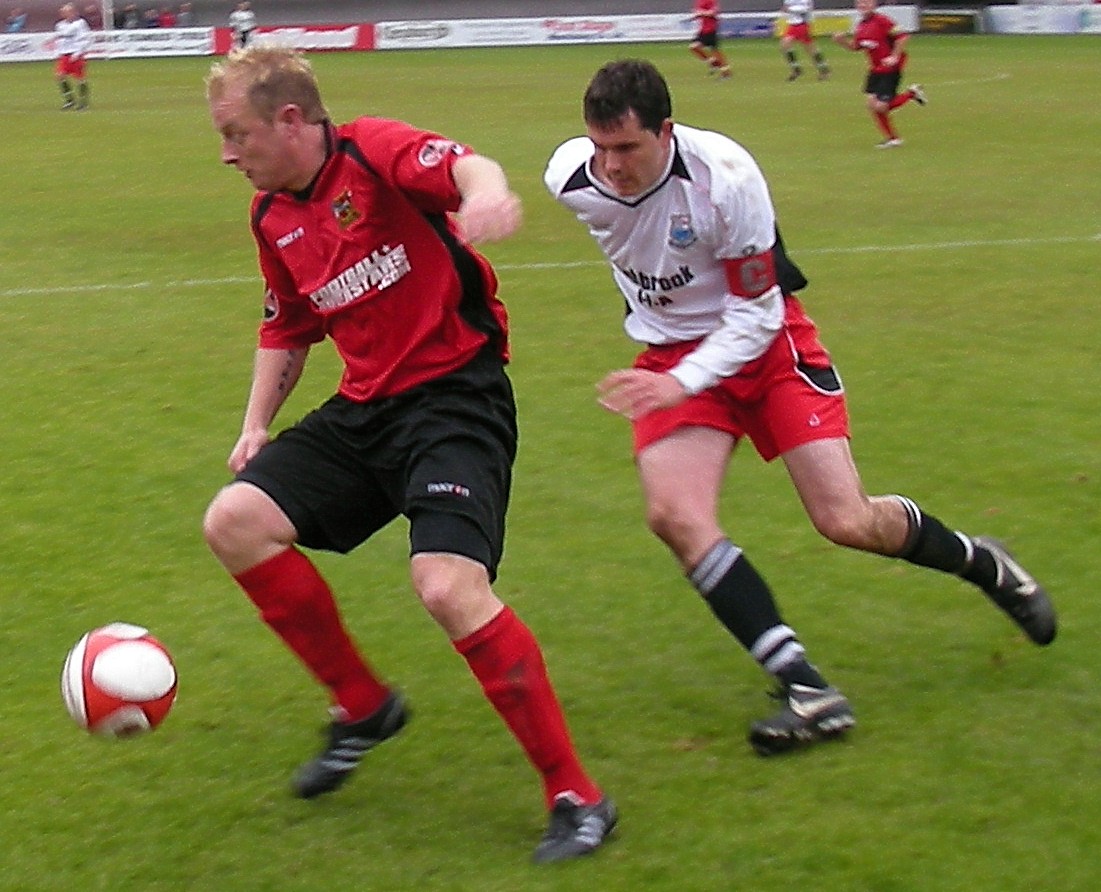 LADIES BLUNT THE BLADES 28th September 2008
Sheffield FC Ladies continued their winning start to the new league campaign by overturning
a half-time deficit to defeat a tough and uncompromising Sheffield United Community Ladies outfit 3-1 at the Bright Finance Stadium. See the Ladies' page for full details.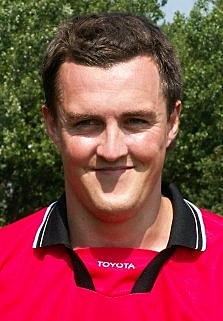 LADIES TAME THE TIGERS 14th September 2008
Following last season's promotion, Sheffield FC Ladies opened their league campaign in the higher division with a 7-0 mauling of Hull City LFC. See the Ladies' page for full details.
To add to the afternoon's joy came the news that newly formed Sheffield FC Ladies Reserves had demolished Dinnington Town 15-0 in their own league debut.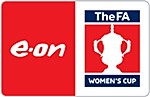 More Action Shots From AFC Fylde Can Be Found On The
Latest Action
Page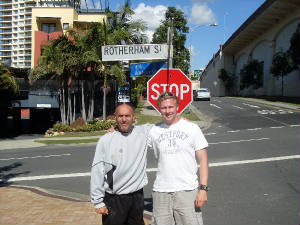 Handball !!!! But not according to the ref at Spalding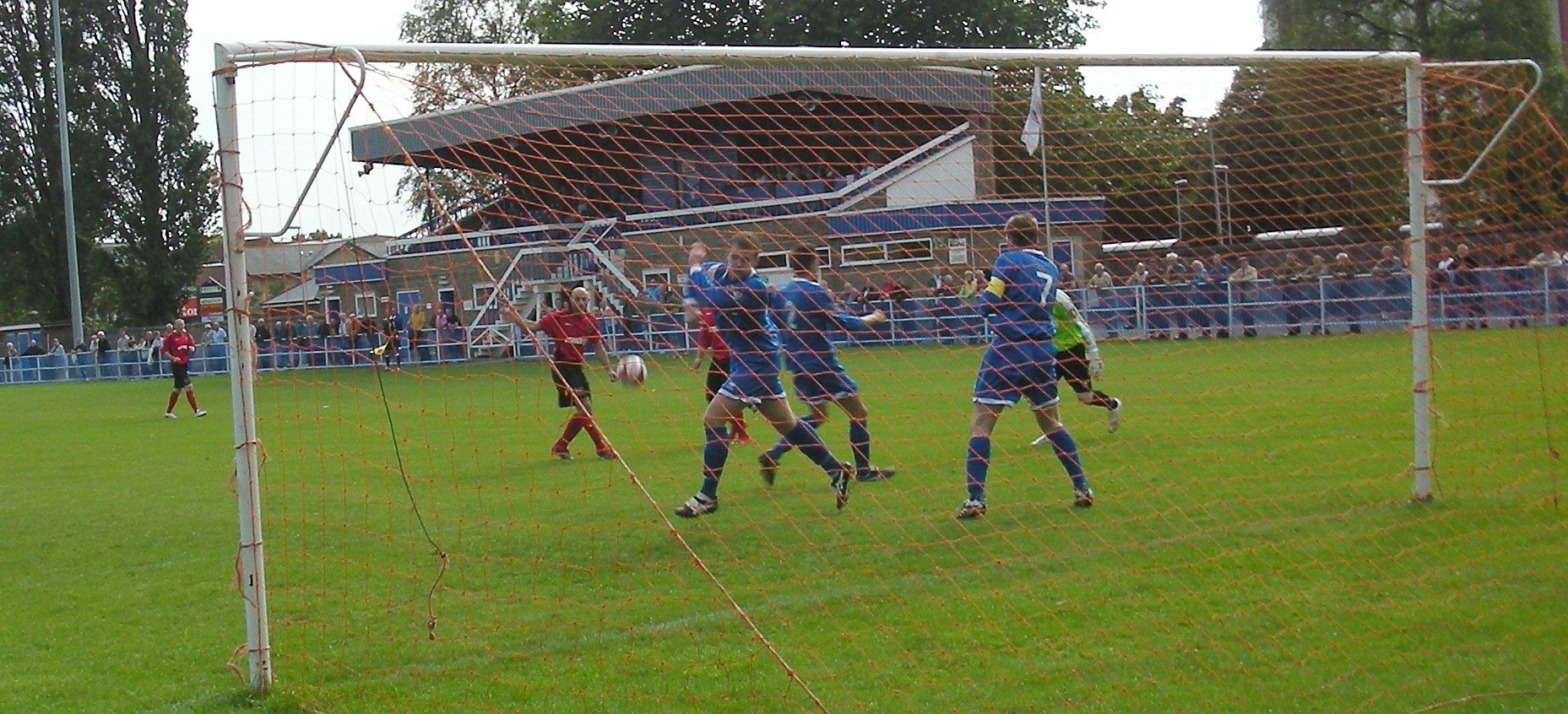 A cool finish from Scott Partridge salvaged a point tonight at the BFS, after Carlton tore up the form book to take an unexpected lead. Goals from Martin Ball and Grant Brindley looked to have snatched all three points, after Vill Powell scored in the first half. Things ended up with a rather sour taste after Club hitman Powell headed out of the stadium in an ambulance, following a nasty collision with keeper Alessandro Barcherini, with a suspected broken leg. A full report can be found HERE on the match report page.
Former bogey side Carlton Town visit The Bright Finance Stadium tonight, 'buzzing' and 'very high in confidence' according to Town's Daryl Thomas. Thomas speaking in this week's Non League Today states promotion could be on the agenda for Carlton and that the club can be as big as Hucknall in five years. However, they started poorly on Saturday going down 3-1 at home to last seasons Champions Retford. Town's Steve Chaplin scoring a late consolation. Table topping Club meanwhile go into tonight's game without influential Captain Steve Hawes due to holiday commitments.
Sheffield opened up the 08/09 season with a right ol' tonking of Gresley Rovers - winning 5-2 at the Moat Ground this afternoon. Read the match report HERE . Oh, and by the way... the "Double P strike force" refers to Scott Partridge and Vill Powell. I'm sure a better name will come up eventually...