Match Reports by either Stuart James or Trevor Herrington unless stated.
Photographs By David Dean
Hallam FC 2 Sheffield FC 4
Sheffield & Hallamshire Senior Cup Final
Tuesday, 04/05/10
Game, set and...Cup as Ben Walker hits number four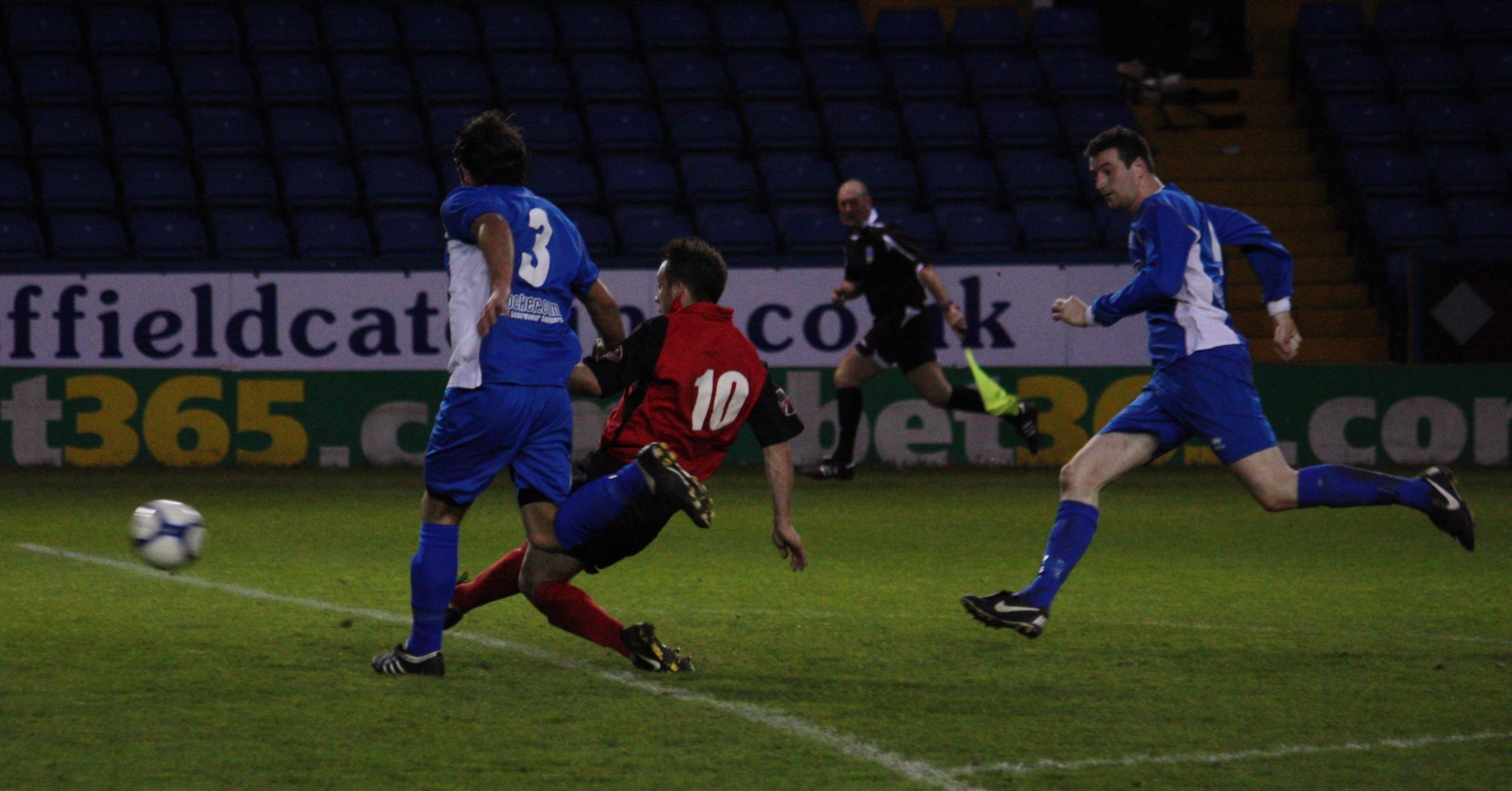 Sheffield eased to a comfortable Senior Cup win over their oldest and fiercest rivals Hallam FC, at Hillsborough this evening, with a 4-2 win ensuring Club lifted the County's premier trophy for the fourth time in six attempts. Ben Walker led the way for Sheffield with a brace of goals, whilst Steve Woolley and Andy Gascoigne chipped in with a fairly spectacular goal each, with Hallam's response coming from a Scott Preece screamer and a comical finish from Joe Boggild.
The game started with Sheffield looking to press home their obvious superiority over their neighbours, with Hallam's young squad having major difficulty clearing their lines, so it came as no surprise that Club took an early lead with only nine minutes on the clock. A break down the right wing saw Ben Walker take the ball to the by-line, and managing to dig out a cross from an awkward position found WOOLLEY steaming in on the edge of the area, with the winger not breaking his strike to hit a volley into the back of the net – a goal that would be worthy of winning any cup final. Not to be outdone, four minutes later Hallam were awarded a free-kick 30 yards out from goal for an innocuous challenge, it was one that was to cost the favourites as PREECE stepped up and sent a thunderbolt of a shot beyond Leigh Walker to make it 1-1. Hallam nearly upset the form book moments later, as a corner was flashed across the face of goal, with Scott Preece sliding in at the back post just missing the vital connection. Normal service was resumed on 22 minutes, as Ben Walker capitalising on a moments' hesitancy between Martin Taylor and his defenders, with WALKER getting in first to nip the ball over the advancing Taylor's head into the empty goal. But Hallam weren't going to give up at this stage, and it took a trio of saves from Leigh Walker to deny the underdogs parity at half time, denying a Joe Boggild header, turning round a Chris Wood shot and doing the same to Ryan Tate after a nice turn and volley.
The game was still very much in the balance for the opening part of the second period, with both Hallam going close after Joe Boggild went just wide, whilst Ben Walker's shot from distance wasn't that far over the top of the target. Club's best chance came just before the hour mark, as a Ben Starosta cross found Ashley Longstaff unmarked in the middle, unfortunately the normally prolific striker's header was both tame and off target. Sheffield finally got the breakthrough on 64 minutes, as GASCOIGNE picked up the ball 35 yards out and after a little run let a shot go, one that Taylor should have managed a little better instead of letting it through his hands. The game was finally put out of Hallam's reach ten minutes from time, as a through ball was missed by a slack attempt at a header by the defence, with WALKER taking the ball on and slotting it coolly into the corner of the net beyond Taylor. The Countrymen grabbed a consolation four minutes later, after a comedy of defensive errors allowed substitute Lee Naughton and Chris Wood to direct the ball through a scrambling defence, with BOGGILD managing to dig the ball out from under his feet at the third attempt to tap the ball into the empty goal from three feet out. Seconds later they almost pulled another back, after an identical defensive mix-up, this time Ryan Davis was able to clear the ball off the line to save Sheffield from a very nervy ending. All that was left for Sheffield to do was to hold out, and lift the trophy, a job done by captain for the night Greg Wright.
Overall this was as routine a cup-final win as you'll ever encounter for Sheffield, although had Hallam converted some of their many chances, it could have been a very different story. As it was, Club always seemed in complete control, and never needed to step out of first gear. If they had, it could easily have been an embarrassing rout, giving a result that would have really suited no-one. So despite missing out on promotion, at least Sheffield have ended the season with a trophy, giving Chris Dolby his first silverware of his tenure as manager.
BTF Club Man of the Match: Andy Gascoigne.
Hallam FC: Taylor, Emson (Naughton), Gelsthorpe (Hannity), Bowman, Baker, Patterson, Tate (Goff), Darker, Boggild, Wood, Preece. Subs Not Used: Pierce, L.Jackson.
Sheffield FC: L.Walker, Starosta, Davis, Jones, Wright ©, Eagers, Roney (Ford), Gascoigne (Leonard), Longstaff (K.Jackson), B.Walker, Woolley. Subs Not Used: Cooksey, Spooner.
Att: 546
Chasetown 3 Sheffield FC 2
UniBond Division One South Play-Off Semi-Final
Tuesday, 27/04/10
Club's promotion hopes finally crashed and burned at Chasetown, writes Roy France, as the league runners-up reached the play-off finals by the odd goal in five in the West Midlands. A pleasant evening heard fans complaining more about hay fever than the usual inclement weather as a big crowd in excess of 650 gathered at the Scholars ground. We were missing the unjustly suspended Cusworth and had Chris Adam playing in borrowed boots (thanks to the Boots for Africa appeal there!) but despite this the travelling contingent of around 150 were in semi-confident mood as kick-off approached. Tina Turner's "Simply the Best" rang out to drown the away fans chanting attempts and the home announcer declared his allegiance by preceding the naming of the Chasetown subs with "we have a rather strong bench". The home flags outnumbered the visitors by 11 to 4.
Sheffield kicked off playing into the sun towards the Chasewater and the first incident of note came three minutes in when an idiot (maybe a Sunderland fan?) tossed on a large beach ball which hit Leigh Walker on the head as he prepared for a goal-kick. Two home corners came to naught in the early sparring. Five minutes later the home forwards played a bout of head tennis in our box with a similar outcome. Up front Kirk Jackson was enjoying a good old fashioned battle with Teesdale with a lot of useful ammunition being supplied by Greg Wright who was controlling the left flank. However, overall the match was still in second gear at the half way point of the first half. The play of both sides was generally cagey and despite the large turnout the supporters very quiet, both cogniscent of the importance of the occasion.
Ramone Stephens produced an acrobatic cross which caused semi-mayhem in our box before Jones cleared authoratively. There were frequent stoppages for minor injuries but in one of these Chris Slater was replaced due to a pulled hamstring. Ten minutes before half-time Jackson won a flicked header but Andy Gascoigne's twenty yard effort was just over. As the half wore on Longstaff occupied a deeper role but Adam made many threatening runs not hampered by those boots!
On 39 minutes Gav Smith blocked a goal-bound shot, however the ball was returned dangerously and Stephens messed up a good half chance by leaning back and sky-ing over when well placed. Shortly after, Smith entered the referee's notebook, for a late challenge on the lively Ryan. Just before the interval Adam put in a threatening header which the keeper Price surprising kicked-out for a corner from which he saved a 12 yard header from Jones. Scoreless at the interval.
Chasetown obviously had much stronger tea as they came out like a house on fire with Stephens a complete metamorphosis as he immediately won a corner with a long touchline run. As the threatening in-swinger came over at least four home players could have headed it in past the helpless Walker but the honour fell to Horler to the delight of three quarters of the ground. Five minutes later Horler tried a left foot shot but Walker grabbed it easily. Leigh dealt with the next in-swinging corner as the Scholars scented blood with Stephens really now giving Wright a hard time. Just before the hour mark Ryan was booked following a tussle with Gav Smith and then a slack Starosta header led to a shot on the turn by Hay.
Sheffield fans were starting to become a bit anxious but still remained confident given the options we had on the bench to open up the game. Starosta fired in a good cross which just failed to find Smith and then Outram made a fine interception in midfield and ran forward strongly but his final shot was wide. On 66 minutes the tortured Wright was booked for wrestling his nemesis Stephens to the ground. The free-kick led to a bout of sustained Chasetown pressure which finished with Teesdale heading over.
As the final twenty minutes began Chris Dolby introduced Roney and Woolley to play wide with Longstaff back at centre-forward. Genuine hope grew amongst the visiting support. At last Sheffield now began playing at a fast pace and really worried the home defence. Outram burst through the midfield, sprayed wide to Roney, who delivered a low cross which defenders hate and the in-rushing Gascoigne stroked it home, 1-1 with thirteen minutes to play and game on!
Jones made a crucial last ditch tackle as Chasetown countered as the game really became end to end. The home side won a free-kick on 82 minutes which John Branch floated over from the left for the unmarked Teesdale to head home to make it 2-1. However three minutes later we won a free kick 25 yards out. Roney's shot deflected off the wall but fell invitingly for Wright. Greg's snapshot was turned onto the bar by Price and bounced on the line Geoff Hurst 1966-style but Adam was on hand to head it home and send the away fans into raptures! From the restart we switched off and Chasetown got the ball into our box and Stephens skirted in to poke the ball past Walker and score what turned out to be the winner.
Gascoigne, Roney and Longstaff all had attempts on goal in the five minutes added time but unfortunately our number was up when referee Radford blew for time at 9.34pm.
BTF Man of the Match: Tom Jones.
Chasetown: Price, J.Branch, M.Branch, Slater (Thomas), Horler, Teesdale ©, Stephens (L.Smith), Egan, Hay, Ryan (Birch), Jevons. Subs Not Used: D.Smith, Perrow.
Sheffield: Walker, Starosta, Wright, Jones ©, G.Smith, Outram, Longstaff, Gascoigne, K.Jackson (Woolley), Adam, Eagers (Roney). Subs: Ford, Leonard, Cooksey
Att: 657
Sheffield FC 1 Rushall Olympic 1
UniBond Division One South
Saturday, 24/04/10
It was a typical end-of-season affair at the BT Local this afternoon, with the spoils shared between Sheffield and Rushall, in a game that was played in a spirit that complemented the glorious springtime weather. With Thursday night's result at Leek Town guaranteeing Club fifth place no matter what the outcome, the management team took the opportunity to rest several of the side's central characters, making eight changes to the starting eleven from Tuesday night's loss at home to Brigg Town. Even so, Sheffield played some eye-pleasing football taking the lead at the start of the second half through Andy Gascoigne, whilst Rushall played their part in a great contest with a well-taken free-kick on 78 minutes through Grant Beckett.
The first half saw both teams trying to come to terms with a dusty bone-hard surface which produced a rather unpredictable bounce, with the best passages of play coming when the ball was kept on the ground, which unsurprisingly produced some very attractive football for the large crowd to enjoy. What was surprising though was for all the end to end football, there were very few chances of note in the first period, although Kirk Jackson managed to put the ball in the back of the net after some neat inter-play – sadly this was ruled out for offside. Rushall's best effort came from a free-kick, with Kyle Brady's shot being blocked by Sheffield's goalkeeping coach Danny Spooner, whilst Sheffield's Ben Walker brought out the best from Chris Gemmell with a rasping shot the keeper did well to bat wide.
The deadlock was broken inside twenty seconds of the restart, with Walker again the danger-man breaking free down the left wing before squaring in to GASCOIGNE, who had plenty of time and space on his side before passing the ball into the corner of the net. Sheffield looked as if they could go on from this and add a few more goals, and despite their enterprise, the best they could achieve was a few near misses. Lee Cooksey saw his shot brush the outside off the upright, whilst the Walker-Gascoigne combination caused more problems, with Gascoigne lashing the ball across the face of goal. After weathering a pretty hefty period of Sheffield attacks, Rushall responded with a fair amount of pressure themselves, with Justin Nisbett having one ruled out for offside and going close after breaking free of the defensive shackles. On the occasions Club pressed forward, they were more than often denied by the offside trap, or by the solid performance of Olympic's keeper Gemmell – who's stop from Lee Cooksey's deflected effort brought nods of approval from the home support. Rushall were the team in the ascendancy though, and had Club on the back-foot for much of the latter stages, coming close with Kyle Brady's assist to Anthony McGuire ending with a shot going just over. They got their just rewards moments later, after having a goal ruled-out by referee Cook for an earlier Sheffield infringement; from the resulting free-kick BECKETT curled the ball round the wall for the equaliser. It could have been better for the Staffordshire outfit, if Kyle Brady had been a little more clinical in front of goal, instead of missing two rather good chances.
Overall it was a decent afternoon's entertainment at the Coach and Horses, with both sides serving up some nice football, but as stated earlier there was very little to play for other than pride. No doubt Chris Dolby will field a very different side at Chasetown on Tuesday, who finished their league campaign in similar style, coming from behind to draw 1-1 at home to Kidsgrove. It promises to be an exciting encounter, hopefully with a very different outcome to the league game back on Good Friday, and a date in the play-off final in seven days' time.
BTF Club Man of the Match – Ben Walker
Sheffield FC: Spooner, Starosta, Davis, Cooksey, Wright ©, Leonard, Gascoigne (Woolley), Ford, K.Jackson (Longstaff), Cusworth, B.Walker (Roney). Subs Not Used: Adam, Jones.
Rushall Olympic: Gemmell, Starkey, Haywood, Kitching (A.Smith), McNaught, Beckett, Amos ©, Maguire, Charie (Lowe), Nisbett (Davies), Brady. Subs Not Used: Littler, Fitzpatrick.
Att: 441
Sheffield FC 0 Brigg Town 1
UniBond Division One South
Tuesday 20/0410
This wasn't the match that we all hoped it would be, a draw was all we needed to clinch the last play off place but on the night it was Brigg Town that took all the points in a dreary performance from pretty much the same team that had done so well in our previous two matches, writes Rob Shepherdson.
We started well and for the first ten minutes had two early corners and most of the play. Some good play between Roney and Cusworth gave the striker a header quite close in this could not be accurately directed. Then Eagers fed Longstaff and his shot was leaked by the keeper but no-one was following up. A few minutes later Longstaff fires over from a tight angle which on 22 minutes is our last decent chance of the half. Brigg come into the match a little bit more and a stalemate develops with the ball ping-ponging backwards and forwards in midfield. Brigg did get a chance just before half time when Clarke (wearing shirt no.4 but playing as an attacking midfielder) shoots just wide of Walkers left hand post.
Clarke has a second chance at the start of the second half when he loops the ball over the advancing Sheffield goalkeeper but Smith is on hand to comfortably clear the ball away. Another chance falls to Brigg almost immediately but Walker deals with this easily. Longstaff turns and shoots from the edge of the area but this goes over the bar. In the space of five minutes leading up to the hour mark and with the Sheffield side a little subdued, Ford is brought on for Roney, followed by Ben Walker in place of Longstaff. The match continues the stalemate of the first half which is only very occasionally broken up by a breakthrough. Woolley, Starosta, B. Walker and Outram all make good runs which come to nothing. Outram then gets yellow carded following a flare up with Brigg's Spafford. With a quarter of hour remaining Club are still probing the Brigg defence and on one such run Outram is sent tumbling whilst attempting to support the attack. Disappointed with not getting a favourable intervention from the referee, Matt expresses his grievance to the official a little too vehemently and is rewarded with a red card. With just seven minutes remaining, this was not expected to be too much of an issue, however with four minutes remaining Brigg's Clarke finds space to shoot inside our area and the ball beats Leigh Walker at the far post. With only a couple of minutes left, Jackson is brought on for Cusworth, but we only have one more chance when Ford finds Ben Walker in the area and wins a corner. Unfortunately this comes to nothing and the match ends with the inevitable disappointment of a defeat.
BTF Man of the Match: Steve Woolley
Sheffield FC: L. Walker, Starosta, Wright, Jones ©, Smith, Outram, Roney (Ford), Eagers, Cusworth (Jackson), Longstaff (B. Walker), Woolley. Subs Not Used: Leonard, Cooksey
Brigg Town: Zano, Spafford, Smith ©, Clark, Hellewell (Jacklin), Cochrane, Spall, Lamb, Barrett (Owens), Chappell, Grimes. Subs Not Used: Fisher, Archer, Metcalf
Att: 269
Lincoln United 0 Sheffield FC 1
UniBond Division One South
Saturday, 17/04/10
Sheffield all but guaranteed their play-spot this afternoon, at a warm sunny Ashby Avenue, after beating hosts Lincoln United with a comfortable win that belies the scoreline. A Steve Woolley goal on twenty minutes wrapped up the points for Club, and despite not adding to the margin of victory, it was an outcome that never looked in doubt.
The pitch was a particularly awkward for both sides this afternoon, with a mixture of long grass and a hard bumpy surface causing the contest to be one the purists would turn their noses up at, but to their credit each tried to create something. Sheffield were the first to show, as an Ashley Longstaff cross found his strike partner Brian Cusworth open in the middle, sadly for him he couldn't get enough on the ball to direct the ball home. At the other end Lincoln's leading scorer Sean Cann showed he wasn't going to be over-shadowed by the promotion chasing visitors, as he managed to find himself plenty of space between the Sheffield midfield and defence to get a shot on goal, one that stunned everyone as it hit the post. Club's nerves were settled moments later, as Cusworth won an aerial battle and held the ball up neatly, before teeing up WOOLLEY who was steaming through from midfield to hit the ball first time into the bottom corner. Sheffield now looked more comfortable on the ball, and started to create some pretty decent looking football, coming close on more than one occasion. Jordan Eagers was the first to go near, playing a one-two with Woolley from a throw-in, with his shot missing the upright by inches. Woolley himself tested the keeper, making Mario Ziccardi parry out a palm-stinger from twenty yards out, unfortunately for Club no-one was there to mop up the rebound. With five minutes to the break Sheffield thought they'd wrapped things up with a second, a Matty Outram free-kick from the left was lofted into the back post where Gav Smith rose to head the ball home, only to see the celebrations cut short by referee Leslie for pushing. The hosts still posed a threat, and moments before the interval they almost made Sheffield pay with a rare attack, as Matt O'Halloran's side-footed effort went perilously close.
With the temperature starting to rise, the pace of the second half was decidedly pedestrian, with neither side really creating anything. Matt Roney tested the defence down the right wing, but nothing he delivered was met by anyone with any purpose, and it took until fifteen minutes from the end for anyone to create anything of note. In the end it was Roney himself that produced the period's first shot in anger, with Ziccardi having to be at his best to block a fearsome drive, then seconds later Leigh Walker had to produce his only save of the game from Sean Cann at the other end. If anything though, Club always looked like they had this game well and truly under control, and never really needed to step out of first gear. When they did they created some decent stuff, with two decent efforts before the game's end summing this up – firstly some good work from Brian Cusworth set up Ben Walker, whose shot was straight at the keeper, and secondly Walker turning provider to Roney who forced Ziccardi to make the save of the day with a tip over the bar. In the end though Club were never really troubled, and it was a case of merely running down the clock, ensuring a vital three points on the road.
Results elsewhere in the league means Sheffield only have to pick up one point in their last two home games to ensure the season goes on at least one more game, and although the likelihood of that looking highly likely, the most realistic aim appears to be third spot. As things stand only Leek Town can catch Club's total, and with a tricky game on Thursday at home to Chasetown, it isn't going to be that easy for them. Sheffield on the other hand are masters of their own destiny, and a win at home to lowly Brigg Town on Tuesday will quieten any ifs, buts or maybes, helping them concentrate on getting the best possible play-off semi-final.
BTF Club Man of the Match – Steve Woolley
Lincoln United: Ziccardi, Fleming, Porter, McDaid ©, Wilkins, Bull, Zeurner (Troughton), O'Halloran, Funnell (Garrick), Cann, Smith. Subs Not Used: Coyde, Melton, Wright.
Sheffield FC: L.Walker, Starosta, Wright, Jones ©, G.Smith, Outram (Ford), Roney (Cooksey), Eagers, Cusworth, Longstaff (B.Walker), Woolley. Subs Not Used: Leonard, K.Jackson.
Att:140
Dearne CMW 1 Sheffield FC 2
Rosehill Press Association Cup Final,
Friday, 16/04/10
Sheffield's reserve team basked in the glory of the first silverware or the season, this evening at Staveley's Inkersall Road ground, as they came from a goal behind to overcome a feisty Dearne CMW outfit.
Danny McKenzie shows a clean pair of heels...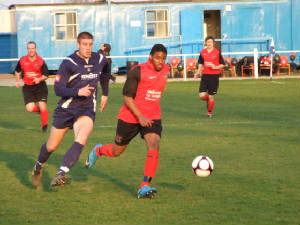 ...leaving Lewis Moore in his wake for the winner!
The Goldthorpe based side raced into a 13th minute lead as they scored on their first real attack, with Paul Hemmingway being found open in the middle, before beating Liam Smith with a clinical finish. It took Club nine minutes to level things up after a passage of play that saw some great passing football, following a cross-field ball from Callum Ward that was flicked on by the head of Keith Cronin, there to mop things up with a neatly slotted finish was Janni Lipka. Club took the lead on the half hour mark after Daniel Beech found the livewire Danny McKenzie, and after a mazy run that left the defence in his wake, McKenzie finished with a goal good enough to win any cup final. It could have been all wrapped up by half time, after a long ball over the top found McKenzie in acres of space, but with only Tim Whitehouse to beat the Sheffield man could only hit the keeper. As a result the second half was a nervy affair with tempers blowing up on more than one occasion as the tension got to the players, and Dearne could have levelled if not for the woodwork, but the Reserves held on giving skipper Andy Taylor the opportunity to lift the cup for the first time.
Dearne CMW: Whitehouse, Dowle, Blunt, L.Moore, Gill, Green, Laidlaw, Thompson, Hemmingway, Stancey, Asquith. Subs: Paul Taylor, Phil Taylor, King, J.Moore, Bruck.
Sheffield FC Reserves: L.Smith, Harrison, Jerrison, Taylor, Ridall, Lipka, Ward, Eskante, Cronin, McKenzie, Beech. Subs: Askey, Chapman, Barnsley, Bria.
Att: 115
Sheffield FC 5 Carlton Town 1
UniBond Division One South,
Tuesday, 13/04/10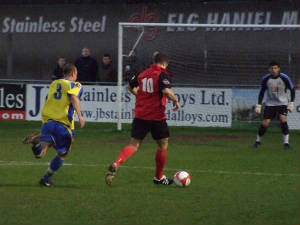 Ashley Longstaff bearing down on goal... again!
Sheffield battled on for a third of the game a man down tonight at the Coach and Horses, after leading goal-scorer Brian Cusworth was on the end of some rough justice, and still came away with an emphatic victory that threw their hat well and truly back into the play off ring. After falling behind to a 20th minute Karl Slack strike, Club came back and turned things on their head against bogey team Carlton Town, with two Ashley Longstaff goals, plus one from Brian Cusworth. Things were made extremely interesting on the hour, when referee Ward showed Cusworth a straight red for an innocuous shoulder charge on the night's villain Daniel Fletcher, leaving Club with a potentially nail-biting finish. The exact opposite happened however, as Gavin Smith added to the scoring on 68 minutes, and Longstaff wrapped up his hat-trick three minutes later to catapult Sheffield into fifth spot.
Club started like a team that was out to make amends for the recent poor home form, coming out of the traps in blistering form, putting the Millers on the back foot from the off. Steve Woolley was the first to give Carlton something to worry about, as his run and shot was spectacularly tipped onto the post by Alessandro Barcherini, whilst Brian Cusworth was denied moments later by the keeper with Chris Adam scooping the rebound over the bar. Carlton are always a team that give Sheffield a difficult came, and when Tritram Whitman carved through the home defence from the wing, his close effort gave the hosts a very uncomfortable feeling of déjŕ-vú. Club had an opportunity to open the scoring on 20 minutes, as a long Leigh Walker clearance was misjudged by Danny Hayes leaving Ashley Longstaff with a clear run on goal, sadly his rushed effort was just over. This miss was to prove costly, as Barcherini's goal-kick was flicked on in midfield, leaving SLACK with a clear run on goal – one that he dispatched in clinical fashion. If anything the goal had come against the run of play and characteristically Sheffield came back very strongly, as Greg Wright brilliantly intercepted a testing through-ball, before galloping the length of the field and delivering a brilliant deep cross that Cusworth headed just over. Club weren't to wait too long for the equaliser, as in the 24th minute Matt Outram's corner was only half-cleared to the edge of the area, and waiting there to volley home was LONGSTAFF. The parity wasn't maintained for too long as Sheffield continued their momentum and took the lead less than two minutes later, with Matty Outram providing yet another assist, digging out a cross after some neat inter-play to find CUSWORTH in the middle to head home to make it 2-1.
After the first half had petered out into a bit of a dull cancelling out affair, the second period sprung to life inside the first ninety seconds, as Cusworth flicked on a long ball to leave LONGSTAFF the task of running on goal and calmly finishing to dispel any nerves the home team may or my not have had. It was starting to become a bit of a one-way game at this point, with Longstaff causing all manner of issues for the home defence, and Cusworth having an effort deflected wide by Daniel Fletcher. Just before the hour mark came a pair of incidents that will more or less be the main talking points of tonight's game; firstly a long ball found Longstaff who was through on goal, however Fletcher wrestled the forward to the ground in the area. Despite no contact being made by Longstaff, Fletcher deflected any attention by rolling on the floor holding his face - so instead of a penalty, Longstaff was inexplicably shown a yellow card. Moments later another long ball made its way over the top, and yet again there was a coming together with Fletcher, this time a shoulder-to-shoulder clash with Cusworth. Yet again Fletcher deemed it fit to roll on the floor holding his face, and yet again referee Ward produced a card, this time a red one for Cusworth. With a man disadvantage it would be safe to assume Club would bolster their lead by setting up a defensive stance, instead they went on the offensive, and on 68 minutes the game was wrapped up. Yet again Matt Outram put in a telling corner, this time Tom Jones got to the ball forcing a goal-line clearance, one that SMITH was only too happy to volley home. Three minutes later the icing was put on the cake, as Chris Adam burst down the right wing leaving the defence in his wake, and even though a shot was on he unselfishly squared the ball to LONGSTAFF who placed the ball teasingly inside the post. It could have been a whole lot more embarrassing for the Nottingham outfit, as Jordan Eagers capped a fine display with a great run down the left, curling a shot that scraped the outside of the post.
Sadly this game will be remembered for all the wrong reasons, the incidents on the hour overshadowed what was a pretty comprehensive win, over opposition Sheffield have never been able to come to grips with. The way the results have fallen this evening, it is now looking more than likely that the best Club can realistically achieve is third place, with Chasetown's win over Mickleover seemingly assuring the Staffordshire side of second place. Next up is another must-win game, with a trip to Lincoln United on Saturday, where a performance like tonight's would be more than welcome.
BTF Club Man of the Match: Ashley Longstaff
Sheffield FC: L.Walker, Starosta, Wright, Jones ©, G.Smith, Outram, Adam, Eagers, Cusworth, Longstaff (B.Walker), Woolley (Roney). Subs Not Used: K.Jackson, Leonard, Spooner.
Carlton Town: Barcherini, Corrigan (Norris), Fletcher, Hayes (Martin), Brindley ©, Simmons, Griffiths, Gent, Jenkins, Slack, Whitman. Subs Not Used: May, Peberday, Ball.
Att: 261
Mickleover Sports 4 Sheffield FC 2
UniBond Division One South,
Saturday, 10/04/10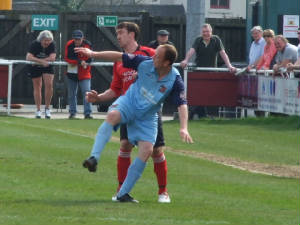 Brian Cusworth in action at a sunny Station Road...
A visit to the runaway league leaders on the verge of clinching both the title and promotion following a phenomenal record of 20 wins from their last 22 league matches was always going to be interesting, writes Rob Shepherdson. With our own aspirations of promotion being complemented by a very different set of recent results, probably at best being described as indifferent, it was probably not much of a surprise that the match went pretty much to the formbook and, whilst not totally outplayed, the undoing was mostly down to the host's clinical and effective set pieces.
Mickleover started aggressively and won some early corners and went close on 9 minutes when Ashton's cross was met on the edge of the six yard box by a sliding Steadman but fortunately went wide. Club's relief only lasted a further two minutes. Leonard is penalised for a challenge on Steadman outside the area but redeems the immediate situation by rising highest to the incoming free kick and nods it behind for a corner. Unfortunately Martin swings the corner in towards Sheffield's far post and an unmarked MIDDLEDITCH has a relatively easy header to give Mickleover the lead. Sheffield responded with the first of a couple of chances; from Davis – a long range shot which goes wide, and Cusworth - who heads over. However within minutes we concede a second. Dead ball expert MARTIN tees up another free kick from outside the area and the ball find its way passed all the players into the back of the net; although it did look like another player got a touch to it. Then with only 21 minutes gone the legs of Leigh Walker save what would have been an almost certain third when Aston breaks through. Sheffield up the pace for the last twenty minutes and begin to create chances with Leonard and Woodhouse both going close before Adam gets the final touch to a melee in the area and pulls one back as half time approaches.
Sheffield start the second half with renewed optimism and the host goalkeeper drops an Outram corner but we can't capitalise on it whilst nippy winger Graves is quick to break out but shoots wide. Then with less than 5 minutes of the half played, Mickleover once more undo our defence when ASHTON meets a cross at the back post and another easy header makes it 3-1. With just 6 minutes of the second half gone Sheffield are forced to make the first substitution when Ford comes on to replace the injured Leonard. Moments later Wright gets booked for a late challenge and Club are forced into another substitution when Ben Walker also leaves the field injured to be replaced by Longstaff. Good play by Outram and Woodhouse gives Longstaff a chance almost immediately and then it's Cusworth, Longstaff and Adam combining before Cusworth is given an opportunity to strike. Conceding another free kick outside our area, marking is much tighter this time, however Mickleover's MARTIN has other ideas and drives a brilliant free-kick from 25 yards straight into Walkers top right hand corner giving him no chance and its 4-1. With 20 minutes remaining Dolby plays his final card and swaps Outram for Roney. Roney is quickly into the action and Cusworth meets a good cross from the winger only to see the header go wide. A repeat, with 8 minutes remaining, is more successful and CUSWORTH scores Sheffield's second. With a number of Mickleover substitutions now having taken key players off, there is hope that with a big effort in the last few minutes a draw might still be possible. However in the final minutes it is Walker who has once again had to be at his best to block a Steadman effort.
Focus must now be concentrated on our remaining five matches if we are to make the play offs which is within in our reach, if we can play the way we know we can.
BTF Man of the Match: Ryan Davis
Mickleover Sports: Clarke, S.Carter, J.Carter, Walshe(c), Barrow, Strzyżewski, Graves, Martin (Smyth), Ashton (O'Connell), Middleditch, Steadman Subs not used: Whittle, Hoyle, Guy.
Sheffield FC: L. Walker, Eagers, Davis, Jones (c), Wright, Leonard (Ford), Outram (Roney), Woodhouse, Cusworth, B. Walker (Longstaff), Adam. Subs not used: Woolley, G. Smith.
Att: 384
Staveley MW 3 Sheffield FC 4
Sheffield & Hallamshire Senior Cup Semi Final
Wednesday, 07/04/10
Sheffield FC claimed a final berth in the Sheffield & Hallamshire Senior Cup in dramatic and controversial circumstances, writes David Bell, with victory over NCEL Division One side Staveley MW.
It's a game of Spot The Ball at Inkersall Road...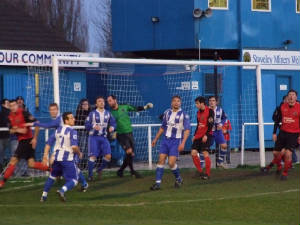 ...could it be that Kirk Jackson swallowed it?
The game had been in doubt right up to the scheduled kick off time due to electrical failure in the Staveley area but the problem was solved to allow the fixture to commence. Sheffield were first to show their hand when Longstaff held off Colley but poked his effort just past the post. A fierce left foot shot from 18 yards by Birks on 24 minutes accounted for Staveley's first chance. The deadlock was broken on 27 minutes when Eagers, who had just made a tactical move into midfield, unleashed a useful 20 yard strike that left Dinnigan in the Staveley goal with no chance. Staveley were soon level when a Ryan Ford clearance rebounded off one of his team-mates straight into the path of Chris Coy, who made no mistake from close range for the home side. Both scorers were cautioned moments later in a 'handbags' style altercation, a booking that was to prove significant later on however.
Sheffield continued to have the better chances for the remainder of the half; Jackson, Ford and Roney all coming close. Despite this, the young Staveley side battled gamely and honours remained even at half time.
Sheffield took just six minutes of the second half to increase their lead. A deep cross from the impressive Ben Starosta was met by the head of Kirk Jackson to give the visitors a 2-1advantage. This lead was only to last five minutes as Staveley again restored parity. The diminutive Joel Birks placed a twenty yard left footed free kick past the dive of Leigh Walker to bring Staveley back into the game. The game reached frenetic, end to end status by this point and must have been a delight to watch for the neutral spectator. Roney made an impressive run and cross down the right flank only to see Longstaff blaze over. Longstaff nearly made amends with a terrific swivel and volley from fully 25 yards which just went wide. Not to be outdone, the tenacious Andrew Fox shot just over from 18 yards for the home team. On 64 minutes, Jordan Eagers received his marching orders, clipping Fox to receive a second yellow card. Sheffield appeared undeterred by this setback and continued to take the game to the Inkersall Road side. A Cusworth header was tipped over by Dinnigan on 73 minutes, Cooksey skied a decent chance and Longstaff hooked narrowly wide. Disaster struck on 87 minutes when Kyle Chambers put the prolific Chris Coy through, who made no mistake with a comfortable one-on-one to give Staveley a 3-2 lead and an apparent comfortable passage into the final.
Controversy reigned on the stroke of full time as Sheffield gained an unlikely equaliser. Dinnigan launched the ball out of play to allow an injured player to gain treatment but after the referee had apparently blown his whistle. The referee Mr Wigglesworth restarted the game with a drop ball well inside the eighteen yard box. From the ensuing scramble, Lee Cooksey forced the ball home to give Sheffield an equalising goal. Vehement protests from Damms and Dinnigan saw them both receive their marching orders and Staveley were forced to place Kyle Chambers in goal for the now-inevitable period of extra time.
Nine minutes into the first additional spell, Chambers was severely tested by the aerial threat of Brian Cusworth and it was the Sheffield forward who made contact to head his side into a 4-3 lead. Staveley introduced Scott Bates and Michael Lyall in attempt to force a possible penalty shoot-out but numerical advantage told and the remaining minutes ticked away without further incident.
So Sheffield take their place in the final at Hillsborough, their opponents being old rivals Hallam, who were 4-1 victors over Nostell MW.
BTF Man of the Match: Ashley Longstaff
Staveley MW: Dinnigan, Staley, Fawcus ©, Colley, Robinson (Bates), Chambers, Smith (Broadbent), Fox, Damms, Coy (Lyall), Birks. Subs Not Used: Aston, Lyon.
Sheffield FC: Walker, Eagers, Starosta, Wright ©, Smith, Cooksey, Roney (Leonard), Ford, Longstaff, Jackson (Cusworth), Woolley. Sub Not Used: Purkiss
Att: 175
Sheffield FC 0 Glapwell 0
UniBond Division One South
Easter Monday, 05/04/10
Honours were even at the BT Local Business Stadium this afternoon, writes Dave Bell, with Sheffield and Glapwell cancelling each other out and adding to an extremely tight finish in the search for UniBond Division One South play-off places.
The game was a predictably tense affair played out on the now customary 'heavy' Dronfield pitch. Ben Walker had the first shot in anger on ten minutes but it was to sum up the rest of the match, somewhat tame. Another feature of the match was a series of niggly fouls, six of which the referee Mr Thompson duly punished with yellow cards but allowed many incidents to run free. The best effort of the half came from the visitors on 22 minutes as Higginson made headway down the left flank. His cross was met by Ian Brown, whose side-footed effort was well saved by Leigh Walker. Brown put a 20 yard free kick just wide of Walker's left hand post on the stroke of half time as a combative half ended with few chances of note.
The second half began in much the same vein. Glapwell's Kimberley managed a shot straight at Walker on 62 minutes, with little of note occurring in the minutes after re-start. Such was the cagey nature of the contest that neither manager saw fit to make a substitution until the 70th minute. Glapwell replaced their strike duo, Higginson and Brown and Sheffield sought to attack down the left wing with Woolley making way for Adam. Sheffield's best effort came in the form of a thirty yard pile-driver from Curtis Woodhouse on 77 minutes that was parried away by Andy Richmond in the Glapwell goal. The closing minutes saw Cusworth head over from a Woodhouse free kick and at the other end, Glapwell veteran Neil Grayson flicked on for Jamie Clarke, who saw his strike comfortably saved by Walker.
Not a game for the football purist but the result added to the curious position of just two points separating the seven sides below runaway leaders Mickleover. A welcome break from the nail-biting end to the league season comes in the form of the Sheffield & Hallamshire Senior Cup semi-final away at Staveley on Wednesday night.
Sheffield FC: Walker, Eagers, Starosta, Jones ©, Wright, Leonard, Roney, Woodhouse, Cusworth (Purkiss), Walker (Longstaff), Woolley (Adam). Subs Not Used: Smith, Davis.
Glapwell: Richmond, Darkin, Magee, Shelley, Kennedy, Timons ©, Kitchen, Walker, Higginson (Clarke), Brown (Grayson), Kimberley (Burdett). Subs Not Used: Wood, West.
Att: 348
Chasetown FC 3 Sheffield FC 1
UniBond Division One South
Good Friday, 02/04/10
Club's good run with away form finally came to a muddy and inglorious end, writes Rob Shepherdson, on our first ever visit to play-off rivals Chasetown FC in Staffordshire. Conceding one first half goal and two in the second half sowed the seeds of a disappointing defeat with only a scrambled consolation goal from Tom Jones in added time briefly brightening up the afternoon for the travelling Clubbies.
Chasetown hit the headlines in December 2007 when, after beating Port Vale, they become the lowest ranked side to ever make the Third Round of the FA Cup, their reward being a home tie against Cardiff City. Despite losing 1-3, strong links were made between the two clubs and 'The Scholars' were invited to be the first team to play at Cardiff City's new stadium in July 2009. With rain still falling at the ground as kick off approached, the hosts watched nervously as the match officials inspected the pitch, however their verdict was good and the match was on. At this stage the pitch didn't look too bad but was very wet in places and with one match already having been cancelled here in midweek the relief showed on the faces of the ground-staff by the decision.
Sheffield began in lively fashion and as early as the 3rd minute Starosta played a low ball into the area which Longstaff just fails to get a good connection and the ball is cleared. A few minutes later Leonard heads clear a goal-bound free kick from Branch as the Scholars, began to find their pace. Shortly afterwards Jones is forced to head behind for a corner but Horler heads the resulting cross wide. With 10 minutes gone the pitch is already cutting up quite badly and the ball is sticking in the centre circle although, at last, the rain has now finally stopped. Chasetown are fairing better in the deteriorating conditions and the inevitable happens on 16 minutes; Gascoigne brings Hay down just outside the area and concedes a free kick. Stephens knocks the ball to Branch whose cross into the area is met by an unmarked RYAN to easily stab the ball past Walker. Chasetown are now setting the pace of the game and most of the play is concentrated in our half. Tom Jones is in the thick of it as usual and tempers flare on 25th minute when Walker has to dive on a ball which has not run all the way back to him, Ryan goes in too hard which results in some pushing and shoving which includes Leonard and a booking for each side results. A rare chance at the other end sees a Cusworth header easily saved. Hay is lucky to only receive a yellow card after clearly elbowing Jones in our area but with a number of late challenges and an unpredictable bounce the referee is clearly taking the conditions into account. A Chasetown free-kick, with seven minutes to go to half time, forces a great save from Walker whilst at the other end Gascoigne blasts a free-kick through the Chasetown wall only to see the home keeper makes a good save. With just a couple of minutes remaining Gascoigne gets booked for a late challenge on the nippy Stephens to prevent a break up our left side whilst the half ends with Walker making another good save from an Egan cross as Ryan threatens. Club were certainly second best at half time.
Chris Adam is brought on for Andy Gascoigne at the restart and Chasetown resume where they left off - on the offensive, and Stephens fires in a low shot for Walker to comfortably save. Club at least begin to make more of an impact on the game with Adam pushing forward in support of Cusworth and Longstaff. On the hour mark, Woolley finds space to cross as the hour mark but a defender just manages to beat Longstaff in the air; moments later Longstaff breaks into the area and it is keeper Price who just beats Cusworth to the ball. With 30 minutes remaining Curtis Woodhouse is introduced for Steve Woolley and straightaway Adam breaks through into the Chasetown area but the ball is nicked off him for a Sheffield corner. Woodhouse finds Leonard with the corner but the header goes over; luck is out for the Club Just as things begin to look up we are caught at the back again as Egan crosses to an unmarked HAY at the far post to head in the second with the clock showing 64 minutes. Longstaff makes a good run forward and his cross finds the feet of advancing full back Eagers but the shot is poor by Jordan's standards. With 20 minutes remaining Sheffield play their final card bringing on Purkiss for Longstaff but we are soon back defending and Walker is required to make another good save from Horler. Ford then gets booked for a late challenge but by and large this is a much better tempered half from the first. Gaps at the back are appearing, a consequence of taking risks going forward and on the 79th minute the inevitable happens and a third goal is conceded. Ryan manages to beat Club's defence and forces Walker to dive to his right to push the ball away but, unfortunately, just as it looked like the ball would roll out for a corner Egan popped up at the far post to slot the ball in. Sheffield continue to look for opportunities and only some more great saves from Walker avoid an even worse scoreline although JONES does manage to scramble a consolation goal in added time.
A better showing in the second half doesn't disguise an overall lack lustre performance by the team which will have to do much better if we are to make the playoffs.
BTF Man of the Match: Leigh Walker
Chasetown: Price, J.Branch, M.Branch, Slater, Thomas, Saunders, Stephens (Miller), Egan ©, Hay, Ryan (D.Smith), Horler (Jevons). Subs Not Used: Anslow, Horton.
Sheffield: Walker, Eagers, Starosta, Jones ©, G.Smith, Leonard, Wolley (Woodhouse), Ford, Cusworth, Longstaff (Purkiss), Gascoigne (Adam). Subs Not Used: Wright, Roney.
Att: 371
Shepshed Dynamo 0 Sheffield FC 4
UniBond Division One South
Tuesday, 30/03/10
In the damp East Midlands Sheffield FC got their promotion campaign back on the rails with a convincing 4-0 win over Shepshed Dynamo, writes Roy France. First half goals from Brian Cusworth and Jordan Eagers (penalty) allied to second half strikes from Chris Adam and Ashley Longstaff saw the points come north.
Within the first minute Club should have gone ahead when Cusworth managed to glance his header wide when faced with an open goal from two yards out. However the big striker was to make amends eight minutes later. Firstly another of his headers was deflected for a corner which Outram floated across. Big Ben Leonard headed it back and Cussie forced it over the line despite the despairing efforts of Agbor. A penalty appeal against Ben Walker was turned away and after Adam was fouled the home bench launched into a tirade of colourful language directed at linesman Green. Green reminded them of the respect campaign which they duly ignored and it led to a ticking off from the referee. Ryan Ford was showing up well in midfield as Sheffield began to control the game. A nice run from Outram on 19 minutes, featuring a neat one-two with Walker, ended with the winger's header lacking power. Two minutes later an Outram free-kick was headed wide by Smith.
The rain grew heavier but had no affect on the frequently landing jets at the nearby airport. Indeed they appeared to be coming in so slowly that one wondered how they stayed in the air! Back to the action and a rare chance for the home side saw Cummins' header easily saved by the clean shaven Leigh Walker. The challenges in midfield were becoming a bit tasty, mainly due to poor timing and the conditions rather than malice, and after one such tackle the referee booked Shepshed skipper Sheppard when he was needlessly late on Ben Starosta. Just after the half-hour mark a weak clearance fell to Robinson and his deflected shot dangerously looped up but Walker made an acrobatic palm over the bar. The corner led to a wild effort from Agbor, the full-back's shot higher and wider than a Johnny Sexton conversion attempt. Nine minutes before half-time the industrious Leonard was brought down on the edge of the box after he had unloaded and the referee pointed to the spot. Up stepped Eagers to fire home despite Jupp getting a left hand to it and it was 2-0. The goal seemed to antagonise the home side and fans and the tackles flew in again with Civzelis and Screaton receiving yellows. Ford put a free-kick wide before Ben Walker and Adam found themselves in the referee's notebook for strong tackles just before the break.
In the first minute of the second half Ben Walker raced clean through on goal but Jupp managed to parry his effort. There then followed a quiet spell with neither side able to dominate. However on 60 minutes Club sealed the points. Leonard played a lovely curling ball upfield, Walker got to it first and brilliantly knocked it inside, taking out two defenders, for Cusworth. Brian had two efforts on goal blocked but the ball fell to the supporting Adam on the left wing who expertly found the top of the net to the delight of the travelling fans! A superb goal. Both sides now appeared to accept the result with only really goal difference and a clean sheet now to play for. However the home fans had other ideas and with twenty minutes remaining they burst into a "We're gonna win 4-3 song"! This seemed to inspire Dynamo as they had three shots on goal, the best from Sheppard who hit the crossbar with Walker well beaten. There then followed a flurry of substitutions.
Matty Outram was putting in an immaculate shift on the right side, his blue kit almost unrecognisable as it was covered in mud from his efforts! Ben Walker was showing an amazing level of fitness as he chased every ball combined with some tireless off the ball running. Gav Smith was coolness itself at the back but his kit somehow remained immaculate. Tom Jones too won a number of headers as Sheffield were determined to not concede, with Walker catching a number of crosses cleanly. After one of these he attempted a quick kick upfield but was hampered slightly by Screaton. To the surprise of most present the referee blew for a foul and produced a second yellow for the number 4. After a long protest Screaton eventually made his way off for an early shower. In the last minute of normal time a cross ball from Ben Walker found Ashley Longstaff unmarked and the popular striker took one touch before firing it home. Job done.
BTF Club Man of the Match: Jordan Eagers.
Shepshed Dynamo: Jupp, Agbor (Atkin), Koriya, Screaton, Goodby, Cummins, Civzelis, Sheppard ©, Barlone, Robinson (Fitzharris), Connolly. Subs Not Used: Allen, Harding, O'Neill.
Sheffield FC: L.Walker, Eagers, Starosta, Jones ©, Smith, Leonard, Outram (Woolley), Ford, Cusworth (Longstaff), B.Walker, Adam (Gascoigne). Subs Not Used: Roney, Wright.
Att: 115.
Sheffield FC 1 Grantham Town 1
UniBond Division One South
Saturday, 27/03/10
The biggest crowd of the season was at the BT Local Stadium this afternoon, and witnessed a pretty scrappy encounter between Club and their visitors from Lincolnshire, with the game petering out into an appropriate one-all draw. Brian Cusworth opened the scoring for Sheffield after 17 minutes and could have gone into the break even further in front; however a goal in first half stoppage time from Ben Saunders stunned the home side, more or less setting the stage for a pretty uninspiring second period.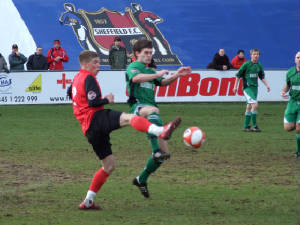 It could be said that the game had a pretty feisty start, with some pretty robust challenges from both sides, and it took some time to settle into a proper pattern. The Gingerbreads were the first to try their chance on goal, when Matt Glass stepped round Leigh Walker, before shooting wide of the goal. Sheffield started to show some of the class they are clearly capable of, and were soon rewarded after Steve Woolley made a trademark run down the left wing, putting in the perfect cross for CUSWORTH to volley home from five yards. Club had the opportunity to race away with the game after this, as first Jordan Eagers tore in from the right and skimmed the post with a rasping shot, and Curtis Woodhouse teed up Ashley Longstaff with a shot that was well saved by Rob Murray. It always seemed that Sheffield would need that second goal to make this one safe, and as Grantham started to get a foothold in the game, this suggestion was soon to come true. After Gary Sucharwycz headed over after the ball had hit the bar, followed by a Ben Saunders bicycle kick that went perilously wide, it was clear Sheffield were sailing pretty close to letting the lead slip. On the stroke of half time Grantham were awarded a free kick, Matt Millns sailed the ball high and long into the box, over Leigh Walker's head giving SAUNDERS an easy touch in at the back post.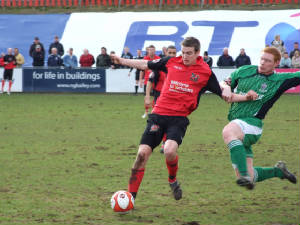 Whilst the end of the first half was a little harsh on a committed looking Sheffield side, Grantham were the team to come out in the second period the more positive, and spent much of the half pressing the hosts into their own half. Even so it was Club who were the closest to scoring, as Eagers let one go from the edge of the area, going just over the bar. The visitors had a good shout for a penalty midway through the half, with the referee waving play on, even though his better placed assistant was flagging frantically for a foul. Grantham also managed to go close with Sucharwycz heading an Alistair Asher free-kick just wide, but for all their pressure and territorial advantage, they only contributed to the game's increasingly scrappy nature. Sheffield offered little more to proceedings even though they came nearest to breaking the stalemate, after substitute Ryan Ford put the ball over the top to Cusworth and although he had plenty of time to settle, the shot was comfortably saved by Murray.
Sadly this is another one of those games that should have been wrapped up early on, however on a tricky surface and facing a tenacious opposition that refused to lay down, it was another case of dropped points. With the tight nature at the top of the table the single point means Sheffield drop from second spot, following Belper and Kidsgrove's wins, to fourth spot. Club have their chance to get back on the promotion trail on Tuesday, as they travel to 16th placed Shepshed who will be buoyed by a victory of their own this afternoon, meaning it will be yet another big (and difficult) game for Chris Dolby's charges.
BTF Club Man of the Match: Ashley Longstaff
Sheffield FC: L.Walker, Eagers, Starosta, Jones ©, G.Smith, Woodhouse, Outram, Gascoigne (Ford), Cusworth, Longstaff (B.Walker), Woolley (Roney). Sub Not Used: Wright, Adam.
Grantham Town: Murray, Pericoe, Potts, Asher, Sucharwycz, Millns, S.Saunders, Robinson ©, Glass, B.Saunders, Hargreaves (Hewitt). Subs Not Used: Davies, Stainsby, Hallcro, King.
Att: 763.
Glapwell 1 Sheffield FC 1
UniBond Division One South
Tuesday, 23/03/10
No repeat of last year's drama at a cold, drizzly, blustery Hall Road tonight as Glapwell and Sheffield drew 1-1 (writes Roy France). Club had the best of the first half and went ahead through Ashley Longstaff on 15 mins who stabbed home from close range after a shot from Woolley was parried. The keeper redeemed himself shortly after when holding a crisp long range effort from Gascoigne. At the other end Ben Starosta made an excellent last ditch block after Spooner pushed out another goal bound effort. Glappy had the slope in the second half and ten minutes in an incisive long low ball led to a shot from Jamie Clarke which found Spooner making a good save but the ball fell to Ricky Hanson who slid home. The home side gained momentum from this and created a lot of pressure. Dolby made his subs and re-organised the formation with Walker and Adam up front and Cusworth playing as a third centre half. A couple of scrambles in the Club goalmouth came to nought and then we had a flurry of late chances - the best falling to Walker who beat a couple of defenders but couldn't get his shot on target. The game was hard fought with plenty of rustic challenges, a few forehead to foreheads and a number of strange refereeing decisions. Cusworth was booked in one such altercation. The general feeling amongst a decent away following was a draw was a fair result.
Glapwell: Richmond, Darkin, Magee, Varley, Kennedy, Shelley, Hanson (Kimberley), Walker, Clarke (Grayson), Brown (Higginson), Kitchen. Subs Not Used: Commons, West.
Sheffield FC: Spooner, Eagers, Starosta, Jones (Cooksey), Wright, Woodhouse, Outram (Adam), Gascoigne, Cusworth, Longstaff (B.Walker), Woolley. Subs Not Used: Roney, Purkiss.
Att: 141
Market Drayton Town 1 Sheffield FC 5
UniBond Division One South
Saturday, 20/03/10
Sheffield came back from the long trip to Shropshire with all three points, with an ill-tempered encounter that saw the home side end the game with ten men, overshadowing a much improved Club performance this afternoon at the Greenfields Ground. Tom Rogers was the player who went from hero to villain, following an x-rated two footed lunge in a first half that saw both sides get embroiled in some pretty ugly scenes, after he had given Town a 22nd minute lead. It was 1-1 at the point when Rogers made the walk of shame five minutes before the break, by the interval Sheffield had run up an unassailable 4-1 lead, as Market Drayton simply crumbled under the pressure. A second half goal from Joel Purkiss wrapped up the scoring late in the second half, adding to the two from Steve Woolley and one each from Ashley Longstaff and Brian Cusworth, which had reversed the early lead from the hosts' goal.
Following a wretched performance last Saturday, Sheffield were looking to get back to winning ways, and it was they who took the early initiative with a Tom Jones volley going just over following a Curtis Woodhouse free-kick. Eventually Market Drayton took control of the game, and started to cause the Sheffield defence all manner of problems, having to come to the rescue on more than one occasion. First it was man-of-the-match Tom Jones who got back to clear off the line, after Tom Rogers got a header on target, next it was Ryan Davis who hooked the ball off the line following a Martyn Davies shot. Midway through the half the hosts got their deserved lead, Stuart Ellis' corner was badly cleared by the Sheffield defence, and there to pounce with an over the shoulder hooked shot was ROGERS. Market Drayton were good value for their lead, and should have extended their advantage when Martyn Davies took the ball round Leigh Walker, only to see his finish hit the post. They were soon to pay for the lack of a finishing touch moments later, as Steve Woolley saw his volley blocked by the arm of Jason Francis; amazingly instead of a penalty a corner was awarded by referee Smart. From the resultant set-piece Woodhouse sailed the ball into the middle; it was helped on by Cusworth's headed flick, and from five yards out WOOLLEY pulled an over-head kick out of the bag to level things up.
Brian Cusworth gets his head to the ball...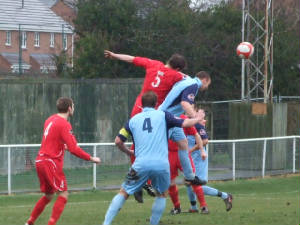 ...and from the lay-off Steve Woolley leveled the scores.
There had been an undercurrent of bad-feeling throughout the first half, with Andrew Gascoigne receiving a yellow card for some over-exuberant challenges, whilst there seemed to be an ongoing running niggle between the two number sevens – Messrs Porter and Outram. Five minutes before the interval though, things turned decidedly ugly as Rogers went into a challenge with Gascoigne with both boots raised, sending the Sheffield player into the air with an absolutely disgraceful challenge. This caused a ruckus of the highest order, with both benches and the majority of the players getting involved in a skirmish, which took Mr Smart quite some time to sort out. Naturally a red card was issued, and as soon as the game got back to "normality", Sheffield took the lead with a neatly worked goal. Ryan Davis played the ball into Cusworth, with the big striker holding the ball up nicely for LONGSTAFF, who took the ball on before curling a beautiful effort beyond the diving Taylor in the home net. Two minutes later and Taylor was picking another out, as Matty Outram put a ball into Ashley Longstaff, who returned the favour by holding the ball up for CUSWORTH to blast in from ten yards out. If that wasn't bad enough for Market Drayton, Sheffield made it four before the break, as Cusworth laid the ball back to WOOLLEY who curled another beauty beyond Taylor and into the top corner.
Steve Woolley in classic action...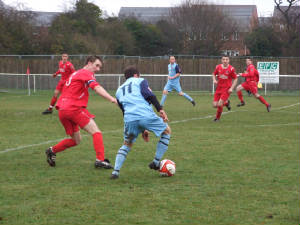 ...taking on Market Drayton's skipper Paul McMullen.
The second half was always going to be an anti-climax following the first half's events, with the hosts having a massive uphill battle on their hands if they were going to get anything out of this one, and Sheffield appeared to be in no mood to give anything away as they dominated proceedings with a steady display. After a lengthy period of nothing happening, things sprung to life with a series of Sheffield chances, starting with a wicked Steve Wolley cross that Steve Taylor excellently tipped over the bar. Brian Cusworth had a powerful shot well stopped by Taylor, whilst the ever more confident keeper did well moments later, stopping a Ryan Davis effort following an impressive driving run from the back. With seven minutes to go though there was nothing Taylor could do to prevent a fifth Sheffield goal, as once again Cusworth turned provider, laying on a perfect ball for substitute PURKISS to slot through the keeper's legs. It could easily have been more if not for a double-save of the highest order from Taylor, after first denying Matt Roney with a parry, and then the rebound from Ashley Longstaff with his legs.
Matty Outram delivers another free kick...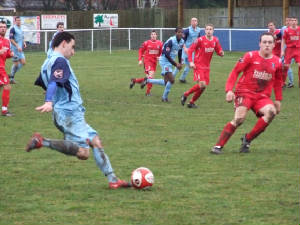 ...with Gav, Jonah and Cussy waiting in the middle.
In hindsight this looks a fairly easy win for Sheffield, but they were made to work all the way by a solid and strong Market Drayton side, who could have made things all the more difficult if not for the five minute collapse before the break. There were many good things about the Sheffield performance, not least a solid defensive display from Gav Smith and Tom Jones, whilst in midfield Andy Gascoigne ran his legs off with a spirited step up from "lower level" football. In the end the thing that made the difference was the finishing, and how clinical it was, with the majority of chances for once being converted. Next along for Club is a midweek local derby at Glapwell, which goes without saying, is a must-win game and an important step in Sheffield's promotion aspirations.
BTF Club Man of the Match – Tom Jones
Market Drayton Town: Taylor, Francis, Howells, Carvey (Bowyer), McMullen ©, Stallard, Porter, Haynes, Davies (Humphreys), Rogers, Ellis (Howarth). Subs Not Used: Spooner, Beech.
Sheffield FC: Walker, Eagers, Davis (Wright), Jones ©, G.Smith, Woodhouse, Outram (Purkiss), Gascoigne, Cusworth, Longstaff, Woolley (Roney). Subs Not Used: Spooner, Leonard.
Att: 71
Sheffield FC 12 ASD Pro Appio 0
International Friendly
Wednesday, 17/03/10
Sheffield FC ran out winners of the Anglo-Italian Invitational Trophy at the BT Local Business Stadium last night, but in true sporting style and always wanting to set a new precedent in the game, awarded the trophy to Pro Appio on the basis that they then have to invite Club back out to Rome to defend it. A 200 strong crowd including many local school children saw a mixture of Sheffield players give a good all round performance against the visiting Italians who kept their shape throughout the night, but found Club's strength and fitness a bit too much to handle.
All smiles after the game...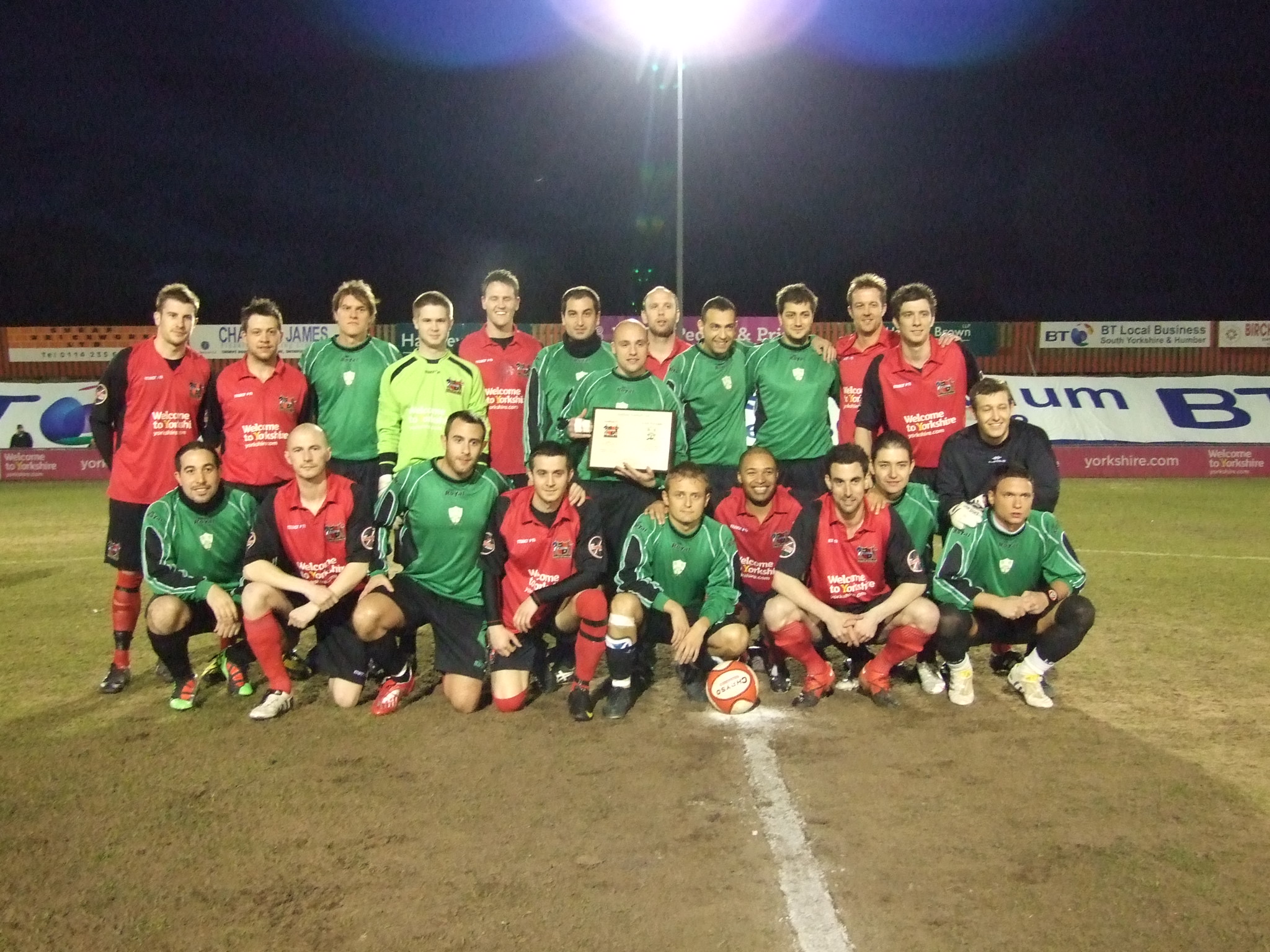 ...with a return trip to Rome highly likely for some more.
At the end of the game, the trophy was presented to Pro Appio's Chairman Claudio Fabrizio by Dronfield's Mayor, Frank Higgins. Both teams retired to the Coach and Horses pub afterwards to sample the Thornbridge ales, especially the Wild Swan brew which had been renamed for the night in honour of the visiting side. Sheffield FC plan to visit Rome in September this year as guests of the Italians for a re-match which should see a closer tie being played out on foreign soil.
Sheffield FC: Rutrowski, Wright, Davis, Cooksey, Jones, Ford, Outram, Leonard, Cusworth, B.Walker, Woolley.
ASD Pro Appio: Sequi, Turini, Flagello, Ricciotti, Molinelli, Moro, Pimon, Manili, Fabrizi, Geani, De Dominico. Subs: Matarazzo, Lancia, Teodori, De Tomazzo, Rosini, Panno, Botrini, Scarcello, Maio.
Att: 200 (approx)
Sheffield FC 0 Kidsgrove Athletic 3
UniBond Division One South
Saturday, 13/03/10
For the second Saturday in a row, Sheffield turned in a below-par performance against visitors from Staffordshire, and were punished accordingly. In one of the most toothless displays from a Sheffield side in years, Kidsgrove came to the BT Local this afternoon and waltzed away with all three points, without even having to break sweat. Two goals from Dave Walker and one from Sam Hall did the damage for in-form Athletic, deservedly taking them into the top five for the first time in months, and forcing Sheffield to drop to third.
Following on from Tuesday night's heroics at Stocksbridge, there was a confident air around the Coach and Horses prior to the game, but that was put into perspective within the first four minutes. With the first attack of the game, a ball over the top saw Dave Walker get behind the defence, and with only his namesake to beat WALKER made no doubt with a clinical finish. After this stunning opening, nothing really happened in an otherwise sterile half of football, with only a Walker effort being cleared off the line by Lee Cooksey and a Matt Haddrell shot being saved by Leigh Walker the only things of note. It took nearly forty minutes of the half for Sheffield to get their first effort on goal, with Ashley Longstaff and Brian Cusworth linking up to set up Curtis Woodhouse, with the midfielder's shot narrowly missing the target. The sucker punch to the half's proceedings came in the final minute of stoppage time, when Sheffield were slow to close the ball down just outside the area, allowing HALL to drive the ball home from twenty yards.
Sheffield were expected to come out all guns blazing in the second period, however it was the visitors that started with the initiative, and within minutes the game was over. A smart little break down the right saw Aiden Matranga expose the Sheffield defence, with his half hit cross finding WALKER unmarked in the middle, giving the easiest of finishes. This provoked a triple substitution from the hosts, but despite the new influx of fresh legs and ideas, the outcome was pretty much the same. Dave Walker had the opportunity of rubbing salt in the wounds of the already suffering home side, when he found himself clear through on goal with Leigh Walker, sadly for him the final effort was blocked wide. On seventy minutes Club finally forced the otherwise unemployed Steve Intihar to make a save, as Ashley Longstaff forced the keeper to tip his effort over the bar, following a decent set-up by Brian Cusworth. Other than this solitary effort, Sheffield looked nothing like a side pushing for promotion, with many of the 240 present well on their way home before the final whistle was blown.
BTF Club Man of the Match: Lee Cooksey
Sheffield FC: Walker, Ludlam, Wright, Cooksey, G.Smith ©, Leonard (Ford), Eagers (Outram), Woodhouse, Cusworth, Longstaff, Roney (Woolley). Subs Not Used: K.Jackson, Davis.
Kidsgrove Athletic: Intihar, Shenton, Dove ©, T.Schwarz, D.Smith, Sanders, Matranga, Hall, Walker, Haddrell (Shotton), McGaw. Subs Not Used: Moss, Bridge, D.Schwarz.
Att: 240
Stocksbridge Park Steels 4 Sheffield FC 5
Sheffield & Hallamshire Senior Cup 3rd Round
Tuesday, 09/03/10
Sheffield FC reached the semi-final stage of the Sheffield & Hallamshire Senior Cup, writes BTF's new correspondent David Bell, with a last gasp victory over Stocksbridge Park Steels in a pulsating encounter.
Events couldn't have begun worse for the visitors as a long ball from defence by Daly eventually saw Jamie Vardy tripped in the area by Lee Cooksey. Andy RING dispatched the resulting penalty to give Steels the lead with barely a minute gone. Club's new look central defensive partnership of Cooksey and Davis struggled to cope with a succession of long balls to the dangerous Vardy and Ring as Steels dominated the opening stages. The lead was doubled on 13 minutes as Vardy again breached the defence laying on a low cross for TRACEY, who had the easiest of tap-ins.
Worse was to come as Cooksey was dispossessed when in little danger allowing the pacey VARDY to break free and give Stocksbridge a commanding three goal cushion with barely twenty minutes played.
Sheffield's first real effort of note didn't come until the 34th minute as a Kirk Jackson back-heel played in Curtis Woodhouse, whose curling effort was tipped away by Dave Ratcliffe in the Stocksbridge goal. This did however signify an upturn in Club's performance with Jordan Eagers impressing in midfield. On 44 minutes, a Matt Outram cross was headed out of the Steels defence only as far as WOODHOUSE, whose low left footed strike from 20 yards gave Sheffield some hope going into the break.
The action didn't let up at the beginning of the second half as Stocksbridge's front two managed to hit the post twice in quick succession within the opening minute. Club introduced Ashley Longstaff on 50 minutes, replacing Curtis Woodhouse, and were yet to realise how influential this substitution would be. Again, Club were in the ascendancy but had the wind taken from their sails when Daly clearly handled just outside his own 18 yard box, only to see play allowed to continue with VARDY outpacing Ryan Davis and making it 4-1 to the home side. Ironically, the referee decided to produce a red card for the handling offence, giving Daly his marching orders.
Steve Woolley and Brian Cusworth entered the fray as Sheffield made their last throw of the dice. On 67 minutes, the ebullient Longstaff found EAGERS at the top of the area, whose low shot found the back of the net to make the scoreline 4-2. Sheffield continued to press and now looked the side most likely to score. A penalty area scramble saw several shots beaten away by Ratcliffe before the ball found the back of the net, the scorer being unclear in the melee but believed again to be WRIGHT. The unlikeliest of comebacks became reality on 88 minutes when a jinking run by Woolley into the area was eventually converted by Ashley LONGSTAFF. Club were utterly rampant by this stage and thoughts of extra time were banished when a deep cross by Roney on the stroke of 90 minutes was hooked in by super-sub LONGSTAFF to produce a remarkable 5-4 turnaround. Five minutes additional time allowed by the youthful officials was comfortably negotiated sending Club's fans back to Derbyshire in jovial mood indeed.
BTF Club Man of the Match: Ashley Longstaff (again)
Stocksbridge Park Steels: Ratcliffe, Tonks, Schofield ©, Hall, Lovell, Daly, Tracey (Kane), Clayton, Ring, Stirrup, Vardy. Subs Not Used: Callery, Joynes, Claisse, Ward
Sheffield FC: Walker, Ludlam, Wright, Cooksey, Davis, Leonard, Outram (Woolley), Woodhouse (Longstaff), K.Jackson © (Cusworth), Eagers, Roney. Sub Not Used: G.Smith.
Att: 148
Sheffield FC 1 Leek Town 2
UniBond Division One South
Saturday, 06/03/10
Is Curtis the new......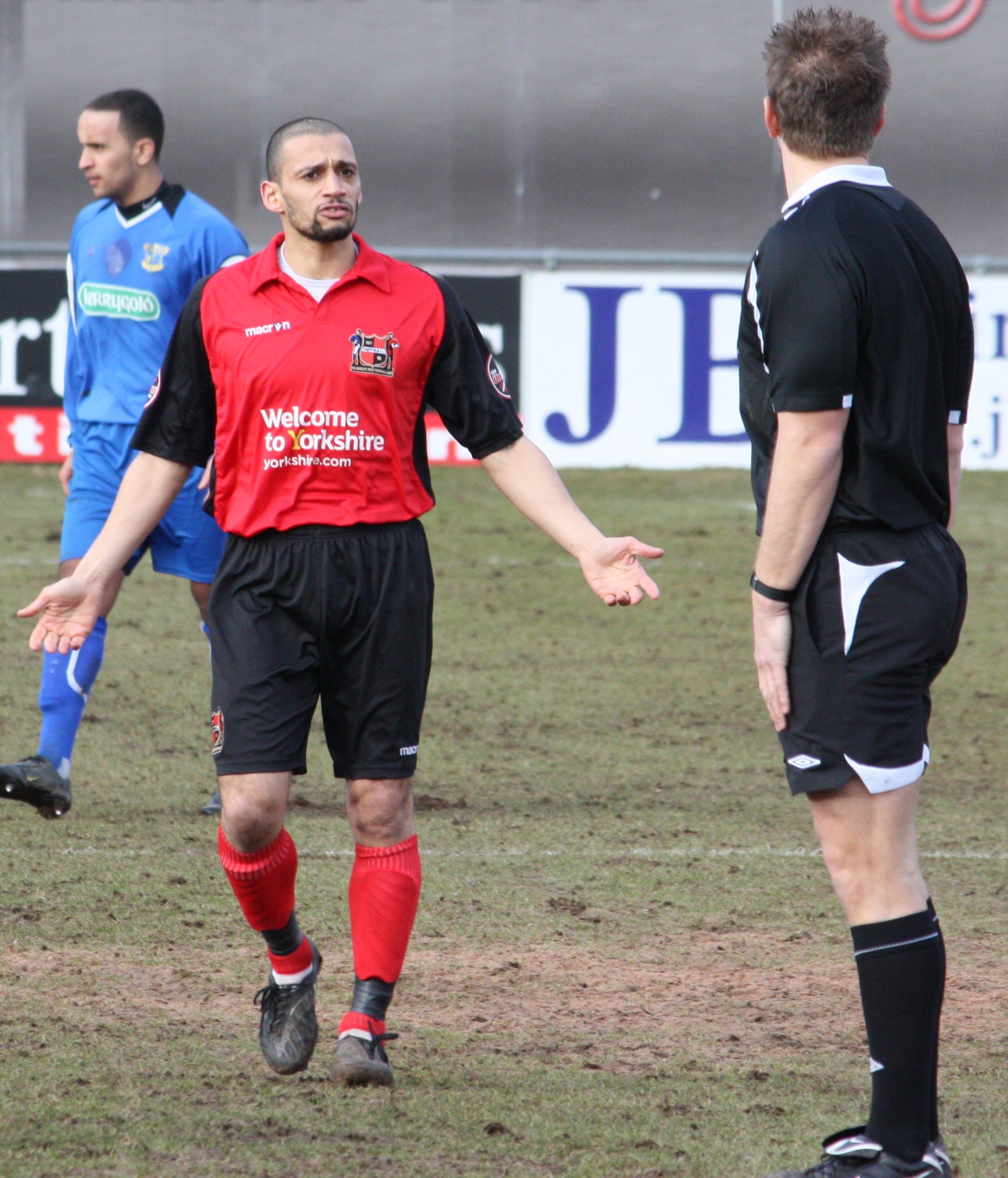 Dronfield Woodhouse ????
Two first half goals put Sheffield's promotion ambitions on the back-burner for the time being, as Leek Town came to the BT Local, and went back to Staffordshire with three points. Two goals Ashley Miller did the damage, as Sheffield put in a poor first half showing, whilst Brian Cusworth grabbed a consolation in a second period that saw Club put the visitors on the back foot – but not enough to turn around the deficit.
Sheffield started the game with a fair bit of momentum, but were met by a very well organised Leek defence, led by their skipper Nick Ward who led by example with a commanding performance. On ten minutes though the hosts were stunned, as a speculative shot from the edge of the area by MILLER bounced in front of Leigh Walker, embarrassing the keeper as the ball bounced over his body and into the net. Leek were buoyed by this touch of good fortune and piled on the pressure, with Wayne Corden's snapshot turned round the post by a one-handed Walker save, with Paul Rutter shooting wide from the resulting corner. Midway through the half the visitors added a second, and with some class it has to be said, as the ball fell to MILLER thirty yards out and he let a thunderous shot loose that gave Walker no hope of reaching. To this point Club had not had a shot in anger on the Leek goal, and when it finally came, Steve Hodgson was there to tip Ashley Longstaff's effort round the post. Sheffield finally started to get on top of the game, and despite efforts from Outram, Eagers and Cooksey all going close, none were able to give the hosts that lifeline just before the interval.
Cusworth foiled this time.......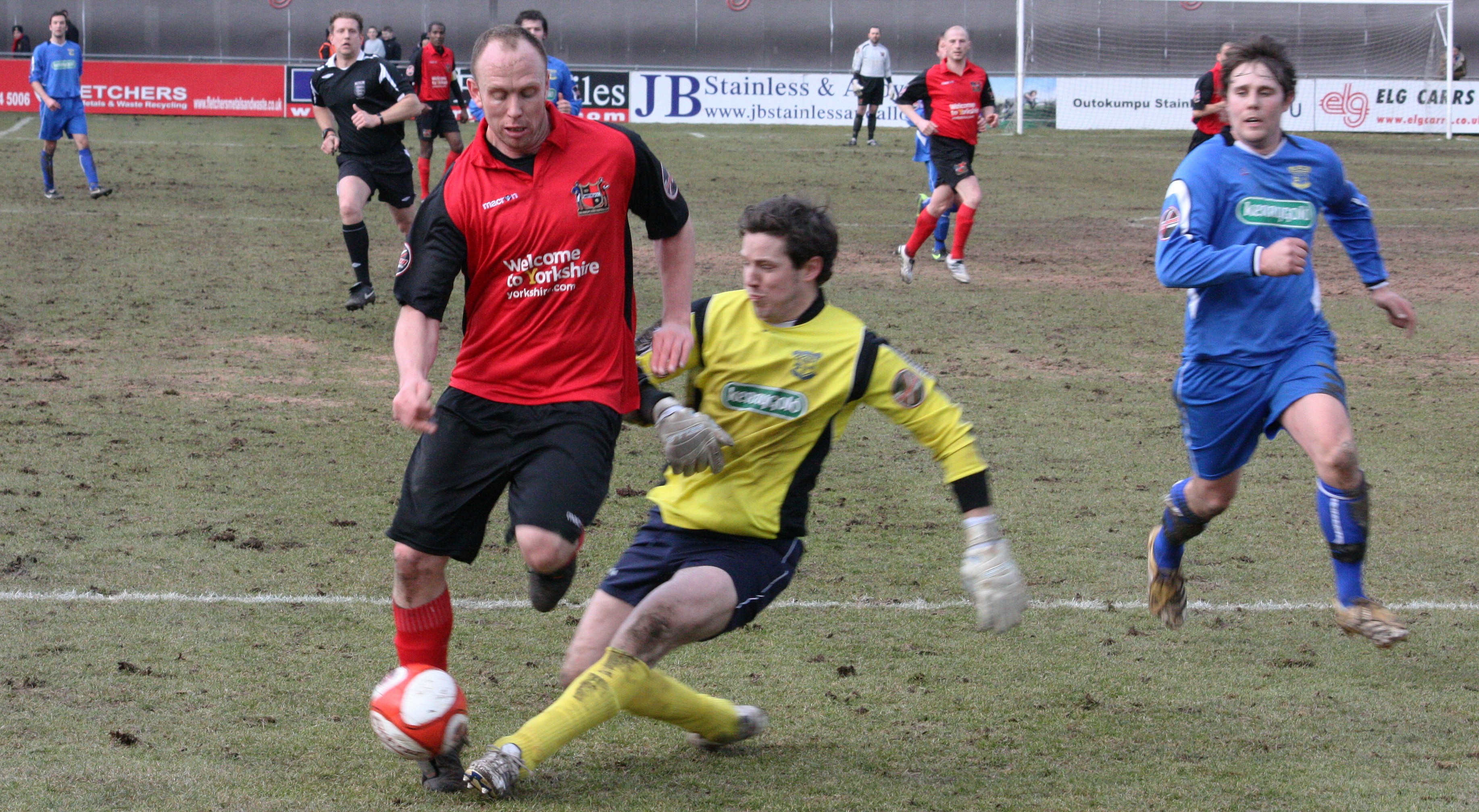 by this unorthodox stop from the Leek Town keeper
The second period saw Leek more or less content to hold onto what they'd earned in the first half, and sat back allowing Club to come at them, however it seemed that no matter how much space Sheffield were given – they couldn't get that vital breakthrough. Curtis Woodhouse and Matt Roney's introduction to the game gave a new injection of life to the home team as well, and it was Roney who had the opening chance of the half when shooting wide, after some neat build up play from Eagers and Outram that saw Hodgson only able to parry the ball to the substitute. Luck wasn't on Sheffield's side with some of the finishing, and this was more or less summed up when Brian Cusworth got to the ball ahead of Hodgson, squaring the ball to Ryan Ford who shot woefully wide. Club finally got on the scoresheet when the debutant making his bow in Dronfield – Woodhouse - showed great vision to spot Roney out on the left, his cross in the middle picked out CUSWORTH who headed home. It was all Sheffield at this point, and straight after they nearly grabbed an equaliser when Longstaff got between the defence and keeper, only to lob over the goal. Try as they might though Sheffield weren't able to get that vital goal, and when Eagers' shot was headed off the line by Peter Johnson, followed shortly by a Woodhouse header over the bar it was obvious this was going to be one of those days.
Amazingly Club remain in second place, after all the results of the teams below went their way, however it now looks almost like a cakewalk for Mickleover Sports as they extended their lead at the top of the table to an incredible ten points. Needless to say the title's destination is no longer in Sheffield's hands, although that second place could be vital come the season's end, with home advantage at stake in the play-offs. Having said that, there's still a long way to go and plenty of twists and turns still possible…
BTF Club Man of the Match: Ashley Longstaff
Sheffield FC: Walker, Ludlam (Woodhouse), Wright, Jones © (Cooksey), G.Smith, Ford, Outram, Eagers, Cusworth, Longstaff, Woolley (Roney). Subs Not Used: K.Jackson, Leonard.
Leek Town: Hodgson, P.Johnson, Taylor, Ward ©, Ruddick, Miller, M.Johnson, Hawthorne, Ashman, Rutter (Crowe), Corden. Subs Not Used: Cope, Allen, Macari, W.Johnson.
Att: 362
Sheffield FC 2 Quorn 0
UniBond Division One South
Tuesday, 02/03/10
Sheffield welcomed third from bottom of the table Quorn, with Club old boys Paul Smith and Asa Ingall in their side, to The BT Local Business Stadium for this important clash on another cold frosty evening. Club needed to win to maintain their play off credentials and to stay within reach of title chasers and current leaders, Mickleover Sports. Quorn meanwhile were still seeking their first league win on the road in 2009-2010.
In a lack lustre opening half chances were fairly limited. Steve Woolley hit the bar with a dipping shot and Matt Outram headed wide at the back post when the winger would probably be the first to admit he probably should have hit the target. Quorn were belying their league status, for the best part comfortably containing Sheffield's occasional raids on the visitors goal, even allowing centre back Smith the time to venture forward in a raid into the Sheffield goalmouth.
Half time saw Manager Chris Dolby changing things in midfield by introducing Ryan Ford in place of Ben Leonard. The move certainly seemed to galvanise the side and the pressure on the Quorn goal began to mount. The deadlock was eventually broken in the 59th minute when an Outram corner was feebly parried by the keeper to the feet of Jordan Eagers on the edge of the box. Eagers took a step forward before unleashing a shot through a crowd of legs into the bottom corner of the net. Ten minutes later and the game was effectively over as a contest. Ash Longstaff breaking from the middle of the park outpacing his marker and firing in a shot from the edge of the area which the keeper saved at full stretch. However, the goal machine that is Brian Cusworth was on hand following up and the striker smashed the ball into the now unguarded goal.
Chances continued to be created as the new midfield pairing of Ford and Eagers were looking lively and the wingers Outram and Woolley were now finding space. The substitutions of Tom Jones and Steve Woolley did little to stem the flow as Lee Cooksey and Matt Roney carried on the good work. Ash Longstaff will have been disappointed not to get his name on the scoresheet, missing several good chances but his overall performance, and resurgent recent form, had done enough to earn him the Man of the Match vote.
Club will have had few better chances to improve their goal difference and hopefully this will not come back to haunt them. Nevertheless, with fellow challengers Glapwell and Belper Town showing a dip in form the crucial aim of gaining three points had been achieved and there may be a few twists and turns to endure before the season reaches its climax.
Next up Leek Town at The BT Local Business Stadium on Saturday (kick off 3.00pm)
BTF Club Man Of The Match - Ashley Longstaff
Sheffield: Walker, Ludlam, Wright, Jones (Cooksey), Gavin Smith, Leonard (Ford), Outram, Eagers, Cusworth, Longstaff, Woolley (Roney). Unused Subs; Kirk Jackson, Davis.
Attendance: 255
Sheffield FC 3 Cammell Laird 1
UniBond Division One South
Tuesday, 19/02/10
You would imagine that Cammell Laird will want to forget this match as soon as possible; not only did they get delayed en-route to the freezing BT Local causing a thirty minute delay to the kick off, but they were severely outclassed by a confident Club outfit and ended the game with ten men after a fairly ill-disciplined performance. On the other hand you would imagine that Ashley Longstaff will remember this game for some time; not only did he shine with a bustling man-of-the-match performance, he walked away with the match ball after an excellent match deciding hat-trick. First half goals after 15 and 25 minutes gave Sheffield a well deserved interval lead, whilst his third on the hour was icing on the cake; Lairds' sole response to this was an excellent strike from skipper Lee Atherton twenty minutes from time. Sadly the visitors' contribution to the contest will be remembered for a rash of cards that came their way in the game, with four yellows awarded in the first half alone, with the fifth resulting in an early walk to the changing rooms for Tony Rendell.
Lairds' late arrival obviously saw the visitors open the game looking rather ill prepared, and the shaky start looked ominous with Sheffield seemingly out to catch the visitors cold, with Brian Cusworth heading just over the bar. With the away side still rocking, Cusworth almost stole in between the defence and keeper from a Matty Outram touch, with the resulting shot from the Sheffield striker being deflected wide. The reward for this adventurous play was a goal on the quarter hour mark; Jordan Eagers floated a free-kick into the middle which was met by the head of skipper Tom Jones – and with Phil Palethorpe only able to pat the ball out – LONGSTAFF was there to stab home from close range. The lead was doubled ten minutes later, as a long ball down the middle was met by the head of Cusworth who flicked the ball on, on hand again was LONGSTAFF who showed a great deal of composure to hold off the defence and loft the ball over the advancing Palethorpe. The visitors at this stage were looking a rather dishevelled outfit, with some over robust challenges being dealt with by the increasingly annoyed referee Mr Knee's yellow cards, and quite a bit of arguing amongst the ranks. Even so Sheffield couldn't add to the tally, with the closest being another Longstaff effort that whistled across the face of goal, after some great work down the left flank by Steve Woolley.
With the temperatures dropping to sub-zero at the interval, the main objective for Sheffield was to get this game won and out of the way, so anything added in the second period would be a bonus. That bonus almost came in the opening minutes, as a comedy clearance from Nathan Eddison skewed the ball across the face of his own goal and into the path of Ashley Longstaff, uncharacteristically though Longstaff himself sliced his golden chance wide of the mark. He didn't have to wait that long for his hat-trick moment though, as Jordan Eagers played a little knock over the top that was met by LONGSTAFF, who controlled the ball with a little nod before tucking past the outstretched hand of Palethorpe. It was almost four seconds later, as Longstaff got to a ball in the area before Palethorpe before unselfishly squaring the ball across to Roney, unfortunately for him his effort was deflected safely wide of the target. With the game now seemingly signed, sealed and Sheffield's, Lairds started to play the decent flowing football that had been missing from the previous hour. With this it saw a completely different pattern in the game, and they started to create some notable chances, beginning with an excellent drive from Chris Adamson that brought the best from Sheffield stopper Leigh Walker. From the resulting corner from Tim Bigland, the ball was met by the sweetest of volleys by ATHERTON, whose shot gave Walker literally no chance. Any hope of a Lairds' revival was quashed within minutes of this, after Tony Rendell received his second yellow card of the game, following a particularly heavy challenge on Tom Jones. There was a chance of adding a little icing on the cake for Club just before the end as Longstaff was sent through on goal, his shot was excellently blocked by Palethorpe, with new signing Chris Adam's rebound effort sent wide of the mark.
Overall Club did what was needed to get the vital three points for their promotion push, and whilst it was a far from pretty game to watch, it was good enough to propel Sheffield into second spot. With the top end of the table still congested, this win gives a little more comfort in terms of achieving a play-off spot at least, however with fourteen games still to play that premise is still rather premature. Next along for Sheffield is the visit of Brigg Town, who despite their lowly position in the league could still offer stiff opposition, especially given some of their recent displays.
BTF Club Man of the Match: Ashley Longstaff
Sheffield FC: Walker, Ludlam, Wright, Jones ©, G.Smith, Leonard (Ford), Outram (Roney), Eagers, Cusworth, Longstaff, Woolley (Adam). Subs Not Used: Cooksey, K.Jackson.
Cammell Laird: Palethorpe, Eddison, Bigland, Rendell, Jones, Atherton ©, Andrews, Gardiner, Forshaw (Bowen), Mackrath, Adamson. Subs Not Used: Owen, Hay, Tuck.
Att: 195
Stamford 0 Sheffield FC 1
UniBond League 1 (South)
Saturday 14/02/10
A visit to the nicest town in Lincolnshire was expected to be a tough encounter, writes Rob Shepherdson, and the pre-match discussions in the bar before kick off suggested a draw would be a good result. However Messrs Dolby and Whithorne had other ideas and as soon as the team lined up one could sense we trying something a little different. Cooksey was playing just in front of a four man defence and behind an attacking midfield with all three wingers starting alongside Leonard leaving Cusworth to a sole striker role upfront. Stamford really struggled to get to grips with this and despite an early scare and a couple of good second half chances they really didn't cause Club many problems at all and one single goal from the reliable Cusworth, mid way through the first half, sealed the contest.
It was 11 minutes before the first chance of any note when Cusworth's head met a curling Leonard cross forcing a save out of Wright in Stamford's goal. Almost immediately Stamford broke with Beeson sending Byrne away only for the shot to clip Walker's bar. Fine inter-play in midfield between Woolley and Outram gives Woolley a chance from eighteen yards but this shot is wide and moments later Roney sends in another well placed cross which just misses Outram near the far post. A repeat cross a few minutes later finds CUSWORTH in space and he makes no mistake with a header from close range. Chances are few and far between, mostly long range efforts and Leigh Walker is not really threatened in goal until the 35th minute when he blocks a good strike and Jones clears the loose ball. Stamford raised their game a little for the remainder of the half without creating anything meaningful.
The second half starts under a shower which will remain for most of the half and Stamford continued as they finished with a bit of pressure but few results to show from it whilst Cooksey has an early chance from distance and Lenny meets an Outram cross from the goal line but the header is saved. The introduction of JJ for Woolley on the hour makes an immediate impact with the defenders worried by his turn of pace having coped reasonably well with our other fast players. The impressive Malone in the central of Stamford defence remained solid throughout and was unsurprisingly the hosts' man of the match at the end. Half chances fall to both Leonard and Longstaff, the latter on for Cusworth, but the best chance of all fell to Stamford defender Watson who has been pushed forward to bolster their attack, only to totally miss-kick the ball when in space and with our goal beckoning. Club were not really troubled after that and the valuable three points were soon heading back up the A1 to Dronfield.
BTF Man of the Match: Lee Cooksey
Stamford: Wright, Watson, Jackson, Chamberlain ©, Malone, Weston, Cotton, Sedgemore (Matson), Battersby (Walton), Byrne, Beeson
Subs Not Used: Hook, Whitby, Rook.
Sheffield FC: Walker, Ludlam, Davis, Jones ©, Smith, Leonard, Roney, Cooksey, Cusworth (Longstaff), Outram (Eagers), Woolley (J.Jackson). Subs Not Used: Thorpe, Wright.
Att: 192
Sheffield FC 3 Spalding United 1
UniBond Division One South
Saturday, 06/02/10
Sheffield ran out convincing winners at a foggy BT Local Stadium this afternoon, overrunning struggling Spalding United with ease, although the scoreline doesn't really reflect exactly how convincing. Matt Roney opened the scoring on six minutes, with Steve Woolley (16) and Brian Cusworth (75) wrapping things up, whilst Stuart King grabbing a consolation deep into injury time to flatter the visitors. Club could and should have had at least a couple more goals in this game, which has been a traditionally high scoring event over recent years; however they were denied their usual tally by a mixture of scrambles, last ditch clearances and downright excellent saves.
The Tulips had an adventurous look about them early on, no doubt buoyed by their recent conquest of promotion candidates Belper Town last week, and showed their confidence was sky-high with shots from distance by Stuart King and Barmoussa Cisse that went fairly close. Sheffield still hadn't really settled into any pattern of play when they opened the scoring, as Steve Woolley's first run of the day played in Ashley Longstaff who hooked the ball across the goal, leaving RONEY a relatively simple finish from ten yards out. Ten minutes later and some neat interplay on the right wing saw the ball fall into the path of WOOLLEY, and showing some cool composure, the winger neatly lobbed the advancing keeper to double the lead. This salvo rocked Spalding quite hard, but they came straight back fighting, with Luke Forbes' free-kick forcing Leigh Walker to make a pretty decent save. Club eventually started to take a real stranglehold from this point, and it looked as though they would go on and complete a rout; however none of the chances that fell seemed to want to cross the line. Matt Roney put a cross into the middle that was met by the head of Brian Cusworth, Spalding keeper Michael Emery managed to get down to tip the ball onto the post, whilst Tom Jones' header from another Roney cross was cleared off the line by Billy Oliver. The chance that really summed the situation up was when Steve Woolley put Ashley Longstaff in space on the left, Longstaff put in a fierce cross that was chested goalwards by Cusworth, somehow though Emery managed to find himself just in the right place to stop the ball cross the line. Just before half time Spalding gave notice their attacking prowess shouldn't be ignored, as Luke Forbes burst down the right before putting in an excellent cross, Stuart King was on the end of it and it took a brave stop by Leigh Walker to deny the visitors a lifeline.
Spalding actually came out the stronger of the two sides in the second period, and spent quite a bit of time in the hosts' half of the field, yet for all their possession they never really tested the Sheffield goal. With the fog descending quicker as the game progressed, Club started to take a grip on the game, finding more space as they stretched the visitors' defensive line. The chances – like the mist – started to come thick and fast, with Brian Cusworth forcing a brilliant one-handed save from Emery, with the ball cleared off the line yet again by Billy Oliver. Ashley Longstaff saw a shot half saved by Emery, once more the ball was cleared from the line, this time by George Cox. Matt Outram made an impact with his introduction on the hour mark, picking out Longstaff for a free header, sadly the big striker didn't make the most of the big target and steered the ball wide. It was Longstaff who seemed be getting most of the chances, and dispossessing Cox inside his own half, the Sheffield striker took the ball on and probably should have done better with the finish. With fifteen to go things were wrapped up nice and safely, as a Steve Woolley cross was met by CUSWORTH sliding in at the back post, who was able to force the ball in for a real poacher's goal. Straight after a short corner worked between Longstaff and Jordan Eagers was pumped into the middle, Jamie Jackson turned the ball towards the goal, and denying once more was Billy Oliver making his third goal-line clearance of the game! It was obvious that Club were not going to get the repeat of the previous two seasons' seven goal hauls, and this was underlined when Outram's cross was met by a hook on from Cusworth, only for his effort to be spectacularly saved by Emery. Spalding managed to grab a very late consolation with the last meaningful touch of the game, as substitute David de Oliveira floated in a free kick into the middle, and rising unmarked to head home was KING.
If anything this was a frustrating game for Sheffield, and if it hadn't been for the early brace of goals, this could have been a completely different story. Despite their lowly standing, based on some of the periods of this game Spalding could easily take points from some of our rivals, given their tenacity. This win now takes Sheffield into second spot, however given the ridiculously tight nature of this division, that could easily change after midweek with several of our rivals in action – if results go a certain way, Sheffield could drop back down to fifth spot!
BTF Club Man of the Match: Ashley Longstaff
Sheffield FC: Walker, Ludlam, Davis, Jones ©, G.Smith, Leonard (Eagers), Roney (Outram), Thorpe (J.Jackson), Cusworth, Longstaff, Woolley. Subs Not Used: K.Jackson, Wright.
Spalding United: Emery, Cox (Hone), Brown, Oliver, Legendre, Piergianni, Forbes (De Oliveira), Toyne ©, Cisse (Tuccillo), Mowbray, King. Subs Not Used: Walker, Drury.
Att: 229
Willenhall Town 0 Sheffield FC 3
UniBond Division One South
Saturday, 30/01/10
Club cruised to an emphatic victory at Noose Lane this afternoon, running out comfortable winners in the end, over troubled basement outfit Willenhall Town. After the surprise defeat at Quorn on Tuesday Sheffield needed to get back to winning ways as soon as possible, and after a difficult first period against stubborn opposition, it looked as though they would be frustrated once again. However three second half goals gave the visitors the points, as the hosts started to tire, with Jamie Jackson and Steve Woolley on the scoresheet along with an unfortunate own goal from Willenhall's skipper Todd Perry.
The first half could be summed up in one word – "scrappy" – as both sides produced an agricultural performance that endeared itself to a surface of a similar nature. Matters weren't helped as the game was truncated with several niggly interruptions, meaning that neither side could get into the flow of things as they'd liked, and chances were at a premium to say the least. Brian Cusworth was the nearest to breaking the deadlock, as he had a header that Matthew Jones routinely dealt with, whilst he hooked the ball over the bar from close range after a goalmouth scramble. Cusworth did manage to get the ball in the net, with a beautiful diving header from a Jordan Eagers free-kick, however this was waved offside by the assistant referee. On balance of play though Willenhall spent most of the half in Sheffield territory, with Alex Roofe looking the most troublesome player, but for all this pressure they didn't give Leigh Walker any work of any kind.
It was more of the same for the opening stages of the restart, with Sheffield again the closest to breaking the boredom, as Tom Jones' header from a Jordan Eagers corner bringing out a top-class one handed save from Matthew Jones. The introduction of Matt Roney saw an injection of pace that the tiring hosts found difficult to contend with, as both he and opposite wingman Steve Woolley started to pull the ragged Lockmen from pillar to post, and the chances started to come thick and fast. Woolley placed a testing ball over the top, and Ashley Longstaff won a foot-race between him and the defence to get a boot to it, sadly just stabbing the ball wide. Woolley fed Roney a with an opportunity which the substitute just lobbed over the bar, and on the hour the deadlock was eventually broken, as Roney turned provider with a corner that was flicked on by Gavin Smith – unfortunately for home captain Todd Perry, his knee steered the ball into the net for an OWN-GOAL. Jamie Jackson's introduction caused even more mayhem for Willenhall, and the Sheffield forward showed great skill to weave his way through the defence, sadly his tame placed shot didn't give Jones the trouble the build up deserved. Fifteen minutes from time the game was sewn up as Matt Roney's cross seemed to strike the hand of a Willenhall defender, and whilst the visitors protested the ball was hooked back into the danger area, and in the middle was JACKSON to poke home from ten yards. The icing on the cake for the away side came five minutes from the end, as a Jackson cross was punched clear by Jones, but only as far as WOOLLEY, who coolly volleyed the ball home through the defence to make it 0-3.
Before the game this would have been the expected outcome, an easy enough looking result for Sheffield, but what mustn't be overlooked was the fact the Willenhall side put up a decent bit of resistance. Club were made to work hard for the three points, and could easily have stumbled in this game in similar circumstances to Tuesday night at Quorn, thankfully there was enough there to keep up the pressure at the top. Sheffield inch up the table one place to fifth, still only one point off the top, and will look to get even closer on Saturday with a home game against struggling Spalding.
BTF Man of the Match: Ryan Davis
Willenhall Town: Jones, Robinson, Ryan, Griffiths, Brown, O'Kelly (Doughlin), Roofe (Humpage), Perry ©, Pinnock (Manchester), Worley, Robins: Subs Not Used: Pomroy-Crowe, Nicholls.
Sheffield FC: Walker, Ludlam (Wright), Davis, Jones ©, G.Smith, Leonard, Eagers (Roney), Thorpe, Cusworth, Longstaff (J.Jackson), Woolley. Subs Not Used: K.Jackson, Outram.
Att: 78 (25)
Quorn 1 Sheffield FC 0
UniBond Division One South
Tuesday, 28/01/10
With this being the first of three games against what looked to be on paper, the weaker teams in the division, a target of 9 points was realistic to re-ignite our promotion challenge (writes Rob Shepherdson). However, on a cold winters night in Leicestershire, we saw once again how closely matched a lot of the teams are, and an inventive and hard working young Quorn side did just enough to deserve a narrow victory.
In the first minute Quorn almost took a shock lead when a free header missed its target. It was seven minutes before we have our first attempt on goal when a Ryan Davis attempt goes narrowly over the bar. 10 minutes later Quorn's Robinson heads over when in a good position on the edge of the 6 yard box. The next 20 minutes are pretty even with lots of midfield play but few chances, the majority being half chances falling to Quorn whilst Gav Smith limps off with a calf strain to be replaced by Lee Cooksey. The Quorn keeper seems to have a weakness as he struggles kicking the ball with any height but we cannot exploit this. Longstaff gets our best chance of the half when Woolley finds him on the edge of the 6 yard box but his shot heads skyward. With two minutes to go Quorn got a breakthrough following a tremendous double save by Walker which unfortunately cannot be held and BYRNE has the easy job of tapping the ball into an empty net. In the remaining minutes of the half Wright gets booked for a late but not malicious tackle and Anson limps off injured to be replaced by Thorpe in midfield.
The second half starts much better for Sheffield as we push Quorn back and finally start to become a threat. On 51 minutes Longstaff threads a ball through the area which Cusworth agonisingly can't get the final touch too which would have been a sure goal. Shortly afterwards JJ is brought on for Outram and his pace starts to trouble the Quorn defence who are no slouches themselves. The last half hour sees Sheffield on the offensive with Cusworth and Longstaff having good chances from headers after good crosses from both Eagers and Woolley whilst Cusworth also has a good shot which the keeper manages to tip over. With 12 minutes to go a Woolley corner lands right in the middle of the six yard box but there is no-one to connect with it whilst at the other end, and with just two minutes to go, Quorn miss a simple chance when Shaw is left unmarked on our back corner only for him to skim the ball against our bar. This was the final excitement which brought the match to a close.
On reflection we had the better of the second half and were unlucky not to draw level however overall Quorn will no doubt feel it was a fair result, and it probably was.
BTF Man of the Match – Ashley Longstaff
Quorn: Norris, Shaw, White, Keast, Matthews ©, North (Weavers), Robinson, Wood (Richards), Byrne, Turner (Langham), Peel. Subs Not Used: Paparozzi, Simpson
Sheffield FC: Walker, Davis, Wright, Jones ©, G.Smith (Cooksey), Anson (Thorpe), Outram (J.Jackson), Eagers, Longstaff, Cusworth, Woolley. Subs Not Used: Cooksey, K.Jackson, Thorpe, Roney
Att: 74
Sheffield FC 3 Goole AFC 0
UniBond Division One South
Saturday, 23/01/10
Sheffield finally returned to league action, after a six-week absence, and with it returned to winning ways with a comfortable win over an outclassed Goole outfit. After an emotional prelude to the game, in which Sheffield FC paid tribute to the recently departed Trevor Herrington, Club put their visitors to the sword with a classy display that had Goole run ragged. Sheffield could count themselves unlucky to into the break with just a Gavin Smith goal to show for all their efforts, but two goals in quick succession in the second period from Brian Cusworth and Steve Wooley, gave the scoreline a truer reflection of the balance of play.
Club were the first out of the blocks in the opening exchanges, and went close when Steve Woolley's cross was met by a powerful Brian Cusworth header, bringing out a great save from Craig Parry. It seemed that it was a one-way wave of traffic for much of the first twenty minutes, and Goole's ability to keep Sheffield at bay was a mixture of fortune and Parry being unerringly in the right place, but on 24 minutes the deadlock was finally broken. A free kick from the right wing was swung in by Matty Outram, and with the Vikings' defence rooted to the spot, SMITH nipped in between to plant home a trademark header. A second goal should have come before the break as Club kept the pressure on, with Steve Woolley seeing his shot turned round the post by Parry, whilst an Outram corner was headed against the bar by Danny Anson.
The second half saw much of the same, with Ashley Longstaff chief tormentor, punishing the Goole defence with some blistering runs down the left. The inevitable second goal came on 51 minutes, with a Wolley cross being met by Longstaff as Parry uncharacterically flapped at the ball, allowing CUSWORTH to plant his header to make the net ripple from six yards out. Two became three minutes later, as Sheffield once again exposed frailties on the flanks, with Outram's cross being flicked in with aplomb by WOOLLEY. With the game now comfortably won Sheffield had the luxury of being able to sit back a bit and let Goole come at them, and with that came a couple of chances for the visitors, with Ashley Worsfold testing Leigh Walker from distance and Glyn Cotton shooting just over the top. At the other end Jamie Jackson shone after coming off the bench, producing a dazzling solo run that weaved through four defenders, before his shot ended just wide of the mark.
The win sets Sheffield back up into fourth spot, just one point off top spot, although having played one game more. Next up for Club is a midweek trip to third from bottom side Quorn, followed by a jaunt to the West Midlands to face basement club Willenhall Town, with six points on offer to take Club back to top spot. If Chris Dolby's men can turn in a performance anything like today's, both Quorn and Willenhall will be rather nervous, and rightly so.
Sheffield FC: Walker, Wright, G.Smith, Davis, Jones©, Anson, Outram (Thorpe), Eagers, Cusworth, Longstaff (Jackson), Woolley (Roney). Subs Not Used: K. Jackson, Cooksey.
Goole AFC: Parry, Jeffs, Stratford ©, Barwick, Green, Dudgeon, Worsfold, Fletcher (Winter), Law (Goddard), Allott, Hunter (Cotton). Subs Not Used: Fawcus, Ward
Att: 243
Boston United 2 Sheffield FC 0
UniBond League Cup Round Four
Saturday, 16/01/10
Club returned to action after a lengthy lay-off this afternoon in a hastily rearranged league cup tie at York Street, and despite losing 2-0 to an efficient Boston United side, the benefits were there for all to see. Two goals within the space of seven first half minutes killed this game as a contest, with Mikel Suarez and ex-Clubbie Marc Newsham on target on 17 and 24 minutes respectively, although the scoreline tells a different story to the balance of play on the field. Sheffield were more than a match for their higher league opponents, and for much of the game had the Pilgrims on the back foot, but when it came to the vital part of finishing Boston were by far the more clinical.
Before the game got underway, there was an impeccably observed minutes' silence for Behind the Flag and Sheffield FC stalwart Trevor Herrington, who sadly passed away in midweek.
Sheffield started off the livelier of the two sides, with both Steve Woolley and Matt Outram causing concern on the flanks, but for all the pressing the attacks came to nothing. The visitors had a meaningful shout for handball on fifteen minutes, but the penalty appeals were waved away by referee Procter-Green, and moments later Club were behind. A long sweeping ball from Jamie Yates was flicked on by Spencer Weir-Daley and SUAREZ, who got between the defence and the advancing Tom Cross, swept the ball home from eighteen yards. Seven minutes later and Boston doubled their advantage, after Weir-Daley's put NEWSHAM into the clear, and the ex-Sheffield player made the most of the opportunity as he drilled the ball into the top corner from 18 yards. Despite this double blow Sheffield weren't didn't let their heads drop, and they went close with headers from Ben Leonard and Brian Cusworth, however neither really troubled Tom Evans in the hosts' goal. Just before the break Boston went close to making it three, however Tom Cross was at his best to deny Weir-Daley, making an excellent save with his legs.
The second period saw Boston take more of a stranglehold of the game, with Sheffield's efforts more or less stifled by the home side, who seemed happy to settle for the status quo. The only chance of note in the first part of the half was an effort from Marc Newsham, whose effort from a tight angle was inches wide of the post, and after that chances were more or less at a premium as both sides cancelled each other out in what had become a very balanced contest. Jamie Jackson went closest to getting a consolation for Sheffield, with his first effort finding the side netting, and his second towards the end hitting the foot of the post. Boston's best efforts to adding to the scoreline came from the ever-dangerous Weir-Daley, who's volley was blocked by Cross, and Jamie Yates who saw his effort saved comfortably.
Sheffield manager Chris Dolby said post-match "the positives from this game far outweighed the negatives", and despite the result you can see his point, with this being a competitive run-out that none of his promotion rivals would have had the benefit of this weekend. He also praised the fitness levels of the side, pointing to the benefits of the enforced midseason break, and the behind the scenes training that came from this opportunity. Hopefully this will be on show for a lot more than the 22 hardy soles that made the four hour round trip for this game, when Club are scheduled to meet Goole in a league fixture next Saturday, weather and pitch conditions prevailing of course.
BTF Club Man of the Match - Lee Cooksey
Boston United: Evans, Cullingworth, Canoville, Pearson, Wood, Newsham, Davies (Camm), Sleath, Yates, Suarez (Davidson), Weir-Daley. Subs Not Used: Parker, Clarke, Butcher.
Sheffield FC: Cross, Wright, Cooksey, G. Smith, Davis, Outram, Leonard, Eagers, Woolley (Roney), Cusworth (Longstaff), K.Jackson (J.Jackson 53). Sub Not Used: Thorpe.
Att: 538 (22)
Loughborough Dynamo 3 Sheffield FC 2
UniBond Division One South
Saturday 12/12/09
Despite coming from a goal down to take the lead through Brian Cusworth and Kirk Jackson Sheffield once again suffered a blank weekend. Sheffield's midweek activity in the transfer market saw a return to the side as captain of Tom Jones alongside Sheffield Wednesday loanee Nichols Wood. Also on the bench was Callum Harrison who is another loan signing from Hillsborough. The final signing and ex-Clubbie Danny Anson was unavailable for this fixture due to suspension. It was a fairly even start, with Dynamo making the first threat on goal when gaining a couple of corners which were easily dealt with. Sheffield then went close, Wood making Holyoak palm his header over the bar from Outram's corner. Walker then had to get down sharply blocking a shot from Kris Nurse. Back at the other end and a Tom Jones free kick into the area saw Cusworth rise above his marker but the header was just over the bar. Dynamo thought they'd taken the lead on 26 minutes as the ball was headed in at the back post but the linesman had already flagged for offside. The visitors then had a good chance to break the deadlock as Roney raced clear of his marker, but he blazed the ball over the bar. Sheffield were relying more on the break than any constructive play through the middle but time and again they looked vulnerable at the back post when the home side attacked. This was amply illustrated when a free kick for Dynamo found Betts unmarked in the area mention but luckily for the visitors his volley hit the foot of the post and rebounded out. The warning wasn't heeded though as just after the half hour mark another long ball to the back post found ROSS who was able to squeeze the ball home. Roney had another chance just before the break but once again the shot was off target.
The home side almost doubled their lead straight after half time when Walker had to tip a shot on the turn from Kris Nurse over the bar. Matty Thorpe then had a long range effort sail over the bar. Sheffield finally got on the scoresheet ten minutes into the half when Roney's free kick was flicked on by Woods. Jones was first to it and knocked it goalwards and the resulting goal-line scramble saw CUSWORTH bundle the ball over the line, despite the announcer crediting the goal to Jones. Nurse should have restored the home side's lead moments later as he headed wide at the near post when unmarked. Sheffield were in the ascendancy now as Outram swung over a cross that Jackson headed against the bar with Holyoak beaten. A minute later and the visitors took the lead. Once again it was a replica of the earlier move as Outram whipped in a fierce cross and JACKSON headed home at the near post. However the joy at taking the lead was short-lived as a minute later NURSE was on hand to head home at the back post. This seemed to galvanise the home side who were doing more of the pressing and they eventually took the lead on 75 minutes when a corner was headed out but only as far as the edge of the area where the ball was fired in but going wide until BETTS stuck out a foot to divert it home. Despite some late pressure Sheffield couldn't breach the Dynamo defence, and, in fact the home side almost scored again at the death but Walker made a point blank save from Lester.
As what happened last week, the frailties in defence, especially long balls to the back post, were in evidence once again. Let us hope that it's just a minor 'blip' as the new players bed themselves in and that the coming festive period will see more positive results. The defeat saw Sheffield slip to 5th in the table, but still just two points off top spot. Next up is Cammell Laird at home on Saturday 19th December. Kick-off 3pm.
BTF Man of the Match: Lee Cooksey
Loughborough Dynamo: Holyoak, Rennals (Hohn), L.Allen, Noble, Betts, R.Nurse, Ross, Roberts, K.Nurse, Adams (Edwards), Johnson (Lester). Subs Not Used: Morgan, J.Allen.
Sheffield FC: Walker, Cooksey, Davis, Wood, Jones, Thorpe (J.Jackson), Outram, Eagers, Cusworth, K.Jackson (Longstaff), Roney (Woolley). Subs Not Used: Harrison, Leonard.
Att: 136
Sheffield FC 2 Belper Town 6
UniBond Division One South
Saturday, 05/12/09
Longstanding supporters of Sheffield FC will know that just about every season, no matter how successful that season is, their team tends to suffer one particularly random heavy home defeat. This afternoon saw this season's version, as Belper Town rolled into town, and went back home having inflicted Sheffield's highest home defeat of the Coach and Horses era. The Nailers raced into a three-goal lead inside twenty minutes, with strikes from Tom Naylor, Andy Rushbury and Ben Walker exposing some pretty evident defensive frailties. Sheffield started to get back into the game with two goals from Brian Cusworth, but the visitors pulled away with three decisive goals in ten minutes, through Lee Stevenson (twice) and Andy Rushbury (once again) to complete a comprehensive victory for Belper.
Much was expected from Sheffield after the midweek victory over Shepshed, but the start couldn't have been further away from that performance if they'd had tried, as they first gifted possession to Lee Stevenson who blazed over – then moments later ex-Nailer keeper Leigh Walker had to pull off a full-stretch save to tip round a shot from Dean Oliver. The Nailers broke the deadlock on eight minutes, as Andy Rushbury's shot was only parried out by Leigh Walker, and there to tap in an easy finish was NAYLOR, giving the visitors a deserved lead. It looked as if it may have been a rusty start that would soon sort itself out, as Steve Woolley had a shot blocked by James Colliver, but things were soon back to the same script of the opening as Belper extended their lead on the next attack. A crossfield ball fell between Lee Cooksey and Andy Rushbury, with both losing their balance; however RUSHBURY was first to react and was able to direct the ball neatly beyond Walker. Sheffield looked a side well out of sorts, and looked unable to clear their lines as the visitors had wave after wave of attack, with Walker coming to the rescue again after turning another Stevenson effort round the post. The third inevitably came midway through the half, with Andy Rushbury's free-kick from the right being met in the middle by an unmarked WALKER, whose flick header found its way into the net to make it 3-0. It could have been four moments after this, as Stevenson sent a through-ball to Matthew Telling who chose to shoot instead of squaring to the unmarked Dean Oliver, with Telling's eventual shot missing the target. Club were given some hope as a fantastic Matt Outram cross from the right wing was met in the middle by CUSWORTH, to steer the ball beyond Adam Ogden, to give the hosts a lifeline. The gap could have been closed further as Sheffield finally started to dominate the game, as Jamie Jackson's cross was met by Greg Wright who directed the ball just wide, whilst Ogden looked a little shaky as he spilled a Paul Smith free-kick. Despite this domination Club looked decidedly exposed at the back, and some kamikaze defending allowed Lee Stevenson another chance, this time he scraped the post.
Chris Dolby made wholesale changes at half-time, and for the first twenty minutes or so it seemed to have done the trick, as they were by far the dominant team. They were rewarded just before the hour mark as CUSWORTH rose again to head home a long floated free-kick from Paul Smith, to make it 2-3, and all of a sudden it appeared something could be taken from the game. Belper looked on the ropes, and Ogden had to be on hand to prevent an equaliser, as he did well turn a Brian Cusworth header round the post with an excellent one-handed save. Sheffield were to rue their use of substitutions shortly after, as the influential Paul Smith limped off, leaving the hosts with only ten men for the last twenty five minutes. It was an advantage Belper were to make good use of, as they stretched Club at the back, making an already stretched defence look even more fragile. Ben Walker missed what could only be described as an open goal, then on 71 minutes Ben Walker broke down the right, delivering a cross that was met by a free-header by STEVENSON. Moments later the game was put beyond doubt, as yet again Club were found wandering at the back, with STEVENSON slotting the ball home. With ten to go with the Sheffield defence caught upfield, Stevenson unselfishly laid the ball across the box to an unmarked RUSHBURY, who slotted home at the far post to make it six.
Sheffield FC: Walker, Cooksey (Davis), Wright, G.Smith ©, P.Smith, Leonard (Eagers), Outram (Longstaff), Thorpe, Cusworth, J.Jackson, Woolley. Subs Not Used: Roney, K.Jackson.
Belper Town: Ogden, Colliver ©, Adams, Naylor, Harcourt, Haigh, Telling (Hudson), Stevenson, Walker (Fedorenko), Oliver, Rushbury (Hindley). Subs Not Used: Kearney, Mirfin.
Att: 345.
Sheffield FC 4 Shepshed Dynamo 1
UniBond Division One South
Tuesday, 01/12/09
A floodlight failure at the Coach & Horses stand 20 minutes before kick off almost brought an end to the match before it even began writes Rob Shepherdson (again!). However ground staff rectified the fault promptly and the match started only a couple of minutes late. And what a match is was; after the disappointment of losing at Witton after being reduced to ten men for the second half; losing our goalkeeper in similar circumstances, and with 40 minutes still on the clock, things didn't look bright. But what a contrast this was, a superb all round performance by the team who dug deep to earn a fantastic and completely deserved result returning Club to top spot in the league.
The match started even and both sides had a few half chances before Outram, on the right wing, found CUSWORTH in the area to open the scoring on the quarter hour mark. Shepshed continued to compete equally until the half hour when Sheffield started to assert themselves with more vigour. It was evident that the Shepshed defences could be beaten again and the chances started flowing as Club concentrated efforts on our opponent's weakest links. Woolley was creating havoc on the wing and Cusworth and Outram both had good chances. Cusworth & JJ both managed to beat the offside trap but Brian's final shot was miss-hit and, with ten minutes of the half, remaining JJ went round the keeper but the angle was too acute to score. The half finished with a Gav Smith header going close from a Matt Outram cross.
Almost immediately from the re-start, JJ crossed straight across the Shepshed goal line but no-one managed to connect. This was repeated a minute later but a defender this time cleared and Shepshed quickly played the ball upfield and put a striker clear who went chasing a ball which Walker was also racing for from his goal. The inevitable happened; the striker got there first and played the ball forward which was a fraction of a second too quick for Leigh who went clattering into him. The outcome was undisputable- a red card was shown; the only consolation being that it was just outside the area. Club had no reserve keeper on the bench so it took some time to decide that Roney was going to take over the jersey and to get him onto the pitch, Outram had to be withdrawn. Roney's initial action was to get the wall lined up in front of him for a free-kick to be taken by BATES; unfortunately the shot went straight into the far corner and the teams were now level. Now back in the match Shepshed were understandably up for the game and started controlling midfield with the extra man. Fortunately the Sheffield team were sitting further back and prevented very few shots being taken at our goal. Eagers was introduced for Wooley on the hour and his pace and close control skills made an immediate impact in centre midfield. Meanwhile Paul Smith found space to break forward but his shot was saved. At the other end Shepshed had one of their few good chances when BATES attempted a long shot from 30 yards which went narrowly wide. 68 minutes gone and JJ intercepted a ball in midfield and raced past a defender before slipping a sweet cross into the area for the unmarked EAGERS to nod in. JJ was then rested whilst Longstaff entered the affray. Eagers was still causing problems for the visitors and on 73 minutes another fine run ended with goal number three when Jordan's cross into the Shepshed area was diverted into his own goal by full back SCREATON. Shepshed were now caught in a Catch 22 situation as every time they tried to push forward Club threatened to open them up on the break, the one man deficit was no longer apparent. Paul Smith was a beneficiary of such an action when he was able to break forward from within his own half and charged straight into the visitor's penalty area before generously sliding the ball across to the accompanying CUSWORTH. Brian made no mistake for number four and this sent the adjacent terracing into rapturous celebrations. With the rain now pouring down the final whistle could not come quick enough for everyone but when it eventually did it put this team's ten man performance right up there with the very best of recent years.
BTF Man of the Match – Paul Smith
Sheffield FC: Walker, Cooksey, Wright, G.Smith ©, P.Smith, Leonard, Outram (Roney), Thorpe, Cusworth, J.Jackson (Longstaff), Woolley (Eagers). Subs Not Used: K.Jackson
Shepshed Dynamo: Jupp, Screaton, Reece, Millns, Goodby (Hughes), Bates, Twigger, Greenway ©, Barlone, Stanley, Agbor (Sheppard). Subs Not Used:, Harris.
Att: 192
Witton Albion 3 Sheffield FC 0
UniBond Division One South
Saturday, 28/11/09
I think we should just put this down to being one of those unlucky days writes Rob Shepherdson. For the first half an hour we were controlling the match and were unlucky to concede a fluke goal. Down to ten men shortly afterwards and it was always going to be an uphill struggle, and then we conceded a soft second goal. Roney gets injured in a hard challenge and doesn't start the second half where Witton make the most of their extra man. It could have been worse but it didn't matter, we all still left disappointed
Arriving on the team coach we are able to watch on TV the last 20 minutes of Witton's rivals Northwich Victoria 1-3 defeat to Lincoln City and with the ground just being over the canal the noise can be heard outside. Witton fans are naturally on a high with their neighbours' misfortune and this is carried into the match.
We start the game with all the quality and enthusiasm of table toppers and are very much running midfield with Lenny on fine form, backed up by a resilient back four. However chances for both sides are few and far between whilst Witton's full backs are on form and stifle the best of Roney and Outram's forward play. JJ and Cusworth are both a threat when they get the ball in a forward position which was not very often. At the other end Witton win one of the first corners of the match on 28 mins and the ensuing ball is knocked towards goal only to be partially cleared as far as PRITCHARD who, with his back to goal, 'overhead volleys' the ball into our goal – that was the ground announcers description of his shot not mine! Seven minutes later Paul Smith has our best chance of the half hitting a thirty yard free kick which can only be parried by the goalkeeper for a corner. Wright then gets booked for a rather innocuous challenge. Two minutes later another poor clearance from the Sheffield defence finds HENRY on the edge of the box who tamely hits a shot which ends up inside Walkers post. To make matters worse minutes later Wright's last gasp challenge on a Witton breakaway forward earns him a second yellow and it's down to ten men for the remaining match.
At the re-start Matt Roney who had been injured earlier is substituted for Matt Thorpe who fills in as right full back to cover for Wright's departure. Witton start off how they finished the first half and Sheffield were immediately on the back foot with only some tremendous one handed saves from Walker keeping the deficit down. Then on 66 mins, HELER finds a gap in our defence and makes no mistake for Witton's third. With Longstaff and Jackson now on in place of Outram and Cusworth we start finding our feet and another free kick from Paul Smith worries the Witton defence, as does an equally good shot from Eagers. But getting anything more positive out of this match is now unlikely and the final whistle comes as a big relief to all concerned.
BTF Man of the Match – Jamie Jackson
Witton Albion: Clegg, Adams, Neville, Pritchard, Ruffer, Henry ©, Tandy, Broadhead (Brodie), Lamb (Moseley), Heller, Maylett (Foster).
Sheffield FC: Walker, Cooksey, Wright, Gav Smith ©, Paul Smith, Leonard, Outram (Longstaff), Eagers, Cusworth (K.Jackson), J.Jackson, Roney (Thorpe). Sub Not Used: Davis.
Att: 285
Ossett Town 0 Sheffield FC 1
UniBond League Challenge Cup Third Round
Tuesday, 24/11/09
Another Cup match and once again a strong Sheffield squad sweeps aside the opposition writes Rob Shepherdson. This time the scalp is Premier division Ossett Town to claim one of sixteen remaining places for the 4th round draw.
Sheffield start the match playing into a strong swirling wind blowing straight down the pitch from the left hand corner flag. The first 10 minutes see constant Sheffield attacks rewarded with successive corners but no clear cut chances. On 12 minutes Greg Wright is on hand in our six yard box to clear the first meaningful Ossett attack and is fortunate when his clearance cannons off a nearby striker and goes harmlessly wide when it could have gone anywhere. A few minutes later Ossett try again and this time Clayton shoots from 25 yards but this is also off target. Meanwhile Jamie Jackson (JJ), starting up front alongside Longstaff for the first time, is proving a real handful for the opponents defence with his turn of pace. A quick break by Ossett sees danger narrowly averted when last man Paul Smith beats Ryan to the ball. On 25 minutes Liam Smith, standing in for cup tied Leigh Walker, has his first serious work to do when he deflects a shot around the post for a corner. Wooley breaks at the other end and only a punch from the goalkeeper prevents Longstaff from meeting it with his head. With six minutes remaining Matt Roney breaks on the right wing and delivers a lovely cross to the feet of Longstaff but the shot is hit skyward and up and over the stand into the street. Minutes later JJ is clear through on goal and attempts to chip the keeper but Kerr manages to push the ball away. The first half finishes with a Sheffield free kick about 30 yards straight from the Ossett goal but Paul Smith's shot is well over. Overall a good first half with Sheffield on top.
In the absence of a programme to read - their printers had gone bust! - the half time interval was livened by an attractive troupe of cheerleaders who did well to brighten up the dismal conditions with their brave routine whilst in the café many seemed to be partaking of (reputedly) the best pies we have seen so far.
With the wind now behind us, the second half starts with plenty of Sheffield possession but it takes until the 56 minute before Longstaff plays JJ through to create the first chance, it goes narrowly wide. Ossett are sitting back absorbing the pressure before springing the occasional break often involving left winger Hardaker. As a result Woolley has been breaking less himself as he hangs back to pick up the Ossett player but is now substituted for Cusworth. Brian takes up a forward position alongside Longstaff with JJ moving to the now vacant left wing. A couple of minutes later, on the stroke of the hour Cusworth has the ball in the net from a Gav Smith's cross only to be flagged offside. However it takes only seven more minutes before we find the net again. Pressure on Ossett's defence pushes the ball out to Gav who hits a cracking shot which is blocked in the area with ball spilling out to Longstaff who is unmarked and makes no mistake from 12 yards. This forces Ossett to take the offensive without creating many chances whilst an outstanding Leonard remains rock solid in midfield. Chances are still falling to Sheffield and both JJ and Matt Thorpe have good opportunities to score. The final couple minutes see Ossett with their first really good cross of the match into area but no-one connects well on to it, and then in the final minute a heart stopping moment when Ossett's Andy Lee is played clean through only to waste his chance. This was would have been wholly undeserved for the Club as we had played a very good match which was wholly in keeping with our current league status. As for Ossett, well heaven knows they must be miserable now.
BTF Man of the Match – Jamie Jackson
Ossett Town: Kerr, Fradgley, Fisher (Roberts), Clayton, Nettleton ©, Hay, Watson (Hollindrake), Cyrus, Ryan, Lee, Hardaker. Subs Not Used: Douglas, Forrest, Laight.
Sheffield FC: L.Smith, Cooksey, Wright, G.Smith ©, P.Smith, Leonard, Roney (Thorpe), Eagers, Longstaff, J.Jackson, Woolley (Cusworth). Subs Not Used: Gaughan, K.Jackson.
Att: 81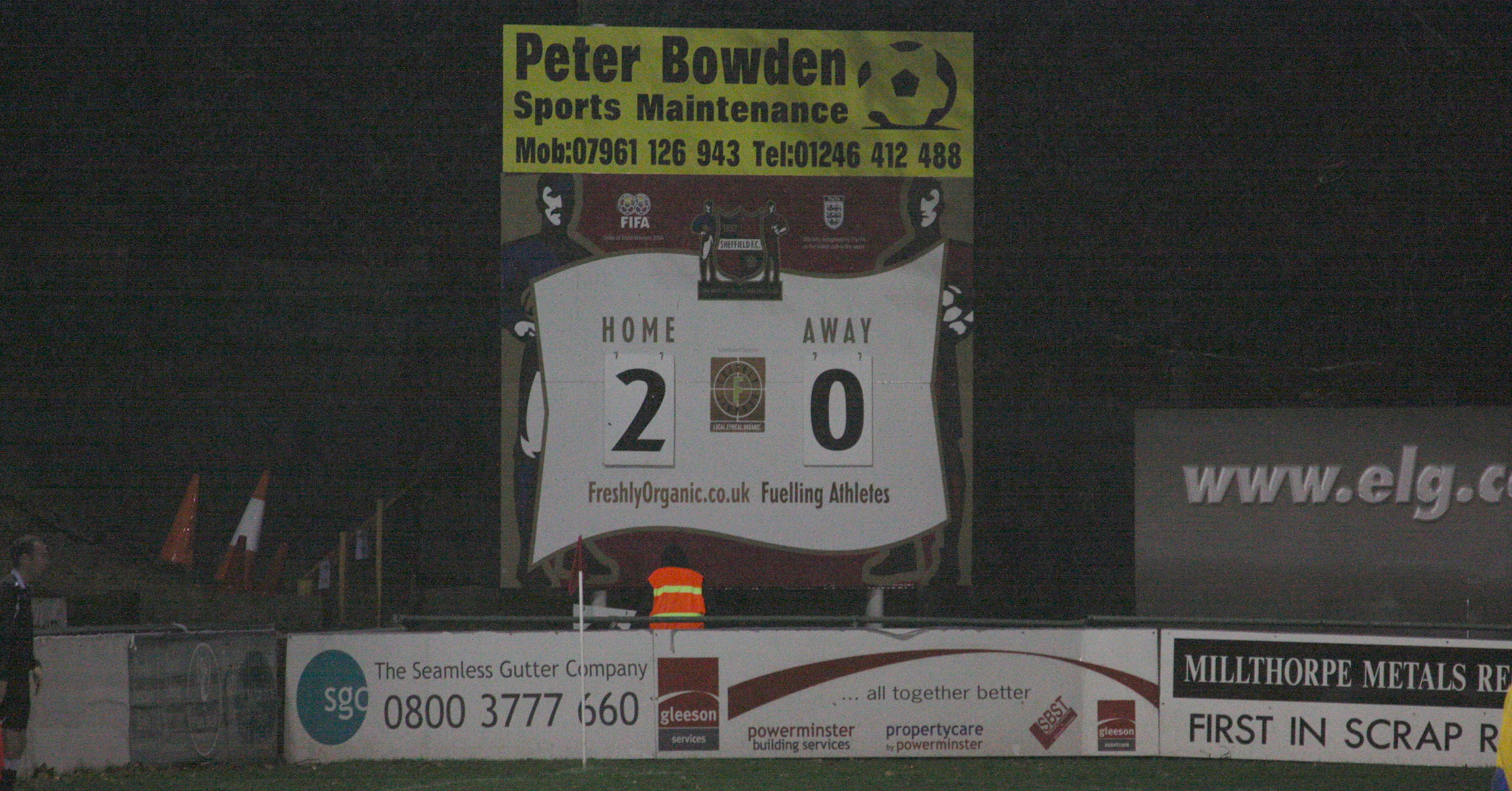 Sheffield FC 2 Lincoln United 0
UniBond Division One South
Saturday, 21/11/09
Sheffield overcame extremely difficult conditions and spirited opposition this afternoon at the BT Local Business Stadium, as a two goal salvo from Brian Cusworth was the difference between two very equally matched sides. In constant driving rain, it looked as if an early goal would set the precedent for the afternoon, with one-way traffic the order of the day. But an energetic Lincoln outfit made the form-book look decidedly off the mark, as they ran the game for long periods of the game, with the outcome only looking safe when Cusworth bagged a second late in the game.
Cusworth rises to meet Jamie Jackson's cross......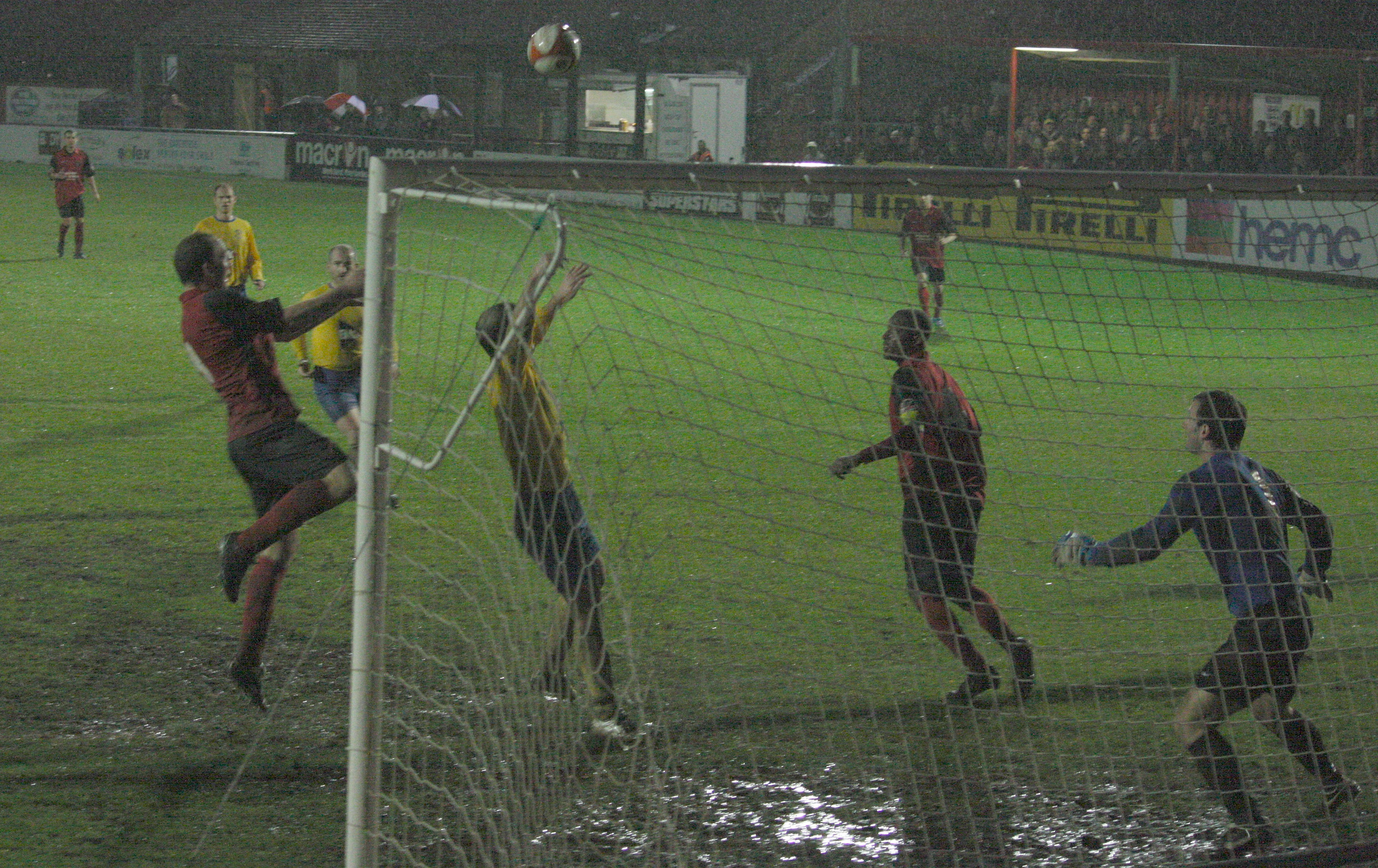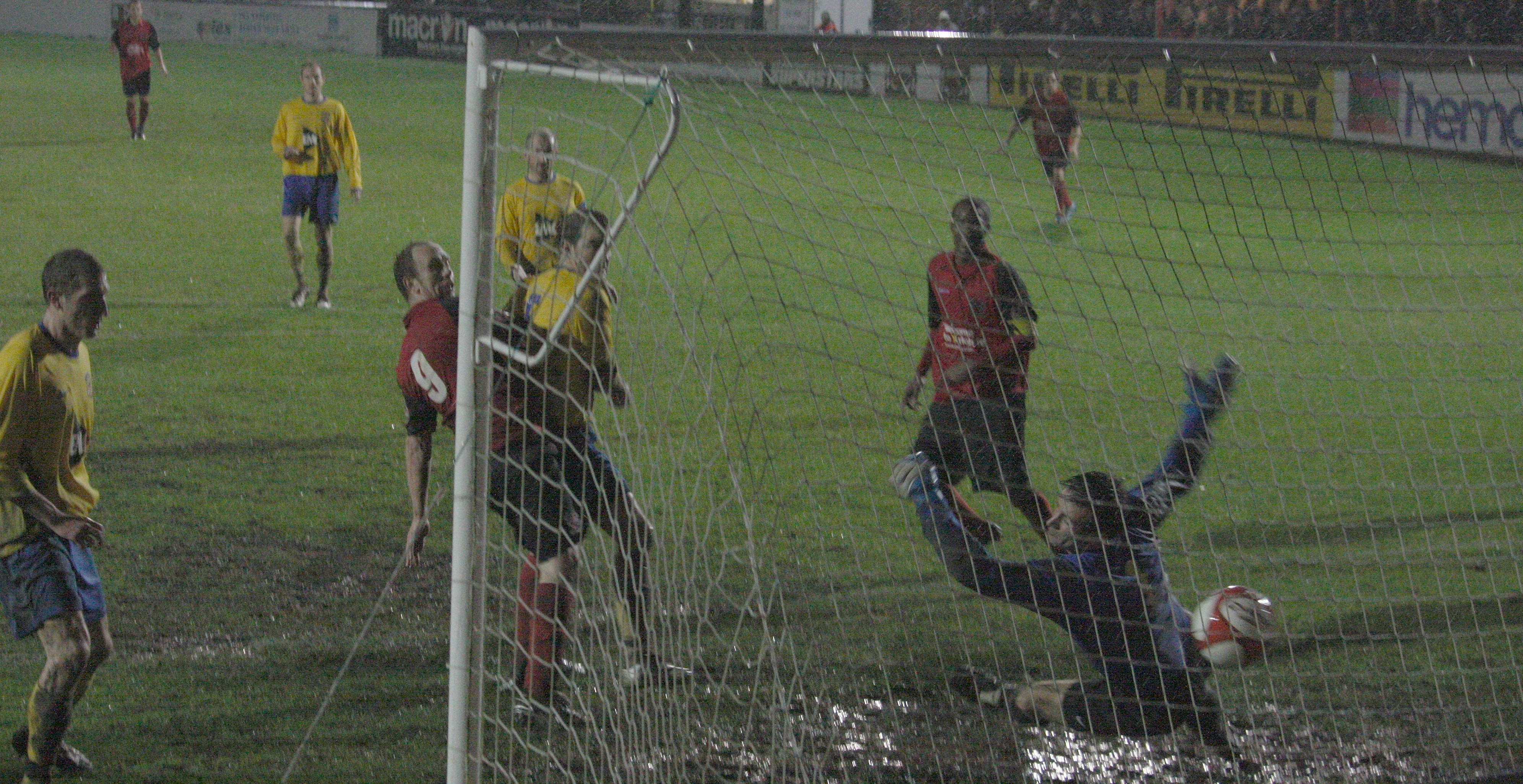 and it's game, set and match - 2-0
Although the game was never in doubt, the fact that the rain was becoming persistent and increasingly heavy as kick off time approached, conditions for this top versus (near) bottom clash always looked to be a great leveller. However with the first meaningful attack of the game Sheffield opened the scoring, as Matt Roney left Jonty Hawley looking rather leaden footed on the left and the winger did well to dig a lofted cross out that picked out CUSWORTH in the middle, rising majestically to head beyond the stranded Ziccardi. Sheffield looked as much the better side as the table suggested for the first quarter, but as time progressed and Lincoln settled into a pattern, it was the visitors who looked the more threatening. Kallum Smith played in Sam Wilkinson whose shot was well saved by Leigh walker, with Paul Smith doing well to block Wilkinson's rebound effort, and from the resultant corner from Matt O'Halloran the ball was hooked onto the bar by Jon Machin. Kallum Smith was looking the major threat on the left, along with Jamie Forrester, and it was Smith's cross that set up Forrester with a volley that went inches wide. Wilkinson turned provider shortly after, as his well placed pass was slotted into the path of Smith, whose shot was side-footed narrowly outside the far post. It wasn't all Lincoln though, and Sheffield finished the half fairly strong with Matty Thorpe's shot being spilled by Mario Ziccardi, with ~Cusworth just unable to turn the rebound home.
Jordan Eagers shot flashes wide of the post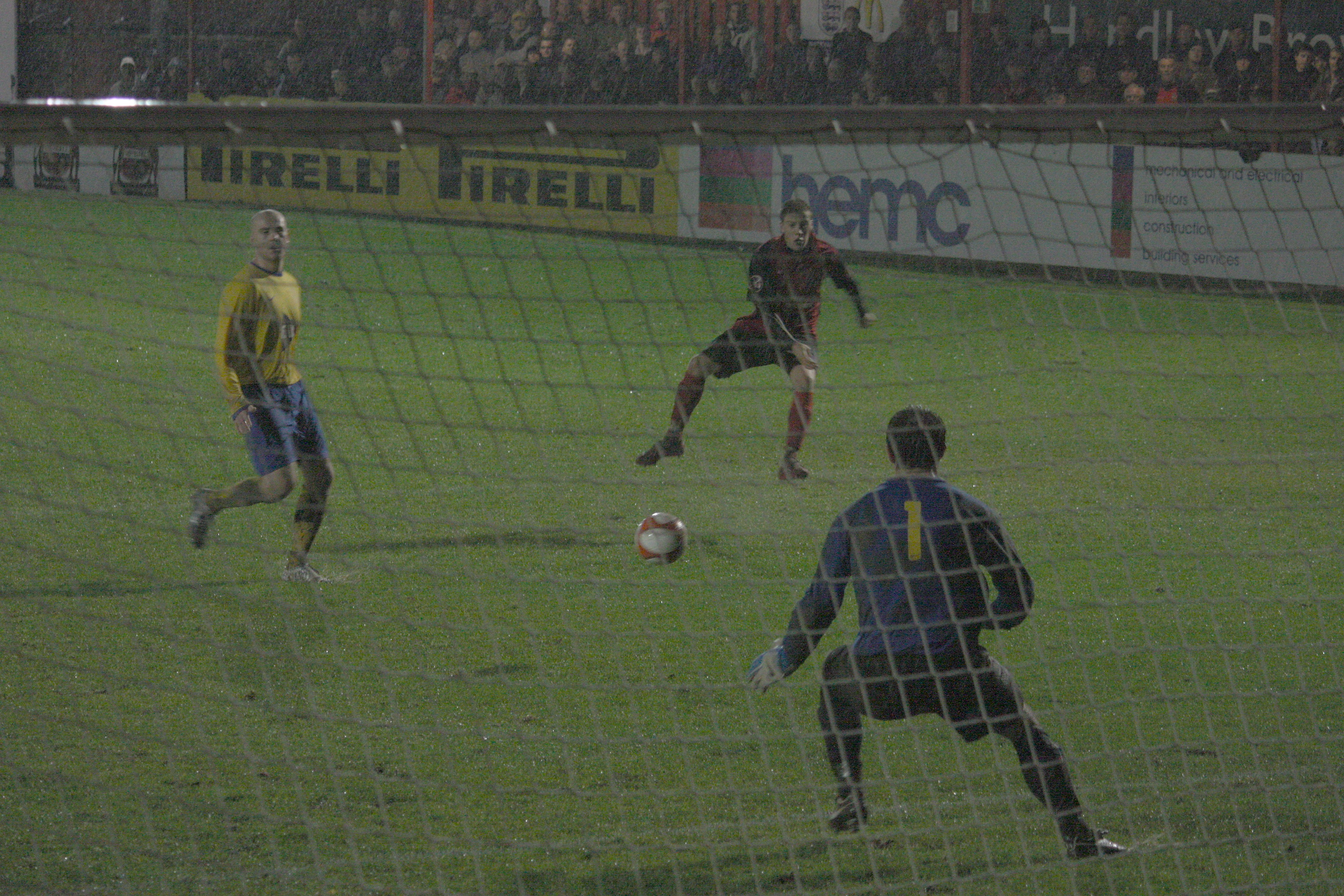 The deluge persisted during the break, leaving puddles in each goalmouth, which led to both hilarity and frustration for those present as the ball failed to reach its target on more than one occasion. Lincoln were evidently buoyed by their first half efforts, and started the second period with a great deal of confidence, and Sheffield looking pretty much second best on the field. Despite their domination of the game, the visitors appeared to lack anyone capable of really testing Walker, giving the keeper very little to do. When the hosts finally took a hold of the game with some quality passing football, it seemed only a matter of time before they grabbed a second that would wrap up the game, and with fifteen left they finally managed it. The introduction of debutant Jamie Jackson as a foil for Brian Cusworth changed the shape of the game, and when the new signing picked up the ball on the left to plant a cross into the middle, the ball was flicked on for CUSWORTH to rise once more to head beyond Ziccardi. With the game wrapped up, Club started to look more enterprising going forward, and a good move from Steve Woolley and Brian Cusworth set up Jordan Eagers, sadly his shot at the end was narrowly off-target –by this time though, the game was beyond any doubt and the three points were safely in the bag.
The fact the game was played and out of the way is the major thing for Sheffield today, and three vital points in the bag was a major bonus, as Club remain in top spot two points clear. Lincoln look a far better proposition than their league standing suggests, and no doubt they'll be a key factor in Sheffield's season by taking points off their promotion rivals, all they need to do is add a bit of fire-power up front – then they'll be more than a match for anyone in the league. Next along for Club is a League Cup tie up at Ossett Town on Tuesday, followed by yet another six-pointer away at Witton Albion next Saturday, two very different – yet difficult – tests of character.
Man Of The Match, Lee Cooksey
Sheffield FC: Walker, Cooksey, Wright, G.Smith ©, P.Smith, Thorpe, Outram, Eagers, Cusworth, K.Jackson (J.Jackson), Roney (Woolley). Subs Not Used: Longstaff, Leonard.
Lincoln United: Ziccardi, Hawley, Porter, McDaid ©, Wilkinson, Machin, O'Halloran (Cann), Melton, Wilkinson (Mullarkey), Forrester, K.Smith (Lunn). Subs Not Used: Fleming, Zeurner.
Att: 215
Rushall Olympic 1 Sheffield FC 1
UniBond Division One South
Saturday, 14/11/09
For the second time in a week, Sheffield FC came away with a point after conceding a late goal that denied them all three, against another team that could be in the title mix at the end of the season. At a windswept Dales Lane, an 85th minute goal from Rushall skipper Nick Preston gave the hosts an unlikely point, after it had looked as if Matt Roney's 20th minute effort would be enough to seal an important win. Club had dominated things for much of the game with Rushall very rarely threatening the visitors, but as with last week's game at Leek, once the goal went in it became a fraught few minutes for Sheffield to come away with a point that keeps them at the top of the table.
The key to who was going to take control of this game was down to who would master the conditions the best, as a swirling wind made any long ball game a bit of a lottery, and with the wind behind them and having the advantage of the slope it looked like Sheffield were the ones to take that mantle. It was the hosts however that made the first breakthrough, with the impressive Ramone Stephens breaking down the right to square the ball to Harry Harris, his shot though fell tamely to Leigh Walker. Club started to threaten more as the game went on, with Paul Smith's free-kick scraping the roof of the net, whilst Greg Wright's cross from the right wing being headed just over by Brian Cusworth. On twenty minutes Sheffield took a deserved lead, as Brian Cusworth and Ashley Longstaff broke down the left wing, and set Steve Woolley with the task of placing a simple pass into the path of Matt Roney, one which RONEY placed first time beyond the keeper into the goal off the near post. Despite dominating territory for the rest of the half, Club couldn't capitalise and gave Chris Gemmell in the Pics' goal very little to do, something they were to rue later on in the game.
With the wind now at the backs of the hosts, it was Rushall's turn to pile on the pressure, and for much of the second period the ball found itself lodged in the Sheffield half of the field. Despite all the pressure the home side did little to trouble Leigh Walker in the visitors' goal, however they did come close following a Tim Jackson corner that was met by the head of Tom Starkey, luckily for Sheffield it was cleared off the line and to safety. For all the advantage Rushall held, Sheffield looked quite comfortable holding on to the lead, and almost had the opportunity to grab another goal. Ashley Longstaff found himself trapped by the left wing corner flag, somehow he managed to play a cute ball to Matt Roney who in turn teed up Jordan Eagers, and his side-footed shot was well saved by Gemmell who turned it round the post. With time running out and looking to be on Sheffield's side, Rushall were awarded a free-kick thirty yards from goal, up stepped Tim Jackson to float the ball in where it was met by an unmarked header by PRESTON to steer the ball home. It seemed rough justice at the time, but once again Club were left holding on for the point, and once again the home team were unable to breach the defence to grab the winner.
Sheffield remain in top spot after this game, as yet again all those around them slipped up with defeats or draws, making the result look all the more impressive. Club have now gone seven league games undefeated, and considering that five of them have been on the road, it looks a formidable statistic. Before this game most would have taken a point, yet once again Sheffield could have – and should have – easily taken all three. Club now have a rare midweek rest, and go into next week's game at home to struggling Lincoln United in promising form, although nothing should be taken for granted with next Saturday's fixture – after all Lincoln turned over our promotion rivals Market Drayton 2-0 this afternoon.
BTF Man of the Match: Ben Leonard
Rushall Olympic: Gemmell, Starkey, Jackson, Preston ©, Smith, Amos (Jevons), Beckett, Maguire (Stevenson), May (Ramsay), Harris, Stephens. Subs Not Used: Lowe, Robinson.
Sheffield FC: Walker, Wright, Davis (Cooksey), G.Smith ©, P.Smith, Leonard, Roney, Thorpe, Cusworth, Longstaff (Jackson), Woolley (Eagers).
Att: 104
Rossington Main 0 Sheffield FC 7
Sheffield & Hallamshire Senior Cup Round Two
Tuesday, 10/11/09
A strong Sheffield squad made no mistake in pleasant conditions at Rossington in the second round of the Senior Cup to comfortably reach the Quarter Final stage writes Rob Shepherdson. With chances a plenty and Longstaff bagging four for himself the difference in quality between the two leagues reflected the pre-match expectations and, although the young Rossington team tried valiantly at times and earned respect for their efforts, there was little they could do once the goals started flowing.
With Steve Woolley making a welcome start on the left wing for the first time in a month, Sheffield still started slowly as both teams try to find their feet in what was at times a little bit scrappy although both Longstaff (twice) and Woolley had good chances in the opening ten minutes. The first breakthrough came on 13 minutes when Jackson exploits weaknesses in the defence and feeds a low ball across the edge of the six yard box for SENIOR to opening the scoring. Perversely Rossington seem to gain confidence from this and play some of their best football of the game but with little impact. However on 20 minutes Club concede a dangerous free kick on the edge of the area which gives Rossington their first shot on goal; but Walker easily saves. A short spell of Rossington pressure followed with a couple of corners and shots but nothing to trouble the resolute Sheffield defence. All is not well with Laurence Gaughan and he is replaced just after the half hour by substitute Matt Thorpe who goes into the right back slot with Wright moving across to central defence. Sheffield began once more to assert their authority although it takes until the last minute of the half before Roney adds to the score. A poor Rossington ball is intercepted just inside their half leaving RONEY with a clear run on goal. Making no mistake upon reaching the penalty area Matt unleashes a fearsome shot to beat the diving keeper at the far post.
If Rossington were deflated by conceding a second goal on the stroke of half time, the second half didn't start any better for them and after only a couple of minutes a Woolley cross was met firmly by LONGSTAFF in the box to head Sheffield's third. The hour mark sees Eagers on for Roney and one minute later LONGSTAFF easily beats the offside trap and then the goalkeeper to make it 4-0. Rossington then have their best chance of the game when Thornton manages to deliver a dangerous cross across the six yard box only for it to evade the desperate attempts of the incoming Nicholls. The 64th minute sees Longstaff win the ball just inside our half and yet again he is free to race forward chased by defenders. Running almost half the length of the pitch, and with a tackle imminent, Longstaff neatly beats the keeper to complete his hat-trick (5-0). Senior is then withdrawn in favour of Leonard but pressure on Rossington is relentless and Sheffield's frontline threaten a breakthrough at every opportunity. With ten minutes to go Woolley feeds a delightful ball through a crowded box and once again LONGSTAFF is positioned perfectly and pounces to make it 6-0 and Ashley's fourth. With the match coming towards a close the final scenes played out and the hard working JACKSON is rewarded with a well deserved goal from a loose ball following the keeper blocking yet another shot from the irrepressible Longstaff (7-0). Whilst Rossington are still not giving up and at the other end a final chance to gain a consolation falls for Fraser's but his shot goes narrowly wide.
A good performance and result for the Club which demonstrates how serious we are about this competition.
BTF Club Man of the Match - Ashley Longstaff
Rossington Main; Appleby, Green (Paterson), Billam, Fraser, Rodgers, Holvey, Nicholls, Pendleton, Thornton, McGhie, Stokes. Subs Not Used: Hilton.
Sheffield FC; Walker, Wright, P. Smith, Gaughan (Thorpe), Cooksey, Gascoigne, Roney (Eagers), Senior (Leonard), Jackson, Longstaff, Woolley. Subs Not Used: Cusworth, Outram.
Goals: Senior (15), Roney (45), Longstaff (49) (60) (64) (80), Jackson (88)
Att: 95
Leek Town 2 Sheffield FC 2
UniBond Division One South
Saturday, 07/11/09
H-e-r-e-s R-o-o-n-e-y..........
and it's 2-1 to Club
A late goal from substitute Paul McMahon gave Leek Town a share of the spoils, this afternoon at a very rainy Harrison Park, as the hosts came from behind twice to grab a point against table-topping Sheffield FC. Club dominated proceedings for much of the game, taking the lead twice through Ben Leonard (29) and Matt Roney (56) – with Daniel Cope (35) grabbing the first equaliser – but finished pretty much on the back foot and will feel grateful they came away with a well deserved point in an absorbing encounter.
Sheffield were the first to get a grip in the game and pressed the Leek goal for much of the opening encounters, with Matt Thorpe forcing Leek keeper Steve Hodgson to tip the ball over the bar, following a rasping shot from fully thirty yards out. The visitors were playing an enterprising passing game on a very difficult surface, and took a more than deserved lead just before the half hour mark, as Greg Wright dug out a terrific cross from the right wing and LEONARD rose higher than anyone to head majestically home. That lead lasted all of five minutes, as Leek came back with determination, with Leon Ashman exposing the Sheffield flanks to put a ball into the box which COPE diverted into the opposite corner of the net leaving Leigh Walker stranded. Leek could have gone into the break leading, after Ashman let a thunderbolt of a shot go from distance, and it took an acrobatic tip over from Walker to deny the young forward.
The second period saw the hosts starting strongly, and almost got on the scoresheet from a header by Ashman, unfortunately for them the effort sailed just over the bar. The deadlock was broken in a moment of brilliance from the Sheffield man-of-the-match, as Matt Roney chased a ball that looked to be heading to safety, however determination and pace saw RONEY outstrip home skipper Andy Taylor and get to the ball before Steve Hodgson – then taking the ball wide, before hooking a shot in from an acute angle, giving the visitors the lead. That lead could have been extended, as Ben Leonard headed just over, and to be fair Club looked like they had this one under control and coast into the final furlong unhindered. But substitutions from both sides changed the course of the game, and Leek became the more attacking of the two sides, with Richard Bailey going closest to create a leveller with a shot Leigh Walker did well to save. With time running out Leek threw another offensive, a cross came in to the middle that Nick Ward headed back across goal, and in the middle McMAHON stuck a foot out to divert the ball into the corner. The Staffordshire side then threw all they had at Sheffield, who were now looking rather shaky at this point, but luckily Club had just enough in the tank to ride out the storm to head back over the hills will a valuable point.
That valuable point now stretches Club's lead at the top to four points, as their rivals all seemingly had bad days at their respective offices, making today's result look all the more impressive. Next up for Sheffield is a trip to Rossington for the Senior Cup tie, followed by a trip to the other side of Staffordshire next Saturday to Rushall in an important top of the table clash, both of whom suffered reverses this afternoon.
BTF Club Man of the Match: Matt Roney
Leek Town: Hodgson, Taylor ©, Allen (Grice), Ruddock, Ward, Hawthorne (Brannan), Bailey, Miller, Ashman (McMahon), Cope, Cordon. Subs Not Used: P.Johnson, W.Johnson.
Sheffield FC: Walker, Wright, Davis, G.Smith ©, P.Smith, Leonard, Outram (Longstaff), Thorpe, Cusworth, Eagers (Cooksey), Roney (Jackson). Subs Not Used: Gascoigne, Senior
Att: 307
Brigg Town 0 Sheffield FC 2
UniBond Division One South
Tuesday, 03/11/09
A goal in each half from Jordan Eagers and Ashley Longstaff were enough to keep Sheffield at top of the league in a hard fought contest this evening at The Hawthorns. Despite Brigg's bottom of the league finish last season, it had not stopped the Lincolnshire side performing the league double over Club and so the visitors were out to ensure a repetition was not going to happen despite Brigg's much improved form over recent months. Brigg also had three ex-Sheffield players within their squad, with Cochrane in the starting eleven and Pickess and Capuano on the bench. Coincidentally, Jon Pickess was BTF's very first Player Of The Season, and the award had been made to him in the Clubhouse at The Hawthorns after the League Cup Final defeat to Ossett Albion there in 2003.
After the early opening exchanges it was the home side who had the first real meaningful effort when Walker had to get down quickly to save Holt's shot. In fact it was the Zebra's who were making all the running in the first quarter of the game although once Sheffield settled they had a good chance when Cusworth got onto the end of an Outram cross bringing out a fine save from Pettinger. Back at the other end and once again Walker was on hand to deny the home side with a reflex save as Sheffield were struggling to combat the pace of the Brigg forwards. Roney was the next to try his luck, curling a free kick towards the top corner that Pettinger had to tip over. Just past the half hour mark and another good chance for the home side went begging as Grimes found space to shoot across goal but the effort was just the wrong side of the post. Five minutes before the break and a good move in which Outram fed the ball into Jackson, who then laid the ball off to the inrushing Wright whose powerful shot had Pettinger at full stretch to keep the scoresheet blank. The breakthrough came on 44 minutes as Roney found space on the wing to run at the defence before turning inside and delivering the ball to the edge of the six yard box where a mad scramble resulted in the EAGERS getting in a shot that appeared to go in off a couple of players.
Brigg once again started strongly in the second half in an effort to get back on level terms, Walker having to save well from their first attack. The visitors were finding it difficult to make any worthwhile attacks at this stage and once again it was a brilliant reaction save from Walker that kept the Zebra's at bay. After soaking up the early pressure Sheffield finally began to create chances of their own, Eagers being unlucky when put through by Outram as his shot was deflected off a defenders leg with the keeper beaten. Minutes later Roney delivered a perfect cross into the area where both Jackson and Cusworth were waiting, Cusworth shouting for the ball, only to see his volley launched into the outer stratosphere! With Brigg having to press forward there was more space for the visitors to exploit and the lead was almost extended in bizarre fashion when a long ball forward saw Pettinger and Cochrane come out for the ball, the defender putting it past his keeper and heading towards goal but the effort was cleared just before crossing the line. Cooksey came on to strengthen midfield at the expense of Jackson and Longstaff replaced Cusworth up front for the visitors. Another ex-Clubbie, Jon Pickess was brought on as a sub for Brigg who were now in the last chance saloon in a bid to salvage at least a point. With three minutes to go they must have thought they'd achieved their objective as shots rained in on the Sheffield goal, but man of the match Walker made a brilliant double save to deny them a share of the spoils at that stage. The game was put beyond doubt on 90 minutes when a long clearance upfield saw the Brigg defenders playing 'statues' as LONGSTAFF beat the offside trap and drew Pettinger out of his goal before rounding the keeper and walking the ball into the back of the net.
A battling performance and another clean sheet keeps Sheffield at the top of the league. Next game is a tricky encounter at Leek Town on Saturday (kick-off 3pm). Be aware that their home game last night was postponed due to a waterlogged pitch so please check before travelling.
BTF Man of the Match: Leigh Walker
Brigg Town: Pettinger, Cochrane, L.Smith, Lamb, Hellewell, Plant, Owens (Barrett), Chappell (Pickess), Holt, Godden, Grimes. Subs Not Used: Capuano, Maxwell, Walton.
Sheffield FC: Walker, Wright, Davis, G.Smith, P.Smith, Thorpe, Outram, Eagers, Cusworth (Longstaff), Jackson (Cooksey), Roney (Gascoigne). Subs Not Used: Leonard, Senior.
Att: 125
Ghoul AFC 2 Sheffield FC 2
UniBond Division One South
Saturday, 31/10/09
It was a case of both Trick AND Treat in this Halloween fixture, as Club struggled to overcome a spirited Goole outfit in a dour contest, at a far from aptly named Victoria Pleasure Grounds this afternoon. In the end the point that was gained from this draw was enough to see Sheffield go back to the top of the UniBond One South table, after coming from behind twice to level, as the only other top of the table side in action (Rushall) lost to path the way. Hero of the afternoon was Brian Cusworth, who rattled in an impressive brace, whilst Ashley Worsfold and James Ghaichem hit the scoreboard for the Vikings.
To say the first half was a dull affair would be an understatement, neither side created anything noteworthy, and the game had to wait nearly thirty minutes for Brian Cusworth to trouble the goal with a header that went just over. On 37 minutes though the crowd were stirred from their slumber as ex-Clubbie Mick Goddard picked up the remnants of a Sheffield corner twenty yards from his own goal and launched the ball upfield, Adam Lee helped the ball on its way with a header, leaving WORSFOLD free on goal to finish with a low hard shot that gave the previously redundant Leigh Walker with little chance of keeping it out. Effectively that was the summary of the entire first half, one that gave very little to entertain, and one that would have left no-one surprised if it had ended goal-less.
The second period sprang to life fairly early on, putting to rest the "living dead" show of the first half, and within ten minutes Club had drawn level. A ball into the box was only half cleared, and when it was returned into the mix, CUSWORTH was handily placed to stab home the equaliser. Moments later the visitors thought they'd taken the lead, as Matt Outram's free-kick was headed home by Cusworth, the celebrations were short-lived though as the linesman's flag was raised for offside. Midway through the half Goole retook the lead, as Glyn Cotton found some space on the right wing after getting goal-side of Paul Smith, the ball was squared across goal to give GHAICHEM the easiest of tap-ins. That lead lasted less than a minute as Club went up the other end and grabbed another leveller, the ball being chested on by Kirk Jackson, and CUSWORTH showed great poise to volley home on the turn. Again Sheffield went close to grabbing the lead, this time Brian Cusworth showing great strength to hold off a defender, before letting a shot go that Craig Parry did well to get a hand on it to turn the ball away. Goole almost grabbed the spoils, as Mick Goddard got a head to the ball, only to see it strike the bar.
This was not exactly the most entertaining of games, but Club did well to come away from the VPG with a point, as this Goole side is a much improved one compared to the one Sheffield faced in the league cup last month. The point takes Club back to the top of the table, but now they go into a difficult period of games on the road, which will probably make or break any title aspirations Chris Dolby's men have this season. Next up is a trip to Brigg Town, followed by trips to Leek and Rushall, none of which can be consider "easy".
BTF Club Man of the Match: Brian Cusworth.
Goole AFC: Parry, Fawcus, Jeffs, Wilkinson (Fretwell), Winter, Stratford ©, Worsfold, Cotton, Lee (Fletcher), Goddard (Hunter), Ghaichem. Subs Not Used: Beard, Dudgeon.
Sheffield FC: Walker, Wright, Davis G.Smith ©, P.Smith, Leonard (Senior), Outram, Thorpe, Cusworth, Longstaff (Jackson), Roney (Eagers). Subs Not Used: Gascoigne, Cooksey.
Att: 236.
Sheffield FC 4 Harrogate Railway Athletic 3
UniBond League Cup Second Round
Tuesday 27/10/09
A first half goal from Andy Gascoigne and then three goals in the space of six minutes either side of the hour mark from Matt Roney, Greg Wright and Kirk Jackson saw Sheffield through to the next round of the UniBond League Cup in a lively encounter at the BT Local Business Stadium. It was a changed side that took to the field from the one which played at Spalding due to suspensions, injury and also Walker being cup-tied. Due to a tight hamstring new signing Brian Cusworth would have to make his home debut from the bench if needed.
Sheffield started well and had the first effort on goal with Roney powering in a shot straight into the arms of Mann. However, with just 5 minutes on the clock it was the visitors who took the lead with their first attack as ROSS slotted home inside the near post from just inside the area. Sheffield's response was a free kick into the area that was scrambled away. They then enjoyed a succession of corners and Mann had to be at his best to tip over a twenty five yard effort from Eagers. The keeper then coming to the rescue for the visitors by saving Jackson's header on the line. It was turning into a lively encounter with the hosts doing most of the pressing but Harrogate looking dangerous on the break. This was in evidence on 24 minutes when the visitors stretched their lead as they broke down the left and when the ball was crossed to the near post Smith could only fumble the save and once again ROSS was on hand to punish the mistake. Sheffield kept to their game plan, which meant man of the match Roney terrorising the Harrogate defence and sending over cross after cross, which had the Harrogate defence panicking all night. Jackson went close once more when making a perfect contact from a Greg Wright free kick, but once again Mann was in fine form to tip the ball over the bar. The resulting corner was cleared, but not far enough as Roney picked out GASCOIGNE at the back post and the youngster did the business and headed home to reduce the arrears. Minutes later Mann was called into action once more to deny Jackson as the keeper got the faintest of touches to divert the striker's header onto the bar. It was one way traffic now as Sheffield strived for an equaliser before the break and had Harrogate pinned in their own penalty area with a flurry of corners but somehow, although the Harrogate defence was creaking it just wouldn't give way and they went into the break with a slender one goal lead.
Sheffield kept up the pressure from the restart, Senior getting on the end of a Gascoigne cross, but Mann was quickly out of his goal to block the chance. Jones had a decent opportunity for the visitors as the ball was pumped forward down the middle, but his shot was wide of the mark. Sheffield drew level on 54 minutes with the best goal of the night as the ball was fed out to Roney on the wing, who took the ball forward then cut inside leaving at least three defenders chasing shadows before curling a perfect shot into the far corner that even the excellent Mann had no chance of reaching. The joy was short-lived though as from the restart Harrogate took the ball downfield and ROSS was in the perfect position to complete his hat trick and silence the crowd as the visitors once more took the lead. It was now end to end stuff as Harrogate were pushed back as wave after wave of Sheffield attacks were being thwarted by a resolute defence and the excellence of Mann, and the visitors were happy to try and hit Sheffield on the break. This seemed to be what they had planned as hat trick hero Ross was replaced to add more pace up front. This only seemed to inspire Sheffield more who had Harrogate virtually pinned in their own half. Sheffield drew level once more on the hour mark as Roney's free kick was cleared out only as far as WRIGHT, who, from twenty yards hit a pile-driver that whistled past the despairing dive of Mann with everyone stood waiting for the defender to cross the ball into the area for his strikers. A minute later and Sheffield took the lead for the first time in this cup tie as once again a Roney cross caused havoc in the area, the cross wasn't properly cleared and JACKSON was on hand to poke the ball home from the edge of the area.
It was now up to Harrogate to press forward if they wanted to be in the hat for the next round which left gaps at the back for Sheffield to exploit. Fortunately for the visitors some over eager anticipation by the strikers resulted in numerous offside decisions. With ten minutes to go Sheffield fans had their hearts in their mouths when Smith dropped an easy catch but the ball was cleared away before the Harrogate forwards could pounce. The keeper redeemed himself towards the end when he got down well to block a shot at his near post. Despite the late pressure the Sheffield defence held firm, although in added time with what would be the last corner of the game, Harrogate sent everyone into the area, including the keeper Mann and the resulting kick saw a mad goalmouth scramble before Cooksey cleared the ball off the line.
So Sheffield progress into the third round, where they will face Ossett Town away on Tuesday November 24th. A fine performance all round and a well deserved win in a very entertaining match. It's back to league action on Saturday with a trip to the deceptively named Victoria Pleasure Grounds to take on Goole, where a few familiar faces could be on show in the opposition line-up.
BTF Man of the Match: Matt Roney
Sheffield FC: L.Smith, Wright, Davis, Gaughan, Cooksey, Eagers, Roney, Potter (Thorpe), Jackson, Senior (Longstaff), Gascoigne. Subs Not Used: Cusworth, G.Smith.
Harrogate RA: Mann, Robinson (Haigh), Ball (Hesketh), Husband, Danby, Stansfield, Thirkell, Mitchell, Jones, Ross (Ramplin), Zephaniah. Sub Not Used: Yorath
Att: 153
Spalding United 1 Sheffield FC 3
UniBond Division One South
Saturday 24/10/09
Match Report brought to you by Rob Shepherdson
On two previous visits to the windy Sir Halley Steward stadium we were both victors and (undeserved) losers but much was expected from Club this season as being league leaders earlier in the week we had the opportunity to further our cause against one of the perennial poorer performing teams in this division. And so it proved with a well-deserved victory for Sheffield who were clearly at a higher level than the hosts for much of the match.
New signing Brian Cusworth started up front alongside Longstaff, with the three Matt's and Lenny in midfield, and Cooksey coming in alongside Gav in central defence supported by Greg and Ryan in the full back slots. Leigh, as usual, was in between the posts.
Spalding had the first chance after 5 minutes when a corner was headed back out of the Sheffield area only for a 20 yard strike to go comfortably over our bar. On 10 minutes Club gets its first chance when Outram is tripped on the edge of the area before curling the resultant free kick into the danger zone for Cusworth to rise above the defenders only to see his header also go over the bar. Spalding then plays a ball above Cooksey which is picked up by their left winger but the dangerous cross is safely put behind by Davis for a corner. In the wet and windy conditions the first 20 minutes are pretty even for both sides with few chances being created although Club now begin to exploit the obvious weak points in Spalding's defence especially from crosses. Almost immediately this pays dividends when a fine cross from Roney is met unchallenged in the area for LEONARD to head Sheffield in front on 21 minutes. A second almost follows when Outram fires in another cross which is met squarely by an unmarked Longstaff only for the goalkeeper to scramble the ball around the post. With quality crosses forthcoming from both Outram and Roney, and Longstaff and Cusworth combining well up front. It was inevitable that continued pressure would bear fruit and on 24 minutes Roney was once again the provider this time for LONGSTAFF to head in. But its not all one way and Spalding still create the occasional chance with Scott find his way past defenders for Mowbray to head wide whilst any even better chance falls to Garrick when Gav slips on the edge of the Sheffield area only to send the ball skywards thankfully clearing the Social Club sited behind Leigh's goal. But Club is still in the ascendancy and Roney and Outram are still creating major problems for the defence with some wonderful crossfield balls creating chances for Longstaff, Cusworth and Leonard. In the dying minutes of the first half Thorpe plays Longstaff through from the halfway line only for a chasing defender to nick the ball off Ashley just as he was lining up to shoot. With two minutes left on the clock Spalding replace injured striker Garrick with Spence who almost makes an immediate impact when he heads over from a rare Spalding corner.
Sheffield pick up in the second half from where they left off with Longstaff going close on 52 minutes with a header from the six yard box which the keeper manages to scramble away. One of the best moves of the match follows on 55 minutes with Outram breaking out of defence and feeding Thorpe in midfield. Matt Thorpe keeping the momentum going cleverly feeds Roney who beats his marker and races for the penalty area before unleashing a ferocious shot which goes narrowly wide - much to the disappointment of the visiting fans. Thorpe also has a good shot saved and on 58 minutes following which Spalding's Captain (King) is deservedly booked for bringing down Outram. Outram responds with another good run only for Cusworth to shoot over the bar. Spalding are now struggling to get out of their own half but when the do finally manage to push up into midfield a smart Sheffield ball beats their intended offside trap to leave Brian Cusworth clear with only the keeper to beat. CUSWORTH makes no mistake and its 3-0 after 63 minutes. 3 minutes later Spalding surprisingly pull a goal back when GOODE strikes from 20 yards past an unsighted Walker. Five minutes later Spalding's Mowbray hits the side netting when in a good position to score as Sheffield shows signs of losing the impetus. On 79 minutes Eagers is brought on for Roney but Spalding continue to threaten and the increasingly dangerous Mowbray hits the bar with a header. At the other end Longstaff chases a loose ball left by the defence but is gradually pushed wide of the goal and fires into the side netting from an acute angle. The final act of note falls to Thorpe who shoots over following the blocking of Cusworth's shot on the line. The final whistle brings a good victory for the Club and our second away win of the season; no bookings either is a bonus!
BTF Man of the Match – Ben Leonard
Spalding United: Norris, George, King (c), Toyne, Hone, Walker, Forbes, Mowbray, Goode, Garrick (Spence), Scott. Subs Not Used: Olivera, Lamming, Roberts.
Sheffield FC: Walker, Wright, Davis, G. Smith ©, Cooksey, Leonard, Outram, Thorpe, Cusworth, Longstaff, Roney (Eagers). Subs Not Used: Gascoigne, Senior, Jackson, Potter
Att: 90
Sheffield FC 3 Market Drayton Town 1
UniBond Division One South
Saturday 17/10/09
New signing from Matlock....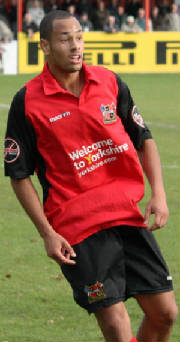 goalscoring debutant Matt Thorpe
A first half equaliser from Ben Leonard, a second half debut goal from Matty Thorpe and a bizarre third goal from man of the match Matt Outram saw Sheffield take all three points and go top of the league this afternoon at the BT Local Business Stadium.
Ex-England and Yorkshire cricket captain Michael Vaughan was in the stand to watch what turned out to be definitely a game of two halves. It was Market Drayton who were quickest off the mark, catching the Sheffield defence cold as they took the lead in the 4th minute when a free kick from Porter was floated into the area where McMULLEN was on hand to head home. Moments later, a similar move, this time from open play saw Biddle head just the wrong side of the post. It was obvious that Town were not overawed by playing the World's oldest football club for the first time in their history, and to be honest, at this stage they were running the show as Sheffield just couldn't get their attacking game going. McMullen went close again with a header, this time Walker having to get down pretty fast to stop the effort. Porter then thought he'd have a go at scoring himself with a speculative effort from the sideline that was not that far over the bar. It took the hosts just over half an hour to trouble Pryce in the visitors net when Roney's cross cum shot was punched away by the keeper. Sheffield were back in it on 33 minutes when a short throw by Davis was whipped into the area by Roney and LEONARD was on hand to head home. The visitors almost took the lead again from the restart when yet another free kick was delivered into the area and Ward headed just over the bar. At the other end, another effort by Roney was gathered by the keeper. It was a lively end to the half as Sheffield had a claim for a penalty denied when Roney was bundled off the ball just inside the area. Walker then had to be at his best to stop a shot from Ward whilst the final action of the half saw Thorpe chip the ball forward to Longstaff whose outstretched foot just failed to connect with the ball with Pryce out of position.
Sometimes you just have to grit your teeth.....
and take one for the team - from Matt Roney's shot
Was it one of those inspired half time team talks that we here so much about when a struggling team suddenly turn into world beaters? It could well have been as Sheffield emerged for the second half and took the game by the scruff of the neck. With only a minute on the clock Longstaff had a good chance when through with only Pryce to beat, but he had to stretch too far and his shot was well held by the keeper. It was now Market Drayton who were finding it hard to get near the Sheffield goal as the hosts kept the pressure on. The midfield had tightened up, with Leonard throwing himself into every challenge whilst at the back the defence were mopping up anything remotely resembling an attack. Just before the hour mark Sheffield took the lead when Eagers released Roney out on the wing and his cross was met by THORPE to head home on his debut. The hosts didn't sit back on their slender lead, as Longstaff had a shot well gathered by Pryce. The keeper then made a fantastic save from Cooksey, diving full length to tip the ball round the post. Cooksey almost became villain shortly after, dallying on the ball near to his own area which allowed Rogers to steal the ball off him but Walker saved with his feet, there were also appeals for a penalty as the defender seemed to tug the striker back before his shot but the referee waved play on. Sheffield could breath more easily on 79 minutes when OUTRAM, who was standing just about on the sideline and at least 30 yards out hoisted a ball so far up in the air that everyone had given up on it as it seemed to be sailing over the bar, but it came down right behind Pryce (who was stood by the far post) hit the post and went in! Thorpe almost doubled his own tally with a screamer of a shot from 25 yards out that was just the wrong side of the post. So, three points and a place at the top of the league for today's effort. Full credit to the visitors who gave us the run around in the first half and played their part in an entertaining game. Sheffield's next game is now away at Spalding next Saturday and NOT Tuesday night, as the visitors that night Quorn drew today in the Fa Trophy and will now be involved in a replay.
The versatile Lee Cooksey.....
fires in this second half piledriver
BTF Man of the Match: Matt Outram
Sheffield FC: Walker, Wright, Davis, Smith, Gaughan (Cooksey), Leonard, Outram (Purkiss), Eagers, Longstaff, Thorpe, Roney (Gascoigne). Unused sub: Senior.
Market Drayton Town: Pryce, Francis, Griffiths, Humphreys, Bowyer, McMullen (Garratt), Porter, Horler, Ward (Rogers), Davies, Biddle (Beech). Unused subs: Haynes, Spooner.
Att: 249
Belper Town 3 Sheffield FC 3
(after extra time - Belper won 3-1 on penalties)
Presidents Cup First Round
Tuesday, 13/10/09
Two goals from Jordan Eagers and one from Joel Purkiss weren't enough in this evenly fought encounter which ended all square after extra time and had to be settled on penalties. Sheffield had Andrew Potter returning to the side, but work commitments, injuries and illness also saw some regular faces missing as there was no Hobson, Paul Smith or Kirk Jackson. The visitors also had yet another Smith to add to the growing collection as young Liam Smith took up the position between the posts due to Leigh Walker being cup tied. For the home side there was the site of yet another familiar face to Sheffield followers as Martin Kearney was in the net for the Nailers.
There was little to choose between the teams in the early exchanges, with neither keeper tested although Roney had half a chance just before the quarter hour mark when Outram's cross found the winger at the back post but he couldn't control the ball and Harcourt was able to clear the danger. However, Belper went in front on 17 minutes when a free kick out on the left was met by Asa INGALL who headed home. Less than five minutes later and the score was doubled when Gaughan fouled Walker in the box and STEVENSON made no mistake from the resulting penalty kick.
Sheffield seemed to lose their way for a ten minute spell with some wayward passing but just on the half hour mark they pulled together again and Eagers had a shot from distance. Senior was next to go close, his shot on the turn just going wide of the post. At the other end Smith had to have two attempts to gather a speculative effort from Oliver. He then made a good save from the Belper centre forward, palming away the shot and Stevenson should have done better with the rebound but he blazed it over the bar. Sheffield were back in it on 40 minutes after a flowing move downfield was taken on by Outram whose cross was turned goalwards by Senior, only to see Kearney get a hand on it to deflect it onto the bar, however, the rebound fell to EAGERS who blasted it into the roof of the net. This certainly buoyed up the visitors as the teams went into the break.
Sheffield had a dream start to the second half when, with just two minutes played, a long ball into the area had Naylor tugging away at Longstaff's shirt, the referee awarding the visitors a penalty for the infringement. Up stepped EAGERS to convert the kick, despite Kearney getting a hand to the ball, to bring the sides level. It was now Sheffield who were in the ascendancy, causing all sorts of problems and Kearney had to be at his best to save a shot from Longstaff. It was by no way all one way traffic though as both Oliver and Rushbury had good efforts for the Nailers. Roney had a long range shot that Kearney had to have two attempts to get it under control. With time running out both sides were tiring and looking to finish the game within the ninety minutes. The visitors at last managed to get their noses in front on 82 minutes when a Roney corner was met in the middle by Purkiss and Longstaff for Sheffield and Naylor for the Nailers. The ball went goalwards and trickled in between post and player as Rushbury's Gordon Strachan-esque attempts failed to clear despite being stood on the line, the goal being awarded to PURKISS. A minute later and Belper went so close when Fedorenko was inches wide with a header just past the post. Belper then had a succession of corners, and as Sheffield finally got the ball clear they thought they'd done enough, but just as the 90 minutes were up WARREN found space to unleash a shot from about ten yards out that brought about an equaliser.
The first half of extra time produced nothing of note as both defences were solid throughout. The second period of added time produced a couple of noteworthy efforts, Belper having a strong appeal for a penalty turned down as the referee adjudged that it was 'ball to hand' on Gaughan. Colliver had a good shot from distance that was well gathered by Smith. Sheffield had a glorious chance to go in front when Gascoigne put Longstaff through, but the striker blazed over with only Kearney to beat. The last action of the game saw Smith produce a great save to tip over a back header from Naylor.
So it all went down to penalties, with Sheffield starting and Potter having his kick saved by Kearney. Naylor put the home side in front with Belper's first kick. Gascoigne then brought the team's level, his spot kick creeping in despite Kearney getting a hand to it. Adams was next for the home side, restoring their lead as Smith got a hand on his shot too. Eagers then came forward for Sheffield, but this time Kearney saved his kick, however, not to be outdone Smith kept the visitors hopes alive as he too saved from Rushbury. Next up for Sheffield was Gaughan but he put his shot wide of the post. The game was wrapped up as Pride came forward to convert for the home side and send the Nailers through to the next round.
So, it's back to league action on Saturday with a re-arranged HOME fixture against Market Drayton Town, with the usual 3pm kick off.
BTF Man of the Match: Matt Outram
Belper Town: Kearney, Harcourt, Pride, Colliver, Adams, Naylor, Ingall (Johnson), Stevenson, Oliver (Warren), Walker (Fedorenko), Rushbury. Unused Subs: Hudson, Carney
Sheffield FC: L.Smith, Potter, Wright, Cooksey, Gaughan, Leonard (Gascoigne), Outram (G.Smith), Eagers, Longstaff, Senior (Purkiss), Roney.
Att: 135
Sheffield FC 1 Willenhall Town 0
UniBond Division One South
Saturday, 10/10/09
A 79th minute Jon Hobson header, his first goal since returning to Club, was enough to give Sheffield a vital three points this afternoon. It was an arduous battle this afternoon at the BT Local Business Stadium, as basement club Willenhall put up a stiff resistance, which Sheffield found very difficult to break down.
The game had quite a lively start to proceedings, with Sheffield very much on the offensive, creating a few good chances. Chris Adam's shot was well saved by Stephen Jackson in the Lockmen's goal, with Chris Porter hooking the ball away to safety, whilst Ashley Longstaff headed straight at the keeper moments later. Kirk Jackson set Adam up with a chance that was deflected wide, and from Matt Outram's resulting corner, Jackson poked the ball wide. Willenhall seldom threatened Leigh Walker's goal, with the Sheffield keeper having very little to do, with the visitors' best effort coming from Namibian striker Tangeni Nghishidimbwa who shot just over. Sheffield did manage to get the ball in the net, after some neat inter-play from Longstaff and Adam gave Matty Outram a tap-in; however the "goal" was ruled out for offside. After a small dust up started by Alex Roofe and Ash Longstaff, one which both sides were lucky not to pick up any cards, the game died out somewhat with very few chances created at either end.
The second half continued in pretty much the same vein, with very little in the way of goalmouth action, and neither keeper having anything of note to do. The best effort of note in the first period of the half came from the hosts, after Jackson flicked on a long ball from Walker, with Longstaff shooting just off target with the suspicion of a deflection helping it on its way. Again Willenhall's best chance came from Tangeni Nghishidimbwa, who once again found himself with a bit of room to shoot, this time though Walker was able to get his body behind the ball. Lee Cooksey almost gave a bit of life to a rather dull encounter, as his effort was blocked by Adam Robinson on the line, when a goal looked a certainty. The goal eventually did come the hosts' way with just over ten minutes to go, and it came from an old tried and tested route, a Roney corner – a HOBSON header – goal! That seemed to knock what stuffing there was in the Lockmen, and although they finished the game pressing more, they created nothing that really threatened Sheffield's goal.
Whilst this wasn't exactly the most entertaining game the large crowd expected, it was good enough to give Club the points to continue the promotion push, propelling them into fourth spot with the leaders looking anxiously over their collective shoulders. Next along is another trip to Belper, this time for a Presidents' Cup tie, provisionally followed by the visit of Market Drayton Town – dependant on their FA Trophy replay on Tuesday evening.
BTF Club Man of the Match – Jon Hobson
Sheffield FC: Walker, G.Smith, Davis, Hobson ©, P.Smith (Eagers), Gaughan, Outram (Roney), Cooksey, Jackson, Longstaff (Senior), Adam. Subs Not Used: Purkiss, Wright.
Willenhall Town: Jackson, Roofe, Robinson, Griffiths, Porter, Meakin-Richards, Morton, Wills (Murphy), Nghishidimbwa (Pugh), Pinnock, Edward (Robins). Sub Not Used: Tasker.
Att: 475
Sheffield FC 4 Frecheville CA 0
Sheffield & Hallamshire Senior Challenge Cup First Round
Tuesday, 6/10/09
Sheffield eased into the next round of the Senior Cup at a rain soaked Coach and Horses with an easy victory over Frecheville. The game saw the return of two former Sheffield FC players in Paul Brook and Craig Ludlam. Brook being part of the side that so famously retained it's NCE Premier Division status by beating North Ferriby Utd 4-3 in the final game of the 1996-97 season at Owlerton Stadium.
Right from the start it was the hosts who took the game forward and it was just a surprise that they had to wait 12 minutes before registering the first goal, Lee COOKSEY putting the ball in the net after a weak punch out from Bryan. Shortly after, the midfielder struck a shot that rattled the bar. Longstaff was next with a good chance when he was through on goal, but he somehow managed to pull the ball wide of the post. Sheffield went further ahead on 23 minutes when Outram ran through the middle before passing the ball out wide to Roney, whose cross was met by Will SENIOR to volley home on his return to the side,. Two minutes later and the game was well and truly over as a contest as once again Man of the Match Matt Outram was instrumental in the build up, releasing Senior who this time turned provider by chipping the ball into the area for Ash LONGSTAFF to head home.
The second half continued where the first finished, with Sheffield pinning the visitors back in their own half. With barely five minutes of the half played COOKSEY was on hand again to stab home a close range effort after good work from Gav Smith on the by-line. Frecheville did mount a couple of sporadic attacks but Walker had no saves to make in the entire ninety minutes, his 'highlight' being to catch the ball from a free kick in the last couple of minutes. There were more than enough chances to have at least doubled the final score, but some wayward finishing, plus a brilliant second half display by Tom Bryan in the Frecheville goal kept the scoreline down to single figures.
It's back to league action for Club this coming Saturday with the visit of Willenhall Town.
BTF Man of the Match: Matt Outram
Sheffield FC: Walker, G.Smith, Davis, Hobson, P.Smith (Gallaway), Wright, Outram, Cooksey, Longstaff, Senior, Roney (Purkiss). Unused subs: Leonard, Winter, Jackson.
Frecheville CA: Bryan, Walley, Bailey (Greaves), Small, Wall, (Brook), Yeardley, Cooper, Ludlam, Meadows, Mulgrew, Nshindano.
Att: 117
Warrington Town 5 Sheffield FC 2
FA Trophy Preliminary Round
Saturday, 3/10/09
Match Report brought to you by Rob Shepherdson
Cantilever Park was the windy setting for the seasons FA Trophy campaign against UniBond 1 North equivalents Warrington Town with a visit to Whitby Town at stake in the next round.
With a strong gusty wind running straight down the pitch, losing the toss was never going to be to our advantage and so this proved as we kicked off the first half directly into a headwind. Warrington started the more positive and had the ball in our net as early as the 7th minute only for the player to be judged offside. Two minutes later we have our first real attack of the game and the second of two successive corners found Leonard in space in the penalty area but his shot lacks any real strength and is easily saved. Warrington push forward and a powerful 20 yard shot from MCCARTHY takes a wicked deflection off Daz Winter to wrong foot Walker and give the home side a 10 minute lead. Warrington maintain pressure after the re-start and Purkiss makes a final challenge to break it up only to be harshly judged to have been unfairly won. Joel kicks the ball away in frustration earning himself the first yellow card of the afternoon.
Against increasingly strong gusts of wind Sheffield mount a rare attack on 19 minutes to find Outram on the right wing; his cross is met well by Winter in the area only for his header to go agonisingly wide. Warrington's Taylor is the next to be yellow carded for a clumsy challenge on Gav Smith. The 27th minute sees Warrington go close again when an in-swinging cross is missed by everyone and to Walker's relief passes safely past his left hand post. Another dangerous low cross is then well cleared by Paul Smith as Club are held back in their own half as the hosts continue to make the most of the conditions. This difficulty in playing balls forward was aptly demonstrated by Ryan Davis whose upfield throw-in in almost came completely back to himself. Just as Sheffield hopes to restrict the half time deficit to just one goal are increasing, the rather fussy referee adjudges Hobson to have handled a ball in the area and awards Town a penalty. GAGHAN makes no mistake from the spot to put Warrington 2-0 up on 38 minutes. Just 4 minutes later and its 3-0. Paul Smith concedes a corner which is then whipped straight across our six yard box just evading Leigh Walker's desperate clutches. Unfortunately it comes down just where unmarked Warrington full back GROGAN is waiting for a simple header. The final few minutes of the half sees Club's best spell of the game so far with a clever back heel from Leonard putting Outram clear on the right wing. Matt's dangerous cross earning Sheffield a corner. The corner is easily cleared by the defence however as they move out one defender is lagging and plays both Outram and Gav Smith onside when the ball is played back upfield. Outram is first to reach the ball and heads for the right side of the penalty area where another cross is sent into the box which, unfortunately, is just a little too high for both Gav Smith and the quickly incoming Kirk Jackson to reach with the defence still playing catch up.
With the wind now behind us the second half starts for the Club with a new tempo and Warrington are pushed back on the defensive. On 50 minutes Adam is played clean through on goal and is only narrowly beaten to the ball by the out-rushing keeper. One minute later Gav Smith has a good chance to shoot from close range but whilst he sets the ball up for his best foot a defender stretches just far enough to nick it away. The 52nd minute sees Adam clear through again but this time the keeper is able to push the shot away. However, showing the fastest reactions of any, Purkiss pounces on the loose ball and fires off a shot which thumps the post, then travels back across face of the goal and just beyond the reaches of the approaching Chris Adam. The first substitution takes place on 54 minutes with Matt Roney replacing Joel Purkiss and moving onto the left wing whilst Chris Adam moves up front to partner Jackson. Club remains on the offensive and straight away Adam finds space outside the area and puts in another telling cross for Gav Smith which the defence can only put behind for another corner. Shortly afterwards Matt Outram fires a good shot from 25 yards which is only slightly wide.
Its all Sheffield now and another good run at the defence by Outram results in a free kick just outside the area and Warrington's Grogan booked. Roney sends in an awkward ball which is cleared off the line with the keeper completely beaten. 63 minutes and Warrington win a corner from their first attack of the half but this comes to nothing. Club's second substitution on 64 minutes brings Andy Gascoigne on for Ben Leonard in midfield. Warrington now showing a little bit more confidence against the wind in an attempt to ease the concerted Sheffield pressure on their defence and bring McLennan on for Chetcuti with 20 minutes to go. Ryan Davis manages to knock out a potentially dangerous cross for only Warrington's second corner of the half on 75 minutes and in the resultant play Hobson is once again adjudged, rather harshly it would appear, to have handled the ball in the area. Outram was booked for the protestations whilst GAGHAN converts his second penalty of the day to give Warrington their 4th.
Club now make their final substitution of the day surprising supporters by bringing Greg Wright on for Matt Outram whilst Warrington reciprocate by replacing Grogan and Taylor with Dacey and Smith respectively. WRIGHT makes an immediate impact on the game by heading in a Sheffield corner for a much deserved goal on 83 minutes. Two minutes later Roney is brought down in the area and Sheffield are given a penalty. Kirk Jackson's effort brings a good save from Mottram in Town's goal but the ball cannot be held it bounces up nicely for a simple follow up from WRIGHT for Club's second whilst the defenders look on. Panic is now setting in the Warrington defence as the comfortable lead now appears to be under threat and the keeper has to make another good save from Jackson this time a flick on from a cross. Astonishingly, with it looking highly likely that at least one more goal would be added to our tally, Warrington make another rare break and GAGHAN get his hat trick with a shot from inside our area on 90 minutes. A final chance for Club falls to Wright who heads over from a difficult position and misses out on what would have been one of the most amazing hat-tricks ever seen however it is Warrington that earn the trip to the East Coast resort in the Qualifying Round.
BTF Club Man Of The Match - Matt Outram
Warrington Town: Mottram, Grogan (Dacey), Chetcuti (McLennan), Hardwick, Tomlinson, Taylor (Smith), Hadland, Connolly, Evans, McCarthy, Gaughan. Sub Not Used: Smearton
Sheffield FC: Walker, G.Smith, Davis, Hobson ©, P.Smith, Leonard (Gascoigne), Outram (Wright), Winter, Jackson, Purkiss (Roney), Adam
Att: 142
Cammell Laird 2 Sheffield FC 0
UniBond Division One South
Tuesday, 29/09/09
Two goals late in the second half saw Sheffield's resistance finally broken as Club finished with nine players, Gaughan being stretchered off for a head injury and Adam sent off for hitting out at the home keeper.
There was nothing to choose between the teams in the early exchanges as both sides got to grips with a greasy surface and strong breeze, which this half was favouring the visitors. This enabled Sheffield to launch the ball forward at every opportunity to target man Longstaff, his strike partner Adam looking to feed off any knock ons that occurred. This was okay for a while but the Lairds soon reorganised their defence and started putting two players on Longstaff. Once they got the ball down and started to play wide there was more success as both Outram and Starosta were always causing danger down the right, and likewise Woolley over on the left. Clear cut chances were very limited though, Foulkes having an effort blocked in the area by Wright for the home side whilst Jones did well to clear away a Starosta free kick. Shortly after this, Longstaff headed over a half chance. Woolley was next to work his magic on the wing, sending over a cross that was just behind the inrushing Gascoigne. Just before the half hour mark the youngster nearly put Sheffield in front after some pressure on the Lairds goal saw the ball cleared only as far as the edge of the area and Gascoigne unleashed a terrific shot that hit the base of the post with Whiteside well beaten. Then the home side came very close to taking the lead when a breakaway saw the ball played into the area and Walker had to make a point blank reflex save to stop a certain goal. Lairds were now putting pressure on the Sheffield defence and a long throw by Thompson caused all sorts of problems as it bobbed about in the area until Walker once again was on hand to fingertip the ball over the bar. Just before the break Starosta had to be replaced by Davis as he had picked up an injury in what was becoming a pretty physical game. The visitors had a lucky escape just before the break when an appeal for offside was waved away and Young found himself on his own, but man of the match Walker came to narrow the angle and the forward shot wide of the goal.
Lairds made a substitution before the restart as Lynch was replaced by Loughlin. It was the home side who got off to a fast start this half as they forced a corner. The resulting kick saw Young unmarked at the back post but he missed the ball with the goal at his mercy. Gav Smith then had to clear off the line as Sheffield were under constant pressure. Purkiss came on to replace Outram in the hope of maybe at least giving the defence some respite once they cleared the ball, and also some support for Longstaff, as Adam moved back out to the wing. Once again Cammell Laird were wasteful in front of goal, this time Thompson failing to make contact inside the six yard box. Sheffield finally did get an effort on target when Longstaff's turn and shot was put out for a corner by Whiteside. The biggest cheer of the night came when Lairds replaced Young with Morgan. Sheffield had a short spell of attacking, gaining a couple of corners but they were easily dealt with. With twenty minutes to go Longstaff found himself one on one with the keeper, but just before he could shoot Atherton was on hand to make a saving tackle. The deadlock was finally broken on 75 minutes as Lairds broke forward and MORGAN made no mistake in putting the home side in front. Davis then cleared a shot off the line as Sheffield were finding it difficult to get out of their own half. Gaughan made his first appearance for club, replacing Woolley. He was involved almost straight away, clashing heads when clearing the ball. Moments later play was suspended as the Irishman fell to the ground and both physios were on the pitch to attend to the player, who was stretchered off to await the ambulance. With Sheffield having already used up their substitutes they were now chasing the game with a player short, giving the home side more space to exploit, as seen when Walker once again had to be at his best to stop a Corrigan shot. When the board for SEVEN minutes added time was held up Sheffield went all out to try and rescue the game, but it was put beyond their reach when once again MORGAN broke free and rounded Walker to make the game safe. Sheffield had the final bit of pressure, gaining a couple of corners but with two goals now to find the task was beyond them. To add to their woes on the night Adam was dismissed with a straight red card for striking Whiteside.
A pretty dismal affair really where at half time the team looked like they could get something out of the game, but a poor second half performance put paid to that. News of Laurence Gaughan was that he was kept in hospital overnight with suspected concussion and was released at 4am the following day and is now at home in bed resting.....quite a debut, hopefully he'll have no memory of it at all. The defeat had little effect on the league table though as Sheffield slipped to fifth, but still only three points off top spot. Next up is a break from league action as the team travel to Warrington Town in FA Trophy action.
BTF Man of the Match: Leigh Walker
Cammell Laird: Whiteside, Gardner, Lynch (Loughlin), Adamson, Atherton, Jones, Courtenay, Foulkes, Young (Morgan), Thompson, Andrews (Corrigan) Subs Not Used: Bigland, Cooke
Sheffield FC: Walker, Starosta (Davis), Wright, G.Smith, P.Smith, Winter, Outram (Purkiss), Gascoigne, Adam, Longstaff, Woolley (Gaughan). Subs Not Used: Leonard, Cooksey
Att: 117
Sheffield FC 1 Loughborough Dynamo 0
UniBond Division One South
Saturday 26/09/09
A goal by on loan striker Ashley Longstaff in the first half was the difference between the two sides at the BT Local Business Stadium this afternoon.
Sheffield had Leigh Walker in goal, after his return from last week's opponents Belper Town. They also fielded recent signings Ben Starosta and Chris Adam from the start, Ryan Davies having to be content with a place on the bench. It was Sheffield who were the quickest out of the blocks as an attack in the opening minute saw Jackson through, but he was beaten by Nurse in the Dynamo goal. Starosta then floated a free kick into the area that was flicked on by Jackson to Longstaff, whose volley was blocked by Nurse and the follow up was also smothered by the energetic keeper. Next to try his luck was Outram who anticipated a long ball forward and cut inside his marker before sliding the ball beyond the keeper but Allen was on hand with a last ditch clearance to save the day for the visitors. Jackson then had a decent chance when latching onto an Adams cross, but he hit his volley into the ground and it sailed over the bar. There were a couple of sporadic attacks from Loughborough, but these were easily dealt with as Sheffield bossed the opening half hour, having the better of the play and creating good opportunities, especially from both wingers. This was displayed in the next move when Outram swung over a deep cross to the back post Where Jackson was on hand to head back towards Longstaff, but as the striker was about to unleash his shot Harrison got a toe in to clear the danger. The visitors finally came to life a minute later, McLarnon's shot making Walker save at his left hand post. However, it was the Dynamo captain Matt Nurse who was by far the busier 'keeper, having to make an excellent stop from Starosta's free kick. The breakthrough came just past the half hour mark when a long ball from defence saw LONGSTAFF react first and put the ball beyond the onrushing Nurse and record his first goal for the club. Both Outram and Adams were then denied by Nurse, who was single-handedly keeping the marauding Sheffield attack at bay. Longstaff had a golden opportunity to double the lead in added time when teed up by Adams, but his effort was woefully put over the bar.
Sheffield started the second half in the same vein of form, Outram making Nurse palm away a shot before Longstaff's follow-up effort was blocked on the line. The big striker was unlucky moments later when latching onto a loose ball as his goal bound effort was spectacularly saved by the keeper. Ten minutes in and this time it was Walker once again at full stretch to turn a Scott Clamp effort round the post. Longstaff was replaced with Purkiss at this stage, which must have been a relief to Nurse and the rest of his defenders. Loughborough were now starting to come more into the game, with Kris Nurse going close as Walker had to save at his near post. Sheffield had to reshuffle the midfield soon after as Eagers went off injured to be replaced by Gascoigne. The visitors were now adventuring forward more in an effort to get something from the game, and Noble was a whisker away from connecting with Ross's cross. Sheffield were being pinned back in the latter stages as Dynamo pressed for the equaliser and Sheffield had a lucky escape when Jamie Allen beat Walker to the ball, only to see man of the match Paul Smith make a goal line clearance. The home side were now hanging on for the points as the visitors surged forward, Collis hitting the upright with Walker beaten. The final minutes saw Sheffield slow the game down and retain possession in the corners until the referee brought the game to an end.
Loughborough will probably feel hard done by after their efforts in the last half hour, but the game should have been over as a contest by half time if it wasn't for yet another brilliant display from Matt Nurse between the sticks. The win puts Sheffield up to fourth spot, just below Witton Albion on goal difference. Next up is the long midweek trip to Cammell Laird on Tuesday, who lost 4-1 today at Workington in the FA Cup.
BTF Club Man of the Match: Paul Smith
Sheffield FC: Walker, Starosta, Wright, G.Smith, P.Smith, Winter, Outram, Eagers (Gascoigne), Jackson, Longstaff (Purkiss), Adam (Woolley). Subs Not Used: Roney, Davis
Loughborough Dynamo: M.Nurse, Harrison, L.Allen, Noble, Betts, Clamp, Morgan (J.Allen), McLarnon (Collis), K.Nurse, Brennan, Hale (Ross). Sub Not Used: Hohn
Att: 272
Sheffield FC 7 (SEVEN) Goole AFC 1
UniBond League Cup Round One
Tuesday, 22/09/09
A makeshift Sheffield side ran out comfortable winners, tonight at the Coach and Horses Ground, as visitors Goole crumbled against their rampant hosts. Five goals in the last twenty minutes gave Club an emphatic victory as Joel Purkiss, Daz Winter and Andy Gascoigne all weighed in with a brace each, whilst captain Kirk Jackson grabbed the other – ex-Clubbie Micky Goddard grabbed the Vikings' consolation from the spot.
Sheffield fielded three debutants this evening, with keeper Jamie Green, Ben Starosta and Chris Adam all making their first starts. But it was one of the Club regulars that kick-started the night's events, as with just two minutes on the clock, JACKSON chipped a stranded Tom Osborne from twenty yards. Matt Roney was making a good show, and set up the second goal on 18 minutes, crossing from the right wing to give PURKISS an unmarked header. It was obvious that Goole's Osborne was the busier of the two keepers, and he had to be at his best to deny a Kirk Jackson header, getting down well to tip the ball round the post. At the other end Lee Cooksey did well to head off the line from an Ashley Worsfold shot, but moments later the defender turned from hero to villain, as he was adjudged by referee Nigel Smith to have pushed Mick Goddard in the back – with GODDARD stepping up to send Jamie Green the wrong way. The rest of the half was mainly Sheffield, with Ben Leonard heading just wide from a Roney corner, whilst Greg Wright saw a shot turned round the post spectacularly by Osborne.
The second half started rather tamely, with just a Gavin Allott shot being well stopped by Jamie Green, and Joel Purkiss being blocked by Osborne on a one-on-one the only talking points of the first 25 minutes of the half – with the exception of Andy Gascoigne's free-kick that must be one of the worst in the 152 year history of Sheffield FC! In the 70th minute the scoreboard started ticking over, as Matt Roney crossed from the left, and an unmarked WINTER heading home despite the vain attempt of Lee Stratford. Three minutes later Roney burst down the left once more, delivering the ball into the middle, before PURKISS poked the ball in to make it four. It was five with ten minutes to go, as GASCOIGNE let rip from 25 yards, with the ball bouncing in off the post. With five to go GASCOIGNE grabbed his second, as he latched on to a through ball, slotting it under the keeper. The comedy moment of the "larger" scoreboard numbers making their way behind Green's goal were becoming rather prophetic, as the number seven just reaching the scoreboard as Starosta's free-kick being met by WINTER, who rose unopposed to head home an unprecedented seventh goal.
BTF Man of the Match: Joel Purkiss
Sheffield FC: Green, Starosta, Wright, Davis, Cooksey (Winter), Leonard (Woolley), Roney, Gascoigne, Jackson © (Wainman), Purkiss, Adam. Subs Not Used: Outram, G.Smith.
Goole AFC: Osborne, Archer, Stratford, Wilkinson, Morley (Siddall), O'Brian ©, Jackson, Selby (Jeffs), Goddard, Allott, Worsfold. Subs Not Used: Spilman, Pacey.
Att: 134.
Belper Town 2 Sheffield FC 2
UniBond Division One South
Saturday, 19/09/09
Click here for action photos from Belper Town v Sheffield FC
A goal in the opening minutes from Kirk Jackson and a stunning volley in added time from Joel Purkiss saw Sheffield leave Christchurch Meadows with a well deserved point today in a hard fought game. It was a case of meeting up with old faces as Jon Hobson returned to his former club to captain for the Sheffield side, whilst the Nailers had Leigh Walker in goal and were captained by Asa Ingall, both no strangers to the Sheffield fans.
Eagers fires in this second half shot....

that Walker goes full stretch to save
Sheffield got off to a dream start in the third minute with virtually the first attack of the game when an innocuous ball into the area wasn't cleared and JACKSON got his foot to it to see it bounce tamely into the net with Walker rooted to the spot. The visitors were having the best of the early play, Outram causing Burley all sorts of problems on the wing with the defender having to resort to body checking the winger on more than one occasion, yet the referee deemed them not a bookable offence. However, one free kick saw Outram swing the ball into the area and Gavin Smith was unlucky with the resulting header putting it wide of the mark. Belper drew level on 14 minutes when Paul Smith lost the ball in the middle of the park and Haigh found Stevenson out on the wing totally unmarked. He had the time to cut in, look up and deliver a pin point cross onto the head of HUDSON who made no mistake. Sheffield responded positively, Outram once again crossing into the area where Walker flapped at the ball as his defence stood and watched, but the referee had blown for a foul on the keeper. Belper thought they themselves had taken the lead when a corner was headed home by Haigh, but the whistle had already gone for a foul on Smith. It was the visitors who were creating the better chances, but couldn't finish the approach work off with a goal. Walker almost gifted them a goal when chasing to clear a ball ahead of Longstaff as he miscued his kick, but luckily there was a defender on hand to complete the clearance. At the other end it was Hobson doing the 'clearing up' when Cross was beaten by a shot from a set piece but the captain cleared off the line. The game was turning niggly with some petty fouls, not helped by the fact that referee and his assistants were by no means working as a team themselves. Jackson went close to restoring the lead for Sheffield when Eagers fed the ball into the area, and in a move similar to his goal, Kirk Jackson flicked the ball towards the far corner of the net, only this time Walker was able to dive on it. However, they should have gone into the lead moments later when Ash Longstaff had a golden opportunity to score. Having seized on a long ball and with only Walker to beat, the striker's shot was too near the keeper who was able to get a foot to the ball and deflect the ball away. Belper made the visitors pay for the miss on the stroke of half time when a free kick into the area was fumbled by Cross and WILSON was on hand to stab the ball home.
Leigh Walker watches this Daz Winter effort....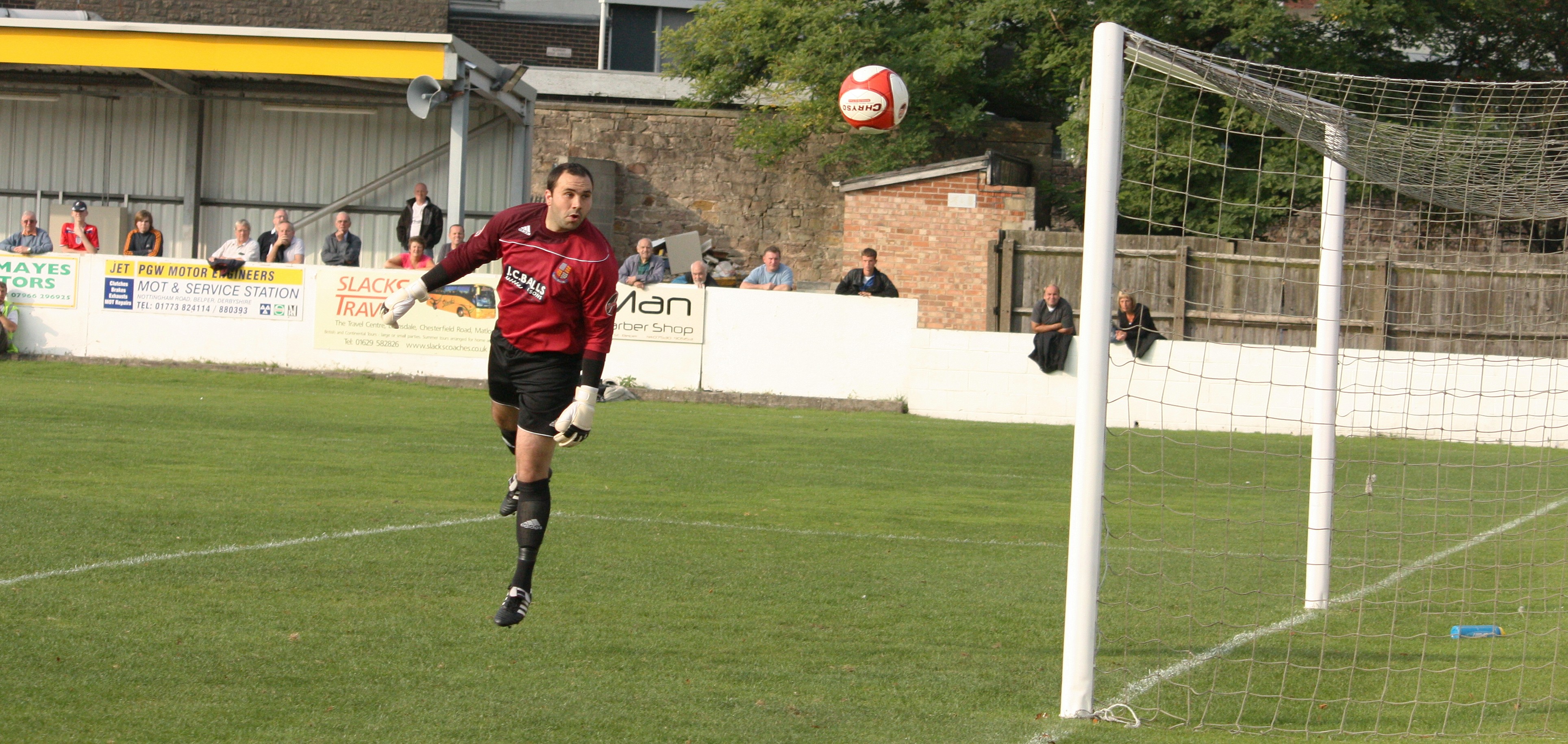 go narrowly wide. Pity Joel's effort didn't, eh Leigh ?
The second half saw Sheffield carry on where they left off, only this time chasing the game. Outram was still the main supply for the forwards as he had Burley on the back foot time and again. Eagers tested Walker's reflexes as his first time shot from Outram's pass had the keeper punching clear. Belper were reduced to a couple of long range efforts, although Cross had to make one full length save from a Stevenson free kick. It was Walker again to the rescue with a double save as Longstaff's shot was parried by the keeper and with Jackson following up, his effort was blocked too. With Woolley already substituted, Dolby decided that it was time to 'go directly' for goal by withdrawing Man of the Match Outram and bringing Purkiss on to supplement the firepower up front and rely on the rocket launches from Cross to cause the damage. It certainly gave the Belper defence something to think about as their own Man of the Match Leigh Walker was being kept busy directing things in front of him as well as pulling off some stunning saves. However, Sheffield got their just rewards two minutes into added time when Cross launched yet another ball upfield where Longstaff managed to control it and head it back to Purkiss who, from twenty yards out and from the corner of the area hit a fantastic volley over Walker and into the net. Sheffield fans still had to endure a few nerves just after the goal as Belper gained a corner, but the danger was cleared and the referee brought the game to an end.
A game which both sides would have probably have settled for a point before play. Sheffield showed some good touches and on the balance of play and chances, had enough opportunities to have come away with all three points, but after falling behind they showed true character by fighting to the end and grabbing the equaliser. Next up is a break from league action as we take on Goole at home on Tuesday night in the League Cup. Come and support the lads, you may see some familiar faces lining up for the opposition.
BTF Man of the Match: Matt Outram
Belper Town: Walker, Harcourt, Burley, Ingall, Naylor Haigh, Hudson, Stevenson (Colliver), Oliver (Simpson), Wilson (Trimmer), Fedorenko. Unused Subs: Adams, Middleton
Sheffield FC: Cross, G.Smith, Wright, Hobson (Cooksey), P.Smith, Winter, Outram (Purkiss), Eagers, Jackson, Longstaff, Woolley (Gascoigne). Unused Sub: Leonard
Att: 256
Sheffield FC 1 Witton Albion 0
UniBond Division One South
Tuesday, 15/09/09
Young goalkeeper Joe Clegg prevented Witton suffering an embarrassing rout, this evening at the BT Local Business Stadium, as he saved his colleagues on numerous occasions from being swamped by a rampant Sheffield side. After a string of impressive stops, including a penalty save, there was little he could do to prevent the hosts taking all three points through an 84th minute strike from Joel Purkiss.
It was an understatement to say Club started strongly, as Witton knew the size of the task ahead as early as the 15th second of the game, as Ashley Longstaff went close with a stinger of a shot. The pressure became relentless for the first quarter of the game, and Sheffield had a series of chances, any of which could have resulted in a goal on another day. Captain for the night Jordan Eagers started a move with Steve Woolley, who in turn played a neat one-two with Matt Outram, with Woolley's shot hitting the outside of the post. A bad header by Brian Pritchard nearly set up Kirk Jackson, with the defender's misdirected clearance giving the striker more time than he actually realised, with Jackson hurriedly hooking his effort over the bar. Ex-Manchester City keeper Joe Clegg was also beginning to make his mark on this game, and he produced an excellent save from Longstaff, after the striker hit a fantastic effort on the turn. By now it was apparent that Club's domination of the game was almost comprehensive, but Witton still gave glimpses that they may cause some problems for the home side and Steve Foster proved that by forcing a save from Tom Cross, whilst Brad Maylett set up Steve Brodie with a chance that was side-footed over. The majority of the action though was at the other end, and Clegg had to get down well to make amends for a rare error, as his poor clearance only reached Woolley who shot straight back with the keeper out of position. Sheffield will have been disappointed not to go in at half team at least one goal in front, after chances from Eagers and Outram both failed to hit the target, although nothing could be taken away from an excellent half's performance.
The second period brought more of the same, Witton having to withstand wave after wave of Sheffield attacks, with the defence becoming more and more frantic. Steve Woolley and Matt Outram both forced saves from Clegg within minutes of the restart, with one particular double-save bringing murmurs of approval from the home support. Club continued to lay siege on the Albion goal, as Kirk Jackson set up Longstaff who curled a neat effort just onto the bar, whilst Daz Winter's header from a trademark Paul Smith free-kick also went close. Clegg though was coming into his own in the Witton goal, as first he turned a Jordan Eagers free-kick acrobatically round the post, and with fifteen to go saved his team from the going behind with a very good penalty save. It was awarded after Pritchard had rugby tackled Outram in an off-the-ball incident, and with Eagers having a pretty good record from the spot, a goal looked almost certain – however Clegg had other ideas as he got down well to get both hands to the ball. The penalty seemed to give Witton new impetus, with this they started to press forward with more confidence, and skipper Stuart Rudd should have done better as he blazed over after a scrambled corner. With six minutes to go came the breakthrough no-one thought would come, as Matt Outram showed some fantastic skill to dig the ball away from the touchline and race in on goal, and finishing it off with a squared ball to PURKISS who slotted home from ten yards. Even then Albion looked as though they could still snatch a point, and nearly did so with a Steve Hall header, luckily for Sheffield the ball shaved the outside of the post.
After an impressive performance from Sheffield, an ideal antidote to the first half performance witnessed in the FA Cup on Saturday, the win catapults them into third spot in the league. There were plenty of fine displays from the Club players, and even given they were missing Hobson and MacPherson in defence, they still looked as solid as ever at the back. But it was up front where they impressed the most, leaving a fancied Witton looking rather threadbare and shell-shocked, and if it wasn't for the outstanding display from young master Clegg – heaven only knows what the score might have been! Next up for Club is a tasty looking encounter down the road at Christchurch Meadows, where they face fifth placed Belper Town, if tonight's effort from Sheffield is anything to go by it should be entertaining.
BTF Man of the Match: Ashley Longstaff
Sheffield FC: Cross, Davis, Wright, Winter, P.Smith, G.Smith, Outram (Gascoigne), Eagers ©, Jackson (Purkiss), Longstaff, Woolley (Roney). Subs Not Used: Leonard, Cooksey.
Witton Albion: Clegg, Adams, L.Neville, Pritchard, Rudd ©, Brodie (Heller), Maylett, Hall, Foster, Moseley, Tandy. Subs Not Used: D.Neville, Hadzik.
Att: 254
Sheffield FC 1 FC United of Manchester 3
FA Cup 1st Qualifying Round
Saturday, 12/09/09
The day's biggest FA Cup crowd were in attendance this afternoon at the BT Local Business Stadium, to enjoy the warm September sunshine, and to witness a fairly comprehensive victory for FCUM over Sheffield FC. Over 1,200 people crammed the Dronfield terraces, creating a memorable atmosphere for all present; however three unanswered first half goals for the visitors gave matters on the pitch a rather lopsided outcome. Goals from Been Deegan and two from Carlos Roca - one of which was a penalty – all but wrapped up the game by the interval, although Club dominated the second period, with Jordan Eagers capping a fine display with a well taken spot-kick of his own.
It was a rather tense start to the game with very few chances created by either side, and the main talking points in the first quarter of the game were the robust challenges from Simon Carden and Jon Hobson on opposition victims, with the Sheffield skipper the one who picked up a yellow card. United managed the first real effort on goal twenty minutes in, as David Chadwick saw his header fly just wide of the post, from a rather good corner from Jermaine Wright. Club's best effort of the half came after a neat one-two between Gav Smith and Jordan Eagers, resulting in a shot from Smith, with FCUM keeper Sam Ashton more than up to the task of saving. Just after the half hour mark the visitors made the breakthrough, with DEEGAN driving the ball through a crowded box, with the ball cruelly deflecting off a body beyond Tom Cross. United added a second just before the break, as a suspiciously offside looking Carlos Roca found himself clear on goal, Cross did well to block Roca's effort, but as the ball fell to Adam Carden who fell in the area under the attention of Dan MacPherson – ROCA made no mistake from the spot, sending Cross the wrong way. To add insult to injury the visitors added a third in injury time, as Paul Smith misjudged a long ball; ROCA gambled well and coolly lobbed the advancing Cross from about 25 yards out.
It could be argued that United took their foot off the gas, but the second half saw a totally different Sheffield performance, one which had the visitors on the back foot for much of the half. Matt Roney's free-kick found Gav Smith, who hooked the ball over, whilst Smith also forced an excellent stop from the impressive Ashton. It looked as if Club would get their just rewards eventually, and midway through the half they did, although it came in controversial circumstances. As Ashton collected the ball from a corner, Adam Tong was involved in an off-the-ball incident with Gavin Smith, with the Sheffield player knocked to the floor. Both players received yellow cards, surprisingly in Tong's case, and a penalty awarded to the hosts – much to the angst of the FCUM players – one that EAGERS dispatched with ease. United could have added to their total; Roca could have got his hat-trick, as he did well cutting in from the left to shoot just over. The best chance of the half though came as Jerome Wright burst through the Sheffield defence, squaring the ball to Ben Deegan who had the easiest of tasks of slotting into the empty net, but there to clear off the line was Gavin Smith – coming from nowhere to clear the danger.
For much of this game Sheffield more than held their own, but on the day there could be little argument that FC United showed their higher division class, and more than deserved their win. Club will be able to look back on this one as a good experience with plenty of learnings, but more than anything it will be remembered for being a great day for a large well behaved attendance, and nice little payday to top it off.
BTF Man of the Match – Jon Hobson.
Sheffield FC: Cross, G.Smith, MacPherson, Hobson ©, P.Smith, Leonard (Gascoigne), Roney (Outram), Winter (Purkiss), Jackson, Eagers, Woolley. Subs Not Used: Wright, Green, Wainman.
FC United: Ashton, Warrender, Garner, Moses (Cottrell), Chadwick ©, Tong (Nugent), A.Carden, S.Carden (Marsh), Deegan, Wright, Roca. Subs Not Used: Shenton, Williams, Morris, Mack.
Att: 1,208
Sheffield FC 4 Mickleover Sports 2
UniBond Division One South
Saturday, 05/09/09
Jackson lifts the ball over Whittle.....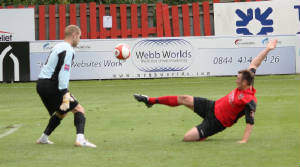 and Sheffield draw level against Mickleover
Sheffield found their scoring boots this afternoon, in a lively encounter at the BT Local Business Stadium, as they overcame a feisty Mickleover Sports outfit 4-2. Leading the way in the goalscoring stakes was Kirk Jackson, who weighed in with an impressive hat-trick, whilst Gavin Smith scored his first goal of the season with a trademark header. The result was made all the more impressive given that Sheffield had to come from behind twice, after the Derby outfit went in front with goals from Alex Steadman and Ricky Law, and given a let off when Karl Ashton blazed a penalty over the bar.
Sheffield debutant Ashley Longstaff....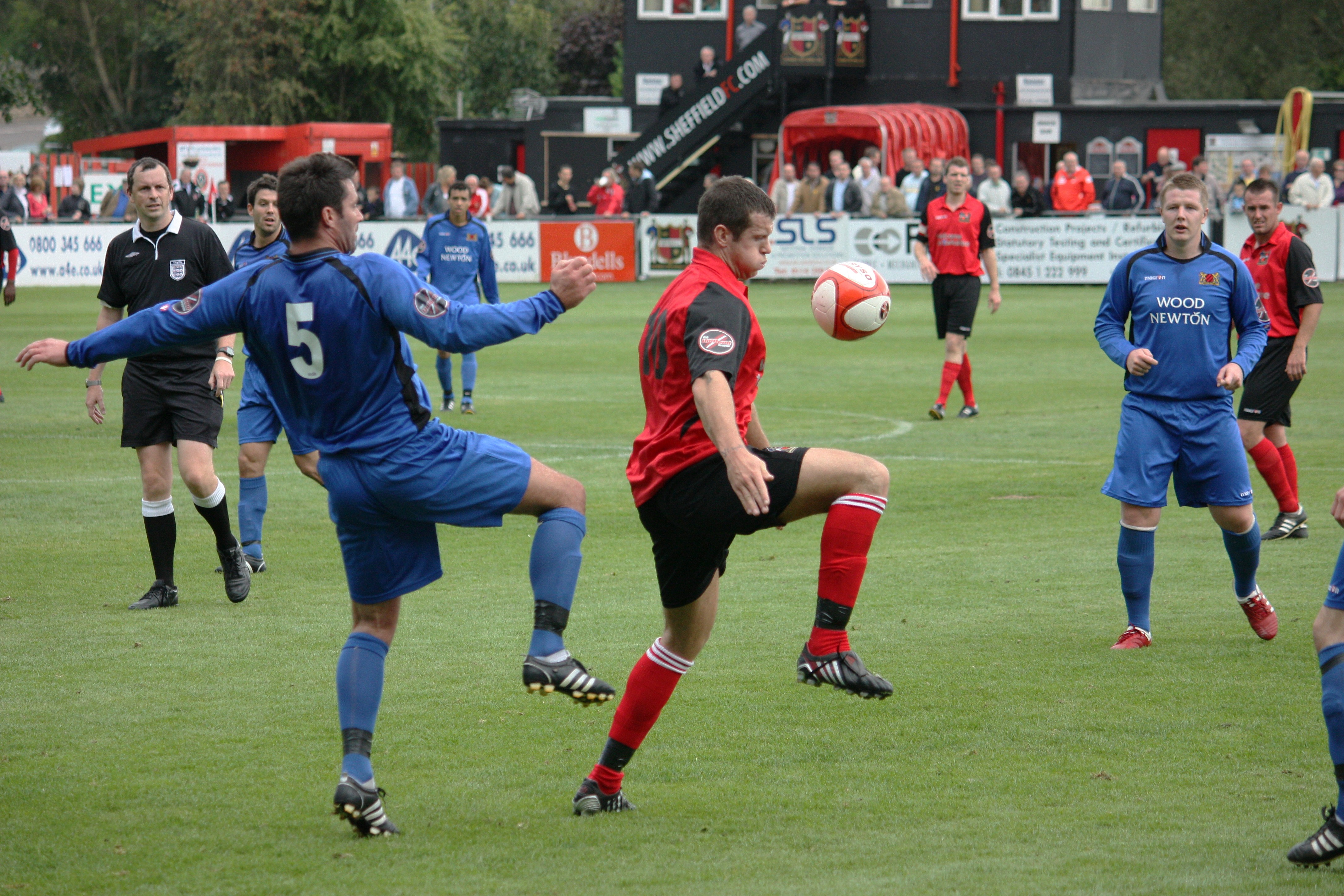 .....in first half action
After the crowd had been treated to a fly-past by the Red Arrows whilst the players were shaking hands, the game started rather flat in comparison, with neither side holding the ball for more than a few passes. Seven minutes in though the game sprang to life, as Jon Hobson's headed clearance went across the field to STEADMAN who met the ball with the sweetest of strikes, leaving Tom Cross rooted to the spot as the ball hit the back of the net. Moments later Sports had the opportunity to make it two, as a deep cross from Danny Martin was met by the head of Ricky Law, with the ball fizzing just over the top. Club had to wait until midway through the half to test the Mickleover keeper and Tom Whittle was up to task, getting down well to stop a half-volley from Matt Roney, following a Steve Woolley cross. Three minutes before half time Sheffield finally made the breakthrough, as a long free-kick from his own half by Tom Cross was poorly dealt with by Sam Carter, and nipping in to capitalise on the error was JACKSON to hook the ball over the advancing Whittle and into the net. In injury time Club nearly took the lead, as Steve Woolley managed to get in front of the now shaky looking Sam Carter, his final effort was narrowly wide of the mark.
Sheffield had the worst start possible in the second half, as Tom Cross pondered too long on the ball and lost control, allowing LAW to dispossess the keeper and slide the ball into the empty net. If anything this spurred the hosts into action, and within three minutes they were level as Gavin Smith delivered the perfect cross into the box, where JACKSON was on hand to finish with a towering header. Club were now well and truly on top, and could have made it three moments later as Dan MacPherson's shot was blocked by Whittle, with Jackson's rebound being blocked on the line by Marc Strzyżewski. Ashley Longstaff was also impressing on his debut, and was combining excellently up front with Jackson, and he combined with Gav Smith to set his strike partner up with an excellent opportunity – one that Jackson just headed over. It seems strange commenting on a Sheffield game where they dominated the aerial battle, but such was the dominance, every time the ball went into the box it was a home player's head that connected with it. On the hour that was summed up, when Matt Roney sent in a fantastic free-kick into the mix, and GAV SMITH rose a good six inches higher than anyone else to head home for the third.
Club continued to press and dominate the game, and nearly made it four from a poorly cleared Matt Roney corner, with substitute Jordan Eagers volleying against the bar. Whilst Club looked in complete control, Mickleover were handed a lifeline, as a Gavin Smith challenge on Eric Graves was deemed worthy of a penalty. Whether or not the sight of his number being held up on the bench moments earlier affected him in anyway is rather subjective, either way Karl Ashton's penalty must go down as one of the worst for some time in S18, with the ball not only clearing the bar – but the fence and probably county line too – it was his last contribution. Tom Cross managed to make a good stop to deny Mickleover a share of the spoils, getting down well to deny Ricky Law, who had been left open in space on the left wing. In injury time the game was wrapped up, as substitute Andy Gascoigne burst into the area, only to be upended by Liam Walshe. Naturally with a hat-trick on the cards, Jackson stepped up, and made no mistake with a calmly taken spot-kick.
Tale Of Two Pens !!!!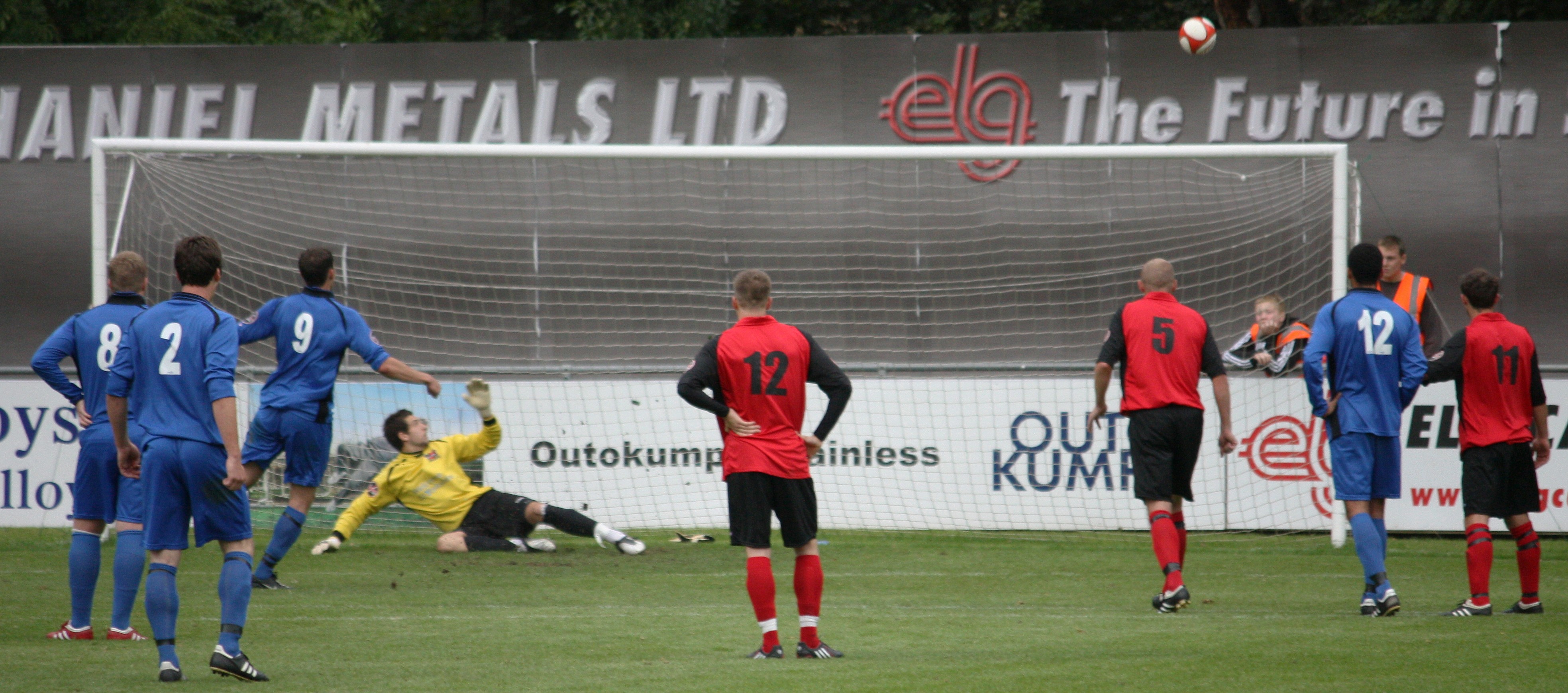 Ashton misses Sports kick, Jackson grabs his third goal
Overall this was a very entertaining game, and neither side were shy with some of the challenges, with plenty of players leaving the field knowing they'd been in a battle. But the major point to take from this was the quality up front from the Sheffield pairing of Longstaff and Jackson, who looked a pretty decent pairing, working excellently together. Obviously there were other areas where Sheffield shone, with Gavin Smith's performance in particular getting nods of approval from all and sundry, and it could (and should) have looked a whole lot more impressive if not for the two gifted goals. The win leaves Club in sixth spot, but the league takes backstage next week, as we turn our attention to FA Cup matters – in particular the eagerly awaited visit of FC United of Manchester, who come to Dronfield fresh from their trip to the Lake District, where they lost 1-0 to Kendal.
Sheffield FC: Cross, G.Smith, MacPherson (Wright), Hobson ©, P.Smith, Leonard (Eagers), Roney, Winter, Jackson, Longstaff, Woolley (Gascoigne). Subs Not Used: Wainman, Purkiss.
Mickleover Sports: Whittle, S.Carter, J.Carter, Walshe ©, Hoyle (Burton), Strzyżewski, Steadman (T.Law), Martin, Ashton (O'Connell), R.Law, Graves.
Att: 263
Carlton Town 2 Sheffield FC 0
UniBond Division One South
Monday 31/08/09
BTF Club Man Of The Match Matt Roney.....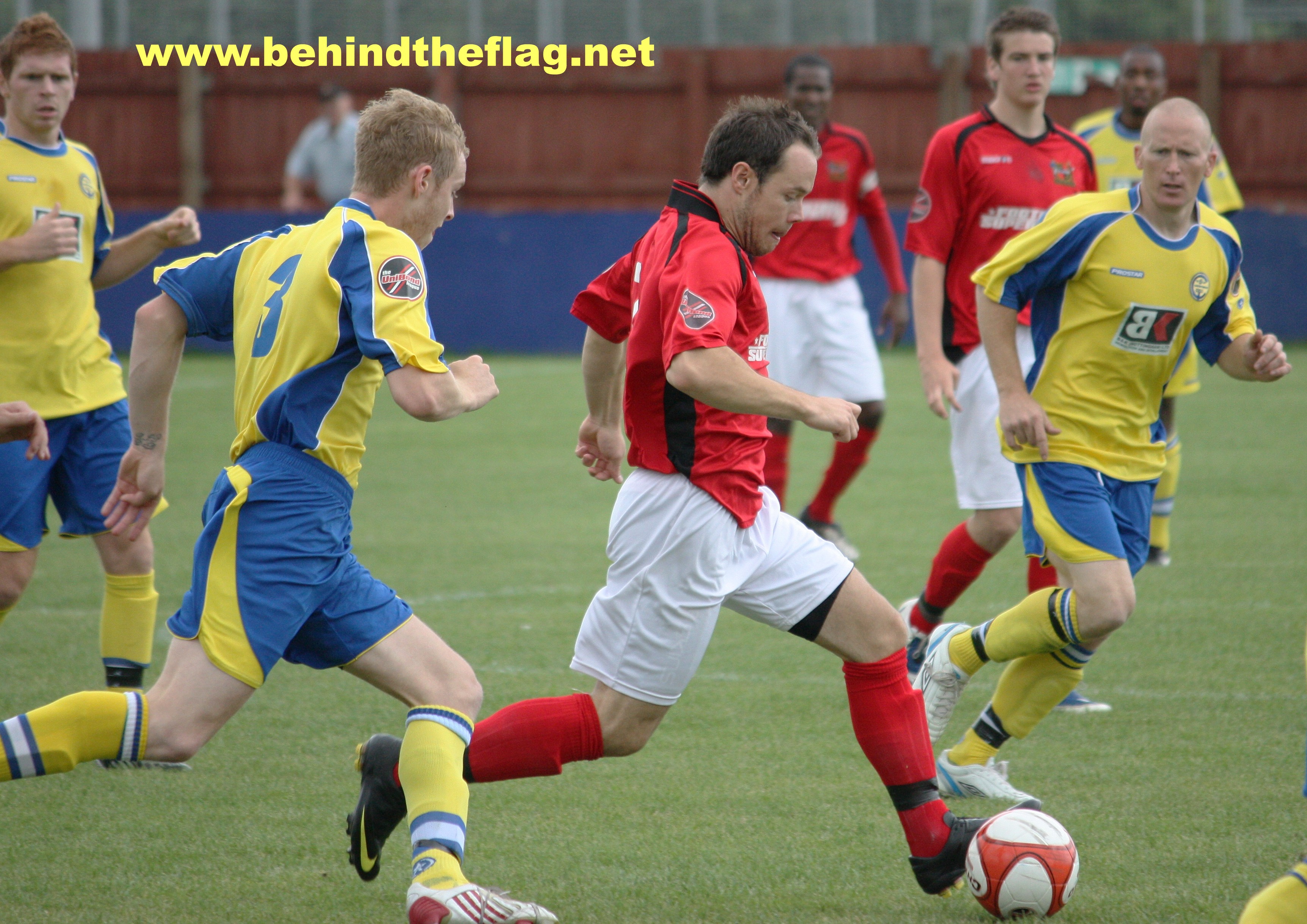 in a first half run at the Carlton defence
Sheffield lost their first match of the season with two second half goals from bogey side Carlton Town this afternoon. Manager Chris Dolby was down to the bare minimum and only able to name two subsititutes plus himself. Will Senior and Matt Outram out through suspension, Jon Hobson unavailable due to work commitments and Daz Winter and Rob Cam out on loan.
It was the visitors who had the first chance on a blustery afternoon when Paul Smith released Woolley who fired over the bar. Carlton's first real effort took almost 20 minutes to materialise when Brady put an effort over the bar after being set up by Ball. Roney was causing all sorts of problems out on the wing and just after the half hour mark he sent over yet another cross, this time from a free kick which Leonard headed wide. Sheffield were by now having a lot of the ball but not doing a great deal with it where it hurts. Jackson had a glorious chance when through on his own after a defensive mix up, but he failed to get the shot on target with only Barcherini to beat. At the back the defense were looking solid enough with both the Smiths doing a fine job marking the tall Justin Jenkins when the need arose. Barcherini was back in the thick of things just before the break, having to save well from both Gavin Smith and Eagers in the same move. The last chance of the half fell to Jenkins for the home side who headed over the bar from a free kick
Two minutes into the second period and the visitors almost took the lead as Eagers tackled in the opposition area and the ball fell loose to man of the match Roney whose rasping drive was well saved by Barcherini. It was Paul Smith who was next to test the keeper from a free kick, but the effort was safely gathered. Sheffield kept pressing forward and a good move from midfield eventually found it's way to Eagers just inside the area, but his shot was blocked by Swinscoe. At this point Carlton decided to change things around by bringing on their two remaining substitutes. Shortly after this Roney was taken off and replaced by Wainman. This seemed to turn the game in Carlton's favour, as they started to attack more, and Sheffield's own attack's dwindled as there was no service now on the right wing, Woolley being a virtual spectator stuck out on the left side without any service.
Just past the hour mark Carlton came close when a long ball into the area had the visitors panicking before the ball was eventually cleared. Jackson was replaced by Purkiss up front for Sheffield, the only other substitute being the manager himself, who was busy directing things from the touchline. Chaplin had a good chance from the edge of the area, but once again the shot was wide of the mark. Meanwhile at the other end, Wainman got the better of Brindley but his header was wide of the mark. The breakthrough arrived in the 79th minute when pressure in the Sheffield area saw Cross having to make his first save of the half but the ball fell kindly to SWINSCOE at the near post who swept the ball home. Three minutes later and the lead was doubled when Carlton broke down a Sheffield attack and quickly released the ball forward to Ball who ran on unchallenged before knocking the ball into the path of HEWITT who had the simple task of putting it beyond the reach of the stranded Cross. Sheffield tried to rally to salvage something out of the game, Woolley coming inside and firing in a shot that had Barcherini at full stretch, but that was as far as they got to getting on the scoresheet.
So once again Carlton have the Indian sign over a somewhat laboured and lacklustre Sheffield performance this afternoon in a game they should at least have had a share in. Next up is a home game against newly promoted Mickleover Sports on Saturday; kick off as usual at 3pm.
BTF Man of the Match: Matt Roney
Carlton Town: Barcherini, Corrigan, Gardner, Swinscoe, Brindley, Mitchell, Whitman (Blair), Ball, Jenkins (Breech), Chaplin, Brady (Hewitt). Subs Not Used: Martin, Henshaw.
Sheffield FC: Cross, Wright, MacPherson, G.Smith, P.Smith, Leonard, Roney (Wainman), Eagers, Jackson (Purkiss), Gascoigne, Woolley. Sub Not Used: Dolby
Att: 86
Sheffield FC 4 Flixton 0
FA Cup Preliminary Round
Saturday 29/08/09
Sheffield got their FA Cup campaign off to a flying start with a resounding 4-0 win over Flixton, Will Senior's header on two minutes being followed by a three goal salvo in the second half from Jordan Eagers (penalty) and a brace from Greg Wright. The visitors did themselves no favours as persistent pettiness and indiscipline saw them end the game with just eight players after the referee had done waving his red card about, although by the time all this occurred the game was already over as a contest.
It was a dream start for the hosts, as they went on the attack from the kick off and gained an early corner. From the resultant kick Roney sent over a cross which SENIOR met at the near post to head home. It was all Sheffield then as the crowd were expecting a goal avalanche as the team pressed Flixton back. In fact it was almost twenty minutes before they had their first real chance when Spence headed wide at the back post from a free kick. Dickinson had a good chance minutes later when, with a clear sight of goal and no defender in front of him he hit a shot that was woefully wide of the target. Sheffield were creating plenty, but clear cut scoring chances were at a premium, Gascoigne going closest when just failing to connect with a low cross into the box. So Sheffield went into the break with just the one goal lead.
Outram replaced Roney at the start of the second half, immediately marking his presence with a run and cross that Gascoigne volleyed over the bar. Just over ten minutes into the half and the hosts were awarded a penalty for a high challenge on Senior. A somewhat controversial decision in the eyes of the Flixton players, but once the dust had died down up stepped EAGERS to slot the ball into the corner just beyond the reach of Jowsey. This episode unsettled the visitors who were then questioning every tackle and losing their own discipline. As a result some of the play became scrappy as petty fouls started to creep into the game. Wainman was brought into the game at the expense of Senior, to give the Flixton defenders yet more pace to worry about as they laboured to clear the ball time after time. The fact that Cross was a spectator this half tells you just how impotent the visitors were going forward. Wainman almost got on the scoresheet with his first touch as a free kick was headed on by Eagers and the striker was there to head against the bar.
Despite all the pressure Sheffield were finding it difficult to kill the game as Jowsey was in fine form, making a double save from Leonard. However, he couldn't keep the hosts at bay all afternoon and Sheffield increased their lead on 71 minutes when Outram's free kick was floated into the box where WRIGHT was on hand to slot the ball home unchallenged from three yards out. Wainman then makes Jowsey pull off a fine save as the striker is once again foiled by the keeper. From the resulting corner the game was well and truly over as WRIGHT was on hand again, this time from two yards out to blast Sheffield into the next round. There was still time for Wainman to resume his personal battle with Jowsey, this time latching onto a through ball and slipping it beyond the keeper's reach, only to see it trickle agonisingly wide of the post. In the dying seconds an altercation between MacPherson and one of the Flixton players saw the visitors red carded, as well as one of his team mates for dissent. As for the third sending off? We're still trying to work that one out!
Sheffield's reward for this victory is a home tie in the First Qualifying Round against FC United of Manchester, but before that there is the small matter of a trip to Carlton Town on Monday, 3pm kick off, where more league points are at stake.
BTF Man of the Match: Steve Woolley
Sheffield FC: Cross, Wright, MacPherson, G.Smith, P.Smith, Leonard, Roney (Outram), Eagers, Senior (Wainman), Gascoigne (Dempsey), Woolley. Subs Not Used: Purkiss, Green.
Flixton FC: Jowsey, McDonnell, Scarry, Whitehead, Spence, Boardman, Dickinson (Haggis), Barnes (G.Smith), C.Smith, Keogh, Edwards (Matthews). Subs Not Used: Fradley, Osbourne
Att: 174