Thackley v Sheffield
6th March 2004
Once again we're on our travels, looking to continue the fine run which has seen Club undefeated in our last eleven league matches. Today it's Stu who's going to be picking me up from work for the fifteen minute trip to Thackley.....well it is Stu who's driving! Despite getting dressed up as though I'm going on an arctic expedition (well it was cold and damp when I set off for work this morning) it's bright sunshine as I leave work, and warm as well. Hopefully it will turn a lot colder as the match progresses so as to justify my appearance as a look-a-like for the Michelin Man!
Despite there being no footie traffic at all in Sheffield today Stu just manages to pick me up without being late. He blamed Craig, who's come along for the ride as he doesn't know the way , and Stu knows this route like the back of his hand. If Craig had asked me I would have gladly navigated for him. I'm sure we would have got to the match eventually, even if it was just for the last five minutes!
I get into the back alongside the cub reporter, who's busy listening to a tape on his headphones. I ask him what he's listening to and he looks at me deadly serious and says "Music". This makes everyone laugh. He's actually listening to A.C.Milan songs from a tape he bought when he visited the San Siro. Stu has the right idea as he's got Radio 2 on so we can keep up the tradition of listening to 'Pick of the Pops' on our way to the matches. Today it's 1974 as we drive along the motorway through the rain, observing the dark clouds ahead while David Bowie sings Geoff's signature tune....Rebel Rebel!
The sun is shining brightly once again as the rain eases off and we are chatting about the club programme and looking at some ideas Craig is thinking about for next season. As we come to a T-junction, Stu turns his head towards both me and Craig and says "I don't recognise any of this...we're lost". This coming from the man who gives everybody else directions to Thackley because he never gets lost and knowing quite a few short cuts to the ground! As we drive on, aimlessly trying to get our bearings, Suzi Quatro is belting out the number one hit 'Devil-gate Drive' for March 19th 1974.
No one's panicking, but as a precaution I phone Deano to ask him to get our programmes as it looks like we'll miss the kick-off, much to his delight. He makes me repeat that Stu is lost. In actual fact we find out we are on the right road.....just heading in the wrong direction, and finding it difficult to find a place to turn around. Of course I'm writing all this down for you all to laugh at, sorry read, as Stu curses me under his breath. When my pen starts to run out I ask Liam if I can borrow his to which his dad tells him "Don't give it him Liam, he's going to write nasty things about your daddy"! We eventually do find a turning place and head off towards the ground at a very steady pace, this being mainly due to the fact that we are being followed by a police car. We get to the ground and go through the turnstile just as the players are coming out, and receive a big round of applause from the rest of The Posse who of course arrived in plenty of time.
While Stu, Liam and Craig head for the stand, the rest of us go behind the goal we're going to attack, while John goes and gets me a cuppa. No sooner has he got back to me then Thackley score, both of us missing what happened as we chatted about the journey! Deano tells not to worry due the fact that teams who score this early in games usually end up losing. What this really means is he's already put up the headline on the website about Club looking to extend their unbeaten away run and at the moment it looks like it's all going pear shaped! Luckily the lads are playing some really good stuff and by the quarter of an hour mark both teams are level as Duncan puts the ball in the net. It's a really good game and not at all like the 0-0 prediction that most of us forecasted. Thackley then take the lead once more and, despite the lads having most of the play and pressurising the home team for the rest of the half the score remains the same at half-time. This is in no small part to some excellent goalkeeping from the Thackley number one.
As John goes back to the car for his phone I get the tea's and hot-dogs in. I like Thackley's ground because for me they do the best hot-dogs in the league. It also has the honour of being the place where 'Travels' were born. In fact there's a plaque somewhere commemorating the event - it's probably in the club house toilets! The second half starts with Sheffield once again attacking relentlessly and they are rewarded when a cross by Ryan O'Carroll is deflected into the net by the Thackley skipper Craig Sugden. Five minutes later and Jon Hobson has headed us in front, a lead which we held onto but could so easily have doubled with the number of chances created. The referee made the Sheffield fans sweat whilst adding on over three minutes stoppage time before he brought the game to an end. We all give a mighty cheer, even scaring the horses in the adjoining field! A well earned three points in a very entertaining match.
It's all change for the journey home as I'm travelling back in my usual navigator's seat with John. He gives me the keys to go and open the car for me, Maz and Deano whilst he finishes collecting the Man of the Match votes. He points me in the right direction where 'Sammy' is parked and I head off to open up. As I'm looking for the car Deano points and says "It's there". I then recognise the vehicle as John's balls are dangling from the windscreen (furry footballs that is!) We put the radio on but it's very poor reception which I get the blame for as it was apparantly very clear on their journey to the match. After a quick rain shower it's then homeward bound in bright sunshine as we try and listen to the rugby to see if Ireland can hang on to beat England (which they do). John drops me off and I go to give the Beermonster the good news about today's result. Just time to get home and a quick wash and cuppa before John picks me up to go to The Coach and Horses. It's Ken and Marie's farewell party (they're moving to Skegness). Billy Big Lens and Gwen are already there when we arrive and some other familiar faces as well. We have a drink and listen to the karaoke. This was really funny, the guy who runs it actually worked with Bill when he was an apprentice, so you can imagine how old the guy must be! Not only that but he looked like he should have been with Snow White and the rest of the dwarfs. I thought beer was supposed to make things look and sound better the more you have....well let me tell you, it doesn't always work! We stopped for a couple of hours and took our fill of the buffet before departing for home. I still had time for one last cuppa and the obligatory Jaffa Cake before heading for bed after a long and very enjoyable day.
Until next time
Happy Travelling
Trev
Ossett Albion v Sheffield
21st February 2004
I Don't Want To Be A Clubbie.....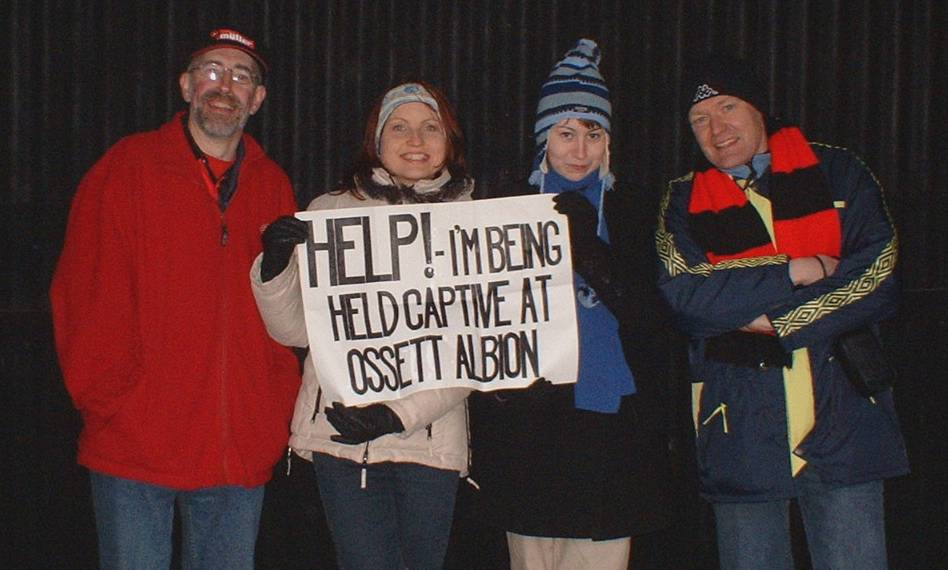 Get Me Out Of Here !!!!!
Today we are going 'en masse' to Dimple Wells. This is because we have the European branch of the Sheffield F.C. Posse with us, as Jan and his wife Tanja are staying with me on holiday. Jan is hoping to keep up his 100% record of never having seen Sheffield lose away from home, mind you, it is only his second away game, but as 'Club' won 4-1 at Liversedge last time then we'll settle for that again !
We also have the privilege..nay, honour of John's youngest daughter Paula joining us. Yes, it's THE famous artist Paula Shepherd. Well, she's famous to at least three other non-league clubs, as she did the illustrations for John's jokes pages. He must be the only bloke who gets asked to contribute to their programmes and can't even get into his own team's match day magazine. We'll have to look after Paula today as it will all be very strange to her as she is not a football fan at all, but she's come along to keep Tanja company as they have a lot more in common than the rest of us, like reading books, which of course is way too intelligent for us lot...all we do is colour them in ! They will probably spend all the match talking and not have any idea of the score at the end of the game.
As John has been working this morning he picks us all up on his way home so our overseas visitors can say their farewells to Lynne and Helen as they won't see them again until next year. We manage to watch a bit of the Chelsea/Arsenal game while John gets ready, although Paula and Tanja are already deep in conversation ! Then it's time to hit the road to the sound of our Saturday special...'Pick of the Pops'. Even I know most of these songs, even if I sometimes get the artists wrong as they play the chart music from 1965. It's an easy journey today as we travel along the motorway, and the omens are good as Tom Jones is singing away on the radio, 'It's not unusual.'...honest! Perhaps we ought to put him down as Man of the Match now. John hands me the directions, but as he says, it's only through habit as we know exactly where to get 'lost' on this journey. As if by magic we're almost there and we take our 'detour' into the 'wrong' cul-de-sac. This is a ritual we have followed every year since the first time we did it. We know we should drive straight past it and take the next right, but it's just a habit now. In fact the neighbours even look from behind the curtains and give us a wave once they see it's Sammy blocking the road. Back on track and we arrive at the ground and see Bill and Gwen in their car as Bill lovingly pours over the match programme. Just as we are about to go inside Alan (Methley) comes up behind us and wants to know what happened. After looking puzzled at him, he explained that he followed us all the way from the motorway, but as we turned onto Southdale Road he lost us completely. We related to him our story of the detour, and at the end he had to admit we really are mad ! Once inside it's time to meet up with all the others. Stu is there with the cub reporter Liam who looks very fetching in his red and black scarf and hat. He points out to me that it is official AC Milan gear from his trip to the San Siro for his eighth birthday, now that's what I call a present ! He also has his black and white coat on, well, actually it's a black coat but by the time he's finished running up and down and climbing the perimeter wall it has taken on a new colour altogether. We are all bunched together behind the goal-line as the teams kick-off. Paula and Tanja have decided to stay with us instead of going into the stand so they share in the delights of the Minstrels as John hands them around, ably assisted by young Billy, who being a goalkeeper in the making ensures that none slip out of his hands. Of course Geoff is here, he even gets his own mention in the programme...once seen, never forgotten. It's a lively game with Sheffield having the better of the play but both teams go in at half-time scoreless.
Time for a photo call as Jan and Tanja take some pictures for their holiday album and Paula has been busy getting herself organised today by producing her own banner (which can be seen in the above photo). To say she hates football, at least she has a good sense of humour, it certainly brought a smile to all our faces.
Most of us then make the trip round the ground to the other end, while the girls take this opportunity to go for a walk around the area surrounding the ground. We stand with Deano and Maz, behind the flag (of course) and watch the action as more chances go begging for Sheffield. Liam and little Billy have found an escape route from the ground, a door leading out of the back of the enclosure, but things on the pitch aren't that bad. Billy Big Lens points out that one of the Assistant Referee's looks like Kilroy, and he does too. The girls managed to find their way back into the ground and come and stand with us, looking in disbelief as we start shouting out loud to encourage the team. It's Sheffield who are doing all the pressing to try and win the game, but some desperate defending sees the home side hold out for a draw as the referee blows the final whistle. We all acknowledge the players for all their efforts which is reciprocated, then it's time to make our way out of the ground. After saying farewell to everyone it's one last photo call in front of Sammy for our overseas supporters then it's homeward bound. I ask Paula if she will be joining her Dad and me at The Coach and Horses for Tuesday's game, but she declines, indicating that at least she has attended one match and that is quite enough. I don't think she'll be coming again, at least not until Jan and Tanja come over again next season.
It's a quick journey home, actually it doesn't take much longer to get home from Ossett as it does from The Coach and Horses ! No Jaffa Cakes tonight, instead it's a cuppa with the Beermonster and Joy and then a last night supper treat of good old fish and chips, which Jan and Tanja have been looking forward to. A well earned point, and Jan keeps up his record of never having seen Sheffield lose away from home. If the end of season run-in gets too tight we've told him he may be needed as a lucky mascot!
Until next time
Happy Travelling
Trev
West Midlands Police v Continental Star
7th February 2004
Midland Football Combination - Premier Division
With yet again the prospect of another blank Saturday, it's plan B for me and John. He had already contacted Stu earlier in the week to determine what fixtures were available to us, and it appeared that all our other choices were all away from home. In the end we decided to take this opportunity to go farther afield and visit yet another club who now have a jokes page written by John, I think he's going for non-league domination on this one as this is the third club he writes for , and he can't even get in his own teams programme! This time we're off to Birmingham to watch West Midlands Police take on Continental Star.
Friday saw a flurry of e-mails between John and Stu all about directions to the ground and length of journey. As these were written on the 'Posse' hot line so we could all see what was being said and John was concerned that if we got onto the M5 we'd end up in Exeter ,as I like the south coast then that wouldn't worry me , and it was my week-end off anyway. Of course Stu comes up with the comment that if I'm navigating then we probably will , and that we ought to set off soon. John replied that that we would do so straight after playing badminton that night - the cheek of them, how dare they question my navigational capabilities!
Saturday arrives and it's an early start to give us plenty of time to get there.In fact we set off just after 12 o'clock in the rain and sun. Yes, the weather doesn't know what to do so we're having a bit of everything today. We've had a quick look at the map and both agree that we're heading down towards the bottom of the page. We're going to stop some place later just to check where we are! I'd called to see the Beermonster and Joy earlier in the day to tell them we were going to the West Midlands Police. The first thing was the look on their faces , then Joy wanted to know what the hell we'd been up to. It took quite a bit of convincing from me and Les to get her to believe it was the name of a football team!
We've got the radio on listening to Jonathan Ross as we motor along the M1 before coming to a halt due to the second accident of the day (the first one being John handing me the directions to the ground!). We're moving again and this time it's one of Les's drive time compilation tapes which is keeping us tuned in. I had started to nod off but only for a couple of minutes , I just told John to carry on down this big road. He thinks he's seen some one hang gliding really low, then he realises it's the shape of the overhead lamps! God what a right pair we are. Couldn't believe the weather as one minute it was bright sunshine , then the next thing you know John has got the wipers on at full speed as the rain lashes down! Some Villa fans passed us on the way down, we wished them luck as they were playing Leeds today.
At this point it's a round of applause and congratulations as 'Sammy' reaches the 46000 mile mark - not all done today I might add. Then It's time to pull into the services just to check on our last bit of the Journey. Here we become good Samaritans for the day. There was a couple who couldn't get their car started so we went to see if there was anything we could do. John had his jump leads with him , but the guy just asked if John would mind getting into the drivers seat and we would try to bump start it. Well it was the woman who was the driver , so first of all John had to find out how to move the seat back as he couldn't get his legs in the car , the seat was that close to the steering wheel. Then he couldn't do anything because she'd got the immobiliser on. Eventually he was comfy. There wasn't much of a run so after the first aborted attempt, we ended up pushing the car all the way round this car park (it went up hill too) and passed all the people in the McDonald's looking at us before we hit the slope again. That was enough exercise for me for the day!This time John got it going and we returned to Sammy to carry on our journey. We passed the couple just going to the petrol pumps and John turned to me and said,"God I hope she's not going to turn the engine off now". We didn't find out as we re-joined the motorway. We got to the outskirts of Birmingham and then it was time to follow the directions David (Coulson) had sent to John. It indicated we had to go over flyovers and under tunnels - wow , what an adventure this was turning out to be. By now we were doing the Saturday ritual of listening to' Pick of the Pops' which , today was from 1964. The ground was dead easy to find - even for us. In fact we drove past it on purpose as we went in search of a chip shop. Would you believe it, not a chippy in site, it was all curry places! In the end we decided to go to the ground.
Although we weren't expecting anything, David had e-mailed John to tell him that today we were his guests for the day, and if we arrived before him we should inform Kay (who was in charge of the gate) who we were . as it happens David was already waiting alongside Kay as we drove past to the car park, but this didn't stop her nearly throwing herself onto the bonnet to stop us (She takes her job very seriously!) After introductions and the gift of programmes we were taken into the social club. Here we felt like royalty as we were treated to coffee and biscuits and people kept coming and introducing themselves to us. I had checked earlier and found that the team also played in red and black so both me and John had our Sheffield shirts on. The club secretary John Black came and introduced himself and told us a bit about the club and also said we were to come in at half -time for refreshments and also to stay after the match for some more hospitality. Although only a small club their friendliness and hospitality was unbelievable. The ground is near the B.B.C. Pebble Mill studio's and is called Tally Ho and one of the buildings used to hold the mounted division until it was withdrawn a few years ago. The social club is very modern and is quite an 'arresting' sight. The ground itself is very open , the pitch running down one side of the social club , the far side being exposed due to other pitches used for rugby and cricket. Also on the social club side is a small 'mobile ' stand which can be moved to where-ever you want - it even has it's own number plate!
The programme is first rate having plenty to read and in colour too , in fact it won the top award in the Midland Alliance and the league last year as well as winning awards during the previous three years, it wouldn't look out of place at a professional club.
The game actually kicked off at 2:45 to a crowd of approximately 25 hardy souls as we went outside to stand in the gale force wind , which the home side were using to their advantage in the first half. The opposition keeper stood out due to the fact that he had on a bright orange top and he actually looked like an ice hockey goalie...complete with padding. He even made Kevin Pressman look anorexic! It was a scrappy first five minutes before both sides settled down and tried to play against the adverse weather conditions which were making control difficult. Continental were having most of the possession at this stage but it was the home side who took the lead after 25 minutes after a long clearance found the centre forward who coolly slotted the ball home. After that , more chances went begging and also some good goalkeeping kept the score to one as the referee blew for half time. We made our way back inside to be greeted with cups of coffee and a range of buns to help ourselves to, plus sky sports to keep up with all the scores. John even commented to David that the hospitality was that good they even had the rain come down at half time when we were all inside!
The second half saw West Midlands go straight on the attack , the outstretched leg of the keeper denying them a certain goal , they also hit the bar as well. It seems that both teams were coping better when playing against the wind, West Midlands certainly seemed to have more purpose this half. Continental were doing their best ,but some outstanding saves by the home keeper and some wayward finishing in front of goal by their forwards were keeping their goals for column blank. Meanwhile more and more chances were being created by the home side who finally added a second late on to ease the nerves of the bench. These soon re-appeared though as Continental pulled a goal back in the last minute as the home defence went to sleep. With time running out west Midlands then had a player sent off for abusive language, but Continental didn't have time to make their numerical advantage count as the referee blew the whistle for full time.
Back in the social club we watched the results round up as the scores were coming in while awaiting our refreshments. Then out came the food sandwiches galore and hot food...sausage rolls, chicken on sticks , bharji's , veg parcels jacket potato skins.There was all sorts to fill our faces with as we joined in the scramble to feed our faces. Afterwards the secretary asked if we'd had enough , because he was going to give the rest of the food to the players . After chatting we eventually said our farewells and left the ground just after 6 O'clock.
Now usual going home presents no problems but for some reason we added an extra 10 miles to our journey. First we missed the right turn just near the ground , but soon realised this and got back on track. Then , because we were busy chatting we found ourselves in the wrong lane on the Aston Expressway and missed our turn off for the motorway. After eventually turning round we found our way back , but were nearly back at the ground before 'Sammy' knew where he was going. I may be wrong but I think that bit of road is commonly referred to as Spaghetti Junction. If I'm right then it was getting 'pasta' joke, as it took us almost half an hour to find our way out of there! After that , it was plain sailing all the way home, well, we did hit some very heavy rain and sleet as we approached Sheffield so we were almost sailing..literally! It was good to get back into the warm and dry . After something to eat I settled down to watch the football on the TV and yes, you've guessed it, never saw a single goal as my eyes closed at the end of a very enjoyable day. Until next time.
Happy Travelling
Trev
Glasshoughton v Sheffield 24th January 2004
It seems ages since our last travels. Well it is three weeks! John has decided to take us to Glasshoughton, once again surrendering his Owls season ticket in favour of watching some decent football. In fact earlier this week he sent Deano an E-mail to ask his opinion of whether the match would take place because of all the rain we'd had. Deano told him that he had never known a match called off there yet, and it was at that point that John informed Deano that he would then give up his season ticket in favour of taking us there. So no doubt the first thing Deano did when he got up was to check that we weren't covered in a foot of snow! In fact it's fine and sunny as I wait outside work for John to pick me up. While waiting I was accosted by a bloke wanting to know why the museum was closed (Weston Park) and where were all the exhibits now and on and on! Thankfully John arrived to rescue me just in time, along with Deano and Maz.
Geoff should be back with us today after his latest holiday, this time he's been cruising the Caribbean. One point to note here, and it may just be a complete coincidence, but Duncan had one of his best games ever at our last home match without his dad there to give him some 'encouragement'! Geoff had also missed last week's Green 'Un, so I said I would get him one as I pass the offices where it's printed everyday on my way to and from work. Little does he know it's going to cost him a great deal more than the cover price of 32p. He did say he would buy me a cuppa, and John said that he wanted one as well AND a sausage roll for actually taking me to deliver it to him personally, so with that in mind, plus the cost of the petrol and the fact that John has wasted £16 by not going to Hillsborough then I guess this paper is worth about £32 and not 32p!
We are driving along in bright sunshine as 'Pick of the Pops' comes on the radio. This time we've got Jerry Lee Lewis singing away as we go through the top twenty from 1959. Actually the music was good as it was all big voices and orchestra's playing in the background, John was certainly happy with the choice of year as he knew ALL the songs. As well as the sun, we've also got intermittent showers and a rainbow, all on the same stretch of motorway. At this point John reaches over and passes me the directions for the ground! Well folks, I hate to disappoint you all but I/we found the ground with no trouble at all and got parked up. We waited in the car to listen to which song was number one that year, and none of us got it right, it was in fact Conway Twitty with 'Only make believe'. As the song finishes Deano is asking everyone at what age they first became aware of the pop charts. He said he was about twelve or thirteen as he had been playing with his Action Man before then (at least that was his pet name for it!). As we emerge from the car Deano goes over to the railings and puts his foot on them. He's actually tying up his boot lace, but John thought he was having a protest at something and tying himself to the railings! Once inside we meet up with Geoff who keeps his promise of buying us refreshments as he regales us with tales from the high seas! Once again there's a good turn out of Sheffield fans, the only regulars missing being Tim/Sue and Billy, who will be quizzed about their absence the next time I see them as they didn't have a note to miss the game!!
New signing Caine Cheetham is starting at centre forward today and shows why we bought him by being on hand to poke the ball home for our opening goal after 12 minutes. Although Duncan missed a penalty we did double the lead just before half time with a rare strike from 'Cluckie'.
Half time and it's back to the clubhouse for more refreshments and a warm, before braving the cold as we head behind the goal as the team kick up hill towards us. Although Glasshoughton tried to get back into it they were never allowed the opportunity as a solid all round performance denied them any chance of ever getting on the score sheet as up at the other end a fine display was capped off with a goal from O'Carroll. In fact if it wasn't for the efforts of Welfare skipper Noteman in the home defence then we would have been looking at a five or six goal cushion as Caine and Duncan ran rings around the defenders. If this is a glimpse of what's in store for the remainder of the season then we are in for a real treat.
An easy drive home as we listen to the sports round up, and then the Liverpool/Newcastle match, sounds like we got the best bit on the radio with two goals in the first three minutes. Then it's home and a well deserved cuppa and a Jaffa cake or two.
Until next time,
Happy Travelling
Trev
Arnold Town v Sheffield 3rd January 2004
I'm up early for today's match. No particular reason, it's just sod's law , because I've been working over the holiday period so I tend to wake up at the same time even on my days off. Not only that but would you believe I've got this cold bug that's going around as well. The Beermonster and Joy are also laid low with it, only his is a lot worse..well it has to be with a nose like that, it sounds like an elephants call when he sneezes! In fact this morning I went out to the chemist , then back to their house for an impromptu Lem-Sip party!

It's bitterly cold today so I'm making sure I've got plenty of layers of clothes on to keep me warm, just hope I don't need to go to the toilet in a hurry or there could be an accident. At least it's not raining or snowing as John picks me up at the library with Maz and Deano already warm and comfy in the back. Deano regales us all with tales of all the trifles he's eaten over the Christmas/New Year period, I'm sure he said he'd just started his sixth for lunch today! That reminds John that Lynne (his wife) said she would make him one for the New Year which she never did. Deano is even thinking of writing in to appear on the Richard and Judy show as he's convinced that all this eating has made him slimmer and lose weight (he thinks) because he can fasten his belt on the fifth hole. Nobody has the heart to tell him how fat his neck is when he does that!

We then get onto the subject of the advantages and disadvantages of having the car doors locked whilst travelling. Both me and Maz have ours locked while Deano and John do not. We talk about the situation of it being easier to gain access in the event of an accident.On the other hand , we also discuss the point that in the inner cities it's probably best to keep them locked in the event of being robbed or car-jacked. John says that if they try to get in his door he'll lean back to unlock Maz's and tell them to start on her as she's far more vulnerable! He's such a gentleman....always thinking of others.

It's starting to get misty as I rest my eyes a bit , the third lot of Lem-sip starting to take effect on me.It's 'Pick of the Pops ' on the radio once again as we head towards the ground, this time it's 1967, with Cliff and the Shadows singing about being in the country.

There's no problems getting to the ground, they don't even need me to navigate today! Good job really because the medication is making me dopey....okay then....more dopey than usual!. We started off trying to park in the pub car park, then decided to risk the official car park, even though it was market day.We had a bit of a wait while we played 'musical cars' , waiting for a free space to appear, but managed to get one with time to spare.

Maz then decides to leave us and go for a wander around the market as we make our way into the ground. It's New Year greetings all round as most of the posse are already there. Billy Big Lens informs us that the Owls are winning away at Wrexham, we didn't even know they had an early kick off! Then it's time to hit the snack bar.Both me and John were just going to have a drink to warm us up, but when we saw they were doing bacon butties then we couldn't resist the temptation to have one each. we wander up to see Andy and Tim and their families, little Billy has a novelty beer can radio, so he's going to keep us informed of any scores he hears, whether we like it or not! Stu has arrived with the cub reporter , who obviously has had too many 'E' numbers over the holidays as he's as lively as a bucket of frogs. Once the teams have decided which way they are kicking most of us decide to take up position in the stand behind the goal. Andy has brought his flag, and Tim has the away colours flag. As he's putting it up, Tim says to me, "It will be better when I get something written on it", to which I replied, "Great, all we've got to do is find out which one of us can write!".

There is a story behind these flags.The fact is that Andy's flag is actually the national flag for Trinidad and Tobago, and Tim's flag is the national flag of Estonia !! We've suddenly gone global. Well what can you do when all you want is a flag in club colours, you have to go for the nearest option right? Anyway the first half is totally dominated by the Sheffield side . The sweets are coming thick and fast with John supplying them from one side , and Tim the other. In fact Stu points out that 'Bonno' has had nothing at all to do,which then brings out a brilliant save of the very same redundant 'Bonno'. Stu wonders if John has been bored and is a secret 'Eastenders ' fan ,as scrawled on his seat is 'I love Shane Richie' . Well, we know about Pierce Brosnan, so is this another one he hasn't told us about.

Half time and it's all round to the snack bar for more hot drinks. John asks if I want anything to eat , so I say "Choc ice and chips!" Just for the laugh. We then start to walk round to the other goal. Stu is telling us about Liam. Over the holiday he picked out his football stars World 11 team.We didn't get to hear all of it ,except that the forward line consisted of Ronaldo and Shevchenko, whilst in goal was Paddy Kenny and the defence was marshalled by our own Tom Jones! Oh yes...I think Liam Cartledge was also there as well!

It's too cold behind the goal so we stand under the shelter just behind the dug out. Despite the numerous layers of clothing everyone has on , the cold is getting through.Stu is having difficulty writing the match report because he can't feel his fingers and I'm having trouble because the end of the biro has frozen! The home side play much better this half but we should still have won as we had a goal not given because the Assistant Referee said he couldn't see it. The ball clearly having crossed the line...a fact verified later by the Arnold goalkeeper. Geoff shouted to him, "How did you manage to drive here liner with two glass eyes!" In the end it's a scoreless draw, at least we didn't lose, so keep our very impressive away form going.

Back in the car John puts the heater on so we can defrost the ice that has taken over from our feet, and that's with two lots of thermal socks on. We only have one slight detour on the way back as we miss the motorway entrance , but John soon gets us back on track.Then it's plain sailing all the way home. John drops me off at the door , then it's time for something to eat and another Lem-sip fix before relaxing on the sofa.I don't even want a Jaffa Cake tonight. Happy New Year to you all.
Until next time.
Happy Travelling
Trev


Brigg Town v Sheffield 20th December 2003
Early start for me today as it's work first, but at least I'll get to Brigg in time as John is once again foregoing the delights of Hillsborough in favour of supporting Sheffield on their travels. Mind you I can't say I blame him as I went to see the Owls with him on Wednesday night and they were, to put it mildly, awful. If they don't smarten up I reckon we'll be seeing them in league action at the Coach and Horses quite soon!

I'm ready and waiting as John pulls up, complete with Santa hat, and with Deano and Maz already on board. He informs me there's plenty more hats in the boot as he's borrowed them from his daughter, so we can all be festive on this last match before Christmas. At present there's a bit of doubt about the game due to the weather. It's raining and there are forecasts of snow for later, but being as we don't know for sure and don't want to hang around we set off anyway. John has brought a Christmas tape so we put that on to listen to as we make our way towards the motorway, through all the traffic - it seems everyone's decided to bring their car to town today. Deano phones Chris who's coming down from his job in Scotland, so that should put the mockers on things as he did the same last year and during his stay didn't see a Sheffield game as they were all postponed due to bad weather! So you can bet it will either be called off just as we arrive or we'll get hammered, such is our lucky 'Scottish' mascot!

It's really dull. raining and foggy as we drive along the motorway listening to Elton John 'Stepping into Christmas'. Deano then say's "It's nearly two o'clock, so the tape goes off as it's time to listen to 'Pick of the Pops'. It's starting with the year 1960, and even I don't know half of these. Mind you, I was only five years old at the time. The fog is actually clearing and the day is brightening up as John passes me the directions to the ground (oh dear). Even with my help we actually find the ground first time this time - sort of third time lucky from previous travels we've had. We even passed John's famous talking petrol pump on the way. It's already almost twenty minutes to kick off as John negotiates the ornamental lake in the car park. Oh, it's not a proper water feature after all, just a bloody great puddle ! In we go and it must be a first as Billy Big Lens isn't there yet, and he was supposed to be getting our programmes because we were possibly going to be late with me having to work ! Deano phones him to ask how many programmes he wants but he says he's already organised it with one of the others. Me and John make our way to the snack bar for a cuppa and some hot food, only to be told 'a cuppa is fine but no food available till nearly half time!'. So we make do with that. Geoff is already making his way towards me, hand in pocket. As he reaches me he pulls out my Christmas card he said he forgot to give me on Tuesday. I open it but there's no money in it! I have to believe he was telling the truth as I had the writing analysed by some forensic guys Joy knows and they confirmed that the writing was not done on Saturday morning !

We make our way to the stand where our merry bunch of supporters are, most of them already wearing Santa hats, with Tim going for something entirely different which I still can't fathom out why, but it looked good. More Christmas cards from the gang, nice touch folks, thanks. We get settled in our little area near the half way line and John hands out the Santa hats to whoever wants one. Of course I have to have one, he said it was compulsory or else I was walking home. Deano then answers his phone which is ringing away - it's Chris our Scottish exile. He set off from Edinburgh at ten o'clock this morning and has found his way to Brigg but can't find the ground. He's actually right next to John's talking petrol pump when he phones. Anyway Deano puts him in the right direction and five minutes later he's joined us, quickly followed by Bill and Gwen. It's really quite good now at most of the away matches as we have a core of about fifteen supporters who come along when they can, and we always give the lads plenty of support. Makes a change from the car full that used to travel a couple of years ago, we don't feel so lonely now. No Stu or Cub Reporter today though as Stu has to work, although he will ring me later so I can tell him what's going on (that's if I remember to leave my phone on). The match starts and we're in fine voice shouting encouragement to the lads as they take on the league leaders. Chris decides to go to the snack bar and asks if we want anything. Both me and John say "yes, bring us a sausage roll" so off he goes. Plenty of action on the field with Bonno in sparkling form, keeping the home side frustrated with a string of fine saves. Chris returns carrying a pasty for himself. John say's "so where's the sausage rolls?" to which Chris answers, "there was a couple of big lads in front of me and they got the last ones". John finishes off by telling him, "come on Chris, you're not in Scotland now, I bet you've used that excuse before", as we all have a laugh about it. We are not going to starve though as John has the Minstrels to hand round and there's also a box of chocolates making it's way between us supplied by Tim and Sue (I think), too busy picking some out to see where they originated from. With twenty five minutes played Sheffield get a breakthrough when Duncan is fouled inside the area. He picks himself up to slot the penalty kick in, sending the keeper the wrong way in the process. The lead lasts until five minutes from half time when some slack defending allows Brigg to level the scores, which is how it remained until the interval. So it's back to the snack bar for me and John, well, I'm going to the snack bar for us while John goes back to his car for his Saturday ritual of picking up his phone which he left in the car when we arrived. Geoff is already there at the snack bar and treats us to the drinks, after first tormenting the young girls serving, by asking if he can have a latte or a mocha ! He ends up with the usual coffee instead.

Back to the rest of them and we've even got mince pies being handed round now, it's great. There's one thing about us Sheffield supporters, we go and enjoy ourselves whether we win, lose or draw. The second half is already underway and it's a good open game with chances at both ends. The referee then lends himself to the proceedings by helping us with the second goal. Ryan O'Carroll was caught from behind but the referee was letting play go until Ryan fell over, on to the ball and picked it up. The referee immediately gave us the free kick and from Ryan's pin-point centre 'Mouse ' ghosted in round the back a la Martin Peters and puts a diving header in the back of the net. We all start to go mental with joy on the terraces as the Brigg players go mental on the pitch with the referee ! Stu phones to find out what's happening and as I'm telling him there's a bit of a fracas over by the home dug out, nearly all the players making their way there to get involved in a bit of pushing and shoving. John looks to our left and shouts to the keeper "You may as well go and join in Bonno, everyone else has", not realising in fact he was shouting at the home keeper as Bonno was already in the thick of it!

Needless to say that when things settled down Brigg tried everything to get back on level terms, leaving their defence exposed but chances went begging as we could have sewn it up instead of having the nailbiting finish of Brigg getting four corners on the trot as we enter time added on . Tim has started the 'Jingle Bells' song very quietly as we all start to join in, but we don't want to temp fate too soon so it only lasts a verse as we urge the referee to get the final whistle blown. At last the referee takes our advice for once to bring the match to a close as we now burst forth loud and clear with 'Jingle Bells' as we applaud the players off. They actually come over to us to celebrate a fine victory and a perfect way to bounce back after Tuesday's disappointment in the Vase. Now here's a couple of interesting facts from this season, we've never lost an away match yet when we've played on a Saturday and also, we've never lost back to back matches. Well it's time to depart as the flags come down and everyone say's 'Merry Christmas'. We are just walking around the ground when Lynne (John's wife ) phones him with the score from Hillsborough. Another 0-0 bore draw, so John made the right decision after all as I laugh out loud, which he tells Lynne about (no more cups of tea for me then when I visit!). Stu also phones me as I give him all the details, he's also not a happy chappie having had a bad day at work, herding shoppers in the right direction to get their groceries for Christmas and the fact that he's never seen Sheffield win at Brigg yet. As for Chris, well I think at the moment he's got a hundred per cent record of watching 'Club' win this season.

Back in the car and homeward bound to the sound of Slade, Wizzard and many more belting out their Christmas hits. A cracking match, good crowd and three points on the road, what more could a Sheffield supporter ask for at Christmas time ? Back home and I carry on the festivities by having a turkey and stuffing sandwich for tea, followed by a couple of mince pies !

May I take this opportunity to wish everyone a very Merry Christmas and a Happy New Year.
Until next time...
Happy Travelling
Trev

Stone Dominoes v Sheffield 16th December 2003
So at last we're off to play this F.A.Vase tie postponed from Saturday. Deano's been off on holiday all week and John has taken a half day holiday in order that we can set off early and meet the players coach to travel with them. As for me, I've already been involved in a crash and had the second bus break down, and that was just on the way home from work, so all I want is a safe journey!

It's only 3:45 but already starting to get dark as John picks me up, with Deano already comfy in the backseat. Then it's off to pick up Deano number two as Steve is gracing us with his presence tonight. The traffic is not too heavy as we make our way to the meeting point at M1 Junction 31. We manage to find a spot to park 'Sammy' and there's still twenty minutes until we're supposed to go. As the coach is already waiting we grab our stuff and head for it in order to claim our seats. The lads in the aisle seats have fun trying to get the arm rests to stay in position, apparently there's a knack to how it's done as the driver demonstrates to them, unfortunately Deano's stays limp ! Once we're settled John gets up to go back to get his phone which he's left in the car...I think it's some kind of strange superstition he's got as he does it most match days. The rest of the gang start to arrive, Bill along with Geoff and then Stu who's got the cub reporter with him tonight which is a novelty for Liam as it's a school night, so he thinks it's great.

Lee (Walshaw) is passing a get well card round for us all to sign for one of our supporters, Liz , or Lady P. as I call her. She usually brings two large gorilla's with her as mascots and she's even kitted them out in club colours. I ask what's up with her and Stu replies, "She's having her gorilla's removed", which makes us laugh. After Bill's signed it he gives it to Geoff. Now we're always kidding Geoff that she fancies him and is actually stalking him and as he's enquiring about what's up with her I say to Bill, "It's probably a disease Geoff's passed on to her" which the others find highly amusing.

Finally we set off just before 5pm as Geoff starts to hand round his Christmas cards. He gives me one for Les which I can pass on and everybody else gets there's. I ask him where mine is and he thinks I'm joking. Once he realises that he's not got it with him (he swears blind he's written one) all I hear is "Sorry Trev" for the rest of the night as he tries to make up for it by offering me some toffees, which none of the others will eat ! I was absolutely gutted at being forgotten and I only hope he makes up for it this Saturday by getting me a card and putting at least twenty pounds in it to say he's sorry. Of course his cause is not helped as the others keep reminding him of his slip up. Deano has already nicked all his humbugs but he manages to get some of them back...only to offer them to me !

Yesterday I phoned Stu and left a message, and now Lynn (his wife) is ringing him telling him about it. As I'm sat directly in front of him he shouts "Hey Trev, Lynn say's I've got to ring you because you left me a message" Sometimes I wonder how she copes with him and Liam as well ! To be fair to Liam he's being a good lad, reading his Italian football magazine as I've already borrowed his Match Magazine (more like the latest issue of Readers Wives !!! - Deano) to read myself.

We get to the ground in plenty of time and go into the clubhouse to be met by our hosts, who offer us some free hot drinks after our journey down which was a nice touch. Geoff's eyeing up the biscuits on one of the tables thinking they're for us when in fact they're for the officials. He does manage to grab a couple (I counted four to be precise - Deano) though only once the officials have gone to get changed. Before that he's decided to have a pie, and as usual it's not very good (to put it mildly), but that's just Geoff's opinion. A little later on both me and John have one and ask for them to be put back in the microwave which makes them nice and hot. Once we've told Geoff about this he's not very happy as he said that his was almost cold in the middle ! They must have been okay because Billy Big Lens managed three of them (not all at once mind you!)

Andy and his son Chris have arrived, they travelled down in the car, but no Caroline though as she preferred to go and see a Hugh Grant film instead of cheering on her heroes. Even The Verbal Terrorist (Dennis) has made the journey along with one of his offspring. The first half sees us play some of the best football of the season as their keeper has to pull off three quality saves to keep the visitors at bay. Despite his heroics though he can't stop Duncan grabbing two goals to put us in a strong position. In fact Geoff missed one of the goals as he was busy showing me the half time entertainment....a field full of sheep. They must have different forms of entertainment in Barnsley ! Liam keeps asking him to throw sweets to him so he can catch them. I think the goalkeeping gene must have stopped once it reached Stu because the little 'un just can't get hold of them. Mind you, he didn't have his normal goalkeeping gloves on he usually wears to matches because Daddy had forgotten them. The half time whistle blows and it's back into the club house for a well deserved hot drink to try and keep out the cold.

One of our lads said it was a game of two halves...and how right he was as we play some of the worst football of the season this half. We had a great chance to extend the lead immediately after the re-start but failed to capitalise on the chance, only for Stone to go up the other end and pull one back. After that, and despite several good chances, we just didn't look like the same side who had just played 45 minutes of good football. Despite John's attempts to will the team on by supplying us with the sweets it just wasn't happening as the home side drew level. Then of course the inevitable happened as they went on to get a third. Despite our encouragement from behind the flag the lads couldn't get an equaliser and the referee brought the game to a close to the delight of the home supporters. Despite our disappointment we still applauded the team off the pitch, and also waited for the home side in order to applaud them as well (for full details read Stu's match report).

Quite a few of the home committee said that they didn't expect to get anything out of the game at half time, but hey, that's football. After all it is only our third defeat away this season. We made our way back to the coach and waited for the players. We could have joined them in the pub for the post match hospitality but most of us were too cold and just wanted to get settled ready for the journey back. The driver did pull out of the car park to get to the pub near the ground so it was nearer for the others to get back on...think he only did it to show us how he could manoeuvre the coach in such a tight space.

It's pretty quiet on the way back, Liam is sleeping on his Dads knee while both me and John shut our eyes and have a little doze and the others have their own little conversations...very civilised it was. We arrive back at the setting off point and it's like the start of Le Mans as the players are first off the coach, into their cars and away. The fact that we had difficulty finding a parking space when we arrived looks pretty silly now as 'Sammy' is one of the few cars left on the road. John gets the heating on and away we go, first dropping off Steve before heading for Chez Herrington. Finally arrive home just before 12.30, only another four hours before the alarm will be going off for work! Still, I have to have a cuppa, but forgo the Jaffa Cakes tonight. As it's Christmas I have three mince pies instead!
Until next time
Happy Travelling
Trev
Rolls Royce Leisure v Dinnington Town
13th December 2003
Well, today we should have been on our way to Stone Dominoes to see Sheffield in their F.A. Vase cup-tie, but due to torrential rain over the past two days the match has been postponed until this coming Tuesday.

I'd already spoken to John earlier this morning on the telephone, but failed to mention to him that I already knew the match was off. With this in mind I put my mobile on charge and headed out to the local shops. On my return I see that ther are some messages on the phone and also, after turning the mobile back on it's singing to me with voicemail messages and texts!

John didn't know that I already knew the match was off and he was trying to get in touch to tell me. We had already arranged a meeting time and place on Friday , and with it coming up to that deadline and him not being able to reach me, he'd got into Sammy to drive over and see if I was stood there waiting. I wasn't, so he made his way up to the house. By this time I was just in the process of phoning him when he knocked on the door!

As he'd trailed over he stopped for a cuppa and suggested going over to watch Clitheroe play. He had tried to get hold of Stu to find out his plans but no luck. So I rang Stu while John boiled the kettle and then passed the phone to John so he could have a word with Stu while I finished making the drinks.

We've decided to head towards Hucknall to watch Liam's favourite team..Dinnington Town, we actually don't mind watching these as there is a Sheffield connection due to some of our ex-players playing for them - also the manager used to be part of the main set up at the club. At present that game is still in doubt, but if it's called off while we're on our way we can easily divert to go and watch Sheffield City play in Mansfield instead. I forgot to say that a lot of these arrangements were being made over the phone as John had already departed for home by then. Anyway, with everything organised I go to meet John at the pick-up point, as we head off towards Gleadless in bright sunshine to pick up Stu and cub reporter Liam. On the way we listen to the build up to the Owls/Barnsley match, the commentator telling us that Lucas (the Owls on-loan 'keeper) is making his second debut for the club..how Irish is that! We arrive a little early so I go to the door as John waits in the car. Stu is ready and is just finishing his cup of tea while Liam goes to find his shoes. I can tell he's been playing 'Robot Wars' as the models are strewn all over the living room floor. I head back to the car and wait with John as we listen to the Owls match on the radio. As Stu emerges from the house Barnsley go a goal ahead to groans from me and John. Lynn (Stu's wife) has come out with them to wave her 'boys' off for the day. She's going to the shops later as Stu winds the window down and shouts "I need some deodorant"..to which John replies "Yes he does, and quick! "I've moved into the back with Liam so Stu can have my navigators seat as he's more idea where we're going than me (which is not hard to do...even Liam has more idea than me!) The Owls have equalised in the radio match so we turn it off to await the result. We're all having a general chat about football while Liam is busy writing down his Central Midlands League Tables...not bad for a seven year old! He knows more about this level of football than most of us. That's because his dad doesn't read him bedtime stories..he tells him football facts and figures instead !

By now we're nearing our destination, Liam is having a sleep on my knee as we listen to 'Pick OfThe Pops' on the radio...even Stu knows some of the songs! The ground we have arrived at is in fact at the Rolls Royce factory, the home team being Rolls Royce Leisure F.C. Stu say's that maybe we can get to smuggle an engine into the boot for 'Sammy' while we're here.

It's still early so we go into the social club for a cuppa and some food. No food done yet but the staff say they'll make us some sausage butties which we readily agree to. We're having some fun with Liam, telling him he looks like a blond Harry Potter. Stu points out his 'magic' scar and I say "All you need now Liam is a broomstick so you can play Quidditch", to which Stu replies; "No problem Trev, he can borrow Lynn's ! "The young 'un then shows us how (not) to do handstands.
John comments "At least he can get his feet off the ground, which is better than me" While we finish our butties Liam tells us about his school concert and the carols they sang. Me and Stu start to make one up about the Coach and Horses to the tune of 'In the bleak mid-winter'....can't remember what we sang now but we thought it was quite good, while all John could say was "Beam me up Scottie!". Thankfully it was time to go outside then as it was nearing kick-off time.

It's fairly open and there's a cold wind blowing so I'm glad I was well wrapped up. Liam counts the crowd, it doesn't take him long as there's only 19 people there including us! We have to look twice at the linesmen, they're that old that Stu say's they must have a combined age of 150! John says "They've borrowed them from the local old folks home". One of them looks like my Grand Dad, and he's been dead for thirty years! I tell Liam that the one nearest us looks older than God's dog which he found hilarious. I then tell him to tell the linesman that he's studying his father at school..they're doing Julius Cesar in history. It's far better entertainment than the actual match, although full credit to the guy, he could still run the line which is more than John could..he admitted it himself. I wouldn't say the linesman's glasses had thick lenses, but it looked like a kaleidoscope from where I was standing! As the light started to fade the clouds started to come across the sky, the sun reflecting their colour. I pointed up to them and said "Is that what you call a Rolls Royce silver cloud?" Which was greeted with laughs from John and groans from Stu. Half time arrives and we trudge across the playing fields back to the social club for more tea to warm us up, with the home side leading by the single goal. There is barely time to drink it as we see the Dinnington players back on the pitch. Mind you, I think they've come out early to avoid Steve's (the manager) rollicking at half time. Forgot to say that this match is a clash between the top and bottom sides of the division although on the first half display you'd probably have guessed wrong which side was occupying either place.

Back outside and John keeps handing round the Minstrels. Liam drops a couple so we tell him to leave them, as next season if he visits this ground there'll be a Minstrel tree growing here on this spot. We've still got the same linesman running our side, he's not a bad bloke actually, having a chat to us as he watches the play up the other end. If you can imagine Corporal Jones from 'Dad's Army' in a linesmans kit then you've got a very good image of him. Despite a lot of pressure (and Liam's shouting) Dinnington fail to score and so lose the match...one of the very few occasions when we've actually witnessed this happen. At least it was good to come and see them, after all it's Saturday afternoon so we need to watch football..it's like a drug. Back to the car and off home, I start to nod off just as Stu is talking to me, so I grunt as I come to my senses which Liam finds highly amusing. We stop off at Junction 31, just to make sure we know where to park for our pick up on Tuesday if we get the coach for Stone . Then - it's a straight run to Gleadless looking at the houses decorated with Christmas lights...on the outside. I don't know what some of them were drinking when they put these up but I bet they had one hell of a hangover ! We drop Stu and Liam off at home then make our way through town and homeward bound, listening to United on the radio as we go. I'm soon outside my door and saying 'bye' to John. Then it's time for something to eat, it will have to be real food tonight as I've ran out of Jaffa cakes!
Until next time
Happy Travelling
Trev
Brodsworth v Sheffield 6th December 2003
It's quite cold this morning as I set off for work, so I've put the thermals in my bag for later, I think I'm going to need them! Today I'm not travelling to Brodsworth with Sheps as it's more convenient for Stu to pick me up, still not sure of the time yet as we await confirmation of what Steve is doing today.

Stu eventually phones me at work, trying unsuccessfully to disguise his voice , saying: "Hello Mr. Herrington, this is the South Yorkshire police here." To which I replied "Hello Stu, I know it's you, I can tell be the look on thee face!" Anyway we sort out the time to meet as I carry on grafting away at work! Honest.

I'm ready and waiting as Stu arrives ten minutes late but he's got a genuine excuse as they were waiting for Liam's jeans to dry. Yes, once again the cub reporter is with us. Liam moves into the back seat and starts to tell me he's got another favourite team, to add to the other three he already has. This time it's his favourite Italian team, and it's AC Milan, I think it's because they also play in red and black although Liam also tells me that so do Bournemouth. His dad has even been teaching him a little bit of Italian for when he goes there for his birthday present. Yes, he's off to the San Siro to watch AC Milan play ! How's that for a birthday present. Anyway Stu tells him to tell me what he wants to say in Italian, so Liam's comes out with "Forza Rossonieri", which, apparently very roughly translates to ..'Come on you red and blacks' or so he told me.

Me and Stu have a good conversation on the way there about management styles (at work, not football)...yes folks, we can be serious sometimes, although it soon wears off! Arrive at the ground in plenty of time and find no one is parked in the old school at all, so we decide to take the car round to the ground and park there. Just as we're coming out of the gates we see Dave B. Apparently he saw us on the motorway so decided to follow us all the way here so he didn't get lost.

We park up and make our way to the gate to see if the Glapwell gateman's brother is working the turnstile. You know ..the guy who found it an effort to take the money off people, and woe betide anyone who wanted a programme as well! Anyway it wasn't him, it was someone pleasant! Liam is paying for himself today, so we have the performance of Stu giving him his (Liam's) money purse and Liam trying to fish out the money with his goalkeeping gloves on! In the end he gave the man a tenner, to which I commented,"Hey Liam, you've got more money than me!"

It feels even colder here as we make our way to the stand and meet up with the usual crowd who are now regular away followers of Sheffield. In fact it's more like a home match for us as we have the majority of support from a crowd of 48! Good to see we have a decent referee today, Mr Stewart who always plays the game with a smile on his face. We often remember him from a cup game against Rossington when he was talking about losing the ball "In those murky woods" as he put it.

He starts off by ordering someone out of our dug out as there are too many bodies in there. In the end it's Faulks who makes way and stands on the other side of the wall. We nearly didn't recognise him as he was all wrapped up with his hood pulled up. We thought it was someone selling 'The Big Issue'.

The game kicks off as the light starts to fade and we shout for the floodlights to be turned on. A good start as we take control of the game and open the scoring with a cracking goal from 'The Duke'. The generator fires up for the floodlights to come on, it sounded like a traction engine as the smoke billowed out over the picturesque landscape of the sports centre! Liam is busy, sat down writing his match report, that is until John gets the Minstrels out then he's up like a flash and the report is forgotten, he'll have to rely on his dad to give him the details later.

No more score this half so we make our way to the snack bar for a cuppa to warm us up. Liam also wants a hot-dog, so as we near the front of the queue we tell him that he has to pay for all our drinks today. So he starts to walk back to the stand and when we ask where he's going he says "I'm going to get my money off my dad". Bless him, he obviously takes after Lynn because Stu would never do that! Anyway we reassure him that we were only joking and he comes back to help carry some of the food.

The second half is under way and it's a case of just jotting notes down as it's so cold now. Geoff takes most of the Minstrels as they make their way between the supporters, but to be fair to him, he did give Liam two of them! The goals are coming thick and fast now as Dunc puts us further in front only for Sheffield old boy Collinson to pull one back. Once again Dunc gives us a two goal cushion before Collinson again reduces the deficit. He was never this prolific when he played for us. We even have a sending off for Brodsworth and then 'Bonno' goes off injured allowing 'Schoey' to take his place between the posts. The defence held firm as the home side never got a shot at him and just to rub it in Dunc went and got his hat trick to round off a solid performance by the team (see Stu's match report for all the details).

So it's homeward bound with another victory gained 'on the road'. I've changed transport now as I'm returning with John,Maz and Deano. We're busy listening to the radio as John pulls into a lay bye and calmly asks us if we had noticed we were heading in the wrong direction. I said "no, I was resting my eyes" and Deano said " I thought it was just one of your normal detours to make the journey more interesting."

We're soon back on the right road and arrive home more or less at the same time as I would if it was a home match. I call to see The Beermonster and tell him all the details before going home to tuck in to some spicy chicken and salad, garnished with chips!
Buxton v Sheffield 2nd December 2003
Torrential rain on Monday put this game in doubt but a pitch inspection this afternoon confirmed that the match would go ahead. I arrange with John a pick up time and wander down to the garage ready to meet him.It's still dry at the moment and not too cold although there is a mist starting to form. He arrives bang on time and off we go.There's no Deano and Maz tonight (or Steve either), so it's up to Gleadless to pick Stu up at home as there was no point in taking any more than one car for the three of us. We pull up outside and out he comes telling us "you can't park there, you're blocking my wife in!" as Lynn comes out of the house smiling. She knows he's safe with us because she reads the 'Travel's' to see what him (and cub reporter ) get up to !

I let Stu take the passenger seat and he says"Is it because of my weight Trev, or don't you know the way?" I replied with "Neither Stu, just thought it would be a change for you, and anyway, I'm sure you'd tell me if I was sending John the wrong way!" There's not much traffic on the roads and we make good time , even though most of the time we keep hitting banks of fog which puts visibility at virtually zero. We stop half way so John can have a 'nature break' and, as he goes to find the toilet he looks back at us and say's "You'll still be here won't you?" He thought that Stu may decide to drive off and leave him stranded. As if we'd do that, but now you've planted the idea in our heads then who knows...?It's mainly footie talk all the way, pausing only for Stu to point out the house he's going to buy one day, but don't tell the owners because they have no idea! Nearing the ground John says he's not sure which street we go up and Stu is the same but I tell them.."First right under the bridge lads" and yes it was correct ..ask Stu if you don't believe me.

Once we're parked up it's straight into the ground, you can already feel it's colder here,good job we all decided to get wrapped up. Geoff's already there, telling us the merits of the catering facilities."Don't have a pie Trev ,they're crap!" He has a way with words does our Geoff. There's no Billy big lens tonight as he's savouring the delights of Gwen's fry up breakfasts over in Whitby for a few days. In fact there's one or two of the regulars missing tonight. Even Andy is on his own as his son Chris is busy and his daughter Caroline is on the first of her Christmas Dinner outings!

John looks over the far side of the pitch and tells us that he didn't know they had taken the roof off the standing area over there. Further inspection by us wonders what he's on about as it's still there..it's just a trick of the light with the floodlights, and this is the guy who's just drove us down country lanes through thick fog!

To be fair to John he did ask Stu if he wanted to drive back for him. Geoff's unhappy, he's bemoaning the fact that there's no Tom Jones tonight. We all reply at the same time"That's because he's got a gig at the arena" Well we thought it was funny. We decide to go in the stand tonight mainly because at least we'll stay dry, but also had an excellent view of the action. It's a good first half despite the slippery conditions and we take the lead on 34 minutes with a goal from 'Mouse'. John has the supply of Minstrels for us all and also some Kit-Kat cubes especially for Stu, although everyone has some.

At half time it's off to the snack bar for a cuppa. As me and John get back to our seats Geoff is busy telling us one of his tales about his youth.The talk was about being punished at school(in the days when teachers were able to hit you without having a court case brought against them!) He was saying that the worst punishment he received was being told he had to be in the school play for being naughty during class. Apparently he was Hector - Champion King of Egypt (I kid you not).He was supposed to have this pretend fight with one of the leads whereby this other kid was supposed to hit Geoff with this hammer (Geoff had a sword) and kill him. However Geoff totally ignored the script, knocked this kids hammer out of his hand and stabbed him.Apparently the play went downhill very fast from that point on and Geoff still ended up getting a wallop off the teacher! You don't get half time entertainment like this anywhere else.

Back on the pitch the players had started the second half with Buxton pressing for an equaliser on a slippery surface. It did eventually arrive and was a carbon copy of the one we scored in the first half. It was a good open game with chances falling to both sides.Unfortunately for our merry bunch of supporters even John's Minstrels couldn't prevent Buxton grabbing a controversial winner (read Stu's match report for full details) much to the delight of the young Buxton fans sat in front of us. A good spirited performance but nothing to show for it in the end,the lads still deserved the applause at the end of the match though.

Back to 'Sammy' and it's off homeward bound. It's still pretty bad weatherwise as John does wonders on the winding lanes in the thick fog as we listen to the night time radio. As always, it didn't seem as long coming back and we deposit Stu at his front door before sounding the horn and driving off. Then it's a straight run home to yours truly who doesn't even bother with his usual cuppa and jaffa cakes tonight.It's straight to bed for a change!
Until next time.
Happy Travelling
Trev
Dunston FB v Sheffield 22nd November 2003
After a traumatic week it's time to try and get back to a 'normal' existence. Although how you can call spending almost twelve hours in the company of Sheffield supporters normal probably defies logic! Once again we are heading into the far reaches of civilisation - well, Gateshead actually as we tackle Dunston Federation Brewery in this second round tie of the FA Vase. This is my second trip there, the previous one being our cup replay a couple of seasons ago. At least we have the 'advantage' today of travelling up on a Saturday instead of mid-week.

It's a cool morning as I head down the road to call for 'The Beermonster' who's gracing us with his presence today. As usual he's still not ready, still faffing about like a woman, and it was his partner Joy who said that, not me. So I sit and watch the opening few minutes of the Rugby World Cup Final while he finishes getting ready. Everything is ready as John pulls up on time and we load the bags into the boot. We thought it would be a good idea to take some food and drink with us today, John thought we had packed for a weekend in Newcastle! We're on our way to Tankersley to join the coach there, and we listen to the rugby match as we motor along, cheering at every England point. Les also hits us with a cracking joke concerning Paul McCartney, his new wife, a leg and stockings. Can't tell it in full but we were in stitches! We arrive at Tankersley just as the half time whistle goes at the rugby with England winning. Most of those setting off from here are already waiting so we make our way to the pick up point and await the coach. It arrives on time...well fifteen minutes late, but that's the closest it's been this season so far! It's going to be a good trip with the coach practically full, there are only four spare places left. Once we are on our way, everybody settles down to listen to the rugby on the radio, conversation being kept to a minimum. Jackie sends her daughter Lindsay around to collect the fares off the supporters. What with this job and her job collecting the money at home matches in the snack bar and raffle tickets I think we may have a budding accountant on our hands when she grows up!

Lady P. is on board, as we ask Geoff to move up and sit behind her next to Les, but he declines, can't think why? So I take his place instead. The atmosphere is tense as the rugby match goes into the final minute, only for a collective groan to sound as the Aussies equalise with a penalty in the last minute. Well it's helping to pass the time on as we listen to extra time. Geoff say's "Have you seen who's driving the coach? It's Kilroy!" which gets a laugh. He then teases Liam to go down the bus and ask for his autograph. Let's say that the driver is not impressed, in fact he's a grumpy old bugger !

Me and Les have already started on the food, purely to make the bags lighter and easier to fit under the seats you understand. Then a mighty roar goes round the coach as England win in the last minute of the rugby match, then it's chatter all the way to Scotch Corner and a break, so everyone can stretch their legs. Boy, it's like the edge of the Arctic Circle up here. It's not a crisp clear morning, it's bloody freezing!! We have a walk inside and 'borrow' some sugar we forgot to bring for John's tea, then head back to the coach to stand outside in the carpark having an impromptu picnic!. A couple of Man. City coaches pull up on their way to play Newcastle and they give us a curious look as they try to see which club we support. Luckily both Les and Geoff are on their best behaviour so the police are not needed on this occasion. Craig and Bill are keeping us amused telling us Michael Jackson jokes which cannot be repeated on here! Then it's all aboard again and off we go. Macca has handed out a quiz to keep us amused but it ends in chaos as we all try to copy one another's answers.

We arrive at the ground just after one o'clock, not having encountered the hold ups which occurred on our trip to Consett earlier this season. So the choice is either, a fifteen minute walk to the Metro centre, into the bar to watch the telly, or stay on the coach and eat some food. One or two decide to to do a bit of retail therapy, whilst The Posse (yes, you've already guessed) decide to go into the bar. The others decide to stay on the coach, but 'Kilroy' interjects with "You're not staying on here for two hours!". He'd make a great Santa, don't you think?

We amused ourselves in the bar, Stu doing a good job to impress Liam with his beer mat flipping which stops at nine. Generally having a laugh as usual. I venture out to the entrance to get the programmes for everyone. A nice greeting from the locals on the gate, as I say "I'm not coming in yet, just want a few programmes". When I tell him that I want nine he nearly chokes on his tea. That made short work of his pile anyway. Back in the clubhouse and we are having fun with Liam. Les asks him how old he thinks he (Les) is. Liam replies 56 which has us chuckling away as Les chases Liam round the room.

With the match about to start we venture outside and find the others who have taken over one side of the stand, so that is where we end up staying. The game is a well fought contest with both sides having chances but failing to score. Of course there are plenty of sweets on offer, even birthday boy Rob has brought some for us all to share. Oh, and I'd better mention that Geoff brought some, just for the record. As the game progresses it's getting colder as we all start stamping our feet on the wooden floor to keep warm, the sound echoing round the ground. Geoff's phone rings, with a posh ringtone I can't recognize. We rib him about it and he say's it's the wife, but he has another ring tone for his other admirers, so Stu (I think) say's "What's that tone then, Who let the dogs out". Even Geoff found that funny.

As the players come out for the second half we tell Cluckie we may have found him a lift back straight after the match, but we warn him, don't forget you have to score, in any net, or it's extra time! Well, as you can guess, it did go to extra time. The only down side of this apart from the cold being the fact that just before the end of normal time the referee spoilt it all by sending off a player from each side for something no one saw except the linesman. This in a match that was played in a very sporting spirit, hard but fair. After that he had to get the yellow card out on a few more occasions, but that was only because he had set a precedent for himself. Extra time was played at a frantic pace as the pitch started to take more out of both sets of players who were giving their all as it was end to end stuff. We kept on shouting the lads on and stamping our feet (but that bit was mainly to get our circulation back!). Alas, plenty of excitement but no result, so it's back to our place on Tuesday. This will please Billy Big Lens as he turned up last Tuesday expecting the Thackley replay from last Saturday, only to be confronted with a first team training session, good old Bill ! We all head off to the bar for a warm, even helping the announcer carry his stuff back to his office. Of course we had to have a drink as we waited for the players. Both John and Stu were happy as their teams had drawn playing one another in what (both of them had predicted) was a 0-0 draw and boring. John's wife Lynne confirming this as she had seen it and text messaged John with the details. I have to say, from a personal point of view, this is one of the friendliest clubs I've encountered. Their hospitality was first class, even offering us some food to keep us going on our long journey home, and we had a good chat with one of the Committee men as we discussed the shortcomings of the referee and his assistants.
At last it was time to make a move for home, and the temperature had dropped even lower. In fact I'm sure we passed a couple of brass monkeys as we made our way along the road which was crowded with cars going back home from the Newcastle United match. It wasn't long before we were well on the way, making good time. Although we did have to make an impromptu stop just off the motorway for a call of nature for some of the players, which as you can imagine went down like a lead balloon with 'laughing boy' driving the coach. Someone suggested doing a collection for him, but nobody had a hat small enough! One more stop so the ladies could 'powder their noses' then straight to Tankersley to be reunited with Sammy, who despite being neglected all day still started first time. A quick tour round the carpark as John tries to find the way out then it's just a short run and John is dropping me off at home, tired but happy.
To finish the day off nicely I watched the rugby highlights while munching on my beloved Jaffa cakes before falling asleep, and dreaming about who we will be drawn against in the next round. It's good to be back.
Until next time.
Happy Travelling
Trev
Goole v Sheffield 8th November 2003
Well we're off to visit the Goolies again - or should that be Ghoulies at this time of the year? I made sure I called in the bank this time in preparation of raiding their snack bar which we at BTF voted the best food in the league last year. Even Gwen was impressed and she's a vegetarian!
It's overcast and damp as John picks me up, Deano and Maz already with him. John is ready to pull in to the bus stop where I'm waiting but as there is a bus following he decides to edge forward as I put the boot lid down and struggle to open the passenger door - much to the amusement of the people stood at the bus stop who think he will actually drive off without me (there's time for that yet!)
We're on our way and Deano is telling us about the boxing last night on TV, trying to explain what one of them looks like. Apparently he resembled a villain in one of the early kids shows - either Thunderbirds, Captain Scarlet or Supercar ! We can't decide which for definite, or his name, but John is going to consult his 'Oracle' and give us the correct answer later tonight (the answers can now be found in the photos above and below this article). It's then time for a bit of music as the radio goes on just in time for the start of 'Pick of the Pops'. The first year in question is 1963 and it starts with 'Secret Love' by Kathy Kirby ! Now to all you good people who don't know, this is one of John's all time favourite artists so he's in raptures as he sings along. He's always threatening to bring his tape of 'Kathy Kirby sings at the Stars and Garters!' but so far we've managed to escape that ordeal! Well with him now hearing this he's set up for the day.
It only takes us just under an hour as we pull up outside the ground, even after taking our usual detour just outside the town - we'll get it right first time one day - I think! We stay in the car for a few minutes as we want to hear what got to number one this week in 1963. Marilyn's hunch of the Beatles proves incorrect as they are at number two, which leaves us all guessing until we hear that it's Gerry and the Pacemakers (Which is probably very apt bearing in mind our ages!) singing 'You'll never walk alone' Now where have I heard that before?
The sky has cleared as we go in the ground, I can't fathom out why this is the most expensive ground to get in when the pitch is the farthest away from the spectators - it's like a mini version of Don Valley but without the refinements...like proper seats. Straight to the snack bar for a cuppa, and John also has some chips, there's no butterfly chicken breast on offer this year folks. Meet up with the rest of the gang as we have a gossip before the match starts. We're spread out today as we go to stand on the side near the goal we're kicking towards, the 'coach party' have found themselves some space in the stand which should wake up the old codgers once they start shouting! Deano did scout round earlier to see if it was okay to go on the far side under the shelter but he got the feeling that the natives were a bit restless over there, so we adopted for safety first, especially as we had the verbal terrorist with us as well!
All was going well in the first half, we even took the lead and dominated play. As the pitch is surrounded by a running track Geoff has changed the rules of his
'chewy' game today. Instead of trying to hit the touchline, he's opted for a 'Any of those lines' approach, which I think is just being lazy ! He's missing his mate, young Liam, who couldn't come because Stu (his dad) had to work all day. Although Geoff's stalker has arrived, complete with two mascots, which should keep him busy as he tries to avoid her. 'Chemical Higgy' is at last free from suspension (for now) and is warming up as one of our subs, sporting a new haircut which Dennis is quick to slag off. He (Dennis) then starts a conversation with the opposition subs as well, telling them how crap they are at penalties as Bonno has just saved one on the pitch! So it remained all square at the interval as I went to get me and John something to drink from the snack bar whilst John goes back to the car to fetch his phone.
For the second half we decide to go and sit with the others in the stand because it's getting very cold stood out on the sidelines. We encourage the lads along, and it's the local youngsters who are making the most noise for the home side as the old codgers are decidedly quiet this year. Both sets of supporters certainly have something to shout about as the referee is losing the plot on the field. He sends one of the Goole players off, which only encourages the rest of their team to play better! Despite all our encouragement the team can't find a winner but at least the away run of being undefeated in six matches continues. There's just time for John to take a photo of Andy while he's still got his 'tache (it's being shaved off for 'Children In Need') before we make our way back to the car. John sticks the heater on full blast so we can all thaw our feet and in no time at all we are turning off the motorway and nearing home. Just time for John to call in work to see to the computer (he's dedicated that lad!) and then it's straight to Firth Park as John drops me off so I can go and give the match details to Les. Then home for tea and a warm in front of the TV for the night !
Until next time
Happy travelling
Trev
Borrowash Victoria v Sheffield 25th October 2003
Up early for today's match. No particular reason, just always seem to wake up early when it's my day off! It's a beautiful autumn type of day, the leaves are falling , bright sunshine but still cold. It hasn't stopped Sheps wearing his shorts though !
He picks me up at the library with Deano and Maz already comfy in the back. This will be our third trip to Borrowash, but the first one to be played during daylight hours as the previous visits were night matches.
The talk on the way down is about the cinema and 'Finding Nemo' which Maz went to see earlier in the week. I've already seen it and although it's supposed to be a kids film it's good for the adults as well. We then try to listen to the Bolton v Birmingham match commentary on Radio 5 but the reception is poor so instead we sing along to 'Pick Of The Pops' on Radio 2. We've only been travelling for half an hour and the sun has vanished, being replaced by heavy cloud and rain. That's another thing that is synonymous with visits to Borrowash, it always rains ! (usually very heavily as well)
We have the directions but still manage to turn off the motorway too early and visit the centre of Sponden. Luckily Deano and Maz have spotted some floodlights and they happen to be the ones we want. So it's into the car park and then we wait to see who is going to make the first move out of the warmth and dryness into the wet and cold ! We all emerge together and make our way down to the ground, John bringing up the rear as he locks the car. Once inside we join the rest of the Sheffield supporters who've made the trip, all huddled under the shelter behind the goal. When John arrives there are gasps as he strides purposefully to join us, women almost fainting at the site of all that flesh in such cold conditions ! Deano and Maz put the flag up, only to see that the teams have decided to play towards the open end first ! So we dismantle it and go and stand in the far corner of the stand. We could sit down, but the floor is cleaner than the seats...just a lot more wetter, that's all ! On the pitch there is not too much to cheer, two or three near misses that's all. The main highlight was John handing round Kit-Kat pieces and Giant Chocolate Buttons ! Of course Geoff is here so the bag is split right open once he's had his paws in them ! He's actually looking a bit depressed. I think it's because Lady P hasn't turned up today.
A scoreless first half and we wander round to the other end where the flag is restored in it's original place. A trip to the snack bar for sausage rolls and hot tea this time, then back under cover as once again the heavens open. There's no Stu or Liam today as Stu had a minor operation yesterday so wasn't feeling too good. I won't go into too much detail but there were plenty of jokes flying about which cannot be repeated on this family website ! The second half is much brighter, but that is due to the sun coming out and the rain stopping ! To be fair, the team were creating chances and having a lot of possession without killing the game off. However the breakthrough finally came when Ben Naylor managed to get his head to the ball to force it over the line. The flood gates didn't open though as Borrowash threw men forward to try and salvage something from the game, and after an agonising five minutes extra play the referee finally signalled the end of the match and another victory 'on the road' for the lads.
Back up to the car park and we all get into the cars. We are one of the first out and John sees Andy following him in his rear view mirror. So what do we do ? Why we take him on a detour, around the ring road, past Derby County's ground, before doubling back to get onto the motorway. All good fun !
The rest of the drive back is taken up listening to sports report and waiting for the draw for the First Round Proper of the F.A. Cup. The mighty Owls have been drawn at home to Salisbury City...how they must fancy their chances with Wednesday's home form as it is. Well this is probably our last trip home in daylight as we alter the clocks later tonight, or in my case, as soon as I get in. That way I don't forget, did you hear that John ? John drops me off at the bus stop and I call to see The Beermonster before going home, turning the heating up and relaxing in the warmth.
Until next time.
Happy Travelling
Trev
Blackpool Mechanics v Sheffield 17th October 2003
It's an early start for us as John has given up his seat at Hillsborough today in order to follow 'Club' on the road to cup glory, away at Blackpool Mechanics once again. Perhaps this is going to be an annual thing ? He's got me and Les for company today and a few of the Dronfield regulars are going up on the coach, as well as Bill and Gwen. It's a bit cloudy as we set off, and are not sure what the weather holds so we've packed to cover all eventualities ! Les has done one of his special tapes, so we drive along Ecclesfield listening to John Fogarty 'live'.
We recall to Les about almost crashing into a fire engine once when John was taking me to the airport, and also the occasion when we almost encountered a runaway horse. This happening all on the same stretch of road, in fact John says he doesn't know why he's on it now...just in case something else happens ! Don't ask how, but we got talking about Pierce Brosnan, I think it was John relating a talk he was having with his daughter whilst watching him in a film. He commented how good looking he was, which was a conversation stopper to me and Les. So from now on you have my permission to use his new nickname of 'Pierce'! The Beermonster is travelling in the front on the way there, partly so we can swop coming home, but mostly so he can do the navigating properly...the ****** ! I know when I'm not wanted. A song then comes on the tape which Les says was from the film 'Apocalypse Now' We both say that the only thing we can remember about that bit was the scantily clad women dancing. I think it's time for John to take one of his tablets....he's very frisky today!
It's bright sunshine now...even in Lancashire as the old joke flies around about passing Meadowhall again, when in fact it was the Trafford Centre. The tower is soon in sight and it's not long before we're heading for the sea front as Thin Lizzy blast out 'The Boy's Are Back In Town'. Only a couple of minor hold ups due to traffic flow, but we still made it in under two and a half hours. Manage to find a parking place in more or less the exact same spot as last year, so we can watch the people plummeting down 'The Big One' ! It's a shirt sleeves job for our walk on the front, there is a little breeze but nothing to worry about. It's actually warmer than when we were here last year and the place is packed out. We receive our first compliment of the day when one of the horse cabbies shouts,"Do you want a ride lads"? Actually, he probably took one look at us and thought , there's no way they're going to be fit enough to walk down to the tower and back ! Les takes us on a detour down the backstreets so he can buy some furniture. Don't panic..it's for a dolls house which he built . John then gets his second compliment of the day when the shop assistant calls him young man. He say's that's more compliments in one day than he usually gets all year. As we emerge from the shop the talk is still of dolls houses as Lynne (John's wife) also has one. Les asks "Is it electrified"? meaning wired up with lights. John say's "No, I've thought about it, but who would do my washing and ironing then"? Les then points out some of the pubs he's been either thrown out of or barred from during his younger days ! It's time for some lunch and we spot a cafe and decide to go there. Having some fish and chips and big mugs of tea and coffee while we sit and rest, all very civilised. In fact I think we could all audition for parts in 'Last Of The Summer Wine' as it has that kind of scenario about it. After being sufficiently fed and watered it's back to the sea front, passing quite a few Hartlepool fans who are in town to see their team play. We get quite a few stares as they try to see what team we are supporting. The tide is out so we go for a stroll on the beach back towards the car. We would have gone for a paddle but the sea was too far away. As we get back to where the car is Les points out Furness peninsular to us. He say's "Just to the right is Fleetwood", to which I reply, "When it rains , do they wear a Fleetwood Mac"? Well John thought it was funny anyway.
Back in the car and the short journey to the ground which we find with no trouble. As John parks the car we look over the wall to see the verbal terrorist already inside, and we have a bit of banter with him at the gate as we wait for John, the bloke on the gate looking slightly bemused as we insult each other. As we pay to get in, he asks if we want a programme but I tell him "No thanks", as I phoned up earlier in the week to reserve some for our bunch. This was mainly due to the limited supply on offer last year, when I bought the last one just as Bill turned up. His tears only stopped when Dav's Dad gave him his ! No problems this year though, and although Bill has ordered some programmes off me, he still can't resist buying one anyway. We go for a drink in the clubhouse and John decides that he has to put the shorts on. The only reason they weren't on from the start was the fact we thought it may be raining when we got here, but it's a perfect summers day without a cloud in the sky as the teams take to the pitch.
The home managers dog is the last one on as it follows the ref and his assistants. John shouts "Hey ref...you've forgotten your dog" which has everyone in hysterics. With no Stu or Deano today I thought it would be left to me (and my companions) to do a match report, but Stu has an able deputy today in a young lad called Robert Henderson, who is doing his first ever report. Once we know which way the teams are kicking, we descend on the Mechanics goal and once again introduce ourselves to Stuart Barton, the Mechanics keeper. We had a real good laugh with him last year and this year looks like it will be the same as he recognises us ! We even compliment him on the fact that he's got some new socks ! Of course when he goes to take a goalkick we all shout and he turns and smiles before giving us a bit of friendly banter. Although John has brought the Minstrels it's Gwen who's dishing out her favours- sorry, sweets. As she passes amongst us saying "Go on lads, grab a handfull"! I'm sure she did mean the sweets. As we watch the play on the far side, we see Lady Penelope walking along the touchline, complete with pink wig this time and a stuffed gorilla! With twenty five minutes on the clock Asa 'The Salmon' Ingall rises above everyone to head home. As we celebrate he rushes over to us and lets rip about how excited he is, although it was in a more colourful description. Two minutes later and Ryan O'Carroll has also slotted the ball home to put us in control. That's the way it stayed as the half time whistle blew. We say hello to Robert as he passes us and ask if he's enjoying it. His dad says he hasn't seen much of the match because he's been busy writing down what's been happening. Don't worry Robert, in time you'll just be able to watch the match and make it up on the way home (just ask Stu for some tips!). After having a chat to Geoff and his better half we have a cuppa before making our way to the other end...flags draping over the barriers. At least a third of today's crowd have come to support Sheffield. Caroline says she's suffering with her feet...her socks are hurting her. She then reveals multi -coloured socks with individual toes! On the field Sheffield are in total control and Duncan gets on the scoresheet with just over twenty minutes left. Bill shouts to Geoff, "Hey Geoff, your birds coming to see you" as Lady Penelope makes her way towards us. This sends Geoff into a panic, so he sits down near us and pretends to be talking to his mum on the phone. This has Gwen in hysterics, which sets us all laughing. Macca has made a couple of substitutions and one of them pays off immediately as Ben Naylor puts the ball beyond the keeper for number four with less than ten minutes left. The singing then begins as we start with 'Dave McCarthy's Barmy Army.' Young under nineteen player Tom Moxon comes on for the last five minutes to make his first team debut, and with two minutes left celebrates the fact by scoring goal number five with a blistering shot. We celebrate by shouting 'Macca Macca , give us a wave', which he totally ignores although to be fair to him, he did admit afterwards that he never heard us.....so you're off the hook this time Dave ! As the full time whistle blows we all clap, cheer and get the rattles going as the players come over to thank us, and it was a nice touch to see Stuart Barton do the same as well.
A quick chat in the clubhouse and then we are on our way home. I ask Les if he wants to sit in the front again, but he just says "No-it's okay, John knows the way home" (ha-ha, very funny). We're motoring along quite nicely, listening to 70's rock classics as the shadows lengthen with the setting sun. Sammy clocks up 43000 miles as we pass the Reebok Stadium (home of Bolton Wanderers). That's not all been done today by the way, even though we did cruise past a Porsche at one stage. Only held up at Mottram (as usual), but even then it wasn't for long as we finish our journey over the Pennines listening to some classic 60's hits, which Les tries to guess some of the artists. He says he doesn't remember, but I think that's just because he's lost some of those brain cells over the years to drink ! It's only just over two hours since leaving Blackpool as John drops me off at home after a great day out. Until next time.
Happy Travelling
Trev
Armthorpe Welfare v Sheffield 10th October 2003
John picks me up from work with Maz and Deano already on board, Maz deciding to decline the trip last Tuesday evening so she could save herself for this glamour trip to Armthorpe. It's cloudy at present but the sun is trying to poke it's head out for us. It's a pleasant little journey as I sit back and relax - my eyes slowly closing. I'm just resting them ready for the match really. I'm not asleep, but certainly comfy as Deano pipes up from the back, "Hey Trev, is that what the seat belts are for then ?". I had got that comfy that I was resting my head on the actual belt instead of the window. We arrive and find our usual parking place, just up the street past the chippy. Bill and Gwen are already there. As we drive past them Gwen smiles and waves as Bill has his face stuck in a bag of chips! On top of this they've actually modernised the pub next to the ground now - they've burnt the roof off it!! Everyone is turning up as I cross the road and Andy drives by with his kids. I point out where to park so he goes to turn round and join us. This is quickly followed by Stu, with Steve and Liam. It's as if we all set off in convoy. Inside the ground Geoff is waiting for us, and his friend Liam. Stu asks Liam to tell Geoff what his favourite subject at school is. "English" replies the cub reporter as we all fall about laughing. This is due to the effect Geoff has on Liam after a Saturday watching football. In fact Stu dreads the little one coming home from school on a Monday because he's not sure what Liam will have said or done following his Saturday exploits. Anyway, today Geoff has decided to give him an English lesson in Barnsley speak so he can impress his teachers on Monday! He points to Liam's jacket and say's "This is a coit", then his footwear, "these are boits". He also tells him that when saying goodbye he should shout 'sithee'. Final bit of advice for Liam is that when the teacher has spoken to him, he should just look at him and say "app'n". Well, the rest of us were laughing at all of this so we await the outcome of Geoff's lesson ! Stu is dreading it of course. The players are just coming into the changing room after warm up and after enquiring to Bonno "How are you?" the response of "I'm knackered" is not what we are looking for at this stage of proceedings. There are some big lads in the home side as well, and I don't mean in height!
First half we are kicking up the slope so we all go to the top end and stand behind the goal. John says "It's the first time I've seen it in daylight". This is quickly followed on by "I prefer it at night!". A local resident is poking his head over his garden wall watching the match and, as usual, the verbal terrorist is in fine form, making some comments to him such as "where's your money, we've had to pay". That was one of the cleaner ones. Read Stu's match report for the full details of the game but the one outstanding moment for this column was when Faulks went on a run up front, God, we were all nearly having a nose bleed. The ball eventually landing at Duncan's feet in the area and Faulks waiting for the lay off, which didn't come as both players ended up on the floor. Faulks exact words were "Dunk you **** ". Perhaps the word pass may have been better! Of course we were all laughing at this while Liam is asking Stu, "Dad, what did he say?". To which Stu replies "It was a very rude word and you're not to use it... at all". Liam lets everyone know what he's learned so far off Geoff as Duncan gives the ball up very easily and he shouts "Stupid git Dunk!". Who'd be a father eh? Just before half time we manage to score and then it's off to the snack bar for me and Sheps. Emerging some ten minutes later with a chip butty and teas all round, Maz has made herself comfy sitting on the floor as the sunshine beats down on us. If you closed your eyes you could even imagine you were somewhere pleasant.
The second half sees us dominate most of the play but miss so many chances that you think there's going to be a price to pay, but eventually a goal by Chris Beaumont means that at least we on the sidelines can relax a little more easily. John goes round to collect the man of the match votes and Liam wants to know who's won. He's only taken Liam's vote at this point! The final whistle arrives and it's three more points on the road, we're on a roll! It's back to the cars and a quick getaway for everyone so we can all get home and settled for the England match. I was that settled that I missed ten minutes of the first half and all the second!!
Until next time
Happy Travelling
Trev
Liversedge v Sheffield 7th October 2003
The weather is definitely turning, so it's thermals tonight for me (not feeling too good anyway) as we brave the wide open spaces of Liversedge ! What could be finer ? Well, sticking a fork in the side of your head or putting your hands in boiling water are two things that spring to mind ! You see, Liversedge is the sort of place where we never do well and, apart from last season, it's always a midweek match in the colder months of the year. We pick Deano and Maz up in town before all going home for a quick change (Deano and John that is). I take up John's offer of some cough mixture as I try to stifle an irritating cough everytime I open my mouth. Then it's off we go, stopping down the road to pick Deano up. Maz is stood in the window waving him off, so me and John also join in. We've not travelled far when there is a tapping noise from my side of Sammy. After stopping to inspect, it appeared we'd run over some industrial tape that was partly stuck to the wheel, so we manage to free it and carry on. At first we thought it was Deano tapping on the car roof for some reason. It's an uneventful journey there as I leave John to it until we get to Dewsbury by resting my eyes. Not long now before all our midweek travels will take place in the dark ! We get near the ground, and manage to get lost in the last hundred yards or so. No blame given to anyone this time as there are roadworks all along the road which obscure the little lane we need to turn down for the ground. In fact as we are just pulling into it Stu has driven straight past too !
First stop is the snack bar as John has his tea of steak pie and peas while I can just about manage a hot chocolate ! It's the usual gang here tonight...The Posse plus Geoff and Andy with his daughter Caroline, who is very cold ! She's wearing a red scarf to keep warm, but it's not a Sheffield one. She shows us that it's a Liverpool scarf, so we'll let her off with that one. Just before the game starts we are talking about how unlucky this ground is. That is apart from one Friday night a few seasons ago (in fact it was the last time Burkie played for us here) and he managed a superb hat-trick in a 4-1 win. Let's hope for the same again tonight! We start the game kicking up the slope and before you know it (90 seconds) we are already chasing the game as we go one down with the first attack of the match !
John has to get the Minstrels out quickly to try and calm us down. The rest of the half is spent mainly talking among ourselves as the lads are finding it painfully difficult to string two passes together, although they do improve towards the end of the half when they actually make their keeper do something ! Half way through this half we are joined by another of our regular Coach and Horses supporters. Sorry, but the lady's name escapes me at present...Geoff knows her anyway. She certainly stood out in her bright pink hat ! We couldn't decide if she was imitating Lady Penelope off Thunderbirds and we were half expecting her to proposition Geoff by saying...."Come on then Parker...drive me home!", or if she was reviving one of the characters Dick Emery used to play ! It certainly brightened the half up anyway. During the interval we wandered down the slope, making up our own impromptu game of footie behind the dug outs. Then it was up to stand on the banking. While Andy hung his flag near the goal, I helped Deano put his big 'un up on the fence (the flag that is).
Don't know what Macca said at half time but it certainly worked as we sent wave after wave of attacks into the home area. Just not getting the run of the ball at the vital moment. The game was also getting a bit niggly with one or two individual confrontations taking place, not helped by the loud mouthed and abusive staff in the home dug out....call yourself a manager ? Ha ! With just over 10 minutes left it's a bit of Burkie magic which brings us back into the game as he slots the ball home from the tightest of angles to draw us level - much to the delight of the eight of us on the banking who start jumping up and down with joy. At this stage I think we would all have taken the point on offer, but things get better. As with only a couple of minutes left on the clock Asa leaps like a salmon to put the ball into the net with a header from a suburb corner. As you can imagine we are ecstatic, as the rest of the ground descends into a deathly hush. It certainly quietened their bench down, who now seem to have lost their voices. Cannot finish this without mentioning a great save from 'Ferrers' who seemed to scoop the ball from behind him to keep us in it. So it's jubilation all round (well, it was at this end) at the final whistle as we celebrate with John's giant chocolate buttons ! It's a very pleasant journey home and I'm feeling decidedly better now as John drops me off, after securing our first league away win of the season. Next stop Armthorpe!
Until next time.
Happy Travelling
Trev
Consett v Sheffield 20th September 2003
It's an early start today for the trip to the North East. John picks me up just gone 10a.m. and we head for Tankersley where we are going to meet the coach. It's warm and sunny at the moment as we pull into the car park, let's hope it stays that way. As most of the Tankersley gang are now assembled we all head off down to the road to wait for the coach. Lee (Walshaw) has too many bags and not enough arms so John asks if he wants some help. He duly gives John a bag, which he then passes to me. Nice trick John ! Then it's a case of dodging the traffic to get on the correct side of the road for the coach. I suggest that they ought to put a pelican crossing on here being as the team use this place often.
Stu and the 'cub reporter' are already on board as the coach pulls up, having boarded at the Coach and Horses after Stu had done a few hours at work. Today gives our usual drivers (Stu and John) a chance to relax and enjoy the long journey themselves instead of having to concentrate for such a long trip. The players and supporters are in a jovial mood as we set off, Geoff even starts handing round some wine gums ! I've come prepared with supplies to keep me and John from starving along the way. John is sat in an aisle seat, so he can stretch his legs, and as he looks to the front of the coach he wonders how our driver can see through the windscreen as the sun visor is pulled right down. Of course John then realises that it's just an illusion from where we are sat as the driver is sat a lot lower ! He indulges in a few running repairs, re-fixing the badges on his bag and also repairing the lens on his sunglasses which dropped out as he was leaving this morning to pick me up. We've only been travelling for a quarter of an hour but the food is already out as we tuck into cherry scones for 'elevenses'. We pass the journey by talking about pop artists we've seen, this is brought about by Jackie playing the Four Tops on her C.D. which Geoff is now going to borrow. It's amazing the people we've seen, going back to old groups which you young 'uns will never have heard of although their songs have probably now been massacred by groups such as Westlife etc. Everything goes well up until Scotch Corner, and boy could we have done with a scotch then. We hit a traffic jam of enormous proportions due to one of the lanes on the road being closed, Newcastle United being at home and people heading north ready for the Great North run on Sunday ! It takes us over an hour before we are again moving more freely, by which time we've had a chance to consume yet more food and have a doze to rest our eyes. As we enter Durham it looks like the forecasters have got the weather right as it's now raining with very overcast skies. We pass safely through the city and onto the Consett road, another 12 miles see's us miss our turn off and head for the nearest roundabout before negotiating the tricky side roads. We can see the ground but can't find the right road to get to it. Eventually we do arrive some three and a half hours after setting off. As we are going through the turnstile I ask Stu if Chris is getting the progs. He tells me to get my own , plus one for Chris and one for him as well, to which the gateman has a laugh as I part with my money for one adult and five programmes. Then it's up to the bar for a well earned drink. Bill and Gwen are already there, having made the journey from Whitby where they started their holiday the day before. We sit down and watch the end of the Wolves/Chelsea match as well as having a laugh with the very friendly and welcoming locals. As the after match interviews start Claudio Ranieri is talking and Liam pipes up with "I think he's Scottish" which has the whole room laughing. Geoff say's he's going to teach him some more new words today which makes us laugh and Stuart cringe. He say's he hates Monday's now as he doesn't know what to expect when Liam comes home from school after a Saturday afternoon spent in the company of Geoff! Our long lost Scottish exile Chris turns up and I re-unite him with his flag. He's even brought a couple of friends with him although they will be hoping for a Consett victory, but we don't hold that against them 'cos we're not like that. In fact, during the match, John even lends the young lady his sweatshirt 'cos she's feeling the cold. With a few minutes to kick-off we go outside and take up our position in the centre of the stand being as it's chucking it down with rain. There's a good following for the team and it's a good atmosphere as we all sit together to cheer the team on.
Not long into the match and the familiar rustle of sweet bags can be heard coming from John's direction. He's surpassed himself today as we have Minstrels, Rolo's and Giant Chocolate Buttons all opened at the same time. In fact it's a work of art as I start to hand them round having to use both hands so they don't all end up on the floor. Liam's eyes light up as I approach with the sweets. He very carefully and slowly selects a Minstrel, puts it to his mouth, smiles..and drops it on the floor! You know between them Liam and Geoff make a good double act. He's even offered to provide the half time entertainment by having a fight with Geoff.
Our man from Barnsley wants to know where the ref is from and the conversation goes something like this:
Stu; "He's from York"
Geoff; "That's not right"
Stu;"It's fair"
Geoff: "There's a fair at York?"
Stu;" No Geoff, it's at Scarborough"
Geoff; " They sell strawberries don't they?"
Trev ; "Yes, are you going ?"
Well we all thought it was funny at the time !
The rain is coming down a lot heavier now and Bill turns to us all and say's "The weather men said patchy showers - it's a good job it's not going to get heavy then !" We reach half time scoreless and it's off to the snack bar. We have a laugh as Yorkshire and North East accents collide. I'm trying to give the young lass our order which keeps changing by the second as people make their mind up what to have and she's asking if we want onions on the hot-dogs. Back into the stand and the rain has stopped. Liam has decided not to fight Geoff, instead he pelts him with bread from his hot dog ! The second half see's Asa come and join us as he's picked up a knock and been substituted. He's asking Stu if he got down the flying header of his in the match report. We all look at him and in unison say "what header?", as not one of us witnessed this feat. All we remember is his shot going wide which we told him he should have scored with. The game is being totally dominated by the visitors and we eventually get on the score sheet through 'Duke of Earl'. The home side make some substitutions and once again this season we see the use of numbered boards to indicate the players involved brought into use. One of the locals told us it was a rule that the club should provide the boards for both the home and away sides. Stu asks if we can keep them which is met with a laughing "no". He then makes us all laugh by saying "God, I hope Macca doesn't hold up the number 11, or all the players will come off", nice one Stu. A second goal duly arrives as 'The Black Pearl ' slots the ball into the corner as the sound of cheers, clapping and rattles reverberate around the stand. The team even have the luxury of having a penalty saved as Dunk makes a mess of his spot kick. The final whistle blows and we cheer the lads off before heading upstairs to the bar to await the victors.
Liam is as active as a box of frogs, still wanting to fight his mate Geoff. Our Barnsley man then put's his education back a few years (yet again) by pointing out a man of very small stature sat in the corner. He's trying to get Liam to sing the Hi-Ho song from Snow White and telling him to go and ask the man for his autograph! Got to admit that the hospitality and friendliness of the locals was second to none as they wished us well when we went back to the coach ready to go home with the rain once again pouring down. First stop is about three minutes after setting off as the players want more substantial liquid refreshment for the journey home. Captain Schoey is delegated to take the money collected and see how much booze he can fetch back. At this point Stu has told Liam to ring his Mum. It's Stu and Lynn's anniversary so Stu did the decent thing by taking Liam with him so (as Liam said) Lynn can stay at home and watch girlie films all day! Well Liam does phone his mum, but instead of telling her what a great day he's had and how much he loves her, he's busy reading her the prices in Booze Buster's window!! We set off back a different way in order to avoid the motorway hold up and reach it in good time, the queue's are still there but not for us. Liam has settled down for a bit now, probably through exhaustion fighting with Geoff and drinking his Dad's beer! The rest of John's sweets do the rounds of the supporters before being given to the players to finish off. Stu even collects the Man Of The Match votes off us. A little later a well lubricated Lee Vernon goes to the front of the bus to announce the winner. Of course he's got his own agenda as he places himself in second place. Eventually after a great build up, he announces Tom Jones as the winner and then goes into a karaoke version of 'Walk on', the Liverpool anthem. Thought he would have picked the 'Green Green Grass Of Home' or something like that! Anyway Vinny, well done for being such a sport and giving us a laugh.
Geoff decides to get his own back on Liam by putting a plastic bag on his head with eye and mouth holes cut out and sneaking up on him and making him jump. Of course the bus is in uproar then as we tell Geoff to take the other mask off once he removes the plastic bag!
It's time for us to depart now as we pull into the lay-by at Tankersley Manor. Vinny is still doing his MC bit on the microphone as the coach departs for Dronfield. It's back into Sammy and the short journey back home. Despite the motorway hold up it's been a really fun day made all the better with progress to the next round, Until next time,
Happy Travelling
Trev
Farsley Celtic v Sheffield 13th September 2003
Our second game in this season's elite cup competition sees us on our travels up the road to Leeds. After an anxious wait I've been able to change shifts at work, thus releasing me to go and follow the lads 'on the road'. I'm all ready and waiting as Stu pulls up outside the hospital, having already picked Steve up on his way, and not forgetting the 'cub reporter' who once again graces us with his presence. There's no Deano and Maz today as they've gone to the Lake District for a few days and John is watching the Owls at Hillsborough. It's a glorious sunny and warm day as we make our way to the M1. Liam is telling me the tale of why he's wearing his red England shirt today and also tells me he has a white one as well but it's lost. I tell him his mum probably knows where it is. I must have dozed off because the next thing I hear is Steve waffling on about some posts or other at the side of the road with solar panels, and trying to find an explanation for their use, Stu has no idea what he's on about either. He then gets on about how words link together - like fried eggs and relish !!! No, don't ask. It's obvious at this stage that me and Stu tell him he ought to go back to the hospital and get his medication altered. Either that, or give us all some so we can be on the same planet at the same time ! Liam is quietly reading his footie mag and eating strawberry laces while all this is going on. By now we've nearly reached the ground, which is a new one to visit for all of us - even Stu. We've even had time to teach Liam a new song - We all hate Leeds and Leeds etc. Stu makes out that he's no idea where the ground is but the bugger is just winding us up - having already got the travel details at hand. Once inside we head to the club shop for a browse and Liam ends up with a free David Beckham drawing, which is a wonder really 'cos when the lady asked Liam if he liked Beckham, he told her he does now he plays for Real Madrid but he hated him when he played for Man United. It's a tidy little ground and the first half sees us kicking towards the covered standing end. As usual we've been joined by Geoff who, when told where the others are, informs us that he's got some minstrels. They're in the cupboard at home !! However he does offer us some more chewy to try and hit the goal line with. Even Liam is having a go although his only goes as far as the other side of the rail we are standing against. Both me and Stu are off form today but Geoff eventually succeeds after about a dozen attempts. This is about the only excitement we've got this half as Farsley waste chance after chance to put the tie beyond reach even before we get to half time. Somehow we manage to reach the interval still level and it's time for us to move round to the other side, first calling off at the snack bar for drinks all round. Stu takes Liam back to the car to retrieve his strawberry shoelaces, which he gladly gives one to me. Geoff is also after one, but Liam only lets him have half of one before breaking it off and stuffing the other half in his mouth.
Back into the sunshine for the second half and it's a much better performance from the lads. We even manage to score first - against the run of play but it was a cracker from Ryan O'Carroll, which beat the home keeper at his near post. It looks like it could be a good day after all as John has been keeping me up to date with developments at Hillsborough where the Owls are leading 2-1 after having a two goal half time lead. Unfortunately we cannot hold our advantage as Farsley hit back with a stunning strike. This is mainly young Liam's fault ! Earlier in the half when we were attacking, the ball came over to us and Liam chased it as we shouted to him to hurry up as it was our ball (on the pitch). This he did. However, a little later, when we were leading, the ball came over and rolled along the hard standing. Of course Liam went chasing after it and we're all shouting for him to just leave it (as it was a Farsley goal kick), but no, he was like lightning, getting that ball back to their keeper who promptly took the kick which ultimately saw it nestling in the corner of the Sheffield goal. Funnily enough, earlier in the game Stu hinted that a draw would be a great result as he hadn't got a match fixed up for next Tuesday ! Anyway, that's how the game finished and I suppose on balance we can't grumble as they certainly had all the chances in the first half to put the game out of our reach. It's a manual collection of the Man of the Match nominations and as we're walking towards the car park we have the situation of five different players level for the vote. Luckily we spot Andy and his son just pulling out of the car park and their votes settle the issue. Then it's into Stu's car and back down the motorway as we listen to the footie results and Liam falls asleep in the back next to me. I'm back outside the library by 5:45 and visit the beermonster to tell him of the afternoons exploits before heading for home and something to eat. Just hope Tuesday's match doesn't go to extra time ! Until next time,
Happy Travelling
Trev
Glapwell v Sheffield 9th September 2003
Bit of a mixed bag weatherwise tonight as it doesn't know what to do. Even John has forsaken his shorts in favour of jeans tonight,so I fear the worst as this is not a good omen. He's already at the garage when I arrive, then it's off to town to pick Deano up. We've set off a bit earlier as John has to call somewhere to book Sammy in for some work next week.That doesn't take as long as we thought,so as we approach West Bar roundabout we pull into a parking space for a few minutes till it's nearer time to pick Deano up. A 'lady of the night/tea-time' is already on the prowl and approaches us,as she must have thought we were pulling up for her.She wants to know the time( pointing at her wrist,) - John thought she was asking if we wanted a good time ! After that episode we sped off to meet Deano. In fact it's double Deano as Steve is there to meet us as well. Normally this match would have seen John picking Stu up on the way,but tonight he's taken the cub reporter to footie training and they will meet us down there. It's a trouble free journey down as we listen to Willie Nelson singing about open roads,divorce and suicide on the railway tracks! In fact it's that easy going we arrive in the car park just half an hour after leaving Sheffield. We sit inside for ten minutes because we're that early the turnstiles aren't open yet and we haven't seen Billy big Lens either! It doesn't seem that long ago since we were last here. In fact it was towards the end of last season when we visited twice in the space of a few weeks and got a positive result both times. As we're waiting, John asks if any of us has brought any food as he's hungry. Steve says he's had a big rogan josh before he came out. At least I think that's what he said, - it could have been "I've just had a big roaming jock ! "
As we're about to get out of Sammy we notice that Stu has arrived and we all make our way to the turnstile. Once again mister happy is on the gate - I think he's got a degree in being miserable, his major moan tonight being that the programmes haven't arrived yet and people keep giving him money and expect him to let them in to watch the match. We go and grab a cup of tea and drink it outside savouring the delights of the smell of the countryside, this being mainly pig manure ! God knows what they'd been eating but it didn't half stink. Just to add to the ether, Steve lets rip with a trouser billowing fart which soon disperses us !
I forgot to mention that Stu is here on his own. Apparently football practise was cancelled.This was by the 'cub reporter' himself as he was having a bit of a strop 'cos daddy wouldn't pay for all the family to go to Bramall Drain next week. Add to this the fact that 'mum' had told him off for leaving his glasses at school. Altogether not a good evening for young Liam. Back into the clubhouse so John can have some tea of pie and peas while I savour the delights of a very nice sausage roll. The players emerge for the match ,and we have a new addition to the squad in Chris Hilton who's signed from Belper Town playing at right back tonight. We're kicking up the slope for the first half so we go and camp ourselves behind that goal. There's a good following tonight for the 'club', probably almost as many away supporters as home ones. Geoff offers me and Stu some of his chewy which we gladly take,and after chewing it to death we then decide to play Geoff at his own game.That is to try and get the chewy to land on the goal-line. Now Geoff has been doing this ever since the start of last season and has rarely been successful, despite using up a full packet of chewy at each match,whereas for me and Stu this is our first time. Well, as you can probably guess by now,both me and Stu hit the target with ease Stu even firing his from way back as he's sat on the wall. We point out our success to Geoff who promptly tries his luck.....and fails yet again ! There's not too much happening on the pitch but we are in a right good mood tonight, we've even given Jason Tee a new nickname. >From now on he'll be known as 'Duke'. The connection being Tee - Earl Grey - Duke of Earl. How did we think of it ? Don't ask ! The point is every time he got the ball we started singing 'Duke of Earl' the old Darts song. We were enjoying ourselves that much that we even had a Mexican wave going.Well it was more of a ripple really being as there were only seven of us doing it. We do stake a copyright on the Mexican clap though ! There's that much banter going on that I'm afraid if I wrote it all down this would be about 3000 words long and I wouldn't have seen any of the match. Half time arrives and we troop round towards the snack bar. Stu needs to phone home to say goodnight to Liam,but he's out of power on his moby so I lend him mine. As he's working it out he collides with one of the floodlight pylons.Luckily he didn't drop my phone ! Actually it's good job he didn't connect with his head 'cos he went with some force. He soldiered on and told Lynn about it as he waited for the little'un to come to the phone. Once again we indulge ourselves at the snack bar. Little to cheer for us in the second half as not a great deal of scoring chances were created and more to the point Glapwell managed to score three times which,considering they didn't look all that good shows you what an off night the lads had. It was interesting that we had nearly a full team of players watching from the sidelines due to injuries and suspensions. The verbal terrorist got in what could be the quote of the season when he said to Chemical Higgy "Who are we going to see first then Matt ? You or Father Christmas!"
So the end of our unbeaten start to the season, but never mind as there's still plenty of footy left. Also we're partly blaming John for not wearing his shorts ! It's a swift return to Sheffield, dropping Steve off first before I leave the other two and head for the kitchen for a nice cuppa before turning in for the night. Next stop, Farsley on Saturday in the cup. Until next time,
Happy Travelling
Trev
Eccleshill Utd v Sheffield 3rd September 2003
It's travelling time once again as we set our sights for Bradford. John is already waiting at the petrol station as I arrive and then it's off towards town for the first leg of our journey, dropping off one of John's workmates Pete on the way). As usual it's quite busy at this time and tonight it seems it's the emergency services night out as we are passed by two ambulances in quick succession, as well as a police car. Arrive outside the estate agents where Deano and Maz are already waiting then it's off towards Hillsborough. The traffic is nose to tail as we crawl towards Shalesmoor as once again we can hear sirens and see blue lights flashing. This time it's a fire engine trying to get through. As the traffic parts and it goes past, John sees an opportunity to move into the outside lane, but for the minute the three of us thought he was pulling out behind the fire engine in order to slipstream him! John has decided that as we are not going anywhere fast he's going to do a detour, so we have a little tour of the delightful backstreets of Neepsend and Shalesmoor, but the move is a good one as we emerge with less traffic congestion. We're soon arriving at Chez Deano to drop them off as John calls in at home. As it's a quick stop I stay in the car and Lynne comes out to see if I'm okay and brings me a drink of water as it's a warm night.Then back down the road to pick up a refreshed and changed Deano and we set off in earnest (well in Sammy actually) towards Bradford. It's just the three of us tonight as Stu is watching the 'cub reporter' at his football practice and Steve is feeling a bit under the weather. Talking of which it is a nice night, cloudy but very warm at present .
We've only got as far as Grenoside but John suggests ringing Billy Big Lens and asking him to get the programmes for us as he's usually there early. This I do and believe it or not he's actually at the ground and it's only 6:20 ! His excuse is that he only travelled from Barnsley, although God knows how you can use Barnsley as an excuse. Mind you Geoff comes from Barnsley and look at what he's like - perhaps Bill's got a point after all! During our little chat he informs me that the motorway is chock-a-block with very slow moving traffic due to an accident (as we're talking, Geoff has contacted Deano with the same message). John puts the radio on to see if there are any further developments about the accident but all we get is a load of static. After Geoff has called again John decides what he's going to do. It's a case of leaving the motorway early and taking an entirely different route - all this without the aid of a road map which is sat on the table at home. It's another Sammy Adventure ! Leaving the motorway we proceed along the main trunk road signposted for Bradford. Although the traffic is heavy at least we are moving, which is more than can be said for the vehicles on the motorway as we can see from the by-pass. It's now 7:25 and we're crawling along as two sets of traffic lights do their best to let only two cars at a time through the filter system. Geoff has phoned to say he's taken a detour - and he's lost ! At least that's the message Deano gave us after he'd stopped laughing and also deleted all the swear words! He also says the players coach hasn't arrived yet either as Dunk has just phoned him from said vehicle. The traffic is flowing more freely now, and believe it or not we have really bright sunshine. We're getting giddy now as the G force hits us as Sammy manages to reach the 40mph mark as we pass Valley Parade and make our way up to the ground at Eccleshill. We're busy congratulating John on an excellent job when we find ourselves in a built up area and can't make our mind up which road to take - much to everyone's amusement. The thing that threw us was a new set of lights replacing two small roundabouts. Well these little things are major land marks to us trusty travellers. We arrive at 7:40, the players have also turned up (thank God!) and are busy warming up on the pitch, the referee having put the kick-off back to 8pm. Bill is there to greet us and hand over the programmes he purchased for us - which was a good job as once again they were all sold out. Then it's straight into the ground. Me and John go looking for the snack bar (which is inside the club house) but the 'jobsworth' is not letting anyone in this way until the game is well under way, so we leave it. At least we are stood near the entrance as the lads kick towards us. Luckily John has brought supplies, only this time it's not the Minstrels - but giant chocolate buttons instead. Geoff has a few (just to be sociable he says), you can see the disappointment written on his face. Not too much excitement in a goal free first half as we natter away to each other. As soon as the ref blows to signal half time, me and John are off and into the queue for food. It's pie and peas for both of us as we take a seat in the club-house with the locals staring at our Sheffield shirts and also John's bare legs. Yes the shorts are still on. Now it's the Krypton Factor test - how to eat pie and peas with a plastic tea spoon without either breaking the spoon or getting the food all over! We did eventually manage it, just in time as the teams kicked off for the second half.
We make our way round to the open end and once more the Eccleshill astrology bug has us in it's grasp. Last time it was the eclipse of the Moon. This time Billy Big Lens asks me if the red dot in the sky is Mars. I say "No, it's your anus !(Uranus). He goes along with the joke being as one of the others had said "No, it's not Mars, it's Snickers" and so it went on. Well at first I had to admit to him that I thought that it was an aircraft coming in to land at Leeds/Bradford airport-and I wasn't the only one. John had his trusty binoculars with him so we all had a look and agreed that yes, it was in fact Mars. Of course Geoff wouldn't believe a word of it. He took the binoculars and said it looked nothing like a planet. It was only when we saw where he was looking we realised he was focused on a street light! Mars having moved round from it's original position. He then decided to look in the houses just over the other side of the ground where a number of bedroom lights were on. He said "Hey lads, I can see the Sea of Tranquillity here!" Not sure exactly what he was looking at but we took the binoculars off him before he got reported for being a peeping tom. Eventually Geoff does believe us, he can't help it. Unless he's read it in the Barnsley Chronicle he thinks everything we say is made up and it's not true - it's only 50% !
Back on the pitch the lads were grinding out a result and came close to snatching all three points but I'll settle for a point. It's the first time I've seen us get anything from here since our F.A. Cup run, apart from food poisoning. The referee blows for the end of the match and we grab a hard earned point, which is good on two fronts as it keeps our unbeaten start going and also knocks Hallam off the top spot as Eccleshill take their place. We clap the lads off and they respond by ignoring us - so while I help Deano with the flag I'm shouting "Hello, can you see us? Don't mind us we've only come for a chat" Waving my hands and shouting "we're here". Deano is laughing his head off at this. Footnote to this is that at yesterday's match (Glasshoughton) Macca saw me as he was walking across the pitch and came to stand in front of me and applauded with a big grin on his face and shook my hand saying "that's for Wednesday night". We're not even out of the ground and already the floodlights have been turned off as we're told to go through the club house to get out. Back into Sammy and it's a straight forward drive home. Despite the delayed kick off John is back at the original time he predicted and I have a post match Jaffa cake (or two) before going to bed. Until next time,
Happy Travelling
Trev
Selby Town v Sheffield 25th August 2003
It's a Bank Holiday and I'm actually off work today for a change, which is good because the kick-off is at noon. Big surprise is that there's no Deano, Maz or Steve joining us today, but John is coming along and then doing a 'Billy Big Lens' by taking another match in straight afterwards. Yes, he'll still be able to get to Hillsborough to watch the Owls as well. He's not driving there though, that is Stu's job today as we won't get back into Sheffield until just before three o'clock, and if John had the car he would need to go home to park it so missing at least twenty minutes of that match. Anyway, Sammy does get a bit of a run-out as John picks me up to go to his house which makes for an easier start for Stu. We also have our ace 'cub' reporter Liam who's coming along with his dad, with weather as it is this morning (dull and cloudy) I expect his match report will include - 'It's raining'. He's very economical with his words is Liam. John puts Sammy away and we stroll down the road to meet Stu. Liam jumps in the back with me leaving John to the passenger seat although he won't need to give any directions because Stu knows the way with his eyes close (what a frightening thought !) We spend the time helping Liam answer his footie questions in his magazine while he also tells me all about the new pyramid system of the leagues - his dad's got a lot to answer for. With hardly any traffic on the road we are there within the hour and go straight in to meet up with Geoff and Billy Big Lens. Then, as it's nearly noon, to the snack bar. Calamity as they have no food available yet so it's three teas, no four, oops no five. Yes as we all file in and I keep on upping the order for the tea lady who's smiling on the outside, but I bet she was spitting feathers underneath the smile !
First half sees us kicking towards the stand so we go and sit with the others who've made the trip making a merry band of a dozen Sheffield supporters. Liam has his orders NOT to fall through the seats like he did a few seasons ago! Playing well and taking the game to the league leaders we go one up through the'Black Pearl' with a turn and shot from the edge of the six yard box. It's Minstrels all round to celebrate. Geoff has moved to the side of the pitch, but his special hearing detects the rustling of the Minstrels packet as he looks in our direction. We offer some to him (you can never offer one to Geoff) but he wants us to throw them as he's no intention of walking to us, so he has to wait as we are all settled and in no mood to shift ourselves. On the pitch we give our usual goal away as some slack defending lets the home side back in it and that's the way it stayed up to the break.
It's back to the snack bar for food, it's hot-dogs or hot-dogs. Just before I get in the door I get a phone call from work so spend five minutes sorting that out. Once done I go inside only to be told the food has all gone !!! Looks like I'll have to have double Minstrels for the second half instead. This half has the same pattern as before only this time it's Selby who strike first as the Sheffield defence is caught napping by a quick throw in. Our cub reporter is bored now, so he's busy filling in the holes on the uncovered end! We are still doing most of the attacking and are eventually rewarded when Schoey finds the net to pull us level. The Minstrels have now gone so it's time to make inroads into the Mini Rolo's. These last a lot longer because Geoff 's not too keen on them! With ten minutes to go John disappears to get himself ready for the journey home whilst me, Stu and Liam make our way round towards the exit ready for a quick getaway. A few minutes later John emerges in his Wednesday shirt, much to Liam's disgust ! Sheffield almost snatch it at the death with a couple of efforts from consecutive corners but the game ends all square and off we race to the car as though we were starting in Le Mans, Liam having his own pit stop at the back of the car.
Out of the car park and Stu phones Lynn to tell her he'll be home in 20 minutes, at which point John's face drains of all colour ! We get on to the subject of team nicknames which are in Liam's magazine. The question was, 'who are nicknamed The Hornets?'. Well if you don't already know (the answer is Watford) our Stu is a Luton supporter(Watford being there biggest rivals) so he replied with the kindest answer he could think of at the time which was -cacky poo shit poufs, which had Liam laughing his head off. Luckily the little fellow then fell asleep and for all we know he's forgotten what was said. Now, you may have guessed from earlier that Liam doesn't support Wednesday. He supports three teams and if ever you ask him who he supports he always answers thus:- Dinnington Town, Sheffield and Sheffield United. Don't ask why but he always says it like that. Personally I think he's got the first and second in the wrong order! We arrive at Hillsborough and there's still ten minutes before kick-off as Stu pulls up outside the kop and John leaves us for his second match of the day. Liam has just woken up and Stu has to tell him that he's not having a nightmare as the big owl stares down from the side of the kop. It's then a quick trip up Herries Road and home as Stu drops me off at the library. Just in time to turn the telly on settle down and.....fall asleep.
Until next time,
Happy Travelling
Trev
Selby Town v Atherton LR 26th July 2003
Yet another pre-season friendly with a difference as me, Sheps and Deano take a trip to Selby to go and watch one of our 'link' sides. We're to meet up with Tim (Lees) from Atherton LR who we first contacted some three or more seasons ago and have kept in touch ever since. As usual of late it has been bright sunshine in the morning and now as I stand waiting to be picked up the clouds are gathering, but the shorts are on anyway. In fact when Sammy arrives I notice that we are all in shorts, so that should scare the locals off ! A steady journey there sees us arrive in plenty of time and just by way of a change we drive into the centre of Selby and up to the Abbey before heading for the ground. As we get out of the car Deano dons his safari hat to which me and Sheps do have to take a second glance. He looked like that bloke on the tv who goes chasing crocodiles - needless to say we gave him some stick but as usual Deano came back with some quips of his own.
Into the ground and as we get the programmes Tim arrives. We then listen to one of the club members try his best to persuade us to buy some raffle tickets, to which John and Tim finally crumble and hand over their money. He asked us if we'd come to spy on them (ha-ha) but we replied no, we'd come to find out what time the kick-off was against Sheffield on Bank Holiday Monday. He said that at present it hadn't been decided but it was usually 11 am - I just hope I'm off work that day if it is. As we were having a quick drink in the club house a guy from Dartford was asking about how to get to our Coach & Horses ground as he'd just moved up to Newark and was a groundhopper. I told him to look on our BTF site but be sure to visit before November or after May, just in case we've had a bit of rain ! Then it was outside into the bright sunshine to join the thronging crowd of about 35 ! It's not bad is it when the away supporters number a total of four and three of them actually support a different team anyway ! No goals in the first half but entertaining enough with some good football from the players, some very strange decisions from the officials and Barry Massey playing for ALR. I think this season the ALR fans may take bets each match to see how long it is before he gets booked/sent off !
Back to the club house for food, well you had the choice of hot dog or hot dog ! The second half saw us lounging behind the goal which the visitors were attacking. Selby got two goals in quick succession whilst Atherton were denied a blatant penalty. The ref then awarded LR a penalty for the most outrageous dive I've seen so far ! However the keeper saved it although Atherton did score a consolation goal later in the game.
Back to the exit and Tim goes to claim his raffle prize, yes, he didn't win the lovely wrapped basket of fruit - but the plate of meat wrapped in cling film on a polystyrene tray. After examining it we told him to make sure that he sent us a message by Tuesday at the latest, just to let us know that he was still alive, I'm sure I saw the sausages and chops still moving ! We then said our farewells and we set off back home.
John said that he was going to try a different way home and just after he said that we could hear Deano phoning Maz and telling her "Don't get the tea ready until 7pm. Now it may just have been a coincidence, we shall never find out the truth. Anyway Deano starts looking at the map and said that on previous trips they'd gone home Doncaster way and through Askern. He then gives me the map to which I said "What are you giving me this for" with a quizzical look on my face. He said "It's an atlas Trev, you use it to find the way to different places, preferably the ones you are supposed to be going to at the time" It looked pretty with lots of coloured lines on it but I couldn't make out what it was supposed to look like. I think it may have been one of those funny picture things that you have to squint at to see the real picture !!! Anyway onwards through Askern and Deano phones Maz again to check on the name of a furniture store we should pass. The name is given and yes we are on route as we pass by it. John is enjoying this adventure and now at every junction he's saying out load "This looks interesting, we'll go this way". Well believe it or not we arrive home whilst it is still light after a very enjoyable afternoon !
Until next time
Happy Travelling
Trev
Maltby v Sheffield 23rd July 2003
There's a strong wind blowing, the clouds are on their way, what happened to the warm sunny summer evenings for pre-season kick-abouts ? John picks me up at the usual place and off we go. There's only the two of us in 'Sammy' tonight as Deano is giving this one a miss. He's feeling off colour (could it be a whiter shade of pale, or even a purple haze ?) Apparently he's got an inclination, we all hope he feels better for owning up to it. Just so as not to upset the balance of the car John has a 25 k bag of bird seed in the boot !
Billy Big Lens is due to turn up and I phone him to tell him there's a lot of young 'uns in. He thought I meant children in the ground and was wondering why I was telling him that. I of course was referring to the fact that with us having another game tomorrow our side would feature some of our under 19 squad ! As the teams are warming up Steve (Hall) tells us to watch out for the Maltby number 5. It's only when we looked we recognised that it was Marchie ! He came over to say hello to us and have a chat. The home side then left the field and our lads were still busy warming up when the ref came out with his assistants ready to start the game - and it was only 7:15.
The game did kick off on time and by then the Sheffield congregation had increased as Alan and his daughter Caroline had turned up and after experiencing the away games for the first time last season look like becoming regulars. Stu had also arrived with ace young reporter Liam clutching his notepad in anticipation. We are still only five minutes into the match when Dennis and his son arrive sporting a new crop hairstyle. The teams were playing in different colours to usual, with Maltby in blue and red stripes and us in our blue away kit. Dennis makes a scathing remark about who chose the colour scheme for this game and I replied "The same bloke who cut your hair". In fact we were having such a laugh that we missed Maltby score their first goal. The Minstrels made their first appearance of the season and they worked as the goals kept coming - the only problem being that Maltby were scoring all of them ! Once he got over his initial reaction of avoiding strange men offering sweeties Liam was well into the Minstrels and couldn't wait to get his hands on them. I think Geoff has a serious rival here for who can get the most Minstrels. Funnily enough when John changed and got the Mini Rolo's out Liam wasn't bothered, preferring to wait until the Minstrels made a reappearance. Half time and 4-0 down but who cares, we were enjoying ourselves. By the way, we had Mickey (Mouse) Stewart back in the side and he looked the fittest player on view, but perhaps someone ought to show him a dictionary and the description of the word friendly !
As the players came out for the second half some comment was made to 'Schoey' to which he replied that we would win the second half. It was a much more entertaining game this half and the youngsters did themselves proud, and we did win this half with a single goal making the final score 4-1. Of course everytime Marchie got the ball we 'barracked' him but he took it in good fun and came to say farewell at the end of the match. A quick getaway then and off home. On the way we went in search of a petrol station so I could get some milk, eventually managing to get one at the petrol station near home. Of course by now it's raining but hopefully the match will still be on tomorrow (Thursday). That was a joke - honest ! It's time for a cuppa and a bowl of Shreddies to finish the day off.
Until next time.
Happy Travelling
Trev
Dinnington T v Rotherham Utd 19th July 2003
For the second week in a row me and Sheps are at Laughton Road for yet another pre-season game.Once again it's a lovely warm day but thankfully not as hot as last week.The two of us are like the walking wounded as his back is aching and mine is absolutely killing me, I know the badminton last night was a bit hectic,but not as bad as that.It hasn't helped doing a full shift at work either before he picked me up. I was nice and comfy in the car,it was only when we were in the car park at the ground that I was in trouble.In fact I think I gave a first class impression of Deano getting out of the car,you ask Dave.We were down the far end of the car park and it took me until we got to the way in to straighten up ! First stop was the bar for something cool and refreshing.The community centre was in full swing again with a kids disco , bowls and even a bouncy castle. A decent crowd again for this one with quite a few Millers fans there.
It was a lively first half and certainly contained a lot more action than last week with Rotherham just shading it on chances, although Ben Rosser almost scored an identical goal to last week but the teams reached half time still waiting a goal. Back into the centre for a cuppa and some crisps and a welcome sit down for these two cripples ! Not long into the second half and Rotherham take the lead,about time really as we had been commenting that their forwards were about as good as Shefki Kuqi ! Dinnington were by no means out of this game though as numerous chances went begging on the visitors goal.The equaliser eventually arrived when a pin point pass found Simon Mirfin in the area and he took the ball in his stride to blast it past the keeper. With time running out both sides went looking for a winner and it was Rotherham who grabbed it with a shot from twenty five yards into the bottom corner with only a couple of minutes left. The referee blew for full time before Dinnington had chance to mount another attack to bring a very entertaining game to a close.
On the way home we stopped off for John to pick up some stuff from work and while he did that I listened to the local scores from today's friendlies.As he drove me home I told him the Owls score (3-1 against Macclesfield) and as I was smiling at the time he said "Don't tell me,Kuqi got a hat-trick " To which I nodded. I'll not repeat what his next words were ! So it's off to Maltby next to see our Red and Black wizards in action.Until next time.
Happy travelling
Trev
Dinnington T v Sheff Wed U19's 12th July 2003
Well it's back in the old routine, if it's Saturday it must be football (unless Sheffield should be at home between October and April, in which case just pray !). Today me and Sheps are off to see our third team which could be either of them ! It's a sweltering hot day so it's shorts for both of us (me in my shorts of many pockets) and the windows fully down as we take the journey to Laughton Road. In fact it only took us 25 minutes, which is quicker than getting to the Coach and Horses. There's a big crowd already there when we arrive. No need to get the progs though because a phone call last night to Billy Big Lens took care of that, although I had to phone him when we got in the ground to find him. He was hiding in the bar with big Steve, he said it was just to get out of the sun but I'm not too sure. Stu was also there with his son Liam so it was like a mini Sheffield gathering as we also met up with Dave (who John knows from work and is now coaching the Dinno under 18's and his son Danny). They've been down to the Coach on quite a few occasions.

It was Mark Smith's first game in charge of the young Owls side since his appointment from Barnsley and the team were well turned out in the new home strip which at last has a plain blue back so at least you can read the numbers ! Dinnington were also in their new kit, no longer yellow and black hoops but more yellow with black trim. The big news from Dinnington is that our ex-Sheffield star Liam Cartledge has moved on, he's joined South Normanton. It was a lively start to the game and Stu let ace cub reporter Liam take over his pen and paper for the day, although at half time he had only written that it was hot ! Anyway I'm sure that the full match report is on the site if you look carefully. Considering the conditions the footie was good and we also had the chance to have a natter to each other after the end of season gap. Most of the talk was of Richard Tims and his visit to Barcelona along with 'mystery man' Roger Clinton and the great publicity for the club. Bill also told us of his exploits on the bowling green next to the pitch 28 years ago to the day as that was the day he got married ! When he phoned Gwen (she had other things to do today ) we shouted 'Happy Anniversary' down the phone and Bill told her he'd bought her the same thing that she had bought him - nothing ! Just before half time Dave and Danny came round to stand with us.They had been with Steve Toyne by the dug out but the language was that filthy and disgusting they'd had to move away. it wasn't Steve that was being verbal but a group of women !

No score at half time so it's back to the bar for a very refreshing cool drink before once more venturing out into the blazing sun.(I wonder if I'll ever get to use that phrase again this season ?) As was to be expected there were plenty of changes during the second half, no big names in the Owls side although they did have Danny Wilson's son playing and also Terry Yorath's son was in the goal for the second half. We did manage to see some goals as well. Ben Rosser, who had a great game rifled a shot into the corner from just inside the box to give Dinnington the lead, and, despite some all round good defending the home side conceded an equaliser with just 6 minutes remaining when the young Owls player was put through in front of goal and made no mistake with his shot. So it finished 1-1 and as the final whistle blew we had our first streaker of the season as a young lass discarded her bra and ran onto the pitch to congratulate the players !

We attempted to take a different way home when Dave said to John " Just turn right out of the car park and follow the signs for Wickersley ". This we did and we no we didn't get lost, although once we reached my home John decided to call Dave and when he answered he said " We're in Wickersley Dave, where do we go now ?" John said he nearly had a heart attack until he realised that we were only kidding. It was certainly a good start to the season, only another ten months to go ! Until next time.

Happy Travelling,
Trev
Dinnington Town v Sutton Town 10th May 2003
We thought the footie season had finished after our journey over the Pennines on Wednesday night, but no. Stu told us that Dinnington were playing their last match of the season at home, so John and I decided to take this one in as well. John picked me up straight from work and we found our way there with no trouble. We didn't use a map once ! We arrive fifteen minutes before kick-off and they've already sold out of programmes on the gate. Luckily we go straight into the resource centre for a cuppa and John manages to get the last programme for sale.
It's Dinningtons biggest gate of the season (approx. 75) as Sutton have brought quite a few as they can secure runners up position in the league depending on this result and the one involving the only team that can overhaul them, South Normanton. Liam Cartledge has been warming up but as we bump into Steve Toyne just before kick-off he tells us that he won't be playing as he hurt his ankle in a mid-week match and he feels that he can't really put a lot of weight on it. However, he has still walked away with the leading goalscorer title for the league. We make our way to the side of the pitch as the match starts and it should be fun because the locals are also playing a game of bowls on the green behind the goal. Funnily enough the ball only went over there once during the entire match.
Dinnington start the sharpest and are on the attack straight away and have the majority of possession for the first quarter of the game. The Dinnington centre forward for today is Rob Ward. Now for those who don't know, Rob also has registration to play for Ossett Albion. Not only that but a few weeks before we were giving him abuse as he was sent off at the Coach and Horses for elbowing yet now here we are cheering him on to score a goal - how unreal is that ??!! On twenty minutes Sutton take the lead as a corner is helped straight into the net by a pretty strong wind, although the Sutton number 9 was insistent he got the final touch. Just after that, as a ball goes flying over the perimeter, who should John see kicking on another ball from the opposite end to where we are stood but Billy Big Lens ! John has a wander down to tell him we are here, as I do my best to stop a clearance from the Sutton goalkeeper with about as much skill as a one armed juggler !
John returns to report that Bill and Gwen are staying put until half time. Bill's not got his radio today as he's taping the Doncaster match to watch later, so wanted to stand on his own so hopefully he wouldn't hear the score. John says he's a good mind to go to the car at half time and find out what it is so as to get his own back for the times he's 'unwittingly' told us a score at night games when we were going to watch the highlights later ! Back to the action and Sutton are awarded a penalty but the Dinnington keeper makes a fine save to block the kick as it flies to safety. Just before half time Sutton double their lead as a corner from the opposite side has the very same effect, only this time it was touched in by a Sutton forward.
As the whistle blows we go and look for Bill and Gwen but they've vanished so it's back inside for us, and another drink. Just when we have nearly finished they both turn up. They had been into the town to get a sandwich. We didn't know at this stage whether Bill had been able to get a programme so John said that if he hadn't we'd let him squirm for a bit and then John was going to offer him his. In the end it didn't matter because he did manage to get one but he hadn't got a team sheet, so we gave him one and you would think we'd given him the world. He's not hard to please is our Bill. John told him that Donny were winning 3-0 as well, but straight away said that he was only joking and didn't know the score at all. In fact at the end of the match the referee was asking people for the score and no one knew what it was ! Just to show what a kind and caring husband Bill is, he told Gwen he would hold her coffee while she went back to the car to put Bill's team sheet in a safe place. Mind you she had some fun getting the car keys because he'd put them in his jeans pocket and she was taking an awfully long time to find them. Bill didn't mind though because he'd got a big grin on his face and his eyes had a glazed expression on them !
Back outside for the second half and Dinnington now have the advantage of the wind behind them and although they were creating chances Sutton were still looking dangerous and the home defence had to be on their guard. As we were watching we were also having a good old chat and eating the last of this season's Minstrels (many thanks to John for keeping us supplied all season, and I'd also better mention Geoff as well because he did remember to bring some a couple of times).
With ten minutes left Dinnington finally got on the score sheet but try as they might they could not get the second one to level the score. As the final whistle went the Sutton players were delighted that they had clinched the runners up spot and were presented on the pitch with their individual trophies. We say a farewell to Bill and Gwen and tell them of the friendly already arranged against Mansfield. Bill thought we were kidding but we told him it was true. We had a word with Liam and also Greg Waller, another ex-Clubbie and then said goodbye to Steve Toyne, who thanked us all for coming this season and he hopes we get a lot of postponements again next year ! Then it's homeward bound from our last 'live' match for the season, I think anyway. The day is rounded off by going to the Sheffield presentation evening, and you'll see who won what on the site. Well there's still the F.A.Cup Final and the play-offs to watch on the television, so it won't be long to the pre-season friendlies.
Until next time.
Happy Travelling
Trev
NWCFL Cup Final - 7th May 2003