Hallam FC 1 Sheffield FC 2
150th Anniversary Fixture
Monday, 02/05/11
Sheffield FC completed their season with a narrow victory over Hallam FC in the commemorative fixture at Sandygate to mark the 150th anniversary of the first ever inter-club football match writes Roy France. The game had been postponed from Boxing Day due to the heavy snow and perhaps this was a blessing in disguise as a bumper Bank Holiday crowd enjoyed a sun drenched historic occasion. The match sprung to life in the final quarter and after Hallam had taken the lead Sheffield rallied with two goals to retain the Alan Cooper Memorial Trophy on offer.
Sheffield, playing downhill, had the early pressure and long range efforts from Steve Woolley and debutant Daniel Kirkland, previously of Buxton, tested Adam Valente in the home goal. Hallam caused a couple of skirmishes in the away goalmouth following a couple of corners. Midway through the half the lively Delano Stewart-Jones for once got the better of Jack Smith but his shot was saved by Dan Whatsize with his legs. A welcome water break came on the half-hour as neither team could create any supremacy and the game meandered along devoid of major incident either side of the interval.
On 56 minutes Hallam, now enjoying the slope, broke down the right and the ball was played infield for Craig Getliff to shoot fiercely but Whatsize managed to turn it round for a corner. Both sides made a number of substitutions with Sheffield now pushing Woolley and Dan White up on the left with varied success. Play was becoming much more open now as firstly Aaron Moxam drove straight at replacement keeper Brad Mimms and Jamie Hadfield just failed to get on the end of a wickedly in-swinging Woolley corner. The yellow booted Kirkland then fired over a cross which Purkiss flicked on to Woolley who could only hit the post from point-blank range.
In the 77th minute Hallam took the lead when a thunderbolt volley out of the blue from Getliff rocketed into the top corner, giving Mimms no chance. Sheffield were now stung into action and upped the pressure with neat build up play. At the other end Stewart-Jones had a good chance to make it 2-0 but overran the ball after rounding Mimms. The equaliser arrived on 83 minutes as Sam Barnsley held the ball up well and fed the overlapping Smith who cracked home an angled shot from about 15 yards into the roof of the net. It was all Sheffield now and Tom Roebuck juggled a Barnsley cross and volleyed home but was flagged just off-side. However on 89 minutes the winner came when the referee played a good advantage allowing Roebuck to find Harrison who teed up a ball for Charlie Tunnard to side foot home into the corner from 15 yards. In the third minute of injury time Hallam had the last chance but this time Mimms was equal to Getliff's shot.
New Sheffield Manager Mark Shaw was delighted at the final whistle. "That's one game, one cup!" he joked before expressing his pleasure at the way the team performed in the second half. "We played very neat attacking football and tried different formations which augurs well for next season." Club President Alan Methley presented the trophy at the end as the crowd showed their appreciation for the effort of both sides as the curtain came down on 2010/11.
Hallam: Valente, Carnell, Slater, Bownes, Wankiewicz ©, Darlow, Stewart-Jones, Getliff, Kistell, Moxam, Dykes. Subs Used: Rowley, Whittingham, Pond, Smith. Sub Not Used: Watts.
Sheffield FC: Whatsize (Mimms), Smith, Woolley, Gascoigne, White (Lewis), Hadfield, Kirkland (Barnsley), Harrison, Purkiss (Roebuck), Roney (Tunnard), Gosling (Norman).
Att: 500.
Lincoln United 4 Sheffield FC 2
Evo-Stik Division One South
Easter Monday, 25/04/10
Sheffield completed their League campaign with a defeat against Lincoln United at Ashby Avenue, writes Roy France, as the decisive moments of the match arrived in the last quarter with the squad left bemused by a series of disputed refereeing decisions. Despite the loss on the day Club finished in 11th place in the table as other result went in our favour as caretaker Manager Ian Whitehorne's brief spell in charge came to a controversial end.
On a sunny blustery afternoon on a dusty surface Sheffield forced a couple of early corners which ended with Jamie Hadfield heading over. Then a short free-kick was played to Callum Harrison on 11 minutes but from all of 25 yards he beat keeper Phil McGann all ends up but the shot drifted just wide of the right hand post. The home side's first attempt on goal did not arrive until the 21st minute when Jack Smith lost possession and Liam Bull's shot was deflected for a corner.
At the midpoint of the half Charlie Tunnard fired over from seven yards after Matt Roney crossed and then Woolley fired just over as Sheffield forced the play. However on 30 minutes Lincoln took the lead. Sam Mullarkey beat the offside trap and ran forward to shoot. The effort was partially saved by Dan Whatsize but in attempting to clear Dan White could only hit the ball against Mullarkey's shin and it rebounded into the unguarded net! Sheffield's confidence appear to suffer and our attack began to look slightly lightweight against the tall Lincoln centre-backs, one of whom, Sean Wright brought an end to a Sam Barnsley attack with a well-timed tackle just before the break.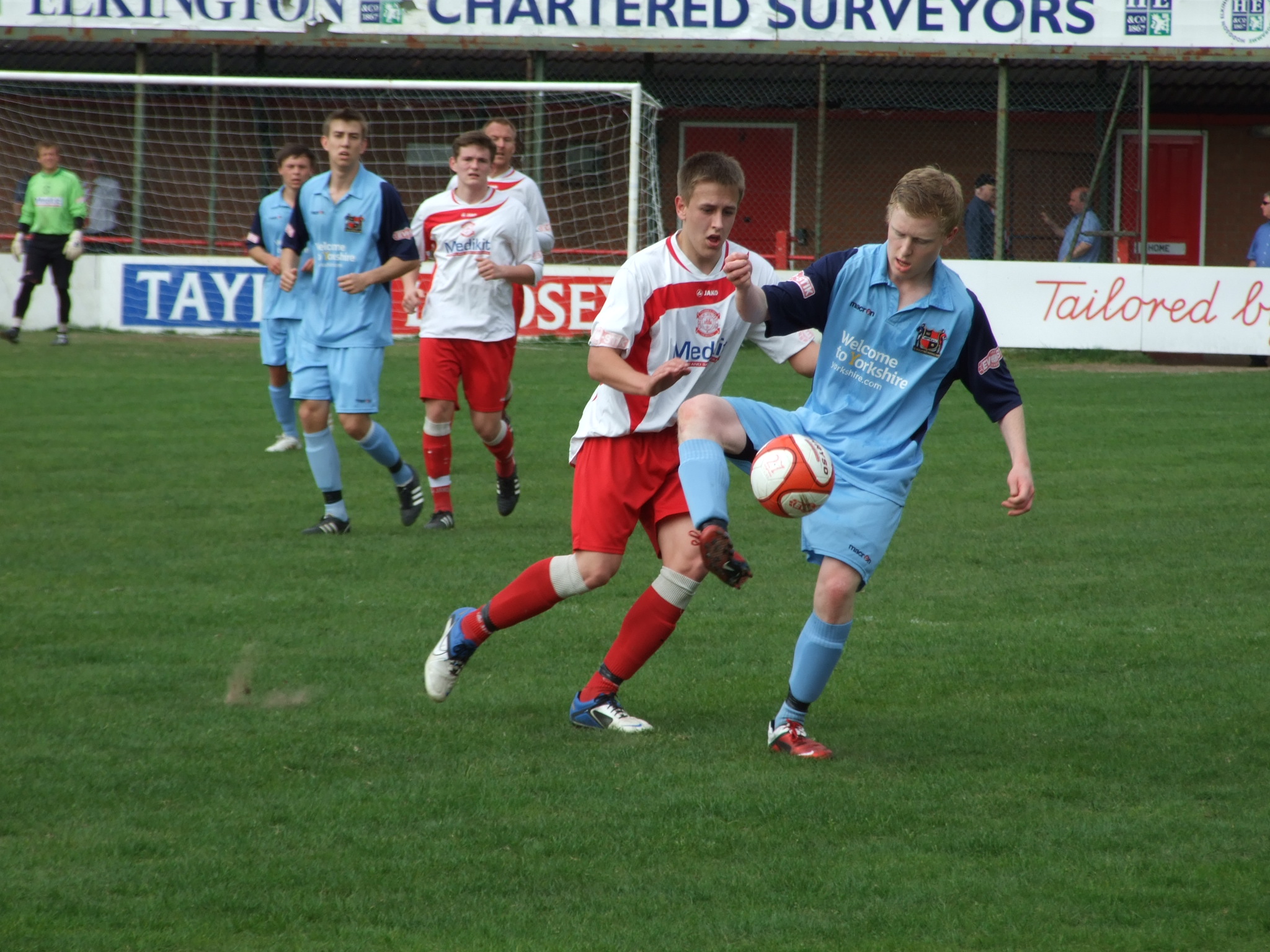 However it did not take Sheffield long to equalise after the break as on 47 minutes Jonah Gosling broke away on the left and crossed for the supporting Andy Gascoigne to drill home after a well timed run. Lincoln almost retook the lead but Mullarkey's lob over Whatsize finished just wide. Play was halted for a while when the elbow of Stuart Reddington appeared to catch the face of Tunnard in the box but the referee saw no foul and restarted play with a drop ball. Gascoigne was then booked after appearing to have been fouled.
As the final twenty minutes began both teams were striving for the vital third goal with Sheffield having the better of exchanges. A volley from Jordon Hempenstall beat Whatsize and the post whilst at the other end Tunnard turned well and shot just wide of the left upright. However on 74 minutes Lincoln netted when Hempenstall broke on the left and crossed for Mullarkey to side foot home. Six minutes later it was 3-1 as Mullarkey completed his hat-trick when he was left unmarked in the box to force home a Kallum Smith corner. The home side were able to score almost at will as two minutes later a Sheffield attack broke down and Jack McGovern set up Scott Coupland for the fourth. Club responded immediately and Jamie Hadfield got up to powerfully head home a Matt Roney cross to create an incredible 4-2 scoreline with seven minutes remaining.
Sheffield were really going for the comeback but were exposed at the back once more by Mullarkey but this time his effort went wide with only Whatsize to beat. At the other end Ryan Ruddiforth chased into the box and he too appeared to be felled by the illegal arm of Reddington. This time the referee waited for the forward to regain his feet before issuing a yellow card for alleged simulation. At this Whitehorne completely lost his cool and was ordered from the dugout. Worse was to come for Sheffield as Purkiss appeared to be brought down in the box but was also cautioned to the amusement of the home defence and soon followed into the book by Woolley for an innocuous challenge. At the final whistle Sheffield players again protested to the referee and a straight red card was shown to Callum Harrison. All in all an unsatisfactory way to end a game and the season.
Lincoln United: McGann, Fleming, Smith, McDaid ©, Wright, Reddington, McGovern, Bull (Orritt), Boyce (Hempenstall), Mullarkey, Zuerner (Coupland). Subs Not Used: Funnell, Turner.
Sheffield: Whatsize, Smith, Woolley, Hadfield, White, Harrison, Roney ©, Gascoigne, Tunnard (Purkiss), Barnsley (Roebuck), Gosling (Ruddiforth). Subs Not Used: Norman, Davis.
Att: 121
Sheffield FC 1 Romulus 3
Evo-Stik Division One South
Saturday, 23/04/11
It was a case of after the Lord Mayor's Show this afternoon at the Coach and Horses, writes Stuart James, as Club wrapped up their home league programme with an uncharacteristically lacklustre performance the belied their recent form. Following on from the attacking masterclass that destroyed Brigg in midweek, Sheffield looked a pale comparison to the side that had been turning in some entertaining and promising displays, eventually surrendering to a Romulus outfit that were determined to make tenth place their own. A seventh minute penalty from Nathan Walker set the tone for the afternoon, although an Andy Gascoigne volley midway through the first half stemmed the Roms' tide, giving a bit of hope that Club could go on and snatch the points. However a Marvin Johnson strike seven minutes into the second half set the visitors on their way, and when Rob Evans grabbed a decisive third midway through the second half, it was nothing less than Romulus deserved giving them a nice bit of revenge for Club's victory in the reverse fixture.
The recent hot weather brought the locals out in their summer clothes for this one, and like the players, they were caught out by a pre-match downpour that saw the pitch develop into a strange mix of a rock hard pitch with an extremely slick surface. Although there appeared to be no danger from either attack in the opening exchanges, it was this mix that saw the first goal inside the first ten minutes, as Sheffield succumbed to a basic defensive error. A wayward pass across the edge of the area by Steve Woolley saw Marvin Johnson pounce to get to the ball first, taking a touch that took it past Dan Whatsize, unfortunately the keeper was already committed and clattered into Johnson giving referee Plowright very little option. It could have been potentially worse for the hosts, however the referee deemed it only a yellow card offence, and when WALKER sent Whatsize the wrong way to give the visitors the lead Club could be thankful that was as costly as that mistake got. It also served as a bit of a wake-up bomb for Sheffield as they started to come more and more into the game, culminating in a tremendous run from halfway by Matt Roney, whose shot from the edge of the area produced a cracking save from Niall Cooper. Ashley Jackson had a chance to extend the lead on twenty minutes, cutting in from the left flank with a mazy run through the defence; however his deflected shot was easily dealt with by Whatsize. It was the home side though that looked most likely to be next on the scoresheet, with Andy Gascoigne bursting through from midfield creating the next opportunity; sadly the shot was easily dealt with by Cooper. There was nothing Cooper could do moments later though, as Jack Smith sent a telling ball in from just inside the Roms' half and with Purkiss diving under the ball to dummy the defence; GASCOIGNE was there to hook the ball home from ten yards to give a deserved leveller. Club started to turn the screw somewhat after this, and the hesitancy of the opening minutes seemed long forgotten, as the chances started to pile up. Chris Adam got behind the defence after some typically bustling play, only to fire across the goal, whilst Jack Smith saw his shot parried out by Cooper only to see Joel Purkiss back-heel the ball over the bar. In injury time Matt Roney had a chance to give Club the lead; however the skipper's header was never going to trouble Cooper, even if it was on target.
Callum Harrison faces up against Ashley Jackson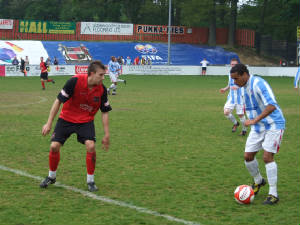 Photo by Andrew Turnidge
Any promise that Sheffield had shown in the latter stages of the opening period was soon forgotten, as Romulus came out looking like a team on a mission, and were soon rewarded with an early goal. Again it was a gift of sorts, as Whatsize's throw failed to find its intended target with Robert Evans intercepting before playing Shaun Link in on the right wing, Link's cross was inch perfect giving JOHNSON a simple volleyed finish. Romulus started to take control, stifling any threat that Sheffield had to offer, whilst countering with the swift breaks of the impressive Ashley Jackson. Just after the hour mark the game was made all but safe as Robert Evans broke beyond the home defence, playing in Naveed Arshad who hit a cracking volley that forced a great save from Whatsize, sadly for the hosts EVANS continued his run to slam the rebound in from close range. Whilst there was no addition to the scoreline, both sides went close, although neither keeper was really troubled. Matt Roney went close from twenty yards, Arshad saw his lob from a similar distance sail quite close, and Charlie Tunnard had a couple of efforts that could have resulted in a goal with a bit more luck. If anything though Romulus could have added to the trio already scored, with Dan Whatsize saving the day on two occasions – producing a fantastic double save from Arshad, followed by a great save tipping Johnson's effort round the post, following a cross from Nathan Walker.
After the game the "Non-League Mourinho" – Sheffield caretaker boss Ian Whitehorne – was in philosophical mood about his team's performance. "To be honest, Woolley was to blame for two of them and the keeper was to blame for two of them, even though we only conceded three! Seriously though, it was a game too far. We had too many people missing, with six players on other duties missing making it too much of a difficult job. Fortunately they'll all be back for Monday's game (at Lincoln United) so hopefully we'll end the season on a high note". Whatever happens in that game, whatever the result, it has to be said the possibility of a top half finish is nothing more than a bonus. Since the departure of Chris Dolby, the side has morphed into a highly enthusiastic and entertaining unit, that hopefully will form at least part of Mark Shaw's plans next season.
Sheffield FC: Whatsize, Smith, Woolley, Roebuck, Hadfield, Harrison, Roney ©, Gascoigne, Purkiss (Morley), Adam (Tunnard), Gregory. Sub Not Used: Davis.
Romulus: Cooper, Rob Evans, Rich Evans, Robinson, Male ©, Day, Walker, Link (Paskin), Baker (Arshad), Johnson, Jackson. Subs Not Used: Simpson, T.Evans, Exhall.
Att: 265.
Sheffield FC 5 Brigg Town 0
Evo-Stik Division One South
Tuesday, 19/04/11
Sheffield FC produced a tremendous display to see off play-off chasing Brigg Town to the tune of 5-0 at the BT Local Business Stadium on Tuesday evening writes Roy France. Against a much fancied side Club gained reward for an evening of enterprising, attacking football, the final scoreline being bloated by two late goals.
Under a virtually cloudless sky the opening exchanges were quiet in comparison with Brigg's noisy warm up in their changing room. The visitors played with a high back line and Sheffield were caught well off-side a few times. That began to change after 13 minutes when Adam's cross-field ball found Roney running from deep but the winger's cross led to a weak finish by Purkiss. At the other end Whatsize had to be sharp to clear from Ryan Paczkowski the forward getting injured in the clash.
On 16 minutes Sheffield took the lead breaking well from a Brigg corner. This time it was Chris Adam who sprung the offside trap as he played a one-two, outsprinted the defence and ran forward before firing a controlled shot past Andrew Pettinger. This was not part of Brigg's script and they pushed back strongly but the returning Dan White was imperious in making a number of timely clearances.
Just after the half-hour Adam again out thought the Brigg off-side plan and crossed first time but Jack Smith, up from the back, shot wide. Our pacy play was causing Brigg all sorts of headaches and next it was Jonah Gosling who broke through. His shot was parried by Pettinger and from the rebound Purkiss set up Gascoigne who pirouetted but fired wide. Sheffield were really growing in confidence and just before half time Harrison tried a 25 yarder which again Pettinger could only half stop but our eager inrushing forwards got in each other's way and Purkiss shot over the bar.
An interested spectator at the game was Scunthorpe United's manager Alan Knill who was watching Goole's Jonathan Williams, on loan from the Irons. Brigg must have had an interval roasting as they started the second half in much more determined mood. In the 46th minute referee Mr Parker awarded the visitors a free-kick seven yards out for a back pass from which Whatsize appeared to block with his face a fierce effort from Michael Jacklin resulting in treatment. Brigg's sustained pressure resulted in plenty of advanced territory and Anthony Bowsley drove just over as an equaliser looked distinctly possible.
However Sheffield gained a second wind and came back into the game with good efforts on goal from Adam and Gosling. On 69 minutes came the moment which tipped the scales in favour of the home side. A long ball was played up field in between defence and goalkeeper. Brigg's Lee-Roy Cochrane and Pettinger got in a mix as both tried to clear it and the ball fell nicely to Chris Adam who had gambled on such and he held off a despairing challenge from the goalkeeper and rolled a slightly bobbling ball into the corner of the net to make it 2-0. An object lesson in not giving up on what appeared a lost cause.
Callum Harrison rises highest against Brigg....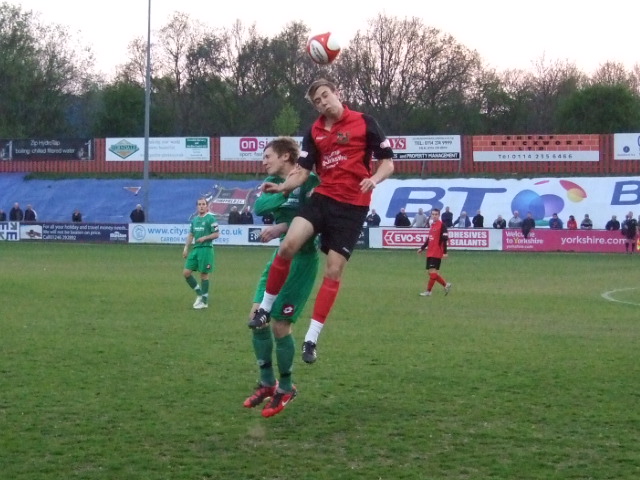 Photo by Andy Turnidge
Sheffield now really had the bit between their teeth and held the game's momentum and were rewarded again on 74 minutes. Woolley made a run up the left flank, played a superb one two with Adam, and ran on to perfectly lob Pettinger and put the result beyond any doubt. Brigg were now a beaten side as Sheffield continued to run riot before the appreciative home crowd. Two more goals came in added time to complete the rout. Firstly Roney crossed, Gascoigne shot towards goal and Adam deflected it in via a post for his hat-trick. Then Ruddiforth sprinted away on the left and crossed for makeshift centre-forward Darren Norman to side foot a half-volley into the net with delight. The whistle sounded soon after and Club walked off to deserved rapturous applause. Caretaker Manager Ian Whitehorne was rendered speechless by the display but later remarked, "You'll go a long way to see a better attacking display than that!"
So Club recorded their biggest win of the season by far and kept only a second clean sheet since November. This performance will live long in the memory for those present and really showed that the potential of the young side can be converted into convincing displays. Romulus are the next visitors to Dronfield on Saturday for the last home game of the season before Sheffield travel to Lincoln United on Easter Monday. A top half finish now looks a likely reward if this form can be repeated.
Sheffield FC: Whatsize, Smith (Ruddiforth), Woolley, White, Hadfield, Harrison, Roney ©, Gascoigne, Purkiss (Norman), Adam, Gosling (Morley). Sub Not Used: Gregory.
Brigg Town: Pettinger, Jacklin, Barrett © (Benson), Bowsley, Hellewell (Fisher), Cochrane, Chapell, Williams, Grimes, Paczkowski (Jackman), Buttle. Subs Not Used: West, Zand.
Att: 237.
Sheffield FC 1 Loughborough Dynamo 1
Evo-Stik Division One South
Saturday, 16/04/11
More 'typical end of season fare' as Sheffield battled back from a goal down to earn a deserved point against Loughborough Dynamo, writes David Bell.
The first half display from both sides could at best be labelled forgettable, with plenty of endeavour but very little end product. Strike partnership Chris Adam and Joel Purkiss linked well early on but produced nothing of note. A Matt Roney cross moments later just evaded Purkiss' head, again a non-chance so to speak. It took Loughborough fully ten minutes to signal their intentions, Lester's run and cut inside resulting in a tame effort. A Darren Norman header was placed just wide from a Matt Roney free kick just after and on twelve minutes, a Jack Roberts half volley was tipped round the post by Dan Whatsize.
It was Loughborough who broke the stalemate. Club rather invited EDWARDS to march forwards down the left to the extent that Whatsize found his shot from distance difficult to cover on the hard, bobbly surface and the visitors found themselves one nil up. Little else of note occurred for the remaining twenty four minutes of the half, although it would be fair to say that Loughborough edged the midfield skirmish.
To Sheffield's credit, the home side once again dug deep into their reserves of resilience with a much improved second half display. An early right wing cross by skipper Matt Roney was met by Chris Adam's sidefoot, producing a decent save from Kahil Mann-Kler in the Dynamo goal. The customary yellow card seemed to inspire Andy Gascoigne with an impressive twenty five yard left foot half volley that just went wide on 59 minutes. The Loughborough attack was completely nullified as Club registered further attempts from Roney and Gregory, whilst a neat Steve Woolley / Chris Adam one – two resulted in Woolley's dink being cleared off the line by Reece Lester.
Matt Roney clears the lines against Loughborough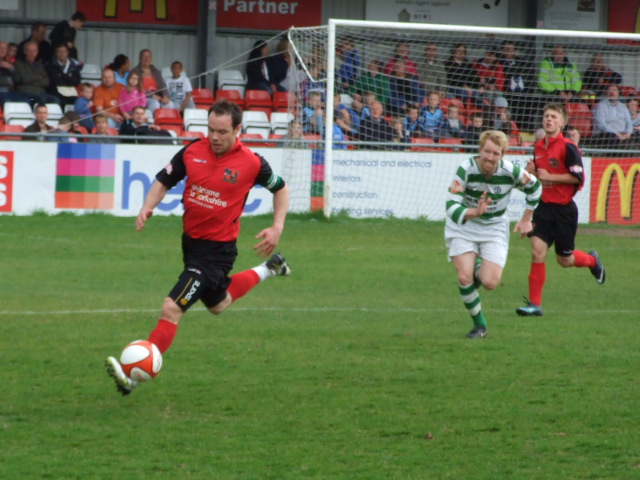 Photo by Andy Turnidge
The concerted pressure paid dividends on 69 minutes as another WOOLLEY venture forward saw skipper Karl Noble turned inside out on the left hand edge of the box and a neat right footed shot placed into the bottom corner to restore parity. Loughborough managed a couple of tame efforts through Langham and Edwards but it was the youthful Club side who produced the last chance worthy of note. Another Roney cross saw Adam mis-control with sub Tom Roebuck's shot just missing the target.
Another point, another more than competent display and the season winds on towards its conclusion with another home game on Tuesday night when Brigg are the visitors.
Sheffield FC : Whatsize, Ruddiforth, Woolley, Hadfield, Norman, Harrison, Roney ©, Gascoigne, Purkiss (Roebuck), Adam, Gregory (Gosling). Subs Not used: Smith, Barnsley
Loughborough Dynamo : Mann-Kler, Rennalls, Betts (Way), Noble ©, Jenno, Gibbons, Ross (Grocott), Roberts, Langham, Edwards, Lester. Subs Not Used: Hohn, Dale-Brown, Lonsdale
Att. 467
Parkgate 4 Sheffield FC 3
Sheffield & Hallamshire Senior Cup Semi Finals
Tuesday, 12/04/11
Club relinquished their grip on the Sheffield and Hallamshire Senior Cup in going down at Parkgate to the odd goal in seven after extra time, writes Roy France. An even and always entertaining encounter featured Sheffield coming from behind to equalise three times but the teamwork and no little skill of the NCEL side earned them victory, a celebratory night out and a date with Stocksbridge Park Steels in the Hillsborough final in early May.
Steve Woolley in aerial action...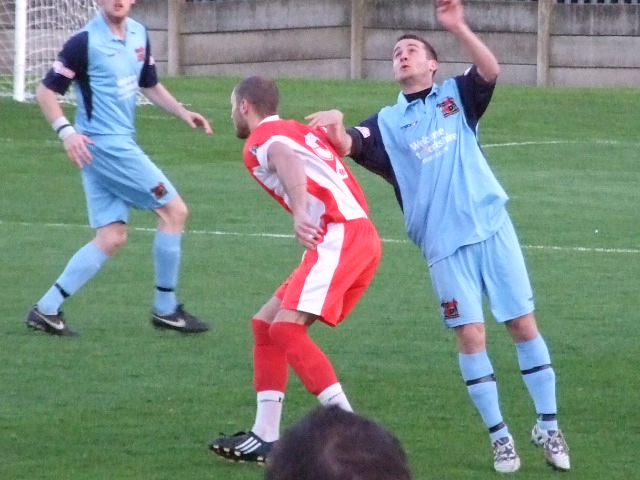 Photo by Andy Turnidge
On a pleasant evening it was Sheffield who made the early running with three good chances in the opening six minutes. Firstly Jonah Gosling received a Matt Roney cross, turned on a sixpence and fired just over, then Ant Lynam latched onto a Gosling ball but from six yards out his goalbound effort hit John Drennan on the head before Andy Gascoigne turned smartly but fired over as the goodly crowd tried to draw breath.
Parkgate were soon into the game though and the long throws of Daniel Cardwell saw them make progress on the right. On ten minutes ex-Clubbie Will Senior chipped a ball over our defence for Nathan Forbes-Swindells to latch onto but his shot was well blocked by Dan Whatsize. Our custodian was soon in action again turning over a fierce shot from Forbes-Swindells again after good set up work by Ashley Worsfold. The home side's play now was as bright as their shirts and they took the lead on 17 minutes when Chris Wood headed home a corner at the far post.
Andy Gascoigne threatens the Parkgate goal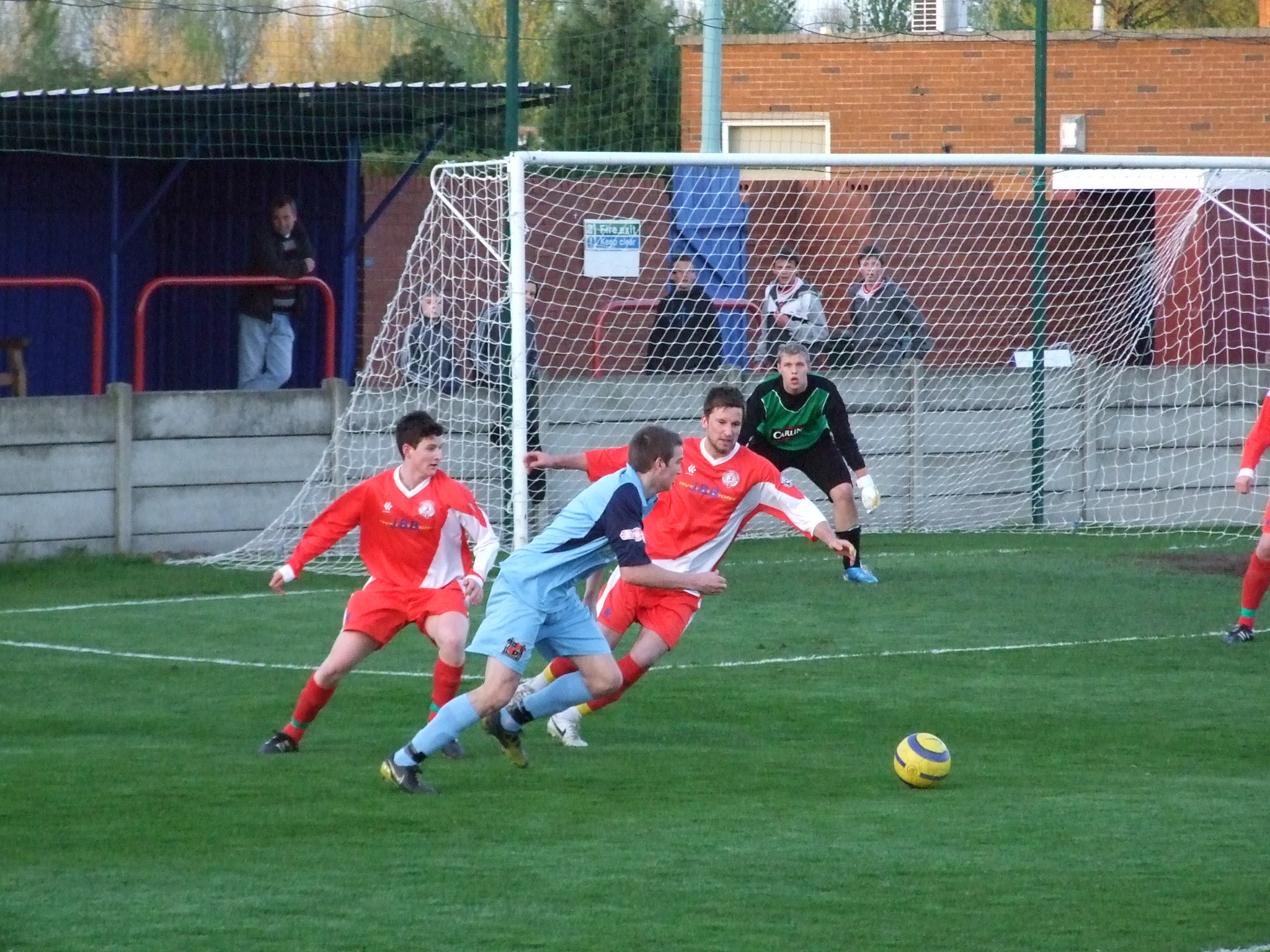 Photo by Andy Turnidge
The game was very open but both sides were playing controlled on the ground football and Wood almost converted a second header but his diving effort was just wide on this occasion. Back came Sheffield and Gascoigne was fouled on the edge of the box. Up stepped Lynam and his crisp low drive found the net past a wholly inadequate wall. Game on as the floodlights were lit. There was no goalmouth action for a while as the end to end sparring continued but Lynam could have given Club the lead on 36 minutes but fired wide after a telling run. Parkgate were insisting on the passing game and four minutes before the break this paid dividends when during an eight pass move midfielder Luke Fletcher made an unchecked run from the half way line into our box and finished clinically from ten yards to give the home side an interval lead. During stoppage time Cardwell was booked for kicking the ball away.
In the early stages of the second half Parkgate's possession game was well in evidence as Club manfully struggled to get a real grip of the game. Drama on 58 minutes as Whatsize sliced a clearance which Worsfold quickly latched onto and squared to Matt Griffin who blasted towards goal but Darren Norman had raced back to cover and head to safety. Sheffield introduced Chris Adam and he was to get involved in a spell of pacy build up play and threatening attacks down Roney's wing. Indeed shortly after Worsfold had volleyed just wide a Roney cross from the left found Jamie Hadfield unmarked in the box and he forced the ball home on 68 minutes.
Ant Lynam (not pictured) levels things up for Club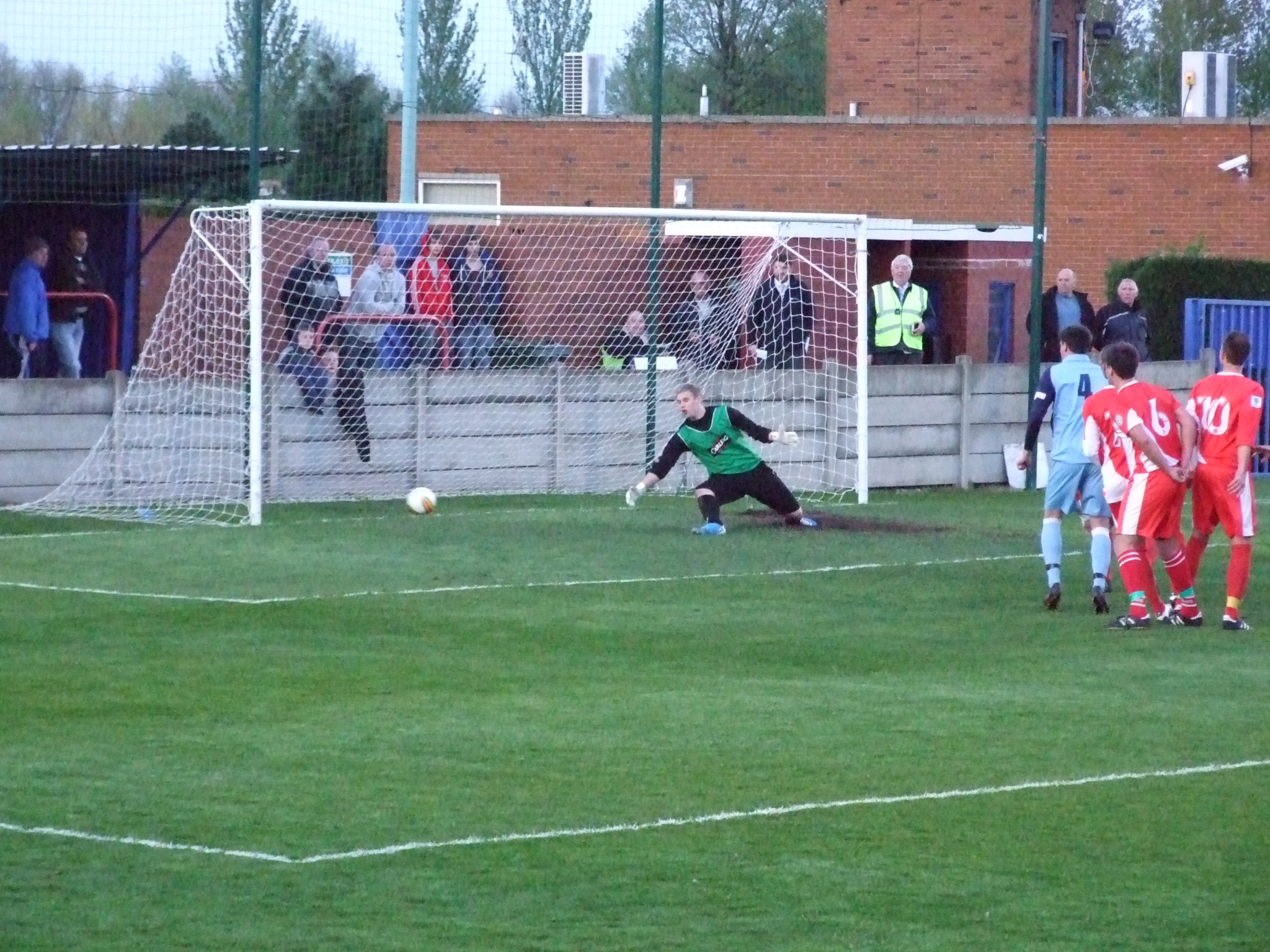 Photo by Andy Turnidge
End to end play ensued but it was Parkgate who forged ahead again courtesy of one of Cardwell's long throws landing at the feet of Wood who tapped home to make it 3-2. Thirteen minutes remained but Sheffield came flying back playing at a high tempo and Adam fed Jack Smith whose low cross was deflected towards goal by Joel Purkiss but James Jenkinson got a desperate boot to block it. The pace of the game was really picking up and another fast break from Roney on the right wing found Purkiss who pulled the ball back into the path of Adam who steadied himself and then drove sidefoot into the corner past Jenkinson to make it 3-3. Only minutes remained but still the chances came. A mad scramble in the Sheffield goalmouth came to naught and second later James Gregory was through on goal at the other end but this time Jenkinson was equal to the effort. So normal time ended.
Parkgate were soon on the attack and Whatsize had to adjust and acrobatically palm over a Janni Lipka effort. Sheffield replied but Purkiss could only toe-poke an effort straight at Jenkinson. On 107 minutes came the decisive goal when a cross from the left found home sub James Ghaichem unmarked and he slotted home with glee from close range. For most of the last five minutes there were 21 players in the Parkgate half, sometimes penalty area but despite a couple of scrambles the home side held out for a memorable win.
Sheffield are now left to play out the remaining four league fixtures, three at home starting with Loughborough Dynamo this Saturday, with only a shot at a top half place to play for.
Parkgate: Jenkinson, Cardwell (Ghaichem), Jerrison, Drennan, Griffin, Senior ©, Hannity, Fletcher, Worsfold (Major), Wood, Forbes-Swindells (Lipka). Subs Not Used: Clayton, Jowitt.
Sheffield FC: Whatsize, Smith, Woolley, Hadfield, Norman, Harrison, Roney ©, Gascoigne, Lynam (Adam), Gosling (Purkiss), Gregory. Subs Not Used: White, Lewis, Ruddiforth.
Att: 185.
Shepshed Dynamo 1 Sheffield FC 2
Evo-Stik Division One South
Saturday, 09/04/11
Club kept up their impressive unbeaten run up this afternoon at a warm and sunny Butthole Lane, writes Stuart James, as they overcame a spirited Shepshed outfit that looked so much better than their league position suggests. In an entertaining end-to-end game, Sheffield fell behind to a 30th minute Steve Shannon header, however the game was soon levelled as Sam Barnsley stunned the hosts with a thirty yard strike five minutes later. Despite both sides squandering chances to wrap the game up, it took until five minutes from the end for Club to grab all three points, as Steve Woolley took advantage of a sleepy Dynamo defence at a corner to rifle home from 25 yards.
What do you mean they've scored?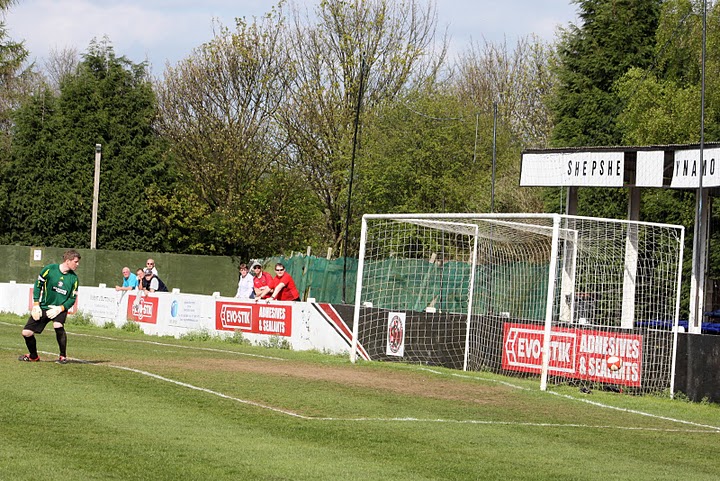 Shepshed's Gavin Saxby can't believe his eyes as Sam Barnsley's shot levels the game. © Ben Webster
With the temperatures in the high twenties, and with a bone-hard pitch, both teams would have been forgiven for playing the game at a slow pace. Not today though, as both sides decided it was a nice day to play a fast-paced opening, with the switches of play resembling a five-a-side contest rather than a full size game at the latter end of a tiring season. The first to shine was Jay-Lee Hodgson, who tested Dan Whatsize in the opening minutes with a cracking volley from a tight angle, with the Sheffield keeper doing well to tip the ball over. Moments later it was Sheffield's turn, as a Matt Roney corner met the head of Darren Norman, whose header was hooked away from the line in desperation. Next up it was Shepshed again, with Hodgson forcing a save from Whatsize with a drive from the edge of the area, with Shannon spooning the rebound wide. And so it went on... another Roney corner, a header from Jamie Hadfield, this time tipped over by Gavin Saxby. Hodgson once again had a chance after being put in, this time he clipped his effort just wide, but soon enough the deadlock was broken. Hodgson broke down the left, he played a nice little cross into the box, where SHANNON was on hand to loop a header over the head of Whatsize and into the net. There was little time for the hosts to settle on this lead, and on 36 minutes Sheffield had drawn level, although not many in the ground were aware of this. BARNSLEY picked the ball up on the halfway line, pirouetting around a defender and driving on with the ball before letting a strike go from fully thirty yards out, with Saxby looking as though he'd watched it wide such was his lack of reaction – only Barnsley's celebration and the referee pointing to the centre-spot woke everyone up to the fact it was all square. Just before the break Dynamo could have regained the lead, as an Elliot Atkin corner was met by the head of Darren Norwood, only for Jack Smith to hook the ball off the line.
What do you mean they've scored?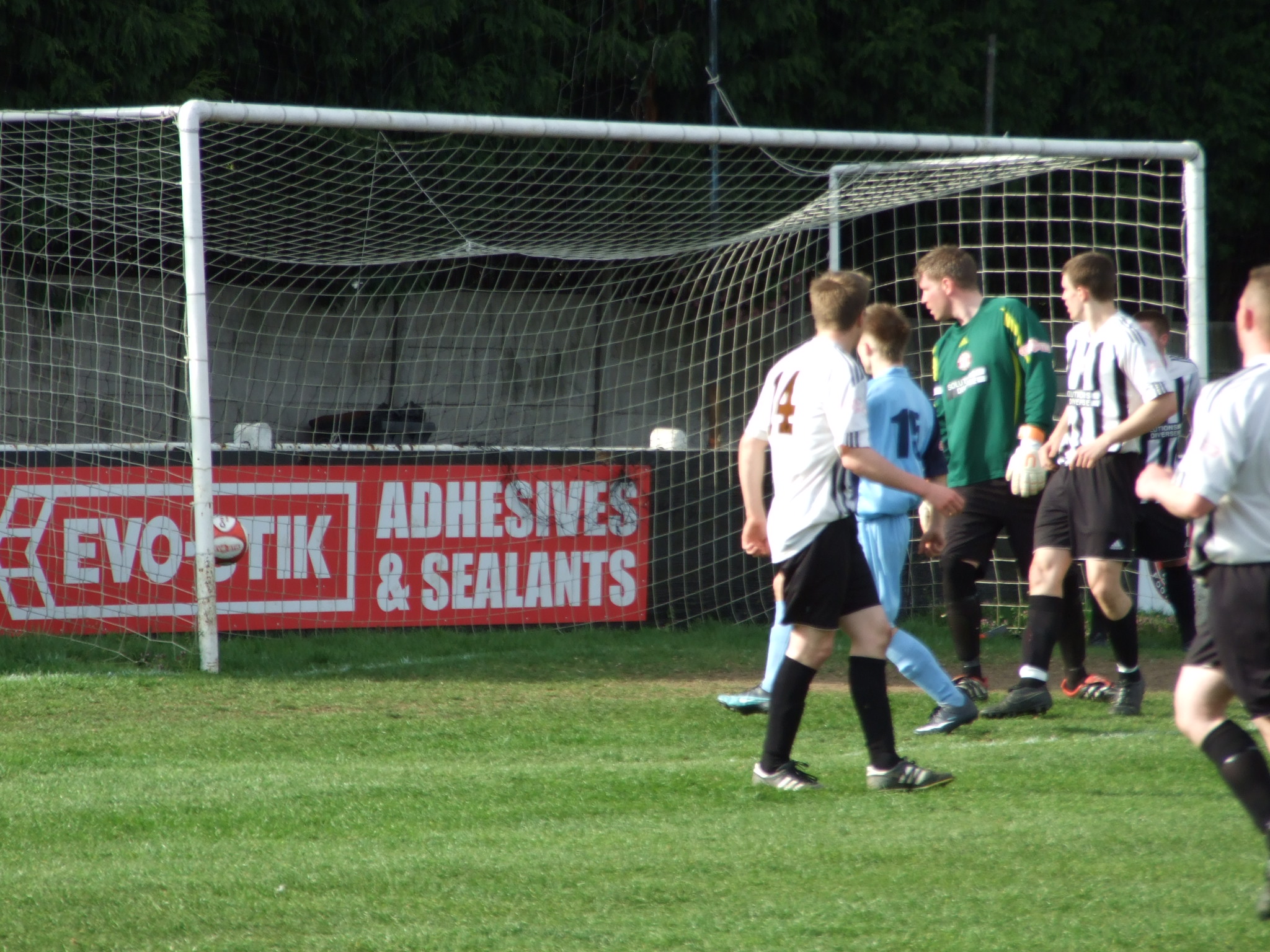 Shepshed's Gavin Saxby can't believe his eyes as Steve Woolley's shot wins the game. © Andy Turnidge
Smith was the saviour once again early in the second half, as yet again he cleared to safety, this time after a Sam Leggitt free-kick was met by the head of Atkin. Club looked dangerous as ever though from their clever little set-piece routines and Matt Roney caught the home team cold with a short corner to Jack Smith, the full back dinked a little cross onto the head of Darren Norman, with Darren Norwood the one this time who scrambled the ball to safety. As time crept on, both sides found the chances that had come so easily earlier on, much more at a premium. With just over five minutes to go Tom Roebuck held the ball up nicely, laying a ball off to Steve Woolley who let a shot from the edge of the area go, one which was tipped round the post by Gavin Saxby. From the resultant corner Saxby was still organising his defence when Matt Roney played another quick short one to Woolley, and he was barely aware when WOOLLEY struck the ball from the same spot he'd shot from seconds earlier, so it was no surprise there were plenty of recriminations as the Sheffield players trotted to the halfway line celebrating. In the dying moments Dynamo had a chance to grab the point their efforts probably deserved, as yet again the Shannon– Hodgson combination creating another chance, one that saw the latter seeing his shot saved by the feet of Whatsize.
The win puts Club up into twelfth, unbelievably within touching distance of the top half of the table, a feat that would have been thought impossible just a few weeks ago. The rate of improvement Ian Whitehorne's players have shown has been quite incredible, with games like this afternoon's now seen as expected wins, instead of the nervous uncertainties of February and March. For now the boys take a rest from league action, as they face a goal-happy Parkgate team who ran in five at Pickering in their game today, in the second semi-final of the Senior Cup. For once in this fixture it will be Sheffield who go in underdogs, with the Rotherham side's recent form suggesting they'll be as hard a proposition as any this squad has faced, and naturally favourites to meet Stocksbridge in next month's final at Hillsborough.
See more of Ben Webster's photos at http://bit.ly/f0iRVY
Shepshed Dynamo: Saxby ©, S.Carter, Wilson, Hewitt, J.Carter, Norwood, Brewer (Civil), Leggitt (Whyley), Shannon, Hodgson, Atkin. Subs Not Used: Dean, Mart, Jenkins.
Sheffield FC: Whatsize, Smith, Woolley, Hadfield, Norman, Harrison, Roney © (White), Gascoigne, Tunnard (Ruddiforth), Barnsley (Roebuck), Gregory. Sub Not Used: Davis, Lewis.
Att: 106
Newcastle Town 1 Sheffield FC 1
Evo-Stik Division One South
Thursday, 07/04/10
There are very few superlatives left to describe Sheffield's youngsters these days, writes Stuart James, as a threadbare squad headed to the Lyme Valley Stadium with virtually no expectations other than damage limitation and ended up putting in a performance that did colossal damage to Newcastle's slim title aspirations. The hosts were rocked by a determined display from the young Clubbies, as they headed home well after bed-time with a remarkable point, in a 1-1 draw that had even the most critical visiting supporters agreeing this was one of the best showings from any Sheffield team this season. Despite struggling to raise the bare eleven fit players to start the game, Club raced into a lead after just 50 seconds with Jonah Gosling's strike catching the homesters cold, and it looked like there was a possibility of a major shock on the cards. That lead was held until injury time in the first half when Jordan Johnson curled a free-kick into the net, and despite throwing everything at the visitors, they never looked like denying Sheffield a memorable result.
James Gregory leaves Karl Aspley in his dust!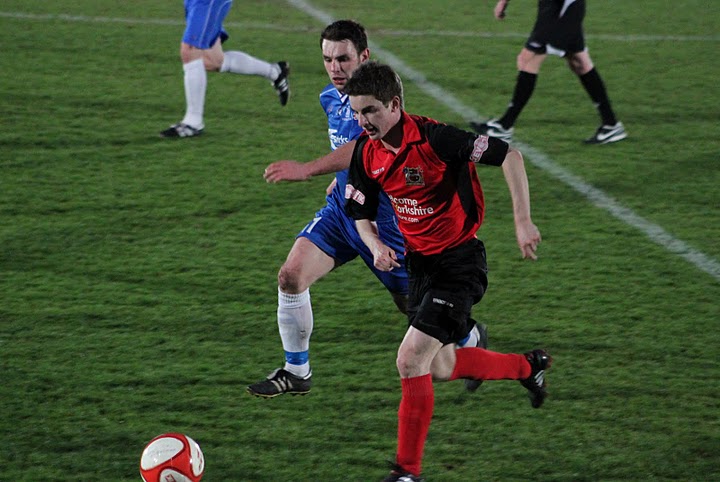 Photo by Ben Webster
Club were always going to be struggling with this one, as an unkind schedule had plumped this fixture against one of the season's form teams in a week that saw the majority of the squad involved in the previous night's varsity game, which itself had followed on from Tuesday night's fixture against Lincoln. Needless to say the side was riddled with knocks, pulls and all manner of injuries, so when Jack Smith was pulled from the teamsheet with sickness at the eleventh hour – throwing 16-year-old Ryan Ruddiforth into the unfamiliar right back position – you had to fear the worst with the outcome. So, when the first goal hit the back of the net in under in minute, you could say it was expected – only it wasn't the visitors that had buckled under the early pressure! A cross-field ball from young Ruddiforth picked out James Gregory, he in turn played the ball beyond the defence, leaving GOSLING breaking clear before lofting the ball over the advancing keeper's head to leave everyone present stunned. That most certainly wasn't in the script, and what followed was pretty much more of the same, as Club's nifty little heroes left their Newcastle counterparts chasing shadows. Newcastle's evident class started to show as the game wore on, with the visiting defence under a fair amount of pressure, but despite all this there was little to show for the hosts' efforts. If anything it was Sheffield that probably looked most likely to score next, as their opportunities were clearer than those of Town's, as Jonah Gosling showed on the half hour mark with a looping header that was hooked to safety by Ryan Dicker. As the half drew to a close there was a piece of mild controversy as a long ball deceived Dan Whatsize in the Sheffield goal, the bounce leaving the keeper a bit "in-the-middle" and colliding with Chris Budrys to give a fair shout for a penalty, with Ryan Ruddiforth hooking the ball to safety. In injury time though, Newcastle were awarded a pretty soft free-kick on the edge of the area, JOHNSON stepped up and curled the ball round the wall and into the corner. It seemed a bit of rough justice if anything, but the visitors almost regained the lead almost straight from the restart as a great Steve Woolley run fed James Gregory, who burst on with the ball and shot just wide.
Steve Woolley puts Jordan Johnson to the sword...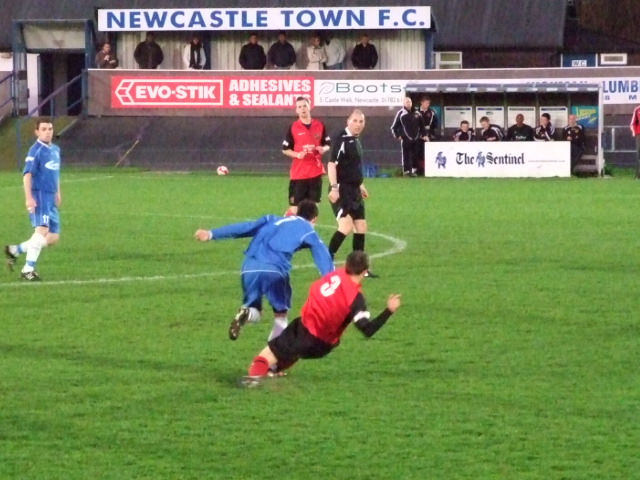 Photo by Andy Turnidge
When you have a first half performance like that, you have to fear that the euphoria of delivering that quality will lead to complacency after the re-start, this time you needn't have worried. The youngsters showed remarkable maturity in controlling the game; Callum Harrison controlling the middle like an ex-pro, whilst nothing was getting beyond Darren Norman and Jamie Hadfield to remotely worry Dan Whatsize. That's not to say that a team of Newcastle's quality didn't go close once or twice; Jordan Johnson had an opportunity to add to his tally – only to hook wide – whilst the same player found Whatsize in top form to produce a reactionary save that tipped his flick spectacularly round the post, after a great run and cross from Louis James. As the game progressed the young Sheffield squad's confidence grew, a fact epitomised by Ruddiforth who chased substitute John Sheldon into a corner, before embarrassing the Newcastle man with a tackle of Nigel de Jong proportions that earned the little 'un a yellow card. If Ruddiforth was having a blinder, there's nothing to describe the display Mr Whatsize was having between the sticks, "assured" is an understatement! The Sheffield custodian produced a save that made his earlier effort look ordinary, as Karl Espley turned in to put a shot arrowing to the top corner, the agile Whatsize simply dived the full length of the goal to turn the ball round the post to the appreciation of the majority watching. As injury time ticked on, déjà vú seemed to strike, as the previously infallible Norman handled the ball under very little pressure on the edge of area. As with the first half, up stepped Johnson, this time though the free-kick floated over the top... and to safety.
Razor Ruddiforth closes in on his prey - look out!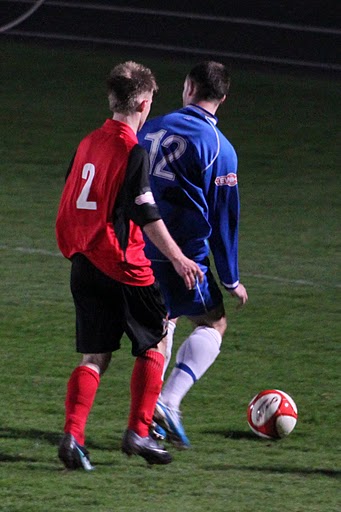 Photo by Ben Webster
It's not too often this reporter gets excited about a draw in a league game, especially when the best on offer at the season's end is a mid-table finish, but this was different in so many ways. The word "youngster" has been littered liberally around this page recently, but the side is full of just that (with the exception of the odd "oldie"), and they've delivered exactly what stand-in manager Ian Whitehorne asked of them. After the game Mr Whitehorne was full of praise for his charges – "that was a patched up side, the majority were playing out of position, and most were playing their third game in three days! We had players on the bench who just weren't fit, not to forget the last minute changes. I really couldn't fault their commitment, and when you consider the average age of that side tonight was under 20, we just proved we could do it. I'm just so proud of them!" We all are Wit, we all are! Sadly they won't have much time to recover, as next up is a trip to Leicestershire to face Shepshed Dynamo, another proper test of character.
See more of Ben Webster's photos from this game at http://bit.ly/hRAJ0K
Newcastle Town: Read, George, James, Donnelly (Willis), Dicker, Douglas, Johnson, Heler (Sheldon), Budrys, Richards (Nagington), Espley. Subs Not Used: Cliffe, Norton.
Sheffield FC: Whatsize, Ruddiforth, Woolley, Norman, Hadfield, Harrison, Roney, Purkiss (Ronksley), Gosling, Barnsley (J.Smith), Gregory. Subs Not Used: Lewis, White.
Att: 120.
Sheffield FC 1 Lincoln United 1
Evo-Stik Division One South
Tuesday, 05/04/11
Sheffield left it pretty late to salvage something from this dour contest, writes Stuart James, as two mid-table teams with very little to play for slugged out a rather scrappy encounter. After Scott Coupland wrote himself into Lincoln United's history books by capitalising on an under-hit back-pass in the 64th minute to score his club's 1,000th goal, it looked as if the young Clubbies' recent impressive form would be tarnished, after showing very little of the character of previous weeks. But as time was running out for the hosts, young substitute Ryan Ruddiforth stepped up to save the day for Club, earning an unlikely draw in the 84th minute.
The way the first half started belied the way it continued, as in the first minute the Whites' Jack McGovern's free-kick caught the head of Ryan Davis, with the looping ball forcing a spectacular tip over from Dan Whatsize. After that it was a case of bring on half time, with neither side creating much of note, and the ball pinging around in midfield without any end product. There were touches of interest in the half, notably when Chris Adam's trickery in the box forced a very nervy Lincoln defence to panic the ball to safety, whilst Steve Woolley fed James Gregory through on goal – only for the youngster to lose the ball in his feet. Other than that, absolutely nothing, it really did smack of a game between two sides who wanted just to get to the end of the season.
Lincoln's Kallum Smith fends off Ryan Davis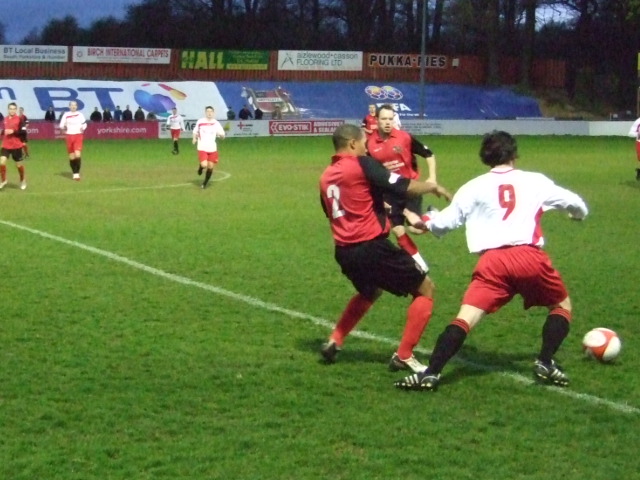 Photo by Andrew Turnidge
In contrast, the second half started as the first ended, with the ball pretty much stuck in the middle third. On a rare foray into the Lincoln half, Chris Adam stole the ball from a hesitant defence to play a cross to Joel Purkiss in the middle, sadly his shot was sliced wild and over. After being stuck on 999 goals for the previous 193 minutes, Lincoln were gifted the magical milestone after a rare glitch in an otherwise excellent performance from Callum Harrison, as his back-pass to Whatsize lacked the necessary strength – allowing COUPLAND to intercept, round the keeper, and tap into the empty net to the delight of his team-mates. It seemed that this was the only way for the game to spring to life, and spring to life it did – briefly – as Sam Mullarkey had two chances to extend the lead in a minute, firstly after Kallum Smith crossed to set him up on a plate, secondly after Scott Coupland threaded the ball through to give him a one-on-one with the keeper. Both chances were squandered, with Whatsize producing a particularly good stop with the second, but it proved to be the wake-up bomb Club needed. The introduction of the three substitutes gave Sheffield a new attacking dimension, and within moments James Gregory burst down the left to dig out a telling cross, with Sam Barnsley slicing over the top. With just over five to go Steve Woolley slid the ball through the middle, finding little speedster Ryan Ruddiforth in space and bearing down on goal, and with the youngster fending off a tactile defence that seemed smitten with the feel of his shirt RUDDIFORTH slotted home the equaliser. All of a sudden it became an end-to-end contest with both sides having great opportunities to snatch all three points, as Mullarkey wasted yet another chance after Coupland set him up, whilst the closest Club came was after Chris Adam's cross was headed over by Tom Roebuck.
In the end a draw was a fair result, not because neither side deserved to lose, but because neither side deserved the win. For periods of this game it looked like Sheffield's caretaker boss Ian Whitehorne's words "hard to motivate players with little at stake" seemed quite prophetic, yet conversely the class on both sides was there for all to see at times, sadly those times weren't that often. Hopefully the entertainment will return in a positive way on Thursday, as the busy week continues with a difficult trip to high-flying Newcastle Town, who continued their promotion push with a 3-1 win over Romulus this evening.
Sheffield FC: Whatsize, Davis, White (Roebuck), Hadfield, Lewis, Harrison, Roney (Ruddiforth), Woolley, Purkiss (Barnsley), Adam ©, Gregory. Sub Not Used: Lynam.
Lincoln United: McGann, Green, Porter, McDaid ©, Wright, Reddington, McGovern, Bull, Smith, Mullarkey, Coupland. Subs Not Used: Boyce, Fleming, Funnell, Zuerner.
Att: 177.
Kidsgrove Athletic 2 Sheffield FC 2
Evo-Stik Division One South
Saturday, 02/04/11
A real coming of age tale was written in the Seddon Orange Bowl this Saturday, waffles Ben Webster, as Club's young guns put the Kiddy-fiddling of two months ago behind them to register one of their more impressive bloody noses of the league campaign so far. Pegged back to 2-2 by their promotion-chasing hosts having earlier enjoyed a two-goal cushion, far from being crestfallen it was Sheffield who looked like undoing the Staffordshire knot once more as the clock ticked down on a sterling afternoon's football.
No need for any last minute jiggery-pokery on this away trip, the only standout change made from Tuesday being the return of James Gregory from his other commitments midweek, while Darren Norman was the preferred choice at centre-half after Cyrus Lewis's captaincy of the Under 19s on Thursday night. First impressions are a fickle mistress, and all the signs in the opening five minutes pointed to a scrappy contest as both teams struggled to impose their game on an unpredictable surface. It looked as if Chris Adam was merely following the script on 6 minutes, when he made a beeline for the right corner from Roney's lofted pass and ballooned his centre high across the area to absolutely no-one. Unless, that is, you count Norman, who decided today was the day to make an annual jaunt to the opposite flank, he managed to rescue the ball and slip it back inside for Lynam to control and for GREGORY to apply a cool finish low to the keeper's left, putting the visitors in front with the first real chance of the match.
Although giddy at the unexpected lead, for the travelling fans there was an uneasy sense of déjà vu from the last time Club had the brass neck of going one up against the Grove. Sure enough, it was their tormentor-in-chief at the Coach and Horses - spare tyre salesman Matt Haddrell - who led the charge, having an attempt blocked after some nifty footwork on the byline by Nick Ward, curling a 30-yard free kick just shy of the stanchion and getting his sizeable frame onto a number of deep deliveries and corners to put Whatsize through the paces. The rearguard appeared to have been cracked on 25 minutes when a long throw into the corridor of uncertainty ended with Haddrell making a hopeful stab towards goal, the ball ricocheting off Norman onto the post as home heads slumped into hands. At which point the visitors took some more vitamins and began to assert themselves once again, home custodian Hodgson being forced to turn away a Gregory effort when centrally placed 20 yards out, and watching helplessly as Ant Lynam brought ruin on yet another crossbar on the half hour - a Youtube video complete with Alan Partridge overdub is surely in the offing. Home defender Ward almost put through his own net moments later when his back-header from a Sheffield clearance trickled towards an empty goal, Hodgson scrambling back through heavy gales as Club fans tried to blow the ball over the line. After claims for a penalty at the away end as Adam went down under the close attentions of Craig Dove, an entertaining half was bookended by Liam Shotton bearing down on goal after latching onto a long ball from Sanders, steering his effort narrowly wide of the post with Norman on his tail.
Ant Lynam bursts through the Kidsgrove defence...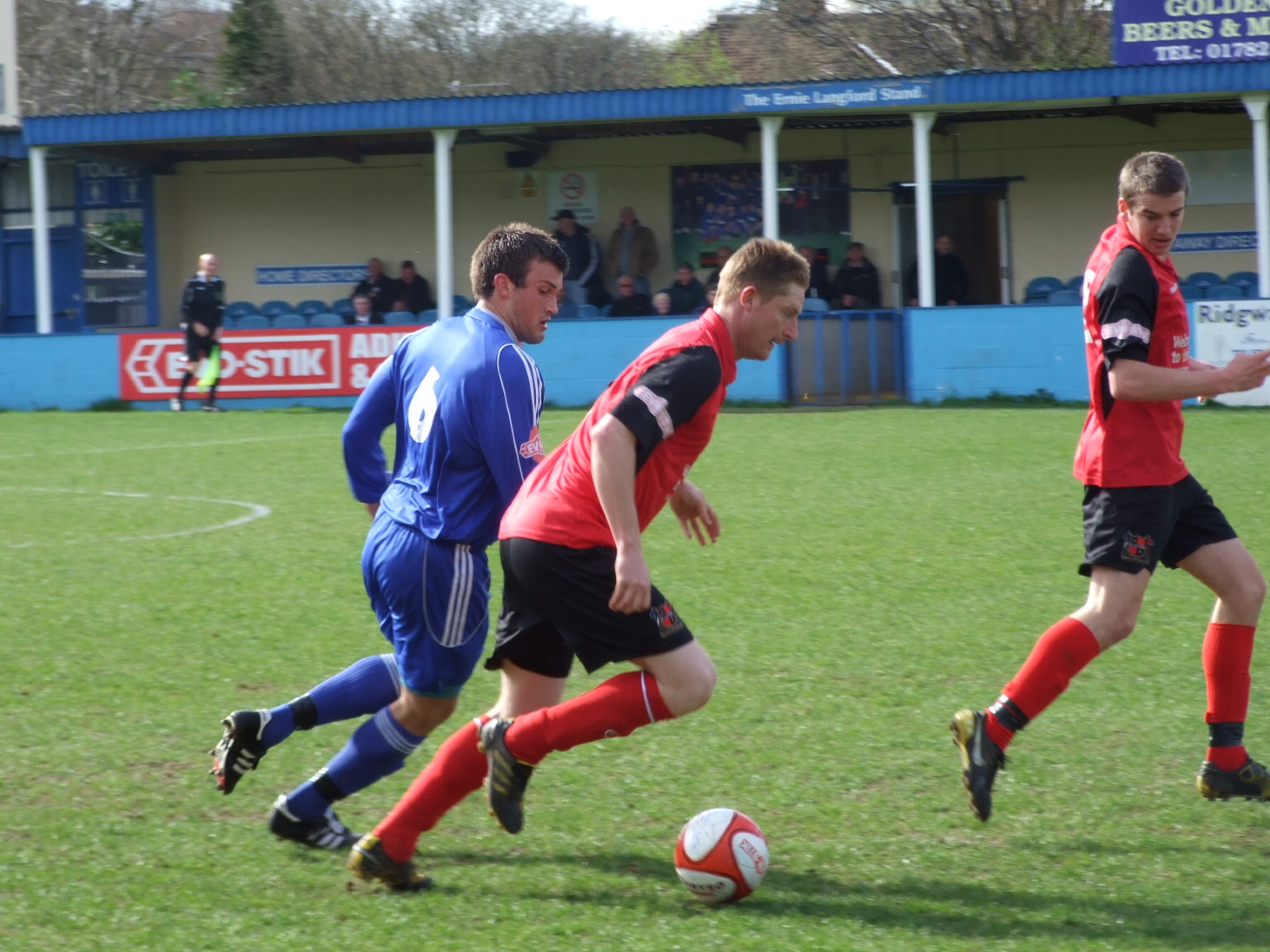 Photo by Andy Turnidge
It was a question of derring-do or derring-don't as Sheffield looked to preserve their advantage in the second period, and the answer was provided straightaway as Lynam sauntered to the edge of the area from the kick off, delaying a second too long with Roney in space to his right. No matter, as on 47 minutes some sumptuous technique by the big man ended with Roney's delivery being half-cleared to ADAM ten yards out, whose fierce drive slowed to pedestrian pace as it spun off a defender into the Kidsgrove goal. With the play-off race reaching its endgame, home manager Peter Ward took a leap in the dark on 53 minutes by withdrawing Shotton for wingman Ricky Bridge, pushing Karl Charlton up front from centre midfield. It achieved what the Haddrell juggernaut had failed to do when the home side reduced arrears within a minute, the Sheffield defence parting obligingly for Sam Hall to weigh through to CHARLTON, who calmly slotted home with only Whatsize to beat. With the vacancy sign still hanging over the manager's position at nearby Port Vale, Ward could have been forgiven a Walter Mitty moment or two as Kidsgrove completed their quickfire reply on the hour mark. Dove's raking ball out of defence saw Hall evade a stationary back four, pipping Whatsize to the loose ball and getting clattered for his troubles as the referee pointed to the spot. Natch, it was that man HADDRELL who finally got his fill for the day when he sent the keeper the wrong way for 2-2.
Sensing blood, Hall lobbed onto the roof of the net after being put clean through by a one-two with Matranga, before a lovely flowing move saw Bridge make haste down the left flank, squaring across for Charlton to blast over from close range. It must have seemed as if Sheffield's brave effort would be completely shot down in flames at this stage, as a flurry of free kicks from Sanders were either flicked just over or cleared to safety as they zipped their way to the respective sticks. And yet the longer the deadlock persisted, the more it seemed we had – stop me if you've heard this before - reckoned without the spirit that currently pervades the red-and-black camp. Roared forward by an appreciative away support, a pump upfield from Gascoigne was headed into the path of Gregory, whose cross was narrowly put over by Adam on the swivel, followed shortly afterwards by a dipping effort from Gascoigne himself which just cleared the bar from 25 yards out. With Gregory his usual self and the introduction of Gosling and Purkiss injecting added vitality, there only looked to be one winner as full time approached, Gosling pecking away at the Dove deep in the Kidsgrove half and firing just wide of Hodgson's near upright, and Purkiss seeing both red and yellow after being seemingly upended in the box. That it was Jamie Hadfield who had the final chance of the match, a diving header that just failed to connect properly with a Gosling special from the left, is proof enough that Sheffield's fast-track education among the league's big boys is now beginning to square the circles. I would quote Kipling, but they deserve better than that. Well done, lads.
Kidsgrove Athletic: Hodgson, D. Smith, Dove ©, Ward, Johnson, Charlton, Matranga (Morris), Sanders, Shotton (Bridge), Haddrell, Hall. Subs not used: Shaw, Schwarz, Urwin
Sheffield FC: Whatsize, J. Smith, Woolley, Hadfield, Norman, Harrison, Roney (Purkiss), Gascoigne, Lynam (Gosling), Adam ©, Gregory. Subs not used: Lewis, Davis

Att: 166
Sheffield FC 2 Goole AFC 1
Evo-Stik Division One South
Tuesday, 29/03/11
Sheffield turned in an excellent performance to pull of their first ever double over the Vikings of Goole, writes Stuart James, with a trademark Callum Harrison long-distance strike midway through the second half the vital cog in a well-earned three points. In a game where the scoreline flattered the visitors, with the hosts peppering ex-Clubbie Leigh Walker with a series of shots, Club could seriously wonder how they didn't match the five goals they ran up in the two previous meetings earlier in the season. After a bright start where Walker had denied Andy Gascoigne with an excellent penalty save, it was another ex-Clubster Vill Powell that gave Goole a lead against the run of play on 28 minutes, however parity was restored just before the break through a 37th minute Matt Roney strike. It looked as if Goole's charmed life would see them through to a point, with a mixture of an inspired Walker and the woodwork saving them, before Harrison sent the home fans away happy with an excellent effort from 25 yards.
The recent lack of rain (who'd have thought that would open up a report a few weeks ago) meant the Coach and Horses surface was pretty hard, with the bounce taking some getting used to in the early stages, with neither side really getting to grips with the conditions. An early downpour added to the difficulty, making it pretty slick and fast, making the opening exchanges a bit of a lottery. It was Sheffield that settled first and they were the first to worry either keeper, with Steve Woolley feeding Ant Lynam on the edge of the box, with the prolific striker having two bites of the cherry – sending the second wide. A good one-two between Andy Gascoigne and Callum Harrison saw the former slice a great opportunity wild and wide, followed not too long after by a seemingly defining moment midway through the first half, as Chris Adam got goal-side of Luke Jeffs only to be wrestled to the ground. Referee Griffiths wasn't shy in pointing to the spot, and Andy Gascoigne wasn't shy in placing the ball into the furthest corner of the target, sadly Leigh Walker wasn't shy in guessing correctly and tipping the ball spectacularly to safety. It was all Sheffield at this point, and when Callum Harrison's shot from distance went wide by inches, you sensed that a goal wouldn't be long in coming. It wasn't – but not at that end – a quick break up the field saw Vill Powell take the ball on and beyond the defence, and with a finish of surgical precision POWELL slotted the ball home. It was anything but justified, but it gave the visitors the impetus to take the game to the hosts, and they could have gone even further in front if Powell hadn't deflected a Matt Bloor shot wide of the post. Despite this setback it was still Club that held the upper-hand with the visitors at pains to keep Sheffield at bay at any cost, although Simon Harrison nearly squandered all the hard work by diverting a harmless ball into the box towards Chris Adam; luckily for him the shot was a bit rushed and wayward. Club continued to press and had a series of efforts going close – Jonah Gosling had one deflected wide, Ant Lynam had an effort fly over the top, whilst Chris Adam had a shot scrape the post. Still Goole could have doubled their lead, with Harrison's corner being headed over by the impressive John Gill, but thankfully for the hosts it was a break up the other end that saw the score change a little more favourably. A long ball found Lynam, a bit a quick thinking and vision saw RONEY bursting down the right, the winger picked up the ball before driving a shot through the sizeable frame of Walker to tie things up just before the break.
Vill Powell tells Jack Smith where he used to play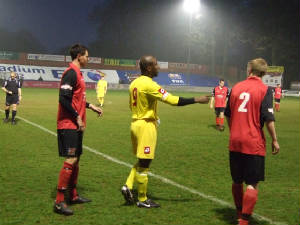 Photo by Andy Turnidge
A heavy downpour at the interval meant the surface was even more difficult come the restart, and things seemed to level up somewhat in the early exchanges, with little on offer in way of chances. The first strike on goal though was a belter; Jack Smith (fresh from his heroic effort at Stamford the previous Friday) lined up another free-kick from 25 yards, forcing a terrific save from Walker. Better still was to come moments later as Callum Harrison ran onto the ball thirty yards from goal to unleash a thunderbolt, Walker again got fingers to it, tipping the ball onto the bar. And if that wasn't bad enough for Sheffield, another foray upfield saw Matt Roney feed Ant Lynam for a thirty-yard run followed by a ripping shot from the edge of the area, this time Walker steered the ball onto the post before scrambling back and hugging the ball to safety on the line. Despite the number of chances that were falling the hosts' way, it was still an end-to-end game, but Goole looked rather lacklustre when it came to the final third. Eventually the scales finally tipped on the side of justice, as Rob Ludlum fouled Jonah Gosling – earning a yellow card for his pains – a free-kick down the left saw Gascoigne fend off the attentions of Ludlum to square the ball along the edge of the area, eventually coming out to HARRISON who drove a cracker into the top corner, giving Walker no chance at all. There was still a quarter of the game to go at this point, and Club almost wrapped things up with a third, as a Chris Adam cross was turned narrowly over his own bar by Luke Jeffs. The action petered out after this, but Goole did have a chance to square things at the death as a Jeffs free-kick was headed squeakily wide of the upright by Ludlum, fortunately for those who favoured a justifiable result in the end that was the last worrying moment of the game.
Club's youngsters can feel proud of this result, they toiled long and hard for possession, and came up trumps with a couple of pearls for their rewards. On another night, with better luck, Sheffield could have ended the game with a really emphatic scoreline – at least three or four of the chances could have, and probably should have, ended in goals. Despite the fact they didn't, it was still three points, and another promising performance. The win takes Club to the nosebleed heights of thirteenth spot, and no doubt in good spirits ahead of Saturday's difficult trip to third placed Kidsgrove Athletic, who will no doubt be smarting from the top-of-the-table defeat at Barwell this evening.
Sheffield FC: Whatsize, J.Smith, Woolley, Lewis, Hadfield, C.Harrison, Roney (Davis), Gascoigne, Lynam (Tunnard), Adam ©, Gosling (Purkiss). Sub Not Used: Roebuck.
Goole AFC: Walker, Ludlam, Gill (Cruise), Wright, Jeffs ©, Dudgeon, S.Harrison, Bloor, Powell, Taylor, Robson. Subs Not Used: Rose, Lock, Pugh
Att: 221
Stamford 2 Sheffield FC 2
Evo-Stik Division One South
Friday, 25/03/11
Jack (\ˈjak\), noun: a small, portable machine used for lifting a heavy weight off the ground, applied with a lever, screw or last-minute free kick.
No grand day out amidst the pomp and splendour of Stamford for Club fans this season, writes Ben Webster, as international weekend saw the mid-table clash switched to an unusual Friday evening slot. Instead it was the football which provided a sight for sore eyes, as a late Jack Smith set piece saw ten-man Sheffield end an entertaining encounter the Estadio Vic Couzens with a deserved share of the spoils.
Chastened by Tuesday's misadventure to Rushall, caretaker manager Ian Whitehorne was buoyed by the sight of Messrs. Hadfield, Harrison and Lynam clocking in after their enforced absences midweek, with Darren Norman drafted in at centre half and everyone's cup of tea Steve Woolley the cause of no dressing room unrest whatsoever by donning the armband for the evening. The signs were there from the kick off that a lid would be kept on any groundhog moments from three days before, James Gregory leaving two defenders in his wake within the first minute and some solid in-swinging deliveries from Roney causing concern in the home goalmouth. The Daniels themselves quickly got a toehold on the game with some punchy one-touch play turning defence to attack, and after Hadfield was dispossessed on half-way ten minutes in the first good chance of the match saw the ball laced through to Dean Oliver, whose tame attempt with Norman in tow was calmly gathered by Whatsize. A blind pass by Smith and a tremendous touchline pirouette from Woolley kept the away supporters moist, this however was merely the prelude to a great counter-attacking move on 20 minutes which saw Gascoigne emerge from his own area and lay a slide rule pass to Purkiss, whose ball across was scrambled clear to Roney for a deflected effort narrowly wide of the mark. A crescendo was reached just two minutes later when more two-step from Gregory fed Harrison near the D, he in turn found LYNAM lurking with intent twelve yards out who cracked a low drive past Wright into the Stamford net. To their credit the home side responded well to the setback and almost restored parity around the half hour, Gascoigne and Norman both making timely interceptions to snuff out point blank opportunities for Parker and the impressive Lee Beeson, who floated many a corner and free kick within an ace of Whatsize's far post. It was from one of those deliveries that matters were levelled on 38 minutes, a corner from which Dean Oliver's header forced Whatsize to claw the ball to the edge of the area, where Liam PARKER looped a header back towards the top shelf that slipped beneath the bar and beyond the despairing dive of Smith. The final incident of note for the half saw vociferous claims for a penalty from the visitors as Gascoigne fell under a challenge just inside or outside the box, depending on who you asked.
Eyes to the skies for Roney, Smith and Hadfield
Photo by Andy Turnidge
As dusk turned to dark and the local raffle mafia went about their impish ways, it was the Stamford defence who must have thought their number was up as Sheffield went straight for the jugular once play resumed. In fact it was more like a fifteen-minute showcase for Roney's fancy Dan boots, shimmying past markers, taking potshots, chasing lost causes, playing balls across the face of goal and finally, on 60 minutes, finding Ant Lynam's sweet spot as the striker was denied a second by a clearly shaken goalframe. A lifeline was thrown to the homesters on 68 minutes - who until that point had mustered just one close range header from Ryan Oliver and drawn some uncharacteristic errors from Whatsize - and it was in pretty harsh circumstances, as Purkiss collected a second yellow from only his second late challenge of the game, neither of which could have been described as malicious. The same can't be said for Lynam, who has a court hearing next month after blasting two 12-bore free kicks into the Stamford wall as Sheffield continued to press despite the man deficit, though he should really have done better from ten yards out when volleying over Hadfield's cushioned header from a Roney centre. From there on it appeared both sides had accepted their lot as the game entered a phase of midfield stalemate. That was until the 86th minute, when home full-back Evans retrieved a ball out on the right which looked to be rolling into touch, producing an angled delivery which was helped on to BEESON inside the penalty area whose scuffed effort had enough power behind it to find Whatsize's right-hand corner, sending the lion's share of a 255-strong crowd into polite frenzy. A month ago, the post-mortem would have begun there and then into how Club had managed to surrender the points in a contest they had controlled for long stretches. The belief instilled in the squad since that time was once again there for all to see as injury time approached, Jack SMITH nudging Lynam off the ball and curling a 20 yard free kick over the wall with the keeper stranded, opening his account for the club and sending the travelling support into a somewhat less polite frenzy. There was still time for the home side to mount one last sally forward, with Andy Toyne finding himself well placed on the edge of the area and seeing his fierce drive turned round the post, from the resulting corner the ball was caught sweetly at the near post by Dean Oliver but a crowded area saw his effort come to nought. So a well-earned Desmond for Club, and a welcome turnaround from Tuesday.
Stamford: Wright, Evans, Jackson, Toyne, Chamberlain, Malone, Beeson, Parker, R. Oliver (Deane), D. Oliver, Cotton. Subs not used: Burkett, Sedgemore, Millson, Hill
Sheffield: Whatsize, J. Smith, Woolley, Norman, Hadfield, Harrison, Gregory (Gosling), Gascoigne (Lewis), Lynam (Davis), Purkiss, Roney
Att: 255
Rushall Olympic 5 Sheffield FC 0
Evo-Stik Division One South
Tuesday, 22/03/11
Not even Steve Redgrave himself would have kept the good ship Sheffield afloat in the Olympic Village tonight, writes Ben Webster, as a gold-medal performance from Rushall left the visitors sinking faster than a personal best from Eric the Eel. Five unanswered goals, including a first half hat-trick from front-man Matt Lewis, saw the play-off contenders home and dry as the Walsall outfit continue to stake a claim as Club's bogey team par excellence in the Glue League South, completing a league double within the space of ten days and still unbeaten in all previous head-to-heads.
With all best-laid plans scuppered by the late absences of Lynam, Harrison and Hadfield (work, injury, work), some eleventh hour string-pulling saw a return to the playing squad for the recently released Nathaniel Foster, while seasoned Club followers were treated to a real phoenix from the ashes in the shape of 2005 Senior Cup winner Ben Cressey, pairing up with a half-fit Dan White in central defence and pushing Cyrus Lewis into an unfamiliar stint in midfield. The night began positively enough, both sides testing the waters in the opening moments with some useful inroads made by Matt Roney out on the left, slicing over after making headway just outside the box. For the hosts, Danny Lennon - he of open goal infamy from two weeks ago - looked every inch the striker scorned as he cannoned an effort of similar range straight at Whatsize in the Pic's first opening of note. The tone of the evening was set as early as the tenth minute, however, when Richard Blythe moved with purpose down the right flank, planting a low cross onto the head of Obeng, whose deft flick was met first time by LEWIS fifteen yards out to guide the ball low and true inside Whatsize's left-hand post.
An early setback, but here perhaps was another chance for Whitehorne's Wunderkinds (go on, shoot me) to show some of the mettle that has characterised the side when falling behind in recent weeks. Clearly this had been taken on board by the well-drilled men in amber, and after another ten minutes dealing comfortably with Club's fruitless kick and rush they were to double their advantage, the visitors failing to clear their lines in the left corner before the ball plopped come-hitheringly to LEWIS 25 yards out, who lit his flintlock and fired an exquisite half volley well beyond Whatsize's reach. The floodgates were now beginning to buckle, with Lennon and Obeng showing a sluggish backline more clean heels than it would care to admit, and Blythe seeing his curling shot just clear the bar on 25 minutes. Two deflected efforts from Foster and a scuffed one from White was Sheffield's sum contribution for the rest of the half, the burger bar at the clubhouse end apparently under greater siege than the goalmouth. Gascoigne and Jack Smith both saw yellow after an unseemly spat when the latter charged down a Mitchell Tolley clearance, the home defender right in the thick of things yet somehow escaping censure from referee Sarah Garratt. There was more woe to come as the half drew to a close, when Dan White was withdrawn with a hamstring injury after stumbling over the ball with Lennon in close pursuit. No sooner had his replacement James Gregory entered the field of play than he was adjudged to have handled a Sean Platt cross inside the area when he had little time to react. Penalty. LEWIS. Half time. Arm chewed off.
The first action of the second half saw Gregory attempt to make amends, beating his man on the wing and teeing up Roebuck for a snapshot that fizzed wide. But what was already an uphill slog for Sheffield was to assume Mount Olympus proportions in the 48th minute, when not for the first time Obeng was afforded the space to move full steam down the right. His centre found the outstretched leg of LENNON, whose initial contact drew a smart reaction save from Whatsize, only for the diminutive striker to finally slay the ghost of two weeks past when volleying in the rebound from close range. The game over as a contest, it was to herald Sheffield's most adventurous spell of the match as they spent the best part of half an hour looking to salvage some pride at least, typified by several amber gambles from left-back by Steve Woolley to within striking distance of goal. More leg-knotting from Gregory saw the ball squared to Foster, who narrowly rifled over from 25 yards, before Woolley combined well with substitute Joel Purkiss with the final ball just out of reach as he bore down on goal, while Purkiss himself had a punt from fully 35 yards which whistled just shy of the post. Club's failure to make their possession count was the cue for a grandstand finish from the hosts, with Lennon guilty of spurning three good chances at close quarters. On 80 minutes he cut in from the right and shot wide and handsome, two minutes later he embarked on a superb mazy run past three defenders that forced Dan to save with his feet, before a great ball out wide from Lewis found him unmarked in the box, once again to be thwarted by the Sheffield custodian. From the resulting corner on 85 minutes it was Lei BROWN who rose highest at the far stick to put some added gloss on a very one-sided contest. It could have been even more embarrassing for Club had Brown doubled his tally in the final act of the match, finding himself clean through but skewing over as Whatsize narrowed the angle.
Needless to say this was a night to forget for Sheffield – one bluntly summed up by Whitehorne afterwards: "not at the races" - against a side that found its ruthless streak as it makes the push for honours. A big improvement will be in order at Stamford on Friday night, hopefully with more personnel to hand we'll see a return to the strong away showings that have been a regular feature of Club's second half to the season.
Rushall Olympic: Gemmell, Spittle, Amos, Tolley, Platt, Beckett ©, Brown, Blythe (Ashton), Lewis, Obeng (Fitzpatrick), Lennon. Subs not used: Maguire, Cooper, Kitching.
Sheffield FC: Whatsize, J. Smith, Woolley, Cressey, White (Gregory), Lewis, Roney (Gosling), Roebuck, Foster (Purkiss), Adam ©, Gascoigne. Sub not used: Starosta.
Att: 137.
Sheffield FC 4 Leek Town 3
Evo-Stik Division One South
Saturday, 19/03/11
In a topsy-turvy game, Club came from behind twice to snatch a 4-3 win this afternoon, writes Stuart James. In a game that lacked quality from both sides, the fact this ended as a seven-goal thriller lacks belief, with both sides looking like teams with plenty to do in the near future. After Dan Cope put the Staffordshire outfit in front on 15 minutes, Ant Lynam levelled matters, with James Gregory volleying home to give Sheffield a half time lead. That looked to be squandered as first Ant Malbon headed home, before Cope grabbed a second straight after, seemingly giving Leek a valuable lead. Amazingly though as time ran out, Andrew Gascoigne snatched a late double, that gave Sheffield a highly unexpected three points from a sub-par performance.
It has to be said that with both sides not exactly setting the world on fire - albeit with some sterling efforts in the case of the young hosts squad of late - and with a pitch That was far from even, neither side seemed to get a foothold on the game all afternoon. Early exchanges saw little in the way of goalmouth thread, with Matt Roney going closest with a shot that was hooked wide from a corner, but little suggested that a goal was going to come this side of midnight. Strangely though one came from nothing, on 14 minutes the ball landed at the feet of COPE after a bit of slackness in the home midfield, and the half-hit shot somehow evading the dive of Whatsize to sneak in. The lead was short-lived however, as Chris Adam broke down the wing to put the ball across the eighteen-yard area to Ant Lynam, with LYNAM striking the ball beyond Danny Roberts to level the scores. Moments later the lead had switched, as a break down the left saw Jack Smith deliver the ball into the middle, with GREGORY hitting a volley into the net. Although less than twenty minutes had gone, that was it as far as first half action went, with only a point-blank save from Whatsize denying Ant Malbon really causing anything of note.
Jamie Hadfield jumps for a corner...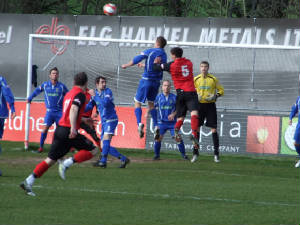 Photo by Andy Turnidge
Despite the three goals, the first half was somewhat dreary, but it was nothing in comparison with what followed after the restart. Dan Whatsize was his usual excellent self denying Devon Gibson, whilst Andy Gascoigne volleyed wide after the ball broke to him, but nothing suggested that anything else dramatic would happen. It took until the 74th minute for another point of note to occur; and that ended up being a goal, as a Jamie Haynes free-kick was floated into the Sheffield danger area which connected with a flick header from MALBON. After a lengthy period of looking untroubled, all of a sudden Club looked rather fragile, and Leek took advantage four minutes after to take the lead as COPE caught Whatsize off his line to lob over Whatsize's head into the empty net. That was it as far as Sheffield it seemed, except for a late flurry with injury time approaching, a corner in from the left saw GASCOIGNE get a head to the ball and it was 3-3. Was a point enough? Apparently not, as Sheffield's youngsters smelled blood and a possible three points, which came to fruition as a panicky Leek conceded another corner – with the same results – with GASCOIGNE volleying this time to send the home fans home happy... but surprised.
Overall you have to say this was far from the best anyone would expect from this young set of Sheffield starlets; the play was disjointed – with very little cohesive play on show – yet, the boys showed the character that has epitomised their performances since the forced reshuffle of the squad. After all three points IS three points, and a win IS a win, so when you achieve this without getting out of first gear it can only be a good thing. It did give Sheffield that recent rarity of a double, with Club moving up to the heady heights of fifteenth spot, with plenty of games in hand to better that position. Next along is a midweek trip to Rushall, no doubt a difficult encounter given the way they dispatched Stamford this afternoon, but not one that is impossible with the right mindset and application.
Sheffield FC: Whatsize, J.Smith, Woolley, Lewis, Hadfield, Harrison (Roebuck), Gregory, Gascoigne, Lynam (Tunnard), Adam, Roney. Subs Not Used: Davis, White, Gosling.
Leek Town: Roberts, Sellers (Skellern), Johnson, Taylor, Ruddock, Millar, Gibson, Haynes, Malbon, Cope, Minor. Subs Not Used: Cox, Heeps.
Att: 335.
Sheffield FC 3 Stamford FC 2
Evo-Stik Division One South
Tuesday, 15/03/10
Caretaker-Manager Ian Whitehorne's youthful side finally gained some just reward for several 'near-miss' performances, writes David Bell, with a pleasing victory over Stamford FC at the BT Local Business Stadium.
An evenly-matched first half saw both sides attempt to play decent football on a greasy surface. Sheffield laid down an early marker as a 2nd minute Steve Woolley header went just wide from a corner. Equally, Stamford were keen to play their part as a low Ryan Oliver cross was intercepted by Whatsize with Millson ready to pounce. A Matt Roney pile-driver smashed into the bar on 21 minutes after Roney himself had cut inside and made a neat interchange of passes with Jonah Gosling. Sheffield's youthful defensive frailties again showed as Lewis failed to clear, allowing Dan Cotton to fire comfortably over the bar. On 27 minutes, Lewis slipped allowing Clarke a clear run on goal. He comfortably rounded Whatsize in the Sheffield goal but in scenes reminiscent of Saturday, he amazingly put his shot wide with the goal at his mercy. Both sides traded blows in a pleasing display of football but it was Sheffield who were to break the deadlock on 40 minutes. A concerted spell of pressure saw shots traded around the Stamford box. Roebuck's 18 yard effort was parried by Wright in the Stamford goal, straight to Ant LYNAM who made no mistake from close range.
Matt Roney shields the ball in Tuesday night's win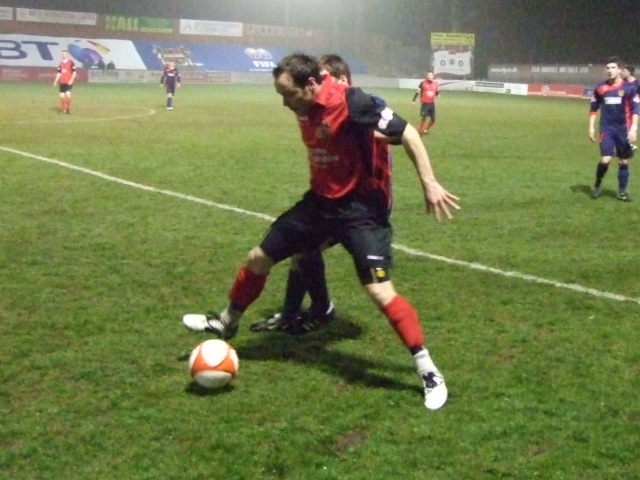 Photo by Andy Turnidge
The second half began in much the same vein. Both sides made early substitutions but it was Stamford who profited on 57 minutes as a clearance ricocheted straight to Ryan OLIVER, who made no mistake in comfortably beating Whatsize. Buoyed by this way back into the game, Stamford produced a long range effort from full back Matt Evans, closely followed by a Dan Cotton header from an Oliver overhead kick. The two combined once more on the hour as Whatsize produced a good save from close range. Club gained some reward for their excellent attacking play when Cotton clipped the heels of skipper Chris Adam with referee Mr Miller awarding a penalty. Andy GASCOIGNE duly converted and it was Sheffield's turn to take the upper hand. A mere two minutes later, a Jack Smith cross from the right saw Tom ROEBUCK stoop to head home from a matter of yards, to cap a fine battling display. The game continued in end-to-end fashion and on 81 minutes, Paul MALONE forced the ball home from close range after a header back across goal. Andy Gascoigne received his customary yellow card in a minor altercation afterwards along with Jamie Clarke for the visitors, much to the chagrin of the Stamford travelling faithful.
Sheffield rode out the four minutes of stoppage time and must consider themselves rightly pleased with the three points. The seeds of this victory had been sown in previous fixtures. Tonight, however, it all came good and bodes well for the rest of the season and hopefully, the future.
Sheffield FC: Whatsize, Smith, Woolley, Lewis, Roebuck, Hadfield, Roney (Ward), Gascoigne, Lynam (O'Brien), Adam ©, Gosling (Gregory). Subs Not Used: Purkiss, Ruddiforth.
Stamford FC: Wright, Evans, Burkett, Toyne, Chamberlain ©, Malone, Mowbray (Deane), Millson, Oliver, Clarke, Cotton. Subs Not Used: Walton, Hill.
Att; 163
Sheffield FC 2 Rushall Olympic 3
Evo-Stik Division One South
Saturday, 12/03/11
It was a case of "another game, another brave defeat" for Ian Whitehorne's "babes" this afternoon at the BT Local Business Stadium, writes Stuart James, as yet again Sheffield's young side put up a feisty defence only to end up with nothing to show. After falling behind to a Nick Amos header on 14 minutes and seemingly on the rack, Club eventually rallied to go in at half time level against all the odds, following an opportunistic goal from skipper Chris Adam. Sadly for Sheffield, Rushall turned things around in the second period, with a penalty from Matt Lewis and a clincher from Danny Ashton. The hosts tried to get something from the game with a concerted effort, but only had a deflected free-kick from Ant Lynam to show for an afternoon that showed mountains of effort, but little to show in points' terms in the end.
Jamie Hadfield and Cyrus Lewis on the defensive...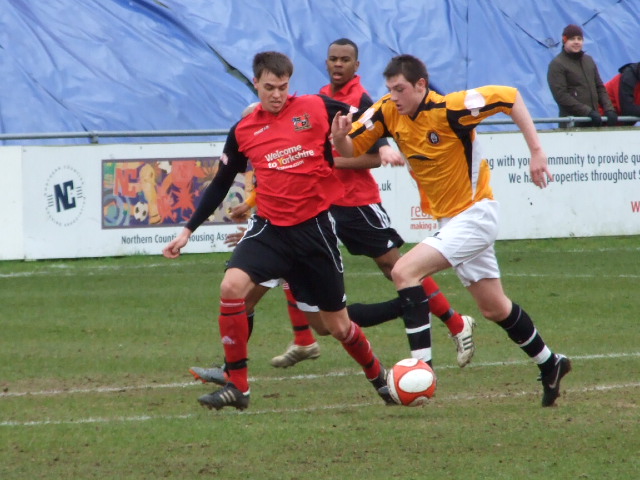 Photo by Andy Turnidge
Rushall started the game promisingly, with an early effort from Matt Lewis just clearing the bar, whilst moments after a similar effort from Danny Lennon was lobbed wide of the post. The visitors really started to come into their own as the quarter hour mark approached, as Callum Harrison was penalised for a foul on the edge of the box, one which was turned round the post by Dan Whatsize after a tricky shot from Grant Beckett. From the resultant corner, Danny Ashton swung the ball into the box, and rising highest above the mêlée to nod home was AMOS. It nothing less than Rushall deserved for all their early enterprise, but they were left ruing the fact that it should have been two seconds later when Whatsize misjudged a headed clearance to leave a clear run to goal for an odds-on scoring opportunity for Lennon, somehow though – even with a two against nil situation – the forward conspired to miss a glaring open goal under no pressure. To be honest, there are no superlatives available to describe how bad a miss this was for Lennon; embarrassing was an understatement. Lennon had a chance to make amends moments later, but this time he was denied by a Whatsize touch that steered the bal onto the post, which was seconds later turned into a counter-attack from Chris Adam – who squared the ball to Joel Purkiss, who in turn shot against the post at the other end! Lennon's nightmare afternoon continued as the lively Ahmed Obeng broke down the right flank, with his shot parried by Whatsize into the path of Lennon, who tapped into the net – sadly for him, from an offside position. Despite riding their luck, Club finally broke from their defensive slumber, with Steve Woolley the first to go close from twenty yards. Just before the break the game became tied, as a long ball saw Chris Adam chase down a seemingly lost cause against keeper Chris Gemmell, who hauled down the striker who had unthinkably got the better of him. As everyone waited for referee Dudley to mete out his justice, ADAM took a lightning quick free-kick from the ridiculously acute angle, and curled it into the corner of the empty net. Amazingly, even with the balance of play and the chances, when the referee blew for half time Club went in level.
As fortune went that was it; referee Dudley went off injured at half time, recruiting new assistant referee Mr Ian Feeley to run Sheffield's defensive line for the second half – and though it pains me to say it – he did a good fair job of it too. Well done Feeley!
Is it a bird, is it a plane, no it's SUPER-LINO!!!
Photo by Andy Turnidge
It appeared the late goal in the first half had knocked the stuffing out of Rushall, for the first time in the afternoon Club held the upper-hand, and three points seemed a potential outcome after all. Early in the second period the ball broke to Steve Woolley, unfortunately the shot was a little tame and rolled to Gemmell, nevertheless Sheffield were the ones pressing forward. On the hour though the lack of a telling breakthrough saw the hosts pay the ultimate price, as a defensive throw-in saw Jamie Hadfield take a lazy swing at the ball, only to connect with Obeng to concede a soft penalty. It wasn't a hard decision for the referee to make, and it wasn't a hard job for LEWIS to convert, as he sent Whatsize the wrong way. A matter of seconds elapsed before the game was wrapped up, as Amos' long ball found Obeng on the left and a simple squared ball found ASHTON on the penalty spot, who drilled the ball in off the underside of the bar. As a result that was it, but to their credit the Sheffield youngsters continued to battle, and the introduction of Jonah Gosling once again added a threatening dimension to Club's game. It was Gosling's cross that caused the next piece of action, with his ball finally falling to Andy Gascoigne on the edge of the box, with the unpredictable midfielder's volley proving to be a real palm-stinger for Gemmell as he turned the ball to safety. At the other end Whatsize was called into action, as he produced a fine save to turn the ball round the post, from a Lewis free-kick. With just under five minutes to go, Club were given a lifeline when substitute LYNAM's free-kick was deflected home off the ankle of Ashton, to make a real contest for the dying moments of the game. Unfortunately, despite the hosts' youngsters trying beyond expectation, they couldn't create another opening – with the only shot of note towards the end being a chip from Rushall's Obeng, one that sailed over the bar.
As with Thursday, this was a game that promised so much from such a young squad, but yet again the experience won through. Rushall's play-off push continues unabated, but they will know that they will have been in a game this afternoon, and that they have to face the same bunch of lads once again in less than two weeks time. On the balance of play there is no question the better team on the day won, but yet again this was a display that was worth so much more than the eventual outcome for Sheffield, and one they could be proud of.
Sheffield FC: Whatsize, J.Smith, Davis, Lewis, Hadfield, Harrison (Gosling), Gregory, Gascoigne, Purkiss (Lynam), Adam ©, Woolley (O'Brien). Subs Not Used: Ruddiforth, White.
Rushall Olympic: Gemmell, Spittle, Amos, Smith ©, Ashton, Beckett, Davies, Blythe, Lewis, Obeng, Lennon (Maguire). Subs Not Used: Fitzpatrick, Sterling, Kitching, Cooper.
Att: 290
Sheffield FC 1 Grantham Town 2
Evo-Stik Division One South
Thursday, 10/03/11
A plucky Sheffield FC went down to high flying Grantham Town at the BT Local Business Stadium last night writes Roy France. Despite taking the lead and having a large amount of the ball and producing plenty of enterprising football it was the Gingerbreadmen who nicked the points with two second half goals.
Strong winds greeted the teams and made control difficult in an even start to the game. Indeed it was a long upfield ball which caused difficulties for the visiting defence in the 17th minute but not for Joel Purkiss who latched onto it and curled a left foot shot past Rob Murray to open the scoring. Purkiss almost made it two shortly after but he couldn't just get on the end of a pass after a great touchline marauding run by James Gregory. Grantham got busy at the other end and referee Mr Watson waved away a penalty appeal when Dan Whatsize collided with an attacker. Then on the half hour mark Ben Saunders headed against the crossbar after Whatsize had turned away a good effort by Jamie McGhee.
Just before half time, with the wind having died down, the loping Jonah Gosling made an excellent run but his shot was parried for a corner by Murray. So Sheffield led at the interval.
Grantham soon, however, were on level terms, as in the 49th minute Gio Carchedi found himself unmarked in the box and slid a McGhee cross past Whatsize. This fired Sheffield into action with Andy Gascoigne in particular influencing the game. First Gazza was denied a penalty appeal before he produced a mazy dribble which ended with his lofted side foot shot agonisingly hitting the apex of the post and crossbar. Then Gascoigne produced a Ricky Villa style run, beating five defenders, but he was foiled from finding the net by a sixth as the home crowd got behind Sheffield's youngsters.
But on 72 minutes came the winning goal for the visitors' as Lee Potts got a cross in from the left which evaded Whatsize but not Saunders who gleefully headed home from close range. Sheffield responded well, with Gosling, Gregory, and the more experienced Roney having joy from wide out, but perhaps missing the threat of a seasoned centre-forward to convert chances. Grantham managed to survive a couple of scrambles in the box late on and did just enough to hang on to victory marshalled by the combative Phil Wall.
So ultimately a defeat for Sheffield but plenty of promise and enterprise in the overall display by the young side augurs well for the future.
Sheffield FC: Whatsize, J.Smith (Roebuck), Woolley (Davis), Lewis (O'Brien), Hadfield, Harrison, Roney ©, Gascoigne, Purkiss, Gosling, Gregory. Subs Not Used: Ruddiforth, Ward.
Grantham Town: Murray, Purcicoe, Potts, Asher, Sucharewycz (Glarvey), Wall, Lewis, Sanders, McGhee, Saunders ©, Carchedi (Glass). Sub Not Used: Dyson.
Att: 215.
Frickley Athletic 0 Sheffield FC 3
Sheffield & Hallamshire Senior Cup Quarter Final
Tuesday, 08/03/11
A comprehensive Sheffield FC team performance saw off a poor Frickley side who could only field 13 players on the night, writes Rob Shepherdson. Whilst Sheffield's new players are gelling well together, the same couldn't be said about the hosts who were outclassed for long periods of the game, with Andy Gascoigne having an outstanding game in midfield. Even the Frickley strike force of ex-Clubbbies Longstaff and Burbeary rarely threatened and an equally impressive centre half performance by 17 year old Cyrus Lewis, playing in place of Dan White, helped blunt any Frickley attacks which materialised.
Sheffield threatened as early as the second minute when Chris Adam was played into the area and his shot from 8 yards was only blocked by a defender on the line. The next 20 minutes saw chances few and far between although Whatsize was called on to catch a header from Sturdy after a Frickley corner, Hindley fired wide of Club's goal from 35 yards, and Dan Whatsize missing another cross completely with the Frickley forwards unable to capitalise in what proved to be Frickley's best spell. Midfield play became increasingly influenced by the Sheffield pairing of Gascoigne and Harrison and both Gregory and Adam were played in behind the Frickley defence almost at will. Still chances remained few although Lynam did receive a good ball from Gascoigne but the resulting shot was rather tame. Another Gazza ball puts Adam in a good position and forces Simpson in the Frickley goal to concede a corner. Roney gets booked for a late tackle which raises tensions however two minutes later Sheffield get the breakthrough deserved. Frickley's Colliver loses the ball to Adam in midfield who quickly counter-attacks, releasing Gazza to race straight for the area ably supported by Lynam and Gregory. Gazza decides on the Gregory option and plays the ball perfectly for GREGORY who makes no mistake in beating the goalkeeper with his shot to open the scoring on the half hour. A rush of late tackles see yellow cards for both Adam and Frickley's Kay (for a foul on Adam). Adam is felled once again a few minutes later when he turns too quickly and Sturdy clatters into him for yet another booking. This starts an interesting discussion on the terraces! On the stroke of halftime a quick pass releases Gregory who feeds the ball straight through to ADAM who neatly scores the Club's second by easily slipping the ball passed the advancing Simpson from 15 yards; 2-0.
...and Chris Adam makes it two...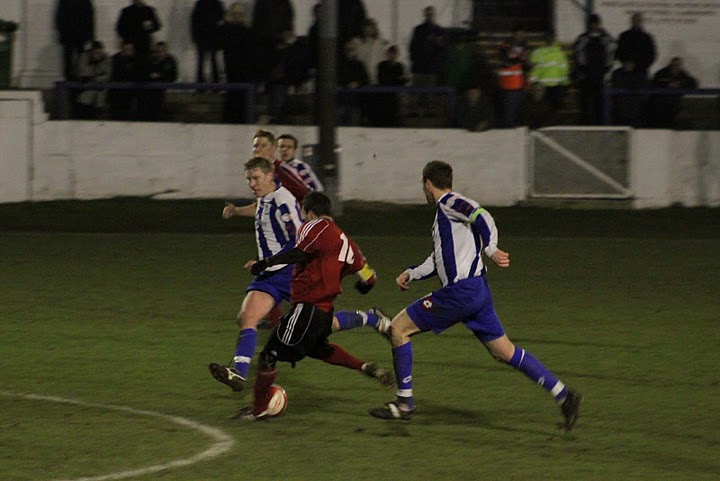 Photo by Ben Webster
The second half starts with the bruised and battered Chris Adam being replaced by Sam Barnsley but if anything Sheffield's dominance increases with both Gazza and Harrison ruling the roost in midfield and once again the wingers of Gregory and Roney threaten the hosts defence at every opportunity. However goal scoring opportunities are not any more forthcoming and a 30 yard drive by Jack Smith on the hour is the nearest we come. In many respects the third goal comes almost as a surprise, although thoroughly deserved. A ball into the Frickley box is mis-kicked by Jones and the resulting loose ball drops conveniently falls at the feet of BARNSLEY who makes no mistake from a few yards; 67 mins and its now an unassailable 3-0. The final 20 minutes sees an increasingly frustrated Frickley receive four more bookings: Colliver, Lee, Burbeary and Kay whilst Sheffield takes the opportunity to rest some players with another match to be played on Thursday: O' Brien on for Lynam and Ruddiforth replacing Gregory. The best chance of the half falls to Ruddiforth with 3 minutes remaining which is well saved by the keeper at the feet of the advancing O' Brien.
All in all a very good performance by the team and for the second time this season Premier Division Frickley proves to be a happy hunting ground for Club. We now join Parkgate in the draw for the Semi Final of the Senior Cup.
More of Ben Webster's photos of this game can be found on http://bit.ly/e2D9CO
Frickley Athletic: Simpson, Hotte, Kay, Colliver, Sturdy, Jones ©, Hindley, Catton, Longstaff, Burbeary (Whitehouse), Lee. Sub Not Used: Hood.
Sheffield FC: Whatsize, J.Smith, Woolley, Hadfield, Lewis, Harrison, Roney, Gascoigne, Lynam (O'Brien), Adam © (Barnsley), Gregory (Ruddiforth). Subs Not Used: Purkiss, White.
Att: 119
Sutton Coldfield Town 4 Sheffield FC 2
Evo-Stik Division One South
Saturday, 05/03/11
There was to be no repeat of the heroics of Tuesday night's heroics at Coles Lane this afternoon, writes Stuart James, as Sutton Coldfield ran out comfortable winners on a miserable day in more ways than one. It looked as though déjà vu was to be the order of the day after Ant Lynam put the visitors in front on 15 minutes, however that lead was short lived after Jonathon Jones turned the ball home. Things took a turn for the worse for Sheffield, as firstly Jones finished a well-worked move to give the Royals the lead on the half hour mark, followed shortly after by the first of two own-goals when Darren Norman headed into his own net. Sutton were reduced to ten men just before the hour, after Matt Jackson picked up a second yellow, sadly Club couldn't make the man advantage count. Instead the hosts pulled further ahead when Jamie Hadfield volleyed the ball into his own net, whilst the home side ended the game with nine men as Ross Miller earned a second yellow in conceding an injury-time penalty, one which Andy Gascoigne converted for a late consolation.
Jack Smith clears the danger...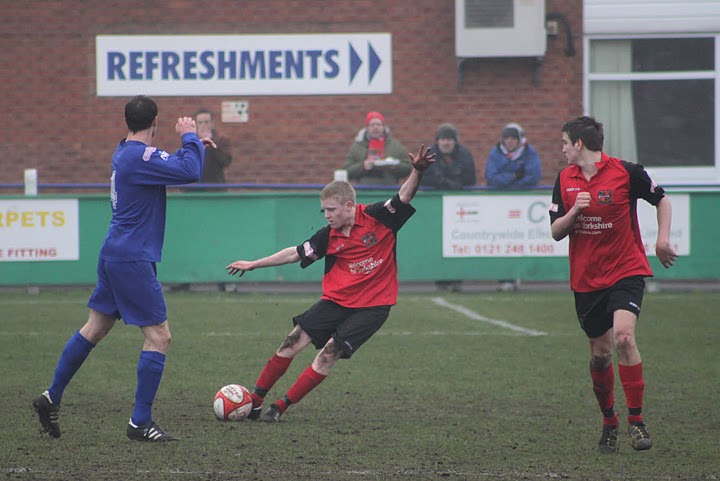 Photo by Ben Webster
Sutton started this contest brightly, but it was Sheffield who were the first on the attack, with Ant Lynam heading over from a Joel Purkiss cross. The hosts certainly looked dangerous though, and when Mark Bellingham got goal-side of Darren Norman, the shot was somewhat disappointing as it rolled into Dan Whatsize's hands. On fifteen minutes the deadlock was broken, as Matt Roney floated in a free-kick from the left wing, and LYNAM rose higher than the flat-footed Karl Lewis to nod the ball home. The celebrations were still dying down from the visitors when the Royals struck back, a cross was sent in from the right and with the Sheffield defence all watching in horror, JONES swung a foot for a spectacular equaliser. Sutton were now on the front foot, and were testing the Sheffield defence at every opportunity, with the majority of chances falling to the hosts. Matt Dodd won the ball in midfield before striding clear and shooting close, whilst Craig Marshall shot from the edge of the area, forcing Dan Whatsize to turn the ball round the post. Despite being penned in their own half for lengthy periods when Club broke clear they proved they too could be dangerous, as proved when Ant Lynam was found by a telling cross from Matt Roney, sadly the striker could not connect properly giving Lewis an easy save. To be fair though it was Sutton who looked the most likely to trouble the scoreboard, and when Matt Jackson threaded the ball through to Mark Bellingham, it took a good block at the near post from Whatsize to delay what felt like the inevitable. That inevitability came to fruition on the half-hour mark, as some neat interplay from Jackson and Bellingham opened a gap for Jonathan Jones in the box, with the impressive JONES hitting the ball on the turn to give the home side the lead. Seven minutes later it seemed as if the game was over as a contest as Bellingham floated a free-kick into the box, unfortunately for Darren Norman it was his attempt at a volleyed clearance that got to the ball, diverting it over Whatsize for an OWN-GOAL. Embarrassingly Bellingham wanted to claim the goal for himself – in this case it wasn't a job for the dubious goals committee, more a job for the dubious claim committee instead. It could have ended worse for Club, as a Jackson cross was met by the head of Marshall, only another great stop by Whatsize saving the day.
The second period saw less of the flurry of activity around the goal that had peppered the first half, with Sutton looking at ease with the situation of a two-goal lead, and Sheffield unable to break down a dogged defence. On 57 minutes though the visitors were handed an unlikely lifeline, as home skipper Matt Jackson handled the ball on the half-way line, before kicking the ball away. Referee Robert Lovegrove MBE decided that this was an act of petulance, instead of the player being too slow to react to the whistle, and brandished a second yellow to dismiss the Sutton player. Club started to slowly make the man advantage pay, plus the introduction of new signing Jonah Gosling added a new dimension to the visitors' play, with the substitute making some interesting in-roads. It was a Gosling cross that caused the next incident, sending the ball in from the left wing he found Steve Woolley in the middle, only to see his volley send the ball over. Chris Adam also made an entrance to the game, making his first appearance since November's away game at Grantham, he too started to trouble a stretched Sutton defence. Firstly a shot from Adam forced an excellent one-handed save from Lewis, followed shortly by an effort that was deflected wide of the post, after a great through ball from Andy Gascoigne. With minutes running out it looked like ten-man Sutton had done enough to weather the storm, and started to press forward with a little bit more ambition as the game reached its climax, and with four minutes to go Bellingham hit a great shot on the turn which was tipped round the post by Whatsize. From Jimmy Quiggin's resulting corner, the ball was met by the head of Jamie Hadfield, and when your luck is out – it certainly stays out – as the ball lopped over Whatsize for yet another OWN-GOAL. Sutton almost immediately made it five, as the visitors' best two players on the park – Dan Whatsize and Dan White – got in a mix-up that let in Bellingham with the ball behind him, unfortunately for him White got back in time to stop him getting on the scoresheet legitimately. As injury time approached, Sheffield grabbed a consolation as Chris Adam got goal-side of Ross Miller, who in turn dragged down the substitute for a clear penalty. It also meant that Mr Lovegrove MBE produced another card, Miller's second, meaning the Royals were to play out the last three minutes of added time with nine men. From the spot GASCOIGNE drilled the ball straight down the middle, giving Lewis no chance. A last ditch assault from Sheffield almost produced another goal, as Gascoigne fed Callum Harrison in space, sadly the effort hit the side netting meaning Sutton breathed easier for the last few moments of the game.
Ant Lynam breaks with Brendan Kelly on the defence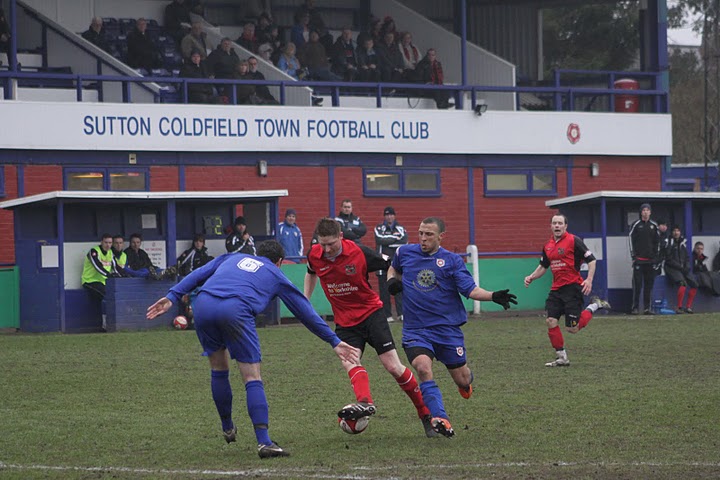 Photo by Ben Webster
In reality Sheffield were never at the races for much of this afternoon, no doubt Sutton would have done their homework and had someone watch Club's victory on the same patch on Tuesday, as the hosts seemed in control for much of the game. It was a game of mixed fortunes, despite some physical battles out there, this was never a game that warranted a single red card – let alone two – and you simply can't do anything about the two own-goals, both were just unfortunate. Naturally after the recent change of form Club will be disappointed, and will need to improve a fair bit to get back on track for Tuesday's Senior Cup tie at Frickley Athletic.
More of Ben Webster's photos of this game can be found on http://bit.ly/fA7dxd.
Sutton Coldfield Town: Lewis, Miller, N.Dodd, Owen (McNaught), Booth, Kelly, M.Dodd (Quiggin), Jones, Marshall (Milligan), Bellingham, Jackson. Subs Not Used: Harris, Pinto.
Sheffield FC: Whatsize, J.Smith, Woolley, Norman (Harrison), White, Hadfield, Roney (Gosling), Gascoigne, Lynam, Purkiss (Adam), Gregory. Sub Not Used: O'Brien.
Att: 137.
Romulus 0 Sheffield FC 2
Evo-Stik Division One South
Tuesday, 01/03/11
Sheffield FC pulled off an unexpected but wholly deserved 2-0 victory at Romulus on Tuesday evening, writes Roy France. In doing so they climbed two places in the table to fourteenth but more importantly the result will build the confidence following the recent poor run. Caretaker Manager Ian Whitehorne was delighted with the performance and commented, "Not only did we play well as a unit, but we controlled the play in every area of the game. And we kept a clean sheet for the first time in twenty games stretching back to Houghton Main last November!"
Due to player unavailability Club's line up had an unfamiliar feel with Dan White being joined in the back four by Jack Smith and Darren Norman, signed from Kendal Town and Sheffield Hallam University respectively. Joel Purkiss got a rare start up front in place of the suspended Brian Cusworth.
Against a Romulus side who had won nine of their previous ten games Sheffield got on the front foot straightaway and took the lead after eight minutes on a cool clear night courtesy of a superb individual goal from Steve Woolley. The left-back found himself unmarked in midfield and ran forward before unleashing a beautiful 25 yard shot high into the net past a bemused Lewis Exall. It what just the start Sheffield required and with White in commanding form at the back it set the tone for the rest of the encounter.
The ball was being moved quickly on a very fast and true surface with the referee, Mr Garrett, adding to the pace of the game by allowing numerous advantages. Nathan Walker undertook a busy scurrying role for the home side. Sheffield should have doubled their lead on 17 minutes when Norman won a header in the box and the ball fell perfectly to Ant Lynam who uncharacteristically volleyed wide with only Exall to beat. At the other end Smith got in with a couple of good clearances and it wasn't until the 25th minute that Romulus had a shot on goal, the inform Dan Whatsize saving comfortably from Marvin Johnson. A minute later Woolley and James Gregory combined well on the left, the winger's volley going just over.
On 31minutes Lynam was brought down in the left corner of the box but the referee waved away the penalty appeals, influenced by the fact that our forward was moving away from goal. However eight minutes later Mr Garrett was in no doubt to award a red card to Johnson for a stamp on Norman. Sheffield took advantage of the extra man to press forward and just before the break Woolley's free-kick agonisingly drifted wide of the far post with nobody prepared to take a gamble on getting a touch to it.
In the first minute of the second half Romulus had a penalty appeal when the ball may have struck Norman's arm – Whatsize was quick to pounce on the ball before Marcus Brown could shoot. Woolley and Gregory again linked up on the left flank five minutes later but this time Steve's shot came out off the underside of the crossbar. Sheffield continued to have the better of the play, forcing a couple of corners, but Romulus made the occasional foray upfield, on one occasion a dipping shot from Ashley Jackson was expertly finger-tipped over by Whatsize.
After 72 minutes came the decisive moment of the match. Purkiss got away on the right and crossed to Lynam who turned and fired a shot on goal, the ball rebounded back to Purkiss whose shot was blocked by the arm of Phil Male – penalty! Up stepped Andy Gascoigne to stroke home to the left corner and make it 2-0. Romulus could make no further impact on the game with White marshalling the visiting defence superbly. Indeed the final real chance of the game came to Sheffield in injury time when Gregory was twice foiled by Exall.
So Sheffield's mini-revival continues and by a quirk of the fixture list they return to Coles Lane this Saturday to face landlords Sutton Coldfield Town in what promises to be a fascinating encounter.
Romulus: Exall, Rob Evans, Paskin (R.Evans), Robinson, Male ©, Day, Walker, Faulds, Brown (Arshad), Johnson, Jackson. Subs Not Used: Simpson, T.Evans, Link.
Sheffield FC: Whatsize, J.Smith, Woolley, Norman, White ©, Harrison, Heywood (Birks), Gascoigne (Modest), Lynam, Purkiss (O'Brien), Gregory. Subs Not Used: Adam, Moverley-Gray.
Sheffield FC 3 Shepshed Dynamo 2
Evo-Stik Division One South
Saturday, 26/02/11
Managerless Sheffield FC put the recent form behind them, writes Stuart James, coming back from two goals down to grab all three points at a very muddy Coach and Horses ground. After some sterling work from volunteers to get the pitch fit for play, Club suffered the worst kind of start, falling behind to early goals from Greg Smith and Rob Bolland, but things soon changed midway through the first half when Smith saw red for a ghastly lunge on Andrew Gascoigne. Buoyed by the man advantage, Sheffield pushed forward, managing to pull a goal back before the break when Sam Kirton turned into his own net. An early James Gregory strike drew the hosts level inside the first few minutes, and with Dynamo on the rack this was soon followed by an Andy Gascoigne goal from a penalty rebound, after Gavin Saxby had saved his initial effort.
After all the trials and tribulations of the past week, the questions surrounding who will or won't be in charge of the Club for the foreseeable future, the overnight rain was the latest stumbling block for Sheffield FC. An early morning call for fans to help out getting the pitch ready for action proved successful - albeit with still a pudding of a surface to contend with - and with more new faces to add to the squad in the shape of ex-Retford stalwart Dan White and Darren Norman, the expectation of an interesting afternoon lay ahead.
That interest was directed very early on along the lines of how many would Sheffield concede, as Shepshed on the back of some semi-decent recent form started like a house on fire, putting the hosts well and truly on the back foot. Inside the first few minutes a cross from Aidan Brady was met in the middle by Rob Norris, with the striker's sidefooted effort being well blocked by Dan Whatsize, who turned the ball round for a corner. From the resultant corner, Norris swung the ball in, and after a bit of defensive indecision SMITH got his head on the ball to direct it into the goal. Shepshed were good value for their lead and looked like they could add to their tally at will, and probably should have as Smith put the ball into the middle, with Dean Oliver's header deflecting into the arms of Whatsize. The inevitable happened on 12 minutes, as Oliver's shot ricocheted into the path of NORRIS, and making the most of the time available and a certain amount of composure the ball was slipped home to double the lead. To be fair at this point Sheffield wouldn't have had much complaint if the score hadn't been put beyond them; Sam Leggitt forced a great save from Dan Whatsize, whilst Dean Oliver had his chance to extend the lead but shot over. On 22 minutes things took an unexpected turn, as the comfortable looking Shepshed were all of a sudden handicapped when Smith went in dangerously on Andy Gascoigne on the touchline, leaving referee Hunt no hesitation in brandishing the red card. The impetus was soon turned, and with the man advantage it was Sheffield who were on the front foot, changing the look from battered and beaten to having a bit of hope. Soon the chances started coming the way of the hosts, and after being camped in their own half, with Gregory sounding the first warning with a header which went just over. Within five minutes of the sending off they had a lifeline, Brian Cusworth sent the ball into the danger area, and with Ant Lynam bearing down on goal Kirton could only steer the ball beyond Saxby for an OWN-GOAL. Shepshed no longer looked the confident outfit of the opening minutes and to be honest looked a bit rocky at the back, with Sheffield pressing for a pre-break leveller, and they could be considered unlucky not to do that after skipper for the day Matt Roney sent a ball into the middle for the sliding Brian Cusworth – sadly for Club's leading goalscorer he couldn't get the vital touch to direct the ball home.
James Gregory versus Jordan Fairclough...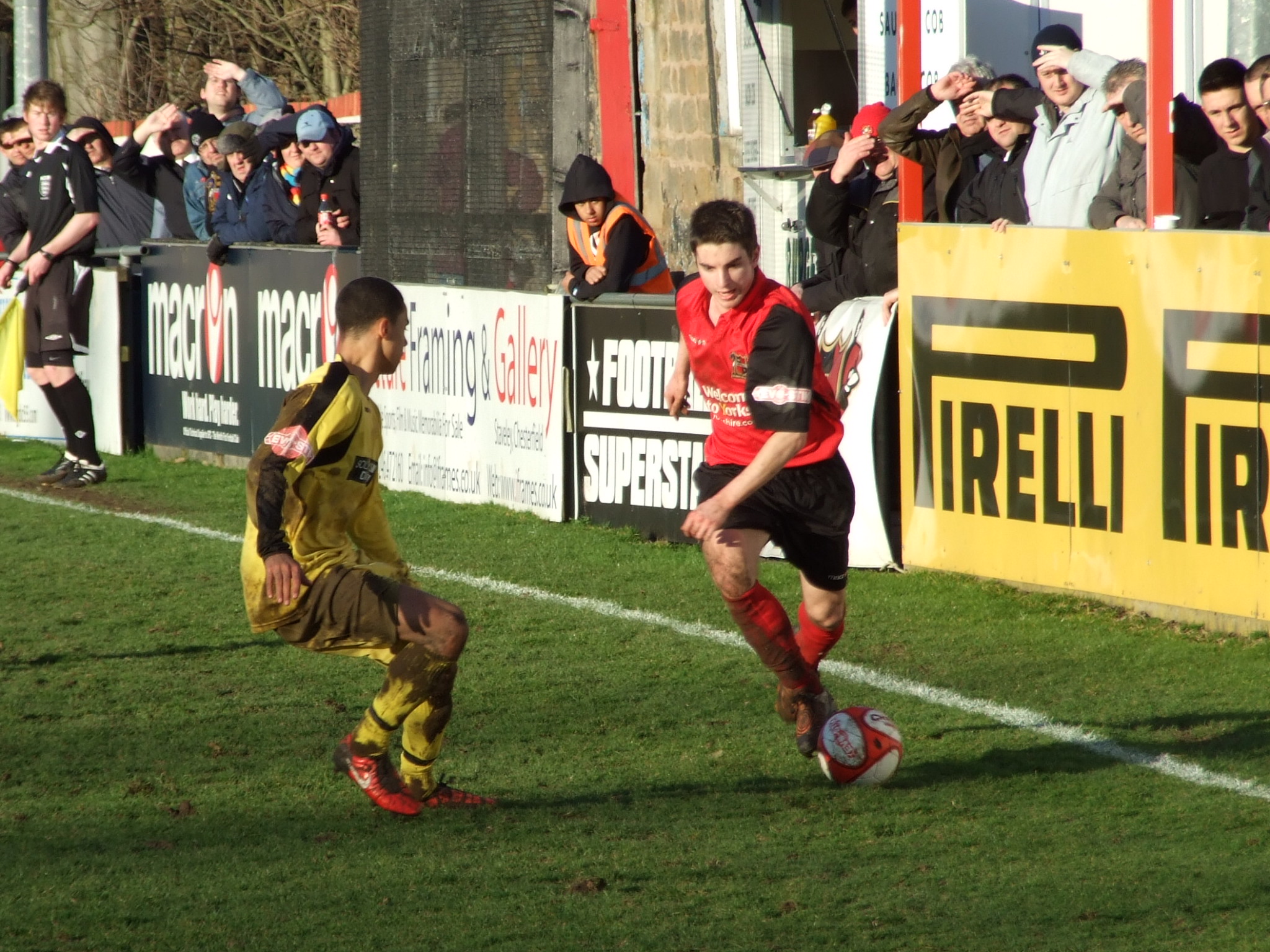 Photo by Andy Turnidge.
It didn't take too long after the break for Club to draw level, a cross-field ball found James Gregory out on the left wing, the youngster's speed and balance left Jordan Fairclough for dead with a drop of the shoulder, creating enough space for him to curl the ball beyond Saxby into the far corner. From here on in it has to be said it was all Sheffield; the visitors looked out of it and frankly shell-shocked, hanging on to a crucial point when three had looked a formality not too long ago. Ant Lynam showed some fleet feet to produce a flashing cross across the face of the goal – with no-one available to add the touch to steer the ball home – whilst some good work by Gregory found Gascoigne in space, who in turn put the ball over the top. Lynam looked likely to add to his tally midway through the half, as the ball bounced out of the box to his feet twenty yards from goal, Lynam struck the ball with venom hitting the inside of the post. With just under twenty minutes to go Gregory floated the ball over the top to Matt Roney at the back post, under a bit of excessive attention from opposition skipper Iain Screaton the Sheffield man went to ground, with the referee eager to point to the spot. It may have seemed a bit generous to award the penalty, but justice seemed to have been served when Andy Gascoigne slapped the ball straight at Gavin Saxby, however GASCOIGNE was in a far from generous mood when he slammed the rebound home. Even though there was still a quarter of the game to go, that seemed to be that, and Club could even have gone on to make it a more emphatic scoreline. Club should have turned home a goalmouth scramble, then Steve Woolley set up Matt Roney who sidefooted the ball wide, but the chance of the game came with Andy Gascoigne galloping clear in a four against one break – however instead of squaring to one of his three attacking associates, he chose to try out Saxby, who did well to block the shot. Shepshed had a late chance to salvage a point from the wreckage, when substitute Justin Jenkins was put in acres of space on the right with only Whatsize to beat, unfortunately for him the Sheffield stopper was up to the task of denying the visitors a vital point.
A defeat today would have had Sheffield looking nervously over their shoulders, with a win-less streak and a transient squad potentially adding to a very edgy end-of-season run-in, luckily that fear has been allayed for the time being at least. As it is, this entertaining performance has created a fourteen point buffer between Club and Shepshed in the relegation spots, moving to the relatively safe position of 16th place in the league. Next up is the first of a dual trip to Coles Lane in Sutton Coldfield, where Sheffield face play-off contenders Romulus on Tuesday, closely followed by another visit to the same ground to face the ground's landlords – Sutton Coldfield Town.
Sheffield FC: Whatsize, Starosta (Hadfield), Davis (Woolley), Winter, White, Harrison, Roney ©, Gascoigne, Cusworth, Lynam (Purkiss), Gregory. Subs Not Used: Adam, Norman.
Shepshed Dynamo: Saxby, Fairclough, Kirton (Whyley), Leggitt (Steadman), Dean, Screaton ©, Norris (Jenkins), Bolland, Oliver, Smith, Brady. Subs Not Used: Revill, Frecklington.
Att: 269.
Sheffield FC 1 Glapwell 3
Evo-Stik Division One South
Tuesday, 22/02/11
Sheffield FC began the post-Chris Dolby era with a home defeat to Glapwell, although there was much encouragement for the home fans, particularly with an enterprising first half display, writes Roy France. Acting manager Ian Whitehorne reshuffled the back four, bringing in Daz Winter at centre-half and including Ben Starosta, who has returned from Australia, at right-back. Young Immanuel Haywood was given a full debut on the wing but his appearance was curtailed by injury.
On a clear crisp evening Sheffield began well and in the second minute created danger as Brian Cusworth just failed to get on the end of a Starosta cross. As the game progressed it was hard to tell who were the play-off pushing side with both sides playing constructive football on the heavily sanded surface. On 14 minutes a long ball found home debutant Ash Lynam who moved forward well and drilled a left foot shot just over. Glapwell responded well and Ian Holmes found Conor Higginson who pulled a shot wide when well placed. Back to the other end and a delightfully floated Matt Roney free-kick saw Andy Gascoigne head just past the far post. A further spell of Sheffield pressure ended with Callum Harrison firing over.
Glapwell's Steve Kennedy rises highest to clear...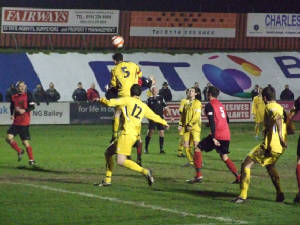 Photo by Andy Turnidge
However it was Glapwell who went ahead on 27 minutes. From a free-kick Matt Varley headed back across goal and Holmes reacted first to head home from very close range. Sheffield were right back into in as Lynam again got clear of his marker to nod a Roney cross wide. On 36 minutes the equaliser arrived when Hadfield headed home a Starosta cross despite visiting keeper James Lindsay getting a hand to it. Substitute Joel Purkiss was making a real impact and he ran 30 yards before unleashing a shot from 25 yards which Lindsay did well to turn over just before the break.
So it was all to play for as the second half commenced. Within three minutes Glapwell regained the lead when the previously anonymous Adam Kimberley drilled home a terrific effort from over 20 yards giving Dan Whatsize no chance whatsoever. Sheffield responded but Glapwell's trio of centre-backs were in dogged mood. Purkiss was cautioned for a minor foul and then Roney got on the end of a Cusworth cross but was foiled at close range by Lindsay. Both players received prolonged treatment.
Then on 64 minutes came the decisive moment. Higginson made a break with an excellent dribble and poked towards goal, Whatsize looked to have it covered but despite his and Hadfield's efforts the ball trickled into the net to make it 3-1. Sheffield heads dropped temporarily and Higginson could have made it four as he ghosted past Hadfield but Whatsize turned his effort away. Glapwell's Michael Harcourt was booked for pulling back Roney and he was joined by Higginson for kicking the ball away.
As the game entered the final ten minutes Sheffield were still trying bravely to get something out of it. Lynam and Winter had long range shots just creep wide whilst Whatsize again prevented Higginson from adding to the visitors' tally. Just on time Sheffield won a free-kick 25 yards out and up stepped Lynam to rattle a fierce unerring shot against a post with Lindsay hopelessly beaten. So Sheffield lost at home again but should go into Saturday's fixture with Shepshed Dynamo with more confidence after the overall improvement in their display.
Sheffield FC: Whatsize, Starosta (Betts), Davis, Winter, Hadfield, Harrison, Roney (Shutt), Gascoigne, Cusworth, Lynam, Haywood (Purkiss). Subs not used : Clark.
Glapwell: Lindley, Harcourt, Magee, Varley, Kennedy, Timons, Kimberley, Shelley, Holmes (Walker), Brown (Townsend), Higginson. Subs not used: Godber, Richmond.
Att: 197
Spalding United 3 Sheffield FC 2
Evo-Stik Division One South
Saturday, 19/02/11
Sheffield FC's woes continued as they suffered defeat to the League's bottom side Spalding United in a damp Lincolnshire on Saturday writes Roy France. Despite a couple of impressive strikes from new striker Ant Lynam mistakes at the back caused a 3-2 defeat and gave the management team further headaches as they seek to achieve a successful blend of experience and youth.
Perhaps the bravest effort of the day came just before kick-off when the Polka Dot Dance Troup put on a display in treacherous conditions to welcome the teams out. Sheffield also gave a debut to Doncaster Rovers youth player Joe Betts at right-back, replacing the departed Greg Wright, whilst Robbie Clark came back into mid-field in a 4-4-2 formation.
James Gregory, apparently being watched by Swansea, was quickly into action with a fast run in the first minute before being brought down. Clark's 20 yard free-kick drifted just over the bar. As Club had the better of the opening exchanges Cusworth played a neat one-two with Gascoigne but shot wide. Jamie Hadfield received a soft yellow card on 14 minutes when he fouled Jammal Shahin. Dan Whatsize turned over Matt Kennedy's free-kick.
Nathan Thackery rises highest to punch clear...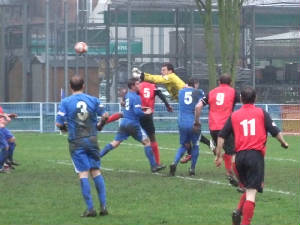 Photo by Andy Turnidge
Gregory was Sheffield's most dangerous threat and after another quick run and link up with Cusworth the winger put a shot into the side netting. However Spalding were also coming into the game as Shahin had a couple of efforts at goal. Another Gregory run, beating two players, ended in Nathan Thackery making a fine save. But on 26 minutes it was the home side who took the lead when Gary Pawson headed home a corner from the right from Josh Nodder.
Spalding gained confidence as Sheffield's midfield failed to gain any control of the game. Then on 43 minutes Gav Smith missed a clearance, the ball ran to Shahin in the box and he slotted past Whatsize to make it 2-0. Club responded well to this and Andy Gascoigne made a run before being brought down by Jake Thompson who was booked for his challenge. From the resultant free-kick Lynam drilled home a fierce 25 yard shot past Thackery before he could move to halve the deficit at the interval.
Gregory continued to be a threat at the start of the second half and he sent over a tantalising cross which Brian Cusworth just failed to get a header on. However on 53 minutes very sloppy defensive work by Sheffield, when there appeared little danger, presented the ball to Nodder twelve yards out and he placed a shot past Whatsize to put the host into a 3-1 lead to the delight of their small but delighted support. Over the next period a pattern of play developed as Spalding sat back to defend their surprise lead and Sheffield toiled to create chances. Betts was booked for a foul on Nodder and Matt Roney came on to provide width on the right. Roney now was receiving plenty of the ball so Sheffield had a threat on both wings, but he was too was cautioned along with Nodder after an altercation.
On 71 minutes Roney was played through on goal and his angled shot was parried out by Thackery but only as far as Lynam who cracked home Sheffield's second goal via a post from 12 yards. Spalding continued to defend deep with ten men back and only Jake Outram up front as Sheffield pushed forward in search of an equaliser. However hampered by the heavy conditions no real serious threat on the home goal came. Even almost eight minutes of added time failed to produce a decent chance and so Spalding held on to produce their first victory since mid-November.
Sheffield again were left to reflect on costly defensive errors and have a chance to put that right on Tuesday evening when Glapwell are the visitors to the BT Local Business Stadium. It was also announced that Scott Lowe has left the Club but two more signings are expected this week to bolster the squad.
Spalding United: Thackery, Keale, Brewer, Goosey, Pawson ©, Holding, Currithers, Thompson, Kennedy (Outram), Shahin, Nodder (Self 90). Subs Not Used: Chappell, Lyon, Freeman.
Sheffield FC : Whatsize, Betts, Davis, Hadfield, Smith, Harrison (Roney), Clark, Gascoigne, Cusworth ©, Lynam, Gregory. Subs Not Used: Shutt, Winter, Dolby.
Att: 74.
Barwell 3 Sheffield FC 0
Evo-Stik Division One South
Tuesday, 15/02/11
Sheffield FC were outscored if not outplayed in Leicestershire on Tuesday evening in going down 0-3 to league leaders Barwell in a repeat score to the opening day of the season fixture writes Roy France. Two goals in quick succession midway through the first half plus another just after the break completed a miserable evening in equally miserable wet weather.
Midfield debutant Josh Shutt, signed from Handsworth, found himself in the referee's notebook after only ten seconds following a late tackle on Scott Lower. Shutt was almost red carded for another foul a minute later but got off with a final warning from referee Mr Perry. Play was generally even in the opening spell with James Gregory occasionally threatening on the wing. Gav Smith was next to receive a yellow card when he pulled back Lewis Dodd on 19 minutes but the free-kick from 20 yards from the long haired Jai Stanley was well blocked by the wall. However on 22 minutes Barwell went ahead when a low cross from Jamie Towers was met by Dodd to bundle past Whatsize. Four minutes later the lead was doubled as a long ball found Luke Barlone on the left, he skipped past Smith and curled a shot past Whatsize from an angle.
Barwell celebrate their second goal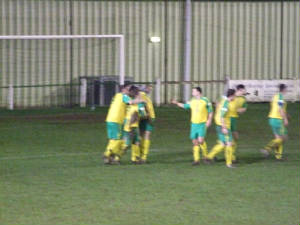 Photo by Andy Turnidge
As the rain heavied Sheffield rallied and Greg Wright's cross found Gregory whose fierce shot was deflected for a corner, from which Hadfield headed narrowly wide. Barwell seemed content to rest on their laurels and just before half-time a Smith header from a Gascoigne corner was well saved by Liam Castle. Sheffield were enjoying a good spell and just before the whistle Harrison side-footed over following a mazy run from Gregory.
Cusworth had a snapshot go just over in the first action of the second half but on 48 minutes came the killer moment. A Scott Lowe mistake was pounced on by Towers and he easily brushed off Ryan Davis before running forward and side-footing past Whatsize to make it 3-0. Next time Towers received the ball he was clattered by Davis who received a caution. As the rain eased somewhat so again did Barwell and it was Sheffield who enjoyed the bulk of possession for long periods but without creating a clear goal scoring chance.
Matt Roney was introduced and he got in a number of crosses which came to naught. As the final 15 minutes commenced play became very end to end. Sheffield's best effort came when Andy Gascoigne thundered a free-kick against the cross-bar. Third gear Barwell became frustrated and no less than three of their players found themselves in the referee's notebook, namely Greenway, Letts and Towers for various offences. Sheffield to their credit never stopped trying but even a consolation goal was some way off.
Next up Club travel to bottom club Spalding on Saturday, hoping for better weather and a better outcome.
Barwell: Castle, Lower (Letts), Wykes, Sanders, Francis, Stanley (Greenway), Towers, Hadland ©, Barlone, Charley, Dodd (Dutton).
Sheffield FC: Whatsize, Wright, Davis, Smith, Lowe (Roney), Hadfield, Harrison, Gascoigne, Cusworth ©, Shutt (Hayward) Gregory. Subs Not Used: Rupere, Cooksey, Ruddiforth.
Att: 117.
Sheffield FC 1 Carlton Town 1
Evo-Stik Division One South
Saturday, 12/02/11
A spectacular injury time strike from leading scorer Brian Cusworth gave Club a hard-earned share of the points, writes Stuart James, putting a dent in perennial bogey team Carlton Town. On a very heavy Coach and Horses pitch, Sheffield were made to struggle against a gritty Millers' side, going behind to a fantastic solo effort from Terry Hawkridge. Sheffield should have levelled midway through the first half, when Neil West saved a Brian Cusworth penalty, after hauling Robbie Clark down in the box. However when all seemed lost, and with time running out, it was a goal that paled Wayne Rooney's well-publicised Manchester Derby winner that squared things up to give scoreline with a true reflection of the previous ninety minutes.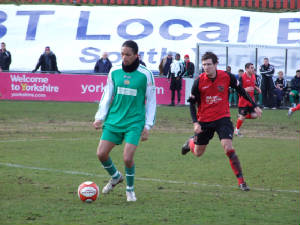 Photo by Andy Turnidge
After suffering three consecutive heavy home defeats, Club's confidence going into this one would be expected to be a little shaky to say the least, however it was the home team that started the game the brightest with Matt Roney having an effort tipped over the bar by veteran stopper Neil West. Carlton weren't long in finding their feet in this contest though, and were quick to counter-attack with the ever-dangerous Curtis Shaw setting Massiah McDonald on his way, forcing Dan Whatsize into a good block with the attacker bearing down on goal. The visitors showed their pedigree on the quarter hour mark, as the ball fell to HAWKRIDGE out on the right hand side, and the nippy midfielder showed great balance and composure to skip past three defenders and still have enough left to drive the ball home. Sheffield tried to come back into the game immediately, and could have pulled level straight away as Brian Cusworth won an aerial battle to lay the ball back for James Gregory, however the youngster's shot was hooked over the top. The physical nature of Carlton's play was also evident, as they out-muscled Club in several areas, a point summed up when McDonald wrestled Scott Lowe off the ball before shooting over. On the flip-side they also showed what a quick-footed side they are too, with Shaw and Hawkridge combining skilfully to send the ball to McDonald, who in turn was left ruing his luck as the ball fell kindly to Whatsize. Sheffield were given a lifeline just before the break, as Cusworth yet again won the ball in the air to give Robbie Clark a clear run on goal, only to see the little speedster hauled down by the keeper as the ball was knocked past him. Normally at this point there would be a description of how the ball ended up in the net, this time though Mr West's experience shone through as he stood up to Cusworth's straight-down-the-middle drive, with the rebound being skied over the top by Daz Winter. In injury time Sheffield had another chance to go into the break level, as Clark and Roney combined to set up Cusworth, with the big forward's shot on the turn blocked with ease by the feet of West.
With the pitch cutting up even more as the game progressed, it was always going to be a war of attrition, however Carlton could still have added to their account in the opening minutes. Curtis Shaw and Massiah McDonald combined down the right to send a ball into the box, and with Neil Grayson steaming in it looked every inch another goal, unfortunately for the visitors he couldn't get that vital touch. Moments later Deon Meikle shot from 25 yards, Dan Whatsize got down well to parry strong and safe, with the rebound being ruled out for offside. Club hadn't really threatened in the second period, the game had deteriorated into a midfield slug-out, and it was ten minutes from time before a Lee Cooksey shot even tested Neil West. Things started to spring to life with Carlton's introduction of substitute Nick Hall, whose first contribution was a dreadful two-footed lunge on Ryan Davis, that received a very generous yellow card from referee Mr Dwyer. All of a sudden the game started to have a bit more than kick and rush, with the Millers almost wrapping things up when the ball fell to substitute Anton Bonnick, with his shot being well turned round the post by Dan Whatsize. With injury time ticking away and another home defeat looming it was a last-ditch attack that brought the house down, with Joel Purkiss chipping the ball into the box, it was only headed as far as CUSWORTH who jumped to pull off a spectacular bicycle kick that flew into the top corner of the net – the only place not covered by West or his defenders. Outstanding!
After such a dreadful recent home record this was just the medicine the side needed, and with a midweek trip to league leaders Barwell coming up, quite timely too. Whilst it would be wrong to say this was a great performance from Sheffield, it wasn't, it did however show that there is still a never-say-die spirit the side that seems to have been missing the last few home games. Where home players' heads have been seen to drop to their chests, today saw a different side to the lads, and it was nice to see. Hopefully we'll be able to see several more examples of this sprit before the season ends, starting with a difficult trip on Tuesday in Leicestershire, against a side who extended their lead at the top with another win this afternoon.
Sheffield FC: Whatsize, Wright, Davis, G.Smith, Lowe, Winter, Roney (Ruddiforth), Cooksey, Cusworth, Clark, Gregory (Purkiss). Subs Not Used: Hadfield, Dolby, Rutkowski.
Carlton Town: West, Darkin, Fletcher, Shaw (Hall), Kitchen, Hawkridge, Thornton, Naylor, Grayson, McDonald (Bonnick), Meikle. Subs Not Used: Gardner, Goward, Hollis.
Att: 234
Sheffield FC 1 Newcastle Town 4
Evo-Stik Division One South
Tuesday, 08/02/11
Once again the luck deserted Sheffield this evening at the Coach and Horses, writes Stuart James, as promotion hopefuls Newcastle Town came to Dronfield and blew the hosts away with an emphatic scoreline. After falling behind to two early goals from Jordan Johnson and Alan Nagington, Club rallied with a tremendous Gavin Smith strike, and looked good value for troubling the visitors for a fair share of the spoils. However an unfortunate own-goal on 63 minutes from Jamie Hadfield turned the tide, with Nagington adding Newcastle's fourth eight minutes later, and could have even run out even more convincing if they'd converted one of the many chances they had after.
After showing some fearsome league form prior to Christmas, remaining unbeaten until the middle of January, Newcastle had unexpectedly hit a run of two league defeats on the run and were looking to get back on track at the expense of an inconsistent Sheffield side. They started the game as f they meant business, and within the first three minutes they were ahead as JOHNSON burst through the midfield with very little opposition, before unleashing a shot that was heavily deflected past Dan Whatsize. Newcastle were well in control with the hosts looking rather shell-shocked at the opening and on fifteen minutes their lead was doubled, as once again Johnson skipped through the defence to cross the ball across the face of the goal, leaving NAGINGTON an embarrassingly easy tap-in from a yard out. To their credit Sheffield didn't roll over at this stage, and came back into the game three minutes later after a Daz Winter free-kick was headed clear by the defence, only to land at the feet of SMITH who hit the ball as sweet as you like on the half-volley into the corner. The confidence came back into Sheffield's play now, and they could consider themselves unlucky not to go into the break level following a Matt Roney cross that was met by the head of Gavin Smith, only a smart save from Daniel Read saving the day for Castle.
Club on the defensive once again...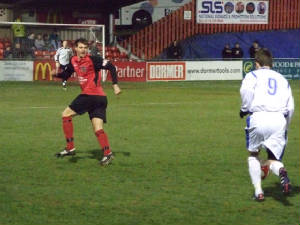 Photo by Andy Turnidge
Club started the second half as they'd finished the first – on top – and it was they who were causing most of the early pressure, going close after Brian Cusworth typically won an aerial battle with the visiting defence, teeing up Callum Harrison with a chance that was hooked over. The tide turned dramatically just after the hour mark, as John Sheldon burst down the right flank before crossing in, unfortunately for Jamie Hadfield he could half his momentum and turned the ball past Whatsize for an OWN-GOAL. Newcastle's early game confidence suddenly returned and were now very much on the front foot, and with twenty minutes to go a long ball from defence found NAGINGTON, who had the time and composure to slot the ball past Whatsize. All of a sudden it had become a rather one-sided contest, with chances coming thick and fast for the away team, only to see a mix of bad finishing and great goalkeeping from the hosts' custodian keeping the score to a respectable level. Neville Thompson skipped through the defence only to shoot wide, John Sheldon had two efforts both well stopped by Whatsize, whilst the Sheffield keeper produced the save of the match to tip over a drive from Jordan Johnson.
It goes without saying that Newcastle were good value for their win, the recent hiccup in form was just that, and the leading lights in the Evo-Stik Division One South will be looking over their collective shoulders as they charge relentlessly into the play-off positions. As for Club, well this was another one of those "what ifs", with the own-goal proving to be a cruel and crucial turning point in the contest. Next up is the visit of another play-off contender, Carlton Town, who will come to the BT Local Business Stadium full of confidence given their "bogey team" status over Sheffield. The form book however points to the fact that the Millers have slipped up against some of the teams around the lower reaches and mid-table, whilst saving their Blue Riband performances for the top-of-the-table contests, hopefully with that in mind they may come to Dronfield a little over confident.
Sheffield FC: Whatsize, Wright, Woolley (Davis), Hatfield, G.Smith, Winter (Cooksey), Ruddiforth, Harrison, Cusworth, Purkiss, Roney. Subs Not Used: Lowe, Dolby.
Newcastle Town: Read, Willis, White, Donnelly (James), Dicker, Douglas, Johnson, Heler, Nagington (Minor), Thompson, Sheldon. Subs Not Used: Espley, Connor, Cliffe.
Att: 203
Goole AFC 2 Sheffield FC 5
Evo-Stik Division One South
Saturday, 05/02/11
Sheffield recorded a heroic win at Goole today after being 0-2 down and having to play with a stand in goalkeeper for more than half the game, writes Roy France. A tremendous and canny display saw the away side net five times subsequently without reply to take the three points on offer with good link up play between the experienced Brian Cusworth and the more youthful speed of Ryan Ruddiforth, James Gregory and Joel Purkiss being the crucial difference between the sides.
At a damp Victoria Pleasure Ground the first quarter of the game was very even if slightly lacking in incident. After nine minutes Cusworth headed over a Matt Roney cross and five minutes later at the other end Gavin Allott similarly headed over an in-swinging corner from Luke Jeffs. The first attempt on target did not arrive until 21 minutes when Steve Woolley made a surging 30 yard run before picking out Cusworth whose low hard shot was well saved by ex-Clubbie Leigh Walker. Sheffield were beginning to realise that the home defence could be unsettled by running at them and after half an hour Lee Stratford was booked for pulling back Cusworth. Gav Smith headed Daz Winter's resulting free-kick just wide.
Three minutes before half time began a flurry of action. Dan Whatsize appeared to injure himself when catching a corner but was equal to Gavin Allott in a one on one situation just after, but made the injury worse when saving with his leg. From the resultant corner though Whatsize was clearly in distress and could only palm the ball to Grant Allott who drilled home from 10 yards to open the scoring. Whatsize indeed could not carry on and Sheffield reorganised by putting Roney into goal and bringing Ruddiforth on up front. However before we could resettle properly a defensive mix up left Simon Harrison clean through and he put the home side 2-0 up with some ease. Club retaliated immediately and in added time a high ball into Goole's box was headed on by Cusworth to Ruddiforth who controlled the ball on his thigh and with his back to goal flicked the ball through his legs and into the corner of the net to make the interval score Goole 2 Sheffield 1.
Steve Woolley drives towards the Goole goal...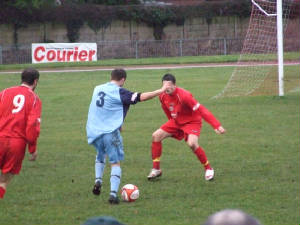 Photo by Andrew Turnidge
There was no let up in the action at the start of the second half as the rain came down heavier. Josh Hope was booked for hauling back Gregory while at the other end neat interplay between Simon Harrison and Simon Spencer saw the latter force Roney into a save. On 49 minutes Sheffield equalised when Oliver Banks let fly from all of 30 yards and the ball sailed into the top corner past a helpless diving Walker. A minute later though Spencer found himself in acres of space in the Sheffield box, but he headed well wide.
The game was now anyone's but Sheffield's pace up front was causing a few problems as the home defence appeared to tire. Gregory played a neat one-two with Ruddiforth but his shot was deflected for a corner. Goole's attacks were frequently halted by an off-side flag as substitute Vill Powell made little impact. The introduction of Joel Purkiss was to prove decisive as within four minutes of him coming on he made a smart turn in the box and was brought down by Hope. Mr Wade pointed to the spot and up stepped Cusworth to slam the ball home fiercely past Walker to put Sheffield in front for the first time with thirteen minutes remaining.
Now Goole came forward and Smith was booked for pulling back Gavin Allott twenty five yards out. Terry Barwick curled the free-kick towards the top corner but Roney leapt high to his left to magnificently palm the ball away from goal. Ten minutes now remained – could Sheffield hold on? Better than that as Gregory's pace continued to cause problems and the winger netted the fourth on 88 minutes when he fired home after a pass from Purkiss who had drawn three defenders before releasing the ball. Still Sheffield weren't finished as in added time Gregory sprinted to the far left corner before delivering a superb deep cross which Cusworth classically and firmly nodded back across Walker and into the net to make the final score 5-2 and complete a remarkable turnaround.
Weather permitting Club, now up to 16th in the league, will be hoping to reproduce this form at home on Tuesday evening when Newcastle Town are due in Dronfield.
Goole: Walker, Hope, Price, Grant Allott, Stratford ©, Dudgeon, Harrison, Barwick, Spencer (Powell), Gavin Allott, Jeffs. Subs Not Used: Ludlam, Ward, Robson, Pugh.
Sheffield: Whatsize (Ruddiforth), Wright, Woolley, Hadfield, Smith, Winter (Purkiss), Roney, Harrison, Cusworth ©, Banks, Gregory. Subs Not Used: Davis, Lowe, Cooksey.
Att: 189.
Glapwell 4 Sheffield FC 2
Evo-Stik Division One South
Tuesday, 01/02/11
Sheffield were left to rue a slack ten minutes at Hall Corner tonight, writes Stuart James, as they allowed a battling Glapwell side three gift goals to overturn a promising lead into defeat. A brace each from Connor Higginson and substitute Ian Holmes saw the hosts home, after Club had twice taken the lead through goals from Brian Cusworth and Greg Wright, as Glapwell capitalised on a mixture of good fortune and woeful human errors on the visitors' behalf.
Glapwell were the first to get to grips of a claggy pitch in the opening periods, as Connor Higginson was the first to test Dan Whatsize, firstly with a shot that was easily stopped by the keeper - followed shortly after by another effort that was palmed away, then hooked to safety by Scott Lowe. Sheffield started to get into the game a little after, and they too started to cause issues, in what was turning into an entertaining game of football. Greg Wright and Brian Cusworth linked up to feed the livewire James Gregory with a chance on goal, one that was well saved by James Lindley, whilst moments after Steve Woolley had an effort hit the back of the net only to see it ruled offside. It was Glapwell's turn to turn the screw shortly after, as first Higginson brought the best out of Whatsize, whilst both Ian Brown and ex-Clubbie Mick Godber also had chances to break the deadlock. It was Sheffield, however, that were looking most likely to do just that. Greg Wright's speculative cross bamboozled Lindley, with the ball hitting the cross-bar, then Callum Harrison's 30-yard strike was spectacularly tipped over by Lindley. With the game looking like it would head to the break goal-less, Daz Winter floated a free-kick into the box, rising above the crowd to head home was CUSWORTH to give the visitors a well-earned lead.
Is Ian Brown really "Made of Stone"?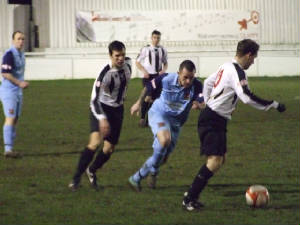 Daz Winter is about to find ut as he zeroes in on the Glapwell front man.
The second half started in a similar vein to the first, with Glapwell on top, and Higginson looking most likely to break the hosts' duck. Firstly Whatsize had to deny the number 11 with a fingertip save, then was called on to prevent yet another effort shortly after, this time a free-kick from distance. Whilst Sheffield looked to be on the back foot, it seemed they had things well under control, with the midfield stifling out everything that came their way. With under half an hour to go Glapwell drew level, as a cross in from Michael Harcourt was nodded back across goal by Ian Brown, and there to tap in with no-one around was HIGGINSON. It was no more than the youngster deserved, but the hosts joy was short-lived, as moments later Club had regained the lead. Yet again it came from a free-kick into the box won by Cusworth, this time a mix-up between two defenders meant the ball was only half cleared, and driving in from fifteen yards out was WRIGHT. Five minutes later things were level once again, as this time Glapwell's Matt Varley sent a free-kick in, Chris Timons flicked it on to HOLMES whose shot was deflected inside the near post. At this stage Club started to look rather fragile and were slow to pick up a short corner between Higginson and substitute Adam Kimberley, but when the ball was crossed in there looked to be little danger for the unchallenged Whatsize, that was until he dropped the ball under little or no pressure at the feet of HOLMES who tapped in the gift from a few feet out. The goal seemed to affect Sheffield, with the visitors looking noticeably shaken, yet they somehow managed to rally themselves for an all-out assault on Lindley's goal. Brian Cusworth went close after bring a long Greg Wright ball down neatly and hitting it on the turn, whilst Callum Harrison stunned everyone in the crowd with a thunderous thirty yard drive, one that had the crossbar still shaking a few minutes later. With Sheffield pressing forward they were always going to leave themselves exposed at the back, and when Scott Lowe could only deflect a long ball from defence on with his head, leaving HIGGINSON a clear run on goal to slot the ball under Whatsize. That effectively killed the game, however it could have ended up even worse as both Higginson and Holmes had opportunities to grab their hat-tricks, fortunately for Sheffield they didn't – thus preventing even more rough justice for the visitors.
Overall it was a decent performance for much of the game for Sheffield, however it was the short period midway through the second half that undid all the good work, and bruised the confidence that had built over the game. There were plenty of bright spots from the game, none more than the debut of new signing Oliver Banks, who showed some good touches on a very heavy pitch. Next up for Club is a trip on Saturday to the VPG, to face a goal-happy Goole, with ex-Clubbie Vill Powell in fine form – scoring in each of his side's last four appearances. Hopefully Sheffield's defence will be up to challenge to keep him, and his team-mates, quiet for the afternoon.
Glapwell: Lindley, Harcourt, Magee, Varley, Kennedy, Timons, Telling (Townsend), Walker, Godber (Holmes), Brown (Kimberley), Higginson. Subs Not Used : O'Hare, Shelley
Sheffield FC: Whatsize, Wright, Woolley, Hadfield, Smith, Lowe, Harrison, Winter (Purkiss), Cusworth, Banks (Foster), Gregory. Subs Not Used: Roney, Cooksey, Green
Att: 103
Sheffield FC 2 Kidsgrove Athletic 4
Evo-Stik Division One South
Tuesday, 25/01/11
Sheffield FC went down in a highly-entertaining six goal encounter against Kidsgrove at a drizzly BT Local Business Stadium this evening, writes David Bell.
Traffic delays meant the late arrival of the visitors and the rescheduled start time of 7.55pm became nearer 8pm as Kidsgrove finally completed their pre-match preparations. The disruption clearly told on the opposition as it was Club who made the livelier start. A tidy ball down the left flank by Andy Gascoigne saw Nat Foster slam in a left footed drive, which was beaten away by Kidsgrove keeper Steve Hodgson. It was a full seven minutes before Kidsgrove produced anything of note; robust strike duo of Matt Haddrell and Dave Walker combining, only to see Walker's shot go comfortably over. Sheffield continued to press with Hodgson saving at Foster's feet, after he had dispossessed Kidsgrove full back Danny Smith. Club's attacking approach p aid dividends on 18 minutes when Andy GASCOIGNE received the ball in the centre circle, skipped past several men and unleashed a low 25 yard drive into the bottom corner to give the home side a deserved lead.
Kidsgrove seemed spurred on by this as the lively Aiden Matranga put in a left wing cross to Charlton, who was blocked by a sturdy challenge from Jamie Hadfield. Just one minute later, Matranga repeated the feat as HADDRELL rose unchallenged at the back post to make it 1-1. Kidsgrove were undoubtedly in the ascent by this stage as a ball from the deep delivered by Sanders saw CHARLTON climb above everyone else to head firmly past Whatsize to make it 2-1 to the visitors. Athletic continued to push forward in numbers, with winger Urwin being the next to produce a decent run and cross down the right wing, only for the prolific Walker to see his shot blocked. The resultant corner saw HADDRELL climb once again to make it 3-1 with just half an hour on the clock. The rest of the half continued to go Kidsgrove's way. A last ditch Gav Smith tackle stopped Ur win in his tracks when clean through. On 33 minutes, Walker placed a shot from the edge of the area just past the post. Just a minute later, a poor Whatsize clearance fell again to Walker, who crossed to Haddrell for a textbook lay off, only to see no-one there to apply the finishing touch. Further punishment came on 42 minutes as Ryan Davis gave the ball away in the midfield. Sanders played in URWIN who shot without much power from distance, only to see the ball squirm under Whatsize to see the visitors up by 4-1.
The second half, whilst lacking in the high goal stakes set by the first, proved to be no less entertaining. Whatsize made amends for an abject first half display by his high standards with an early block against Danny Smith, who had skipped into the area after good work from Matranga. Club's defensive woes continued as Walker placed a left foot shot just past the post with cover sadly lacking. Club also had their chances. On 50 minutes, a Gav Smith header was comfortably saved from a Matt Roney free kick. Harrison followed up a minute later with a twenty yard effort that was always going wide. Failure to keep possession punctuated the performance, Gascoigne and Woolley giving the ball away at crucial moments that didn't aid Sheffield's attempts to get back into the game. Sheffield made a triple substitution. Purkiss replaced Roney, Cooksey for Gascoigne and debutant Callum Green for Nat Foster. This almost paid immediate dividends as Purkiss made a neat, jinking run squaring for Cusworth, who mis-kicked. Green nearly found himself in with his first touch of the ball and on 57 minutes, a rasping shot from fully 35 yards by Purkiss was well saved by Hodgson. Three minutes later, a right wing Harrison cross was adjudged to have been handled by Nick Ward in the area and CUSWORTH dispatched the penalty with aplomb to make it 4-2.
Whatsize continued to improve on his first half showing, making point blank saves from Haddrell and Walker and also tipping a 25 yard Haddrell free kick on to and over the bar. Sheffield pressed to gain something from the game, with a deep Darryl Winter cross being met by Cusworth, only to see his header saved. Purkiss placed an overhead kick wide from a Cusworth knock-down and a break from Steve Woolley saw Callum Green place a tame shot at the keeper when he should really have found the target.
An end to end game with much to recommend it to the neutral. However, Club need to tighten up the defensive aspect of their game to add to their undoubted attacking skills in order to capitalise and start to climb the table. The visit of Grantham on Saturday would be the ideal opportunity to start.
Sheffield FC: Whatsize, Davis, Woolley, Hadfield, Smith, Winter, Roney (Purkiss), Harrison, Cusworth ©, Foster (Green), Gascoigne (Cooksey). Subs Not Used: Lowe, Wright
Kidsgrove Athletic: Hodgson, Smith, Dove, Ward, Schwarz, Charlton, Matranga, Sanders (Beasley), Walker, Haddrell, Urwin. Subs Not Used: Shotton, Morris, Hall, Johnson
Att: 174
Quorn 1 Sheffield FC 3
Evo-Stik Division One South
Saturday, 22/01/11
After a poor mini run Sheffield FC brought joy to their supporters with a fine away win at Quorn writes Roy France, all the goals coming during an excellent first half display. Having lost a couple of key players midweek this display and outcome lifted spirits on and off the field and hopefully sets up a busy but successful final three months of the season.
On a bright afternoon on a heavier than usual Farley Way surface the visitors went ahead as early as the fifth minute. Foster fed to Roney on the right edge of the penalty box, the winger beat round Emidio Chiavetta, and the ball set up perfectly for a strong volley past the keeper into the far corner. On twelve minutes it was 2-0 as Foster found Gregory wide left and the youngster turned his full back, Joe Shaw, inside out before delivering a cross which defender Kris Mathews could only deflect via the floundering Matt Nurse in the home goal.
Confidence flooded through the Club ranks as young Gregory was having his best game to date and Woolley, Harrison and Winter also caught the eye. At the back Gav Smith was using his experience well to break up any attacking moves the home side put together. In the 22nd minute Chris White went in hard on a tackle with Smith but it was home player who came out the worst which led to a somewhat harsh caution for our number 5. Daz Winter received the same sentence for his part in the ensuing argument. Mr Ward awarded Quorn a free-kick as well and Steve Evans floated effort was nodded over Whatsize by Mathews to add to our sense of injustice and make up for his misdemeanour at the other end!
Eleven minutes before the break we restored our two goal lead. A deep cross from Ryan Davis found Gregory at the far post and he scrambled to Cusworth who dug out a shot which had just enough to find the back of the net via a slight deflection and the inside of a post. It was no more than Sheffield deserved but despite a lively period of midfield play there was no further scoring before the break, an Evans tackle stopping a flowing Gregory dribble just before the whistle.
Sheffield had the best of the opening exchanges in a quieter second half but were restricted to long range efforts from Foster and Winter and a volley from Gregory racing wide. However at the start of the final quarter Quorn at last got a foothold in the game and Whatsize made a fine save from a Kris Nurse header after a cross from Tom Byrne. Shawn Richards was looking lively but pulled a shot wide when well placed and then Smith had to be smart to get back and clear off the line after Nurse had gone round Whatsize and shot from a narrow angle.
To be fair though the three points were never in danger and Sheffield even had the last effort on goal through the returning Purkiss. So with two home games to follow on Tuesday and next Saturday can Club climb up into mid-table, time will tell.
Quorn: M.Nurse, Shaw (Turner), Chiavetta (A.White), Gray ©, Mathews, C.White (Byrne), Robinson, Evans, K.Nurse, Richards, Marshall. Subs Not Used: Buckingham, Thomas.
Sheffield: Whatsize, Davis, Woolley, Hadfield, Smith, Winter (Ronksley), Roney (Gascoigne), Harrison, Cusworth ©, Foster (Purkiss), Gregory. Subs Not Used: Dolby, Lowe.
Att: 151
Durham City 3 Sheffield FC 1
Evo-Stik League Cup Round Three
Tuesday, 18/01/11
A young Sheffield side showed considerable promise despite a disappointing scoreline, writes Rob Shepherdson, to exit the league cup at a very cold Arnott Stadium on the north east edge of the city of Durham. Both sides used this encounter to rest a number of first team players and give others a chance which for Sheffield meant a very young side on the starting line up captained by Matt Roney. The plastic pitch, which caused the hosts so many problems two years ago when the Blue Square League refused to accept Durham if they won promotion, is an earlier type than the Club used at Gosforth in the Christmas friendly against Hallam and wasn't to Chris Dolby's liking even before the match started.
For the first 10 minutes the play threatened neither goal and it wasn't until the host's impressive left winger Amar Purewal was found in space that he created the first chance when he crossed for striker Cutts to blaze over. Sheffield's first chance on the quarter hour mark fell to Foster who was unmarked on the edge of the area only to shoot wide. Unfortunately Durham responded almost immediately with a thirty yard cracker from Cutts giving Whatsize absolutely no chance, to lead 1-0. Worse was to come a few minutes later when the active Amar Purewal fed the ball through to Pounder who kept his head before slotting past Whatsize for Durham's second. Sheffield were still not overawed despite this setback and continued to match Durham in the midfield with some excellent passing football. Chances were still few and far between for the visitors however a Foster freekick - which went well over, and a Roney shot - well wide, did raise hopes for the travelling contingent in the stand. At the other end Durham's Purewal was proving to be a right handful on the left wing and created good chances for both Graham and Pounder.
Goalmouth action at Durham..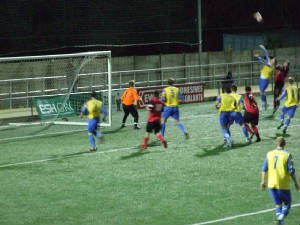 Photo by Andy Turnidge
Sheffield looked a better side from the re-start and seemed better able to anticipate how the ball would run having had 45 minutes experience. Young Ronksley fired a shot over within minutes of the restart and is followed by O'Brien finding his way through on goal only for a quickly responding defender to get his foot in and play the ball back to Graham in the Durham goal who picks it up; shouldn't that be a free kick? Just as fortunes seemed to be improving the threat from Durham returns with Purewal shooting straight at Whatsize, Cutts then drives wide of the post, and Dowson blazes the ball over the bar. A minute later the game was effectively over when Dowson slipped the ball through to Amar Purewal who scored with an easy strike inside the post to make it 3-0. A great save by Whatsize then denies a point blank attempt from Dawson. The first substitution on the hour sees Aaron Birks withdrawn in favour of Suade Modest whose arrival makes a big impact for the remaining 30 minutes. Callum Ward then hits the goal frame with some force only to be replaced shortly afterwards by Ashley Moverley-Gray. Moments later Gazza has a good header but this is wide of the mark and on 73 minutes we finally make a breakthrough. A Roney cross finds an unmarked Gazza in the box who makes no mistake from close in to make it 3-1. With 15 minutes remaining Gav Smith is replaced by Tawanda Rupere whilst Sheffield continue to show determination up front with both Foster and O'Brien Having half chances whilst at the end Whatsize was on hand to thwart Pounder twice in the final minutes.
Overall, this was a good performance by Club on a pitch that we are clearly not used too and we certainly edged the second half. However its goals that count and Durham put three away to earn the spoils which will now be Ashley Burbeary's Frickley Athletic in the next round.
Durham City: L.Graham, Baitey, Ayers, Harbord, Wilkinson, Arjun Purewal, Cutts, E.Graham, Dowson, Pounder, Amar Purewal. Subs Not Used: Bonnington, Monaghan, Home-Jackson, Ayre, Winter.
Sheffield FC: Whatsize, G.Smith (Rupere), Ronksley, Lewis, Galloway, Gascoigne, Ward (Moverley-Gray),Birks (Modest), Foster, O'Brien, Roney ©.
Att: 55
Sheffield FC 1 Rainworth Miners Welfare 4
Evo-Stik Division One South
Saturday, 15/01/11
For the second Saturday on the trot it was an afternoon to forget for Sheffield Club, writes Stuart James, as yet another so-called struggling side undid the World's Oldest Club with unerring ease. The ever-dangerous Ant Lynam stung the hosts with an impressive hat-trick, with some deadly finishing from almost identical build-ups, with Craig Mitchell completing the scoring for the Wrens. A solitary Nathaniel Foster goal added a bit of consolation to a rather disappointing afternoon, whilst Club's misery was wrapped up as Andy Gascoigne added to their woes, picking up his second red card of the season.
On an unsurprisingly heavy pitch, both sides took some time to really get going, even though Club looked to have adapted the better of the two teams. Even so it was Rainworth that had the first clear opportunity of the game, with Ant Lynam breaking clear off an offside trap to find himself clear on goal, sadly for the Wren's striker he couldn't dig the ball from under his feet to create a proper shot on goal with Dan Whatsize blocking the eventual effort. From the resultant corner Rainworth went close again, as Craig Mitchell exploited the wide open spaces in the Sheffield box, only to hook the ball wide of the post. Sheffield seemed to get a foothold in the game, and started to press the visitors, creating several chances. Brian Cusworth was put through by Andy Gascoigne, his shot eventually pulled wide, whilst moments later Scott Lowe stabbed a Matt Roney corner just the wrong side of the upright. The curse of Mark Hales struck moments later, as he produced a typically spectacular stop, as the Wrens' stopper denied a thunderous volley from Gascoigne. On the quarter hour mark Rainworth made the hosts pay for some wayward defending, as a ball over the top from James Jepson caught the Sheffield backline flatfooted, leaving LYNAM with a clear run on goal that the striker finished with aplomb. All of a sudden it was all Rainworth, as Lynam floated in a free-kick that Matt Baxter volleyed over, whilst shortly after Jepson tried an audacious shot from 40 yards that was tipped over by Whatsize. The visitors continued pressing Club, with Whatsize blocking a Barry Alberry volley, and four minutes before the break after it got a whole lot worse for the hosts as the lead was doubled after Baxter threaded the ball through to MITCHELL who made no mistake by slotting the ball under the keeper. There was still time for the Wrens to nearly add a third past a shell-shocked Sheffield, as once more Lynam found himself beating the flat backline, with Whatsize once again saving the day with a superb one-on-one block.
Half time saw a reactionary triple substitution for Sheffield, with Scott Lowe, skipper Brian Cusworth and Greg Wright all making way for reinforcements – but even this move seemed to have little effect on the way things were going. As with the first half Club did all of the territorial advantage, with the visitors making the most of the quick breaks, and causing most of the efforts on goal. James Jepson was gifted an opportunity to add to the scoreline, however he was unable to produce a shot of any consequence, just before the though the final nail was put in the Sheffield coffin. Club pressed forward – winning a corner – the ball was floated into the box, cleared by the defence over the top and into the wind, giving LYNAM another clear run on goal that was only going to end one way when the prolific striker got his eye on goal. Immediately after Club managed a lifeline, as the ball fell to FOSTER on the edge of the area, with the youngster curling a neat shot beyond Hales and into the corner. After this came a bit of a thrust from the hosts, which sadly produced nothing of note, whilst Rainworth looked threatening each time they ventured out of their own half. Lynam was becoming a thorn in the side of the hosts' side, forcing Whatsize to tip over an effort after a Mitchell cross, whilst shortly after the striker brought "oohs" and "aahs" with a spectacular scissor-kick effort that wasn't that far off the mark. As time was running out the Rainworth man finally struck gold with an assist from an unlikely source, as Nate Foster's wayward cross-field ball picking out LYNAM with unerring accuracy, leaving a simple enough stroll and shot to wrap things up. If things weren't bad enough for Sheffield, they ended the game with ten men just before the end, as referee Mr Waters had little doubt in producing a red card for Andy Gascoigne's two-footed lunge on Cameron Fearon.
The less said about this debacle the better; Club were simply outplayed and out-thought by a team that were low on confidence before this fixture, and no amount of inquests will ever figure how Sheffield were taken apart by a side that were expected to be cannon-fodder. Hopefully the rudder can be reattached in midweek's League Cup tie on the 3G artificial pitch of Durham City – whichever way that one goes, it can only be better than this one...
Sheffield FC: Whatsize, Eagers, Wright (Gregory), Hadfield, Lowe (G.Smith), Harrison, Roney, Outram, Cusworth © (Foster), Gascoigne, Woolley. Subs Not Used: Galloway, O'Brien.
Rainworth Miners Welfare: Hales ©, Fearon, Carolan, Camm (Jackson), Alberry, Hannigan, Jepson, Baxter, Mitchell, Lynam, Clarke (Paling). Subs Not Used: Roberts, Charlesworth.
Att: 275.
Sheffield FC 2 Spalding United 1
Evo-Stik Division One South
Tuesday, 11/01/11
Sheffield made hard work of securing all three points tonight against lowly Spalding United, writes Roy France, as football returned to the Coach and Horses after an absence of almost two months. Goals from Harrison and Roney gave us what looked like a comfortable lead against ten men but an effort from Jones made for a slightly uncomfortable ending as we ran out 2-1 winners at a frosty Dronfield before our lowest home league gate of the season to date.
Although we had the bulk of the territory in the early exchanges it was the visitors who had the first meaningful attempts on goal with left winger Andy White prominent. First White crossed for Jedd Whiteman on 13 minutes but the blonde number 7 saw his effort blocked by Hadfield. Then around the midpoint of the half White had two long range efforts on goal and crossed for Gareth Pritchard to head agonisingly wide. However, as often is the case, Sheffield opened the scoring at the other end with our first chance. Roney floated over a free-kick from the left and Callum Harrison rose beautifully to head home unchallenged from 10 yards past a wrong footed Jamie Brassington after 25 minutes.
Matt Roney in rare heading action...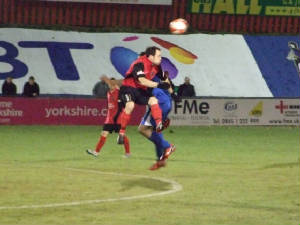 Photo by Andy Turnidge
The rest of the half saw limited significant action apart from dangerous free-kicks from Woolley and White and a penalty claim from the visitors when Eagers brought down White but referee Mr Wootton ruled that the challenge was just outside the area. 1-0 at the break.
The game eventually sprung into life after 52 minutes with play producing action at either end. Two crosses from Whiteman saw Mark Webb (header) and Pritchard (neat control and shot) putting efforts just wide of Whatsize's left hand post while in between Roney threatened twice, the latter a crisp low shot which hit the base of the post with Brassington well beaten. Just before the hour mark Woolley fed sub Nathaniel Foster who delivered a telling low cross from the left which found Roney running in to make it 2-0 from close range. The frustrated Brassington kicked out at our winger and received the inevitable red card to the disgust of his manager and the despair of his team mates. Max Flintoff came on between the sticks for the Tulips.
So could Sheffield really kick-on and earn a comfortable win? No was the answer as Spalding began to rally with nothing to lose. On 64 minutes a misplaced Whatsize clearance fell to Jonathan Jones 35 yards out but his hurried long range chip could only hit a post. Back to the other end and Flintoff made two excellent saves, one a low parry from a Gascoigne header and then an excellent block from a fierce drive from the effervescent Roney.
Then with 12 minutes remaining Eagers lost possession just in front of our D, Pritchard fed to Danny Steadman on the left and his cross was slotted home by Jones to give the visitors unexpected hope of snatching a draw. Further chances were created in the last ten minutes as both defences began to tire. Gascoigne had a half volley go just wide, Cusworth capitalised on a slip from Michael Crawford but Flintoff saved again from a narrow angle while at the other end an uncharacteristic error from Scott Lowe let in Pritchard but he fired over from 15 yards. James Gregory was getting stuck in well and he created the last chance of the game but Cusworth just couldn't get his shot on target.
The final whistle brought a mixture of relief and satisfaction but crucially three points after Saturday's aberration at Market Drayton but a long season stretches ahead commencing with the visit of Rainworth on Saturday.
Sheffield FC: Whatsize, Eagers, Wright (Gregory), Hadfield, Lowe, Harrison, Roney, Outram (Foster), Cusworth ©, Gascoigne, Woolley. Subs Not Used: Galloway, O'Brien, Smith.
Spalding United: Brassington, Evans ©, Cormack, Steadman, Pawson, Crawford, Whiteman (Penny), Jones, Pritchard, Webb (Flintoff), White (Binns).
Att 127.
Market Drayton Town 3 Sheffield FC 1
Evo-Stik Division One South
Saturday, 08/01/11
Two late goals in a minute plus a lacklustre performance made for a dismal afternoon in Shropshire, writes Stuart James, as Sheffield FC managed to lose a goal lead and deservedly lose against lowly Market Drayton. After Steve Woolley gave the visitors the lead with a spectacular 13th minute effort, thoughts were turned to a repeat of last season's emphatic victory at Greenfields, especially given Drayton's recent poor form which included an 8-1 home defeat only last week. However things turned sour for Club when the hosts were gifted a goal just before the break through Duncan Swann-Horler, and just when it seemed that Sheffield would have to make do with a point from this contest, Market Drayton grabbed a quick-fire brace ten minutes from the end through Tom Rogers and Dorryl Proffitt to give them a well earned – if a little surprising – victory.
Drayton started the brightest of the two sides, with Dan Whatsize having to be at his best in the opening moments, tipping a speculative long-range effort from Nick Porter over the bar. Any worries that this would be a difficult afternoon for Club were put on the back burner, as the visitors soon took control of the game, putting the hosts in a firm grip that saw them struggle to make any headway up the slope. On 13 minutes Sheffield broke the deadlock in spectacular fashion as WOOLLEY picked up the ball thirty yards from goal, opened his body to let a screamer fly over Andy Pryce, hitting the underside of the bar and into the net. They almost doubled their lead moments later, as Matt Roney's free-kick was met by Brian Cusworth (pictured right), his flick header taking the ball just wide of the mark. The game deteriorated into a messy midfield battle, with Drayton not really offering much in the way of threat, whilst Sheffield did nothing to suggest they would add to their tally. Just before the interval though the hosts drew level, as a corner from the left was tamely parried out by Whatsize, leaving skipper SWANN-HORLER the honour of dispatching a volley over the line.
The second period was as equally disjointed as the first, with Market Drayton looking more likely to cause the most problems, with Club looking an uncharacteristic tame prospect going forward. Of the two stoppers it was Whatsize who was having to be employed the most, making an excellent catch to deny Tom Rogers' headed effort after a pinpoint cross from Mark Grice. The game seemed destined to peter out into a draw, with Chris Dolby deciding to replace the front two of Foster and Cusworth who had looked a shadow of the partnership at Belper, however things would take an immediate twist for the Shropshire outfit within seconds of the visitors' switch. Nick Porter sent an optimistic looking ball over the top, with ROGERS beating the offside trap, lobbing the ball over the top of the advancing Whatsize. It was no more than the hosts deserved, but things were to get even better for Drayton as Whatsize made a howler of a clearance, kicking straight to PROFFITT who strolled the ball into the empty net. Sheffield could have redeemed themselves with a late consolation, as Andy Gascoigne picked out Steve Woolley, whose shot beat Pryce only to hit the inside of the post and roll to safety.
This was a game that won't live long in the memory, Sheffield were never at the races, and seemed to be dragged down to a poorer level to easily. Drayton scrapped for this win - and scrappy it was – but it was deserved nonetheless. With a massive backlog of games, these are the type of matches that should be in the category of "must win" if Club are to be in the play-off mix come April, however those hopes will surely be damaged if these fixtures can't be ticked off with three points at the final whistle.
Market Drayton Town: Pryce, Richards, Burd, Swann-Horler ©, McMullen, Stallard, Porter, Davies, Rogers, Grice (Stevenson), Proffitt. Subs Not Used: Timmis, Garratt, Line, Ellis.
Sheffield FC: Whatsize, Eagers, Wright, Hadfield, Lowe, Winter, Roney (Gregory), Gascoigne, Cusworth © (O'Brien), Foster (Harrison), Woolley. Subs Not Used: Galloway, Smith.
Att: 96.
Belper Town 2 Sheffield FC 3
Evo-Stik Division One South
Saturday, 01/01/11
A late Brian Cusworth goal stunned Belper Town this afternoon, as Sheffield snatched all three points in a tense affair at Christchurch Meadow (writes Stuart James), giving the visitors a much needed boost in their quest to catch up with the fixture back-log. In a game that see-sawed more times than it was possible to remember, both sides had the opportunity to run away with the game, only to find that the opposition had pegged them back and then gone into overdrive themselves. Belper took the lead after ten minutes from Russell Peel, however Peel turned from hero to villain midway through the half when he deflected a Matt Outram corner into his own goal, with Scott Lowe turning an Alessandra Barcherini howler home on the half hour mark. Two minutes into the second half Andy Rushbury restored parity, and even though both sides had the opportunity to wrap things up, it took until the last seconds for impressive new signing Nathaniel Foster to tear the Nailers' defence up and set Brian Cusworth with a chance he could hardly waste to send the visiting support into raptures.
Goal hero Scott Lowe in action...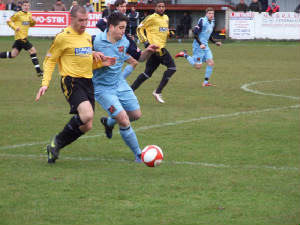 Picture by Andrew Turnidge
After a three week lay-off, both sides would expect to have at least a certain amount of rustiness in their play, and at the start it appeared that it was the hosts that had found the oil-can first as they looked quite lively in the opening exchanges. The wing pairing of Ruben Wiggins-Thomas and Russell Peel seemed to be quite a handful for the Sheffield defence, giving the visiting back-four quite a bit to contend with, with Peel setting up the first chance of the game for Richard Adams after taking advantage of Clubs' inability to clear their lines – the ball eventually going over the top of the bar. It was that pace that caught Sheffield cold for the opener on ten minutes, as Daryll Thomas slipped the ball through to PEEL, whose speed in turn enabled him to beat a flaky looking offside trap and drill the ball under Dan Whatsize. Belper were well worth their lead, and it looked as if it would take quite a bit for the visitors to get themselves to the races, but due to a mixture of good fortune and bad defending they did exactly that. On 21 minutes Sheffield earned their first corner of the game - with Matty Outram the man entrusted to swing it in - however it was far from the best delivered ball that found its way deflecting itself in the net off the back of Peel, to give the visitors an unlikely leveller with an OWN-GOAL. That goal spurred Sheffield into the game, with the away side now starting to dominate things and giving the Nailers a taste of their own medicine, rocking the hosts onto the back foot. Steve Woolley forced Alessandro Barcherini into making an awkward looking save from a rasping thirty yarder, however the pendulum was to swing completely the other way on the half hour, with the home custodian unwittingly central to the next chapter. A hopeful looking ball was lofted into the home area with Barcherini unimpeded by any visiting player in his vicinity, however a lack of communication saw the keeper jump into a defender, spilling the ball invitingly at the feet of LOWE who had the easiest tap in job of the day to give Club a surprise lead. As expected though Belper sprung into life once again finishing the half strongly, with Daryll Thomas crossing the ball across the face of the goal with Jon Froggatt just unable to get a vital touch on the ball, followed shortly by Matt Plant's header being well saved by Dan Whatsize just before the break.
Belper got the best start they could have hoped for in the second period, drawing level inside the first two minutes as a ball into the middle saw Whatsize unable to hold onto the ball after some heavy attention, leaving RUSHBURY the easy task of slotting the ball into the unguarded net. This heralded another spell of Belper pounding the Sheffield area, and they could – and probably should – have taken the lead moments after as Daryl Thomas' cross found an unmarked Russell Peel on the line with an empty net, somehow though Peel managed to divert his header straight in to the hands of Whatsize when it was probably easier to score. The introduction of new signing 19-year-old Nathaniel Foster livened things up for Sheffield though, with the big forward showing an unusual swift pair of heels for a player of his size, and giving the home defence more than a little New Years' Day headache. After tearing the wings to shreds on more than one occasion, he was the filling in a very cute one-two with Jordan Eagers, with the full-back blasting his effort over the top after the substitute's neat little back-heel through. Foster almost set up his substitute partner James Gregory with a chance, with the big lad skipping through the defence before slipping the ball through, before Gregory's effort found itself rising too quickly. With time running out Nicky Darker had an effort from distance go close, and with Belper pressing everyone forward they were caught out with the ultimate sucker punch, as Foster burst clear on the left flank – leaving the defence for dead – before squaring the ball on a plate to his skipper, with CUSWORTH slamming the ball home with conviction. The nature of the loss of the goal was obviously too much for Mark Barnard to handle, as the defender found himself earning a second yellow for reacting badly, leaving the Nailers to play out the dying seconds with a man short.
Overall this was a pretty dour contest, but after such a long lay-off, any game was a bonus for Sheffield – and to come away with a win, well that was a very big bonus. After the departure of Ashley Burbeary, questions were asked as to who if anyone could replace the livewire midfielder, yet after the display of the young pretenders of Foster and Gregory the question was changed pretty soon to "Ashley who?" If these two can offer as much as they promised in today's cameo in the rest of the season, the leading pack will soon be looking over their collective shoulders, and there could be some entertaining shows in the very near future. First along is the opposition of sixth placed Brigg Town on Monday, who come to the Coach and Horses on the back of a 1-1 draw at home to Grantham Town, so a tight game should be on the cards – kick off 3:00pm.
Belper Town: Barcherini, Thompson, Barnard, Darker, Adams, Plant, Wiggins-Thomas (Fedorenko), Rushbury, Froggatt (Wood), Thomas, Peel. Subs Not Used: Pride, Laight, Carney.
Sheffield FC: Whatsize, Eagers, Wright, Hadfield, Lowe, Winter, Outram (Roney), Harrison (Foster), Cusworth, Gascoigne, Woolley (Gregory). Sub Not Used: Smith.
Att: 239
Loughborough Dynamo 1 Sheffield FC 3
Evo-Stik Division One South
Saturday, 11/12/10
Sheffield showed no signs of the rustiness usually encountered after an enforced three week break due to the recent cold snap, writes Stuart James, as they dispatched a feisty Dynamo outfit with ease this afternoon at Nanpantan. On an excellently prepared surface that made all the recent worries of the game taking place look absurd, Club started like a house on fire, running up a two goal lead inside fifteen minutes, with goals from Steve Woolley (10 minutes) and Andy Gascoigne (13 minutes) making Loughborough have to play a frustrating game of catch-up. The hosts managed to pull one back on thirty minutes through Matt Langham, but despite throwing everything at Sheffield they couldn't break down a resolute defence, leaving Matt Roney with the honour of wrapping things up a minute from the end.
Ash Burbeary bursts through at Loughborough.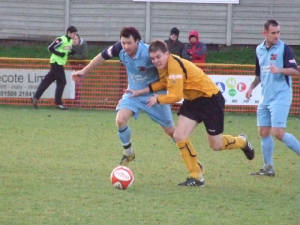 Photo by Andy Turnidge
Club started this encounter brightly, and weren't long in giving Laurie Pearson in the Dynamo goal the idea it was going to be a busy afternoon, as the chances started from the off. A Matty Outram cross was met in the middle by Andy Gascoigne, with the young striker's header going just over, whilst moments after top-scorer Brian Cusworth saw his volley go not too far wide of the target. On ten minutes the deadlock was broken, and in quite spectacular fashion, as WOOLLEY chested down an Outram cross before volleying the ball past Pearson. Loughborough almost pulled level in quite fortuitous circumstances, as the ever-lively Jay Lee Hodgson hooked the ball goalward, only for Scott Lowe to clear the ball off the line. It was only to be a brief respite for the hosts as Club came back with a bit of venom, with Steve Woolley running rampant on the break before setting up Andy Gascoigne, whose shot was well blocked by Pearson. There was nothing the Dynamo custodian could do seconds later though, as Ashley Burbeary showed some quick feet in the box to skip through the defence with apparent ease, before lining the ball up nicely for GASCOIGNE to drill home from a narrow angle. If anything this served as a wake up bomb for Loughborough, and they started to break out of their own half, asserting some pressure of their own. Reece Lester tested the previously unemployed Dan Whatsize, as he was slipped though for a clear chance on goal, with the shot being well blocked. It was only to serve as a warning for Sheffield, as on the half hour mark an Andy Tiday free-kick was floated into the box causing all manner of panic, with the ball finally falling to LANGHAM who stabbed home from close range. Club had a couple of chances to extend the lead before the break – Steve Woolley losing the ball in his feet whilst bearing down on goal, whilst Andy Gascoigne nearly scored after a swift counter-attack – but as far as the entertaining football went, that was the end of it.
The second half was a mixture of petulant fouls, petty arguments and disjointed play from both outfits, with the eye-pleasing football of the first thirty minutes of this game seeming a long time forgotten. There was the odd oasis of nice play to keep the crowd interested though, Greg Wright and Steve Woolley combined to set up Brian Cusworth, sadly his shot was skewed wide. The game eventually developed into an end-to-end contest, although the end product was often disappointing, and as a result Sheffield rarely looked troubled. If anything it was the visitors that looked the more threatening, Matt Outram's free-kick was headed wide by Jamie Hadfield, whilst Ryan Ruddiforth set up Callum Harrison who struck the post with a cracking effort. Dynamo did have the chance to pull level, a shot from young Jake Dale-Brown from 25 yards was tipped round the corner by an excellent Dan Whatsize dive, with the resultant corner nearly ending in a goal after a lack of defensive concentration allowed Ashley Way to strike the ball inches wide of the post. Club finally got the third they deserved though in the dying moments of normal time, as a lightning break from Ruddiforth left the defence flailing in his wake, allowing him to set the ball perfectly on a plate for RONEY who drove the ball home. There was still chance for the hosts to grab a late consolation, as Whatsize missed a corner that was blocked on the line, with Ashley Way finally pulling the ball wide.
The number of games Sheffield have to pull in to catch up with everyone else is still quite on the high side, with the three games a week pattern high on the agenda for the next few months, so to get one of them out of the way with a victory to boot is very much a bonus. It was an excellent showing from Club, not only coming out of the traps to win the game in the early moments, but to hang on and stifle the opposition to mere scraps – especially after such a period of inactivity – was some achievement. Next up is a home game on Tuesday in the League Cup against Durham City, something I'm sure not many of us would have expected this time last week, followed by a trip to high-flying Barwell the following Saturday.
Loughborough Dynamo: Pearson, Rennalls, Mitchell (Dale-Brown), Noble, Jenno, Betts, Clamp (Way) Tiday (Ross), Langham, Hodgson, Lester. Subs Not Used: Hohn, Sykes.
Sheffield FC: Whatsize, Eagers, Wright, Hadfield, Lowe, Winter, Outram (Roney), Burbeary (Harrison), Cusworth, Gascoigne (Ruddiforth), Woolley. Subs Not Used: Smith, Davis.
Att: 127
AFC Emley 1 Sheffield FC 8
Sheffield & Hallamshire Senior Cup 2nd Round
Wednesday 24/11/10
Sheffield qualified in fine style for the Quarter Finals of the Senior Cup with an emphatic victory on a bitingly cold night in Emley writes Roy France. Playing in white and bolstered by the return of some of the squad from the Indian trip we overwhelmed our NECL Division One opponents in a game where the scoreline didn't really reflect the run of the play. Both teams contributed to an entertaining encounter with the ball being played on the ground throughout.
Indeed it was the home side who threatened our goal in the first minute but Whatsize saved well from a 20 yard effort from Tom Bucknall. However on six minutes we took the lead when the gloved Andy Gascoigne received the ball wide and cut inside to fire home past Matt Wheelton helped by a deflection off Sean Hazelden. Within a minute the home side were level as Whatsize made a reflex save from a misplaced block from Scott Lowe but Marc Townsend was on hand to head home Teo Ringrose's resultant cross. Gascoigne was playing with great command of the ball and he put us ahead again on 16 minutes when he dispossessed Leech in the box and turned imperiously to fire low past a helpless Wheelton. Warming stuff on a chilly night!
The home defence was battling manfully but were failing to cope with our lively play. Eagers long ball found the classy Gascoigne and he held off a couple of defenders but this time Wheelton parried his shot …. but only as far as the penalty spot where the unmarked Cusworth coolly rolled the ball home to make it 3-1 at the mid point of the half. Wheelton then took on a Jekyll and Hyde role as he made a brilliant low one handed stop to a fierce Roney drive before spilling a simple free-kick to the feet of Daz Winter who, overcome by surprise, rolled the ball wide of the gaping net! Chances were coming a plenty at both ends before the break, Cusworth firing over, Wheelton producing a save for the cameras style from Roney and at the other end Nick Galloway headed away a dangerous shot from James Tevendale.
Light blustery snow greeted the players at the start of the second half and four minutes into it Gascoigne made the game safe when he latched onto a Cusworth header ahead of a defender and stroked home under Wheelton to make it 4-1. Gascoigne was shortly taken off to save himself for harder battles ahead but the crowd were shortly to witness an amazingly purple patch from Sheffield as we scored three times in as many minutes around the hour mark. Winter started the cavalcade with a measured shot from the edge of the area after an excellent move involving Ruddiforth and a nice chest down from Cusworth. Next a Roney free-kick was cleared to the edge of the area where Matt Outram volleyed a beautiful shot into the opposite corner. The shell-shocked Emley conceded again when Ruddiforth caused mayhem in their box and the ball fell to Jackson who forced it home via a deflection. 7-1!
Emley amazingly kept their spirit up and continued to play constructive football but Hadfield was outstanding in a solid visiting defence. At the other ended Ruddiforth was twice prominent, firstly spooning over after a good run and cross by Outram and then being denied by the outstretched leg of Wheelton. With twelve minutes remaining it seemed the scoring may have been over but not so as Callum Harrison fought well to win a ball in midfield, sprayed it wide to Outram and our winger strode forward confidently and drilled another low shot past the hapless Wheelton to make it eight. The last ten minutes saw Ruddiforth twice foiled from getting on the scoresheet and bookings for Andy Broadbent for a foul on Aaron Birks and Outram sadly for dissent.
Soon after referee Mr Adam Smith called time on a tremendous 90 minutes entertainment and now Sheffield - with hopefully a fully fit squad - can look forward to a trip to Rushall on Saturday.
AFC Emley: Wheelton, Smith, Leech, Broadbent, Colley (Goff), Hazelden ©, Townsend (Washington), Bucknall, Tevendale, Kenworthy, Ringrose. Subs Not Used: Dowling, Cutts, Joice.
Sheffield: Whatsize, Eagers, Lowe, Galloway, Hadfield, Winter (Jackson), Outram, Harrison, Cusworth © (Birks), Gascoigne (Ruddiforth), Roney. Sub Not Used: Burbeary.
Att: 102.
Grantham Town 3 Sheffield FC 1
Evo-Stik Division One South
Saturday, 20/11/10
Sheffield's stand-ins finally came unstuck in this turgid encounter at the South Kesteven Thunderdome, writes Ben Webster, on the day the club's ambassadors to the Subcontinent made their return to the Coach and Horses. In an Awayday that overflowed with unwelcome parallels to October's cup exit at Tipton – an athletics stadium, a new kit, a lost will to live – just like that fateful night Club could consider themselves soundly beaten by their hungrier opponents, as the recent fixture traffic inevitably took its toll.
It was the hapless figure of Mr. Gingerbread Man – today looking more like Mr. Half-Chewed Wad of Tobacco - who led out a useful-looking Sheffield eleven which saw several changes from Thursday's shenanigans at Goole. Midweek maestros Ruddiforth and O'Brien were sidelined as Cusworth made a return from illness in the captaincy role, flanked by a fully fit Chris Adam with Gelsthorpe and Woolley resuming full-back duties. As the Grantham mascot trudged off back down the tunnel for a little cry and a career in middle management, the Club supporters were still taking up their positions on the terrace when the home side created the game's first opening. With views partly obscured by the dugouts at this point, we could make out some neat interplay between Thingy 1 and Thingy 2 after the kick off, before Thingy 3 was played through with just Whatsize to beat, thankfully the keeper spread himself well to block with his thingy.
If this opening flourish raised hopes of an entertaining afternoon's football, it would prove to be a false dawn. The visitors' first opportunity, if you could call it that, arrived on ten minutes when a Gelsthorpe cross to Cusworth was glanced well wide from 12 yards. Pulses quickened two minutes later as Gelsthorpe's lusty cross-field ping found Woolley in acres on the left, his centre landed at the feet of Adam who promptly launched the ball into orbit from the edge of the box. For the home team, full-back Lee Potts emerged as the sprightly point of everything, first lofting in a ball from the right which was headed astray by Jamie McGhee, then from the opposite flank feeding Ben Saunders, who teed up Rhys Lewis for a low drive gathered by Whatsize. In truth though this was pretty humdrum fare, full of overworked ball-boys, kicked tarpaulins and a generous volley of F-bombs that echoed across the terraces as frustrations set in. The dreary stalemate continued until just before the interval, when Club lost possession on the left edge of their own penalty area. From the resulting cross Whatsize frantically palmed away from beneath the bar under pressure from Saunders, but only as far as the onrushing Chris Glarvey, who with the keeper stricken and the goal offering itself like Tallulah Bankhead somehow managed to head over to collective disbelief. Sheffield thoughts may already have been in the dressing room after that lucky escape, but they were to receive a rude awakening in added time when the ball winged its way to the irrepressible POTTS in space on the left, who carried for a few paces then picked out Whatsize's left-hand corner with a 20-yard blunderbuss, amid loud protests from the away bench over an alleged foul on Jamie Hadfield in the build-up. The remonstrations were waved away and Grantham went in at the break a goal to the good.
With the fog descending and the full moon looming and the locals beginning to transform, the Tipton nightmare continued apace with Matt Outram's half-time withdrawal through injury for Ruddiforth. The first chance of the second period fell to Sheffield as a long clearance was nodded on by Gascoigne to Adam, whose run on goal was well intercepted on the slide by Asher. The resulting Woolley corner was a thing of beauty, but no heads could meet the ball early enough on its journey to the far stick. Up the other end a Grantham corner was caught sweetly on the volley by centre-half Matt Millns, travelling just wide, before the next Sheffield attack saw a drilled Ruddiforth effort blocked after another pump upfield was cushioned down by Winter. The Grantham back four were proving a constant irritation to the visitors as set pieces and long balls were repeatedly flagged offside, the one fillip for Club in this sorry episode being the performance of Callum Harrison in the middle, harrying and retrieving and dispensing to either channel, arguably his finest display in a Sheffield shirt yet. For the final 20 minutes the home team withdrew Matt Glass for Gio Carchedi, greeted with hearty cheers by the away following for no particular reason. With crushing inevitability he rewarded both sets of supporters within a minute, another cross from the left by Potts being missed by everyone leaving CARCHEDI with the simple task of bundling home from close range.
Petulance crept in: Gascoigne was booked for kicking the ball away (after Outram received the same punishment in the first half), while Ruddiforth saw himself cautioned for backchat, the locals in the far stand offering all their words of encouragement to the officials. Twelve minutes left: O'Brien on for Adam. Were we to see anything in the mould of Thursday night? Sadly for Club it was the Grantham substitute, terrace favourite and minor planet Danny HARGREAVES, who gave the home support a right lob-on with a barnstorming effort shortly after entering the fray. Receiving a searching ball out on the right after 80 minutes, he continued towards the edge of the area before cutting inside and unleashing a perfect arc into Whatsize's far corner. Game over. Club were to grab a consolation five minutes later when another long ball for once evaded the home defence and found CUSWORTH through on goal, his neat lob bringing his season's tally to thirteen in all competitions. Some light relief was provided in the closing moments as the ball went into touch near the home dugout, a member of the Grantham bench decided to play keepy-uppy with the ball smacking Hargreaves on the nose as he went to retrieve. The whistle blew, and Club could reflect on a week that has generally exceeded expectations despite the showing today.
Speaking after the game, club scout Ian Whitehorne (spectacles off today) gave a pretty frank assessment, describing the final ball as the biggest letdown against a resolute defence. But he went on to praise "the massive effort put in" by the newcomers and stay-at-homes. "In difficult circumstances the attitude and commitment has been excellent, and goes to show the strength in depth we now have." Normal service resumes with a trip to Emley in the Senior Cup on Wednesday; our Indian travellers will be looking over their shoulders after some of the performances in their stead.
Grantham Town: Murray, Lewis, Potts, Asher, Millns, Watt, Glarvey, S. Saunders, McGhee (Hargreaves), B. Saunders (Kirby), Glass (Cardechi). Subs not used: Hallcro, Sucharewycz
Sheffield FC: Whatsize, Gelsthorpe, Woolley, Hadfield, Lowe, Winter, Outram (Ruddiforth), Harrison, Cusworth, Gascoigne, Adam (O'Brien). Subs not used: Pacák, Birks.
Att: 164
Goole AFC 3 Sheffield FC 5
Evo-Stik League Cup Round One
Thursday, 18/11/10
On a night that threatened to be overshadowed by the much-lamented absence of the Goole pie – theses things matter, you know – instead it was a rousing performance from Club's greenhorns which provided the lasting memory in this enthralling Challenge Cup encounter at the Victoria Pleasure Grounds (writes Ben Webster, making his reporting debut in a risky move by the BTF bigwigs).
Daz Winter in action against his old team mates...
Photo by Andy Turnidge
In a starting XI much changed even from Saturday's and Tuesday's makeshift units, Club gave debuts to wide-man James Gregory and striker James O'Brien, with Andy Gascoigne making his return from suspension and Lloyd Gelsthorpe being recalled to right back. Pre-match thoughts were of damage limitation against a full-strength Goole side currently scaling the heights of the Evo-Stik South, if suffering a little altitude sickness after haemorrhaging 13 goals in their two previous games. Clearly no-one had told stand-in manager Ian Whitehorne, tonight wearing glasses in an obvious show of intent. An opening spell of cat and mouse claimed its first goal after just 9 minutes, when good work by Gascoigne in the penalty area was rewarded when his low cross was met by Ryan RUDDIFORTH at the near post for 1-0. The expected response from the homesters limited itself to a few useful runs from former Club man Vill Powell, before the visitors doubled their advantage on 21 minutes when Woolley's in-swinging corner was cleared to the edge of the penalty area, where Jamie HADFIELD was on hand for his second goal in three appearances, his deflected effort going through customs, flight and a re-fuelling stop on its journey to keeper Jamie Ward's right-hand corner. Within five minutes the Vikings had halved arrears, the Sheffield defence failing to cope with a deep cross that eventually found the feet of free-scoring Gavin ALLOTT, his tight-angled howitzer giving Whatsize no chance in the sticks, and giving the PA bods their first excuse of the night to inflict the Harry J Allstars on everyone present. With tails up, Goole promptly took the game to visitors, first blazing a shot over the bar when well placed, then seeing a far-post header hooked off the line. Sheffield responded in kind, some neat approach play culminating in Gascoigne squaring the ball across to O'Brien, whose hefty strike was expertly parried by Ward. Daz Winter, back in midfield tonight, saw yellow when the referee adjudged his fall in the box to be simulation, but he was to prove instrumental on the cusp of half-time when Club won a free kick 25 yards out. Drawing both defence and keeper through his positioning in the penalty area, he created the space for Steve WOOLLEY to strike a humdinger inside Ward's right-hand post, capping a superb half against the odds.
The half-time break appeared little more than a rude interruption as the tempo immediately picked up where it had left off. Less than a minute after the restart a Goole corner was headed back across goal for POWELL to toe in from range, all three yards of it, subjecting us to more ear-crime from the tannoy. Was another second half undoing on the cards? The answer was a resounding "no": the goal served only to fire up Club's young guns once again, O'Brien first skewing wide after Ward failed to claim a cross, the keeper then redeeming himself with a stunning save low to his left after a shot on the turn by Winter, before O'BRIEN finally bagged his debut goal on 56 minutes, poking home at the second attempt from Gregory's measured centre. Back came Goole, the ever-ominous Allott finding himself clean through on the hour, unluckily for the home support his shot rebounded back off the post and into the relieved hands of Whatsize, a tinpot echo of Paul Pettinger's charmed life in the Northwich woodwork. Next on the menu came handbags and a lengthy stoppage, as Daz Winter made an ill-advised lunge in the direction of Josh Hope, the home defender having to be withdrawn through injury and the Sheffield lynchpin following him in a sensible exchange for Outram, having been fortunate to escape further penalty in light of his earlier caution. Play resumed with Goole on the front foot, and it was they who next troubled the scoresheet, when a seemingly innocuous Terry BARWICK free kick found the inside of the post with Whatsize either unsighted or entirely misjudging its trajectory. It was completely in keeping with the yo-yo nature of this game, however, that Sheffield should waltz up the other end and go nap. Fine work from Ruddiforth in the middle ended with a threaded pass to O'BRIEN, who slotted home serenely with just the stopper to beat on 83 minutes. Goole kept plugging - a cross from the left was headed onto the woodwork by Allott, before a surreal sequence in stoppage time saw Allott again hit the post, with the follow-ups also hitting the same post twice. The final whistle blew, and everybody could breathe again. The boys had been special.
Perhaps the pie would have been bad for the arteries after this spectacle. This was Sheffield FC, stripped to its skeleton, yet still brimming with life. It was almost punk. Next up in the cup: Durham in a week's time.
Goole AFC: Ward, Jeffs, Stratford, Barwick, Lindley, Hope, Harrison, Wilkinson, Powell, Allott, Ellis. Subs: Davies, Hammond, Cuttell, Rose, Pugh.
Sheffield FC: Whatsize, Gelsthorpe, Woolley, Hadfield, Lowe, Winter, Ruddiforth, Harrison, Gascoigne, O'Brien, Gregory. Subs: Murdoch, Pacák, Outram, Jackson, Adam.
Att: 81
Sheffield FC 1 Houghton Main 0
Sheffield & Hallamshire Senior Cup Round One
Tuesday, 16/11/10
Sheffield overcame a potential banana skin tie, writes David Bell, with a narrow victory over a spirited Houghton Main side.
Club made two changes to their again Indian tour depleted side with Liam Smith replacing Dan Whatsize in goal and Ryan Ruddiforth making his debut on the left wing in place of Steve Woolley. The frost-bound pitch looked to be a bit of a leveller and so it proved as Lewis Clayton saw his shot blocked on two minutes as the first real chance of note for Houghton. Main certainly weren't overawed with the loftier status of the home side and it took a full five minutes before Club registered their first attempt on goal; Cusworth's header from Ruddiforth's cross looping on to the top of the bar.
Matt Outram on the ball...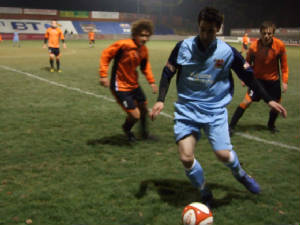 ...photo by Andy Turnidge.
Sheffield broke the deadlock on eight minutes when Outram's delivery into the box from a free kick was completely missed by Jordan Turner's wild swing but fell conveniently to CUSWORTH who slotted home with his left foot.
Houghton were undeterred by this setback and continued to press. A Scott James free kick from the right hand side saw Chris Stead head over with the goal at his mercy on 16 minutes and on the half hour, a Jake Simon corner was flicked on by Chris Stead only for namesake Adam to head wide when unmarked. An Outram free kick from the right saw a Cusworth header cleared off the line and it was a slender advantage that Sheffield took into the half time break.
Half time substitutions saw Gwindi replace Modest for Sheffield and Crookes replace Stead for Houghton. The second period saw neither side really find their shooting boots. Cusworth put a tame shot wide on 50 minutes, Hadfield headed over from an Outram free kick and a Jordan Turner cross went across the face of the goal with nobody there to apply the finishing touch. Again, Houghton showed their resilience with the midfield pairing of Lyman and Stead dominating Sheffield's youthful duo of Harrison and Gwindi. A tame effort from substitute Clarke was all they had to show for it as Cusworth placed a 20 yard free kick just past the post and Ruddiforth cut in from the left but drove his shot over the bar.
As the frost bizarrely began to melt, a neat interchange of passes from Cronin and Gwindi led to a Sheffield corner that ended with a Daz Winter shot just wide on 75 minutes. Despite their hard work in the centre of the park and a fine performance by Craig Pickerill at centre half, Main failed to create many clear cut chances of note and following late efforts from Cronin and Cusworth, it was Sheffield who secured their passage into the next round with a tie away at Emley.
Sheffield: Smith, Hadfield, Pacák, Winter, Lowe, Harrison, Outram, Modest (Gwindi), Cusworth ©, Turner (Cronin), Ruddiforth. Subs Not Used: Rupere, Lewis, Hartfield
Houghton Main: Leigh, James, French, Lyman, Pickerill, Clayton S, Pickering, Stead A, Stead C (Crookes), L.Clayton (S.Clarke), Simon (G.Clarke). Subs Not Used: Hyde, Trickett.
Att: 125
Sheffield FC 2 Quorn 2
Evo-Stik Division One South
Saturday, 13/11/10
A diluted Sheffield side turned in a brave display, writes Stuart James, but ended the afternoon disappointed as they let a two goal lead slip to finish with just the one point. After Brian Cusworth headed Club into the lead on five minutes, it looked as if the hosts would turn up a result against the odds, a fact that looked almost certain when Jamie Hadfield slotted home on his debut. But the visitors took the game against the young Sheffield outfit after the break, with Kris Matthews pulling one back midway through the half, and Tom Byrne levelled things up shortly after to give the Leicestershire a share of the points.
With half the first team away on ambassadorial duties in India, the line-up for this game against a team that could possibly give Sheffield a headache on a normal day was unfamiliar to say the least, and the opening exchanges gave the impression that it could end up being a heavy price being paid. Quorn came at the inexperienced back-line with a fair amount of venom and the normally lethal Kris Nurse went for the jugular early on, finding a great deal of space only to pull the shot badly wide, and moments later also getting sight on goal and hitting the post. Amazingly though it was Sheffield that took the lead, as on the first attack they won a corner, one that was floated in by Matt Outram and headed home by CUSWORTH. After coming out second best in scoring terms despite dominating proceedings, Quorn almost literally stopped performing, allowing the young Club outfit to take control. Sheffield had an opportunity to extend their lead on the half hour mark, when an Outram free-kick was met by a flick header by Cusworth, the defence only just managing to scramble the ball clear to the relative safety of a corner. Seconds later though the ball was in the back of the net, once again Outram was the provider, as his cross landed at the back post where HADFIELD was on hand to volley home from six yards out.
Sheffield were good quality for their lead, but in all honesty they had hardly needed to step up the pace, as Quorn never troubled to up the hosts' stress levels. The visitors were offering no real threat, and the game was heading in only one direction as Club were conceding very little, not allowing anything in the way of goalscoring opportunities. Eventually Quorn started to make some headway down the left-hand-side, with Tom Byrne making in-roads, however when Sam Wood shot straight at Dan Whatsize there still appeared to be no imminent danger. On the hour mark Byrne made another run down the left, his cross went across the face of the goal with Whatsize in no-man's-land, at the far post was MATTHEWS who finished with a neat volley. It was all the motivation Quorn needed, now it was Club who were on the back foot, and they were thankful to Whatsize who got down well to stop a low strike from Byrne's free-kick. Sheffield still had the opportunity to make things safe, as first a long ball flicked on by Cusworth was taken on and rushed by young Jordan Turner, followed shortly by Brian Cusworth being put through one-on-one by Hadfield with only the keeper to beat – with Matt Nurse coming out on top. Club were soon to pay for that miss, as with fifteen minutes to go BYRNE ghosted through a static Sheffield defence, letting a shot go that was deflected past Whatsize. All of a sudden, after looking so comfortable, Sheffield were now looking decidedly shaky. Quorn had a great opportunity to snatch all three points, as once again Byrne took the ball on and shot, with the ball this time taking a wicked deflection that looped the ball that needed Whatsize to pull off a spectacular save to give Sheffield at least a deserved share of the spoils.
Before the game, it goes without saying Club would have taken a point from this fixture, at the end everyone was rueing the loss of not taking all three points giving the feel of defeat rather than one of a solid performance. Sheffield's debutants performed excellently, with those playing in unfamiliar positions also doing well, and if not for a little more composure we could easily have been talking about a decent win against the odds. As it stands though, Club now have to face three opponents of varying degrees before the squad returns to full strength – starting with Tuesday's visit of goal-happy Houghton Main, a trip to the unpredictable Goole AFC on Thursday, finishing off with a trip to the ever-difficult Grantham – it promises to be an interesting week!
Sheffield FC: Whatsize, Hadfield, Pacák, Winter, Lowe, Harrison, Outram, Modest, Cusworth, Turner (Rupere), Woolley. Subs Not Used: Birks, O'Brien, Jackson.
Quorn: M.Nurse, Shaw, Chiavetta (Marshall), Lyall, Matthews, White, Wood, Marriott (Lonsdale), K.Nurse, Turner (Miller), Byrne. Sub Not Used: Buckingham
Att: 217
Mohun Bagan 1 Sheffield FC 0
Platinum Jubilee Cup Semi Final
Friday, 12/11/10
Whilst the residents of Sheffield woke from a night of gales and torrential rain, halfway round the world a Sheffield FC representative side were on ambassadorial duties for the 2018 World Cup bid (writes Stuart James), taking part in Kolkata's Mohammedan Sporting Club's Platinum Jubilee celebrations competition in searing heat at the 120,000 capacity Salt Lake Stadium. The World's Oldest Club's opponents were India's oldest club – Mohun Bagan – with the hosts running out winners after a last minute goal from Ashim Biswas.
The first half was a slow-paced affair, with neither side really wanting to up the tempo, as the 30°C plus temperatures were obviously having an impact. Sheffield were the first to press, however it was the hosts that had the first real effort on goal, as Dipendu Dowary had a shot from distance that went wide. Matt Roney was causing his usual problems on his wing, with a couple of good telling runs whilst setting up an opportunity for Sam Barnsley, one which the youngster was unable to finish. Barnsley was the one who was looking most likely to break the deadlock, as first he tested Sangram Mukherjee with a long-range effort, then managed to get a chance on goal which the keeper did well to stop. The Mariners started to get a grip on proceedings around the half-hour mark, after Suman Dutta was booked for a challenge on Ryan Davis, they started to create a couple of chances. Nagimuddin Mollick had a shot which went close, whilst Ashim Biswas created the best opportunity of the half, beating two Club defenders before pulling his shot wide.
Ashim Biswas steers the ball past Shaun Rutkowski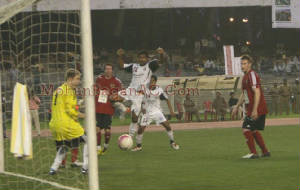 ...for Mohun Bagan's last minute goal in Kolkatta's Salt Lake Stadium
Bagan started the second half well, with Satish Kumar heading narrowly wide early on, following a good cross from Jacken Sebastian. Sheffield came back strongly, with Matt Roney continuing to be a thorn in the Indians' side, and Sangram having to do well to stop a couple of decent efforts. The home side still looked a dangerous proposition, and could have taken the lead if not for a fine stop from young keeper Shaun Rutkowski, doing well to deny Santosh Oraon's effort. Midway through the half though Club had the golden opportunity to open the scoring, as Jordan Eagers burst into the box only to be bundled over by Kingkshuk Debnath and Sangram Mukherjee, giving the referee little doubt in awarding a penalty. Sadly for Sheffield, Ashley Burbeary's effort was well saved by the Bagan stopper, with Sangram making a great save. Both sides had opportunities to break the deadlock, with Dolby testing Sangram from a free-kick, but as a goal-less ninety minutes looked likely Bagan finally broke the deadlock. Souvik Chakrabarty saw his shot turned round the post by Rutkowski, from the corner Snehasish Chakrabarty delivered the ball, and in the middle making no mistake was ASHIM to give the Mariner's the game.
This was far from a spectacular game to watch (dodgy satellite coverage notwithstanding), but it goes without saying the makeshift Sheffield side did more than admirably, and if not for the penalty stop it could have had a much different outcome. Nevertheless, Club continue with their Indian tour, having made a great impression with this showing.
Mohun Bagan: Sangram, Nagimuddin, Rahul, Harpreet, Suman, Satish, Jaken (Souvik) Santosh, Dipendu (Snehasish), Kingkshuk, Ashim.
Sheffield FC: Rutkowski, Wright, Davis, Smith, Galloway, Eagers (Ward), Roney, Burbeary, Cooksey, Barnsley (Fox), Dolby. Subs Not Used: Dooley, Moverley-Gray, Capeling, Murray, Morley.
Leek Town 0 Sheffield FC 2
Evo-Stik Division One South
Saturday, 06/11/10
Sheffield returned from Staffordshire today with all three points after putting in a very accomplished display against Leek Town,
writes Roy France. Goals in either half from Brian Cusworth and Ash Burbeary earned a 2-0 win but it was the overall display which earned the plaudits and sent the sizeable away support home in good spirits.
The game kicked off in fine sunny conditions and the home side threatened in the second minute when a long free-kick from the left from Paul Taylor was met by a diving header from Jamie Brough which went just wide. Gav Smith then had to receive lengthy treatment when he and Paul Rutter were involved in a heavy tackle just outside our box.
Sheffield went ahead on eight minutes. Burbeary picked up a loose clearance and fed Matt Outram on the left who crossed for Cusworth to expertly evade his marker and head classically home past a helpless Steve Hodgson. Two minutes later Andy Gascoigne got through on goal but could not get his shot away, hampered by the typically heavy Harrison Park surface. Club's period of pressure continued and both Gascoigne and Chris Adam had shots which went well over.
After 15 minutes Leek woke up somewhat and Dan Whatsize had to save with his feet from Rutter and then watched Dan Cope scuff wide. However the next clear chance fell to the away side when Cusworth blocked a Matt Johnson clearance but then saw Hodgson block his shot on goal in turn.
Although the clingy, uneven pitch was making it difficult for both sides' attempts to play good football the chances kept coming in an entertaining encounter. Burbeary in particular adopted his ebullient style well to the conditions. Chris Adam was penalised by the youthful looking referee, Mr Rawcliffe, for a challenge on Hodgson and then the blonde custodian foiled our winger with an excellent tip over from a rasping left foot shot. However the keeper failed to get a touch to Outram's corner and it almost crept in at the far post!
Sheffield continued to have the better of things and Hodgson saved well from a Daz Winter flick. The previously quiet home fans began to get behind their team but play became bogged down in midfield around the half hour mark. Brough was booked for a charge on Greg Wright and then Whatsize had to be quick to turn a Cope effort around for a corner. At the other end Smith got on the end of a floated Outram free kick but the ball drifted agonisingly wide. The last action of the first half saw Whatsize get down well to foil Christian Millar's low drive.
On 49 minutes the experienced Wayne Corden set up Rutter for a shot which Whatsize again stopped well however four minutes later the decisive moment of the match arrived. Adam earned a corner on the left which Outram, instead of traditionally crossing, laid back to Burbeary 25 yards out. Ash flicked it up and then volleyed in strongly past Hodgson into the corner of the net to the delight of the travelling faithful!
The awaited Leek fight back did not materialise and Smith could have made it three but headed over from a corner when unmarked ten yards out. Daz Winter was booked for a high tackle as play remained even going into the final third. Scott Lowe headed clear from a rare dangerous Leek attack but then both he and Jordan Eagers were cautioned, slightly harshly, for tackles as we refused to give the home side any clear sight of our goal.
Steady rain fell as the final fifteen minutes began. Sheffield still comfortably held Leek at bay and a great chance to seal matters fell to Gascoigne. Played through by Outram he held off the defence and with the goal and Hodgson at his mercy Andy pulled his shot agonisingly wide. Unlike in previous seasons Leek could offer no real late threat as we defended comfortably, Whatsize only having to make one more low save from Cope. Leek's number 10 was clearly frustrated and he too saw a yellow card in added time for a combination of fouls.
So an excellent Club display and we climb another two places in the table to 16th with up to six games in hand over a batch of teams ahead of us. However our attempts to put a league run together will be severely tested as seven of the squad will not be available for next weeks' home fixture with Quorn as they will be on tour in India.
Leek Town: Hodgson, A.Taylor ©, P.Taylor, Johnson, Bradbury, Allen, Brough (Miller), Millar, Rutter (Ashman), Cope, Corden (France). Subs Not Used: Shenton, Ruddock.
Sheffield FC: Whatsize, Eagers, Wright, Smith, Lowe, Winter, Outram, Burbeary, Cusworth ©, Gascoigne (Roney), Adam. Subs Not Used: Harrison, Davis, Jackson, Dolby.
Att: 285.
Sheffield FC 2 Sutton Coldfield Town 1
Evo-Stik Division One South
Saturday, 30/10/10
It was a case of back to business for Club this afternoon, as they overcame a Sutton Coldfield side with more difficulty than they should have, writes Stuart James. After easing to a comfortable two-goal lead at the interval with goals from Andy Gascoigne and Brian Cusworth, Sheffield were pegged back by a Mark Bellingham strike shortly after the restart, and were made to struggle to hold on to all three points after Gascoigne was shown a red card fifteen minutes from time for apparent dissent.
Club had a reshaped look about the side, with Ondřej Pacák and Scott Lowe making way for Darryl Winter and Tom Jones, with Jordan Eagers moving into the right-back slot. They couldn't have wished for a better start as after three minutes their first attack resulted in a goal, with a long lofted ball over the top being flicked on by Brian Cusworth, and GASCOIGNE got there before the defenders to lob the ball over Karl Lewis in the Royals' goal. Sutton came back at Club with some zeal, and almost immediately had the chance to draw level, as Dan Whatsize palmed over a thunderous Jake Murrall volley. Things died somewhat with the game not generating much in the way of interest or excitement and the subdued crowd had to wait another thirty minutes for anything to liven their afternoon, as Sheffield broke at pace with Ashley Burbeary playing in Brian Cusworth with a long ball the big striker did well to control, before squaring to Chris Adam who's shot was deflected wide. Town were the next to test the defence, as Mark Bellingham put Matthew Dodd through on goal, with Whatsize having to do well to intercept and block the shot. Sheffield doubled their lead shortly after, as great interplay between Brian Cusworth and Andy Gascoigne saw CUSWORTH with only Lewis to beat, a task he did with aplomb. It could have been a greater margin before the break, however Gav Smith's header from an Ashley Burbeary free kick was easily saved by Lewis, with Sutton glad to hear the half time whistle.
The second half had a similar start to the first, with Sutton rocking after Cusworth had headed home a Jordan Eagers cross, however the goal was ruled marginally offside. The decision was barely challenged by the Sheffield players, but within seconds the disallowed goal was made to appear all the more valuable as the visitors went up the other end and pulled one back, as a Matthew Dodd chipped cross was headed home by BELLINGHAM. Again, like the first period, the game died and very little of note happened until Andy Gascoigne sent a bicycle kick over the top of the goal. It wasn't that close, but it was the youngster's last contribution to the proceedings, as moments after referee Richardson called Gascoigne over at a break in play and produced a red card to the amazement of all watching. This obviously gave Sutton added impetus to put club under pressure, and despite having a man advantage, they rarely tested Whatsize or his defenders who managed everything that was thrown at them. The best chance to level matters came late on, as a cross from Bellingham found substitute Harry Harris unmarked in the middle, his finish summed up the visitors day as his volley went woefully wide.
After all the drama of the FA Cup, Sheffield need to get back to the bread and butter stuff of league football, as they've got a helluva lot of catching up to do. Whilst this wasn't the most convincing display, Club dispatched Sutton without really getting out of the low gears, and without really ever being troubled by the visitors. Next up comes a challenge of a different nature, the visit of Country Senior division two leaders Houghton Main, for Club's belated first taste of this season's Senior Cup football.
Sheffield FC: Whatsize, Eagers, Wright, Smith, Jones, Winter, Outram, Burbeary, Cusworth, Gascoigne, Adam (Roney). Subs Not Used: Davis, Lowe, Harrison, Jackson.
Sutton Coldfield Town; Lewis, Quiggin (Harris), Jackson, Murrall, Carns (Booth), Kelly, M.Dodd, Wills, Matt (Marshall), Bellingham, Milligan. Subs Not Used: Owen, N.Dodd.
Att: 269.
Tipton Town 2 Sheffield FC 0
FA Cup 4th Qualifying Round Replay
Wednesday, 27/10/10
A goal in each half ended the Sheffield FC FA Cup dreams for another year, writes Stuart James, in front of a massive gathering at the Tipton Sports Academy this evening. After a very finely balanced opening, Tipton broke the deadlock on 24 minutes when an Eric Bowen shot took a deflection which carried the ball over Dan Whatsize – and despite all attempts to restore parity – Club were caught upfield six minutes from time, getting hit with a sucker punch from Danny Campbell to send the hosts into a lucrative First Round tie up at Brunton Park, Carlisle.
Both teams made just one change to their respective starting line-ups from Saturday's drawn game in Dronfield, with Ondřej Pacák replacing Ryan Davis for Sheffield, whilst Leon Jackson replaced the injured Cameron Jones for Tipton. The game started quite even, with both sides starting very well, however Tipton were the ones who had the real chances of note. Eric Bowen sent in a testing cross which Danny Bragoli couldn't get a solid enough touch to, with the goal at his mercy, whilst Bragoli had an excellent effort from 25 yards that was tipped over by Dan Whatsize. Even though Club hadn't really threatened Matt Sargeant with any direct shots, the fact they fell behind midway through the half never really reflected the balance of the game at that time, with the visitors clearly enjoying a purple patch and having a stonewall call for a penalty waved away after Matty Outram was brought down by Ross Brown. The goal came after Eric Bowen picked up the ball in midfield, after finding a bit of space BOWEN let go from 25 yards, the ball took a dreadful deflection off Callum Harrison and looped over the head of Dan Whatsize into the net. The goal seemed to spur Tipton on, and they almost made it two shortly after following a long free kick by Steve Palmer that was skilfully kept alive by Bowen, with the resulting cross finding Danny Bragoli with an open goal to aim at... and miss. Sheffield eventually started to make inroads, with Matty Outram the most threatening down the right wing, sending in some pretty dangerous crosses and giving Tipton's left side defence some almighty headaches. It was from Outram's crosses that Sheffield tested the hosts, with Brian Cusworth getting on the end of one with not enough power, and Ash Burbeary getting too much on another – sending both off target.
Sadly for Sheffield, Matty Outram had to be replaced at half time due to injury, with Chris Adam taking his place. Tipton started strongly in the second half and could have wrapped things up early doors, as Ricky Baker broke down the wing, cut a cross back to Danny Campbell who managed the miss of the season. After that you could say it was all Sheffield, as Tipton sat back and absorbed everything the visitors could throw at them, with Matt Sargeant putting in an imperious performance in dominating the box and denying any chance of an equaliser. The closest the visitors were to come was when Brian Cusworth won a header in the box, the ball dropped nicely for Ash Burbeary, who's curling shot beat everyone and struck the bar. The bad luck wasn't to stop there - Club had an almighty shout for a penalty, as the ball was clearly handled by a defender in the box, with the referee seeing otherwise and awarding the free-kick an inch outside the area – sadly no justice was forthcoming as Burbeary's free-kick was disappointing to say the least, hitting the wall. It got worse, Matt Roney came on and made an immediate impact sending a testing ball across the face of goal, amazingly no-one was able to get even the slightest touches on it to divert it home. Then came the sucker punch with Sheffield pressing all forward in search of the goal that would take the game to extra time, a long clearance found CAMPBELL who won a tussle with Pacák thirty yards from goal, and with only Whatsize to beat the striker showed calm and composure to slot home and send the home fans into a frenzy. The two goal lead flattered Tipton, but it could have been so much worse as the visitors were caught on the break more than once, and the hosts squandering chances that should have been buried. First Eric Bowen beat the offside trap to go one-one-one with Whatsize, with the Sheffield keeper coming out on top with a splendid double-save, then Bowen's cross was met by Ricky Baker who hit the bar. It would have been rough justice had either have gone in, but the misses hardly mattered, and full-time was met by a mass pitch invasion by the celebrating home support.
It was a disappointing night all round for Sheffield; it had been said that for Club to progress players one to eleven would have to perform to their best, sadly that was not the case and Tipton raised their game accordingly to overcome a rather lacklustre opponent. It isn't however a time for recriminations, on another day it could and should have been so much more different, and regrettably we failed to take our opportunity on Saturday when we had the ascendancy. As it ends though, it has been a great ride, and the squad and management deserve a massive pat on the back for getting this far. As they say, "maybe next year", and to Tipton – good luck versus Carlisle!
Tipton Town: Sargeant, Hill, Brown, Bate, Parker, Palmer, Bowen, Bragoli, Jackson, Campbell (Mosedale), Barker. Subs: Whyte, Forrest, Tonks, Thornton.
Sheffield FC: Whatsize, Wright, Pacák, Gavin Smith, Lowe, Harrison (Roney), Outram (Adam), Cusworth, Eagers, Gascoigne, Burbeary. Subs: Winter, Jones, Jackson, Spooner, Davis.
Att: 1,429.
Sheffield FC 2 Tipton Town 2
FA Trophy Cup 4th Qualifying Round
Over a thousand spectators crammed in to the BT Local Business Stadium this afternoon (writes Stuart James) to witness the biggest day in Sheffield's recent history, and most definitely the biggest in Tipton's history, and left knowing both teams will be at least in the bag for the FA Cup First Round Proper draw. In a see-saw game which had both sides holding the upper-hand for lengthy periods of the game, the spoils were eventually shared after Cameron Jones put the Midland Alliance side up after five minutes, with strike partners Andy Gascoigne (22) and Brian Cusworth (38) getting a header each before the break. In a second half that was dominated by the lower level side, Danny Campbell grabbed a deserved equaliser in the 68th minute, taking the game to yet another replay on Wednesday evening in the West Midlands.
Making his debut this afternoon for the hosts was 20-year-old keeper Dan Whatsize, signed on loan from Chesterfield, and he couldn't have wished for a worse start in a Sheffield FC shirt. Ricky Baker burst down the left for the visitors, cutting in from the wing he released a shot that was parried by Whatsize, only to see it fall to the grateful feet of JONES who had the easiest of tap-ins. With the goal under their belts, Tipton looked more than a shade more composed than Club, and looked very useful coming forward. Eventually though Sheffield managed to get a foothold in the game and started to press the visitors, with Andy Gascoigne beating the offside trap to put in Ashley Burbeary, only to see the swift winger thwarted by a good stop from Matt Sargeant in the Town goal. Eventually Club drew level; a quick short corner was whipped into the middle, a poor clearance ensued – only to see GASCOIGNE rise above everyone to head the ball home. Now it was Sheffield's turn to dominate things, Burbeary's cross was met by Gascoigne's head, again Sargeant was there to deny the hosts. Shortly after Matty Outram's through ball found Brian Cusworth, the big striker showed a quick pair of heels to take the ball past Sargeant, with a Steve Palmer clearance off the line apparently saving the day for the visitors. In reality it was just delaying the inevitable, as from Outram's corner CUSWORTH headed goalward, with linesman Mr Wharmby deeming the ball had crossed the line and awarding the goal.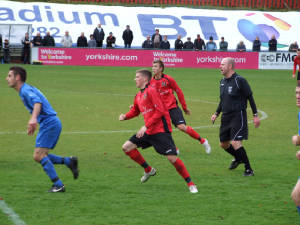 Photo by Andrew Turnidge
The second half started as you'd expect a big FA Cup tie to start in the first half, very nervy and very edgy, with neither side really causing much trouble and the ball spending much of the time in the air. Tipton lost their "dangerman" Cameron Jones at half-time, Sheffield looked to shore things up by introducing Daz Winter, and the game plodded on in a surreally pedestrian pace. The only incident of note was when Ricky Baker had a shot from distance, one which was easily caught by Whatsize, midway through the half though the game sprang to life. Substitute Chris Adam had possession on the left wing for Sheffield, all of a sudden the ball was lost by Sheffield with Ryan Mosedale capitalising on the empty flank, the ball was played to CAMPBELL who cut in from the wing and struck the ball across the face of Whatsize and into the net. This heralded a nervy period for Sheffield, with Tipton hold possession with ease and starving the hosts of any ball time, and with it the balance of play swung once more in the direction of the visitors. In truth Club were having all on staying in the game, as if anything it looked like an away win could be snatched at any moment, and a replay suddenly looking like an inviting proposition. Sheffield finally got the ball up the other end, and had their best chance to steal it when Daz Winter won a header in the box, with Brian Cusworth volleying the knockdown a fraction wide. Tipton had their chance to settle matters as Danny Bragoli sent Ryan Mosedale down the wing, with the shot well blocked by Whatsize, after the lively substitute left the Sheffield defence in his wake. As with most of Sheffield's cup run you felt there was still time for a little drama at the end, with Club pressing forward for an injury time corner; this time though it ended as a damp squib and the final whistle signalled yet another stalemate.
If anything this was as fair a result as any that Sheffield have finished with on this run – with the draws against Frickley, Northwich and Woodley all coming in rather dramatic and spurious circumstances. Tipton are clearly a team that are equipped to be playing alongside Club in the Evo-Stik Division One South next season, and are not the pushovers that the ill-informed or neutrals present today thought they would be, meaning Wednesday evening's replay will be one that will not be one for the faint-hearted. As it stands, both camps will be watching with interest tomorrow afternoon as the balls get pulled out of the bag... if you'll pardon the phrase.
Sheffield FC: Whatsize, Wright, Davis, Smith, Lowe, Harrison, Outram (Adam), Eagers (Winter), Cusworth, Gascoigne, Burbeary. Subs Not Used: Jones, Roney, Pacák, Jackson, Spooner.
Tipton Town: Sargeant, Hill, Brown (Jackson), Bate, Parker, Palmer, Bowen, Bragoli, Jones (Mosedale), Campbell, Baker. Subs Not Used: Forrest, Chambers, Thornton.
Att: 1026
Chasetown 3 Sheffield FC 1
FA Trophy 1st Qualifying Round Replay
Tuesday, 19/10/10
Sheffield bowed out of the FA Trophy tonight, writes Stuart James, in a game that could have easily gone either way. After a goal-less first half, Chasetown finally got the better of Club in an entertaining game, with goals from Ben Jevons and Richard Teesdale after Chris Adam had levelled the scores. A late goal from Grant Ryan made it safe for the Scholars, after Club could have taken it to extra time, only to be denied by the woodwork.
After absorbing the opening periods of pressure from the hosts, Sheffield had the better of the early exchanges, in what could only be described as a lively start to the game. Ondřej Pacák was the first to test Ryan Price in the Chasetown goal, with a thirty yard daisy-cutter that the keeper had to tip on to the post, followed shortly after by Chris Adam who rounded the keeper only to see his effort headed clear by skipper Richard Teesdale. Sheffield's hero from the previous Saturday Brian Cusworth also went close, after a testing cross from Matty Outram, Cusworth's flick was marginally over the top. As expected though, the Scholars started to find their feet and test the lower ranked visitors, and it was their turn to start to turn the screw with the chances. Firstly Sheffield keeper Kyle Clancy overcommitted himself, allowing Grant Ryan the opportunity to benefit, only to see his effort hooked wide. This was soon followed by a Mark Branch free-kick that was turned round the post by Clancy, and moments later Dave Bridgewater's corner was met by Gary Hay, only to see it hooked to safety by the Sheffield defence. Clancy came to Club's rescue once again, tipping another Branch free-kick onto the bar, whilst at the other end Price kept Chasetown's sheet clean after tipping a Matt Roney effort over the top. Sheffield finished the first half the strongest, with Callum Harrison's cross-field ball being controlled by an excellent first touch by Chris Adam on the break, sadly the final shot finished the wrong side of the post.
Chasetown came out in the second half in attacking mood, and three minutes in they had the lead, with a Mark Branch corner being met by the head of JEVONS who steered the ball home. Club were now under almost constant pressure, and could have fallen further behind after a cross by John Branch was flicked by Grant Ryan, only to see it hit the side netting. But to Sheffield's credit they held on and actually fought a way back into the game, being rewarded on the hour after Callum Harrison fed Chris Adam on the left flank, with ADAM beating two defenders with pace and skill before unleashing a thunderbolt that gave Ryan Price no hope. Having levelled matters Club started to make some fundamental errors, with Ondřej Pacák getting caught in possession by Grant Ryan, only to be rescued by a fine save by Clancy. The parity was soon broken, with a Mark Branch free-kick was met at the near post by TEESDALE, who's downward header was too strong for the Sheffield keeper making it 2-1. Gary Birch almost made it three five minutes later, from a Mark Branch corner, but his header bounced off the crossbar. The woodwork came to the Scholars' rescue close to the end, as a goalmouth scramble saw the ball fall to Scott Lowe who headed over keeper Price, only to see the Chasetown custodian arch back enough to push the ball onto the bar. With Club pressing forward for an equaliser, inevitably they were caught on the break, Jevons played a ball over the top to RYAN who calmly placed the ball beyond Clancy. The game could have finished with an unfair margin of victory, as Dave Egan had the opportunity to wrap things up with a fourth, only to be denied by an excellent Clancy stop.
Chasetown probably deserved the victory on the night, and with it earn the reward of a trip up the A38 to Mickleover, but they didn't put the visitors to shame. Club put up a fine performance, but were undone by two headers and a breakaway goal, all of which could have been avoided. But it is not a time to dwell on the negatives, as Sheffield prepare for the biggest game of the season on Saturday, where a place in the FA Cup First Round Proper is up for grabs. At the moment, not a lot else matters...
Chasetown: Price, J.Branch, M.Branch, Cohen, Bridgewater, Teesdale ©, Edwards (Stephens), Egan, Hay (Birch), Ryan (Thompson), Jevons. Subs Not Used: Parsons, Farmer.
Sheffield FC: Clancy, Wright, Pacák, Jones ©, Lowe, Harrison, Outram (Burbeary), Clarke (Eagers), Cusworth, Adams, Roney (Gascoigne). Subs Not Used: Davis, Winter.
Att: 316
Sheffield FC 1 Chasetown 1
FA Trophy First Qualifying Round
Saturday, 16/10/10
Another Saturday, another cup game, another draw, another replay! Club met last season's rivals Chasetown in Dronfield this afternoon in the FA Trophy with both clubs having to settle for stalemate and deservedly so on the overall balance of play writes Roy France.
Sunny conditions greeted the players and the early play was just as bright as in the opening ten minutes David Graham twice fired wide and then Chris Adam side footed just over after being fed by Clark. At the other end Gary Hay just failed to connect with a David Bridgewater cross. The visitors' goalkeeper, Ryan Price was giving loud instructions to his defenders as Chasetown had not started sharply. At the other end Kyle Clancy, an emergency signing from Burton Albion, made a confident start to his Club debut with a couple of safe catches. Sheffield continued to dominate with nice approach play and Gascoigne and Graham linking well up front. On thirteen minutes Robbie Clark was unlucky to see his snap shot blocked after Gascoigne just failed to get a diving header onto Adam's cross. The weather turned cloudy as Adam fired a shot straight at Price before Chasetown began to get some sort of foothold in the game at the midway point of the half. Their most prominent player David Egan headed wide just before a heavy spell of rain and drop in temperature, all present suffering virtually four seasons of weather in the first half hour! Clancy made a great low save from Grant Ryan but soon after the striker was booked as he hampered Clancy making a clearance. Chasetown fans had decorated the Bowshaw end with a colourful variety of large flags but the display was decimated by the latest meteorological change to gusty winds! Play itself had become somewhat niggly for a while before Graham played through Clark but Price came out to make a good smother block with his chest. Then Gascoigne was manhandled by the combative Matthew Cohen but the referee found in favour of the defender and later had to tick off both players for their tussling. Chasetown returned to the attack and after Ryan fired wide supporting full-back John Branch got forward to control a ball and then volley low across Clancy to give the Scholars the lead on 42 minutes.
The visitors had the better of the opening spell in the second period too both in terms of territory and possession but their best efforts were two off-target headers from Egan. However on 57 minutes Andy Gascoigne made a good run down the left, holding off Teesdale, and sent over a measured cross which substitute Brian Cusworth met with his forehead and deftly directed the ball back into the net for the equaliser. So it was all to play for and five minutes later came the miss of the match. Adam lost possession at the back leaving Edwards with a chance shot which Clancy turned away at point blank range but only into the path of Ryan who hurriedly shot hard and wide when faced with an open goal! Both managers introduced subs to try to force the game but play remained very even going into the last fifteen minutes. Matt Outram's appearance was his 100th for Club. Sheffield had two long range shots on goal via Eagers and Pacák but we were frequently caught off-side. Adam found himself cautioned for a foul on the dangerous Edwards. Neither goal was seriously troubled further and so the teams have to fight it out again on Tuesday evening. A result neither side will welcome but once more Club were equal to a side from the top of the Evo-Stik Premier Division.
Sheffield FC: Clancy, Wright, Pacák, Jones ©, Lowe, Eagers, Burbeary, Clark, Graham (Cusworth), Gascoigne (Outram), Adam (Roney). Subs Not Used: Harrison, Davis.
Chasetown: Price, J.Branch, M.Branch, Cohen, Bridgewater, Teesdale ©, Edwards, Egan, Hay, Ryan (Thompson 71), Jevons (Stevens 82). Subs Not Used: Carruthers, Saunders, Farmer.
Att: 240
Frickley Athletic 1 Sheffield FC 2
FA Cup Third Qualifying Round Replay
Tuesday, 12/10/10
Another Tuesday night replay, another higher division scalp! Sheffield FC's progress into the F A Cup fourth qualifying round continued unabated with another hard-fought but fully deserved victory over Frickley Athletic, writes David Bell.
The major change in Sheffield's line up saw Danny Spooner replace the absent Paul Pettinger in goal and it wasn't long before he was called into action, saving at close range from Frickley playmaker Danny Walsh. Just a minute later, the same two players were called upon again as Spooner pushed a 20 yard drive from Walsh past the post. The game was being played at a decent tempo and Sheffield contributed equally to this; Burbeary seeing his left foot shot from the edge of the area tipped round the corner by Simpson on 6 minutes. Athletic left back Ben Chapman was replaced on 13 minutes by Lee Morris due to an injury and this was to prove significant as a deep left wing cross from Mark Whitehouse found MORRIS unmarked at the far post to give Frickley the lead with the simplest of headers.
Sheffield were not over-awed by this set back. A neat interchange of passes between Wright and Outram saw Outram's dangerous cross cleared for a corner. A Gascoigne overhead kick from the corner illustrated that Sheffield were still very much in the game. Sheffield continued to press as a Greg Wright shot was charged down only to see Daz Winter have a 20 yard strike of his own parried by Simpson in the Frickley goal. Sheffield finally got their just reward five minutes before half time when great hold-up play by Brian Cusworth saw the ball laid off to Andy GASCOIGNE, who was allowed to carry the ball into the area before firing home from 12 yards to restore parity.
The second half produced precious few clear-cut chances as both sides cancelled each other out somewhat. Burbeary had a decent effort saved by Simpson on 55 minutes. Lee burst free for Frickley a minute later only to see Spooner save at the second attempt. During this stalemate, it appeared that Sheffield had the greater desire to playing passing football, Cusworth leading the line with aplomb, whilst Frickley were keen to play balls over the top, instigated by the ever-involved Walsh. Sheffield introduced Eagers for Harrison and Adam for Outram and continued to more than hold their own. The reward for sheer persistence came in the 87th minute when a low Burbeary cross from the right was dummied by Cusworth, falling to GASCOIGNE who made no mistake with his second left footed finish of the night. As in the previous encounter, the referee Mr Harvey signalled for four minutes of additional time to be played and subsequently managed to extend that to six but there were scenes of jubilation at the end as the Evo-Stik Division One South side claimed the scalp of their Premier Division rivals.
And so the cup bandwagon rolls on. The winners of Radcliffe Olympic and Tipton Town await in the final qualifying round and attention turns to the F A Trophy on Saturday with the visit of another Premier Division side in Chasetown.
Frickley Athletic: Simpson, Wood, Chapman (Morris), Walsh, Sturdy, Jones, Clarke, Groome (Bloor), Fisher (O'Rafferty), Lee, Whitehouse. Subs Not Used: McGuire, Hood.
Sheffield FC: Spooner, Wright, Davis, Smith, Lowe, Winter, Outram (Adam), Harrison (Eagers), Cusworth, Gascoigne, Burbeary. Subs Not Used: Clark, Jones, Pacák, Roney, Jackson.
Att: 322.
Sheffield FC 1 Frickley Athletic 1
FA Cup Third Qualifying Round
Saturday, 09/10/10
A last-ditch equaliser from Danny Walsh saved the day for Frickley, to take this local derby into a replay, writes Stuart James. In a game that looked for all the world to be over and done with, one that looked to have been settled by a 53rd minute Brian Cusworth header, Frickley proved that the game is not over until the referee decides to blow his whistle. That turned out to be in the 95th minute of a pretty tense game that had very little in the way of stoppages, yet mysteriously the officials conjured up enough time to give the visitors the impetus to mount one last attack, and grab the goal they needed to take the tie to the Tech5 Stadium on Tuesday night.
The game started in typical cup-tie fashion, very tense, and very little in the way of chances at each end. Callum Harrison had the first effort on goal, followed shortly by a Danny Clarke shot that was easily saved by Paul Pettinger, whilst Harrison forced a decent save from Ben Simpson in the visitors' goal midway through the half. Sheffield's task of beating their Premier Division opponents was made all the more difficult, as David Graham pulled a groin trying to keep a cross-field ball in play, forcing Chris Dolby to introduced Andy Gascoigne into the game a little earlier than he'd have liked. Frickley managed to get on top in the first half, and could have had a couple of decent chances on goal, if not for some imperious defending by Scott Lowe who saved the day with two last-ditch tackles. Club's best chance came in the last few minutes of the half, as Brian Cusworth won a 50-50 with keeper Ben Simpson leaving the striker with no-one between him, the ball and an empty net – sadly for him, he'd managed to lose his bearings... and with them, the ball.
Frickley came out of the blocks pretty strong after the restart, pressing forward in numbers, and they should have gone in front as Nialle O'Rafferty's cross was headed narrowly wide of the mark by Lee Morris. Instead of being in front, Frickley were soon to be behind, as Sheffield broke and scored in a typical counter-attacking move. With the visitors in Sheffield's half, the ball was swept from defence to Gascoigne who in turn found Matt Outram free on the right, with CUSWORTH rising in the box to head home from ten yards out. The tables were now turned, and it was the hosts that were on top, looking more likely to extend their lead that concede it. Cusworth nearly doubled the lead, as headed wide from an Outram corner, whilst Frickley were limited to shots from distance that were either off-target or dealt with comfortably by Pettinger. As time was running out it looked as if Lee Morris' free-kick would be the last effort of the game, and as it scraped the outside of the upright, the hosts breathed a big sigh of relief that the danger had passed. Somehow though, in a second half that had virtually no stoppages and only two very quick substitutions, referee Harvey managed to find four minutes of additional time. In the last of those, Frickley capitalised on a vital lapse of concentration, with WALSH directing the ball home to rewarding the large contingent of Frickley supporters that had stayed to the very death – sending them into raptures.
Overall a draw was probably the expected result in this match up, but Sheffield will be kicking themselves, and wondering how yet another cup-tie ended in a draw. Frickley on the other hand will have the same feeling Club had in the previous round, all but out of the competition, and handed an unlikely get out of jail free card. Either way both teams will have it all to do again, with the possibility a lucrative final qualifying round tie against one of the Conference big-guns, no doubt Sheffield will be hoping they manage to get it right second time around once again.
Sheffield FC: Pettinger, Wright, Pacák, Smith, Lowe, Winter, Outram, Harrison, Cusworth ©, Graham (Gascoigne), Burbeary (Clark). Subs Not Used: Jones, Eagers, Davis, Adam, Roney.
Frickley Athletic: Simpson, Fisher, Chapman (Wood), Walsh, Sturdy, Jones ©, Clarke, Groome, Morris, O'Rafferty, Whitehouse. Subs Not Used: Lee, McGuire, Bloor, Hood.
Att: 632.
Sheffield FC 3 Rainworth MW 1
F A Trophy Preliminary Round Replay
Tuesday, 05/10/10
Sheffield's Cup odyssey continued with a hard fought FA Trophy replay win over a stubborn Rainworth side after extra time, writes David Bell, in a game that also saw Club stalwart Tom Jones make his 250th appearance.
Earlier stalemates between the two teams didn't lead the casual observer to believe that this would be a classic and it was a full eight minutes before Graham's deflected header was the first chance of note. This did however set the tone for the game as Sheffield by and large dominated but failed to convert their many chances. Pacák had a fierce left foot drive saved by Mark Hales five minutes later, typifying another superlative performance by the Rainworth stopper. Further chances came for Winter, Graham, Lowe and Eagers, all either wide of the mark or comfortably saved by Sheffield's nemesis in the Rainworth goal. Indeed Rainworth's first chance of note came on 33 minutes when Simms rounded Pettinger only to see his shot cleared off the line. Mitchell placed a further chance wide for the visitors but it was to be Sheffield who broke the deadlock. A right wing cross from Matt Outram was only half cleared by the Rainworth defence and fell to Ashley BURBEARY who curled a delicious finish into the top right hand corner to give Sheffield a deserved 1-0 half time advantage.
The displeasure expressed by Rudy Funk on leaving the pitch at half time must have been reflected in his team talk as Rainworth dominated the opening 10 minutes of the second half. However, the game soon reverted to type as Sheffield once again came to the fore but failed to find the crucial final touch. On 59 minutes, Jordan Eagers made a good break into the box but saw his flicked shot cleared from the line, closely followed by a 20 yard deflected drive by Daz Winter, which found Hales hands comfortably. Further good work by Eagers saw Graham poke wide on seventy and on 86 minutes Graham fired straight at Hales. With barely a minute remaining, a sliced clearance from the left fell to Dennis SIMMS at the top of the area, whose strike took a large deflection past the agonising dive of Pettinger to send the game into extra time.
The Mark Hales Show continued in the first period of extra time. Substitute Andy Gascoigne burst through on 97 minutes only to see Hales save at his feet. Two minutes later a low drive from Eagers on the right hand side was saved by Hales. A Burbeary left foot shot met the same fate a minute later. Harrison and Winter had efforts wide of the mark as the first period ended in a continuing stalemate. Rainworth battled gamely in the second half, Mitchell having an early strike as Sheffield became increasingly desperate to finish the tie before the dreaded penalties. The stalemate was finally broken when a neat Burbeary / Eagers interchange of passes at the top of the area saw the ball laid off to CUSWORTH who slid a left foot shot past the gallant Hales with just three minutes remaining. On full time, another run down the left flank by the energetic Burbeary saw Eagers miss the initial cross but with the ball breaking to the unmarked GASCOIGNE for the easiest of tap-ins.
A deserved victory given the dominance of the game for Sheffield but with credit given to Rainworth, who gave no quarter during the entire 120 minutes. A home tie with Chasetown is Club's reward in the next round but it remains to be seen how another extended fixture affects the team in their forthcoming FA Cup tie at home to Frickley on Saturday.
Sheffield FC: Pettinger, Wright, Pacák, Smith, Lowe (Jones), Eagers, Outram (Gascoigne), Winter, Cusworth ©, Graham (Harrison), Burbeary. Subs Not Used: Davis, Jackson.
Rainworth MW: Hales, Thomas (Moxam), Bainbridge (Hewitt), Alberry, Charlesworth, Draper ©, Baxter, Simms, Mitchell, Topliss (Fearon), Sweeney. Subs Not Used: Hunt, Dobbs.
Att: 135
Rainworth Miners Welfare 1 Sheffield FC 1
FA Trophy Preliminary Round
Saturday, 02/10/10
A first half goal apiece, in a match reminiscent of our frustrating league encounter one month earlier, failed to separate the two sides and we return to the BT local Stadium on Tuesday night for the decisive sequel (writes Rob Shepherdson).
Starting with the same team that achieved the midweek triumph that overcome Northwich there were high hopes that we could show similar form to dispatch today's opponents at the first attempt. This looked to be on the cards when after only 8 minutes the deadlock was broken. Cusworth and Gazza link up well in the area before the ball is played back to the incoming Eagers who hits a fine shot into the corner goal. Three minutes later it is almost a second when Wright rises to meet a Lowe free-kick only to see his header go narrowly wide. Rainworth had still to challenge our goal but a corner from Carolan which flew dangerously across our 6 yard box was a warning shot that a threat still existed. Carolan then steps up to take a free-kick which he floats into the Sheffield box to be met by the rising Draper for the 18th minute equalizer. The match moves drearily into stalemate for the remainder of the half with both defences standing firm and the sole chance falling to Cusworth who miscues a Roney corner at the near post.
The second half starts brightly with Cusworth feeding Roney on the wing and the resulting cross to the well positioned Burbeary just intercepted at the last moment. However it doesn't last long before the match drifts back to the stalemate of the first half but with a few niggles creeping in. A long throw from ended with a chance for Roney but it was a weak strike whilst Harrison and Burbeary combine well together to create a chance for Eagers but his 20 yd shot goes over. On the half hour Outram is introduced for Roney who needs attention for strains. Rainworth have their first chance when Topliss puts over from a good position. Gascoigne is booked as a result of the niggling that is going on and is shortly afterwards replaced by Graham. Halfway through the second half and Rainworth become a bit more active up front Carolan puts a useful cross in that is fortunately missed and then is given a free header but the goal is missed. The Rainworth full back then whips in another cross which Topliss meets well but Pettinger is on hand to make his first save of any note. Moments later Pettinger is in the action again to push a shot from Mitchell away for a corner. Club in turn, find more opportunities to exploit the Rainworth defence and Graham is unlucky to find his shot blocked by keeper Hales when played through on goal. The last 10 minutes show Sheffield at their most positive with Cusworth playing Burbeary in only for his effort to be off target whilst a twisting turning run in the area by Graham is unlucky to be thwarted by the outstretched hand of Hales when he deserved so much better. All in all probably a fair result but one that neither team really wanted as it adds another match to the fixture calendar.
Rainworth Miners Welfare: Hales, Hollis (Fearon), Carolan (Hewitt), Alberry, Charlesworth, Draper (c), Baxter, Naylor (Simms), Mitchell, Topliss, Sweeney. Subs not used: Hunt, Simons, Dobbs.
Sheffield FC: Pettinger, Wright, Pacák, Smith, Lowe, Eagers, Burbeary, Harrison, Cusworth, Gascoigne (Graham), Roney (Outram). Subs Not Used: Davis, Reading, Jackson. Subs Not Used: Davis, Winter, Jones
Att: 109
Northwich Victoria 1 Sheffield FC 2
FA Cup 2nd Qualifying Round
Tuesday, 28/09/10
Against all the odds, against all expectation, Sheffield FC went to high-flying Northwich Victoria and ripped up the form book, writes Stuart James, with a stunning 2-1 victory. In a game where Chris Dolby employed a catenaccio style of play that would have left Roberto Mancini and his counterparts green with envy, as they literally bolted the defensive door shut to frustrate the Vics' attack, whilst hitting the hosts on the break with a pair of well worked Andy Gascoigne goals. Northwich had no way of getting anywhere near the goal, although they could count themselves extremely unlucky after hitting the woodwork twice, and matters were made all the more difficult with substitute Kwame Barnett coming on the field and earning two yellow cards within a matter of minutes. Northwich managed to get a consolation in the second minute of added time from Wayne Riley, after a decidedly dodgy penalty, but it turned out to be too little too late as the visitors held out.
As expected, it was Northwich that started the brightest, obviously wanting to make sure they finished a job that they'd failed to put to bed on Saturday, and they were the ones that were applying all the early pressure. After a couple of early wayward efforts, John Disney slid the ball across the face of the goal where John McAliskey was sliding in, with the big striker's toe-poke going a matter of inches wide. On ten minutes though, and much against the run of play, Sheffield went up the other end and silenced the home fans with a well taken goal. After some excellent build up play, Matt Roney threaded the ball to Brian Cusworth and the skipper did the same again, putting the ball through to GASCOIGNE who timed his run to perfection to stay onside and calmly slotted the ball past James Spencer. Naturally Vics were stung by this and came at Sheffield with all guns blazing; McAliskey chested down a cross-field ball by Keil O'Brien – hitting a volley on the turn that whistled by the post – whilst McAliskey also went near with another dipping effort soon after. Sheffield were unlucky not to extend their lead, as Brian Cusworth hooked Matt Roney's corner inches wide, with the Northwich defence looking decidedly static. Despite all the pressure by the home side, it has to be said Sheffield looked well in control, and apart from a few chances the visitors weathered everything the greens threw at them. Wayne Riley's corner was met by Paul Henry's bicycle effort, whilst McAliskey's flick header was chased on by Andy Fowler, but like most of the other attempts of the half both ended well off-target.
The second half was always going to be one of a "backs to the wall" nature, and Northwich didn't disappoint, throwing everything they had at Sheffield. Sadly for them, what they threw was an unimaginative long ball game, aiming for the head McAliskey and his nippy little colleagues. Club, with Scott Lowe and Gavin Smith in solid form, dealt with pretty much everything thrown at them, making Vics play a very narrow game. That's not to say Victoria didn't have their chances, quite the contrary, as John Disney hooked over a long throw from Adam Sumner and more was to follow. As far as pressure goes it would be fair to say Sheffield were well and truly under the cosh, but when McAliskey hooked an over-the-shoulder volley against the upright – with the ball bouncing freakishly into Paul Pettinger's hands – it would be even fairer to say luck was on their side. The referee was having a pretty torrid time too, infuriating both sets of supporters with some baffling decisions, none more so than Scott Lowe being penalised for a soft foul on McAliskey – fortunately Riley's free-kick was tame to say the least. Club were noticeably slowing the game down, controlling the pace of the game to virtual walking, but on 68 minutes they upped it just enough to stretch the lead. Matty Outram had been on the field a matter of minutes when he decided to burst down the wing evading a lunge from Sumner, with the linesman flagging and the referee playing an advantage, Outram played on – slipping the ball to Cusworth – who in turn squared the ball to GASCOIGNE, who repeated his feat of the first half to make it 2-0. It wasn't exactly "game, set and match", but the second goal knocked the stuffing out of Northwich. But still they pressed, with Fowler forcing an easy save for Pettinger, whilst Brian Cusworth nearly steered a John Disney free-kick past his own post. The introduction of Kwame Barnett was meant to have a positive effect on the homesters, but in the space of seven manic minutes the burly centre-forward booked for raising his studs at Paul Pettinger, and received a second yellow moments later for cynically hauling back Ashley Burbeary. Paul Henry's introduction to the game also made an impact, this time it was against the post, as his volley on the turn rattled the frame of the goal. Club almost grabbed an unlikely third as a quick free kick was chipped forward, with Cusworth's downward header meeting a Burbeary cross, only a spectacular one-handed save from Spencer saving the day for Vics. In the second of five added on minutes, the referee awarded a dubious penalty for handball against Ondřej Pacák, after McAliskey had appeared to handle beforehand. Nevertheless, RILEY sent Pettinger the wrong way, setting up a barnstorming final few moments. Northwich threw everything forward – including the keeper Spencer – and after what seemed to be an eternity, referee Madine put everyone out of their misery with the final whistle.
This was a famous victory for Sheffield, in a game where no-one gave them much of a chance, setting up a home tie against Frickley Athletic. Despite being only one division difference between the two teams, it still felt like a giant-killing, mainly due to the nature and reasons behind Northwich's placing in their division. It was a game that will go down in the memories of those that had travelled as a game that proved the character of the team, a never-say-die attitude, and a self-belief that they can mix it with some of the bigger boys. Next up though, is another trip down the road to Rainworth for the Wrens' debut in the FA Trophy, with the winners' reward for that a home tie against Chasetown.
Northwich Victoria: Spencer, Disney, Sumner, Fodor, O' Brien (Carden), Henry (Thompson), Riley, Connor (Barnett), McAliskey, Fowler, Sorvel. Subs Not Used: Williams, Crane, Preece, Morrison.
Sheffield FC: Pettinger, Wright, Pacák, Smith, Lowe, Eagers (Winter), Burbeary, Harrison, Cusworth, Gascoigne, Roney (Outram). Subs Not Used: Davis, Reading, Jackson.
Att: 429.
Sheffield FC 2 Northwich Victoria 2
FA Cup 2nd Qualifying Round
Saturday, 25/09/10
A late strike from David Graham gave Club a second bite of the FA Cup cherry this afternoon at the BT Local Stadium, writes Stuart James, as Sheffield snatched a dramatic late draw to take the tie to Victoria Stadium on Tuesday night. In a fierce battle with a display of football way above the standard expected of two teams at this level, the spoils were deservedly shared, as both teams held the lead only to see it relinquished. Sheffield were the first to strike with a spectacular volley from Callum Harrison on 29 minutes, whilst Vics responded with strikes from Andy Fowler (40) and John McAliskey (55), before Graham brought the house down two minutes from the end.
The game started with all the feel of a typical FA Cup tie, with both teams playing some pretty open football, but despite this neither side really created anything in the opening fifteen minutes. At that point the game came to life with Sheffield the team on top, following a ball in from Greg Wright which was helped along by Brian Cusworth, setting David Graham up with a chance that was comfortably saved by James Spencer. Northwich had their chances too; with Wayne Riley finding himself through on goal, only to disappoint the sizable away support with a poor finish. Just before the half hour mark an unlikely shock was all of a sudden on the cards, as Club took an unexpected lead, after an Ashley Burbeary cross was scissor-kicked home from the edge of the area by HARRISON. It was a goal that was worthy of winning the competition, let alone a lowly Second Qualifying Round, and it seemed to spur the hosts into the belief this could be their day. It was almost two five minutes from the break, as a Matt Roney cross was cutely clipped by the heel of Cusworth, with the ball being cleared off the line by Matt Brown. Directly from that incident the ball was sent up the other end, where Sheffield were caught too far advanced, leaving FOWLER with a clear run on goal which was finished with aplomb.
Club started the second period with a renewed vigour, and almost regained the lead from a curling David Graham effort, which swerved just off target. Vics – as they did in the first half – reacted to this with an attack up the other end, and when MCALISKEY appeared to take the ball beyond the defence with his hand, he made no mistake with a vicious shot that left Paul Pettinger with no chance. The game developed into an end-to-end entertaining contest, with Sheffield pressing with abandon, then Vics doing the exact same in response. Burbeary's corner was headed narrowly over by Tom Jones, Michael Connor had a good drive from distance blocked by Pettinger, whilst Graham got on the end of a good Cusworth cross to force a great stop by Spencer. The chances were still coming, Vics' Wayne Riley took advantage of some slack play to send the ball across the face of the goal, at the other end Jordan Eagers set up Cusworth who hooked the ball wide of the mark. As time was running out and both teams seemed resigned to the game ending with an away win, Club sent the home fans wild with a late equaliser as Eagers sent another ball through the middle which split the defence, and latching onto the end was GRAHAM to steer the ball beyond the diving Spencer.
There can't be many arguments that this was a fair result; Vics look a team destined for a return to Blue Square football, whilst Club battled well above their weight division. No doubt Tuesday will be a harder battle for Sheffield, as Northwich will be out to make certain they aren't on the end of one of those giant killing episodes they are so well known for – either way, if the game is half as entertaining, it should be well worth making the trip to watch.
Sheffield FC: Pettinger, Smith, Wright (Pacák), Jones, Lowe, Winter (Eagers), Burbeary, Harrison, Cusworth, Graham, Roney (Outram). Subs Not Used: Davis, Gascoigne.
Northwich Victoria: Spencer, Disney, Sumner, Fodor, Brown, Henry, Riley, Connor (Barnett), McAliskey, Fowler, Sorvel (Crane). Subs Not Used: Williams, O'Brien, Carden, Thompson, Morrison.
Att: 422.
Sheffield FC 3 Garforth Town 5

Evo-Stik Presidents Cup Round One

Tuesday, 21/09/10

Sheffield crashed out of the President's Cup after a splendid first half performance had put them in the driving seat, writes Roy France. Yet another missed penalty was the catalyst for the turnaround as the game became a personal triumph for Adam Priestley, who notched four for the visitors in their 5-3 extra time triumph at a stunned BT Local Business stadium.

Chris Dolby handed a debut to Czech left-back Ondřej Pacák and included Callum Harrison in midfield after his trial at Tranmere. Pacák, who has played at second division level in his native land, put in a classy performance and impressed with some gazelle like forward runs as well as an assured first touch. Club went ahead when David Graham latched onto a through ball and sold a couple of dummies before sliding the ball home on 11 minutes. Two minutes later Roney chased a long ball upfield, forced Aujla into a mistake and whipped over a deep first time cross onto to the head of Cusworth who expertly nodded back past and over Wood to make it 2-0. Confidence spread through the team with the pacy play a joy to watch as Club zipped the ball around. Despite their Brazil style outfit Garforth appeared shell-shocked but we were unable to add to our lead despite a succession of corners and flicked on headers from Cusworth. From one of these Roney fired wide and then Wright shot over. Ash Burbeary was buzzing around making life uncomfortable for the visitors as we put in a much improved performance. Garforth did manage occasional forays into our half but it wasn't until the 42nd minute before they had a serious attempt on goal when the unmarked Marron placed a header wide from a corner. Pettinger was called into action for the first time seconds before the break as he saved from Priestley but as the whistle went the crowd showed their appreciation for a fantastic and heart-warming home display.

Graham had an early chance in the second half but chipped just wide and then Burbeary was off target with a left foot drive. Play was becoming more even but after a spell of home pressure in the 58th minute Eagers was fouled in the box by Small and referee Mr Jones pointed to the spot. This time Graham stepped up but he became our latest spot kick-misser by placing his effort a few feet wide of the left hand post. Within 90 seconds Garforth were right back in it as Priestley made a long run on our left and fired home. The visitors' spirits lifted as they sensed the possibility of getting something from the game. Dolby withdrew Cusworth and moved Burbeary forward with Outram wide right but it was the visitors, with their substitute Paul Walker influential, who wrestled the momentum. Sheffield were increasingly under the cosh with the first half display becoming a distant memory and then on 72 minutes Priestley got free on the left again from Wright and Jones again to make it 2-2. Worse was to follow three minutes later when Priestley pounced on a rebound from a shot off the inside of the post and slotted home to give the visitors the lead! Could Sheffield get back into it? Yes, was the answer as after a couple of long balls came to naught Graham just beat the off-side trap and cleverly lofted over Wood in the 84th minute. Play became aggressive in midfield with Price rightly cautioned, soon to be followed by Gascoigne and Blair after some pushing. And so to extra time.

Three minutes into it that man Priestley got onto a through ball, and with our defence nowhere to be seen, he held off a last ditch challenge by Eagers, regained control, and for the fourth time in 32 minutes shot low past Pettinger into the net. What a golden patch for the striker. We rallied somewhat as Pacák tried a 25 yarder, Gascoigne headed over from a Burbeary cross and Wright put a shot well into the woods. However just before the break a slightly fortunate ricochet fell to Blair 20 yards out and the ball set up nicely for him to chip over a stranded Pettinger with the outside of his boot to put daylight between the teams. For the last period we reverted to a three man defence. Sheffield forced a series of corners but couldn't make a serious chance. Eagers' header was well saved by Wood, Burbeary's low half volley didn't quite have enough pace, Gascoigne headed over and Harrison put a shot well into the car park but there was to be no more scoring. Winter picked up a harsh booking for a foul on Blair. So attentions now turn to the FA Cup tie with Northwich Victoria with all hoping we can build on the many positives from the early part of our display tonight.

Sheffield FC: Pettinger, Wright, Pacák (Winter), Jones, Lowe, Harrison, Burbeary, Eagers, Cusworth (Outram), Graham, Roney (Gascoigne). Subs Not Used: Adam, Jackson.

Garforth Town: Wood, Aujla, Villerman, Normaschild, Marron, Price, Collins (Walker), Small, Priestley, Howarth (Blair), Fella (Fisher). Subs Not Used: Collentine, Kelsey.

Att: 120.
Carlton Town 2 Sheffield FC 0
Evo-Stik Division One South
Saturday, 18/09/10
Sheffield came unstuck with two late goals this afternoon at the Bill Stokeld Stadium, writes Stuart James, as Carlton Town proved once again to be Club's "bogey team". In a well-fought contest, a lively Millers' side had just a little too much for a Sheffield side fielding two new signings (David Graham and Paul Pettinger), finally wearing the visitors down with goals from Joe Naylor (74) and Anton Bonnick (89).
The first half saw Sheffield pretty much dominate things, with the aerial presence of Brian Cusworth causing more than a little trouble for the defence, whilst Chris Adam and Ash Burbeary were more than a handful on the flanks. Despite this domination very little of note happened in the first period, with both veteran keepers having a lovely peaceful afternoon, neither having to make a save from anything more than a tame effort. Club did manage to close on a couple of occasions, with Tom Jones getting a foot on a Chris Adam cross, and David Graham hooking the ball from a difficult position – both efforts were off target.
Club were the team on the offensive for the first fifteen minutes after the re-start, but still weren't able to test Neil West, who'd somehow managed to pull a thigh muscle with a clearance. The nearest Sheffield came to giving the injured keeper anything to do was with a Cusworth header, following a Curtis Woodhouse free-kick, which was gobbled up with comfort by West. Carlton found an extra gear on the hour, and having weathered most of what Club had to offer, they started to retain possession with much more composure. Their passes started to stick, their confidence started to grow, and the chances started to come their way. Neil Grayson should have done better, having been put in by Lewis Trimmer, whilst Joe Naylor's header from a Grayson cross should have at least hit the target. With just over ten minutes to go, Pettinger had his first real save to make, and he did well from Grayson's drive. Despite all the pressure it looked as if Carlton were destined not to find the back of the net; Grayson saw another effort go wide from a Curtis Shaw cross, with Josh Thornton going the closest as he grazed the side netting. Ryan Goward brought a good save from Pettinger, after a long distance drive, but that was the end of the luck as far as Club were concerned. With time running out, Thornton dug a cross out which was met by a flick-header by NAYLOR, who steered it into the far corner. With the lead now established Carlton went all out, and Club looked decidedly rocky at the back, and could be considered fortunate not to concede more. In a frantic thirty second period Adam Burley cleared the ball off the line from a Lewis Trimmer effort, whilst moments later Naylor's rebounded effort hit the back post, and with the Sheffield defenders in disarray Grayson managed to squander the easiest chance of the game with an open field and only Pettinger to beat. The game was wrapped up in injury time as another Grayson was blocked by a Sheffield defender, and although appearing to be in an offside position, BONNICK picked up the rebound and blasted home from a tight angle.
There was no doubt that Carlton deserved to win this game, even though they were on the back foot for two-thirds of the game; they were the ones to make and take their chances when they were in the ascendency. Les McJannet quite clearly has a talented young side at Carlton, with a good mix of experience to glue it all together, and it is obvious they'll give many teams a hard time this season. Club on the other hand looked solid for much of the game, but once things started to go against them, they were over-run by some very good football. Even so this is only the second defeat of the season, and with a rest from league football for ten days, it gives Sheffield a great opportunity to regroup and get back on track.
Carlton Town: West, Darkin, Fletcher, Trimmer, Kitchen, Shaw (Hall), Thornton, Naylor, Grayson, Troughton (Bonnick), Goward (Gardner). Sub Not Used: Clarke.
Sheffield FC: Pettinger, Smith, Burley (Wright), Jones, Lowe, Winter (Eagers), Burbeary (Roney), Woodhouse, Cusworth, Graham, Adam. Subs Not Used: Jackson, Davis.
Att: 73
Sheffield FC 3 Woodley Sports 1
FA Cup 1st Qualifying Round Replay
Tuesday, 14/09/10
Sheffield FC booked their passage into the next round of the F.A. Cup and a home tie against Northwich Victoria, writes David Bell, with an incident-laced victory over Woodley Sports.
Neither side gave any quarter in the early stages but it was the visitors who broke the deadlock on seven minutes when Kristian DENNIS turned Gav Smith on the edge of the box and slotted a left foot shot past Leigh Walker to make it one nil.
Sheffield's reply came just three minutes later when good work down the right flank by Matt Outram saw the ball laid back to the top of the area where Daz WINTER was on hand to smash the ball into the top corner for the equaliser.
The game ebbed and flowed from this point; Adam firing narrowly wide having been forced out wide, Walker for the visitors putting a 20 yard free kick just wide from a Winter foul. Several moments of ill-discipline punctuated the game; Burley, Smith and Roney picking up bookings for Sheffield, Gee and Clarke following suit for Woodley.
On 38 minutes, a long ball by Daz Winter saw Chris Adam brought down in the box, heading away from goal, but leaving the referee Mr Waters no option but to award the penalty. A minor altercation followed, which saw no Woodley player cautioned but Adam given a straight red card, later believed to be for a head butt. Eagers saw his penalty thunder against the upright and a long distance shot from the ever-dangerous Dennis concluded the first half action at 1-1.
The start to the second half proved the old adage that ten men are harder to play against than eleven as Sheffield fought a rearguard action, playing to lone striker Cusworth when they could. Indeed, the longer this went on then the more Sheffield came into the ascendancy. On 65 minutes a speculative high cross by Burbeary was met by CUSWORTH, whose looping header sailed over Woodley custodian Liam Higginbotham to give the ten men an unlikely lead. Walker made crucial saves from Woodley's Dennis, sub Rick Bailey and Danny Queely and Scott Lowe was on hand to head out a dangerous Gary Furnival cross as Sheffield continued to defy the odds.
A regrettable incident occurred on 86 minutes when a touchline altercation resulted in one of the Woodley substitutes being sent from the field and having a rubbish bin unceremoniously dumped on his head by a passing spectator as he made his way behind the goal. The spectator was immediately removed from the ground but tempers were frayed as players, spectators and officials became involved in a melee.
As a result, eight minutes of additional time were played. In the sixth of those minutes, the ball was delivered to CUSWORTH on the left hand side of the field, who was able to find the goal from distance, defeating the charge of the desperate Higginbotham from the Woodley goal.
So a fine 3-1 victory in the face of adversity, plenty of incident and an intriguing tie against Northwich to follow.
Sheffield FC: Walker, Smith, Burley, Jones, Lowe, Winter, Burbeary, Eagers (Gascoigne), Cusworth ©, Outram (Roney), Adam. Subs Not Used: Wright, Davis, Jackson.
Woodley Sports: Higginbotham, Bowyer, Furnival, Parsonage ©, Band, Walker, Queely, Gee, Dennis, Clarke, Hogan (Bailey). Subs Not Used: Blackler, Jackson, Granite, Elmore.
Att: 113
Woodley Sports 2 Sheffield FC 2
FA Cup 1st Qualifying Round
Sunday, 12/09/10
Ten-man Sheffield battled back from two goals down this afternoon, writes Stuart James, to earn an unlikely looking draw against Woodley. In a game that was relocated to Cheadle Town's Park Road stadium, Club found themselves with a man disadvantage after Tom Jones was given his marching orders for an off-the-ball infringement, with matters made worse when Sports went into the break two goals to the good following goals from Kris Dennis and Scott Hogan. However in a brave second half performance from Chris Dolby's men, Sheffield came back to level matters with a Jordan Eagers penalty and an Ashley Burbeary header, and could have done even better had it not been for some last ditch defending and an amazing open goal miss in the dying moments from Brian Cusworth.
Club started the brighter of the two sides, adapting to the conditions better than their "hosts", and spent much of the opening exchanges in the Woodley half. They had the better of the early chances too, with a smartly taken corner resulting in a Curtis Woodhouse cross that was met by Chris Adam who was just unable to steer the ball home, whilst a deep Andy Gascoigne cross caused all manner of consternation for Liam Higginbotham in the Steelmen's net. Woodley started to get into the game, and when Rick Bailey took advantage of some bad defending, they were unlucky that no-one was able to get the vital touch on his whipped cross. If anything though Woodley were riding their luck, and Sheffield could have easily taken the lead when Higginbotham was caught day-dreaming with the ball only to get mugged by Brian Cusworth, with the ball spinning wildly along the goal-line only for Rob Parsonage to hook the ball to safety. The game however was to take a massive swing on the half hour mark, as Mike Clarke was pushed over by Tom Jones with the striker allegedly through on goal, and with that in mind the referee produced a straight red card much to the dismay of the visiting contingent. Things looked to have got worse at the resultant free-kick, as the referee appeared to show Jordan Eagers a second yellow card (and a red) for protesting in the wall, amazingly the referee was convinced to change his mind due to "mistaken identity". The game had begun to deteriorate into a stuttering game punctuated by delays and petty infringements, however it sprung to life ten minutes before the break when a tame through ball was missed by Greg Wright allowing Kristian Dennis to burst through on goal, and although Leigh Walker was there to block the first shot DENNIS was able to slot home the rebound. At this stage it was all Woodley, with Sheffield looking decidedly rattled, and it could have been two straight after as Scott Hogan's cross across the face of the goal was just missed by Mike Clarke who was sliding in at the back post. Three minutes before the interval it looked as if it was all over for Club, as Dennis beat Wright down the left with ease to send in a pin-point cross, allowing HOGAN to rise at the back post to head home. There was still time for both sides to squander a chance before the break, as Hogan saved Woodley's bacon by hooking a corner off the line, whilst in the dying seconds Danny Queely put a cross in that was inexplicably side-footed wide of the empty net by Dennis.
After the drama of the first half, the second period had a tamer feel to it at the beginning, with very few chances of note in the opening exchanges as Woodley seemed content to hold their lead. Ash Burbeary had a solo run that ended in a chip that went just over, whilst Sports had an effort go close from Mike Clarke, with Gary Gee having a strike on target that was dealt with easily by Walker. Just before the hour mark the game turned upside down as the ever-elusive Adam skipped through the defence, only to be tripped in the area by Sam Walker, and after what appeared to be an age the penalty was awarded – which EAGERS slotted away with ease. This was a cue for Sheffield to spring to life, and for the next fifteen minutes it was wave after wave of Club attacks, as Woodley were literally pinned in their own quarter as they tried to repel the Sheffield advances. A Woodhouse corner was met by the head of Cusworth, again the defence managed to clear the ball off the line, whilst Eagers and Adam worked together to set up Cusworth again - this time the forward headed just wide. Cusworth put Eagers through, his shot went straight at the keeper, whilst Adam was creating all manner of problems for the Woodley defence. With fifteen to go the deserved breakthrough came, as Greg Wright dug an excellent cross out, allowing BURBEARY to rise at the back post to head home and sent the visiting support wild. It looked as though it was job done for Sheffield, an unlikely draw in unlikely circumstances, and with the tie now level it was just a case of settling down and getting the game back to Dronfield for Tuesday night's replay. But it could easily have finished differently with five minutes to go, as Chris Adam skipped through a tiring defence to square the ball into the middle where Cusworth was waiting with the empty goal gaping, somehow though the big striker scooped the ball over the bar from inside the six-yard box!
So it is back to the BT Local for a Tuesday night show-down, and if that game gives as much entertainment as this one did, the paying public shouldn't be disappointed. It could be argued that this tie shouldn't have gone to a replay, both teams had ample opportunity to get a vital extra goal, although it could be argued Sheffield had the better of the chances to wrap it up. Either way, given the state of play at half time, I don't think Club would complain at having a second bite of the cherry. Kick off is 7:45, with the winners getting a nice home tie in the next round against Northwich Victoria.
Woodley Sports: Higginbotham, Bowyer, Walker, Parsonage ©, Bond, Gee, Queely, Bailey, Dennis, Clarke (Jackson), Hogan. Subs Not Used: Sellers, Blackler, Elmore, Granite, Boyle.
Sheffield FC: Walker, Smith, Wright, Jones, Lowe, Woodhouse, Burbeary, Eagers, Cusworth ©, Adam (Reading), Gascoigne (Davis). Subs Not Used: Roney, Jackson, Dolby.
Att: 100
Sheffield FC 2 Market Drayton Town 1
Evo-Stick Division One South
Tuesday, 07/09/10
Sheffield FC emerged victorious tonight after a close encounter with Market Drayton Town in Dronfield, writes Roy France. The visitors put in an impressive performance to belie their bottom of the table position and were unfortunate that the winning goal came via a mistake from their goalkeeping captain Andrew Pryce, who had recently celebrated his 300th appearance for his club.
The game kicked off on a mild evening with both sides determined to put their poor early season results behind them. Market Drayton created the early chances and Walker had to save three times from headers by Martyn Davies in the first 15 minutes and again from a long range effort by Haynes. Chris Adam had our first effort on goal but his final shot lacked power. The visitors certainly won the first half hour on points as our midfield formation, featuring the return of Jordan Eagers from Stocksbridge and Greg Wright in the holding role, took a while to gel.
A floated free-kick from Outram was headed wide by the unmarked Burbeary as the game continued to be played at a frantic pace with no- one able to put their foot on the ball. The endeavours of both sides could not be faulted, especially on 34 minutes when a Wright 25 yard pile driver was turned onto the post by Pryce. As Club became more inventive a Burbeary cross was headed onto his own bar by Daniel Barnett with Pryce helpless.
Just when it looked like it would finish scoreless at the interval Brian Cusworth slotted home an Eagers cross for his first goal of the season in the 42nd minute. So the Norwegian film crew present had a goal to capture!
Still no quarter was given by either side as the second half commenced and referee Mr Rowbotham had to caution Simon Gregory and Gav Smith.
Then on 52 minutes Market Drayton equalised. Mark Grice received a ball from the left and turned to drill an unstoppable effort past Walker, and was mobbed by his delighted team-mates.
Chris Adam made a long run but had no support to cross to and our winger combined well with Cusworth but failed to trouble Pryce. At the other end Grice dribbled around Walker but pulled his left foot shot across goal. Then Haynes curled a shot at Walker as the final third commenced. Pryce made a great save from a Smith header but the assistant had flagged for offside as both teams strove combatively for the three points before an appreciative crowd.
Cusworth was looking a lot fitter than on Saturday and he had two attempts on goal in the 75th minute before crossing for the crucial fumble by Pryce which let a marauding Wright tap in what proved to be the winning goal into the empty net. Both sides had chances for further goals as Nicky Porter cut inside from the left to trouble Walker, Cusworth's final touch let him down and Grice's back header went just over. However Sheffield held on to notch up a vital three points and move up into the top half of the table.
Finally it was good to see ex-manager Dave McCarthy and former centre- half Paul Smith, who has just left Hucknall Town, in attendance.
Sheffield: Walker, Smith, Burley, Jones, Lowe, Wright, Outram, Eagers (Cooksey), Cusworth ©, Burbeary, Adam (Roney). Subs Not Used: Turner, Davis, Jackson.
Market Drayton: Pryce ©, Gregory (McMullen), Anslow, Jagielka, Barnett, Goodhead, Haynes, Humphries, Grice, Davies, Porter (Stevenson). Subs Not Used: Beech, Timmis, Stallard.
Att: 192.
Rainworth Miners Welfare 0 Sheffield FC 0
Evo-Stick Division One South
Saturday, 04/09/10
It's widely acknowledged that certain teams have bogey teams, writes Stuart James, in Sheffield's case they have a bogey keeper. The keeper in question is Mark Hales, and during his career with Shirebrook and Sutton Town he has always managed to thwart Club's attacking forces, with a mixture of the spectacular and downright lucky. Today was no exception, as the big lad between the Rainworth sticks produced a memorable performance, denying Sheffield the three points that the balance of play almost certainly dictated.
As far as luck in football games go, the writing must have been on the wall from a very early stage for Sheffield, as the lively Andy Gascoigne limped off the pitch inside the opening five minutes. Despite this early set-back Sheffield had the hosts rocking on their heels, as the visitors drove positively up the hill, with an effort from Ashley Burbeary whizzing across the goal. The Wrens settled and threatened with a couple of decent chances themselves, with Michael Hewitt's cross being volleyed just off target by Craig Mitchell, whilst the ever-troublesome Ant Lynam capitalised on some slack defending to fire just wide. In all honesty though, Sheffield had Rainworth pretty much penned in their own half, with Matt Roney and Ash Burbeary causing all manner of concern down the flanks. The chances were bound to start coming with all the pressure, and Club should have taken the lead when Chris Adam cut in from the right to flash a tempting ball across the face of the goal, only to see the normally prolific Brian Cusworth fail to get enough on the ball to steer it home. The game's defining moment came midway through the half, as Adam hit the ball on target only for Hales to get his body in the way, and did the same from the rebound... denying Adam once again, and a third time... and amazingly a fourth, leaving the Sheffield man wondering what on earth he had to do to get the ball in the net. Rainworth's charmed life continued, and on the stroke of half time they must have known this game wasn't going to end in defeat as a Matt Roney cross was met by Ash Burbeary, who took the ball down before hitting a sweet volley against the bar.
The second half saw more of the same, as Burbeary put the ball through to Adam, who produced another fine save from Hales. At the other end Leigh Walker had very little to do, but when he was called into action he did it well, stopping efforts from Matt Baxter and Craig Mitchell with very little trouble. Rainworth's best opportunity came when Ant Lynam laid the ball off to Brendan Sweeney, and with the goal beckoning, the midfielder miscued the ball dreadfully wide. That was a cue for Sheffield to up their game, and started to put the home defence under immense pressure, with Hales having once again to come to the fore. Firstly he denied Ash Burbeary, who's drive was dealt with calmly, whilst Burbeary's free-kick was met by the head of Cusworth with Hales tipping the ball over the bar. The last ten minutes was one way traffic; Roney went close with a shot that flashed across the face of the goal, whilst Hales was at his irritating best to deny as close range effort from Burbeary. By that time though the goal-less draw had become a long accepted conclusion, and despite a final flurry of Sheffield corners, a goal was never going to go Club's way.
No-one can deny that Sheffield were by far the better team on the day, that opening day performance is now becoming quickly forgotten, but the quest for that deserved first league win is now becoming ever more frustrating. There is little in the way of complaint regarding Club's display this afternoon, the only thing standing between the visitors waltzing away with a pretty convincing win was the performance of the undisputed man-of-the-match, if it were not for him there would be no doubt we would be reporting on a good three points well earned. Sadly though that is becoming a bit of a trend, with this the third game on the run which should have been dead and buried, instead of ruing missed opportunities and bad luck. As it stands Club sit in 15th spot with three points, if these games had been won they would be in 5th spot with nine, but these are all ifs and buts. Hopefully that first win will come on Tuesday, where Sheffield's opponents are Market Drayton Town, who are having a rough time of it at the moment – languishing at the foot of the table with no points, having suffered a 0-3 home reverse to Stamford.
Rainworth Miners Welfare: Hales, Hollis, Carolan, Wilkinson (Hunt), Charlesworth, Draper, Baxter (L. Jackson), M. Hewitt, Mitchell, Lynam (Pickess), Sweeney. Subs Not Used: Jones, Dobbs.
Sheffield FC: Walker, Wright, Burley, Jones, Lowe, Woodhouse (Cooksey), Burbeary, Outram, Cusworth, Adam (Turner), Gascoigne (Roney). Subs Not Used: Davis, K. Jackson.
Att: 165
Sheffield FC 1 Belper Town 1
Evo-Stick Division One South
Monday, 30/08/10
Sheffield dropped two points due to a late Belper Town equaliser in a tight match played out on a gloriously sunny Bank Holiday Monday, writes Roy France. We had taken the lead via a superb Ash Burbeary free- kick in the first half but were pegged back thanks to a rare strike from Belper's right-back Aaron Pride to leave us still looking for our first three point haul of the season.
Belper, turning out in an unusual and resplendent all-white strip, opted to attack the Bowshaw end, possibly hoping to engineer a repeat of their 6-2 win last season at Dronfield. However this seemed unlikely given their form coming into the game having suffered a home FA Cup defeat to Holbrook Sports on the Saturday. However it was the unchanged Sheffield XI who produced a couple of early threats as Gascoigne and Burbeary set up Adam and then Jackson fired a snapshot just over. Before the end of ten minutes Adam scuffed a shot after a promising run and then Gascoigne fired in a 25 yard half volley but it came at a nice height for the Italian goalie, Barcherini.
Belper's management had publicly apologised to their fans for their Cup display and although only a few of them travelled north they were witnessing a much more determined performance from the Nailers. However it was Club who continued to press effectively as half-chances fell to Adam, Gascoigne, Winter and Lowe in the first half hour. The pressure was telling on the visitors and Peel saw yellow as he illegally prevented a Burbeary run on 33 minutes. Sixty seconds later and we broke the deadlock. From a free-kick on the edge of the area Burbeary fired a low shot around the wall and past a bemused Barcherini who may have been expecting a top corner bound effort. Burbeary now hogged the action as he just failed to score again with an audacious 40 yard effort and then another free-kick went just over. Froggatt entered the ref's notebook for a cynical foul on Outram. Adam made another dangerous run and shot before Belper had their first serious chance of the game a minute before the break when Walker saved from a Jenkins header.
The second half followed a similar pattern to the first with Sheffield slightly on top but Belper battling for a foothold. For the visitors Mirfin and Barward had attempts on goal while for Club Gascoigne headed just over, Burbeary fired wide and Outram's shot did not have enough power. Adam's pace again caused problems but when he squared across we had nobody in the box to finish. As the final ten minutes began we retained our slender lead and just failed to double it as a Smith cross pinballed off two or three defenders and went out for a corner. Play was now of a frenetic end-to- end nature as both teams strove for a result. Then in the last minute, with our defence seeming slightly distracted by impending substitutions, the ball was cleared only to Pride who took advantage of our lapse in concentration to drill a low curling shot past the despairing Walker into the corner of our net. Belper's celebrations matched our disappointment. The subs came on but there was no time left for anything miraculous and we had to settle for a point.
Sheffield: L.Walker, Smith (Cooksey), Burley, Jones, Lowe, Winter, Burbeary, Outram, Jackson ©, Adam, Gascoigne (Turner). Subs Not Used: Davis, Dolby.
Belper: Barcherini, Pride, Barward, Mirfin, Adams, Plant, Wiggins-Thomas (Harrison), Rushbury (Fedorenko), Froggatt ©, Jenkins, Peel (Booker). Subs Not Used: Wood, Lord.
Att: 320.
Sheffield FC 3 Colne FC 1
FA Cup Preliminary Round
Saturday, 28/08/10
Sheffield FC progressed to the next round of the FA Cup with a fairly comfortable win over Colne from the North West Counties League, writes Roy France. The game suffered a delayed start of 12 minutes with the visitors eventually turning up in Dronfield around 2:35 pm!
Chris Adam gets there first............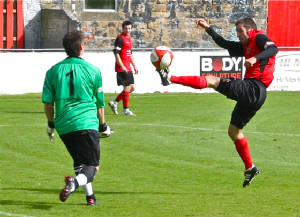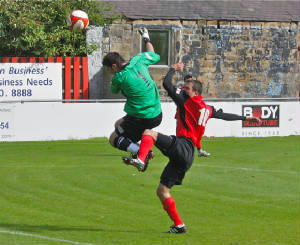 to put the ball over the keeper, and into the net for 2-0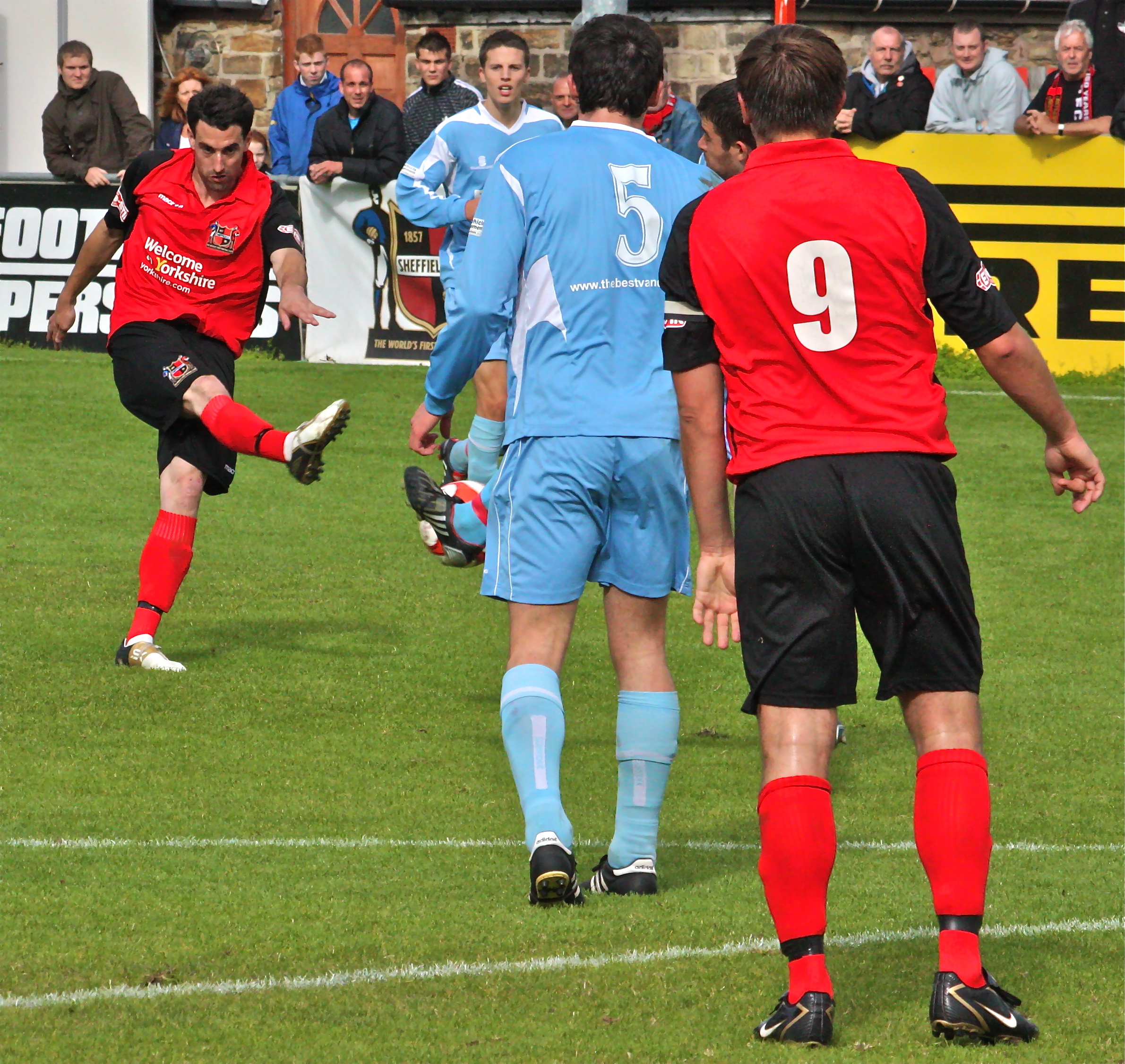 Matt Outram smashes the ball from outside the area for 3-0
Showery conditions greeted the kick-off and despite Colne's late arrival and rushed preparations it was they who created a couple of early half chances with Walker saving from Cruz. In fact it wasn't until the 18th minute that Sheffield put a move together which ended with a disappointing screwed wide effort from Gascoigne. A couple of minute later Walker had to dive low to his right to palm away a Goggins effort.
However as the half reached its midpoint Club began to exploit the space on the right wing to good effort. Burbeary was operating behind the front two in a roving role but it was Matt Outram who drove forward, and found the overlapping Smith, who slipped a canny ball across for captain Kirk Jackson to slide home the opener. Colne responded well and the impressive Threlfall fired a left foot volley just over. However they were soon to lose Tindall to a hamstring injury, possibly because of their inadequate warm-up.
Gav Smith was getting forward well and brought an excellent save from Jamie Scott. Then he was involved in a good move with Burbeary but Jackson could only hit the post with a short range header. Another home goal looked on the cards and many thought it had come when Jones headed in a corner on 33 minutes but the referee had seen an infringement some way away from the point of contact and ruled it out.
However five minutes before the break the crucial second arrived. Cunningham attempted to head back to his keeper but Chris Adam was alert and nipped in to flick the ball past Scott. Colne were still posing a threat and continued to find space near the left of our goal and Sam Hayes should have made us pay but casually volleyed wide with Walker exposed. Cruz swerved a shot just wide as we were somewhat thankful for the half time whistle.
The visitors good spell continued after the break and Cunningham fizzed wide. Adam then played in Outram but his low shot was parried by the shins of Scott. For some reason the game became unnecessarily niggly for a period. On the say so of an assistant referee Powell issued yellows to Burbeary and Garvin, followed by one for Broderick but then all three missed Cunningham throwing the ball into Burbeary's face. Cunningham was now being deployed to man-mark Burbeary as the visitors attempted to stifle our creative source.
Thankfully both teams reverted to playing football in the final half hour. Gascoigne was involved in a couple of our attacks but couldn't get a shot in. Cruz and Goggins did at our goal but failed to trouble Walker. Adam's pace was causing havoc for Colne's defence and on 62 minutes he was about to pull the trigger before being brought down by Garvin. A penalty but no card for the last defender! Up stepped Burley but our spot kick hoodoo continued as his effort was turned onto the post by Scott. However within 90 seconds Outram drove home from all of 25 yards to make it 3-0 and ensure progress.
Our efforts to get a fourth were thwarted by many offside flags and Gascoigne firing just over. Sub Jordan Turner headed wide and then failed to control a Burbeary cross as another goal just would not come. Colne finally exploited those gaps at our far post when Ted Cockett, who had moved up from right back, headed past Walker on 81 minutes. The remainder of the game saw Outram earn an early bath via two yellow cards for very innocuous challenges with the visitors Billy Priestly a yellow for a horrible scythe on Turner which enraged the home bench.
At the final whistle news filtered through that Belper had surprisingly lost their home cup tie which means we will entertain the Nailers on league business on Bank Holiday Monday.
Sheffield: L.Walker, Smith, Burley, Jones, Lowe, Winter, Burbeary, Outram, Jackson © (Cooksey), Adam (Turner), Gascoigne (Dolby). Subs Not Used: Davis, Spooner.
Colne: Scott, Cockett, Garvin, Broderick (Craig), Priestley, Barton (Boyle), Tindall (Hayes), Cruz ©, Threlfall, Cunningham, Goggins. Subs Not Used: Kenyon, Johnson.
Att: 199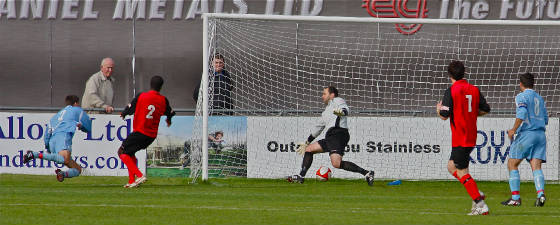 A late goal is scant consolation for Colne
Brigg Town 0 Sheffield FC 0
Evo-Stik Division One South
Tuesday, 24/08/10
Club came away from the Hawthorns with a point tonight, writes Stuart James, and must be wondering how on earth they failed to come away with all three points. In a display that was a hundred times better than Saturday's showing, Sheffield led by an outstanding performance by Chris Adam, dominated play from start to finish and were denied by the woodwork on FOUR occasions yet still failed to find the back of the net.
With a very similar side to the one that capitulated to promotion favourites Barwell on Saturday, Sheffield went into this game looking a very bruised outfit, and could be forgiven for expecting the worst against a Brigg side that had romped to an equally comfortable win at Quorn at the weekend. Despite having Tom Jones back in the ranks, Club looked a little shaky at the back in the opening exchanges leaving Paul Grimes unmarked at the back post, luckily for the visitors the striker's finish was weak and off target. After the first ten minutes Sheffield started to find their feet, making some promising forays into enemy territory, with Ashley Burbeary finding Chris Adam whose shot across the face of goal was well parried away by Andrew Pettinger. Things looked to be on the up for the visitors, and when Adam capitalised on a weak back header from ex-Clubbie Lee Roy Cochrane, it took a tremendous last ditch tackle from Scott Hellewell to save the Zebras' bacon. Spurred on by this it then became the "Chris Adam Show", as the livewire forward created chance after chance, yet nothing came from any of them. Firstly he was found in space, with his excellent shot being parried out by Pettinger, sadly no-one was there to follow up. Moments later Matt Roney put a cross in that found Adam, with his header going straight to the keeper, followed almost immediately by the same Roney / Adam combo that saw the latter's header hit the post. Brigg however hung on, and created a couple of decent chances themselves as the break drew nearer, with Leigh Walker dealing well with efforts from Ollie Chappell and Alan Lamb.
The second period started fairly even, with both sides finding themselves embroiled in a midfield battle, with nothing of note happening at either end. Ashley Burbeary's free-kick was the only thing of note, that sailed high and handsome, whilst the hosts failed to test Walker at all despite some menacing runs down the right wing. Then Adam started to come back into the game, going narrowly over after Burbeary had laid the ball off neatly for him, then hitting the bar with a cross that had Pettinger beat all ends up. Moments after Adam beat a poor attempt at an offside trap, finding himself one-on-one with the Pettinger, he curled the ball round the keeper only to see him denied by the woodwork for a third time. The curse of the post wasn't limited just to Adam though, as an excellent Curtis Woodhouse cross was met by the head of Kirk Jackson, and with everyone stood waiting for the net to ripple the ball hit the upright and flew to safety. Brigg must have fancied this was their lucky day, and went all out looking for an unlikely win, with Ryan Paczkowski producing a fine save from Walker. Both sides had late chances to grab all three points – Brigg's Tommy Spall dug a cross out that was headed over by Chappell, whilst Keith Cronin's cross was met by a Jordan Turner volley that was mopped up with ease by Pettinger – however the game was always destined to be a goalless draw.
This was a much improved showing from Club, the confidence seemed to have returned, and if not for a lot of bad fortune and the goal frames it could have been the perfect antidote for Saturday's loss. It goes without saying that the front line asked more than a few questions of the Brigg defence, and the midfield worked tirelessly to win every scrap, whilst the defence looked far from the wobbly one that turned out at the weekend. Next up is an FA Cup tie at home to Colne, a side that has hit a wobbly patch themselves recently, hopefully that first goal – and more importantly that first win – will head Sheffield's way come 4.50.
Brigg Town: Pettinger, Spall, Barrett, Bowsley (Holtham), Hellewell, Cochrane, Chappell, Lamb, Jackman (Paczkowski), Grimes, Buttle. Subs Not Used: West, Metcalfe.
Sheffield FC: Walker, Wright, Burley, Smith, Jones, Winter, Roney (Turner), woodhouse, Jackson (Cronin), Adams, Burbeary. Subs Not Used: Cooksey, Harrison.
Att: 107.
Sheffield FC 0 Barwell 3
Evo-Stik Division One South
Saturday, 21/08/10
Second Half Sub and.....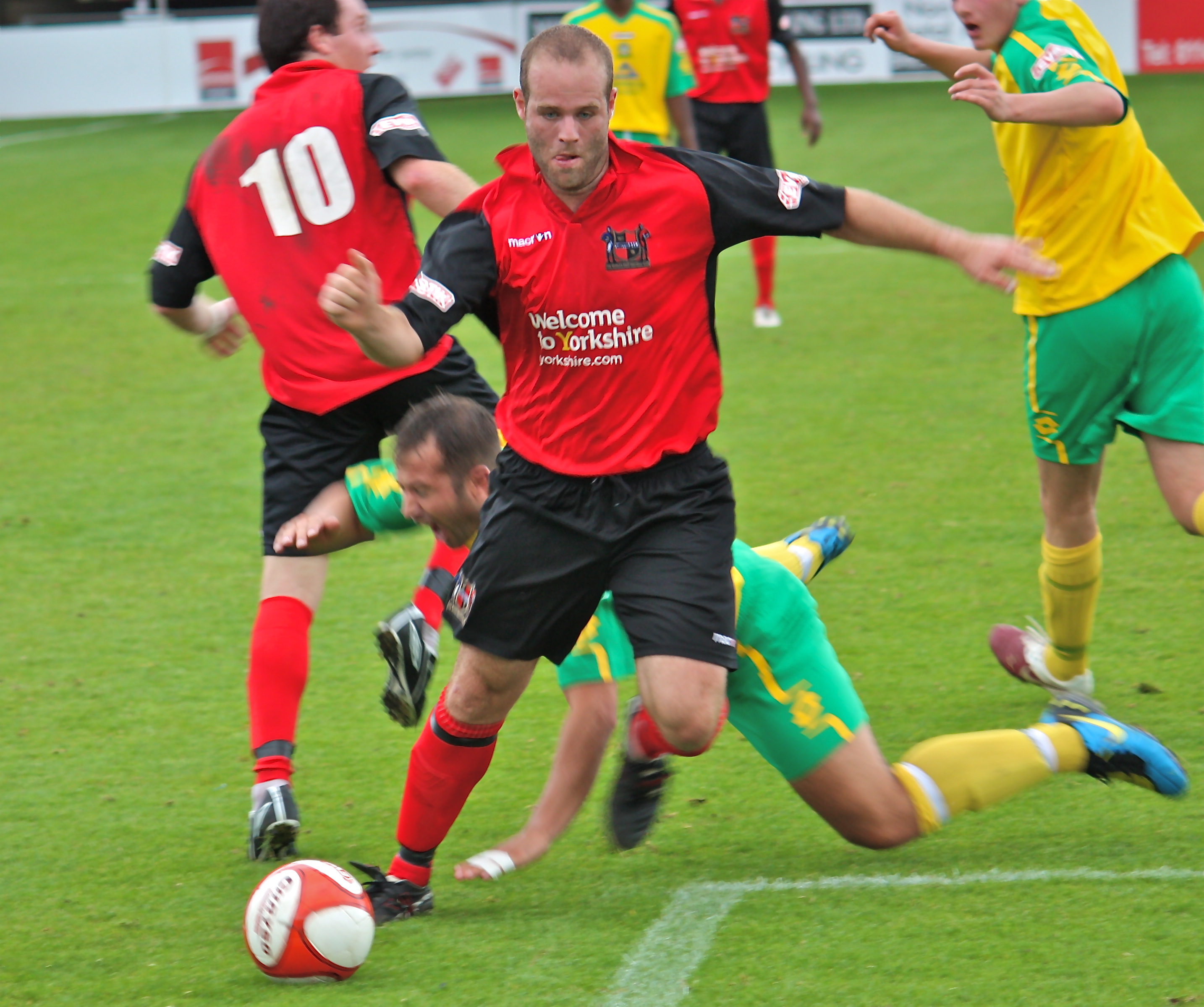 First Team Debutant Keith Cronin
Club suffered a massive wake-up bomb this afternoon at the BT Local Stadium, writes Stuart James, as newly promoted Barwell turned up and showed exactly why they are expected to be amongst the front runners come next Easter. A thunderbolt of a goal from Matt Bailey gave the Kirkby Roaders the lead on 32 minutes, then two goals inside the opening exchanges of the restart from Kevin Charley made things all but safe, whilst a red card for Sheffield's Daz Winter on his return made things far too difficult for the hosts to get anything from the contest.
Preparations for this game were far from ideal for Chris Dolby, with skipper Tom Jones missing on family matters, with Matt Outram and last season's leading scorer Brian Cusworth were missing through suspension. Add this to the fact Ben Walker and Ryan Davis were both missing due to injury, plus Barwell's free-scoring form, and it looked a heck of a task for Sheffield before the game had even started. Regardless of this the hosts started pretty confidently, and some tiger-ish midfield play saw the visitors pretty much on the back-foot, however it was the Leicestershire outfit that looked the more dangerous on the break. Liam McDonald saw his effort tipped around the post by Leigh Walker, whilst from the resultant corner Jamie Towers should have done better in front of goal, after finding himself unmarked with a free header. Sheffield also had their chances, with Chris Adam's cross being met by a cute flick by Ashley Burbeary, which wasn't that far wide. As the game developed it was pretty obvious that Barwell looked the most likely to open the scoring; Francino Francis should have made more of his shot instead of aiming straight at Walker, whilst Towers added to his woes seconds later by blasting wildly after being in the open. The breakthrough came just after the half-hour mark, and almost out of the blue, as BAILEY let one rip from over thirty yards out that curled away from Walker and buried itself in the corner of the net. Undeterred by this set-back Club came back with a thunderbolt of their own, with Callum Harrison digging one out from a similar distance that whistled just wide of the post, with keeper Liam Castle looking a very relieved man as it passed his gloves.
The general consensus at half-time was that it wasn't such a bad first half display – given the circumstances – and with more of the same endeavour Club may be able to claw back into the game. Any hope that this would happen though was long forgotten moments after the restart as Barwell earned a corner, Liam McDonald sailed it in, and with Sheffield struggling to get the ball any distance to safety CHARLEY stabbed the ball home to double the deficit. It could have been so much worse, as Towers was set free on goal, only to make it a hat-trick of howlers as he sent the ball well wide of the goal. It wasn't too much of a disaster though, as moments after Kevin Charley picked up the ball on the right, turning Scott Lowe inside and out, before CHARLEY found a gap big enough to drill a shot past Walker at the near post. With the result all but decided, things started to get a little niggly, with the referee having to break up a skirmish as tempers started to become frayed. Things blew up completely just after the hour mark, as Daz Winter reacted badly to a bad challenge by Scott Hadland, and was shown a straight red for kicking out in the aftermath by referee Dwyer. Sadly the game died somewhat after this point, with the best effort from either side coming from Sheffield substitute Jordan Turner, who's lob over Castle just fell the wrong side of the bar.
As expected this was always going to be a difficult task for Club, and the result pretty much reflected the overall balance of play, with Barwell looking every inch a team that is expected to do well. Club should be able to take some positives from this game, with a pretty solid midfield performance the silver lining on a very black cloud, whilst there were promising performances from some of the debutants. Next up for Club is another pretty ominous task, as they travel up the M180 in midweek to Brigg Town, who ran out 3-0 winners themselves this afternoon away to Quorn.
Sheffield FC: L.Walker, Wright, Burley, Smith, Lowe, Winter, Harrison (Cronin), Woodhouse, Jackson (Tuner), Burbeary, Adam (Roney). Subs Not Used: Cooksey, Dolby.
Barwell: Castle, Lower, Blythe, Green, Francis, Bailey (Dyer), Towers, Hadland, Julien, Charley (Dodd), McDonald (Wykes). Subs Not Used: Giddings, Herbert.
Att: 272
Chasetown 2 Sheffield FC 1,
Pre-Season Friendly
Saturday, 14/08/10
Chasetown came from behind in Saturday's friendly with super-subs Dave Egan and Grant Ryan on target in the second half, writes Dave Goddard from www.chasetown-fc.com. The world's first football club had the upper hand in the first half, but several changes saw the Scholars rally excellently and Ryan snatched the winner under pressure six minutes from time.
On a slippery pitch caused by intermittent rain, Greg Wright had Sheffield's first chance in the third minute but his right-footed effort from a tight angle cleared Ryan Price's crossbar, but one minute later the visitors were ahead when Brian Cusworth outpaced Chris Slater and side-footed a shot round Price into the corner of the net. Gary Hay had Chasetown's first chance as he found space on the right but keeper Leigh Walker was equal to him, and was also able to stop a Ramone Stephens effort following a Mark Branch cross. Stephens was looking as lively as ever and Walker dived low to save his shot following some good work from Dean Perrow on 19 minutes, but Sheffield continued to burst through and Cusworth could have made it two following a Curtis Woodhouse free kick but his header bounced off the woodwork, and another header from the striker went over moments later. Gavin Saunders then went close but his free kick was headed over by the Reds defence as the Scholars tried to fight back. The signs were there but Sheffield kept the hosts in check with some physical play over the rest of the half, while Ashley Burbeary forced Price into a good save on 41 minutes.
As the rain returned with a vengeance in the second half, Perrow fired inches wide on 53 minutes after picking up a deflection off Scott Lowe, while Lee Smith also looked much improved in attack, later joined by Ryan. Chasetown introduced Dave Egan at the expense of Ben Jevons on 70 minutes, and within a minute he had equalised with his first touch, a powerful shot from the edge of the area. This spurred the Scholars up a gear, Ryan hitting the post from close range on 77 minutes, before seven minutes later he was successful. Some good work by Perrow on the left saw him find the former Mansfield man and he fired a low right-footed shot past Walker to put the hosts ahead. Lee Cooksey had an immediate chance to equalise but sent his free kick wide, and the Scholars held on for a fine victory.
Chasetown: Price, Deakin (Cohen), M Branch (Peel), Slater (Farmer), Saunders (J.Branch), Teesdale © (Horton), Stephens (Ryan), L Smith, Hay, Perrow, Jevons (Egan). Sub Not Used: Faultless.
Sheffield FC: Walker, Wright, Burley, Jones ©, Lowe, Woodhouse, Outram (Cronin), Harrison, Cusworth (Cooksey), Burbeary, Roney. Sub Not Used: Dolby.
Att: 147
Sheffield 2 Sheffield Reserves 3
Pre-Season Friendly
Thursday, 12/08/10

Sheffield FC Reserves completed an excellent week with a deserved 3-2 success over the First Team, writes Roy France, at a sun drenched Coach Horses in a hastily arranged friendly. The Seconds had earlier beaten the over 35s by 4-2 and drawn 2-2 with Leinster League outfit Ballyfermot United.

Matt Roney had the first shot of the evening and Kirk Jackson headed over in the early exchanges. However Callum Harrison made no mistake on 11 minutes when he fired home a controlled volley from almost 25 minutes which Rutowtski could only get a hand to. The first team were clearly dominant at this stage but both Dooley, grandson of the legendary Derek, and Sam Barnsley had shots on goal. Manager Chris Dolby was showing good touches in midfield and from one of his tantalising crosses Roney hoofed over the bar. Another delightful chip from Dolby was headed wide by Cusworth. At the other end though Walker had to make a brilliant save from a Baba chip. The Reserves finally threw off any inferiority complexes when on 31 minutes Keith Cronin tried his luck from over 40 yards and the ball flew over Walker and into the net via a post. This jolted the senior XI but Andy Gascoigne could only screw a shot wide. Then, three minutes before half-time Faffy Gwindi received the ball in the outside left position, made an inside run and buried the ball past Walker to put the Reserves ahead. Walker foiled Gwindi two minutes later with a good block but it was the Seconds who led at the break.

At half time both teams full backs swapped over. Roney was trying his best but things were not coming off for him as he hit the post with a left foot drive. Jackson also had a couple of attempts on goal to no avail. At the other end Walker had to turn over another fierce effort from Cronin and then saved well from Dooley. Another dangerous Dolby cross saw Cusworth head wide as the game entered its final third. The Reserves made four substitutions as they pressed for a remarkable scalp. And after Roney again fired high and wide came the killer goal. Walker palmed out a Gwindi shot but as so often is the case the rebound fell to an unmarked striker, this time the Hungarian Ruberto and he made no mistake on 71 minutes to make it 3-1. Two minutes later however Roney netted with a superb 20 yard strike to set up a tense finale under the floodlights. Rutowtski made a brilliant reflex save from Jackson and then save more comfortably from Dolby. Cronin almost made it 4-2 but the last chance of the night fell to Harrison on 88 minutes but he pulled his effort wide. So a lot for Club to think about with the season just nine days away, especially around taking your chances when you are in the ascendancy. Next up is a long trip to Chasetown with the possibility of one last friendly versus Handsworth next week before the visit of the ambitious Barwell.

Sheffield FC: Walker, Gelsthorpe, Cooksey, Lowe, Jones, Dolby, Harrison, Gascoigne (Turner 74), Jackson, Cusworth, Roney.
Sheffield Reserves: Rutowtski, Cappa, Rutherford, AN Other, Carr, Baba ©, Dooley, AN Other, Barnsley, Cronin, Gwindi. Subs all Used: Ruberto plus 3 AN Others.

Att: 26
Buxton 3 Sheffield FC 1
Pre-Season Friendly
Friday, 06/08/10
Sheffield eventually crashed and burned at Silverlands as we went down to a 1-3 defeat in our penultimate pre-season friendly, writes Roy France, missing another penalty on the way. After a goalless first half we lost our way in the middle of the second and only had a late consolation to show for our Friday night out in Buxton.

The game kicked in off dull, almost autumnal, conditions under heavy skies, with only limited views to the Derbyshire dales and local folly available. We lined up in 4-4-2 formation versus the home side, looking smaller in stature, as 4-3-3. Roney had the first goal attempt but the first serious one came from Buxton when Walker had to adjust to turn around a deflected 30 yard Black free kick after 7 minutes. A header from Lugsden crept wide before Burbeary fired a curling left foot shot just over after a neat chest down from Gascoigne. As light rain began to fall Jackson and Burbeary showed some nice link-up interplay, just as well as Cusworth is suspended for our first four competitive games. Indeed after a twinkle-toed run Burbeary was brought down for a penalty on 18 minutes. This time Roney stepped up but he blazed well over, as did Burbeary a minute later after a flap from the keeper Backhouse left him with an empty goal. The game entered a purple patch, a chance every minute. Wright headed just wide from a Burbeary free-kick while Lugsden had two fierce attempts on our goal, one resulting in a fine save by Walker and the other the side-netting. Then Roney tried to make amends as he intercepted a back pass but Backhouse was able to smother. As an even 25 minutes finished Scott Lowe went down with an injury to his left leg but was able to resume. Club were having slightly the better of things as the Bucks players began to get frustrated with each other. On 36 minutes Callum Harrison ran forward well but fired his left foot effort wide. Burbeary then tested Backhouse from all of 30 yards but he was equal to it. Cooksey was winning most of his aerial battles and from one of these Harrison led a break forward, fed off Jackson and found Burbeary on the break. However Ash's final shot was pulled across goal. The floodlights came on five minutes before the interval and almost witnessed the first goal when Dennis turned Cooksey but fired just wide.

Buxton, although about to play uphill, were keen to get going again as heavy rain began to fall, when they reappeared a full five minutes before referee, Mr Woodward of Congleton, for the second half. However it was Burbeary again who threatened first with a rasping 25 yard free-kick which Backhouse could only turn for a corner. However on 51 minutes Buxton broke the deadlock. Cooksey gave away a free-kick on the edge on the area, a low hard shot came in, Walker parried it out but only to the feet of Dennis who stroked it home from 6 yards. The rain eased off but not the home attacks and Dennis slid a dangerous ball across which Askey, sliding in, just failed to connect with. With Kirk Jackson off we seemed to lose a bit of shape and a lot of organising and cajoling. Burbeary continued to twist and turn and once more was just off target with a good left foot effort. On the hour mark the chunky Black had a 30 yard shot at goal but Walker grabbed it at the foot of the post.
With twenty minutes remaining a route one ball upfield landed near our penalty area and Lugsden got to it before Walker and his lob found the back of the net via a post. Our heads dropped somewhat. Bucks had chances now to go three up and took one when a low cross skidded across our goalmouth and Wilcox, who had moved upfield from centre-half, could not fail to score from short range and thus end our hopes. Indeed the rest of the game petered out until the 89th minute when Gascoigne controlled a Burbeary cross and fed Cusworth to net that consolation.
So a game we could have won away at Step 3 opposition ended in a disappointing defeat and we now only have one more warm up game at Chasetown next Saturday.

Buxton: Backhouse, Black, Wilde, Wilcox, Anderson ©, Ridley, Askey (R.Jackson), Maxfield, Lugsden, Dennis (Vize), Hunter (Millar).
Sheffield: Walker, Gelsthorpe (Sykes), Wright ©, Cooksey, Lowe, Outram, Gascoigne, Harrison (Gwindi), K.Jackson (Cusworth), Burbeary, Roney (Turner).

N.B. Adam was due to start but pulled a groin in the warm up and was replaced by Roney.

Att: tbc
Sheffield FC 4 Chesterfield 2
Pre-Season Friendly
Tuesday, 03/08/10
Sheffield continued their pre-season build up, writes Roy France, with a convincing and entertaining victory over a youthful Chesterfield XI at the BT Local Stadium on a fine evening.

Ash Burbeary gave us an early lead with a 20 yard shot and could have doubled that soon after. We earned a slightly soft penalty for a foul on Wright but Burbeary's low struck effort was well saved by Shane Redmond with a firm hand. However our creative inside-forward made up for that ten minutes later when he fired home a glorious long range half volley giving Redmond no chance this time.

A fairly innocuous coming together of Gascoigne and Darikwa led to a ludicrous incident. Chesterfield manager Sheridan came onto to the pitch to lecture our player and threatening to have the game abandoned after 26 minutes. Amazingly the referee David Benton, let this act of undermining his authority pass by unactioned. The lively Ben Walker had to retire due to a reoccurrence of his groin strain. Sheffield fans however were soon cheering a third goal when Greg Wright made a late run into the box and powered home a header to leave it 3-0 at the break.

Play at the start of the second half was certainly more even and we saw the introduction of Jack Waddle for the visitors, son of the legendary Chris. Roney had a chance to score but was denied by a last ditch interception by Ryan Grainger. Leigh Walker was called into action and he made five brilliant saves, at least one of which was world class. However Walker was powerless to prevent Jordan Bowery pull a goal back on 70 minutes. He made a powerful run on the left and cut aside to power a rising, rasping shot into the top corner. Sheffield responded and Cooksey headed narrowly over from a Turner cross. But Bowery soon got free again, this time on the right, and fired low past Walker to make it 3-2 with nine minutes to go. Sheffield were now under pressure and even more so when the referee ordered a forced substitution when Gwyndi showed dissent after being fouled. Scott Lowe returned to the action. However any doubts were soon allayed when the warhorse Brian Cusworth got above a defender to head home in the 86th minute.

So Club's pre-season form continues to improve. We have two more away friendlies at Buxton and Chasetown before league action resumes in Dronfield versus Barwell on 21st August. We hope to see you there.

Sheffield FC: L.Walker, G.Wright (Sykes), Davis (Cooksey), Jones ©, Lowe (Gelsthorpe), Outram (Gwyndi), Gascoigne, Burbeary, Jackson (Turner), B.Walker (Roney), Adam (Cusworth).
Chesterfield: Redmond, Eldridge (Johnson), Gray, Needham, Grainger (Wall), J.Wright (Scully), Adcock (Waddle), Clay, Darikwa, Barry, Bowden. Sub Not Used: Johnson.

Att: 472
Sheffield FC 0 Hallam 1
Hallam 0 Cray Wanderers 1
Cray Wanderers 1 Sheffield FC 2 (Cray win 7-6 on pens)
Heritage Football Tournament
Saturday 31/07/10
Cray Wanderers of Kent lifted the Heritage Trophy after a dramatic penalty shootout, writes Roy France, following 3 x 1 hours of tournament football. The play began slowly but gradually improved as the afternoon developed and all present must have been delighted with the entertainment.
Sheffield took on neighbours Hallam in the opening fixture, fielding an experimental side. In a quiet first half Roney had a couple of 20 yard strikes on goal while Preece tried similar for the visitors. We were fortunate to escape a penalty claim when Alex Mallongi caught Ryan Tate who had intercepted a poor back pass. However Tate gave Hallam the lead after the break after Mallongi could only parry a shot upwards. Mallongi made a couple of late saves from Boggild and Preece as Hallam earned the first three points on offer.
Cray ran out in their resplendent chocolate and mustard anniversary kit for the second game against Hallam, now in bright yellow. The southerners had the best chances but it looked to be heading for a scoreless draw until Ollie Smith nodded in a far post cross.
So as the final match kicked off various permutations were still possible. Richard White put Cray ahead in the first half and this looked to have won the cup for them. However Sheffield, playing in our away shirts, rallied well in the second half but Cusworth and Adam put good chances over the bar in one-on-one situations. However our lively sub Seri Okoubi scored with a quick snapshot to banish all thoughts of a seventh successive pre-season friendly defeat. As the clock ticked down Outram made a run but was brought down by Felloni on the edge of the area. Up stepped free-kick specialist Ash Burbeary and he did not disappoint with a curling shot, albeit via a slight deflection, high into the net. There was barely time to restart and so we had the situation with all three teams level on points, wins and goal difference. However crucially Sheffield and Cray had scored two goals to the Sandygate men's one.
So the ground hushed for a sudden death penalty shoot out between Sheffield and Cray. Player after playing came up and put away confident spot-kicks past the helpless Sam Wright and Leigh Walker. It stood 6-6 as Ryan Davis strode forward. He hit it hard to his left but Wright anticipated well and flung himself to parry. Up came Fraser Cronin. He ran forward and as Walker dived Cronin effected a Zidane like chipped penalty. The ball rose high above bar height but was perfectly weighted and came down in slow motion to nestle into the net. Cray's celebrations began.
Sheffield Line-Up v Hallam.
Mallongi, Gelsthorpe, Sykes, Cooksey, Lowe, Woodhouse ©, Roney, Ridall, Jackson, Hunter, Barnsley. Subs Used: Gwindi, Okoubi, Turner, Harriet, Gascoigne.
Sheffield Line-Up v Cray Wanderers
Walker, McGavin, Davis, Wright, Cooksey, Outram ©, Burbeary, Gascoigne, Cusworth, Adam, Turner. Subs Used: Okoubi, Roney, Gwindi. Sub Not Used: Harriet.
Armthorpe Welfare 3 Sheffield FC 0
Pre-Season Friendly
Thursday 29/07/10
Sheffield went down 0-3 at Armthorpe Welfare to make it five pre-season defeats on the trot. Welfare made it back to back wins, with two consecutive clean sheets against teams in higher divisions. On the night Sheffield played a more direct style, which Welfare's defence coped with well. Ex-Club goalkeeper Jamie Green also kept Welfare in the game with a few one on one saves.

It was Darren Mansaram who gave Welfare the lead in the 21st minute. Supporters had to wait until the 87th and 89th minutes for two more Welfare goals to finish the game off at 3-0.

Armthorpe Welfare would also like to apologise to everyone at the game last night for the thirty minute delayed start. This was due to the pre-arranged match officials not turning up to the game and them not informing the club that they weren't coming to the game. The club would also like to give a huge thanks to the "stand in" referee and assistants for officiating the game at such short notice.
In a generally poor first half Armthorpe played all the football and with Club seemingly playing long ball football. Our player combinations were not gelling well as a unit although we did improve in the second half but we lacked a real cutting edge. On the night Lowe impressed, generally reading the game well. Substitute Roney also caught the eye with good energy and run making on the wings. Ash Burbeary also put in a good shift and looked dangerous with his constant movement and always being available to receive the ball. Gascoigne found his name in the referee's book in the first half for a lack of discipline.
Sheffield FC: Chapman, Smith, Wright, Jones, Lowe, Hunter, Adam, Gascoigne, Jackson, Harreitt, Sykes. Subs: Burbeary, Outram, Cooksey, Roney, Gelsthorpe, Turner, McGavin.
Att: 56
Sheffield FC 0 Harrogate Town 1
Pre-Season Friendly
Tuesday, 27/07/10
Sheffield went down to a fourth successive single goal friendly defeat on a pleasant evening in a match, writes Roy France, one which had been there for the taking against Blue Square outfit Harrogate Town. To add to our woes Brian Cusworth received a red card in the second half and Ben Walker suffered a slight hamstring twinge and was taken off as a precaution.
Anyone witnessing the first half would clearly have thought that Sheffield were the more senior side as we took the game to our opponents from the word go. Indeed Harrogate only had one shot on goal in the first period but Leigh Walker was expertly placed to save Savory's shot. It was Ash Burbeary who possibly had our best chance as early as the fourth minute when he pounced on a defensive mistake but fired across goal from a tight angle. Roney was getting in a few telling crosses but we just couldn't get in a powerful header to trouble the irksome Dootson in the visitors' goal. Gascoigne had a free-kick charged down, Outram's daisy cutter went just wide and Burbeary's chip after fast footwork sailed over. An element of niggle crept in on 41 minutes when Ben Walker was snapped at by Roma and Nowakowski forcing referee Mr Martin into a lecture. Nil-nil at the break.
Home fans were treated to a first sight of Matt Sykes playing wide left but within a minute of this Harrogate scored the only goal. A speculative cross ball found Foster in acres of space on the right wing and after taking a while to steady himself he clipped the ball past Walker. On the hour mark Cusworth, angered by previous fouls made by Bloomer, squared up to the defender and delivered a head butt with the inevitable consequences. A spate of substitutions on both sides followed as we re-organised. Buoyed by these two events Harrogate gained confidence and we never looked like netting an equaliser. Adam and Burbeary had half chances while Taylor found the side netting for the visitors. Four minutes from time, and after a few more niggly incidents, Burbeary and D.Wright received yellows.
Sheffield: L.Walker, G.Wright, Davis, Jones, Lowe, Outram, Roney (Jackson), Gascoigne (Adam), Cusworth, Burbeary, B.Walker (Sykes). Subs Not Used: Dolby, M.Chapman, Smith, Cooksey.
Harrogate Town: Dootson, Roma, Talbot, Nowakowski, L.Chapman, Bloomer, Foster, Bowey, Armstrong, Savory, Shepherd. Subs (All Used) Hardy, Naylor, D.Wright, D.Williams, Taylor.
Att: 81
Sheffield FC 2 Boston United 3
Pre-Season Friendly
Saturday, 24/07/10
Sheffield lost their third pre-season friendly in a row, writes Roy France, going down to Boston at the BT local business stadium. The visitors had taken the lead but Club led 2-1 for a long period before succumbing to two late strikes. Overall though it was a very encouraging performance in a game that provided excellent value for money.
The game kicked off on a pleasant afternoon on a pitch in very good nick but most of the first fifteen minutes play was sparring in nature. On 16 minutes Leigh Walker made the first of many good saves when he parried away a free kick awarded after a push by Jones. He was helpless though five minutes later when Mikel Suarez held off Wright to fire home into the bottom corner. Sheffield's first attempt on goal came on 24 minutes but Burbeary's 25 yard volley was well over. Shortly after Walker was to the rescue once again with a fine save from Millson who had been played thanks to a smart one-two with the impressive Suarez. Boston were definitely looking to be the stronger team but just before the half hour Adam floated over a cross from the right and Cusworth glanced his header skilfully inside the post to equalise. Sheffield's confidence really began on blossom and on 37 minutes a fine move begun by Burbeary was carried on by Outram who fed Adam's run and Chris coolly placed his left foot shot inside the opposite corner past a static Butcher amidst great applause. Boston responded well but Ashton could only head wide from a corner. Four minutes before the break the visitors earned a free kick 20 yards out. Yeates shot got through a crumbling defensive wall but Walker somehow got across to his left to prevent the goal. Then Hunter got past Lowe but once more Walker came out to narrow the angle and parry a strong shot. Sheffield responded on the break but Cusworth's lob was just over before the aptly named referee Booker blew for half time.