Hartlepool United v Sheffield Wednesday
First Division Play Off Final
Millenium Stadium, Cardiff
Monday 29th May 2005
" We're all off to Cardiff". Yes, today's the day. It's a beautiful day as I wait at the top of the road for 'Min' to arrive. 'Min' is the name of Helen's car and it's her who's doing the first spot of driving this morning. She turns up bang on time at 6.15, which is very early for her. No , that's not quite right...it's UNHEARD OF ! As far as Helen goes, she thinks there is only one 6 O'clock in a day and that's at tea-time. I slide myself into the back to join Lynne whilst John is doing navigating duties in the front beside Helen. (Well, Helen lets him think he's navigating) First sign of activity is at Meadowhall roundabout where a white van pulls up next to us, full of Wednesday fans also on the way to Cardiff. The driver gives us a toot on his horn as the traffic lights change, then promptly cuts us up! To say Helen got up at 5 O'clock this morning she's very chirpy. Lynne gets comfy with the cats blanket as a head rest and I get my writing pad out. John says, " Be careful Helen, Trev's doing a 'Travels' today so everything you say and do will be closely monitored and recorded for posterity," So Helen replies..."Well then, as I was saying to George Clooney in bed last night.Not tonight love, I've got to be up early in the morning for the match!"
As we pass the first lot of services I pipe up, "Are we there yet?" We then tuck into the first food intake of the day, with Everton mints and sparkly fruits. There's quite a bit of traffic on the motorway now, but all is running smoothly. Most of the cars and vans we see have Wednesday fans in them, with one or two Hartlepool cars dotted here and there. When we spot them we burst into a chorus of "Who are you, Who are you?" There's one good thing about today . We're not going to starve or go thirsty as we've got enough snacks and drinks to last for at least two days! As we're driving along and the signposts come into view, Helen is telling us all the places she visits during the course of her work. "Ashby-de-la-Zouch, I've been there. Coalville, I've had a session there." I'll leave it to your imaginations what her job is after that last comment she made!
Lynne is struggling with her seat belt. She keeps saying it's getting tighter round her shoulder and neck, so we all give her hints as to how to sort it out. Perhaps she'd be better off with a 'mother' seat , as opposed to a baby seat, to keep her firmly in place. John gets the first points of the day for lorry spotting as he sees a Eddie Stobart wagon further along the road in front of us. He scared the living daylights out if Helen, shouting , "Eddie Stobart" and pointing at the lorry. Helens reply was , "Don't do that! I though I was going to hit something."
"Well", replies john, "It's a serious business this lorry spotting", as he then goes on to explain to both Helen and Lynne our motorway pastime. They didn't look that amused or interested about it. It's just gone 8 O'clock and we leave the motorway and make our way to the little chef which they had planned for us to stop at for a breather and also to tuck into a breakfast. It was a nice little place, just off the main road, in fact we missed it the first time, although it wasn't my fault as I wasn't navigating today. There were one or two sets of fans that had the same idea too as we met both Wednesday and Hartlepool fans also enjoying a well earned meal. One item I noticed was that in the toilets the hot air dryers were positioned right low down. I wonder if they'd had them specially installed for 'The Monkey Hangers'. On our way back to the car we get chatting to a group of Hartlepool fans. They actually stopped at the adjoining hotel last night and were just going for breakfast . They said, it was better doing it this way than going on the official supporters coaches, as they were setting off from Hartlepool at 4 O'clock this morning! Back in the car, and once again we help to strap Lynne in before hitting the road for the last part of the journey. The route planning was spot on as we entered Wales just gone 10 O'clock, the roadsigns being in Welsh and English (for us Heathens), and we didn't even need our passports.
Time for more mints, and John decides to have a banana, which he promptly drops open the floor after peeling the skin off. He was still contemplating eating it, but there were too many hairs attached to it! Instead he traded it in for an apple. Helen keeps on asking Lynne, "Mum, has Trev got his hands on your bum bag yet?" This is in reference to the fact that Lynne is the custodian of all the tickets for the match and she suspects that me and John might try and swop our seats for theirs, being as we're only part-timers so had to queue up after they had already purchased theirs.
An hour later and we're in the queues to leave the motorway and head for the designated car parks. We go into the first car park available to us which is right next to Ninian Park, home of Cardiff City F.C. as we pull up at the Athletics Stadium. John goes use the port-a-loo's and, as he walks back to us, Helen says, " I don't reckon much to your Tardis dad." To much laughter from all around us. Then it's on to the courtesy buses for the ride into the city centre. You certainly can't miss these as they're bright yellow , with school bus painted on the front. Thank God it was only a two minute ride because it stank like pooh! We alight two minutes later, and breathe some fresh air. Under the railway bridge, onto the main street...and it's packed solid! Helen has her flag. She's already nearly took my eye out and decapitated John with it, and would you believe she's even broken part of it, all in the space of ten minutes! All you can see is blue and white all over.(Hartlepool normally play in blue too, but will be wearing their change strip today). It's deafening too with music coming from the pubs, fans chanting and the constant sound of whistles and air horns.
First point of call is somewhere to eat, so it's very convenient that as we're very slowly making our way along the street we pass a chippy. Helen says, "How about some chips?" Everyone agrees, so I go inside to order while the girls find somewhere to stand, and John helps with carrying the said food outside. As we're munching away, a couple of lads come up to me saying, "Hey pal, where did you get those chips?" I look over his shoulder and say, "It's right behind you." To which his mate says to him, "You dozy sod, are you blind?" or words to that effect.
We decide to move along off the main road and turn down the first available street. Here, we're able to rest ourselves on a shop ledge and watch hundreds of Wednesday fans having an impromptu game of football while we eat our chips. There's no goals, it's just a case of every so often you would see numerous football going high into the sky to the cheers of the crowd. This was usually followed by some booing when the Welsh constabulary decided to confiscate the balls, when they landed near them. It's a good job there was an endless supply of them. At one point , a bloke walking past us offered Lynne his can of lager to wash her chips down with ! After staved off the pangs of hunger we decided to head towards the castle. All these people , and Helen keeps on bumping into people she knows. It happened at least twice to my knowledge. At the castle, we decided not to go in but sat around the outside in what was probably a moat at some point , along with a lot more of the supporters who were taking in the sun, having picnics and playing football.
Time to take a few pictures , then it's off towards the stadium. It's impressive from the outside, even though you only get partial views due to it being in the centre of the city, as we're walking around towards our entrance gate, a 'Sky Sports' reporting team stop John for a few words. Helen is in there like a flash, her public relations skills coming to the fore. You can't miss her as she has her big blue and white hat on. She looks like a sort of female Dr. Zeuss! Of course, at this point other supporters gather around behind them too, shouting for Wednesday and Hartlepool. Me and Lynne just stand aside and wait for them to return to us, once they're extricated themselves from the melee. We finally find our entrance , and after more pictures we go through the gates and onto the main concourse. We're still outside the ground itself, but also out of the crush too as we take a breather and stand next to the river running alongside us. After a while, we all decide we want to go inside and soak up the atmosphere, so Lynne and Helen leave us to go to their posh seats while we take the stairs up to our seats. I wouldn't say we were high up, but we were short on oxygen, the air was that thin. In fact John says he thought he spotted Chris Bonnington on the door at the top of the stairs along with a group of Sherpa's and a sign saying 'Base Camp - This Way!' Up to our seats, and there's only one way to describe it.......Fantastic! What a superb place. We're about sixteen rows from the back near the corner flag and it's a brilliant view. Although at this height, both me and John are prone to getting a nosebleed and vertigo too! Let's just say we didn't make any sudden movements. We try and spot Helen and Lynne, but they are just out of our site on the level below us.Thankfully, there was plenty of leg room between the rows of seats which made it more comfortable than a lot of stadiums I've been to. With kick-off approaching it's wonderful to see the stadium full of blue and white. Wednesday have brought over 40,000 fans today in a crowd of just under 60,000, a record for this play-off final.Of course the Wednesday fans are also in fine voice, but credit too to the Hartlepool fans as they join in with their songs too. It's an exciting first half with the Owls having the majority of play and creating plenty of chances, which all go begging. In fact Hartlepool only have two efforts at goal all the half. With a minute to go to half time Wednesday get the breakthrough when Rocastle sets off on a run down the left and squares the ball towards goal where Mcgovern is on hand to sweep the ball home, much to the delight of the Wednesday fans who go mental, us included.The half time whistle blows and it's a great feeling to get the goal after all the efforts they had. Even the half time entertainment is a good omen , as Ozzie Owl beats the Hartlepool mascot in a penalty shoot out.
The second half gets underway and within a minute the scores are level, as Wednesday fail to deal with a cross into the box. It's disappointing as we expected Wednesday to at least wait until ten minutes before time before giving away an equaliser! It's like watching two different teams now, as Hartlepool have the upper hand, forcing Wednesday on the back foot. Worse was to follow as Hartlepool then take the lead, again through a defensive mistake. The Owls just can't seem to get going this half and the crowd at our end is certainly subdued at present. Manager Sturrock then 'Does a Macca' by making a triple substitution, I bet he's been spying at Sheffield and noticing how effective it works for us. Indeed it does work as the side start to put one or two moves together, but it's still proving difficult to breakdown the Hartlepool defence. With eight minutes left, Wednesday are handed a life-line when Talbot is brought down in the box for a penalty. Hartlepool are reduced to ten men and up steps Maclean with his first proper kick of the match (he was one of the substitutes) to blast the ball home, to a deafening roar in front of the Owls faithful. The last five minutes and it's all Wednesday now as they go for the winner , but Hartlepool are determined to hold on a bit longer and force the game to extra time. Talk about nerve wracking, me and John have almost finished a big bag of Maltesers and there's still half an hour to play now!
Three minutes into the first period of extra time and Whelan latches on to a through ball, takes it into the area and lashes it home, why couldn't he have done that a few minutes earlier! End of the half and I send a text to Jeanie, to let her know what's happening. Guess what? She already knows...she's been listening to it on the internet! Only fifteen minutes to go now and I don't know about the players being tired but we are mentally exhausted. Last fifteen minutes and it's so tight. Although Wednesday seem to be controlling it, Hartlepool are throwing everything forward and there's one heart stopping moment when their centre forward is through on the edge of the area and just about to shoot when Whelan (or was it Bullen) makes a last gasp tackle what would have been a certain goal. Up at the other end and the Owls forwards are playing at keeping the ball(must be a new trick they've learned - it's only took them a whole season to perfect it!) to run the clock down. Into the last minute and a through ball over the Hartlepool defence sees Drew Talbot all on his own, he takes the ball into the area , rounds the keeper and puts it away.There was an almighty roar, this was mainly us Wednesdayites letting out a huge sigh of relief, having now realised that there's no way it's going to go to a penalty shoot-out. Hartlepool just have time to restart the game before the referee blows to end the match.Cue celebrations all round, the trophy presentation, the fireworks, the lap of honour, what a great sight. As John said, "I'm so glad we got here for this Trev". I've got to admit, it would have been a let down had it only been the LDV Trophy Final (Which thankfully we never reached.) It's a double celebration really, as the winners get a trophy, but more importantly , that place in the higher division the following season, and it must be heartbreaking for the losers (ask the United-ites) especially the players who have to stay on the pitch whilst the winners grab the plaudits. Saying all that, it is very exciting but from a purist point of view I still don't agree with the system.
Anyway, after all that excitement inside the stadium, we decide it's time to go outside and meet up with Lynne and Helen. After just standing a while to get our breath back we decide to walk back to the car park. This has a two fold effect. It's a nice evening for a walk, plus we won't be able to get out of the car park yet , and also it will help to calm us all down and get rid of the stress levels which are way up after such an experience. So we just took our time , and once back at the car we sat around and ate our snacks and had our drinks. In fact there were picnics taking place all over the field we were parked in
At 7.15 we decide to make a move, and Helen's wants to start the driving again. So we get Lynne sorted out with the safety belt in the back seat and join the queue to get out of the car park. We've heard all the stories and now comes the realisation.Yes, the authorities do an excellent job of getting you all parked etc. but once that's done, forget it mate, it's everyone for themselves when it comes to trying to get out of the car park and Cardiff itself! I'm busy reading the programme as John is talking to Helen and Lynne about the game. Neither of them girls realised that Hartlepool had a player sent off after the penalty was given, Helen can't believe she missed that.It's just going 9 O'clock as we pull into the first services for some petrol and a toilet stop, guess what, it's Cardiff services, we're still in the boundary of the city!!!! It's actually dark now as we set off for the long haul home, Lynne even managed to put her seat belt on all by herself too. Both me and Lynne sit back and 'rest our eyes'. The next thing I'm aware of is we're pulling into some services just South of Birmingham. This is to swop drivers , as Helen decides it's time to have a rest, but she's enjoyed the driving. Time for John to take over for the last leg.It also means that after they've dropped me off, they can drop Helen off at her house and take 'Min' home where Helen can pick her up tomorrow. John just has to familiarise himself with the controls and we're off. Well at least for a few yards before he stalls it! Back on the motorway and I spot an Eddie Stobart lorry, but John says it was already spotted ages ago. I said, "Does it count then if half the passengers are asleep and can't join in?" He replies, "Of course it does, especially when it was me who spotted it!" They drop me off just before 1am and I have a cup of tea waiting for me. This is because Kay and Martin are staying for a few days from Brighton.Credit to Kay, she did text me earlier in the day to congratulate our success as she watched the game at her daughters, not bad for a United-ite. Like I said, they were both still up and a cup of tea was waiting for me. No Jaffa Cakes tonight though, as I had some bread and dripping followed by fruit cake! So after chatting to them it was gone two O'clock before I was climbing the stairs to bed, oh well , only another three hours and I'll be on the bus for work ! What a great day, the longest travels and a victory too. Oh , and by the way.To all you United-ites, I know one or two of you said to me it was a bloody long journey back after losing, well it's just as long when you've won, but at least it's a happy one. What a way to end the season. Until next time
Happy Travelling
Trev
Brentford v Sheffield Wednesday
First Division Play Off Semi Final Second Leg
Baxter Drive, Sheffield
Monday 16th May 2005
Tonight it's a 'Travels' with a difference as I wasn't actually at a match in person. Having gone to Hillsborough the previous week to see the first leg of this clash, and with Wednesday holding a 1-0 lead, John asked if I wanted to watch the second leg with him and the family on 'Sky'. With the prospect of a trip to Cardiff just 90 minutes away it was too good to resist, even though we are used to being let down at the final hurdle where the Owls are concerned.
So John picked me up after he'd finished work, and the first stop was the chippie, as we were going to have a fish and chip pre-match meal. Lynne had laid the dining table out so we 'boys' could have our tea there while the others ate while watching the television. Paula had already got out of the way from the football, luckily for her it was a college night, although John said that she might ring later if she wanted to be picked up instead of getting the bus home. Funnily enough, I'd got my Wednesday shirt on as though I was actually going to a match. Lynne had her Owls t-shirt on and Helen already had her Wednesday shirt on too. It was just left to John to change into his once we had finished our meal. Helen was well wound up, and even we were a bit nervous, being this close to a day out in Cardiff !
Oscar was laying out on the floor , oblivious to the importance of the occasion, stretching out now and again to have his tummy tickled, which you do at your own peril if you want to keep all your fingers intact ! His partner in crime , Felix, was nowhere to be found. Actually I think Lynne said he was curled up in the conservatory.
With kick-off fast approaching, John went to get changed for the occasion and put his Wednesday shirt on. Within five minutes we're almost out of our seats as Peacock races past the defence, only to push the ball too far in front of him and see the keeper gather safely. At least Wednesday are not sitting back, which is usually fatal for them. I know I haven't seen them much at all this season, as Helen keeps reminding both me and John with taunts of 'Glory Hunters' and 'Part Timers', but the home leg was the first time this year they actually all looked to be playing for the same team, and tonight is exactly the same. We're there, shouting at the telly and telling the linesman that , "That was never offside ! How can you see from there?" Finally Wednesday get the breakthrough as Peacock rises to head home. Cue lots of shouting and cheering. At this point , Oscar jumps up startled and hurls himself into the safety of his bed. Helen looks at him and apologises for scaring the hell out of him. I guess now he knows how the birds and mice feel now when he sneaks up on them. Helen is convinced we've given him a heart attack as she says she can't see him breathing, but eventually does decide he's still drawing breath as we go back to watch the rest of the action. Half time and it's still 1-0. Time for more goodies as John makes us all a cuppa and brings in some 'nibbles'. Sausages, scotch eggs and pork pie, we don't get this at Hillsborough, we've even got some Marks and Spencer Jaffa Cakes just for me, although when I try to hold on to the packet I'm given some stern looks by the others.
Trevor Francis is doing the half time analysis, sat on a gantry just above the Owls fans who are throwing a big beach ball up to him and asking for him to throw it back, live to the nation. The second half gets underway and it's time for Wednesday to absorb a bit of pressure before starting to control the game once again. Then a deflected free kick sees Chris Brunt's shot end up in the back of the net and yes, we've got to be going through now surely.
Paula arrives home, amid the chaos, and after asking if her night went okay then we tell her what's happening on screen. Although Brentford do pull a goal back towards the end, they're never going to get another two are they? Well, it has happened before, but not this time. With less than five minutes to go we're all singing, "We're all going to Cardiff etc." and doing a 'Mexican Wave which even Paula joins in with !
The final whistle is greeted with more shouting and excitement as we finally realise that we've made the final and a day out at the Millennium Stadium is on the cards. We ask Paula if she'd like to join us, her reply was something like , "No, I'm too busy that day." Which is pretty good being as we hadn't even told her when the game was taking place. Next , we had Helen doing her tickets, passport , money routine. Asking Lynne, if she still has her ticket stub, and where is it. Lynne is very laid back, saying, "Oh it'll not be far away, I'll have a look for it tomorrow,"
As for me and John, well we've already seen Sheffield triumph in two finals this season, can Wednesday bring up the hat-trick? Thank God I remembered to book the Final day off as a holiday. Next stop, Cardiff.......Until next time.
Happy Travelling
Trev
Sheffield FC v Worksop Town
Sheffield & Hallamshire Senior Cup Final
Hillsborough
Tuesday 10th May 2005
So this is it, the last match of the season , and what a way to finish, especially for us Owls devotees. Watching the lads playing on the hallowed turf of Hillsborough, it's a dream come true. Having secured the League Cup last week, it would be nice to finish off with another trophy wouldn't it, or is that being greedy? Of course it isn't!
It's a nice sunny night as I call down for Les. Then it's off for the long ride on the number 17 bus which will take us all the way to Hillsborough. Plans have been made to meet up with the posse outside the ground, so we can all sit together. Just as we're nearing John's road, we see him, Maz and Deano just turning onto the main road, so quickly jump up so we can get off and walk down the rest of the way with them. It feels really funny, as I've walked the same route many times with John and his family on our way to watch Wednesday, and this time, although there is not the normal swell of a matchday crowd, it feels great knowing that 'our' lads are going to be playing there.
We arrive in plenty of time and make our way behind the South Stand to meet the others. Some of them are already there, Tim, Sue and little Billy looking decidedly uneasy at being on this side of the city, Billy even has the cheek to wear his United shirt under his coat! Once we've all assembled it's in we go. As it's unreserved seating we find a block near the front of the stand and spread out there, the flags being draped over the front of the stand. Once again we start singing the flag song, and any other song that comes to mind as we fit it all in to the same tune! Andy has an air horn and Tim says "Andy, give us a blow" much to the amusement of all the grown -ups present.You would be hard pressed to guess which side was from the higher division as Sheffield took the game to Worksop and should have been ahead after 7 minutes when Caine blazed over with the goal at his mercy. Even Macca and the subs were sat in the 'home' dug-out, which was a good sign. We were just in front of Bill (Towning) and the subject of his penalty miss at Bramall Lane last week came up. We asked if he heard anyone barracking him and told him it was us! Stu said, "Don't worry Bill, your secret's safe with us, NOT, Trev has done a 'Travels'on it".
Second half and once again it's Sheffield who have the majority of play without there being too many clear cut chances for either side. With the game entering stoppage time, and the prospect of extra-time looming, up steps Ben Cressey with a sweetly hit shot from the edge of the area that flies into the top corner.! Cue wild celebrations both on and off the pitch as we all go mental as anything. There's no time for Worksop to respond as the referee blows for full time and we've done it !
Most of the crowd are cheering and clapping as stand-in skipper Tom Jones goes up to receive the trophy, regular captain Chris Hilton having missed out due to being on holiday. They all pose for pictures on the pitch and we make our way out. We're not going home just yet though, Macca has told us they will all be going into the Riverside Suite once they've got changed so we head in there and await their arrival. Sure enough, not long after we get our drinks they start to arrive, with Bonno bringing in the Trophy with him, which he places on our table. So it's time for the Motley Crew once more to gather round for yet another set of photo's with another cup. Is this becoming boring ? Is it hell! We can get used to this. Ben arrives to a round of applause and has yet more pictures taken kissing the cup. Despite being a United-ite, I think I'll forgive him this once.
As the celebrations start to die down Stu gives me a lift home and I get onto the internet to spread the news of the victory over the 'pond' to America.Just time to eat half a box of chocolate Brazil nuts and then it's time for bed and to reflect on a fantastic season and what a way to end it. Well done again Macca and the lads, let's keep it going, we could get used to this! Until next time....
Happy Travelling
Trev
Chapeltown WMC v Ridgway Athletic
Meadowhall Sunday League Cup Final
Bramall Lane
Thursday 5th May 2005
Once again I'm on my way to the 'piggery'. Twice in one week, it's getting frightening! This time it's for the Meadowhall Sunday League Cup Final between Chapeltown WMC and Ridgway Athletic.
I'm still in celebration mode after Tuesday night's League Cup win at Ossett, despite tired eyes and a sore throat. I've arranged to meet Stu outside the ground and catch the number 48 bus to arrive with a bit of time to spare. It's a bit cool and windy with the odd spot of rain in the air, so I'm glad I'm wrapped up.This is already my 6th Cup Final of this season, a nice way to finish the season off, although Tuesday's Cup Final was the important one, that and the prospect of seeing the lads next week playing on the hallowed turf of Hillsborough, but I like coming to these matches as there's no pressure on us as supporters. I just hope that the Jamesie/Trev curse doesn't strike and we end up playing extra time.
I met big Steve in the car park so we stood and had a natter before he made his way into the ground. No sign of Billy two pies, but I've no doubt he'll be coming along to watch this one too. There was a group of kids in Sheffield United tops and a couple of officials waiting outside the ticket office. I was going to go up and ask them if this is where I could get play-off tickets from, but thought best not to wind them up , not on my own anyway!
Stu turns up, immediately followed by Billy two pies.No Liam tonight, as he had enough excitement on Tuesday night. As we're queuing to get in Stu says, "Isn't that Bill (Towning) over there, what's he doing here?" He's right. As he was surrounded by some kids I said, "Perhaps he's got something to do with supplying the ball boys or something."
We get to the turnstile and as I'm going through I ask the man for an extra programme, he then gives me about five more! It's a big thing, A4 size so quite awkward to fit in the pocket. As we're walking to the stand Bill does the unthinkable (for Bill at least). He actually folds his programme in half! Me and Stu are taken aback, shocked and stunned at such a feat, it's a pity neither of us had a camera handy or we would have recorded the event for posterity.
It's not that full inside, so we go and find Steve and sit with him. Stu is telling us about Liam. After he had dropped me off at home on Tuesday night, Liam was sound asleep in the back of the car. Well, he had a right job trying to wake him and as he's half walking/half carrying him up the stairs to bed, the little one is muttering.."They only had one flag!" in a very sleepy voice. Apparently he was as chirpy as ever the following morning but had no recollection of this at all, and when Stu told him about it, his reply was, "Well they did only have one flag."
Before the game starts we're talking about our next big final at Hillsborough next week when we're hoping to see Sheffield pick up their second cup of the season. Stu is asking "Where will be sat?" me and Steve replied, "In the South stand." Stu replies, "That means bugger all to me, which side is that?" So Bill says, " The kop will be on your right"."Thank God someone's talking sensibly now." says Stu. Steve starts giving Bill some lip so Bill adds, "A good way to remember it Stu is, it's the kop at one end and the cemetery at the other end, think about it." Cruel or what !
Although we really don't mind who wins , it's been decided that I'll support Chapeltown whilst the others go for Ridgway, being as this is more geographical to where we all live. Half way through the first half, Stu says, "I'm not really bothered who wins, so long as it doesn't go to extra time." With five minutes of the half left Ridgway score to go into the break 1-0 up.
We now find out why Bill (Towning) is here. He's taking part in a penalty shoot out. As the contestants are introduced we shout a chorus of "Who are you, Who are you?" which gets some funny looks from the people near us, but Bill is oblivious to our barracking. I have to report that unfortunately he was not successful from the spot, the keeper making an easy job of saving the kick. Of course, that brought on more shouting from us lot too. As we were near the top of the stand me and Stu went for a walk right up to the top to see what the view was like looking outside the ground. You could see right into the car park and Stu said, "Oh look . I haven't parked the car straight" Looking back onto the pitch it's a fine view , although a little disconcerting if you're afraid of heights, but I did eventually manage to let go of Stu's arm! As we were thirsty we decided to go for a drink, so head down to the exit just below us. Guess what? It's locked. Steve's laughing as we walk back up to where we were sat. "I could have told you it would be locked ," he says, "that's why I sit at this side, so you don't get people wandering about in front of you all the time." Smart arse! So we went the long way round instead . Back in our seats and I give Stu some chocolate. It's a treat for him as he doesn't really like the stuff, only certain brands. One of them being Hershey Bars from America. When Jeanie was over she brought some sweets with her which one of her co-workers had sent for me and there was a Hershey bar in it, so I took it along for us to share. (Thanks for that Denise.) I knew Stu was happy with it...I could tell by the look on his face.
The second half was a bit more lively as Chapeltown pulled level just before the hour mark. Then , with fifteen minutes left Ridgway get another as a Chapeltown defender handles on the line, not only giving the opposition a penalty but also getting himself sent off. Despite this, Chapeltown throw everyone forward as the clock winds down, me and Stu just praying that the game doesn't go to extra time. Thankfully (for us), Ridgway grab a third and decisive goal two minutes from the end to seal their victory. Another good night watching footie as Stu takes me home. Just time for a cuppa and choccie biscuit before falling asleep. Next up is our venture to Hillsborough. Until next time....
Happy Travelling
Trev
Harrogate Railway Athletic v. Sheffield
NCE League Cup Final
Tuesday 3rd May 2005
It's my first day back at work after my holiday, so what a way to start it with a ten hour shift. Stu is picking me and Les up tonight and he sends me a text just before six , to say he's on his way. Good job he did really , as I'd dozed off in the bath! So it's a quick rush downstairs and make myself a sandwich to eat on the way, being as I hadn't eaten yet. As I'm walking down the road to meet Les, who should be following close behind but Stu and Liam, bust laughing their heads off as they pull up alongside me. Apparently there wasn't as much traffic on the road as Stu had thought there would be, especially as it's supposed to be rush hour time. I call for Les, and tell him we're waiting for him outside. He can have the privilege of being the navigator as I take my seat in the back with Liam. First call is to Firth Park so Les can get some money and we get some drinks as it's a warm night. Liam has all sorts of bits of paper with statistics written on them , so when I ask him what he's doing he replies, "I'm writing down some statistics of Harchester United (Dream Team programme) for my new league and I've even included the dead players from the last two series!" This kid has talent. Give him some paper, a pen and a dice and he can always amuse himself with imaginary football games. His present leagues include teams from the 1900's!
As he's busy playing, I eat my sandwiches.....peanut butter and jelly! (actually it's grape conserve).You know who to blame for this don't you? Well, I thought it was such a shame that Jeanie would miss the final after seeing us win in the semi that I would help with the American connection...after all if we lose it's going to be my fault for letting her fly home before the final. Mind you, she did buy some Minstrels for me to hand round to everyone at tonight's game. The talk is all about different footie things on the drive to Ossett and we're soon there as there is not all that much traffic on the motorway. John phones me to ask if he needs to get us the programmes, but we are already walking to the turnstile by that time. There's a good following for the lads and also quite a few from Harrogate. Les has given travel details to Chris and Nikki as they'll be setting off late due to work, and Mark (a badminton pal of john and me) has also come. He admits he's a glory hunter and is only here because it's the final, but give the lad a break he's a Wednesday season ticket holder, so he wants some decent excitement this season! Even Jamie Parkinson has come along to give his support, and he still hasn't finished his Harry Potter book.
There's a good crowd tonight, as you would expect, and for us it's like a home match with all our regulars there. Even Roy from Clitheroe has come over to give us some support, and Geoff has done his bit too, by avoiding coming at all, that's a good omen for us ! It's just a pity that the match is being staged here. No disrespect to Ossett, but as they said themselves in the programme notes, you expect to play a final at a decent ground! Also, they could have at least made an effort with the programme and perhaps changed the front cover so it looked more like a Cup Final match than an ordinary Ossett league game. That's it, I'll stop ranting now. There's no sign of Chris and Nikki yet as kick off time approaches, but he was working late, so it's touch and go as to whether they'll make the kick off. The teams are out and ready to start so we make our way to the far end and put the flags out. Jeanie, remembers and sends a text to wish us good luck, and she even left some Minstrels for me to distribute during the game.
We're all in fine voice as the lads start the game with some good attacks. In fact it's all Sheffield at the moment. Chris and Nikki have made it here at last. Chris said they got lost in a housing estate! Which reminds me, I wonder if John did his usual thing on the way here. The very first time we came here we took a wrong turn and ended up in a cul-de-sac, and every time we've been since, we done the same thing on purpose as a kind of omen. I hope he remembered. Back to the game, and it's been all Sheffield. We're all rewarded on 26 minutes when Tom Jones fires one in from a corner, time to go mental with rattles and horns and lots of jumping around and shouting. Time for a round of sweets, as the Minstrels are out. Actually it's like a sweet factory at our end of the ground with all kinds of confectionery being handed around. It's a wonder none of us are sick. Still, there's time yet. Six minutes later and we're two up. A quick free kick from Marshie puts Chris White through on goal and he makes no mistake. Stu and Deano start us off with a Mexican wave. Well, actually it turned out to be more of a Sheffield ripple. Harrogate start to press as the half draws to a close, but our defence is as solid as ever, and we end the half with the two goal advantage.Time for both sets of supporters to change ends, most of them anyway.
The second half sees Harrogate come out more and start to dominate the play. Our nerves aren't helped when they pull a goal back. Tim starts up a chant of, "One flag, they've only got one flag." In reference to the Harrogate supporters one and only flag. We had actually got nine flags on show, and that wasn't all of them as I'd left North of the Border Chris's flag at home! We still have chances to increase the lead again, but to no avail, making it a nailbiting finish. In the last minute Harrogate get a free kick just outside the area and we fear the worst, but the team manage to get it clear. Then the fourth official (Yes, we actually have a fourth official tonight) holds up a board indicating six minutes to play!!! Thankfully the lads play 'keep ball' and mess about with it in the corners. All apart from Wardie that is, who can't get near the corner so decides to 'do a Peter Kay' and wellie it out of the ground to the other side of the cricket pitch! Finally the referee blows for full time....time to go mental! The players celebrate on the pitch as we do the same on the terraces. We even get chance for a major huddle. The team then come across to celebrate with us.Then it's time for the presentations to much cheering and clicking of cameras.
It's not all over for us yet though, as we go up to the club house to await Macca and the team with the cup. We also have the matter of presenting the BTF player of the season award. This year, it went to Tom Jones, who John presented with a bottle of champagne. Then the rest of the playing squad arrived and the posse had their photo took holding the cup, as you've no doubt seen the photo's on the website. We even have a second nickname now...that of motley crew. One down and another final to go, but it was such a relief to win this one. No pressure now lads, you can go and enjoy yourselves at Hillsborough for the next one. Eventually we make our way back to the cars ready for the journey home.Said goodnight to John , Deano and Maz and off we went. It was a really smooth ride home, I think we were floating on air. Liam was asleep before we'd gone a mile down the road. Not all that much traffic on the roads tonight so we were home fairly quickly, even by Stu's standards. Les is the first to be dropped off, then it's just up the road and I'm home. Stu gives the car horn a push, just for the hell of it. No, it's a ritual which he always does. Time for a nice cuppa and some serious celebratory jaffa cake eating ! I had already text Jeanie at the end of the match to let her know the score and the fact we were both 'off the hook' thanks to the win and she actually called to congratulate us and wanting to here about the night...I think she's hooked! I eventually climbed into bed, still with a big smile on my face and looking forward to our trip to Hillsborough next week. Until next time....
Happy Travelling
Trev
Manchester United v. Sheffield Wednesday
Pontins League Cup Final
Monday 2nd May 2005
It's a lovely sunny day as we set off early for Manchester. The match is at one o'clock and the reason we're going is because today we took our new American 'mascot' Jeanie back to the airport for her journey home. By the way, she asked me to tell you all how much she enjoyed her time watching the lads and meeting you all. Yes, even Dennis ! lol.
We've got plenty of time, so we get Jeanie's bags checked in and go for a drink. She's telling John about how she's taken a load of pictures saying "Most of them have Trev in them...he's such a cutie!" Of course John starts laughing and says to me "You're not going to hear the last of this now Trev, wait till I tell the others."
After we'd all said our goodbyes and seen Jeanie through the security gates, me and John went back to Sammy to head off for the match. John has already got two lots of directions for the ground from the airport, but I did say earlier that we could always ask one of the blokes at the information desk how to get to Old Trafford. John's reply was, "Yes, and you know what he'll say ? Get in the Premiership mate!" Which I thought was very funny at the time. We ended up following Stu's guide which was simplicity itself. He'd written 'Get onto A56 and just follow the road and you come to a big ground!' (Funnily enough Jeanie spotted the ground too, from the air on her way to Heathrow.)
We pulled into one of the car parks and had a sandwich and drink which we'd brought with us. John commented "Even the car park is bigger than the Coach and Horses." I've got to admit it's one hell of a stadium. I think the Man. United superstore is probably bigger than the Coach and Horses too ! We found where to get in and proceeded to our seats. The Wednesday fans were segregated in the official 'away' end, and it was just about full too. The official attendance was given as 2953, which wasn't bad for a Bank holiday I suppose. Must admit though, they certainly cram the seats together. No wonder the capacity is so big, there's hardly room to shift. Luckily we had a seat spare between us so we could stretch our legs a little bit. As usual for an away match, the Owls fans were doing all the singing and generally enjoying themselves, especially 'Tango' (a legend in his own lunchtime!) I know I'm not a Hillsborough regular anymore, but I only recognised two of the players. Meanwhile Man. United had a strike force worth millions on the pitch with Saha and Bellion, plus the Spanish keeper Ricardo. It was the Owls who took the lead on 32 minutes when Tom Spurr rose above the defence to head home, much to the delight of the travelling fans. Unfortunately the lead only lasted six minutes, before Saha got his foot to a cross to divert it into the net past Lucas. That's the way it stayed until half time.
I went to get us both a cuppa and what a performance that was. For a stadium as big as this, the away facilities are crap ! Only one catering area stuck in the corner to cater for all the fans.
The game had already re-started by the time I'd got back to John. The second half was more open and at least the home fans were now joining in some of the banter between the two sets of supporters. They finally woke up on 75 minutes when Fox headed over the stranded Lucas to give the home side the lead. With ten minutes to go, the heavens opened, but at least we were under cover. The home side made sure of the victory by getting a third on 83 minutes when Jones fired a shot into the corner. So the Owls relinquished the trophy they won last year. Oh yes, I forgot to mention, they were actually the cup holders. I guess I won't be writing that sentence again in my lifetime !
The sun is out again as we make our way back to the car. It's still raining, but not as heavy. John could use his sunglasses, but they're in his bag, in the back of the car. I ask if he wants to pull over and I'll get them for him. He says "No, it's okay Trev, I'll just close my eyes!" I spot a James Irlam lorry and earn 20 points.......didn't you lot know it's double points for a Bank Holiday ? We then have our customary detour. This is because as we're driving away from the ground we spot the Trafford Centre on our right hand side. The thing is, we should be looking at it on our left hand side ! It doesn't take long to get back on track, and to be fair to both of us, there were that many traffic cones about it was hard to find which lane we should have been in anyway. The traffic was very free flowing on our way here this morning, but now there's the usual jam at Mottram. Mind you, all the Wednesday fans are heading back the same way. I'm just thinking (I know, I shouldn't do such a dangerous thing) this is my fifth cup final and, as yet I'm still waiting for the big one to come tomorrow. We arrived back at Firth Park to one horrendous downpour. It's that heavy that even with the wipers on full John still can't see through the windscreen, and then it's over again in minutes.
We've decided to finish the day off with fish and chips at yours truly, a nice way to finish off a lovely holiday for me as it's back to work in the morning. Until next time.....
Happy Travelling
Trev
Hoyland Town Jags v Top House
Sunday, 1/05/05
Stu phoned earlier this week to ask if I was off and what my plans are. After asking why, he told me about today's game, it being a local Cup Final with a morning kick off. Well, it's the last full day of Jeanie's holiday, so what better way to spend it then by watching another football match ! This will be her fifth match in the space of ten days. Not bad for someone who had never seen a match before she arrived in England. I just wonder who'll get the blame if the unthinkable happens and we lose our League Cup final, as she's become something of a lucky mascot, seeing the lads winning four games on the trot.
Back to today. It's an 11 o'clock kick off so that fits in nicely with going out to Sunday lunch so she can experience the taste of Yorkshire Pudding. It's a lovely morning, if a little damp. Stu sent me an e-mail to say that Lynn had told him to be aware that the Sheffield marathon was on today, and it would be passing Bramall Lane. My plan was to get the bus from home straight through and get off on London Road to walk down to the ground. What actually happened was that as we got into the city centre the bus started doing all sorts of detours and we actually got off right outside the ground on Shoreham Street. So it was just a short walk to the turnstile and we met Stu and Liam inside. The little 'un even had the cheek to wear his United shirt too. Also there was Billy Two Pies, who was giving me some stick for bringing Jeanie to yet another match. Thankfully she has enjoyed watching them all (she's fell in love with the Coach and Horses) and, as I explained to Bill, I wanted her to see inside a 'proper' stadium (God, I can't believe I've wrote that last bit!). We're sat in the Laver stand (I think), the one where the cricket pitch used to be, and have a great view. Big Steve is also here. He sent Bill a text and when Bill replied, asking where he was sat, the reply came back 'I'm looking at you', and there he was just the other side of the directors box ! Stu had brought his camera and asked me to take a photo of him and Liam, so they can include it in their personal album of famous stadiums visited by the James Gang ! Jeanie was also busy taking photo's and got a good one of father and son looking all cute. She took some good ones of the action too, but Stu went one better as he got the picture showing Jags scoring their first goal. It's jelly babies all round at half time. Stu and Liam have been playing a game using each letter of the alphabet to guess the names of football teams, and depending on the difficulty of the letter, you had to guess one, two or three teams. Me and Bill kept chipping in, although Liam didn't need much help at all. When it got to 'x' me and Bill both shouted....'Exeter !' Of course the little know all got the answer, it was some Swiss team (I think). I couldn't even pronounce it, never mind spell it!
Bill wandered off to sit with Steve and we got on with watching the second half, which Top House tried all they could, but were killed off with a late goal for Jags by ex-Sheffield player Paul Nasim. Stu said he'd just lined up a really good picture of Liam, me and Jeanie watching the match, but then burst out laughing as Liam decided at that point to pick his nose ! He did however get one of us clapping the players at the final whistle. Afterwards it was back to the car park and Stu said farewell to Jeanie, Liam being very formal and shaking her hand. Then it was time for Sunday lunch (complete with Yorkshire Pudding) and a stroll in the sunshine from Forge Dam to Endcliffe Park in the sun. Until next time....
Happy Travelling,
Trev
Arnold Town v Sheffield
Tuesday, 25/04/05
H-e-r-e-s J-e-a-n-i-e !!!!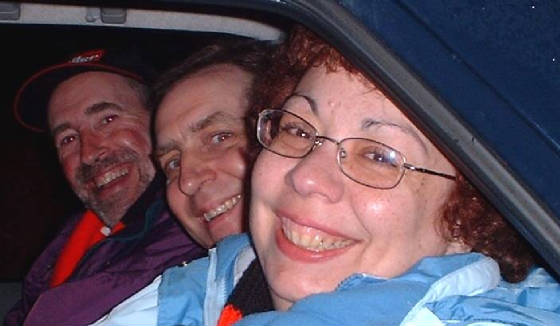 but why does Les (The Beermonster) always look so maniacal in his photo's. Trev is on the outside.
Well here's a match that we weren't expecting, as we replay our League Cup semi-final between last Saturdays match, and tomorrows match against Selby. Nothing like cramming them in, is there ?
It's a bonus for one person though. We have a new fan over from America, and she was looking forward to joining The Posse on an away trip, especially as the one she would have originally seen should have been on the last Saturday of the season at Long Eaton, which of course we played earlier this month. For someone who's never seen a proper football game in her life it's going to be quite a baptism as she's got four matches to see (at least) while she's here. Luckily she's as mental as us so she'll blend in well...welcome to The Posse Jeanie ! (At least she does call the game by its proper name of football, which confuses the hell out of her friends and relatives who only know it as soccer.)
It's been a lovely sunny day and John picks me and Jeanie up on his way home from work. He already has his work collegue Pete in the car, and we're still trying to persuade him to join me and John for badminton one Friday night. After dropping him off we head for town to pick Deano up from work. There's a 'working' girl on the corner near where his offices are and Jeanie guesses her trade straight away and says " If I get short of cash, I know where to come!" As we're still early we go to the (supposedly) 24 hour Tesco's so John can stock up on sweeties for the match. There was a good batch of e-mails from John this morning, as originally John had called before work, only to find it closed.
Deano's in the navigators seat tonight. Jeanie said she was going to sit in the front, but would be too tempted to play with John's balls all the way to the match.....his fluffy ornamental ones, you dirty minded lot ! Off we go towards towards Arnold, and as we all settle down for the journey Deano asks Jeanie " Hey Jeanie, do you were American underwear?" As she's trying to figure out what he means, he comes out with, "You know, one Yank and they're off." This sets her off giggling. Honestly, you'd think she was laying eggs once she starts. As we head along the motorway Sammy burns a sports car off the road, leaving him in his wake.
John spots a 'Prestons of Potto' lorry and says he wants 25 points for it being as we have an American with us. I had to explain to her about the lorry spotting....the look on her face said it all.....'Help, let me out of here I'm being kidnapped by a bunch of nutters!' He then spots not one, but two Eddie Stobbart lorries. Deano says, "Stop it now John, you're just showing off."
Arrive at the ground in plenty of time and we manage to park in the official car park too. In fact John got his bearings wrong at one point as the car park spaces were marked out along a diagonal, and as he was lining up on one side, the markings changed to straight lines on the other, making 'Sammy' look decidedly odd parked as he was. In the end, it was left to me and Deano to shove him back into the space all properly lined up. We get into the ground and John is soon on his way back to the car as he says, "I didn't think it was going to be this cool. I'm going back for my jacket."
There's no Tim tonight as he has to attend a meeting for work, but Sue and little Billy are here as they've come with Andy and Caroline. I'll let Tim off this time being as a) he did tell me on Saturday he wouldn't be able to make it and b) we didn't expect to be playing tonight anyway.
First half we're kicking towards the car park end, so take up our usual place. Their keeper is in terrific form, saving everything the lads throw at him as we massacre them 0-0 in the first half. He's a mouthy sod though, at one point having a go at Tev's dad. Tev's dad says to him, "I may be a lot older but I'll still have you if you want to try" John says, "Behave yourself Tev's Dad," as we all have a laugh, mind you their keeper seemed to stay further away from this side of his area after that.
Half time and Jeanie treats us to tea and hot-dogs, even Deano has one. We then stand with the rest of the gang near the half way line for the second half. Once again, despite all the pressure, no-one can break the deadlock, so we've got extra time. We tell Jeanie that they've done this on purpose just for her benefit. Of course it starts to rain, but undeterred we stick it out. Would you believe that Arnold then have the cheek to score ? We fear the worst at that point but Danny Anson soon has us jumping for joy as he gets the equaliser. It's all nail biting stuff as the time ticks away. Every time we attack we're shouting for the lads to score, then every time Arnold attack we're holding our breath.
Well this ones going right to the wire as the referee blows for the end of extra time and it's going to be decided on penalties. Some of the others have congregated under the stand behind the goal as the kicks start. It's the usual combination of highs and lows as someone scores and another one has his shot saved, and after five penalties apiece it's 3-3 and sudden death. Hilts steps up and puts it just out of the reach of the keeper. Advantage to us. Then up steps one of their central defenders. We're shouting, "He's going to sky it." However he doesn't...he puts it wide of the post instead ! Everyone's going mental both on and off the pitch as we've won ! Jeanie gets caught up in it all as we're jumping up and down hugging each other and even go into our own post match huddle just as the players are doing theirs.
It's a very happy journey back home, and the overall verdict is that the American has to stay for the final as she's our lucky mascot, it's a pity she flies home the day before, let's hope it's not a bad omen. Once back at home we celebrate with chocolate digestives (something she's discovered whilst over here) and a cuppa. Me being so pleased we've reached the final again and Jeanie pleased to have experienced an awayday travelling with The Posse. Until next time...
Happy Travelling
Trev
Hallam v Maltby Main
Wednesday, 20/04/05
Okay then, so what am I doing up here? Normally I wouldn't be seen dead inside this ground unless Sheffield were playing, but this could be quite a match. This is the big relegation battle to stay in our league. Maltby must win to be safe, and that would put real pressure on Hallam, who will have to look at the results of other teams to see if they will be safe for another season.
We found out last night at our match against Arnold, that the under 19 fixture scheduled for tonight had been cancelled, so me, John and Deano said we'd like to go and watch this one, in the hope that we would see Hallam come a cropper, that's how much rivalry there is between the clubs, although on the face of it, if you looked at the facilities of the clubs involved in this situation, which would you sooner visit , Hallam, Armthorpe or Maltby, or even Brodsworth who may well yet get dragged into the dog fight. On a personal note I think Hallam have the best facilities, plus it's on our doorstep, but all that will be put to one side when the game kicks off. Stu may join us, but he's at another game first with an earlier kick off, so it all depends if he can get here for the second half. Billy two pies will certainly be here, as will Clive, the Hallam/Newcastle supporter who was at our match last night and said if we get up to the ground early enough to go for a pint with him.
With Hallam (the holders) being knocked out of the League Cup on Monday night, there was talk of us approaching one of the committee men tonight to ask him for the cup, to save him sending it to us later, but being as we only drew last night, we'd better keep that prank for another occasion.
John picks me up on his way home from work and we head for Chez Shepherd in order for him to get changed. No particular rush as it's only a fifteen minute ride from the house to the ground.There's a last minute change as Deano can't make it , he's working later than he intended, and it will leave him no time to get ready to join us. We get to the ground in plenty of time and manage to park outside on the main road this time, as the pub car park has been made out of bounds. Once inside we head for the snack bar. As well as the usual cuppa, we've decided to have a chip butty each, the only problem is they've ran out of breadcakes. Can you believe it? There's still half an hour before kick off and the food is diminishing fast. Apparently, as it's their last fixture they just decided to use up what they'd got and sod the fans who are hungry.
I'm sure we're being stalked too. We saw the Buxton guy , the one who was at our ground last night and he's still moaning too. Stu phones to say that he will make it for the second half, so we wander up into the stand and sit down. Well, that's not strictly true. As we were walking up the steps, we spotted Clive and went to sit with him right at the back, but we preferred standing there, and being as there was no one behind us, it didn't hurt anyone. There's a big crowd and it's not all Hallam and Maltby fans. I've already seen Billy two pies and big Steve. John spotted John and Liz (Lady Penelope), and Jonah and Wardy are also here to name but a few. We even bumped into Steve Toyne the Dinnington manager and had a chat with him.
After quite a lot of rain over the past couple of days you can imagine what the pitch was like. In fact, as a precaution, John even phoned the club just before we set off to check that the match was still on. It's very muddy, and should prove to make the game quite a slog for both teams, especially when kicking up the slope. The game kicks off and Clive is telling us about last night. He'd brought his mum and Eileen to the game and at one point they came to stand with us. Clive jokingly said they would have to stay here until we scored, and actually we did! After that, they walked round to the other side and at half time , he took them into the pub. They said they would stop there for the second half, so he was quite happy with that. When it went to extra time, he went to tell them and they were content as there was live music on. When the match was over, he went to collect them , but they were enjoying themselves that much that they made him stay until chucking out time!
Just before half time he disappears, so he can be nearer the exit in order to get across to the pub for a drink. We said we'd see him back here, once we'd gone to get the teas. We did fancy a sausage roll too, but all the food had gone, there wasn't even a chocolate bar left.John added that, "I have to get my phone from the car too Trev." It's become some sort of ritual for him to leave his phone in the car, even he's surprised when he remembers it before a match starts.
The second half has just started when Stu arrives, we'd already got him a drink.As if on queue, there's a goal, and it's Hallam who break the deadlock as Ian Askey pokes the ball home from close in. To say there was a crowd of about 400, there was hardly any atmosphere at all. In fact most of the time you could just hear some blokes radio playing, commentating on a premiership match. There were further efforts on goal , but it never looked like Maltby would pull off the win they needed to stay up as Hallam defended resolutely to deny what little chances there were. At least Clive was happy with the result, which must have been some sort of consolation as once again his beloved Newcastle United lost yet again.
On the way home we pick up John's youngest daughter Paula, who's been studying at the University tonight. John says, "Paula, if we get through the Semi Final replay next week , do you fancy joining us for the final, it's at Ossett Albion?" I'm sure I saw her visibly shudder at the thought. We didn't even have chance to tell her the date of the match as she came back with the timely reposte of, "No thanks, I'm busy that night, I'd sooner bang my head against a wall than be subjected to watching a football match again, once was quite enough." She has a way with words does Paula.
John drops me off and it's a quick drink before falling asleep watching the footy highlights. Until next time.....
Happy Travelling
Trev
Sportsman Roy Hancock v Handsworth
Thursday, 14/04/05
County Senior League Cup Final at Stocksbriddge Park Steels
So, it's a double hat trick of sorts....my third match in three days and also my third Cup Final, none involving Sheffield........as yet. I think I'm turning into a Billy Two Pies clone, watching all these different matches night after night, no wonder he doesn't have time to work! Thankfully it's just a short trip tonight. Arrive in time to have a drink and a chat with Nigel, who's telling us about Bill getting the team sheets for the reserves matches photocopied so he's got some sort of record of attending the matches there.
We've decided to sit in the stand tonight, so go and take our places whilst Stu is telling me about some of the Handworth players. I then tell him that he'll have to help to identify them for me, as, just when I'm about to put my glasses on, on of the bloody arms comes off! So it's all a bit of a blur, but I'll cope.It's just a good job that I'm not doing a match report that's all. The match kicks off , and one of the Sportsman subs is strolling towards the dug out. Now even without my glasses I can certainly recognise him as we see him week in week out playing for the red and black wizards!
The match is certainly entertaining with the favourites(Sportsman Roy Hancock) in total control. Having taken the lead, one of the players is then through on goal again, and as he rounds the keeper and shoots, he turns away already celebrating, only to see the ball go the wrong side of the post.I bet he felt a right idiot.Nevertheless, they go on to score two more goals before half time.
We head back to the snack bar for more tea, and actually bump into a Bray. It's not Geoff this time though, it's Duncan, who's just finished training. We're back in our seats as the second half gets underway. Although Handsworth do create some chances, they just can't make a decisive break through, whilst at the other end, Sportsman are awarded their second penalty of the match which is duly despatched into the net, just like the previous one and Handsworth also end up having a player sent off for what must have been foul and abusive language at the referee.
We could do with refs like this at our games. He let the play flow and I can't recall him making any dodgy decisions either. You may be interested to know that he was only twenty years old too, although he looked a lot older, maybe it's because of all the stress of refereeing! Mind you, one of the Assistants running the line was only seventeen. Now he did look young. Bet he was glad it didn't look like extra time as it must have been way past his bed time.
Stu phoned Lynn to tell her that we would definitely not be playing extra (somewhat of a curse whenever we're together watching these matches).Then Stu is trying to tell her to look for something on a web site, whilst watching the match. They were at cross purposes because she couldn't find what he was telling her (post note - Stu found the info straight away when he got home). Seems me and Lynn must have the same intellectual capacity for working computers , which is very limited to say the least. In my case , it's just a bit better than my navigational skills, so that doesn't mean much then does it? lol.
Sportsman wrap the game up with a fifth, and both sides get plenty of applause at the end. We're off for the journey home. One thing about these last three days is that each match we've attended has been nearer to home as the week has gone on. Perhaps the next one will be at Concord Park or somewhere like that, now wouldn't that be something. Stu drops me off just before ten. Just time for a cuppa before falling into a deep slumber. Until next time....
Happy Travelling
Trev
Atherton Laburnum Rovers v Eagley
Thursday, 31/03/05
Goldline Trophy Final
It's my first Cup Final of the season, but as yet it doesn't feature watching Sheffield, although I have high hopes of seeing them lift one if not two trophies this season. We'd planned this a while ago when Tim from ALR informed John that they'd reached the final. At this rate it looks like it will be an annual visit to the Reebok as we saw the same two teams last year, only that was the Hospital Cup Final. ALR actually reached this final too, and won it , but we were too late finding out about that one for some reason.Back to the plot......it coincided with Jan and Tanja's visit, and I know Jan would be up for it as it would yet another new ground for him to visit. John called in on his way to work to leave me the spare car keys, telling me that he'll inform the security guard to keep his eye out for two shifty looking guys around five O'clock hanging around Sammy. He couldn't stop for a cuppa, so we sat down to a full English breakfast which Jan and Tanja really like when they're over here. Then we were off to town as they wanted to stock up on English books and videos. I'm not saying they bought a lot, but Sammy will feel heavier than if Deano, Stu and the Beermonster were in the back seat!
Back at home we had time for a sandwich and cuppa then me and Jan set off by bus to meet John at work. Tanja decided she didn't want to come with us as she preferred to stay at home and do 'girlie' things like wash her hair etc. Actually, she said she would watch a video, or do some drawing or knitting. Knowing her, she'll do all the lot together as she's very talented, and she speaks at least four languages...not including broad Yorkshire (as yet).
We arrived in good time to meet John and I said to Jan , "I'd better go and tell the security man we're here, before we try and get in the car." So I did, and you know what he said? "I thought you were the guys that John informed me about, because you certainly do look a bit shifty to me" The b*****d ! Went and unlocked Sammy and put the radio on while we waited for John. we got quite a few funny looks from the rest of the workforce as we were getting in the car, but no one challenged us. In fact the woman getting in the car next to Sammy just smiled and said hello, and this was while I was trying to get the steering lock undone. I guess she must have known how hopeless I am with it, as, even with a bloody key I can't get the damn thing off!
It's a steady drive over Woodhead with no traffic hold ups. It's also a bit overcast and misty but not cold. We can usually see the stadium from quite a distant, but tonight we're virtually on top of it before we recognise it, although thankfully it was easy to follow the road signs. There's still an hour to go so we walk round the outside of the stadium and find Bolton's club shop. It's actually late night opening too, so we wander in so Jan can get his souvenir pennant to add to his collection. We didn't realise this last year, but the stadium is right next to a retail park, and I can see the signs for McDonald's and KFC. So, being as John hasn't had anything to eat I suggest we go and get something which they both agreed on. I ask John which he preferred. "Well Trev. Being as I've never been in either one of them before I'll let you decide." So we went to KFC for chicken and chips.
We're hoping to meet Tim tonight again, but this time it'll probably only after the match as he's arrived early with Angela as they're going to a dinner in one of the executive boxes first! So we make our way into the ground , and this time we do get to sit with the Atherton supporters. I say this because last year there were two entrances but the stewards didn't (or wouldn't) tell us which side each teams supporters were sitting, so we ended up with the Eagley lot, mind you, we weren't the only ones.
As we get into the main stand there are some cheerleaders dancing at the side of the pitch so I suggested we go and sit at the front. John said, "Behave Trevor!" We actually got some good seats near the half way line. John then received a text from Roy (the Clitheroe supporter) asking where we were. So John phoned him and he came and sat with us along with his mate Peter.
The match gets off to a cracking start as the underdogs , Eagley score after only three minutes through HAMER. It wasn't long before the teams were level though as HOWARD got on the scoresheet from the penalty spot. It was nearly all ALR then and on 18 minutes they took the lead when WESTWOOD was on hand to head home from a free kick. That's the way it stayed until half time . Jan was taking plenty of photo's , and he'd even managed to do a little video sequence on his digital camera.
So it was time for a gossip with Roy and Peter, when who should come towards us from the posh seats...it's only Tim and Angela. I think they just wanted to see where the 'common' fans sat. It's a good job I recognised Angela first because I would have missed Tim. Probably because he had a suit on. Funny that..John never mentioned he'd got a court appearance before the match! We managed to get a few sentences in before they went for their tea in china cups and prawn sandwiches.
The second half gets underway and this time it's Atherton's turn to get the early goal as OBONG slots the ball home. At this stage it looked all over but Eagley had other ideas. They started to press forward and ALR seemed to take their foot off the pedal so to speak.Luckily for them , the Eagley centre forward Carl Grimshaw 'panicked' everytime he was through on goal. They finally did pull reduce the arrears in the 50th minute as CARR got on the scoresheet. We were certainly getting value for money in an exciting game. The Eagley fans were making the most noise now in a crowd of just over 1500. They were even louder on 65 minutes, when the man who couldn't hit a barn door even if he was standing in front of it ,GRIMSHAW scored with a long range effort from 2 yards out! As exciting as the game was, we really didn't want it to go to extra time, so we were silently praying that someone would get a winner in normal time. We were rewarded on 88 minutes when HOWARD got his second of the match to put ALR back in front.It was like deja vue, as the same thing happened last year. However, there was still time for yet more action as the fourth official held up the board to indicate four minutes of added time.(Yes, we even had a fourth official AND electronic boards). Eagley went for it big style by throwing everyone forward. Unfortunately this left them exposed at the back and an ALR attack is brought to an abrupt end when the only Eagley defender present fouls the forward and ends up being sent off, which was a pity really as the match had been played in a good spirit, but rules is rules. From the resulting free kick HOWARD thrashes the ball home to complete his hat trick. At this stage, with only seconds left, the other side of the stand is emptying fast as the so called Eagley supporters decide to leave before the end because they know the team has lost the match.I can't understand that, it happened last year too. You'd think they would stay to give them some applause and see them collect their medals, I know we certainly would. Anyway. it was left to the remaining true Eagley supporters and everyone else to applaud both teams as they came up for their presentations. There was a Man of the Match presentation too. That went to the Eagley centre forward Grimshaw!! I think it must have been David Blunkett who picked him, or perhaps it was his dog!
Afterwards we waited outside to meet Tim for a chat and also pick up some programmes he'd brought for John, then it was homeward bound. We've got the radio to keep us company and we also have something to celebrate too. As we're on the outskirts of Manchester,we all look at the mileometer as Sammy clocks 60,000 miles. They weren't all done evening I might add, although most of them have been done following the lads on the road.
John drops me and Jan off as he heads home for a well earned rest. Tanja has already gone to bed so I say goodnight to Jan as he goes upstairs and I settle down to a nice cup of tea. One final gone, how many more I wonder? Until next time....
Happy Travelling
Trev
Eccleshill United v Sheffield
Tuesday, 12/04/05
Would you believe this is our last away league match ? Is it just me or is it becoming a regular occurrence to play Eccleshill away at the end of the season. John picks me up on his way home from work, and then it's off to get Deano and Maz too after they've finished. John is doing quite a good job of dodging all the tea-time traffic hold ups as we head back to his place after dropping Deano and Maz off. As we're travelling northwards and there's only going to be four of us altogether, Stu is doing the driving. So after a quick sit down whilst John gets ready it's off down the road to meet up with Deano. It's a pleasant night weatherwise with the sun still shining and quite warm. We start walking down the road to meet Stu, and he does well as he's only five minutes late. He has trouble weaving in and out of all the slow moving traffic. He then gives way to a learner driver, before commenting, "I can't believe they're teaching women to drive!" There's some really good banter going on in the car, too much for me to write down here apart from the fact that I'm the brunt of the jokes about the comment in my last article about how much does a Greek Urn !!! (I knew what I wanted to write at the time, but by the time the message got from my head to my fingers it came out all wrong, at least it got a laugh) All this and we haven't even left the boundary of Sheffield yet.
Deano is telling us about his exploits in London when him and Maz went to see the Finn Brothers at the Royal Albert Hall. On the outskirts of Bradford John thinks he's spotted a UFO heading towards Leeds/Bradford airport. Funny that, he spots a UFO but can't spot a Preston's of Potto lorry, sorry John but no points for UFO's. Stu decides to take a different route to the ground. When John asks him about it, he just say's "I wanted to show off." As we're approaching the ground Stu pulls up at some traffic lights, right next to an old Austin car which is about 50 years old. Deano say's "I know you can drive fast Stu, but I didn't think you could go that fast you could back in time!" I was going to text Billy Two Pies to get us the programmes, but he was on holiday at Whitby, no doubt watching Pickering tonight yet again (how many times is that this season Bill, seven?)
There is still plenty of programmes left when we arrive, and that may be due to the fact that with just over 15 minutes to kick off we're about the only paying people inside the ground. Andy and Tim arrive shortly afterwards, with their entourages, Tim having taken the scenic route around Bradford much to Sue's annoyance. We tell him "Follow Stu back, but you'll have to go at warp speed as he's expecting to be home by 10 O'clock." John said he wasn't sure of the way as he had his eyes shut most of the time as he clung onto the dashboard. I thought I'd heard him muttering as we were coming here, I guess he was just praying aloud ! John tries to get into the clubhouse but it's locked from the inside, they won't let anyone in from the ground side until the game has started for some peculiar reason. Stu gets the local nutter this time. He's telling us how 'his' supermarket has provided the pies for half time. We ask him which one. When he replies "Morrisons" we have to stop Stu from tearing him limb from limb ! Stu's employers have just announced record breaking profits, but Stu say's he won't see any of it. It doesn't stop us ribbing him about it. Alan (Methley) says there were 68 people at Borrowash on Saturday, Deano says "Lucky for us they're wasn't one more there!" We actually wondered where the others had come from as Stu only counted 54.
The game kicks off and there's a surprise for us as Baggy is making a return as one of the substitutes. It's the second comeback of the night as John has brought some Minstrels along, which we haven't had for ages. Billy is offering around some orange Kit-Kat cubes. Deano says "No wonder they're orange, they're a year out of date." Of course Sue hears this and immediately grabs the bag off Billy, but he tells her he was only kidding.
It's getting physical out on the pitch with one or two scuffles taking place. It's not helped by the fact that the referee is having a poor game all round. Eccleshill took the lead early on and just before half time one of their fans (who had been sat on his own in the stand) passed us and shouted we were the dirtiest team they'd played this season. Naturally we gave him plenty of abuse back.
After a drink and pie at half time it was back outside to the far end. Eccleshill's keeper was very vocal, disputing every call against his team. A real Jekyll and Hyde character, one minute trading banter with us, the next minute hurling abuse at all and sundry ! When Asa fell down in front of him after a corner he yelled at the ref "Tell him ref, he's going down like a bag of shit!" Little Billy is laughing his head off at this, whilst Tim is shouting at the keeper "Can you watch your language there's children about" before adding, "It's taken me 6 months to get him to say manure!" He's also doing great barking impressions after the keeper called our players mongrels during the first half.
The lads are chasing the game whilst Eccleshill are just content to defend and hit on the break, that and waste loads of time, especially the keeper. Tev chases a long ball and gets rewarded by getting it whacked straight in the nuts. The referee blows up for a handball ! John shouts "Rubbish ref, check his eyes, they're watering." You can tell how thrilling the game was as some of our lot are busy playing games on their mobile phones. Stu was bored too, and full of tea, so he went behind the fence for a wee. Three minutes left and we do get to cheer something as Marshy fires home an equaliser, but our joy is short lived as the home side have one last attack just before full time and score the winner. That caps the end of our season as far as finishing champions at least. It also means having to come back here again next year. Perhaps the fixture planners will do us a favour and get us here at the start of the season on a Saturday afternoon for a change.
Back in the car and we listen to the radio, football of course. Some commentator comes out with a gem when he says Sheffield United came away from Nottingham Forest with a 1-0 draw ! Deano is the first to get dropped off, then it's further up the road to let John out. Of course Stu has to give a blast on his horn as we drive off. It's compulsory. and after all it's only just gone 10.30. He finally drops me off and it's straight to bed, as I can't even be bothered with a cuppa or a Jaffa cake. Thanks once again to all those unlikely souls who I've had the pleasure to capture within these articles, I'll be on the look out again next season, so beware ! It may have been the last away league match, but there's still more 'travels' lined up before the summer. Until next time.....
Happy Travelling
Trev
Borrowash Victoria v Sheffield
Saturday, 09/04/05
It's a bright and breezy afternoon as John picks me up from work, a lot better than when I left home this morning in the cold and driving rain. I feel like I'm equipped for the Arctic with all the clothes I've got on, but you never know what it's going to turn out like at that time in the morning. No Deano today as he was busy at home, and Maz was staying in anyway being as they're off out tonight with Stu to see 'Doves' play at the Octagon. That's where we're heading now, to pick up Stu and Liam, as there's enough room to car share for this trip. John is in a devilish mood as he hogs the outside lane of the dual carriageway, going at the correct speed whilst the car behind is trying his best to get past, even switching lanes, but John is always one step ahead of him. The other driver finally pulls up alongside us at some traffic lights, and John said "I really enjoyed that!" He felt even better when he realised it was a taxi. Just before our normal turn off to Stu's I tell John another way to get there. So we follow that and yes, we do get there but he's unhappy as we're already facing the right way. What this means folks is that he doesn't have to make his customary turn around in next doors drive, although I'm sure he'll make up for it on the way home. We all give a royal wave to Lynn and then we're on our way.
It's hard to believe it's the penultimate away match, and the last Saturday one, and what a season of travelling it's been, only losing four times (so far) on the road, and two of those were in cup competitions. There's still a chance of two cup final appearances too. Liam is busy writing some bits down ready to do his version of the match report. Stu says "It looks like a spider has crawled across the page". Liam asks for an explanation of this which his dad tries to give him but to no avail as the little 'un can't see where this spider comes into the equation. In the end Stu gives up and says, "I'm going to look out of the window at these cows." Me and John have a good laugh at that as John gently tells him, "Stu ? Those cows are actually horses." He takes it all in, then says, "Okay, I panicked!" We've been listening to a comedy programme on the radio and John asked if we were still travelling in the right direction as he'd got tears in his eyes from laughing so much. We arrive in plenty of time, with just the one detour because we turned off the road too early under the wrong bridge, but this was soon corrected, even though Stu was trying to navigate us onto the wrong side of the A52.
I'd called Billy Two Pies earlier to get us all a programme, and Stu also told me to ask him to get a programme from the other match that was taking place at the sports complex that afternoon involving Graham Street Prims Reserves, who were playing Rainworth Miners Welfare Reserves. He was only bluffing but I told Bill anyway, who just sort of went silent for a minute then said he'd see what he could do. Now Stu knew full well that the likelihood of them producing a programme was nil but he just wanted to wind Bill up.
Chris and Nikki had managed to make it too, as they had just arrived. The Beermonster had given him the directions and he only made the one detour too, but his one had them going right through the centre of Borrowash, and you can imagine how busy that was as both shops were open at the same time ! Bill comes across the car park to give us the programmes we asked for. Stu asks him about the Graham Street Prims one and Bill says, "It'll be about five minutes Stu, the secretary is just running a few more off on the photocopier." Stu is lost for words until Bill grins and says..."Double bluff", before walking off smiling to himself.
Inside the ground and Chris is straight to the snack bar, I think he's trying to nick Bill's two pies nickname for himself ! Stu has brought some Terry's Mini Eggs, and I said to him, "Oh, Terry's eggs, great." He replied with "They're not Terry's, they're Liam's". I should have known that was coming.
The game kicks off and the lads have already had one attack by the time we get behind the goal. Vinny comes across to take a corner and we tell him we thought it was a new player we'd got as we didn't recognise him with his cropped hair. Two minutes gone and Wardy heads us in front. Ten minutes later and he gets another through some unselfish work by Cheets. We are looking for plenty of goals today against the team at the bottom of the league who haven't won a league match all season. Bill is trying to listen to some football commentary on his radio, but the reception is poor. He gets a better signal when he rests it on the metal surround near the floodlight....so much for D A B digital. Borrowash pull a goal back just before half time, as once more we go to feed our faces at the snack bar.
The second half was totally different as it looked as though we were the team at the bottom of the league as the hosts scored twice to take the lead. Tim was getting quite agitated as chance after chance went begging, although in fairness to their keeper he was in top form. With the prospect of us being the first team to lose to Borrowash I busied myself filling in a sponsorship form for Andy's wife. Thankfully in added time Holmesy rescued a point with a shot from the edge of the area. We really needed all three points, but at least it saved a lot of embarrassment both on and off the pitch.
No problem finding the way back towards the motorway this time as we head for home. Sammy passes a proper racing car on the motorway, mind you, it was on the back of a trailer. He also gets his 10 points for the day by spotting an Eddie Stobart lorry. We're just about to go under a railway bridge when a Virgin train goes past. A little voice then pipes up and says, "What's a virgin Dad?" "Go on then Stu" I said, let's hear it." So he starts to waffle on about how you can get a different 'version' (sounding like virgin) of things. Liam is not convinced so then Stu goes on about verging on the edge of things, and parking on a grass verge etc. etc. In the end he says, "Ask your Mum!" Stu then tells us a joke that John can use in the programme. Liam does the same, only his joke is too rude to be printed. This goes on for about three more times until Stu says, "Stop it now Liam, you're embarrassing me." Well it can't be bad when Dad's jokes can be printed and his son's would have to be censored. Thankfully (for Stu) we are approaching his house, and John makes up for my mistake earlier by using the neighbours drive to turn around in. I think he may well send them a Christmas card just to thank them, and confuse them no doubt wondering who the hell it was from. It's then homeward bound for me as John drops me off. Time for some chicken and salad and then settle down in front of the television, and fall asleep! Until next time....
Happy Travelling
Trev
Hallam v Sheffield
Tuesday, 05/04/05
Tonight it's the big one. Okay, we're at the opposite ends of the league table and thankfully it's us that are looking down at them, but you can cast the form book aside. Having 'got one over' on them a few weeks ago at the Coach and Horses, more of the same would be greatly appreciated.
It's been my first day back at work after almost two weeks on holiday (yes folks, I do work sometimes) and although I'm tired the prospect of tonight's encounter has kept me lively all afternoon. John has the chance to go straight to the ground from home (with Deano and Maz) as Les's son Chris (half pint) is picking us up, due to the fact he doesn't know how to get to the ground. God...even I know that! Chris and his girlfriend have started to come more often this season (ooo err Missus), but it all depends on their work commitments as they both work weekends with Chris being a deputy manager and Nicky a police officer.
Stu will miss the first half as he's on late shift but he'll be with us for the second half. We're trying something new this evening where I will write the first half match report, then Stu will take over at half time...should be interesting! We set off in plenty of time in order to get a parking place as me and Les guide him up to Sandygate. There's still room in the pub car park, so he parks in there and they all go in for a drink while I go into the ground to find the others. John, Deano and Maz appear shortly after I get inside, John wearing his brand new red and black Ferrari scarf, all the way from Italy. Deano takes one look at the muddy pitch and says "Nice to see a pitch worse than ours used to be." Everyone is turning up for this game. Gwen has managed to make it too, having planned to be working in or near Sheffield today. Craig's here, that's two away matches on the trot...will he make Borrowash on Saturday? Watch this space. Even Richard Tims is gracing us with his presence, putting aside his globe trotting sojourn of promoting the club to one side for this evening. As we're having a chat after getting a cuppa from the snack bar, Deano is busy talking to someone who he obviously knows who's joined our little group. He then introduces us, and guess what, it's only that well read celebrity from the Behind The Flag website, Mr X !!! It was a bigger honour than when I went to number 10 to meet Tony!
I phone Stu up with the team line-ups so he can get a good start for the report (not bad when he can start the report from work) then I join the others who have taken up our usual place in the left side of the stand.
We're very vocal, cheering the lads on despite going a goal down early on. John is handing round the chocolate buttons whilst Sue is trying to get rid of some fruit allsorts. They are all received gratefully. The lads equalise, then take the lead as everything is looking on course for a win. Hallam then put things on hold by drawing level themselves, although it's still the Sheffield fans that are making the most noise. They were even louder on 45 minutes as Wardy put us back in front from the penalty spot. Chris and Les head off for the bar, whilst me and John go for a cuppa. While I'm in the queue I phone Stu to ask if he wants one getting. He says yes as he's almost at the ground then he asks me what the score is. When I tell him "we're winning 3-2" he doesn't believe me. His actual words were far more colourful but I'm sure that's what he meant.
Just before the start of the second half Geordie Clive (Hallam fan) comes over to say hello to us. We've known him for years and he does come to the Coach and Horses on occasions. Of course we give him some ribbing, but he takes it all in good part. The evening gets better and better as the lads add another two goals with Hallam managing to pull another one back. The final whistle goes and it's jubilation all round, well, for one half of Sheffield it is. It's always such a good feeling to win the derby games, but to score five in each of them was some feat. As the Hallam team leave the pitch Les shouts, "What's the time?" and we all reply "Five past Spooner!" I wonder why he didn't join in the laughter? (Message to Spoons - Trev and Les' home address and phone numbers are obtainable by e-mailing BTF directly - Deano).
The team go into their post-match huddle and there's just the Sheffield fans left in the ground to applaud the lads off the pitch, the locals having left early (to get home for their Ovaltine no doubt)
I say cheerio to John and head back to the car park with Les and the others, and I'm escorted home by a policewoman in the back of a car ! Once at home I do my own celebrating with a cappuccino and some champagne truffles! Can we play them every week? Until next time....
Happy Travelling
Trev
Goole v Sheffield
Saturday, 02/04/05
Oh what a beautiful morning! I've not been up long when John calls on his way to work. It's warm and sunny and John says he may even consider putting his shorts on for the match....Summer must just be around the corner (mind you, I remember one year we went to Goole in the pouring rain, and he had his shorts on then!) After a leisurely cooked breakfast me ,Jan and Tanja have a stroll across the park to the shops so they can stock up on English tea-bags to take back home with them. We then watched extra time of the 1966 World Cup Final. Me and Jan having been watching bits of it all week. Luckily England win (again), but we still have doubts about Hurst's second goal. It's time to set off then to get the bus as Stu is taking us to the match but he doesn't finish work until 1.30, so we're meeting him at the store. Tanja has managed to avoid two matches this week, but with Paula on holiday and Lynne and Helen going to Hillsborough we 'persuade' her to join us. Told her we were going to the Victoria Pleasure Ground....sounded a lot better than saying you're going to a football match! She's brought a book with her, just in case she gets bored. We could have left her at home sunbathing in the garden...but where's the fun in that? Jan has to come to this one as, at present he's our lucky mascot, having never seen us lose away from home.
Just as we're getting up to get off the bus I see Stu running into the store. So, as we enter it I tell the others just to wait at the entrance. However, it's really hot and Tanja wants an ice cream, so off they go around the store. I've seen the store detective, he hasn't moved from the spot where he can see us, but he decides to follow Jan and Tanja around. I then spot Stu, trying to hide behind a member of staff on his way to meet me. I told him I'd spotted him earlier and that's why I hadn't shifted from where I was stood. He said he knew, as he'd told the store detective to 'Keep an eye out' for me. Just then the others appear. I get me and Stu a drink to have on the way over to Goole and, as I'm going to pay the cashier he says, "Here Trev, try this" and assists me in the use of the self service tills. I remember John using one of these at the other Tesco the other night coming back from a match. It's then our turn to embarrass him as we all ask him to pose for a photo in his shirt and tie, with staff and customers looking on wondering what the occasion is. After that it's time for him to hand over responsibility and we're off on our way. I ask if we're picking Liam up on the way but Stu informs me that the cub reporter will not be taking in the delights of the Victoria Pleasure Ground for two reasons. First off he has a project to do for school about Greece, and him and his Mum intend to to make a Grecian urn out of papier mache this afternoon (or something like that). Okay then go on....how much does a Grecian urn ? About 10 Euros an hour ! (Sorry chaps, I had to leave Trev's original version in. Much funnier than the proper joke !! - Deano) The second reason is that Stu says he's a little shy with strangers, now the words Liam and shy don't seem to go together in my book, and lets face it you can't get anyone stranger than us lot! We point the Millennium Falcon heading North and away we go. There's little traffic to worry about on the way there and we make good time, arriving just under an hour after departure. We even found the ground without a map and I recognised some of the landmarks ( not bad after 5 years navigating!).
It's still lovely and sunny as we partake of a cup of tea and a hot dog with John, who arrived just after us. David and Deirdre Risely have come to the match too so my first words are "That's it then, we'll lose!" I then carry on with, "What are you doing here? It's not Pickering you know, or do you know another nice little restaurant round here too."
With the game about to start we go and stand on the covered terracing for a better view. Who should we see then as he passes right by us, it's only Geoff. He's decided to give Stocksbridge and Duncan a rest today and come and watch us instead. Everyone appears to be turning up for this match, even Craig has made an appearance. I wouldn't be surprised if Richard Tims was the next to walk past...okay then, yes I would. Not a great deal to cheer about on the pitch as Goole take the lead, but the lads draw level with a debatable penalty. You can disagree with me if you like but I was sure that 'Tev' caught his studs in the grass and fell over, it didn't look like he was tripped and he certainly didn't dive, but hey ..who cares ! Makes up a bit for some of the crap decisions we've had against us this season. John is once more handing out the chocolate buttons...I can only assume that once again he left the purchasing of these to Lynne as they were the normal ones and not the large ones.....I'll have to have words with her. With the half nearing completion, Goole grab the lead as the referee blows for half time.
Back to the snack bar and Geoff is treating us to drinks. As usual he's giving a sob story to the serving ladies about how he's not got much money and if he has to pay for all these drinks he won't be able to take his wife out (yet another Lynn !) tonight. They're having none of it though as I think they still remember his 'charm' from last season.
For the second half we stand in the sun, a tan is about all we're going to get today as the lads just can't get through a strong Goole defence. In fact at one point we decide to start being train spotters and watch the trains roll past every few minutes, waving as they pass (I'm not with this lot - Deano). Despite having three forwards on at the end we can't salvage anything from the game as Goole take a giant leap in the promotion chase. I must admit it did feel funny losing away as it's happened so rarely this season. At least Jan can now lose the burden of being a lucky mascot, it's a good job he'll be going home before our next away match ! Anyway, we can always blame Geoff .
We stand outside for about twenty minutes as some of the others chat to Jan and Tanja as they'll not see them again this season as they fly home on Monday. Just before we set off a bright yellow Lotus pulls up across the street and Stu says, "That looks a bit out of place here, "To which Deano replies "Well it's probably been nicked."
By the time we get in the car for the drive home we've even forgotten the disappointment of the match. Once again it's a good journey back as we listen to details of the boxing match that took place at Newcastle this afternoon. Stu drops us off and I phone Lynn to let her know her other 'boy' is safe and sound and on his way home. Although I did buy some Jaffa cakes this morning, they stay in the cupboard as we indulge ourselves with fish and chips, a favourite meal of our German supporters club. Next up is a mouth watering trip to Sandygate !
Until next time
Happy Travelling
Trev
Long Eaton United v Sheffield
Saturday, 26/03/05
It's an early start today as John picks me up from home. The reason being that the German branch of the supporters club (Jan and Tanja) are over here on holiday, the only thing today is that Tanja is stopping at Johns to chat with Paula and Jan is off to Hillsborough ! However, we'll forgive him as he will be at our game on Monday and hopefully he'll be our 'lucky mascot' for the trip to Goole next week. Most matches today are kicking off early due to England's World Cup qualifying match against Northern Ireland being screened live on the television at 3 oclock, just when we'll be stood behind the goal at Long Eaton watching the lads.
First stop is back to Johns, so Jan can walk down to the Owls game with Lynne and Helen. Just before they are ready to leave Lynne informs John that his 'lucky socks' are in the tumble dryer. As he gives her a puzzled look she sighs and says "Just push it (meaning the stop button) to get them out". He now looks even more puzzled as he has visions of pushing the tumble dryer to the car, and taking the socks to the match that way ! Luckily Paula steps in to rescue the situation by saying "Don't worry Mum, I'll sort him out". The look on Lynne's face indicates that she probably stopped worrying years ago ! It seems as if John is still in a holiday mood. This all stemmed from yesterday when he had a day off work (well it was Good Friday). After playing badminton at lunchtime we went to pick Jan and Tanja up from Manchester Airport and as we were approaching a set of traffic lights at Ecclesfield, the Kinks were on the radio, so John cranked up the volume and started headbanging as we waited for the lights to change. He was even tapping away on the steering wheel until he hit the horn by accident and scared us both. The bloke in the car in front didn't look too pleased either!
Back to today. We leave the girls tinkling away at the piano...I did call down to ask if they knew any Elton John songs, but I think that fell on deaf ears. We call down the road to pick up Deano and Maz, it's raining and a bit cool but who cares, it's a Bank Holiday weekend, what else can you expect ! We listen to the Owls match for the first half, then luckily we're out of range to pick up the radio signal, which is a good job being as they are trailing 1-0 at the time we lose the signal.
We pass a sports car on the way, nothing unusual there as sometimes 'Sammy' can be a right demon on the road depending what mood he's in. No, the point of this observation was the fact that here was this guy sitting in his flash sports car......and he's got the roof rolled down ! If it carries on raining he'll end up having to use buckets to bail the water out. I rest my eyes for ten minutes (just one at a time though) then it's time for my navigational duties. We both remembered to bring the directions (so we can get lost in stereo!) which Stu kindly supplied us with and we actually find the ground with ease. We did make one slight detour, but that was only because we were in the wrong lane and had to follow the traffic flow as 'Gentleman John' would never cut anyone up on the road.
Just as we park the car, Half-Pint (Chris) and Nicky pull in next to us and he's brought The Beermonster with him. They head straight for the bar as me and John partake of a burger and a cup of tea. Outside just before the kick-off and we go and take our place behind the goal, after walking right around the ground to get there.
Not much to report for this half except the fact that it seems to have become a Minstrel free zone for most of this season, due to the fact that John has had difficulty obtaining supplies, but we are suitably compensated by the fact he's bringing Giant Cadbury's Chocolate Buttons instead ! Towards the end of the half Chris asks where the toilets are. We point to the clubhouse around the other side of the ground but he says he can't wait that long and looks for a place nearby. As he wanders off among the 5-a-side pitches we tell him to be careful, as Deano has his camera out and he could find himself on the front page of the website by tonight ! Although it's her day off (police woman) I was hoping that Nicky would 'nick' him for a public order offence....now THAT would have been a laugh!
No score at the break so off we go to the snack bar. John is trying to decide between chips or a bacon butty. He decides on chips, but by the time we get to the front of the queue they've sold out, so it's bacon butties all round. Chris tries to confuse his dad by asking for a bacon butty with cheese on, but he's having none of it - "Tha can ave a bacon butty, ne're mind this fancy food !" says The Beermonster, or words to that effect. We get back just as the second half is about to kick-off and as we eat away the lads score. We do our best to cheer, but it's hard with a mouthful of buttie whilst holding a cup of tea. Just to emphasise the point, Wardy doubles the score three minutes later, only this time we're ready to cheer. As a game that was it as there is no way the lads are going to lose this, so we just enjoyed the rest of the match, hoping that more goals would come. Gwen says "Bill's in such a good mood I could ask for anything". Deano replies "So long as it's something depraved. Oh no, that's just me thinking out loud !" Stu phones me near the end of the game from work to find out what's happening, so I start to tell him. I can hear another phone in the background so he says "Hang on Trev while I answer the other phone". I then hear him say "I'll call you back in a minute, I'm on an important call on the other line". (Well Lynn, I can tell you, that the important call was me!) It's not long after our conversation that the referee blows for full time, much to our delight, and once again as the players go into their post match huddle, we do the same. One of the Long Eaton fans smiles as he walks past and says "Won't they let you join in on their huddle then?".
Back in the car and it's an uneventful journey back to John's where Jan has been watching England on the television. We have a chat and a cuppa while we watch the new Doctor Who episode then it's off home for me and my guests after another satisfying day, and looking forward to more games this week. Until next time....
Happy Travelling
Trev
Liversedge v Sheffield
Saturday, 19/03/05
Today I'm being picked up by Stu, who arrives early, which is all well and good as I've sneaked out of work early too ! Then it's off towards home to pick Liam up. This is due to the fact that once again he's been at a birthday party this morning which involved a trip to the pictures and then they are all being dropped off at one of the pubs in the area....not to go for a drink I might add, just as a meeting point for parents to pick up their little ones. Liam and Lynn are already waiting as we arrive and then it's straight off to drop Lynn at home. Lucky for her really, as the original plan was to pick both Liam and Lynn up from Meadowhall and both of them to go to the match. I can tell she's gutted at not going to the match by the look on her face.....NOT!
We set off and I ask Liam to tell me about the film he saw (Valiant). By the time he's got through telling us all about it I've just about lost the will to live ! It's not too long after that that he falls asleep. It's a lovely day and being as we're all parched Stu pulls into a garage to buy us some drinks for the way down. The rest of the journey is straight forward as there is little traffic to worry about and Stu finds the ground without any problems. Once inside we make our way towards the snack bar where we can see John, Deano and Maz waiting. You can tell that it's spring as John has his shorts on ! It's pies and drinks all round as we wait for the arrival of the rest of our increasing away support. There's no Tim, Sue and little Billy today, but Tim did tell me on Tuesday night that they couldn't make today, and it's not because they're going shopping either. It's Tim's works Christmas 'do' somewhere in Derby. It has to be true as no one would even dare to make up such a wild excuse as that for the middle of March!
As the team is kicking up hill in the first half, we avoid standing behind the goal as the stand will put us in the shade, so we move to the side of the goal to catch some of the suns rays. The lads go a goal down early on and really struggle this half. One or two challenges are met with abuse from the very vociferous old codgers in the stand, the moaning old buggers ! Mind you, I think they get it from the manager and his assistant as they never stop telling the referee what he should be doing. I suggest that we go and sit next to them for the second half, just to piss them off.
Half time and it's back for more drinks and then we wander down to the far end where we can bask in the sun as we stand on the bank. Deano has brought the alternative bigger flag today, which is displayed on the railings behind us. As we watch the game I get one of the locals talking to me. This gives Stu a chance to have a good laugh at my predicament, before he (the nutter) decides to move off and annoy someone else instead. With the lads attacking towards us we shout for a penalty as Carro's cross hits the defenders hand. Much to our delight and Liversedge's annoyance, the referee agrees with us and awards a penalty. Up steps Wardy to blast the ball home and put us level. With the sun right in our faces, Stu is holding his match report up to his eyes to shield himself from the glare. He soon realises that he's got his sunglasses in his pocket, so puts them on. Although there has been one or two misses at the other end, the lads are piling on the pressure. It's at this point that Deano informs us that as we were getting our drinks a pigeon crapped on his hand at half time, so that should bring us luck. We thought that it meant our equaliser, but things were going to get better. Once again, with the clock on 90 minutes, we grab a winner, exactly as we did on last years visit here...in fact Stu says he only has to alter a few names and he could probably use last years report. Of course as Tev slams the ball in the net we all go mental...funnily enough, the rest of the ground goes very quiet ! There's just time for Liversedge to restart the game before the referee blows for full time. After applauding the players they go into their now customary group hug....and we do the same (we started it at Stocksbridge). Then everyone is applauding each other...in fact Macca even sent Deano a text later saying....'nice huddle!'
I change drivers as I'm now in Sammy for the journey home. We listen to a tape of Timmsy and Wally who were interviewed on Radio Sheffield 10 days ago. Another successful day out for all concerned. Until next time...
Happy Travelling
Trev
Stocksbridge PS v Sheffield
Tuesday, 08/03/05
I've almost got withdrawal symptoms as it's nearly three weeks since we were last on our travels. This time it's up to local rivals Stocksbridge for this Senior Cup tie, a tie we've all been waiting to see ever since the draw was made. It's ironic really as this 'away' fixture is the nearest ground to John and Deano's homes we've played at this season, being a 15 minute ride away. It's not only the prospect of the lads against higher league opposition, but also the fact that we'll see Geoff there, who says he'll be shouting for us anyway. I pick Les up as we start the first part of our journey by catching the number 17 to John's house. He's actually there with Deano at the bottom of the road as we get off the bus. Les says, "It's great travelling with John as you always get a mystery tour thrown into the journey at some point." This is probably in reference to the fact that neither of us has any idea where we are as he drives us through some 'murky woods.' There's some easy listening music on the radio too. Deano says, "I feel like an extra from 'The last of the Summer Wine'. It's like an old folks outing."To which the rest of us looked around at each other and then said......."It is!"
We arrive in plenty of time and meet Geoff and Stu inside. We've promised not to pester Geoff for refreshments tonight, so John is first to the counter to buy him one instead, but Stu had already beat him to it. Billy Two Pies is already there too. I phoned earlier so he could get the programmes as they have a tendency to run out pretty quickly here, tonight being the exception as they seem to have loads left!
First half sees us stood near the players entrance as we watch the lads take a 2-0 lead and make it look easy. We also have the officials 'entertaining' us , as the assistant can't keep up with play and the referee is seeing things that no one else in the ground can....including the players! Then of course, there's Geoff to keep us amused. Bill has his radio on listening to the Chelsea /Barcelona match, and he tells us Chelsea have scored. When Geoff asks "Who scored?"(meaning the scorer), we all shout, "Chelsea". Of course, I can't tell you his exact reply to that as this is a family site (oh no it's not - Deano), but I'll leave it to your imagination.
Half time, and Les is already on his way back with the teas, with the help of Rob and Dave (Ding-dong), which saves me a trip at least. Unfortunately John still has to go back as there's no sugar in his tea. Little Liam phones his dad up to ask what the score is and to say goodnight before bed. Just before they finish the conversation, Stu says "Hang on Liam" and passes the phone to Geoff. He has a few minutes talking to Liam then hands the phone back to Stu, who we last hear saying to Liam, "It was Geoff, who did you think it was!" Which made us all laugh.
For the second half we decide to walk round to the far side and stand behind the goal. Bill is stood at the far side away from us listening to his radio, he looks like a lost Eskimo with his coat hood up! As usual there's some good banter going on between us. Stocksbridge do in fact score a goal, but the lads are creating chance after chance without moving further in front. We decided it was just for our benefit, to make it more exciting! Luckily the few chances that the home side create are easily dealt with by the defence. After one high ball into the area Bonno jumped to grasp it with ease, to which Stu shouts "What did I tell you, best pair of hands in the league, put that down Trev." Bet you thought I wouldn't Stu, didn't you?
We even get to have a laugh at their keepers expense, telling him how lucky he is to only have let two in. Every time he went to take a goal-kick we would try and put him off, then when he kicked it Deano would shout, "Oh you're average." To which John commented, "That's what Marilyn usually says isn't it?" I tell you, you don't get laughs like these every day. We didn't even need to heckle Duncan when he made his appearance from the substitutes bench as we figured he'd got enough problems with his dad encouraging him!
The referee eventually spoiled our entertainment by blowing for full time! Another fine victory on the road. Geoff was waiting for us when we got to the gate to wish us luck, no doubt we'll see him again before the season ends. Then it was back to the car and homeward bound. Once again we took the scenic route, with John dropping Deano off first as it's easier to do that. He then drove us virtually from his doorstep to home, instead of seeing us stood waiting for the bus, bless him. No Jaffa cakes to celebrate with tonight so I had a couple of McVities chocolate orange biscuits instead, and very nice too I might add ! Until next time...
Happy Travelling
Trev
Shirebrook Town v Sheffield
Wednesday, 16/02/05
It's our second visit of the season to Shirebrook. As I finished later at work it's a quick dash down the road to meet John. Deano is in the navigators seat for tonight as we're also picking up Stu and Liam again. Not bad for little Liam is it ? Monday it's Sutton Town. Wednesday it's Shirebrook Town, and where will he be watching his football on Saturday ? At the Nou Camp - Barcelona ! Quite a contrast. He's also in for a treat tonight as his mate Geoff from Barnsley is going to the match too. So he should be coming home to tell Lynn yet more different swear words ! It's the same as Monday, Liam is ready and into the car as his dad messes about getting ready. It doesn't feel as cold as it did on Monday, but I've put on yet another layer of clothing just in case.
It's a steady journey down, and just before we get there Geoff is on the phone to me to ask where we are. He's going to wait in the car-park for us. As we pull up we can spot him (and hear him) from the other side of the car-park as he's busy meeting up again with Andy and Tim and the others. He comes across and throws two training tops at me, which leave me gasping for breath. One is for me and one for John being as Duncan no longer has any use for them. I don't bother trying mine on as I know that I've already got too many clothes on. John gallantly tries his on, but has to be helped out of it when it gets stuck half way between being on or off ! After that we all venture inside the ground. There's quite a few supporters made the trip from Sheffield, in fact I would imagine we have one of the best away followings in the league, if you disregard shopping trips ! (Sorry Tim, I couldn't resist it) The first stop is the snack bar and Geoff hasn't changed at all. After John has asked him numerous times what he wants, he decides on a tea, only to change his mind as the assistant is pouring it out. He then has the cheek to ask if there's any chance of a biscuit, and the cheeky sod actually gets some, all for free ! He says "Hey Trev, I haven't lost it". I reply "I never knew you had it in the first place!"
Back outside and we go and stand behind the goal as the lads create numerous chances but only get the one goal, which cancels out an early strike from the home side. That's the way it stayed for the remainder of the half, although Geoff did make a good save as a wayward shot was heading towards Stu. Only thing was, Stu was just preparing to head it back onto the pitch. Back to the snack bar and this time Geoff is in the queue, so we say we want drinks and sausage rolls and pies etc. Good job we were only kidding. He does squeeze some more biscuits out of them though.
Second half sees the team kicking up the slope. Deano has already got his flag up as we emerge from the snack bar and make our way towards him. It looked like Andy was starting a war dance, but it turns out he's just trying to keep his feet warm. A few of us move up onto the banking for a better view and we see plenty of action, it's just a pity that the ball eludes the back of the net. Shirebrook then have the cheek to take the lead, and this with a goal that was punched in ! (Stu has the full details in his match report) This causes all sorts of mayhem on the pitch, which we can only watch and voice our own opinions of the matter. Needless to say, it sparks the game into life, and their supporters too.
We have one little Shirebrook fan near us, essentially he's there to retrieve the ball, but it doesn't stop him shouting for his team everytime we shout for ours. Liam keeps on walking past him, until his Dad takes control and stands with him. I think Liam wanted to take him on at football. Their keeper was even telling us it looked a 'dodgy' goal. Still, these things happen, lets hope it evens itself out over the season.
Despite our encouragement an equaliser was not forthcoming so we ended up losing, which was such a strange feeling away from home this season. Geoff left just before the final whistle, so naturally he got all the blame for the defeat ! Our next away match should be against Stocksbridge, where we'll see Geoff again, so we'll remind him what a lucky omen he is - NOT !
The journey home was uneventful but at least it was nice and warm. Liam fell asleep for a while, either that or we had all gone deaf as it was so quiet. He did manage to wake up by the time we arrived to drop him and Stu off, the only problem being that he was trying to get out of the car without removing his seat belt ! Eventually he was set free and we were off to Chez Trev where a cup of tea and some toast were tonight's delight before finally going to bed. Until next time....
Happy Travelling
Trev
Sutton Town U19's v Sheffield FC U19's
Monday, 14/02/05
It's a Monday night game for a change , which is sure to play havoc with my week, as it'll certainly disorientate me. Usual night matches on Tuesdays and Wednesdays I can cope with! So, what could be better on Valentine's Day than spending a freezing night on the terraces at Sutton Town? Well, how about a romantic candle-lit meal, soft music, low lights.....well, I can dream can't I ?
Anyway, back to reality! Stu is joining us tonight, and being as it's half term, Liam is coming along too. So first stop is up to Gleadless to pick them both up. I go and knock on the door and Liam is already there waiting, it's Stu who holds us up, with Lynn looking exasperated. We finally drive off, giving Lynn a wave as we go. Stu is sat in the front while I've got the company of Liam in the back. I ask if he's pleased to be going tonight and he says "Yes, but if school was not completely shut then I wouldn't be here as I would have had football training to go to." So that told me.
The journey is pleasant and uneventful as Stu guides us there with no trouble. It's bitterly cold, so once inside, we head for the snack bar. There's a few more supporters taking shelter in their and having a warm drink at the same time. Quite a few have Sheffield Wednesday hats on too, which is making little Liam, more than a bit agitated! We tell him to show the others his hat. So he proudly shows off his Luton Town hat. I wanted to make a joke about it, but knew it would only end up with me being on the wrong end of a battering from him. Just before kick-off, one of the others says , "I can't hear the roar of the crowd." To which I reply, "That's because we're all in here."
We finally prize ourselves out of the relatively warmth of the snack bar and stand on the nearest terrace. It is really cold, so our only hope is that the match doesn't require extra time to get a result. I look at our team and say to Stu, "Looks like we've got a new goalie." He informs me that, "No Trev , we haven't . It's Sheikh(y) who's having to go between the sticks as none of our regular keepers are available. Despite kicking down the slight slope and with the wind at their backs, the lads never really dominated the half, having plenty of possession but with little to show for it. We were more concerned with the referee blowing his whistle for half time, and when he did I made a mad dash for the snack bar. In fact I even beat the bloke who was serving the drinks! The others commented that was the fastest they'd seen me move in the last three years.
Having finally restored some circulation to our extremities, it was back outside for the second half. Sheffield now found themselves under constant pressure but Sheikh(y) was having a fine game. One of our stalwarts was having a difficult time and the 'encouragement' from his dad didn't seem to help him as he gave him a few choice words back! Stu turned to me and said, " I've got all this to put up with in a few years time," as he looked down at Liam. Sutton did get two goals to win the match in regular time, so at least we were spared the extra half hour. It was a quick walk back to the car then. Just about to set off and Stu says , "Hold on, there's a ball there stuck in that bush." So John stops the car and Stu gets out to retrieve the ball. Only to find that the said ball , was in fact a white pizza base that had blown on its edge and was lodged in the bush! We had a good laugh about that, although in Stu's defence, from where we were it was easy to mistake it for a ball. Anyway, as we drive up to the main road, he does indeed see a ball (quite a number were kicked over the perimeter fence during the game.) So, out he gets once more, only this time he was able to give it one almighty 'Peter Kay' kick, back into the ground!
After that it's a straight run home. I get the chance to 'rest' my eyes for a bit and Liam actually falls asleep. As we pull up outside Stu's I try and wake Liam up, but he's dead to the world. His dad is on the verge of lifting him out of the car when he eventually wakes up and walks the rest of the way , while I hand Lynn his coat and hat and gloves . It must have been all the excitement that tired him out, or perhaps you can have too much of fresh air in one night. Anyway, with them all inside the house, we drive off and onwards to Firth Park where I have another hot drink to thaw out before going to bed, and prepare myself for another cold night later in the week, when we once again make the trip to Shirebrook. Until next time....
Happy Travelling
Trev
Arnold Town v Sheffield
Saturday, 05/02/05
It's my day off today, so John is picking me up at the usual place. It's the old library building, but we still refer to it as the library. Anyway, as I'm stood waiting for him, Stu phones me. He wants to know why I haven't answered his previous FOUR calls. Looking at the phone I can see the missed calls, my only excuse is that my phone was in my coat in the other room as I was enjoying my fish and chips for dinner. He's ringing to say he could be late as Liam is still at a birthday party and won't get out until about 2 o'clock. I tell him that I'm already waiting for John , who's late. This cheers him up and he says I have to mention it in the Travels, just so people don't think it's always him that's late at picking people up!
Two minutes later and John arrives, coming from a different direction! Apparently , the top of the road at Firth Park has been sealed off and there's police all over the place...probably been a bank raid or a shooting, nothing out of the ordinary!! I did notice there was less traffic on the road, what I didn't notice was the fact that all the cars going up the road were the same ones coming back down, having been forced to turn around! So, at least John has a good excuse. Deano had also tried to phone me, but I'd missed that one as well, and John couldn't phone because his battery was low. Three phones between us and we couldn't contact one another! Marilyn says "Just like the good old days before mobile phones, but then we didn't waste time trying to phone people we couldn't reach."
On with the journey and we get chance to listen to the end of the Owls match against Barnsley, which finishes scoreless. Everything was going well until we tried to get on the motorway. The slip road was closed with a big 'diversion' sign in front of it. "It's not my day" says John as we take an enforced detour. Normally he's quite happy to take 'unofficial' detours on our travels, but when they're forced upon you, it takes the fun out of it ! John hands me the directions, as it starts to rain. I tell him , "I can remember this bit we're on, and the end bit, but not the middle bit". We do arrive on time and with no trouble, I must be doing something right, or maybe it was just pure luck. As we're waiting at the traffic lights to go through the town centre, we notice a couple of cars coming out of a little car park we've used before. So instead of taking a chance in trying to park at the ground we decide to park here and walk the rest of the way. Marilyn is going shopping before the match, it's her once a season 'treat' to visit the Clarks factory shop.
As we're walking through the town Stu phones me to ask where we are. I tell him we've just arrived and are walking towards the ground. He replies by saying he's already here with Liam AND Lynn. The phone call then goes something like this:
Stu:- "Can you see Greggs yet?"
Me:-"No, how far is it? We're just coming up to a church so we're going in for a quick prayer" (laughter from Deano and John)
Stu:- "Well if you look to your left you should be able to see the shop. Can you go and get me a pasty ?"
Me:- "Okay, what about Lynn and Liam, do they want anything?"
Stu:- " Hang on , I'll ask them. By the way Trev, have you seen the yellow brick road? (refering to the yellow paving stones making a pattern along the street). Turn around and look where they lead to." So I do this and what happens ? It's only Stu walking towards us, mobile in hand. I think my lasts words were something along the lines of , " You t*** !" Having met up with them, Lynn says she's going into Greggs for a cheese and onion pastie. Stu says, " Bring us a steak bake love," as she disappears into the shop with Liam. As we wait for them we're busy talking about how we got here and Stu was telling the others about this mornings activities regarding the birthday party. Lynn and Liam approach both munching happily. Stu looks at her hesitantly and asks, "Where's my steak bake?" Lynn just smiled, took another bite of her pastie and said, "They didn't have any." It was so funny to see the look on Stu's face. He asked why she didn't get him anything else and she said " You didn't ask for anything else" More giggles from us, and we had to take Lynn's side in this too, because he did just say he wanted a steak bake.
We meet up with all the other away day regulars and, once the players have decided which way they're kicking we then go and stand at the end their kicking towards. Stu has brought his new digital camera to play with, although he does manage to miss me retrieving the ball. In fact, he's missing most things as by the time he's got it all set up the play has moved on, despite him asking the players to 'freeze' while he gets the next shot lined up. Lynn looks like she's really enjoying herself...not. How do I know ? I can tell by the look on her face! Liam is busy half watching the match, in between kicking hell out of his Milan cushion which he's brought along, I guess this was for his mum in case she wanted to sit down in the stand. The raffle ticket seller is making his way round the ground shouting "£1 a strip". Deano says to us , "It'll take more than a quid to get me to strip". We all breathed a sigh of relief at that one. Stu then suggests we follow the bloke around the ground, saying that same comment everytime he tries to sell some tickets, just for the laugh. Actually we're having a good time and the game is going well, which makes a change as the last two visits here have been dour draws played in freezing cold weather. We even take the lead as Tev puts the ball into the net. He now wants to be called Teev, as the proper pronunciation of his surname is Te(e)vendale. I say , "Well, in that case, you can all call me Treev." Marilyn appears, carrying her newly acquired shoes/boots, which should keep her in footwear at least until next season.
Arnold have a player called Phil Starbuck playing for them. He used to play for United and Tim said, "Is that the same Starbuck who was crap playing for United?" Stu replied, "Yes, but he's done well with that coffee business hasn't he....started off as one man and his flask!" Just before half time, Bonno takes his usual injury break on the field, only this time he has been crocked and is not going to play for the second half. So we're all debating whether to let Macca know that we want Stu to go in goal as that should liven things up! It's teas and food all round at the snack bar as we await the second half to see just who will be donning the goalie's gloves.
In fact it's new kid on the block Ben Cressey who takes his place between the sticks for the second half. We can't be bothered to walk all the way round to the other side of the ground, so take up position just past the half way line on the snack bar side, as there is no access to get behind the goal for this half. We start to tease the Assistant Referee running the line. Telling him how much better he is than the one on the far side, and of course 'helping' him with any decisions that would favour our team. Thankfully the lads are on fire today and score two more goals in quick succession to relieve any pressure that may have been felt due to losing Bonno. In fact it's almost 20 minutes before Ben has anything to do in our goal.
Stu said that Lynn would only come again if we scored 5 goals...at this rate she may be regretting her words as we squander quite a few good chances while remaining in total control. Te(e)v puts the game well and truly safe by notching his second , and club's fourth, before going for a spectacular effort to try and get his hat-trick, the ball landing somewhere near the cricket square! Liam has decided once again to go and play with one of the local kids at football just to the side of the pitch. As usual, he's doing his Richard Carrington impression of dribbling around the kid about six times before scoring into the imaginary goal, which this time is the cricket practise nets.
It's time to stand and relax now as we are entertained by our stand-in goalie, who shows a fine touch in the juggling stakes! When Arnold get a corner, all you can hear from our dug-out is Wally shouting 'Protect Ben.' So all we can see are the big defenders and attackers and the occasional hand as Ben jumps to punch the ball away. Bonno has joined us on the sideline , so of course he's getting some ribbing as we tell him how impressive Ben has been and he'll have a job to reclaim his place. Unfortunately he couldn't hang on for a clean sheet as Arnold get a consolation goal, although to be fair I don't think even Bonno could have stopped the shot that rocketed into the net.
Vinny comes on for the last two minutes of the game and actually plays as centre forward. He did make one good run..he didn't have the ball at the time though! Full time and we all celebrate yet another victory on the road. The lads have their post match huddle then leave the field to our applause. Ben has a big smile on his face, telling os all about his 'lucky gloves', whilst Vinny wants us all to vote for him as our man of the match!
Back in the car and we set off for home, only to make a wrong turning. Now this is not the usual wrong turning we usually make here. No, it's a completely new one, which finds us in Sainsbury's car park instead! Back on track and the rest of the journey is made without any further mishaps, as John delivers me back at home. Another enjoyable day completed, topped off with a packet of Marks & Spencer's new jaffa cakes! Until next time....
Happy Travelling
Trev
Armthorpe Welfare v Sheffield
Saturday, 22/01/05
It's my day off today, although I was still up early to go to the sorting office to pick up a parcel. Walking back through the park it was white over with frost and very cold, but prospects of sunshine later led me to believe that our match would go ahead. Being as it's only at Armthorpe John says that a 2 O'clock departure will get us there with time to spare, "After all" he says "It's only just up the road". There's no Maz today as she is still waiting for a parcel to be delivered. You know the scenario...you get a card which says it will be delivered between 8am and 6 pm. Now, if it's your day off and you want a lie in you can bet that the bloke is knocking on the door at 8.01 ! So what do you do ? Why you get up of course, bright and early then have to sit around waiting, which is exactly what Deano and Maz had to do, and with no sign of delivery by 1.45 Deano has had to go without her, but as he said.."It's only Armthorpe!"
We're also missing Stu and Liam today too (speak for yourself Trev !!!). By the way, it was the little 'un's 9th birthday yesterday and what does he get for a present ? He gets to choose to go to a football match, so he's off with Mum and Dad to visit the Nou Camp to watch Barcelona play. Last year it was the San Siro to watch A.C. Milan. Stu is just hoping that next year he doesn't want to go and see Dynamo Kiev or anywhere as cold as that ! Stu actually sent me an e-mail this morning to remind me that he's working late shift today. So it looks like I'll be multi-tasking again with the match report and Travels, I just hope I remember to write the relevant points in the right notebook.
The journey is going well until we get onto the M18. We then find ourselves stuck in a tailback due to an accident somewhere ahead of us. John says it may be a good idea to call Billy Two Pies so he can get us the programmes. Bill always gets to the grounds early...usually before the groundsman on many occasions. So I call, only to find that he's also stuck in the same jam but near the front. Then Craig phones me asking for the team line-up. I tell him I've no idea as we're still on the road ! He can't get hold of Steve (Hall) because his phone is switched off.... probably saving the batteries like I used to do. We gradually get through the jam then John puts the pedal to the floor, and the 'G' force keeps me and Deano pinned to our seats. Bill texts back to say he's arrived and has got the programmes we require, so I thank him and tell him to tell Steve to turn his bloody phone on ! The game has already started as we park 'Sammy' opposite the ground. Just in front of us is someone else who's late for the game...it's Tev ! Don't know if he was due to play, but he certainly isn't now.
We get to the gate to go in and John asks if we can get in for a pound less as we've missed the first ten minutes. Luckily the lads are kicking towards the turnstile end so we don't have far to walk to get behind the goal with the rest of our lot. Of course, we're then subjected to "What time do you call this then? Part-timers" and other such delightful welcoming comments. It's certainly cold so John goes to get us both a drink of tea. When he comes back he opens up the Kit-Kat cubes he's brought (they've been absent during our recent good run) and says, "Well, we might as well have them, what else can go wrong today?" Caroline has also brought some Liquorice Allsorts and little Billy is handing out Fruit Allsorts, so it's sweetie heaven for the first half, topped off by the lads going into the break with a two goal lead. One of the funniest things we've seen on the pitch saw 'Cheets' backing into their goalie as we were awarded a corner. The keeper just stood his ground then kissed 'Cheets' right on the top of his head which brought laughs all round, both on and off the pitch. Sue shouted "If nothing else happens this game at least it looks like 'Cheets' has clicked!"
It's back to the snack bar for more refreshment and with no sausage rolls on offer we decide on a chip butty each, being as it's more economical to buy a butty which is only ten pence dearer than a plate of chips. Next year we're going to bring one bread roll and just buy one chip butty as there was plenty of chips to make two sandwiches with.
Second half and we're stood at the top end of the ground. Gwen is really cold so Tim tells little Billy to go and stand next to her to keep her warm. So as she cuddles him, I ask if the offer is open to anyone. John says he can't because the doctor says he's not allowed to get excited and Tim chimes up with "I can't, I'm just not allowed!" There's no more goals this half but plenty of excitement with the team playing some really good stuff, and we stay after the final whistle to give them a cheer as they finish their now traditional post match huddle.
Back in the car and we listen to the local sports report as we head home. This time it's a straight-forward drive with no hold ups and John drops me off to see Joy and Les as they've made me some tea. Then it's home for a little relaxation, before falling asleep watching Match Of The Day. Until next time....
Happy Travelling
Trev
Pickering Town v Sheffield
Tuesday, 11/01/05
Yes folks, once again and for the third time this season, we're off to Pickering.This time it's for a League Cup 3rd Round tie. It's an early evening start as I'm meeting John and Deano at Meadowhall retail park. With the number 17 bus being a bit of a hit and miss affair I wander down to the bus stop a good ten minutes before it's due, and hey presto, the one before is running late and I just manage to catch that instead.
So, arriving at the retail park some three quarters of an hour before time I decide to take myself into the warmth of Macdonalds, sit and read their papers and treat myself to todays special offer - Mc Chicken sandwich, two for the price of one ! After I've had my fill I decide to do a bit of shopping so call into the computer shop for an ink refill and then even have time to call in Aldi for some honey before the others turn up. It's very windy tonight as we pass the lorries and buses swaying on the motorway..them, not us ! Then it's exactly the journey as before, well not quite. This time we don't go through Malton looking for a petrol station. It's still and hour and three quarters from pick up to car park, John has this down to the second! Billy two pies is already in the car park reading his programme. We make our way inside, asking the gateman if we qualify for any discount as we've been here so often this season. Of course the answer is no, but he did smile when he said it. Into the club house and the tea is waiting for us. I have to admit that this is one of the more hospitable clubs in the league. we always get a cuppa on arrival and biscuits if we're early enough, and they always put free biscuits on at half time but it's a case of first come , first served then. Go to the snack bar and get John a pie and more drinks for us. Once again theres a good following come to watch the lads. Dave and Deirdre have also turned up, which usually means it's a bad omen for us. We thought they'd come to check out the catering again , but they like the run up in the car as they go to a restaurant first before watching the match, lets hope they don't jinx the side with their presence. By now it's almost kick-off time so out we go and stand behind the goal near the club house. Bill is living up to his name as he devours two pies, even his mate Big Steve can't manage that feat.
Where we're stood we are shielded from the wind that's blowing straight down the pitch, giving Pickering the advantage of getting the ball forward early. This doesn't unduly worry our lads as they seem to be coping quite well and also threatening the home goal on many occasions themselves. As seems to be the normal thing this season, it's Pickering who take the lead after about half an hour, but 'Cheets' soon has us back on level terms for half time and another trip back into the warmth of the clubhouse.
This time it's sausage rolls all round, along with the usual cup of tea of course. Back outside for the second half and we wander down to the bottom end of the ground as Deano struggles to put the flag up in the wind. There's a little stand at this end which is totally occupied by Sheffield supporters. Actually , it's me , John, Deano, Bill and Big Steve ! All the others are either stood near the dug-out or in the main stand. Tell you what, that wind is bloody cold! It's amazing how much it echoes in the stand as we cheer the lads on as they take the game to the hosts, playing some good football Bill and Steve are sat at the back of the stand whilst we are all stood at the front. As the game progresses Bill tells us that it will go to extra time...we just tell him to shut up as none of us want that, we just want to get home. After yet another Sheffield corner, 'Cheets' is on hand again to nod the ball home and give us the lead. I'll tell you what? John's rattle certainly sounded loud as the noise reverberated around the empty stand. Now it's a case of testing how good your heart is as we count the minutes down to the final whistle. Pickering have a last minute corner, and we fear the worst after our last visit here but thankfully 'Bonno' is on hand to clear the danger as the referee finally brings the game to a finish.
The weather has improved as we head home, the wind has died down. We relax istening to the radio, well, me and Deano are relaxed, John is busy driving! He says to us " Well, that's the last time we'll be coming up here this season ." After a short pause, he follows this up by enquiring, "Are they still in the Presidents Cup?" Panic bells start ringing in our ears ! Deano finds out that yes, they are still in it, and , depending on the results of the next round we could both be in the hat for the semi-finals!
Back on the road and we're almost home as John pulls up at some traffic lights at Ecclesfield, letting out the biggest yawn I've heard for ages. He said, " I've been wanting to do that for the last eighty miles!"
Back at home and it's time for a drink and the last of the Christmas mince pies before writing the match report. I wasn't tired to begin with , but sleep was not long in descending upon me. So it was upstairs to bed to dwell on the possibility or is it the inevitability of drawing Pickering again in the Presidents Cup. Of course, it would be away too! Until next time...
Happy Travelling
Trev
Glapwell v Sheffield
Saturday, 08/01/05
It's very wet and windy this morning as I set off for work, so I'm half expecting a phone call while I'm there from John to tell me the match is off. Thankfully it never arrives and I wait outside for him at the agreed time. He arrives with Deano. There's no Marilyn today, as Deano says she's been a bit under the weather. She did take a fitness test this morning by going down to the shops , but said it was a real struggle to get back up the hill so she was going to stay at home. So I settle myself in the back seat as Deano is in the front. The reason for this is our next port of call is Gleadless to pick up Liam. Stu is working until 2.30 , so John agreed to pick the little one up and take him with us and meet Stu there. A quick phone call to Lynn as we get nearer the house enables her to get him ready........ coat, paper, pen, Match magazine and this time a Luton Town hat for a change! He's also got his mum's phone as he's playing games on that(tenpin bowling), and also so he can phone her when we get to the ground, just in case we decide to abduct him. No chance of that Lynn - he never shuts up!
We're busy listening to the live F.A. Cup match on the radio, it's the piggies who are playing Aston Vanilla! Liam is busy with his game when his phone rings. It's his dad asking if he's alright, and also asking whereabouts we are. So as Liam asks us, we tell him to tell Stu we're nearly at Garforth. Of course Liam has no idea and relays this to Stu. I then hear Liam say "Okay dad," and he turns to me, looking very serious and says, " Trevor, my dad says stop being so silly and tell me properly where we are!" You ought to have seen the look on his little face, it was a picture. So we tell Stu, and he says he's just passed our ground so wouldn't be that far behind us.
Liam tells me about the new football team he's playing for and how he's already been involved in a fight, and that was with a team-mate in practise..like father , like son eh Stu? Anyway, we arrive at the ground and John parks the car. Liam is busy talking to his mum on the phone while I get his coat etc. out of the car. I say to him, "Here Liam, put your coat on," He replies, "Hang on Trev, can't you see I'm on the phone!" He's like a very small 40 year old sometimes! But so funny with it.
No sooner have we got inside the clubhouse and I've just ordered some teas when Stu appears. Obviously he must have had the 'Millennium Falcon' in Hyperspace mode, plus the fact he managed to slip away from work a little earlier than he said he would be able to. Once again there's a really good following of Sheffield supporters here. The teams come out just as we're finishing our drinks , so we return the mugs to the bar and make our way to the pitch.
We're kicking uphill the first half, so we make our way up to the far end, and stand behind the goal. There's a bright sun shining but also quite a breeze blowing into our faces too. This half we've got 'Matchmakers ' to eat..courtesy of Tim and Sue I think. We're in a silly mood (nothing different there then). Deano has started making names of bands up for our players, the main one being James Tev and the Tevendales! Mind you, when you hear it as many times as I did, it does have a certain ring to it. Then we're into singing silly songs and bouncing up and down, partly to keep warm, but mainly because we're slightly mental! The players do their bit by totally dominating the play, and taking the lead through a trade mark Carrington free kick. Despite numerous chances, this was the only one taken this half.
Half time and it's back inside for a cup of tea, well actually it was that crowded that we drank it outside. Second half sees the same pattern of entertainment both on and off the pitch. Today I remembered to bring a Christmas present for the Posse. It was actually sent by Jan and Tanja from Germany, with instuctions..'To be opened at your next away match'. Well. I actually forgot to take the package to Buxton last week. So made sure I wouldn't forget it this week by leaving it in full view on the table all week. Anyway, it was some German chocolates with apricot filling. Similar to our (or should I say my) Jaffa Cakes. They were really moorish. In fact Stu had about four , and he usually refuses any chocolate on offer! So, on behalf of everyone stood behind the Glappy goal..thanks Jan and Tanja!
On the pitch, the lads were finding it difficult to kill off a Glapwell side that didn't want to surrender it's unbeaten home record, in fact they even had a shot on target at one point! Thankfully the lads gave us a bit more breathing space by scoring another to claim yet another three points 'on the road'. We could really get used to this Macca - keep it up. In fact it's that long since we played at the Coach and Horses, we may have to get the map out again to find where it is!
We applauded the players off the field, after their victory huddle and made our way back to the cars. Liam collected his magazine and paper from John and was then going to climb back in the car instead of going with his dad, Stu finally persuading him which car to get in.
Back on the road and we listen to the local sports round up as we head home. Even the Owls won yet again too, so everyone in the car is well pleased with the day. Back at home and it's time for a sandwich and then sit down to watch another match, this time on the TV...football heaven, that's what Saturdays were made for! Until next time.....
Happy Travelling
Trev
Stocksbridge PS v Ossett Albion
Monday, 03/01/05
So after standing in a gale for the second half at Buxton, which was well worth it being as we stuffed them , what better way to spend a Bank Holiday Monday night than freezing on top of another hill at Stocksbridge! John had said he wasn't going to go as he needed to do some stuff ready for his first day back at work in the morning, but he had said he would take me there as it was too awkward using the local transport, and as I was meeting Stu and Geoff there, then Stu would be able to bring me home.
So he duly arrived on time and as I'm thanking him for going out of his way for me , he says, " Guess what Trev? I've decided to join you...I'll just have to start earlier tomorrow that's all." It was up to me to navigate our way there..! It was no problem at all. "Just keep on the bottom road through Deepcar and Wharncliffe and then it's a sharp right up the mountain, sorry hill" I said to him. Yes Stu....yet another ground I can find..how many is that then ? Okay , so it's only about three, but I'm proud of it !
The reason we're going was the fact that earlier in the week Stu had been in contact, being more than a bit miffed at missing out going to Buxton, and asked if we wanted to join him at Stocksbridge. Of course Geoff would be there, as he was 'coaching' Duncan as usual. So it was a good excuse to have a get together with the mouthy one from Barnsley, plus, he could get the food and drink in!
Just as we're pulling into the car park Stu phones me to ask our whereabouts, and do we want a drink and a programme. So I placed our order as we walked to the gate and met them in the tea bar. Unfortunately there was only one programme left so John let me have it. Stu did say there may be one or two more available just after kick off . So we had a general chit-chat, and Stu told me that 'Salmon' (Asa Ingall) was in the Ossett line up. Right then folks..get ready for the gem of the night......Of course , the last time I saw Ossett was last season when they were in OUR league before gaining promotion. So, as we're looking at the team sheet on the wall, I'm reading the names and point to Ossetts goalie on the sheet. "Look Stu, " I say "Andy Carney's playing in goal for them, now where did we see him play last season?" "Ossett Trev, Ossett " came Stu's reply, which of course he then had to tell all and sundry what I'd just said. Even Billy two pies was here for yet another game today...was it just the two today Bill?
Anyway, the teams are out and me and Stu are just walking to join the others when I see a bloke with a handful of programmes , so I follow him back to the shop and join the queue. Guess what? It's my turn to get the last programme for John this time!
We're stood in the open as , believe it or not, it's not that cold tonight. It's certainly a lot warmer than this afternoon. Duncan is a substitute tonight for 'Stocky', but is brought into action in the first half. However it's Ossett who go into the break with a one goal lead. Back at the tea bar and it's drinks and hot-dogs this time, then a walk to the far end . Geoff is picking on the referee, saying he should be in panto , due to his size and where were his other six mates. At least this half we get a good laugh as Geoff keeps making comments to the linesman, who takes it all in good fun. The thing is, we've only come to see Geoff and Dunc, so it doesn't matter who wins to us, we just have a good laugh. The match actually finished 2-2, so it wasn't a bad day for goals as some of us had seen ten scored that day...sorry Stu! Of course, Geoff was still practising trying to get his chewing gum on the bye line, but with little success, although at one point he did shout to the linesman, "Hey liner,,,go steady, I don't want you tripping over that gum!" Just before the finish he was telling us a story concerning Duncan and his amphibians. Apparently, he has some fish and a lizard...but he also has a cat, and being Christmas, the cat must have thought it had a present as it had eaten the bloody lizard! Honestly, the way Geoff told it had us laughing histerically .
Anyway, as I said, the game finished 2-2 and we made our way out of the ground. The traffic has soon cleared and it was a pleasant ride home. Just time for a cup of tea and bisciut , then I was spark out. It must have been all that fresh air. Until next time
Happy travelling
Trev
Buxton v Sheffield FC
Monday, 03/01/05
It seems ages since we went to a match, and after all the rainfall here over the past few days I half expected John phoning to tell me it had been postponed yet again. Of course, with it still being the holiday period too, I keep forgetting what day it is...and it's not because I'm drunk! One things for sure, no doubt it'll be damned cold at Silverlands ..it always is!
There's no Stu and Liam today as Stu has to work, or as he put it, Tesco fail to recognise today as a Bank Holiday. as for me, well I'm in the middle of a five day break and enjoying the rest, although there's only so many chocolate brazils I can eat in a day! It should be fun and games on the pitch today too as it'll be the first time we've played them there since signing Cheets, Tev and Danny Anson, who no doubt want to make a point. It's a pleasant ride there through the countryside. This is something else we don't usually get as we're usually playing there on a cold mid-week night! Geoff hasn't got a game today, but it doesn't stop him texting Deano every two minutes.Eventually he does decide to answer one of his calls. Of course we all point out Stu's retirement home as we pass it, although the for sale signs aren't up yet. As we make our way to the ground looking for a parking place, one of the stewards moves some bollards right outside the entrance and says we can park there. How convenient is that? Deano and Maz stay in the car for a while as me and John get our coats ready to go inside. The steward is asking about 'those two in the car'. We tell him they've just come along for the ride and we'll text them the score as it happens!
Once inside , it's straight to the snack bar for some food as John treats us both to a cuppa and a pie. As we're munching away, who should pop up beside us but Gareth Collinson's grand-dad. He always used to talk to us when Gareth played for the Club and even when he went to Broddy, he always came to say hello. So we were having a good old natter. Of course, being new year, all our regulars were turning with messages of 'Happy New Year' as it was handshakes all round, which is quite a feat when you're trying to eat a pie and drink a cup of tea too! The first half sees us kicking up the slope so we go and stand under the cover behind the goal. There's quite a wind blowing down the pitch, but we're protected from it this half due to the shelter. Ten minutes gone and we're as happy as anything as 'Carro' puts us in front from a free kick, with the locals complaining because the ref made him take it again because the Buxton players encroached before it was originally taken. Of course, the ex-Bucks players in our side are playing out of their skins. None more than 'Tev' who puts us further in front and runs in front of the Buxton supporters for good measure. Of course, there's quite a bit of abuse aimed at our players now, mind you , that's nothing new here. They're a funny breed this lot..I reckon it's all those sheep and too much time on their hands. Anyway, they do have something to cheer about as Gareth Collinson pulls on back. Do you know, that bugger always scores against us!
Half time and it's my turn for the refreshments as Gareth's grand-dad comes up to us again and say's "What did I tell you? He always scores against your lot!" Gwen stops us on the way round as she offers us the choice of a bakewell tart each, or a fight for the remaining chocolate roll. We both go for the bakewells, leaving Bill to scoff the chocolate roll! Second half and we make our way round to the bottom end , and into the gale force wind that's blowing straight into our faces. We have to keep Billy two pies up to date with any scores , as he hasn't got his radio on him. well, I stand corrected...Santa brought him one of those new fangled DAB radio's which are apparently the dog's testicles....only trouble is, he can't get a signal up here ! lol. Anyway , John has pleasure of informing him that the Owls are also winning. Back to our game and it just gets better and better as we score a further three goals without reply, what a great way to start the New Year. Somehow I don't think Wayne Biggins will be putting this result on his C.V. in pursuit of the managers job on a full time basis! As the whistle blows for full time , the locals stream out before thge players have left the pitch..leaving only the Sheffield supporters to cheer our heroes off. It must certainly be our day , as, although it was now dark, it was a clear drive home without a hint of fog, which is another first for us! Just time for a quick drink and a sandwich, then it's off again....yes, I'm doing a Billy two pies by taking in more than one match in a day....Until next time.
Happy Travelling
Trev
Norton Senior v Norton Junior
Tonight I didn't need John or Stu to give me a lift as the action was taking place just a minute or two away from my house. It was a swift walk down the road to Les's house for this game. Yes , rivalry was renewed tonight in a subbuteo challenge game between, Norton senior, Les (aka the Beermonster,) and his son Chris (aka half-pint) although Chris is as big as his dad, but not as ugly.
Due to years of neglect, folded up in a cupboard, the pitch needed hours of careful steam ironing to remove the creases. Although not totally effective, it was deemed playable by 7pm. So the game was set for a 7.30 kick-off. No rush to get there as the game was literally watched by one man and his dog as me and Ella took our places on the sofa, the cat having decided to go upstairs out of the way.
It was like a mini Buxton, as the pitch was perched high up at waist high on its board which was resting on a Black and Decker workmate. At least there would be less worry of players getting injured due to being trodden on! The Beermonster got the game underway, the first ten minutes being taken up with poor passing from both sides and an on-going discussion of the rules i.e.; how many flicks for a throw in or a corner and goal kick. However with two minutes left of the half the beermonster was the first to score after a slick six pass move down the left found the winger open and made no mistake from the edge of the area. A minute later and halfpint loses possession in his own half, and the Beermonster plays the ball down the middle and smashes it high into the net from just outside the box. He goes mental, the dog runs upstairs and it's time for more beer as the half time kitchen timer rings.
The second half was a much better display, and Half-pint put himself back into the game with 50 minutes on the clock as his free kick was played into the area and the resulting shot went under the keepers body. Midway through the half and Beermonster wins a corner. It's hit hard to the edge of the six yard box and the ball bounces off a defender and into the net, with much laughter from yours truly and Les.Chris is slightly less amused by what's going on, especially as two minutes later Beermonster tries the same trick, and once again it ends up in the back of Half-pint's net. With a minute left, Half-pint throws men forward and in a melee in the area, the ball bouncing around like a pinball machine it found its way into the net. With no substitutes to slow the game down, the Beermonster resorts to going into the kitchen to get another beer, at least he brought Half-pint one back as well. There's just time to restart the game before the Kitchen timer indicates full time. Of course, the Beermonster is well happy with the result, whilst Half-pint complains about the pitch, saying it had more creases than his bed sheets after a disturbed night's sleep! No doubt there will be more matches in the future. Until next time.
Happy Travelling
Trev
Ossett Albion Ladies v Sheffield FC Ladies
Sunday, 19/12/04
It's my day off, so what better than to be wide awake at 5 a.m. ! It's just habit I suppose. The last Sunday before Christmas, so what are me and John going to do? We're off to Dimple Wells to watch Sheffield Ladies play Ossett Albion...beats shopping any day!
I call john, who's still out and about in the car with Lynne, so she's acting as a go-between on the phone while we make arrangements for setting off, and also about refreshments. It's decided John is going to make us some sarnies if I provide the flask of tea, which seems fair enough. It's nice and sunny as he picks me up, but still on the cold side, so we've both got wrapped up well again with plenty of layers of clothing.
He's got the radio on listening to a match commentary so I ask , "Who's playing?" "It's Wednesday!" he replies. I'd forgotten they were playing at Doncaster this lunch time, well it's a good start to the day as they are winning 2-0. First stop is to post a Christmas card to one of john's friends who lives near to me, only trouble is, he can't seem to find the right street! So he decides he'll have another go when he drops me off afterwards as he'll have time to consult the A-Z by then!
Straight on to the motorway and there's not much traffic at all, as it's all on the other side heading towards Meadowhall. We pass a lorry with, 'Caution - white lining in progress', scrawled on the back. John says, "If he did it at that speed then the lines would be about a hundred yards apart! Luckily it's not in operation. As we head towards the ground we have to do 'The Ritual'.
This is to go down the cul-de-sac, at the turning before we should bear right. We did this the very first time we came to Ossett, and have done it every time since. This time we stop a game of footie being played by the kids who look at us as if we're daft. As if! The last time we played, Alan Methley was actually following us and he did exactly the same thing. He asked us what that was all about , and when we told him he DID tell us we were all mental!
The pitch is in a right state, it looks like a ploughed field, as we enjoy a pre-match sandwich and cuppa. As the players come out John comments on the Ossett number nine. "Hey Trev, look at her, she looks like Micky Godber ." She was a big lass, and even played the match in a woolly hat! John manages to get ketchup down the front of his coat, I'll bring him a bib next time.
We decide against standing behind the goal, due to the fact that if any balls come over the boundary wall it's going to be us having to retrieve them. Instead, we go and stand on the top touchline and bask in the bright sunlight..I wish I'd brought my baseball cap now! On the pitch things aren't looking too good. The side has a lot of changes as about 5 of the team are at University and have now gone home for the Christmas holiday. Ossett take the lead just after the 20 minute mark , and then double it two minutes later after a defensive mix-up. At least they restrict Ossett to just the two goals as they trudge off at half-time.
Meanwhile, we settle ourselves down on the steps to enjoy the rest of our picnic. The second half sees a much better display by the team, who restrict Ossett to just one chance. Unfortunately the breakaway results in a goal, and despite constant pressure Sheffield just can't get the better of the Ossett defence to even claim a consolation goal. One of the players (Hayley) comes to chat to us and thanks John for the directions to the ground, saying that "Yes, we did go down the cul-de-sac too." Apart from family and friends , it looks like we're the only two supporters in the ground. At full time , they players and coaches thank us for coming to watch, then it's back to the car. As the sun has gone down it's got really cold. I proceed to bash my knee on the dashboard getting back into the car while John is searching his pockets for his phone...only to see it lying where it usually is, in the car. At least we got some fresh air and saw some football, and the Owls managed to win a match too. We even get home in daylight too. Time to settle down for the evening and fall asleep in front of the television. Until next time....
Happy Travelling
Trev
Glasshoughton Welfare v Sheffield FC
Saturday, 18/12/04
It's freezing and raining as I set off for work this morning, so the bag is packed with extra socks and the thermals for later on at the match. I finish work ten minutes earlier than usual, this is so I can get all the extra layers of clothes on before going outside to meet John. As I emerge into the fresh air I switch my phone on and notice there's a voicemail message from Stu. He says, "Bloody typical Herrington, a new phone and you still don't switch it on!" So I phone him back to tell him that.."No, it's not like that at all. We're not allowed to have our phones on at work". That seems to satisfy him. Anyway, he was ringing to tell me that he'll see us all up at Glasshoughton for the kick-off. Apparently he's been feeling ill at work and has been sent home early. So he's going to go home and recuperate for about five minutes. Just long enough to pick Liam up and then zoom off for the match! At least it'll save me writing the match report for the first half.
John arrives , with Deano sat in the passenger seat for a change. This doesn't last long though as he's already out and getting in the back while I store my bag. I tell him that it's okay if he wants to stay in the front, but his reply is, "No chance, I'm not getting the blame if we don't get there." Weatherwise it seems to be a little warmer at present and there is bright sunshine too. John then proceeds to tell me the story of the Kit-Kat cubes, or should I say lack of them. "Well Trev, Lynne forgot them this morning , so once I'd picked these two up(Deano and Maz) I called in Somerfields and picked up a packet. I went to the check-out with the smallest queue and then realised why it was so small. The guy at the front was having a 'discussion' with some of the staff, which looked like it would take a supervisor, security guard and a lawyer to sort out! So decided against waiting any longer and put them back ." At least we now have a ready made excuse if we have a poor performance today! A quick exchange of Christmas cards and then we're on our way. The radio goes on, and since there is no 'Pick of the Pops' anymore to listen to , we have Classic F.M. for a while. I take this opportunity to rest my eyes for ten minutes, as Beethoven does his stuff tickling the ivories. Then it's time for Radio 2 for the last part of the journey as we pass the Freeport outlet village, which as you can imagine is absolutely packed. We nearly end up going there but John manages to change lanes at the last minute, then it's just down the road and we're there. Deano and Maz are staying in the car for a little longer as it's still only 2.30 so me and John get ready to go into the clubhouse. As we're getting the stuff out of the boot Andy arrives and parks up next to us. Chris is with him today, but no Caroline as she's at the works Christmas party, no, it's not the staff, it's the little kids from the nursery so that should be fun for her! Andy has also brought Tim, Sue and Billy with him, so once again it's time for exchanging Christmas cards before we go inside.
First stop is the snack bar for a cuppa and a sausage roll. All the gang are there and everyone is in good spirits. I sit and talk to Gwen and Bill. Gwen asking what I'm doing over the holiday, so I tell her , "I'm working, right up until New Year's day." "Awww", she replies, feeling sympathetic towards me and telling anyone that will take any notice that "Poor old Trev's working all the holiday". Just before kick-off we all venture outside into the cold , and Stu has arrived, along with Liam. I give him a Christmas Card from the Beermonster and he puts it into his overfilled pockets along with the others he's collected today. He says, "I feel like a bleedin' postbox!"
The lads are playing the first half kicking towards the main road end of the ground so we all go and stand under the cover. What followed next was just a dream to watch as the lads totally dominated the half, with Wardy getting a hat-trick and Tev getting a couple of goals as well. We were in holiday mood and to be fair, despite the hammering Glasshoughton were getting their keeper was having a laugh with us too.
At one stage Deano shouts to him, "It's not your fault mate, you never got near any of the goals anyway." He just turned to us , laughed and then replied, " I wouldn't mind but they only rung me up as a stand in, saying it would do me good to play!" It's just like a training match as we watch the players knock the ball about with ease and we're busy chatting away to each other as well. Half time and we're 5-0 to the good. As the players go off the field I shout to their keeper, "Don't worry, we'll declare when we've scored ten!"
It's another round of tea and sausage rolls and also Sue and Jackie have brought mince pies too, so they're making their way around everyone. It's as though we're having our own Christmas party! In fact me and John miss the start of the second half, as we're too busy eating and drinking and as we walk round to join the others we are told that we've scored another! This time, new boy Chris White has got on the scoresheet.
Whether it was just the season of goodwill I don't know, but that was it as far as the goals for us were concerned , although Glasshoughton did manage to pull one goal back. Tev had a glorious chance to get his hat-trick too, but totally cocked it up when it was easier to score. Still having a laugh with their keeper , who at one stage said , "I think I'll come and stand with you lot, it seems a lot more fun."
The referee finally spoils our enjoyment by blowing for full time and we all make our way back to the cars with 'Merry Christmas' ringing in our ears. Stu, by now has just about lost his voice completely, so at least he'll be able to play on that back at work and maybe get some more sympathy out of them (or not, as the case may be.) It's a pleasant drive back, and luckily we don't have to use the Meadowhall turn off to get home, which is totally packed according to the traffic reports. Back at home , it's time to settle down to a chicken curry and rice..and being as it's Christmas, yet another mince pie!
Merry Christmas everyone, and, until next time....
Happy Travelling
Trev
Handsworth Under 19's v Sheffield FC Under 19's
Wednesday, 15/12/04
Not much of a 'Travels' distance wise tonight as it's probably one of the shortest journey's we've done. John picks me up at 7.15 and it's only a ten minute ride to the ground at Olivers Mount. This, despite the fact that we missed the turn off, but realised straight away. Stu is already there, having set off at the same time. As we enter the car park there are a lot of little kids having a kick-about. John takes one look at them and says, "oh we'll beat these easy enough Trev." When the teams come out for the match, the proper Handsworth side are a lot more bigger
I keep on telling Stu that I now have a new phone. He says, "Good. it's about time, let's have a look at it." So I show him and he says, "But Trev...it's not switched on." "I know Stu," I replied with a smile, "I don't like to keep it on...it runs the battery down!" He just looks at me in disgust. Honestly it's on a lot more than the old one is because at least this one works(fingers crossed.)
On the pitch the lads have started off in fine style by scoring early(Read Stu's match report for full details), not once but twice, which settled them down. In the meantime, we somehow get talking about beards and Stu comments that nobody noticed that he'd shaved 'cecil' off for the Brodsworth game...it's back now though. John then told us a story about one of the young girls who worked at his place. One day she said to him , "Hi John, I never noticed your beard before, how long have you had it?" "Two years!" answered John. Just shows how sometimes we miss the obvious. There's no missing the action on the pitch though as Sheffield are totally in control, and are already leading 5-0 when Stu comes out with good un. He says, "If you count the goals their keeper has let in, it would be a Handsworth!" Groans all round from the rest of us, but he did get to use the line anyway.
Half time and it's a walk to the club house for a sit down and a cup of tea, although at least it's not as cold as we thought it was going to be. The second half starts the same way as the first with us scoring two more goals, and Chris (Sellars) brings on our substitutes to save some of the lads who will be in the first team squad on Saturday. In fact, not only that, but with twenty minutes still left to play he takes off our main striker Andy Crossland and we play out the remainder of the match with ten men. Handsworth do get a consolation goal, and they had plenty of opportunities to make the score even more respectable , but woeful finishing let them down. We could even hear one of the Handsworth 'fans', probably one of the players dads getting more than irate at the situation. Thankfully the referee finished the game on time and we could all go home happy. That's twelve goals in two under 19 games me and Stu have witnessed...let's hope some of the magic rubs off on the first team. John takes me the short distance home and it's straight to bed, dreaming of yet more turkey and mince pies as I contemplate the prospect of yet another day of staff Christmas dinners! Until next time....
Happy Travelling
Trev
Matlock Town Under 19's v Sheffield FC Under 19's
Wednesday, 08/12/04
It's just me and Stu tonight as John is off to Hillsborough to watch the Owls playing Hull City. Dennis (the verbal terrorist) and Billy Two Pies (oh no he won't - Bill was at the Wednesday end !! hee hee) will also be there...but they'll be sat with the Hull supporters! As our journey is away from Stu's house southwards it seems logical for us to set off from there. So, instead of him making two trips across the city during rush hour, I'm making the trip to his house courtesy of First Mainline...otherwise known as the bus!
I forgot how busy it can be at tea-time as it takes me half an hour just to get to town, but luckily I'm only waiting a couple of minutes for a connecting bus. Stu phones me to check where I am (yes folks, I actually had my phone on!) and I tell him I'm already on my way to him on the number 51. He tells me the best place to get off and then say's, "Phone me and I'll give you directions to the house". Well we've been there a few times to pick him up and drop him off in 'Sammy', so I take it upon myself to not bother ringing him, and just turn up at the door without getting lost I might add.
Lynne gives me a cup of tea and some cheesecake....think I'll call again. Meanwhile we're playing with Liam , asking him footie questions, which he invariably gets right. In fact he's just answered one from Stu as I'm about to give him a follow-up question, and he gives me the answer before I ask the question! Lynne finds this all quite hilarious. I say to her, "This is what we have to put up with all the time."
Time to go, and we spend another five minutes trying to find Stu's house keys. In the end he gives up and Lynne says she'll stay up for him. A pleasant journey as we natter away, only for Stu to miss his usual turn off for Matlock, so we go the long way around covering all areas of Wingerworth before emerging back into the traffic heading back towards Chesterfield. We do get on the right road and Stu says we'll still make it in good time, basing it on his jaunts experiences and the fact that you should never arrive too early. We park up right outside the ground and go inside. There we talk to one of the Matlock guys who came up to the Coach and Horses when we last played them. He asked where we'd parked and Stu pointed to the 'Millennium Falcon' right outside the gates. He said that it would be best to park on the other side of the road, but as Stu's about to get in the car he spots a vacant space right at the end of the car showroom next to the ground, so he decides to put it there instead, adding, "I hope nobody buys it Trev , or else we've got a long walk home."
We stand near our dug-out as the teams kick-off, and, with only five minutes gone we've taken the lead. (For full details read Stu's match report). So I text John to tell him, he sends one back to say their kick-off is delayed for 15 minutes. Matlock have already equalised by the time John sends me a text to say the Owls are winning, which I relay to Steve Hall. No sooner am I texting him again that Matlock have taken the lead, then he's replying saying that Hull have equalised which is not very good news for Steve or me, as for Stu, well ideally he wants a draw which will suit his beloved Luton Town. Back to game I'm watching and I do manage to get a breather and watch some football before it's buzzing again...Hull have taken the lead, and not only that, after reading that I see Matlock score another goal to increase their lead here too. No more goals this half so we go and get a cuppa. They are playing a CD with some England football songs on it. Don't ask what they are because neither of us had heard of any of them, they even had the National Anthem on there too...it's enough to drive everyone into the bar!
Chris (Sellars) must have given the lads a bit of an ear bashing at half time as they're back out a good five minutes before the hosts. We're busy talking to Sam (Ireland) who's not playing tonight, and Chris Sykes, who's one of the subs. On with the game, and with two minutes of the half gone we're now 4-1 down as Matlock get another. It's costing me a bloody fortune keeping John up to date with the scores, and I can see there being a few more goals yet and it doesn't look like they'll be coming from Sheffield either.
How wrong I was. The lads pull another one back and we thought, oh well, if we keep it at this then 4-2 looks sort of respectable. Next thing we've got another and are now pushing for a draw as Matlock seem to be crumbling. Chris makes some astute substitutions and yes....we've pulled level. I'm texting like mad to John as Stu says "He'll wish he came with us now Trev." With a minute to go the comeback is complete as Tom Fletcher fires in his hat-trick goal to give us all three points...what a brilliant match!
On the way home we have the radio on, listening to the closing action at Hillsborough. John has already text me to say that it's now 2-3 and the attendance is 28,700. Funnily enough, as I was reading this the guy on the radio said the attendance was 28,701...so I tell John this and ask where was the extra one. His reply was that he must have left early! Not only that, but Hull have added a fourth goal to make it an even more miserable night for John!
After our cross country ramble to get to the ground, it's only taken Stu 40 minutes to get back as he drops me off at home, after a thoroughly enjoyable evening. Until next time.....
Happy Travelling
Trev
Brodsworth MW v Sheffield
Saturday, 04/12/04
Today it's Stu's turn to pick me up from work in the 'Millennium Falcon' for the trip to Broddy. John is still going, but it was better to do it this way for both of them. Personally I'm just grateful that one of them remembers to pick me up at all for our away jaunts!
Stu's e-mail last night said he'd pick me up at precisely 1.26 outside work, even though it's now 1.36 and still no sign of him. At least it's not too bad weatherwise, although it seems to be getting cooler by the minute. He does arrive a minute later and in I get. Liam is already in the back seat , busy writing footie stuff and also doing a good impression of a seal everytime he coughs!
Off we go, and we're listening to a C.D. of football songs that Stu has. At present we're on the march with 'Ali's Army' as we join in the chorus complete with Scottish accents! On the motorway and Stu is flicking through the CD saying "Who's this Trev?" Some of the songs I'd never heard of, and some I never want to hear again! However, he looks at me then shouts "Liam...who's this ?" A little voice in the back pipes up "Man.City" After some prompting from his dad the little 'un then starts to sing it for my benefit (in between coughs that is) He sounded so sweet , bless him.
It's just 2.15 as we pull up outside the ground. Bill and Gwen are already there sat in their car. We park on the banking and are quickly followed in by Craig, who parks next to us. Stu decides to wind him up by saying "Mind that horse shit outside your door." Of course he has a good look , much to Stu's amusement. As if that wasn't enough . Dave (ding-dong) Bell is next on the scene and he does the same thing to him too. We go and get the programmes and then go back to the car for a little while longer, having dispensed with the footie songs and now listening to the Carpenters as Sheps Deano and Maz make their appearance. With the kick-off fast approaching (yeah...like it's still only 2.30) we decide to go into the ground anyway. I'm first at the gate and the bloke is asking if I want a programme , so as me and Stu tell him he served us with one each about five minutes ago Liam has wandered inside. He turns to his dad as we walk towards the snack bar saying "Dad, did you pay for me?" As if in unison, we both reply to him, "Just keep walking....fast!" We congregate around the snack bar, it's been re-built since last time we were here. Me,John and Stu have a cup of coloured warm water, I'd like to call it tea....but that would be pushing it! Andy and Caroline have turned up as Liam is showing us what he does in football training, bearing in mind we have to imagine the ball he has! Andy has one of those coats with the fleece that zips up inside, and he's complaining that the tab sticks out, rubbing his chin and irritating him. So Stu pulls the zipper down a bit and gets him to fold the offending bit of material between the inner and outer layers. Andy say's, "That's made my day!" So John says to all who's assembled there "You don't get to be a supermarket manager without knowing these sort of things". As kick -off approaches it's got colder and darker...it seems that Brodsworth must have it's own micro-climate. I ask where Tim, Sue and Billy are. Andy say's "Oh I think they've gone shopping, Lincoln market or something."
"Shopping, shopping !" I replied. "It's not good enough, in fact it's a bloody disgrace! First no Shirebrook, and then shopping on a match day!" I told them it would certainly be noted in the 'Travels'
Not much to report as we watch the first half except for all the chances we kept creating...and missing. Me and Andy were stamping our feet, not in frustration, but to try and keep them warm. At least Caroline was lighting up the first half by handing round the jelly babies, I think that's another first. Not Carolines generosity as she's handed stuff out at other matches, but I can't recall any jelly babies before.
Half time and a walk round to the other end of the pitch, stopping off for a cup of tea (yes it was hot this time) and a chip butty. Dave points something out in the Brodsworth programme of note that I have to include. Now, most if not all programmes have details of how to get to away grounds, but Brodsworth seem to have hit on quite a unique idea. They provide details of how to get to their own ground!!!
Second half is again filled with plenty of chances but still awaiting the goals. Dave (ding-dong) say's "I think it's time to try something different." Stu replied with, "That's what I said to our lass the other night!" much to our amusement as Liam just looked bewildered but laughed along all the same. Even John has resorted to desperate measure by getting out the Kit-Kat cubes. As if by magic we finally get on the scoreboard through 'Cheets', swiftly followed by a second one from Will Young's biggest fan ...'Tev'. Charming isn't it ? Just like the buses, you wait ages for one and two come together! Stu say's "Even the Sheffield under 9's are winning", as Liam is busy playing footie with two of the local little boys, doing his Richard Carrington impression by beating them about six times! Back to the proper match and 'Cheets' scores again to make the scoreline more emphatic and we can all go home happy. We just all hope that the players will eventually be able to score from more then two feet from the net.
In the car as we head back home and I'm asking Deano about where The 'Foundry' is as me and the Beermonster are off to a concert there in the new year. He say's it's near the Octagon , which is also next door to where I work, but as it's the University campus there are bits all over. He did say " I'd draw you a map Trev, but being as you can't read one I may as well tell Les instead." He's a cheeky sod sometimes!
Once we've negotiated the traffic around Meadowhall, it's homeward bound and time for some curry and rice, before nodding off on the sofa...zzzzzz Until next time...
Happy Travelling
Trev
Shirebrook Town v Sheffield
Wednesday, 01/12/04
Well, at last it's the League Cup replay, and the trip no one wants to make. Stu has bottled out of it by putting himself on late shift, and Tim made some excuse on Saturday saying he doubted he could make it too, so our numbers were a little depleted. At least the Beermonster has decided to come , so if things do turn nasty we can watch him from a safe distance as we leg it back to the car! Let's hope we don't have to suffer extra time or penalties tonight.
There's some good banter on the way down , especially from Deano and Les. In fact going on the motorway was like taking part in a truck-fest. As every other vehicle we passed was an articulated lorry! Off the motorway and approaching a roundabout, I se the sign post for Shirebrook , but John is already taking us around the island twice , as we all start singing the 'Magic Roundabout' theme. Deano says to me "You've no idea which way Trev , have you?" I replied that I had seen the sign , but wasn't quick enough to tell John.
John has in fact given me the directions to follow , but Les is guiding us from the back seat, with me nodding my head to confirm that he's right. Shirebrook have their Christmas lights on..well, that's not strictly true. It was in fact just two private houses who had the outside of their houses illuminated with all sorts of things for the festive season..yes folks , it's the season for spotting bad taste, I only hope that this craze dies real quick as , even in Sheffield they spring up all over the place. Thank God my neighbour across the road has abstained from this practise.
Once inside the ground it's straight to the snack bar and a giant hot-dog for me , as John settles for pie and peas. Billy two pies shows up with big Steve and also Andy and Caroline, together with her brother Chris. There are also quite a few more familiar faces stood around the ground too. We actually stand between the dug-outs as the match starts , but soon move to our normal position of behind the goal. 'Wally' has a make-shift side out tonight , with some of the more established players still injured , oh and also 'Tev' was busy watching Will Young in concert at the arena! Apart from the first ten minutes Sheffield have all the play , but chance after chance goes begging. Luckily 'Cheets' has managed to steer one into the net which was a good thing being as 'Carro' missed a penalty right on half time.
Back at the snack bar , and as soon as we walk into it, our glasses steam up..it was like being in a thick fog. John was going to have a hot-dog this time , but they'd run out before we got served so it was beefburgers for us instead. The second half kicks off as we make our way to the far end to join the others. Andy is jumping about to keep his feet warm...Chris is just jumping about! Once again the chances are there, but no one can get it in the net, which by this time we were getting worried as , in the past our slender leads have usually been wiped out. Just as full time approaches, Shirebrook have a great chance to level the score , but thankfully 'Bonno' is on hand to save the day. So it was a great relief that the final whistle blew, much to the delight of the travelling faithful.
Whilst John is busy collecting the remainder of the Man of the Match votes , me and Les head for the clubhouse. We don't want a drink , just to buy a badge. I imagined us pushing open the door and it going dead quiet like in the western movies...but no, everyone was fine. So perhaps our previous experience here was just a one off. Back outside in the field (car-park), there's not many cars left, so we make our way to 'Sammy' , but there's no sign of John or Deano. We even walk back into the ground , but can't find them. At least we know they've not left without us, then, as if by magic, they appear at the gates of the ground!
Back on the road and once again John goes twice around the roundabout...this time he says it's like a fighter pilot doing a victory roll! We even pass the arena, but don't see 'Tev' among the crowd emerging from the concert. Back at home it's time to relax with a cuppa and contemplate the next round. Oh yes...it's off to bloody Pickering again! Until next time.
Happy Travelling
Trev
AFC Barnsley v Sheffield
Tuesday, 09/11/04
Tonight we're playing up in Geoff's (Bray) neck of the woods as we take on AFC Barnsley in the Sheffield Senior Cup. Stu is doing the driving honours tonight as we'll all fit in one car and it's 'on route' so to speak. This man knows all the details of getting to grounds so he'll not need my help tonight....even though I could only get him as far as Worsborough Bridge anyway, after that he'd have to find the rest of the way there himself ! The weather has started to change now, as it's cold, wet and windy. Just what you want as you stand around outside watching a game of footie...there's nowt like it ! Well I'm taking no chances tonight, the thermals are going on. Last message Stu left for me on the e-mail was for me to leave my phone on in case he arrives for me early. So what happens, it's half an hour before he's due to pick me up and i'm upstairs getting ready. I hear the mobile ringing so run downstairs and find out it's Stu. "Hi Stu, where are you?". "Look out of your window", he replies. So I do...and there he is ! "How do I get in?" he asks...so I point at which door to use and let him in. He said he was ready to set off so thought he'd get here early and have a cup of tea...the cheeky sod ! Mind you...I kept the Jaffa Cakes well out of sight. Once I'm ready and it's time to set off, we head towards Hillsborough to pick up John and Deano. Then it's a straight forward drive up to Barnsley. I give Billy Two Pies a ring to ask him to get us some programmes, but his phone is turned off. As we head towards Barnsley town centre we see one signpost for Oakwell, then nothing ! Stu has a fair idea which way to go, but as he takes the exit off the roundabout Deano says "Are you sure?", to which Stu replies, "I'm positive....HGV positive !" (Driving joke).
The Barnsley Academy is very busy tonight with lots of kids on the numerous pitches. As we make our way to the entrance after parking the car my phone rings and it's Bill. He said he didn't get my message as it was all garbled and what did I want. As I'm explaining about the programmes we actually walk past him and big Steve sat in his car, so I go over to tell him in person instead ! We get to the entrance and pay our money, then get robbed by the programme seller.....£2 for a programme...it's only a quid dearer to get in to see the match ! The pitch we're playing on is at the far end of the complex...even the players have a good five minutes walk to reach it from the dressing rooms. It's also very exposed as we stand behind the seats on the top of the high banking, it's a great view though and the pitch looks immaculate. There's a minutes silence before the match for Emlyn Hughes who passed away earlier that day, which was impeccably observed by all. As for the match, well, read Stu's full match report. All I have to say is that we were 'Class on Grass!'. Even Geoff turned up to watch. He'd been in London all day at a meeting or something...at least that's what he told us. He didn't think he would get to the game in the first place. However, he says he's going to leave before the finish as Lynn (his wife) thinks he's still on the train travelling home ! There is some really good banter going on between us....too much to write down here but we were having a good laugh at each other and also at some of the Barnsley players too - main culprit for our humour being Gavin Bassinder who once had a (very brief) spell at Sheffield. We keep calling him Kim (after Kim Bassinger) and making all sorts of puns and references to films she's been in. In fact there are two other ex-Clubbies playing for them, John 'Junior' Senior and Daz(challenge) Utley. 'Jonah' opens the scoring for us, and then 'Cheets' doubles the lead with a looping header as Stu described it, although how much 'Cheets' actually knew about it we're not sure. No doubt if we ask him he'll say he meant to do it like that anyway.
At half time John decides to go for a hike to find the tea bar. Even our own players can't face the trek back to the dressing rooms, having the half time talk on the pitch, then doing some warm up excercises before Barnsley re-appear for the second half. The game is well under way when John finally returns, complete with tea's for himself, Stu and me. Stu says "What's this John?" as he looks at the brown liquid. "Oh bloody hell!" was all John could say....he's remembered to put some sugar in the tea for himself and Stu, but forgot to put any milk in any of them ! We drank it nevertheless.
The second half finds us in good voice and jumping around, but this is mainly because we've lost all feelings in our toes. 'Marshie' scores a 'wonder goal' from about 35 yards out, reminiscent of 'Burkie' at Liversedge all those seasons ago, following which we all shout that he couldn't do it again. As if to prove a point, the nearer he got to goal, the wider the shots went off target...one almost going for a throw in ! It's not long after 'Tev' has made it four that the ref signals the end of the game and it's a merry bunch of supporters that make the long trek back to the car park. It's a short and quick drive home as Stu drops John off, then Deano, giving the usual peep on the horn (just to annoy their neighbours) as we drive away. Once again I'm back at home quicker than if it had been a home match....so plenty of time for a cuppa, and tonight it's not Jaffa Cakes, but TastyKakes....a speciality from New Jersey. I'd share them with you, but I've only got twelve packets ! Until next time...
Happy Travelling
Trev
Mickleover Sports v Sheffield
Saturday, 06/11/04
It's spitting with rain as John picks me up from work. I've only been in the car 10 seconds and already Deano is giving me abuse with "Hey Trev, do you want us to stop on the way, so you can get your haircut finished?" Funny bugger ! There's no Stu and Liam today as Stu is working, so I'm busy getting organised with two writing pads, one for the match report and one for the 'Travels'...I should have been an octopus ! I later told Deano that sometimes I forget which book I'm writing in and that makes it twice as hard to do the reports as it's bad enough trying to read my bloody writing in the first place, never mind that I'm putting things in the wrong notebook!
It's a quiet journey down the motorway as I confess to 'resting my eyes' on more than one occasion. That is until John hands me the directions for the ground. He didn't make the trip last year so it's all new to him, but would you believe it, we find the ground with no problem whatsoever ! We had a bigger problem trying to park as John first of all puts 'Sammy' in the corner next to the trees. John decides that this is not good enough so he manoeuvres further up the car-park and parks nearer to the entrance. Now the parking spaces are not all that wide, but he manages to get parked okay....leaving me to squeeze out on my side. While we're getting out we see Dave (Bell) and Rob drive right past us and go further down the car-park, despite the fact that there's a place right next to Sammy. As it's still early, Deano and Maz are going to stay in the car while me and John venture into the ground. We're met by a jolly bloke from Mickleover on the other side of the turnstile who wants to sell us some raffle tickets. We ask what the prize is and he says "First prize is a bottle of Brandy and the second is a burger and cup of tea from the snack bar." Just then another Mickleover official walks by eating one of the burgers so I said to the bloke, "Look, he's eating the raffle prize!" The reply was "Don't worry, you'll get a full one if you win." He asks Rob if he wants a go but he says he's too young to drink strong spirit, but we said that it was okay...as he could donate his winnings to one of us instead. While all this is going on I appear to have lost John, but he does turn up a minute later, smiling as he says, "Sorry Trev, had to go back to the car for my phone." I actually think that he's built this into his pre-match routine.
The pitch looks in really good condition, despite being invaded by a flock of seagulls (the birds, not the band). Me and John take ourselves off to the snack bar where we sample some really good hot-pot, complete with a full bread roll. It was really tasty too. The rest of the travelling posse start to turn up and we tell them of the delights on offer at the snack bar, as we stuff our faces, using one of the turnstiles as an impromptu picnic table. Tim and Sue turn up with Billy. I point to his shirt and say "What's that ?!", as he's wearing a replica Manchester United top. I said to Tim "I'm surprised at you letting him wear that." Tim replied, "I couldn't do much about it Trev, he bought it himself, with his birthday money." All I could think about was ..he's not going to see many more birthdays wearing that to our matches ! lol.
For the full match report, read it on the site, but one or two observations I came up with were that one of the linesmen...sorry, referees assistant was wearing glasses. Fair enough I hear you say, but they were like jam-jar bottoms ! The Mickleover team had a fair amount of, shall we say, bulky guys and Deano said to me "I bet the clubs nickname isn't 'The Weightwatchers'" looking at the size of some of them. The only other thing that really stood out was their goalkeeper. Short-cropped hair, bulky physique, mean stare...he looked like a serial killer ! I said to Deano, "If we're going to give him any verbal abuse, I think we'd be better whispering it , so he can't hear us !" Despite the scoreline it was quite a good game, and we could hear Tim and Sue in the stands giving as good as they got from the home fans.
On the way back to the car we saw Jamie Parkinson who said he liked what was in the last article about his weak bladder ! You see...I told you footballers could read ! John decides to pull Sammy further out of his parking space before allowing us to get in. Once we are all comfortable, it's on with the heater and away we go. John stops off at the petrol station just down the road and then it's homeward bound, watching the occasional fireworks as we head along the motorway listening to some top songs on the radio. An hour later and John is dropping me off at home, and it's time to settle down in the warm...and fall asleep in front of the telly. Until next time..
Happy Travelling
Trev
Middlewood Rovers v Sheffield
Tuesday, 23/10/04
Well I'm back at work now after my hols (what hols?). Isn't it surprising how fast the memory of it all disappears as soon as you get back to work. As the Under 19's are playing, me, John and Stu have decided to go along and give them a cheer. It's good for Stu as he's on holiday and so is Liam, who is much better after his week-end bout of illness, so he'll be joining us too. First of all we're e-mailing each other to make the arrangements. Stu is going to pick me up and then I'm supposed to navigate him to where John works so we can pick him up. Stu asks John if this is wise, so he actually sends him details of where to go....the cheek of it! Mind you, Stu did say I only knew the way to two football grounds....Worsborough Bridge and Grimma! (the cheeky so and so). Anyway Stu picks me up at home and I do direct him to John's place of torture, oops I meant work. On the way Liam is saying how he has been all over Europe, to which I reply, "So has Hitler", which had Stu in stitches. On arriving to meet John I tell the gateman we're here and he lets us through and Stu phones John to tell him we're waiting. About five minutes later we see him walk past the car to hand the office keys in....then he disappears. We spot him stood at the side of the road by the entrance as we shout at him to 'come up here and get in the car!'
Off we go with John sat in the front with Stu, and Stu is telling us about how he's been to this ground about 6 times but is still not sure how to get there. Well he manages it okay and as we approach the last little bit of road he says to me "Trev, what was the name of that pub we just passed, so we can use it as a bearing when going home". " I don't know, I wasn't taking much notice" I replied, "but I think it was called To Let". With sighs coming from the front seats John says, "Never mind Stu. we can use this white van that's parked as a marker". Stu replies "Oh yes, that's great, and supposing the owner of said white van decides to go out tonight?"
We're in plenty of time and Stu dares me to ask the girl on the turnstile if it's all ticket to get in. So I did...it raised a laugh but we still ended up having to pay. As usual at under 19 matches it was bloody cold, and there was nowhere to get a hot drink inside us. The Middlewood side are out practising and one of the balls has come over the wall to where we're stood, so Liam is playing footy with his dad, until he knocks it back onto the pitch that is, so that was the end of that little game. Liam has a new hairstyle tonight, it's called the 'just got up look' Apparently he put some gel on it, but instead of rubbing it all over his hair it was just two big clumps he put it on, so it looks like someone had stuck chewing gum in his hair(and that was his dad that said that Lynn, honest). As he's just getting over his bout of illness he's been told by said mum to make sure he wears his hat and scarf. Well, at first he kept on taking his hat off, but when I told him, "No hat, no chocolate" it soon went back on. I even threatened to tell his mum in these very pages, but you can rest easy Lynn, he was a good boy.
The first half sees the Sheffield lads under a fair bit of pressure and they do end up conceding a goal. As the half drags on it gets a little colder. Looking down the side of the ground I noticed that there were houses all along the side of the ground overlooking the pitch. So I said to Stu, "Instead of paying two quid to get in, you should have parked outside one of those houses and then we could have knocked on the door and when it was opened said ' We'll give you two quid from each of us if you make us a cup of tea and let us stand in your bedroom!" I can imagine what response we'd have received too!
At half time we go to the club house, not for a drink as they only have beer and we all wanted something hot, but at least it gave us a chance to warm up a bit before the second half. It also gives Liam a chance to see how many beermats he can catch at once before spilling them all over the floor. Back outside and now we wish we hadn't been inside at all as it makes us feel colder still. At least the second half gave us something to take our mind off the weather, despite going two-nil down the lads rallied round and pulled it back to two each. Even the Rovers players were getting rattled as they were arguing among themselves and even having a go at us, particularly their left back who was blaming us for his ineptness! Thankfully the referee brought the game to an end and it was a fast walk back to the car and some warmth as Stu put the heater on. Once on our way home we are pleased to see that the white van is still there so we know there is a left turn to take ahead of us. John says "Told you it would still be there." It doesn't take long to get back to where John works and that's where I got out too, as John was taking me the rest of the way home whilst Stu was off to put Liam to bed, ready for another football game tomorrow...this time he's off to see Manchester City play Arsenal, the lad certainly gets about a bit !
We have to wait five minutes or so before setting off as 'Sammy' is all frosted up, but once John can see out of the window, off we go and it's only ten minutes before I'm at home and making myself a well deserved cup of tea, and thinking 'yes, it's going to be cold from now on, better find the thermals out!' Until next time....
Happy Travelling
Trev
Pickering Town v Sheffield
Saturday, 23/10/04
After getting home from Germany at 3.30 this morning, it was a case of grabbing a bit of sleep (as if !) and getting organised for yet another trip to Pickering. At least it's a Saturday afternoon this time instead of an evening match. In fact in a cruel way I hope today's match ends in a draw, so that they have to make the return trip to us for a night match instead !
Well, after lying in bed for about an hour (without sleeping) I decided I may as well get up, and went to the shop to pick up a newspaper. First obstacle to negotiate was avoiding the front of the number 75 bus as I was looking left and right along the road instead of right and left...I don't know, these foreigners will insist on driving opposite sides of the road. Safely back at home and having read the paper, a shower and some cornflakes it was off across the park to the shopping centre and a call at the cash machine...I don't think the Pickering officials would be too impressed if I tried to pay with Euro's! Whilst there I couldn't resist calling in the local cafe and having a good old fry-up, just to make me feel back at home ! It's then time to nip home to get my stuff together and walk down the road, ready for John to pick me up. Deano was already comfy in the front seat so I climbed in the back as we made the short journey to Tankersley for the coach. Next thing the mobile rings (yes, it actually was turned on) and it's Bill (Towning) wantimg to know where Stu is as he's not arrived at The Coach and Horses for the pick up. The lads then informed me that he'd called them earlier to say he wouldn't make it as Liam was poorly (let's face it, he must have been ill to miss footie). So I passed this information on to Bill, knowing now that we had time in hand before the coach would arrive at Tankersley for our own pick up. The downside to Stu's absence being that someone (finger pointing at me) would need to do the match report. I said okay, but I may need extra help today as I'll need to rest one eye at a time, to cathc up on some sleep. Once we've got 'Sammy' settled in the car park we wander down for the bus. All aboard and we're on our way. John and I settle down to read the latest Harry Potter (not the same copy I might add). I've only got about 20 pages left but couldn't finish it on the way back from Heathrow as the eyes wouldn't stay focused. It started happening again later in the journey when I kept reading the same paragraph over and over again. In fact as we both put the books down in order to have something to eat John said "I thought you were tired...you've been on the same page for twenty minutes". Today I have the luxury of being catered for as John has provided us with sandwiches etc, and a good job he's made of them too.
By the way, I must report that the weather must be changing now as John has his jeans on, although I'm sure he has his shorts in his bag, just in case it gets warmer ! Mind you even I was a bit cold, after all I'd just spent a fortnight with no rain, and temperatures up to 20c...and that was in Germany !
We arrive at the ground in plenty of time and go in the bar for a drink, a cuppa this time for me. David and Deirdre (from the snack bar) turn up, so I say to David "What's up David, you got lost on the way to Whitby?" It can only spell disaster though as everytime he goes to an away match we invariably lose. John takes them to Pickering's snack bar, points to the food and says "There you go, that's what you call a sausage roll", referring to the difference in sizes from ours (the sausage rolls I mean, you dirty minded lot!).
As the players emerge for the game the announcer is going through the names, and once again I wonder if the name Jon Pickess has some sort of tongue twisting spell attached to it as he stumbles over the name. Funny, but he had no trouble with announcing Stavros Kontou. Billy Big Lens and Gwen are here and they are just getting something to eat. Bill has almost finished his pie and Gwen asks if he wants anything else so he says "Yes, I'm going to have another one of these, they're great". So I think I may have consider changing his name from Billy Big Lens to Billy Two Pies!
The game starts and straight away Gwen is going round handing out wine gums. After her third visit John declines, saying "Not for me Gwen, I'm driving!" As for the game, see the report already on the site. Half time and it was back to the snack bar, as I tucked into a hot-dog with the usual cuppa, and John had a sausage roll. The second half saw us demolish Johns bag of orange Kit-Kat cubes and also receive the news that the Owls are losing. Another text said they'd just conceded another just as Bill was shouting to us (with his usual smirk) that they were one nil down. We tell him it's two ! I think his radio must work on steam, or be powered by elastic bands. With the match being lost in the last minute, the Owls losing and the Blades winning, it's a bad day all round for me and John, but never mind, there's always the next Club defeat to look forward to (only kidding Macca!). Back on the coach and we finish off the rest of the feast that John has prepared and I do actually get to finish reading the Harry Potter book. Now, here's a question. Which player has the weakest bladder? I'm not going to name names (no, but I will - Deano), only to say that one of our lads couldn't wait the extra five minutes until we got to the services and had to have the driver pull up on the slip road before he disgraced himself ! (it was James Parkinson !!!)
Back at Tankersley and into 'Sammy' for the last leg of the journey. Of course it's raining and windy by now too. At least it's nice and warm when I get in the house. No Jaffa cakes tonight, but I do manage to stay awake to do the match report (just!). To finish off my holiday, on Sunday me and John went to the Coach and Horses for a lovely Sunday lunch. This was followed by a walk into the ground to watch Sheffield ladies defeat Kirklees 8-3, on a lovely sunny afternoon. What a way to finish my holiday....food, beer, women and footie. Oh, by the way.........they don't swap shirts at the end of the game!!! Until next time...
Happy Travelling
Trev
S.W. Casino Bregenz v Admira
Saturday, 16/10/04
It's an early start today, not because we've got a long journey, just the fact that we're off to explore Bregenz in Austria for the day. Switzerland yesterday, Austria today, then back to Plauen tomorrow, I'm getting to be a real globetrotter ! First rain of the holiday last night
but it had stopped by the time we set off for the ten minute train ride to Bregenz. Spent the first part of the morning exploring the town in bright sunshine, although it was misty on the mountains. Once it cleared we decided to go up the highest peak there (Pfander - 1064 metres) by
cable car and then walk down. The idea being it's easier walking down, well let me tell you it took us almost two hours and at times it was very, very steep, by the time we reached the bottom our legs were trembling! Oh, and on the way down we encountered rain, and snow ! But still
emerged into bright sunlight. It was worth it for the tremendous views of the Austrain and Swiss Alps as well as looking out over Lake Constance. After that we just had to call into a local bakery for a coffee and some of the biggest assorted pastries I've ever seen ! An afternoon
stroll around the bay and harbour then it was time to go to the station and say farewell to Tanja. She wasn't bothered about staying for the football so she caught the train back to Lindau while me and Jan made our way to the ground which was about a ten minute walk away from the station.

We arrived in plenty of time as the kick-off was not until 6pm (local time). The ground is nice and compact with a main stand on one side and covered/uncovered seating at one end and the other side with just one end left open for standing supporters. As is fairly common to us with
continental grounds, there was an athletics track surrounding the pitch. We tried to get seats in the main stand but this apparently is taken up by all the season ticket holders, so with the weather looking a bit 'dodgy'
we decided to go in the covered seats on the opposite side. So,after purchasing the tickets we then went through a barrier and were met by three security guards. They wanted a look in our bags, and also felt for 'unusual' objects in our pockets too. On opening my bag they asked what I had (I had bought a souvenir glass) and said that it wasn't allowed, but Jan managed to persuade them that it would be okay, and anyway it was well wrapped and padded out with paper. However, they made me throw away my plastic bottle of water (obviously a highly dangerous weapon!) In all this excitement they had glanced in Jan's bag and missed his
bottle of water which was concealed by some booklets we'd picked up ! Would you believe that there were no programmes available ? Apparently they only produce them for the top games and being as Admira were mid table and from the other side of the country it wasn't worth the effort, although with a crowd of 3100 I'm sure they would have sold a few. I did manage to get a badge at least as a souvineer and Jan also bought a shirt that was on offer. Having walked around the ground (as far as we could get anyway) and taken some photo's, we took our seats. I then got a text and said "This will be John, with the score from Sheffield". I had to read it twice as I thought I was seeing the wrong numbers! When I told Jan we'd lost 5-1 he said " John is joking isn't he ?" I told him "No, John wouldn't be that cruel!" Talk about gobsmacked ! With the match due to start in five minutes, the teams walk out together to loud
music as though it was a Champions League match. I suppose I ought to tell you that this was an Austrian Premier League match, the league consisting of ten teams. Bregenz have added 'Casino' to their name as they are their main sponsors and they play in all white with black trim. The S.W. standing for Schwarz/Weiss (black and white) and got off to a terrible start this season losing quite a few of their early matches (one of them 7-0 at home) and are still just off the bottom of the league. The visitors Admira, we would probably know more commonly as Admiral Wacker
and play in an all black kit , their present position being mid-table. Plenty of horns (hardly surprising with the security guards searching your pockets - Deano), whistles and flares at the start of the game, as well as a downpour of rain. Guess what ? The stand we are in must have been designed by the same guy that built the one at Hallam as it was raining on us too! Luckily it didn't last too long. Interesting to note that both teams also carried sponsors names on their shorts too, perhaps we could get Hallam to sponsors us and have it written all along the backside! It's a good game to watch with the home side having the majority of possession but Admira having the better of the chances. On the half hour mark two Admira forwards spring the offside trap but the home keeper made a fine save as the locals whistled their disgust at the linesman for not flagging offside. Despite all their effort Bregenz haven't
actually had a shot on target and just before the break the winger from Admira cuts inside and fires a low shot which beats the keeper to put them a goal in front..celebrated with a deafening silence all around the ground. At half time I send a text to Billy Big Lens to let him know
where I am, just to make him jealous ! Jan also tells me that there are two blokes stood behind us who were talking, wondering what I was writing about. It ranged from being a scout for another team, the international team or a referees assessor! After the break it's Bregenz that start to put the pressure on and within five minutes should have equalised when they had a spare man in the six yard box but the well delivered free kick was hit high over the bar...mind you, it was a defender so what can
you expect! At least all the attacking was being done at the end we were sitting at. Admira could have doubled the lead when their centre forward was set free but his chip over the advancing keeper just shaved the top of the bar and went behind for a goalkick. With an hour gone the
home side made a double substitution, this was almost immediately followed by them being reduced to ten men as one of the defenders was sent off for a second bookable offense. I must admit it seemed quite harsh as it
was only like a tackle that 'Cluckie' would make...oh well then, on second thoughts! Although the home side were tiring they seemed more focused after the sending off, and Admira seemed content to 'take it easy'. They had numerous chances to wrap the game up, but a bit of luck and some good defending kept the score at 1-0. With full time approaching the fourth official signalled four minutes of added time and it was in the last minute of this that Bregenz got the equaliser, much to the delight of the supporters and dismay of the away team. With Admira just having time to restart the game, the referee blew for full time.
We had a walk back into town as there was still plenty of time before our train. Once back in Lindau we were supposed to call at McDonald's for a take away supper for all three of us, but it was closed and it was only just gone 9 o'clock! So we settled on home made pizza from the restaurant two doors away from the hotel. Time for a natter and a drink, then it was off to bed to rest our aching legs. Next stop back to Pickering, so...until next time

Happy Travelling
Trev

SV Grimma v VFC Plauen
Sunday, 10/10/04
It's an early start for me, in fact it's very early as it's 1am in the morning ! Mind you, the match IS in Germany. I'm off to stay with our European branch of The Posse...Jan and Tanja, and the prospect of seeing a game is too good to resist. Well actually, it's half a game, but we knew that when the travel plans were formalised. So long as the
flight is on time and my baggage arrives then we would make the second half of the match. It would also be a new ground for Jan to visit too. The reason for the early start was to catch the morning flight from Hearthrow, changing at Frankfurt, then the connection to Leipzig. I'll not bore you with all the travel details except to say it was a good, if tiring, journey.
Jan and Tanja were already waiting for me so it was a quick sandwich and drink, then off to Grimma. I had visited the town with Steffi the last time I came, so as we approached the centre I recognised where to go to park the car. Yes, okay, I KNOW it sounds so far-fetched when I can't even find my way to some of the grounds WE visit but it's true....just ask Jan. We could see the players just leaving the pitch as the half time whistle blew and a look at the scoreboard told us it was 1-1.
So into the ground we went, in bright sunshine I might add, and we got free admission as it was now half time, or maybe they just took pity on us, recognising me and thinking 'Oh it's Trev, from Sheffield...he always gets lost that's probably why he's missed the first half!'. It's a good ground, the pitch being surrounded by a newly laid running track. They had very bad flooding here a couple of years ago which devastated much of the town, but government funding has helped restore some of the buildings and add new ones too. It has a covered stand on one side and uncovered standing on high banking on the other. This is
where we went, to stand with the traveling VFC supporters. At the restart VFC had a glorious chance to take the lead, but with an open goal and the ball only two yards out, the forward hit the post. I was going to ask him if he was any relation to Picko! It wasn't long before the goal came though, as a bad kick out went straight to the feet of Reimann who rounded the stranded keeper to slot the ball home. I thought we were mental, but you ought to see the Plauen supporters ! They are very vocal, all the time. Two minutes later and the lead is increased as Reimann gets
another. Grimma do actually have a couple of chances, hitting the post once and also a header onto the bar, but Plauen are dominant. I'm somewhat of a lucky omen as everytime I've seen them play they've won, with one exception, but even that match was won on penalties after extra time ! In the last ten minute a well worked free kick sees the ball hit the back of the net yet again. All these chances turned into goals....I'm not used to seeing this (you would have seen it if you'd been at The Coach v Harrogate Rail Trev !!! - Deano). With less than two minutes to go one of the VFC substitutes makes it five. What a way to start my holiday and that was all in one half of football.
Back into the car and then it's a two hour drive to 'home', I must admit to nodding off a couple of times, but once back at Jan's we had some food, plenty of chat and then I fell exhausted into bed. Until next time...

Happy Travelling
Trev

Maltby Main v Sheffield
NCEFL Premier Division
Saturday, 09/10/04
A lovely sunny day and this morning was spent packing for my holiday. Put something in the case...take something out of the case ! You know the kind of thing.
It's football heaven today as not only is there our match but there's also a couple of World Cup qualifiers on tv live later. John picks me up at the pre-arranged time and we're on our way. Deano is sat in the navigators seat today, although it's only a short trip and it takes us less time to get here than to a home match ! He's (Deano) telling us about his aversion to spiders and it's quite amusing at times. We also have a bit of banter with the word related game, which drives me crazy !
Due to the England game, our match was re-scheduled originally to start at noon, but was then put back half an hour in order to accomodate the whippet racing. Yep ! You read it right the first time, butt don't know whether we'll get to see any of it. Of course we're early, just in case they did decide to kick-off at noon anyway, and funnily enough that's what the ref wanted to do because he didn't know it had been put back ! It's eventually decided to start at 12.15, so I phone Billy Big Lens as I haven't seen him yet. He's looking in the pet shop in Maltby (maybe he fancies a whippet?). Actually he's looking at the fish, and here's me thinking the only fish he liked were coated in batter ! The rest of the gang soon arrive and as a surprise Geoff has turned up too....so we give him a few verses of "Who are Ya? Who are Ya?". Even Craig has turned up for this one (there you are Craig, a mention at last!). Me and John go to the snack bar and Geoff is already there cadging a drink off Gwen. He hasn't changed ! Oh, we did get to see a whippet race too, and boy were they fast. Dennis said earlier they had had a race and there was only one dog in it !
Tell you what, it was bracing today, and I had my bodywarmer on. John had his shorts on and when Sue asked if he was cold he told her "Only all over - I don't know where the wind is coming from, but I know where it's going!". As for the game, well read the match report but we won 1-0. We had a good time chatting to Geoff (speak for yourself Trev - Deano) and then it was time to motor back to Sheffield as the England match started at three.
As for me, well I went to see the Beermonster and Joy, and had something to eat there. Then it was time to pack the case and it's off to Germany for two weeks ! So, until next time...
Happy Travelling,
Trev
Hucknall Town v Sheffield FC
Northern Under-19 Alliance Southern Section Division 1
Wednesday 6th October 2004
After last night's 170 mile round trip to Pickering, it's a short trip of about 80 miles as we're off to watch the Under 19's play.
Tonight we have a passenger, as Stu is treating himself to a mid-week game after spending so much time at work ! Earlier John had called me to say he couldn't reach Stu, so I phoned and left messages as John carried on with the e-mails. He did eventually get in contact when Stu said "What time tonight then John?". Totally unaware that we'd been after him all afternoon ! I just get last night's match report done then it's off to meet John.
On the ride over to Stu's he says I need to phone him when we reach Manor Top so he can make his way up to meet us at the shops. Well, I can't get through can I. So John loans me his phone...only to get the voicemail message ! As we're almost passing the end of his road John decides to go to the house to pick him up. As usual he uses next doors driveway to turn round in saying "I must get Stu to send them a Christmas card to thank them for me using the drive". Liam comes out to say hello then goes back as both he and Lynn wave us off on our journey. By the way, Stu retrieves his phone from his car before we depart, no wonder he never answered it. Stu regales us with tales of the past few weeks getting the new store re-opened at work, and he's already in fine form making jokes about road signs and posters...he's missed his football, bless him !
We arrive in plenty of time and go to the snack bar for a drink, then take our place in the stand as I break out the sandwiches. Yes, once again, we come prepared as last time when me and John came we couldn't get anything to eat and we were starving. One thing we all agree on though is that it always seems colder at under 19 matches ! There's even a small firework display taking place from one of the houses nearby
Some of the Hucknall players are warming up and John points to one and says "Shouldn't he be in Village of the Damned", as he was very pasty looking and had white hair...he probably thought it was blonde but it looked white under the lights. The game is lively and we take a two goal lead. Over in the dug-out we have just one substitute tonight, and only Chris (Sellars) as well so they look lonely. We think about going over to join them but decide against it.
At half time we go and get another drink and are then entertained by the Hucknall substitutes who show us exactly why they are not in the starting line up, by losing all the practise balls over the fence!
The second half sees us with a linesman on our side who's actually wearing glasses ! So we can't tell him to 'go to Specsavers' when he makes a wrong call. We score two more goals this half, against a goalie who is very tall, but seems to shrink when the ball goes over his head ! Before the end our one and only substitute comes onto the field. His name is Takamitsu Katusu, but everyone calls him Taki. So then we start to have a laugh with things like 'Listen to the tactics Taki', and as we're playing in the blue away kit I say "Perhaps we could call him blue Taki...and he could stick to their attacker!". I know, I know ! The result was a resounding victory and a good game.
The drive home was pleasant once Sammy had heated us all up, and we were talking about my imminent visit to Germany to see Jan. We were all saying how nice he was and that he spoke better English than we do. Then John pipes up with, "Well, I actually spoke German to him". When we asked what it was, he replied "I said to him....Vat iz your name!". Yes, we've ALL had a long tiring week, but it was funny at the time.
The rest of the journey is uneventful as we drop Stu off at home, making sure to sound the horn as we drive away. The next stop is to drop yours truly off and it's not even time for a cuppa as I just can't be bothered tonight...it's straight to bed for some shut eye! Until next time...
Happy Travelling
Trev
Pickering Town v Sheffield
NCEFL Premier Division
Tuesday, 05/10/04
The Beermonster (left) bravely attempts to help'..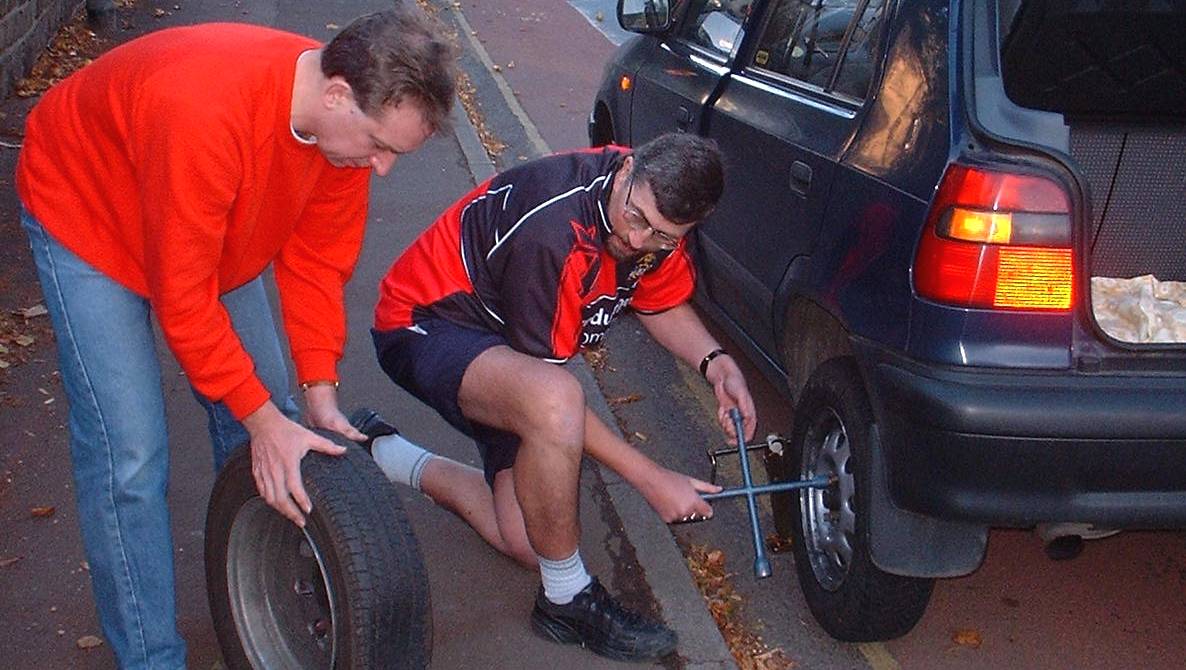 John as he tightens up his nuts following the puncture
It's bright sunshine but very blustery as John picks me up at the retail park. No Deano or Stu tonight so we're on our own as once again the fixture planners send us to North Yorkshire for an evening match....I've only been here once with an afternoon kick-off ! We'll be back again in a couple of weeks as well for an F.A.Vase match, but at least that will be in the afternoon. John picks me up bang on time and just as it starts spotting with rain too. In fact, there's a rainbow over Meadowhall as we drive past and onto the motorway. The traffic is flowing freely and 'Sammy' is running well on his new tyre. I mention this because on our way home on Saturday we had a puncture just as passed the Botanical Gardens. We blamed it on Joy. She was out with friends and we went home a different way to try and see if we could spot her to give her a lift home. John, with a little help from Les, changed the wheel in no time, though not as fast as the Ferrari pit-stop crew, but very impressive all the same. Me and Deano were going to go and sit in the Gardens with an ice cream whilst they did it, but we decided against it in the end. However, I digress.
Back to this evening and you can tell the nights are drawing in and Winter is just around the corner as John has his jeans on tonight. Although, no doubt, if it's fine on Saturday he'll be back in the shorts ! We both keep yawning, so we chat and listen to the radio, anything to keep us both awake ! As we pass York, the team coach drives past us, so we know we're heading the right way. We then take a detour through Malton in order to stop for petrol. The only problem being we couldn't find anywhere ! All the cars must run on fresh air around here, so we just carry on our way. John says "At least we've made good time Trev, it will give us enough time to push it the last two miles. Well, for YOU to push it while I steer". A few minutes later and we did actually find a garage, and put some petrol in. We then carry on towards the ground and John hands me the directions just to check as he thinks he knows them anyway. So I read them out..."On entering Pickering turn first left after police station and....B.P. garage !!!". We had a laugh at that one. With plenty of time to kill, John decides to put the spare wheel back in it's proper place, and gets mucked up to the eyeballs doing it! Then it's into the clubhouse for a cup of tea, and to make a dent in the sandwiches and flapjack I'd brought for us.
As I mentioned earlier, there are only us two from the Posse, but then quite a few familiar faces starting turning up. Billy Big Lens is here...in fact it's his third visit in just over a week, even a couple of the locals said hello to him ! He's the only one who was in the ground for their F.A. Vase Replay who didn't know that winners were going to be playing Sheffield. One of the new faces comes to stand with us, and Bill says to him "Be careful what you say because he'll get it all in print", pointing at me as he said it. So welcome Richard ! Even though you're a Blade AND play cricket, we'll let you off, it makes it all the better that you're another one who's not keen on the blue and white stripes we're wearing tonight ! Me and John can't see anything wrong with it !
With the team missing some chances Bill says "I think I'll go and get my boots". To which John replies, "Why, who are you going to lend them to ?". This brought a laugh out of us, and the surrounding spectators. Half time and there's no score. so we go and grab a drink and some food from the snack bar.
For the second half we go and stand near the Sheffield dug out. Things don't go to plan as we find ourselves two goals down (see full match report for the details), so John decides it's do or die....and starts to hand around the Kit-Kat cubes, saying "I can't see these working". The next thing is we've pulled a goal back ! Even Hobbo has some, and he's one of the substitutes. Back on the pitch and Sheffield are awarded a throw-in. So up steps Parky to take it. As Hobbo hands him the ball he says "Get it thrown Parky into the box and someone will get their head on it to pull us level". Do you know,that's exactly what happened ! So as we're all going mental on the touchline I say to Hobbo "Do you know the lottery numbers as well !". Not long after that the referee brought the game to a close, amid much delight of the travelling fans.
Back in the car and it's a trouble free drive home with very little traffic on the road. I only just manage to keep my eyes open as John pulls up at the house, then it's straight to bed as tomorrow we're off again on our travels . I didn't even have a cuppa or a Jaffa Cake! Until next time....
Happy Travelling
Trev
Thackley v Sheffield
NCEFL Premier Division
21st September 2004
Back on the road again, to the place where the 'Travels' first started many years ago - it seems like may years anyway ! In fact that first trip to Thackley was the only time I've ever been there when the sun has shone.
This time I got an e-mail off John just before setting off to meet him.....Deano had failed a late fitness test, so it would only be the two of us making the trip in 'Sammy'. The good news is that I received a text from Stu whilst waiting for John to say that he'd managed to make it home earlier from his meeting so he would meet us at Thackley - he can have his usual job back of doing the match report. As we don't need to pick Deano up, John has time to nip home and get changed before setting off for the match. He's decided against hypothermia tonight and put his jeans on . Before leaving he asks Lynne if he needs to take his keys ....after deciding what the likely time of his return is, she says no, she'll still be up. He then says "Mind you, Trev's navigating, so it could be a lot later". She replied , "well it's a good job I'm not helping him then or else we'll never find our way home".
We set off in bright sunshine, although there is a very strong wind blowing as the lorries wobble from side to side on the motorway as we listen to 'Drive Time' on the radio. All is going well until we negotiate a roundabout just off the motorway and take the wrong turning. As soon as he did it John knew he should have taken the next exit, as he banged on the steering wheel saying "why do I always take this exit, the next time I do that Trev, you have my permission to kick me". Still, never mind, we've got loads of time so we can have a mystery tour. Funnily enough he John was on about taking a different approach to the ground in any case, to avoid queuing in the yellow box to turn right at the cross-roads leading down to the ground. We accomplished this quite easily as we came across the said crossroads without realising it as we were well ahead of schedule.
As it's only just gone 7 o'clock we go into the clubhouse for a drink, and for the third trip in succession I have alcohol ! (quick - book me into the Betty Ford clinic). We meet the little old lady who sells the raffle tickets and give her a hug....she's like a little granny you want to adopt and stick in a rocking chair in your room (you mean like the one in Psycho Trev ? - Deano). She asks if we want any tickets and I tell her I've no change yet. Not to be outdone she gives me the tickets anyway and tells me I can pay when I get some change....she's a shrewd old bugger! Bill T. is in the clubhouse so we sit and have a talk with him until it's time to go into the ground. Stu phones to say he's only about five minutes away, so I get him a programme. Andy and Caroline have come along too, this time Chris has come with them and he's sporting a gashed foot as a result of his party antics on Saturday night....serves him right for missing the Colne game!
The match starts and we're stood at the car park end as the team pour forward creating chance after chance. Stu is trying to help the cause by appealing for everything.." Handball ref!" etc. etc. Thackley actually have some fans this year...I wonder if it's the same rent-a-crowd that was at Selby the other year. The Sheffield supporters actually make up about a third of the total crowd, so well done you lot, as I reckon we must have one of the best away supports in the league. Back on the pitch and it's time to celebrate as Marshie scores for us. We look in total control but despite numerous chances cannot add to the scoreline, as the referee brings the first half to a close. It's back to the club house then for refreshments, this being due to the fact that their snack bar had burnt down....pity really as I always liked their hot-dogs. At least they've got some food on in there, as John tucks into pie and peas whilst me and Stu just have a cuppa. Mal also has a cuppa too, but decides to spill it all over the table, so they give him another one! Guess what? None of our raffles tickets won either.
Back outside and the second half is already underway as we make our way to the far end. We look for the horses in the field and yes, there they all are with their blankets on. On the pitch it appears we made a bad decision to change ends as Thackley have all the play with Sheffield's attacks being few and far between. They eventually get an equaliser through a defensive mistake, which results in a slanging match between some of our own players. All we can hear is the referee telling to them "Listen, you're supposed to be on the same side, now get on with it". It begins to rain and the others start to drift off to the stand whilst me, John and Stu stick it out, fortunately for us it doesn't last long. With time running out Sheffield have a chance to steal the game but Wardies shot goes narrowly wide. By the way, we've found a new nick-name for him - Star Trek. Thankfully, after about four minutes added time the referee ends the game and in the end it was good to come away with at least a point. It's an easy ride home, no detours or anything like that, so he'll be home at the time first mentioned to Lynne, after dropping me off first. I make a cuppa and go straight to bed, too tired to even get the lid off the Jaffa Cake tube. Until next time.
Happy Travelling
Trev
Colne v Sheffield
FA Cup First Round Qualifying
18th September 2004
The BeerMonster manhandles yet another victim...
aka Mal, as we climb on board the coach for the journey home from Colne
Once again we're off on the cup trail, but this time instead of heading to the North East it's over the Pennines to the North West. It's my day off but John will be picking me up from work as I'm going in for a few hours first. At the designated time I leave work, to be met by a heavy shower of rain. Thankfully John arrives just as I've got to the gates. Then it's off home for a quick change and to pick up the sandwiches etc. that I'd already made ready for us in the fridge. The Beermonster is joining us today too, so next stop is to pick him up, then it's off towards Hillsborough to get Deano. Maz is waiting outside for the breadman when we get there, as Deano makes his way to Sammy. Les is sat in the back in Deano's usual place, but he's not going to budge, so he has to struggle into the other side. This upsets the balance of the car as Sammy always has his tyres inflated more on Deano's favourite side to allow for the extra weight. Off we go and the first stop is to Somerfields as John needs to pick up supplies of sweeties for the match. Les mentions something to the effect of "Will you look at that, we've only travelled a few hundred yards and Trev's already got us lost in a supermarket car park". The cheeky sod ! He then asks Deano if he wants to swop sides but he says he's stuck on that side now till we get to Tankersley. He said it was due to his big feet. "I was born with big feet" he says "but not literally! I didn't enter the world with size tens...and anyway you know what they say about big feet". So Les replies with, "Yes, you've got long toes!". Needless to say the conversation then entered into utter filth. We arrive at Tankersley with time to spare and make our way down with the players to wait for the coach. Macca then gets a message that it's picking up from the other side of the road, so it's dodge the traffic once again as we leave John to struggle trying to pick up equipment and his umbrella whilst his bag keeps falling off his shoulder. Yes, it may be windy and raining but the man still has his shorts on ! When the coach arrives we all clamber on board. Me and John sit behind Stu (Cecil) and Liam, while Deano and Les sit opposite them. Who's Cecil I hear you all ask? Well, while Stu was on holiday he grew a beard. Apparently at one match someone was talking to him and said the only way they recognised him out of The Posse as he was the only one without a beard and glasses. Now sometimes he does wear glasses, so he decided to grow the beard to confuse all and sundry, and then called it Cecil. So now he's greeted with "Hi Stu, Hi Cecil". Sue asked him last week when he was going to shave it off. His reply was, "Can't do that, Lynn likes it....and it's good in the lurve department!" (Too much information there I think Stu.) Sue and Tim and Little Billy are making their own way to the ground for this match, and they're also taking Andy with them. No Caroline though as she's got to work, and no Chris as he's got a party to go tonight and wants to get there at the very start of it!
Once we're up and running me and John settle down to read our books. Now, I went to renew mine at the library on Tuesday and they said I could only have it for another week as someone had ordered it and could I finish it by then please. So I looked at her and said, "Well, I'll have a bloody good try but being as it's taken me three weeks to read half of it, and there's no pictures in it to colour in, I very much doubt it!". Somehow she didn't find it as funny as I thought. After a while I seem to be reading the same sentence over and over again, so decide it's time for a rest and attack the bag of food for a sandwich and a drink. The idea was to have something to eat, then close my eyes for a while, but the food seems to have woken me up...it must have been those drugs I put in the sandwiches! So it's back to a bit more reading. We then stop for a break at the services and quite a few of the supporters are wondering why we're going this way to the ground as it's not the route they would have taken. Before they get the chance I say to them "I'm not taking responsibility this time, blame the coach driver". It doesn't take us all that long to get to the ground then. Apart from the fact it's at the top of a hill and open to the elements, it's got some good scenic views of the countryside, although I wouldn't fancy being stood out here in the middle of December watching a match. (Check the website as Deano has a good picture on there with the rolling hills in the background). First stop for The Beermonster was the clubhouse, whilst me, Stu and John went to look in the club shop and bought ourselves a badge each as a souvenir of yet another ground visited. There's quite a few of us here to support the team and whilst some of us went to stand on the open side, the rest of us took up residence in the stand and created a hell of a noise with the airhorns and rattles when the teams came out. Tim, Sue and Andy have turned up (not forgetting little Billy of course). Tim also looks like he's growing a beard and says he's thinking of calling it Cedric, but I think Sue has other ideas about that! Stu was telling us about our new player, Des, so we were encouraging him whenever he got possession. Although we had a fair amount of the play and some good opportunities it was the home side who went in at half time a goal to the good. So a trip around the ground to the snack bar was in order. I order some teas and ask Liam if he wants a cold drink, which he does. So I ask the ladies behind the counter what they have. "Coke, Diet Coke and Fanta" was the reply, so I ask Liam what he wants. He says "7-up !"...Kids eh...don't you just love 'em! Anyway, he settles for a Coke.
Back in the stand for the second half, and there's only a minute gone by and Colne have scored again. We're not too worried, just a bit concerned but playing down the slope with the wind at our backs would hopefully help us in our quest for goals. Liam is running about like someone on Smartie overdose.....he's even took his sweatshirt off he's that warm. Meanwhile Sue is sat in front of me, John and Les and she says "Liam, are you hot?". To which he replies "Yes", so Sue asks "Well in that case come and sit on my knee and warm me up". At that stage both John and Stu volunteer to offer their services in place of Liam! As we're playing in our away kit Les has brought his old (Wednesday) blue and white scarf, which doesn't go down too well with some of our lot, but he put it on anyway. Now they are blaming him for the score for wearing the 'unlucky' scarf. So he changes it for his red and black one. Out on the pitch, try as they might, the ball just isn't running for the lads today. We're here to enjoy ourselves anyway so start whistling and singing the Great Escape. We also have a few choruses of 'Sing when we're losing, we only sing when we're losing' and, of course, we HAVE to have 'Allowanhour' and the 'ooo-ooo' song! The locals must have thought we were mad....they're right! Back to the match and Cluckie is being treated for a head injury by Snowie. Les then makes us laugh by saying that Snowie is asking Cluckie, "How many of me can you see?" and Cluckie's reply is..."Seven...but I can't see Snow White!". With time running out we get a life-line when Picko is brought down in the area for a penalty. He gets up to take it himself and finally breaks his duck and scores, before running over to us to celebrate. Despite a lot of pressure in the closing minutes we cannot get the equaliser and gracefully bow out of this years competition as the referee blows for full time. However we still give the lads some cheers and applause as they leave the field. We all head into the clubhouse then as we'll have to wait for the players before setting off back home. Stu asks if I want a drink, but I've already had some alcohol when we got here. God, that's two away matches with beer ! I'll be getting a reputation at this rate. Then it's all stand and stare at the television to look at the football results as they come in. Stu's happy because Luton have won, a fact he keeps repeating over, and over, and over again. Pluus it's a Sheffield double for me, John and Les, as Wednesday have lost as well. This is only softened by the fact that United have lost too.
When we finally get going on the coach we take a different way home which seems much quicker. It's funny that, but nearly all trips seem shorter on the way home, even when we've lost. Me and John finish our impromptu picnic and carry on reading. On the radio we're listening to the Ryder Cup, and also any footie news that comes up. The one main bit that we hear amid loud cheers from the back of the bus...and Deano, is that Wednesday had just sacked their Manager. Arriving back at Tankersley, John hands me the keys while he has a talk to Macca. I can get in the car, but can't get the crook lock off....even with the keys. Needless to say, Deano and Les are taking the Mickey, saying things like 'Not only can he not navigate, but he can't even steal a car when he's been given the keys'. They then point to sign nearby which says - Beware Of Car Thieves. Yet more laughing from the back as Deano says 'You don't even have to hide the stuff in the boot as Trev couldn't break in your car anyway!'. John arrives back and it's homeward bound, and although we lost we still had a good time. Roll on Tuesday and a trip to Thackley. Time for a Jaffa cake...after my curry ! Until next time....
Happy Travelling
Trev
No, not the pitch at Colne.....

but the view outside the ground !!! (Click On Photo For Larger Image)
Selby Town v Sheffield
NCEFL Premier Division
7th September 2004
It's an early evening start as I go to meet John. I was just talking to my neighbour Richard, then looked at my watch and thought 'oops - better get my skates on'. I've still got ten minutes to spare but it's going to take me at least that long to get to the pick up point. As I start jogging down the road I see a car out of the corner of my eye slowly going down the hill beside me. As I near the bottom of the hill a voice shouts "What are you running for Trev?" It's John. As he was early he's decided to come and pick me up. As he saw me going down the road he decided to follow me...the sod! I'm supposed to write about these things happening to other people, not to yours truly! It's turned really warm again as the sun shines through the windscreen and starts to bake us. Next stop is the town centre to pick up Deano from work, and as we're running a little early John takes the opportunity to pull into the garage next to where Deano works in order to fill Sammy up and get some money for himself. As usual he's got his shorts on. I decided against wearing mine as a quick weather check before leaving home found it to be a bit too windy for my liking. He's also still got a bandage on his knee, the only difference from Saturday being that this one fits and doesn't cut his circulation off! Once Deano arrives we just have time for John to pop home to drop some work stuff off then it's away we go - Selby here we come ! As it's so warm I've got my window wound down with John's balls blowing in the breeze.......I hasten to add it's the fluffy car decoration ones I'm talking about! Even though it's mainly all motorway it's a lovely night for a drive as we listen to Johnny Walker on the radio doing his 'Drive Time' programme. We arrive with plenty of time to spare. In fact Tim and Sue (along with Billy) have just arrived too. I greet them with a "Hello" and Sue replies "Come here...I want a word with you!". Oops, I guess she finally read my comments from the Harrogate Travels. Thankfully I escape in one piece. Once inside we head for the snack bar in the club-house, but they haven't not done any food yet so me and John content ourselves with a cuppa. Deano wanted a pint of Guinness, but that was off too. Tim and little Billy decide to have a game of pool while we stand around and make stories up using our players surnames...it doesn't take much to amuse us !

Once again it's a good turn out of Sheffield followers as I count at least two dozen, and there can't be much more than about 60 people in total in the crowd. As we're kicking towards the stand in the first half we go and sit there, being careful not to fall through the gaps as it's a long drop to the floor. Everybody is careful to make sure nothing can drop out of their pockets too. The sweeties do the rounds as we watch the players turn on the style and totally out-play the home side. They deserve their half time lead, but it's amazing that it's only by the single goal by Jamie Parkinson. Picko is doing everything to get on the scoresheet - don't worry Jon, it will come soon we're sure of it !

Half time and back to the club-house, this time for tea AND hot dogs. We then venture outside and go and stand under the new constuction which has appeared from last season. It's really good and just the sort of thing we could do with at the Coach and Horses for the Sheffield end of the ground. There's plenty of room for us to spread out and also it helps to amplify our vocal backing of the lads. On the pitch the game has got a lot more physical, and the referee isn't helping by being so inconsistent, which Tim refers to as 'Being a Muppet!'. He finally loses all control (the referee, not Tim) as he helps to instigate a twenty man free for all by pushing Cluckie off a player, and it's not as if he was kicking him very hard either ! With time running out (well actually normal time HAD run out) we were just playing extra (10 mins !) time the referee had added on, we're busy trying to get him to blow his whistle and when he does it's ...celebration !!!! We burst into non-stop chanting of "Sheffield, Sheffield , top of the league" and you know something...it felt bloody good! The players came over to thank us as we applauded them off the field, what a great night. Back in the car park we find out who the big white company van belongs to as Darren Holmes waves to us as he pulls out. We've decided after tonight's scintillating performance he can have (yet) another nickname...this time it's Darren Van Holmes! Makes him sound like a Dutch international. It's a nice drive home as we listen to Steve Harley on the radio and also Van Morrison doing a cover version of Kermit the Frog's song about being green !!! Next trip is a Saturday special as we head for Colne in the F. A. Cup. Until next time.....

Happy Travelling

Trev
Prudhoe Town v Sheffield
FA Cup Preliminary Round
4th September 2004
The joy, the anticipation, the early start ! Yes, it's F.A. Cup day and we're off to the North East to play Prudhoe Town in this Qualifying Round tie. Yes folks it really does start at this time of year, not like those namby-pamby professionals who think it begins with the Third Round in January! Having just celebrated my 49th birthday mid-week (yes I know....you wouldn't think I was THAT old would you....well...would you?) I splashed out on a new pen and road atlas of Great Britain just for the fun of it. I'm not sure what all the different coloured lines are in the atlas, but they make pretty patterns and I needed something like that to fill the gap in my bookcase. There's no Stu and Liam today....they've been kidnapped (oops, sorry). Actually they've gone to his Sister-in-Laws wedding. Now I know Lynn is the smart one in the James household, but it's obvious she must have her sisters quota of brain cells too. How else can you explain her sister deciding to get married in the footie season! I mean come on, there's a whole four weeks at least between the end of one season and the following pre-season friendlies when she could have slotted it in...better still, they could just live together! Well no doubt Stu will be there smiling away with his mobile in his trouser pocket on silent vibrate as we text him with 'good vibrations' of our progress this afternoon. There's no Deano today either, a last minute hitch on the home front means he's had to stay behind, but he'll ring to find out the details. Gosh me and John will be like proper reporters (ha-ha) telling Deano the latest news as he updates it straight on to the website. The only other concern before today was Billy Big Lens and Gwen. Because they don't have a computer (in fact I think Bill still uses an abacus to add up on...kids, ask your parents what they are!) I phoned him to let him know about the coach trip. He told me that they would drive up as "Our lass can get a lie in then". It's a brilliant warm and sunny day when John arrives to pick me up, I just managed to get organised on time. It's a feast again today with sandwiches galore, crisps, pork pie, sausage rolls etc, etc! As it's that warm and the forecast is good I've 'Done a John' today and also put the shorts on. Noooo! Not his! I've also got MY shorts on. Right then, off we go, next stop Tankersley. Well not exactly, next stop is in fact back to John's house as he's packed his bag, remembered to pick up his phone, but forgot to pick up his money! No problem, we just head out to Tankersley via Wadsley Bridge instead. Arrive there in plenty of time. Macca and Lee are already there, as are a couple of the players. John has a strapping on his knee and says to Macca "Sorry Dave, but you'll have to take me off the team sheet today", which raises a smile. It's only just going 9.30, and although the coach isn't due until 9.45 it invariably turns up late, so it's a big surprise when Macca answers his phone and then shouts to everyone "Come on, it's just about to pull up!". So me and John give them a hand with some of the stuff. There's plenty of room on the coach as it looks as though Tim and Andy have decided to drive up with their families too.
We both settle down to the journey by reading our books. This should keep us out of trouble as they are both over 400 pages long and neither of us are fast readers. We travel up the A1 and we seem to be going very slow. We look out of the window to see that we're about seventh in a line of traffic being held back by a police car with it's light flashing. He's escorting a heavy load. One of the lads says "Look, we've got a police escort all the way to the ground". It's almost like the safety car being on the circuit during a Grand Prix....and the affect is just as good, because as the load turns into a lay-by the police car follows it and everyone puts their feet to the floor and accelerates away as fast as they dare! It's been fairly overcast and cloudy since we set off but the sun is breaking through now as we partake of some of the feast lurking in my bag.
It's Sod's Law isn't it ? The club have allowed plenty of time in order to make sure we still arrive with time to spare and this time there isn't one hold up as such, so we're already about five miles from Durham and it isn't even noon yet! So it's a half hour stop at the services for a cuppa and for everyone to stretch their legs. As me and John are enjoying our drink Alan (Methley) comes and sits at the next table waiting for Steve (Hall) to join him. He's also ordered tea and when he looks at the bill he nearly faints ! He tells us all "£1.89 for a pot of tea? In Barnsley I can get a roast pork sandwich and a small custard and still have change out of a quid!". He begrudgingly pays for it on the way back to the coach, having released all the moths out of his wallet first. It's still not one o'clock as we pull into the Prudhoe Town car park. Macca and Lee take the lads off for a walk to loosen up, which is ideal as the ground is surrounded by countryside. Me and John go into the clubhouse to be greeted by some of the locals who are very friendly and make us feel more than welcome. As we've come on the coach we both decide to 'live on the edge' today and partake of some alcoholic beverages! John decides to read a bit more of his book while I watch the live match on the television. By half past two some more of the gang have turned up. Bill has arrived with Gwen. I ask if she managed to get her lie in but she tells me no. So come on then Bill, what were you up to then ? Andy has also just arrived with Caroline, their Chris forgoing the trip for something else. Andy says "I'm sure I've just seen Tim and Sue outside", and as if on queue he then gets a text from Tim explaining that they are sat in the car scoffing food ! With kick-off drawing ever nearer we all start to wander into the ground.
It's a nice little ground actually and the pitch is immaculate. Apparently it's only used on match days by the first team, no one else uses it and they don't train on it midweek either. It shouldn't do us any harm as we'll be able to pass it about to our hearts content. We've come and sat in the stand because although it's a beautiful day it's too bloody hot stood in the sun. The back of the stand we've festooned with all our flags, and we've left three of them at home. Good job really or else they'd need a bigger stand. We've even got Dennis's flag which he left at the last home match, it's a good job we know him, and as we talk about his flag he actually turns up ! So I say to him, "Dennis, your flags here, for Gods sake don't forget it this time".
The game starts and we're cheering the lads on. We're sat on the side where the home dug-out is and one of their staff is busy shouting instructions to the team while little Billy keeps on asking "What's he saying?". Sue is too enthralled with his Geordie accent which is making her weak at the knees. The team are doing a lot of attacking and controlling the game (for full details read the match report) and actually take a well deserved lead after twenty minutes through 'Wardie'. Just as they go to re-start the game, Chris (from North of the Border) turns up. He's down in Durham with some of his ex-Uni mates so me and John presumed he was lying in a drunken stupor somewhere and given up on the idea of getting to the match. When he finds us we report that we've already taken the lead. He says "I hope that's not the only goal of the game then". I present him with his flag which we've been looking after for him and he goes to put it up next to all the others. On the pitch Tim is having difficulty recognising Marsh and Ward and getting them mixed up. So then we start to have a play on words concerning these two, with comments like Marsh-all Wards, and making a catalogue of errors ...I just groan ! There's plenty of sweets making the rounds today as we've got Kit-Kat cubes, wine gums and M&M's ! No wonder I feel sick. Half time and John goes with the others to buy us some refreshment while I guard the flags and bags.
We're all back in place ready as the second half kicks off and Billy gives us a blast on his air horn while Tim starts to whistle THAT tune, much to Sue's annoyance, but once he's done it, we all start doing it too...it's like a drug, you just can't kick the habit! John gets a text from Lynne to say that the Owls are drawing and the referee's a muppet ! Despite loads more chances our lads just can't get another goal so it's biting finger nails time as the clock ticks round to full time. Finally the referee puts our hearts on a more even keel as he blows for full time to great cheers from all of us as we applaud the players from the field and they respond in kind. Chris is upset that he missed the only goal, the only consolation being that we may be up in these parts in a fortnight for the next round, depending on results. He's going into the clubhouse for a drink so me and John go and join him as we've got to wait for the players anyway before heading back home. So it's yet more alcohol. God, I'm living life on the edge today! John gets in touch with Deano, who tells us that we'll be playing Colne in the next round....so bang goes Chris's choice of a short journey to see us, it's just not been his lucky day. When everyone is ready it's back on the coach. Thankfully our side of the coach has been in the shade so it's nice and cool. First stop is the town centre as the coach pulls up to allow the players to go and get some alcohol for the journey home in order to celebrate the win. They offer me and John some but we decline, I mean, I've already had a pint today as it is ! (The last of the big drinkers!(lol) So we settle down and make inroads into what's left of the picnic then start to read our books for a while as Radio 5 is telling us what's happening in the World Cup qualifiers. It's still a nice sunny evening as the fields roll past and in no time at all we've arrived at Tankersley. We give Macca and Lee a helping hand up to the car park with some of the stuff (I never knew a bag of balls could be so heavy!) then it's time to get re-united with Sammy and we're off on the final leg of our journey home. It doesn't take too long before John is pulling up outside my house after a great day out. Time for a cuppa and a full box of Jaffa Cakes to celebrate and we now look forward to our trip in the next round to Colne. Until next time.
Happy Travelling
Trev
Harrogate RA v Sheffield

NCEFL Premier Division

28th August 2004
Well here we are again at last. Yes, I know I've already been on one or two 'Travels' already, but this is the first official one of the new season following the 'Red and Black Wizards'. It's a trip to see the cycling alien at Station View, and once again (like last season) it's nice to be going there in daylight. In fact yesterday John said to me something along the lines of "We'll have no trouble finding it again Trev, in fact it can get quite boring without any of our (un)sheduled detours". These words may well come back to haunt him as the season progresses ! We've got to keep an eye on Sue today, as last year she had a run in with some of their fans after they were most uncomplimentary as Bonno was being stretchered off. I reckon she should turn up disguised in a schoolboy uniform, complete with short trousers...then we could pass her off as Jimmy Krankie, that would fool them! Anyway, I have to make sure to keep an eye on her as I'm looking for her to protect me when we visit Armthorpe and Glasshoughton, after my comments on the television.
I've already arranged to officially finish work early today, to give us plenty of time to get there, which makes a change from saying "I'm, just going to the toilet", and disappearing without a trace (if anyone from the hospital is reading this, then I'm only joking about that last sentence !). Stu can't make it today due to work commitments so I'm going to do the match report too, that should be fun. At least I'll have Deano and John to help me with some of the finer details, I hope. Actually we should have brought our cub reporter Liam along and he could have done it instead. Stu sent me a report Liam did of our last two matches, and they are gems...you know what kids his age are like, straightforward and don't shy away from what they want to say!
The weather is fine, nice and sunny in fact. I guess I could have predicted it would turn out okay as I left a pile of washing in the house instead of putting it on the line. Mind you, at 4.30 in the morning I can't even see the washing line until I almost hang myself on it. It's a quiet journey with the traffic moving swiftly along as we listen to some comedy highlights while we await our ritual of listening to 'Pick of the Pops'. So I take the opportunity to rest my eyes for a bit...only one at a time though just in case John needs me for directions! The familiar music starts and today it's 1965 as we kick off with the Righteous Brothers singing 'Unchained Melody', you know they weren't actually brothers at all. Then it's the turn of the Walker Brothers with 'Make it easy on yourself'. Now they actually were brothers, well two of them at least. I guess two out of three ain't bad. I remember seeing them at the Fiesta once and they were crap. Mind you, it didn't help that John Walker was pissed out of his head and could hardly stand never mind sing...really put me off my chicken in a basket!
The journey is going really well and it's a change to see some of the countryside instead of just the headlights which is usually the case. We've had the Shadows and the Kinks...now it's the turn of Tom Jones to sing 'What's New Pussycat'. Thankfully it's not our Tom Jones, who, by now should be warming up on the pitch! There's a fair bit of traffic once we get into Harrogate, they can't all be going to watch Sheffield can they? In no time at all we're turning into the car-park, well, actually we parked on the grass near the playing field behind the ground. Tim and Sue are already there waiting, they said they wanted to wait for reinforcements before going into the ground. Deano and Maz are stopping in the car to hear what the number one song was from the charts that week in 1965. We all guessed it could be the Beatles, but in fact they were number two as Sonny and Cher were in top spot, at least I think that's what Deano said. Once inside the ground we head for the snack bar. Tim is buying so John says "I'll have a tea, and a sausage roll, and pie and peas", good job he was only kidding. They have extended the snack bar and added some big comfy sofa's which we gladly fill. It's a pity they can't take the advertising boards down from around the pitch, we could watch the match from here. I ask John if he can sneak a sofa into the car. He said it would be no problem....but we'd have to leave Deano and Maz behind! We eventually give up the comfort of this luxury, after struggling to get out of it and take our place outside. Our friend Chris has turned up (as he said he would) having travelled down from Scotland, and the first thing I tell him is that I've forgotten his flag! It's in safe keeping with the beermonster, but I'll make sure to get it for the next match. It's not very often he gets to see us play these days, having given up his leisure time as a student to get a proper job, well that's what he tells us anyway. Being a piggy fan too, he's not too impressed when the team run out in the new away kit of blue and white stripes! We're kicking towards the stand so we go and sit with our merry group of fans...Tim and Sue with little Billy, and Andy, Caroline and Chris. We're not big on numbers, but with rattles and air horns we can still make plenty of noise. The verbal terrorist is missing as he's gone to Barnsley to cheer along Hull. We do have another bunch of supporters up on the top side of the touchline too...these are the guys who usually occupy the covered standing at the Coach and Horses. I suppose we could call them The 2nd Posse, unless they have a better name...come on lads, tell me what you want to be known as. We've already had a couple of attacks as the sweets start their rounds. John is dishing out the Kit-Kat cubes, whilst from the other side I'm presented with some fruit allsorts, mmm very tasty.
Despite our early pressure it's Harrogate who take the lead after just seven minutes, much to the delight of their supporters who seem to have dwindled in numbers from last year. We look at our 'lucky mascot'(Chris) and I ask him, "So what time is your train back?" It's a good job he knows we're only kidding, well, most of the time we are anyway! All is not lost though as the lads turn it on big style to dominate the match, getting a deserved equaliser from a Ryan O'Carroll free kick, which for the moment silences the two young kids who've been banging on the back of the stand cheering for Harrogate. Just over five minutes later and Richard Carrington has given us the lead, time for another round of sweets in the stand! That's the way it stayed as the referee brought the half to a close and we made our way back to the snack bar.
This time it's a tea and a tasty sausage roll courtesy of John, although we stand up to eat these as the sofa's are full. I must say, the sausage rolls they serve are some of the best I've tasted in this league.
For the second half we're stood on the open end, and although it's still bright and sunny there is quite a big black cloud coming our way. Well, if it rains we'll just get wet won't we? Of course we could take shelter back in the stand, it all depends how brave we feel ! Sue comes and joins us. She says she's bored sat at that end, and may well cause trouble just to liven things up! I think she was joking, but then again.
Deano starts off a play on words again, shouting "Come on Sheff (chef - get it ?)" So of course him and John start coming out with things like, Harrogate will get their just desserts/chip the ball in/give 'em a good roastin'/don't let the defence crumble! By which time I'm pulling my hair out...well okay, what little bit I have anyway. I just don't have the quick response they have doing this so I just say "I'll get my coat then", and make as though to leave.
Sue comments how quiet it is without Geoff, she thought she'd gone deaf. Which reminds me to glance over to the houses to see if the red light is still on! (you'll have to read previous Harrogate travels to understand that story!) Near the end of the match Deano starts singing our second adopted song....it's the oooo-oooo song as I describe it. It is featured on a tv advert but is also played at every match at the Coach and Horses. You'll know the one I mean I'm sure, irritating as hell, but once you've heard it you can't get it out of your head! It makes a change from our 'Allowanhour' song. Time is running out for Harrogate to get an equaliser and to be honest it would be unfair if they did, we should be about six goals in front by now. Every time Picko sees a chance go astray he looks at us as if to say 'what do I have to do to score?'. We reassure him that the goal will come sooner or later. Caine is also having a frustrating afternoon too, doing everything but get the ball in the net. With full time approaching the announcer says that the 'Barmy Army' (their group of fans behind the goal) have nominated Hilts as Sheffield's man of the match. Deano pipes up..."We'll pick our own man of the match, thank you very much!". Which we do, and it turns out to be Ryan O'Carroll, although there were quite a few who could have got it on a day when the team really shone and never looked troubled. As the whistle blows to end the game, Deano gets a text from Geoff to say that Stocksbridge have lost (again). Could it be the curse of a certain Mr. Bray? Deano texts him back to tell him how we won at a canter. Back outside and Andy gives me a big bag of cuddly toys to take to work for the kids, which gets some strange looks from the Harrogate fans as they drive off home. Back on the road and it's still light with the sun shining as we sit back and listen to Richard Allinson on the radio, satisfied with a good result and three points on the road. It's an easy journey home as John deposits me outside the house, ready to settle down for a celebratory cup of tea and a Jaffa cake or two....or three....or four, and that's before my main meal ! Until next time.....
Happy Travelling
Trev
Stocksbridge PS v Sheffield Wednesday
Pre-Season Friendly
9th August 2004
It's a game out of the blue as I've picked up my e-mails after work. All it said was "Do you fancy going tonight?". It was only after reading the other messages attached that I found out it was at Stocksbridge and our old friend Geoff would be there. So after a quick call to Stu, everything is arranged and he's just turning the car round at the top of the road as I step out to meet him. Despite a deluge of rain for most of the day the match is on. As we drive up to Lane Top Stu is busy chatting and goes as if to overtake a row of parked cars...only to find out they were all stationary due to the traffic lights being at red. So he manages to squeeze back into the correct lane, and away we go. Liam is quiet in the back seat. Yes, I'll just repeat that because even I couldn't believe it, Liam was quiet in the back seat. We were listening to a soundtrack of a film which Stu had me guessing the title as he threatened the little one not to tell. Liam is saying to me "I know it Trev," to which his dad replied, "Of course you do , I recorded it for you, you muppet!" Eventually I get the title which was Shrek 2. At Chapeltown we pause at a junction and as Stu indicates to go right he says to me, "Trev, where am I going?" Thankfully he didn't need me to reply, but in his head he thought he was taking us on to the motorway, which normally would be okay , but it was the wrong direction for tonight's match! We've set off early as ,despite the weather this pre-season game usually attracts a good crowd (this was proved right as there was over 500 there).On arrival, the car park is already closed as it's full, so Stu does a quick reverse into the pub car park to turn around, while the landlord is stood there putting up his sign warning people that his car park is for patrons only. So we park on the street just opposite the ground and as we are walking to the entrance, who should stop next to us but Geoff, asking where the hell to park. So Stu directs him to where we are and we wait a couple of minutes for him to join us.
He's suffering with a cold, so we tell him it's a good job he's turned up as that was one of the reasons we're here. As you can see, we're full of sympathy for him! Once inside I wait for Geoff to come through the turnstile, and tell the operator to watch out as he'll(Geoff) try to get in for a pensioners price. Straight to the snack bar and I treat him to a tea and Mars bar. As it's still raining we decide to go and find some seats in the main stand. Looking across the pitch towards the distant hills, they are shrouded in mist, but there' s no sign of the cross. This relates to an incident on my last visit here with Geoff and Stu, when you could see a large cross illuminated on the hillside. Apparently (according to Geoff), it belongs to a farmer who puts it up at certain times of the year, and at present it was not in use. Just before the match starts Neil Redfearn (ex-Barnsley player) walks in front of us and Geoff is saying to me and Stu, guess who that is? Well I knew his face , but just couldn't think of his name, so Geoff being Geoff, he calls him over and asks him to tell us who he is ! Geoff then goes on about how he saw him score one of the best goals ever while playing for Barnsley. He talks to him a bit more then he (Neil)makes his escape by saying he needs to find a seat .
On the pitch Duncan is in the team for Stocksbridge but he's getting little action as the Wednesday youngsters are much quicker to the ball. There are a couple of recognisable names in the Wednesday line -up...Craig Armstrong and Richard Evans. In fact it was Evans that opened the scoring for the visitors after about half an hour. After Saturday's result for the Wednesday first team , a lot of people thought that Chris Turner may have included the proper first team to play tonight! Then again , I suppose two defeats in three days would have looked even worse! So it's 1-0 to the visitors at half time and we make our way back to the snack bar. This time it's Stu's turn to treat us all, so it's been a cheap night for Geoff as he's only had to pay to get in , and that doesn't happen very often either! We meet Nigel while we're there and all go back to the stand for the second half. Stocksbridge come into the game a bit more this half but are still no match for the visitors who are in control, adding to their score on 76 minutes with an individual goal from the centre forward who ran from the half way line before slotting the ball home wide of the keeper. The highlight of this half was Geoff obtaining a free wall planner which some of the young kids were giving away. He felt guilty about this so he gave it Stu for his office wall, Liam promptly rolling it up and attacking Geoff with it ! With five minutes left, Wednesday get a third goal, to put the result beyond doubt and the referee signals the end of the match. We make our way towards the exit. Stu and Geoff have their big brollies so Geoff tells me to take shelter under his, that's just before he nearly takes my eye out with the bloody thing! Back at the car, Liam has a wee next to the back wheel as I shout down the road to Geoff to tell him what he's doing. Then it's back home in the dark, even that felt strange, but there will soon be more dark nights ahead for our regular jaunts to grounds far and wide, thankfully I didn't have to navigate on this one. Until next time.
Happy Travelling
Trev
Staveley MW v Stocksbridge PS
Pre-Season Friendly
24th July 2004
With our first taste of pre-season footie under our belts and Sheffield not having a game this weekend, me and John decide to head once again to Staveley to see them play Stocksbridge Park Steels. It also gives us a chance to meet up with Geoff and Duncan, who will also be there but might not be playing today. E-mails throughout the week to Geoff have made sure that he brings some cash with him in order to treat us to some food and drink, as I'm sure he'll miss buying stuff for us this season.
Just like Tuesday it's been a lovely sunny morning, but now the clouds are gathering as the wind gets stonger too. Let's just hope we don't get the downpour like we did on Tuesday night. John picks me up at the old library and then it's off towards the motorway at Tinsley. He's just started his annual holiday now, although he was in work this morning anyway. The radio is already on, ready for 'Pick of the Pops', as the sun makes an appearance and John puts his 'shades' on. Dave Berry starts singing about his 'Mama' as Dale opens the radio show with hits from this week in 1966. There's only four songs sung and we're already pulling into the car park, once again finding the ground without any trouble. I say to John "I bet we could even find this in the dark now", he just gives me a strange look as if to say 'Don't push your luck Trev!'
I get inside, turn around and John is nowhere to be seen. He does eventually turn up....he'd gone back to get his phone. "Why didn't you leave it till half time like you usually do" I chip in with. Once we're both inside, we walk towards the snack bar and who should we spot ? Yes, you've guessed it, Geoff. It's great to see him again as he almost crushes my fingers with his handshake. Straight away he keeps his promise and leads us to the snack bar. After getting our food and drinks, and listening to Geoff giving the young lass the usual "Do I get discount on bulk orders, and do you take credit cards?", we find a table and sit down for a natter before the match. Geoff is regaling us with his tales of China, in fact when we were at the match on Tueday Nigel sent him a text about something and he replied, telling him that at that precise moment he was in fact walking on the great wall of China! Well if you know Geoff you can imagine he has quite a few tales to tell, in fact I wish he'd write a book as I'm sure there would be plenty of stuff in there to make us all laugh (oh no, don't encourage him Trev - Deano). Anyway, back to the conversation and he's telling me and John about all the different things they eat over there (eg, dogs, birds of differing variety, raw fish and different insects). He tells us "One day they had these centipede things on sticks", so John responds with "I bet there was no problem with everybody getting a leg then!", much to our amusement. The stories went on and on. Once again there are familiar faces to see as we emerge outside ready for the match. Caroline and Andy have come to watch the game. Bobby Moorwood is in the Stocksbridge dug-out and we had a few words with Tom Jones who's now back from holiday. On the playing front, both Haysie and Marchie are in the Staveley line up, whilst Schoey is the Captain for Stocksbridge and Duncan is actually going to play, well, for the first half at least.
We stand on the sideline nearest to Marchie for the first half, so have a conversation going on with him everytime he comes near us to take a throw -in ! Andy is telling us about his forthcoming holiday to America whilst Geoff tells us more tales of China. Stocksbridge take the lead as Duncan is put through and he waltzes the ball round the keeper and into an empty net. Staveley are looking sharp, and having played more games so far are certainly fit. They get a deserved equaliser before the break.
Back to the snack bar at half time for more refreshments (and stories), then outside to the opposite side of the pitch this time. The players have already kicked off as we take our places, Waddle has turned up to play the second half for Staveley. On the hour mark Staveley take the lead as the Stocksbridge 'keeper shows us how NOT to juggle a football. It's the usual round of substitutions this half and on the hour mark Stocksbridge miss a great chance to take the lead. Andy says "Another few weeks and he'll be hitting the back of the net with those chances." Geoff replies "If I'd have been the defender he wouldn't have got the shot in as I'd have kicked him over the floodlights." Andy counters with "I wonder where Duncan got all his skill from?", which then leaves me with the opportunity to but in and say..."His Dad!" , much to the merriment of all around us, Geoff included. It's added on time now as we start to make our way around to the exit, and Stocksbridge score a last gasp equaliser as the referee just gives the teams time to take the re-start before blowing for full time. So it's farewells all around and Geoff says he'll see us some time in the near future and wishes everyone the best, then we're on our way home. Just like last time, it's an easy journey home, and time to sit and relax with a cuppa in the garden, as once again the football bug kicks in. Now for next week and a return to the 'Coach'. Must remember to stock up on Jaffa Cakes! Until next time....
Happy Travelling
Trev
Staveley MW v Sheffield
Pre-Season Friendly
20th July 2004
Well it's here at last. With a month to go before we start the new season it's pre-season friendly time. Time to meet up with the rest of 'The Posse' and look at the new players Macca has brought into the squad. It's quite a while since we played Staveley, but if I remember correctly they do a mean bacon butty in the snack bar! Weatherwise it's been a lovely day, but now as I stand waiting for John the wind has started to blow and there's quite a few dark clouds lurking overhead. No Stu or Deano tonight due to work commitments. The bus strike hasn't helped either, the roads are very busy and John has Sammy full as he's taking Pete and Jean (his workmates) home first. After dropping Pete off we head down Rutland Road in order to meet Paula. John takes his first left and pulls the car up so he can ring her to find out her whereabouts. About 10 yards in front of us is stood the essence of womanhood (NOT!) touting for business. Fishnets on , skirt slit up to her (hairy) armpits, legs like tree trunks and shoulders like a prop forward. All this and just to top it all she's swigging from a can of Newcastle Brown! I'm so glad I hadn't had any tea, otherwise it would all have been down John's back by now. We set off once again, exellerating as we pass 'her' as I'm sure she could have stopped the car with her bare hands, and onward to pick Paula up. After that it's time to drop Jean off and then back to John's house so he can get ready. As I walk in I shout to Lynne, 'The lodgers back' which makes her smile. John goes to get changed while I watch a bit of telly and chat to Paula and Helen. Once John is ready it's off we go. He's brought the directions with him but we do have a rough idea of how to get there. It will make a change to see it in daylight as all our previous visits have been for night matches.
We're having a laugh as we drive along, listening to Johnnie Walker on the radio who is speaking to a couple who have just brought out a book called Sextrology, a sort of astrology book with the emphasis on the sexual compatibility of couples. The e-mails start flying into the programme about how one is a Pisces and the other a Gemini and are they compatible etc, etc. Well, no matter what combinations are thrown up they always have an answer to say 'yes' in a round about way. After one particularly long diatribe John turns to me and we both say in unison "What a load of b******s!" As we head down the dual carriageway towards the Coach and Horses, we both keep saying "Keep right, keep right." So we can join the Chesterfield bypass instead of going to our ground. The rest of the journey is plain sailing as we find the ground with no trouble, and John even manages to find the entrance to the car park first time as well without having to turn round!
Into the ground and the players were already warming up. We chatted to Bonno as the shots flew past us, yes you've guessed it, we were stood at the side of the goal, we would have been better stood in front of it, that way we knew we wouldn't be in danger of getting hit. Mind you , I'll give our lads credit , they kept on hitting the same roof tile with each shot! Familiar faces then start to appear as the 'star' of Old Trafford, Snowie says hello and Steve Hall is also there. Jackie and Bill are here and Andy arrives with Caroline plus a few of the blokes who stand on the pub side at home matches.It's like a reunion as we all talk about what the season will hold. Me and John head off to the snack bar, passing Billy Big Lens on our way there. What a difference here too. It's all been re-furbished and we even see a familiar face behind the counter as Jayne takes our order for teas and burgers. She and Dennis (her husband) used to come to watch Sheffield, but now they are involved with the organisation down here . As we fill our stomachs Dennis makes an appearance so we get a chance for a little chat before he's off to do something else. With the game about to start we go and stand behind the goal with the others. Theres a few ex-clubbies playing for Staveley, Marcus Brameld, Shaun Hayes, Craig McCormick, Stevie Spence and our own 'sponsored' Marchie who we get a chance to chat to. The big plus for them (Staveley) is that they have Chris Waddle in their line-up. Now, being Wednesdayites, me and John are in seventh heaven seeing 'God' play once more. He may have lost some pace, he never had much to start with, but he's still got the skill. They also have John Beresford as well, but being as he's a piggie fan I couldn't care less about him!
The game kicks off with Staveley having the better of the early exchanges as we are saying to each other 'Who's that' as we try to identify our new players. Oh, I forgot to mention that Macca gave us the team sheet before the game and, being as there was no Stu or Deano, John asked if I was doing the match report, so first game back and I'm already doing two jobs! The home side go in front after ten minutes. We're actually stood behind our own goal at this point so we decide to have a wander down to the far end. It's getting darker and it's not just the evening drawing in, there's some bloody big clouds up there. As if on request, it starts to rain. Football on a summers evening in July , in the rain, you know it makes sense! Staveley go further in front and we head for cover as the rain turns into an almighty downpour. We manage to pull a goal back through Caine Cheetham then thankfully the refereee blows for half time, which leaves us with the dilemma..should we risk getting soaked to get to the snack bar, or wait. We decide to wait a little while, but as it doesn't look like stopping we do make a move to go for a cuppa. Of course , it starts to ease off and actually stops just as we get to the snack bar, leaving us dripping wet as we get out drinks and sausage rolls. Thankfully Jayne supplies us with some tissues so at least we can wipe our glasses to see what we're doing.
For the second half we decide to go in the stand with the others. As is the usual practise, both sides start to substitute players in order to give them all a run out. Staveley are awarded a free kick just outside the area, and we are all debating where Waddle will hit the ball, when their number 11 fools everyone, takes the kick himself and scores. Sheffield come on strong at the end and do manage to pull another goal back with a 25 yard screamer from young Danny Simpson, and almost got an equaliser too, but it was not to be. It was good to be back watching the lads though, and the new boys look very useful. Considering we still had about 8 players missing through holidays and injuries it's looking well for the season ahead.
It's an uneventful and easy ride home. In fact as we approach the arena John says, "Well Trev, I can't believe all the lights have been with us" Of course, as soon as he said that , the next set of traffic lights were on red, and the next ones, and the ones after that! Anyway, it was good to get back to watching the lads again, can't wait for the next match now. Until next time
Happy Travelling
Trev
Accrington Stanley v Burnley
Pre-Season Friendly
10th July 2004
Euro 04 has finished and it's not long until our own pre-season friendlies start, but as an added bonus I was talking to Stu, and he asked if I'd got anything planned for my Saturday off. Having told him that it was free he asked if I fancied joining him and Liam, as they were starting this season's matches with a trip over to visit a ground he had never been to (me neither). It's also one to stir the memories of olden times, as the team used to be in the Football League in the 1960's, but were kicked out when they went bankrupt, well it's either that or something similar, no doubt our esteemed editor will correct me if I'm wrong.
It's a fine day as Stu picks me up from home, with Liam already in the back seat with his footie magazines. There was a possibility that John was going to join us, but he's really ill. Well, what would you call it when someone decided to do gardening instead of going to a football match ! I guess Liam has missed his football and his old (literally) mates as he asks me to quiz him on different teams. In fact Stu asks him to tell me all about Burnley, so he proceeds to tell me what division they're in, where they play etc. He did get a bit stuck on their colours, but we got the right answer eventually. We then have to guess the names of players as Liam supplies us with the initials and the team. All this and we've only travelled about three miles. For any of you who've seen Shrek 2, well I'm already doing the donkey impression by saying to Stu, "Are we there yet?" every five minutes. The 'game' falls down not long after that as Liam comes up with "Who played for Sheffield last season who's last name begins with the letter T, and the first name begins with Jason" I ask you ! Needless to say we shout out Jason Tee. Funnily enough, he then decides to tell me about life at home with a particular story which was "Do you remember when mum was upstairs?" Stu visibly slows down and says, "Trev, I don't know what the hell he's going to come out of his mouth next!" Anyway, Liam carries on to say that she (Lynn) shouted that she wanted a tea, and Liam said he wasn't sure if she meant a cup of tea or Jason Tee to walk up the stairs. Sweet isn't he ?
The journey's going well, but of course as soon as we pass Tintwhistle on 'The Other Side', it's already raining. We're going quite well, and when we see a sign for Ramsbottom Stu gets the map out and says "Here Trev, I should have given you this earlier, I think it's page 51 you need". I get to the page and try and find where we are and where we should be, when Stu looks across and shouts
"Trev, that's bloody Leeds and District!" I replied with
"I was only looking at the page number you gave me", not knowing the correct page was on the other side. I followed the squiggly blue and green lines and traced them all the way to Accrington. You see, even after the summer break I've still not lost (or gained) any of my navigational expertise! We manage to find the ground easy enough, Liam is busy playing a game on his dads phone at this point. We even get lucky with a parking place near the ground too, only having to walk about 100 yards to get there. As it's still raining there's no chance of us having a kick-about with the ball, but we do manage to have a very limited game of 'head tennis' on the pavement! It's not a bad ground, after getting over the shock of paying £10 for a friendly! I ask for discount from the programme seller too, but got no joy out of her either. We found some seats in the covered stand, which filled up in no time. Liam had his bottle of pop with him, and had almost finished it before the players had finished warming up. Stu borrows my phone to let Lynn know we've arrived safe and sound, his phone is somewhere hidden in the back of the car!
Liam was telling me about his football team he's got on the computer. He says "I've just bought Neville Southall and he's 44 (years old)". I told Liam thatt Neville was nearly as old as me. So after he had guessed my age, ranging between 80 and 120 I managed to control myself not to hit him, and told him I was 48 (is that all ? - that must have been a heck of a paper-round - Deano). Me and Stu then go on about birthdates (he was looking at it from a star sign point of view) and when I told him September he said "What does that make you then ?"...so I replied "49 this year". We both looked at each other, then cracked out laughing, the little 'un was laughing too, and saying "That makes you old". Stu then says "We've got a full season of this stuff to go yet, it's only the first match, I'm worn out already."
There's a good crowd for these local rivals, and it's good to see that both ends behind the goals are open, allowing the supporters to change sides at half time. There's one or two good chances that are wasted by both sides as the teams end the first half goal-less. By now Liam has finished the pop, and the cry of "Dad, I need to go to the toilet" is heard. So Liam delegates me to look after all our seats while him and his Dad go in search of said toilet. They do eventually manage to arrive back just after the second half has kicked off, Stu saying there were about four toilets in total, for a crowd of 2000 plus!
On the pitch, Burnley take the lead with an opportunists goal and then go further in front when a home defender is dispossessed on the edge of his own area. As usual for a friendly, there are numerous substitutions for both sides, and with the home side not having any numbers on their shirts even the announcer is having difficulty recognising his own teams players!
Accrington manage to pull a goal back when, as one of their attacks breaks down, a Burnley player tries to pass back to his own goalie as Stevie Gerrard did against France, only this time it goes straight to the Accrington forward, who can't believe his luck. Not only that, but everyone else has stopped as the linesman is flagging for offside! (the muppet!!). The attacker just walks it round the keeper and into the net. Bizarre or what. Despite more chances from both sides the league side end up winning 2-1 as the referee blows for full time.
It's raining heavily now as we run back to the car, first job is to find Stu's phone, which we did easily enough. Funnily enough the weather brightened up as soon as we got near the Pennines. I thought that I'd gone deaf as Liam was so quiet, it was because he was busy writing out his football league tables! Stu asks if he wants something to eat. "Chips" being the reply, so we stopped at a chip shop just after Mottram Hill. Liam ordering curry and chips while I had a sausage sandwich and Stu had a fishcake butty. Well, it was a fishcake to them...to me it was a rissole, but Stu says he preferred that as he's not keen on fish! Work that one out if you can. After filling ourselves up it's back to question time again as we take it in turns. I plan on getting my own back, so when it's my turn I ask him "Who won the first World Cup?" Stu turns and says "That's a good one Trev," but no sooner has he said this than Liam is giving me the (correct ) answer. There were one or two more which we (me and Stu) thought would catch him out, but no...the little bleeder (language Trev, this is a family website , or at least it is until the season starts ! - Deano) kept getting them right! If he didn't know, he wouldn't just give random guesses, he'd take the easy way out and say "I don't know" straight away. It went on like this for the rest of the journey, which passed in no time...and I didn't have to resort to "Are we there yet?" So, with 'our' first friendly still ten days away it was good to get back into the swing of things ready for another roller coaster ride of a season. Until next time
Happy Travelling
Trev