Sheffield FC v. Worksop Town S & H Senior Cup Final at Hillsborough 08/05/08
Well this is it; we've finally reached the last game of the season, and what a way to finish off as we once again make our (regular) appearance at Hillsborough for the Senior Cup Final. It's fitting too that we should be watching it in glorious end of season weather too, although I've not gone as far as to put the shorts on yet!
After all the hectic activity of the past few weeks when we seemed to be seeing everyone every other day, it seemed strange after last Saturday's game to be bereft without any footie at all. In fact at one stage I thought the computer had broken down as there were no emails flying around, which there had been plenty of as we arranged and re-arranged pick up times, depending on work schedules as the games piled up. It still seems funny though playing on a Thursday, I'm sure that's going to bugger my head up for what's left of the week (No comments Deano!)
John called me in the afternoon to confirm arrangements to meet him, Deano and Maz outside the stadium and then I ended up 'rest my eyes' when I should have been getting ready to set off. Nevertheless, I still made it into town for twenty past six, but then ended up having to wait another twenty minutes until the number 53 bus turned up. It's a pity this route's stops are so isolated from the other buses that go Hillsborough way. Still, it's Sod's Law that if I'd have tried a different route that would probably have been late too and at least this one drops me right outside the ground. Thankfully there's very little traffic on the road and it sails through to my destination. In fact I'm just getting off the bus and I can see John, Deano and Maz walking towards me.
We make our way in and spot Caroline, Andy, Tim and Sue so go and sit with them near the front of the stand. It's a lovely evening, with the sun streaming across the pitch as the players come out, and we're playing in all white. As the ground is all seater we are going to 'stay put' where we are instead of moving round being as we're kicking towards the goal farthest away from us. This gives us an opportunity to study our defence at close hand so to speak, as we're usually to far away to really appreciate what goes on at that end of the pitch as we concentrate on watching the goals we score instead. Mr. Versatile Rob Ward is playing centre half tonight, he even has his noisy boys chant now as he's played in most key positions this season including a spell in goal too. Worksop may have thought they were on a winner when they looked at the team sheet and saw one of our regular forwards reverting to a defensive roll, but we have no worries on that score. I suppose that in theory we're the underdogs tonight being as Worksop play in a higher division, but on form I think it's us who are favourites. The game starts and Worksop have the first chance, before Vill breaks forward and puts a shot over the bar. We then have a scare when the 'visitors' hit the post. In fact Jamie is being kept quite busy as he then tips away a goal bound header. After twenty minutes or the team eventually settle into their game after weathering the early pressure. Just before the half hour mark some good work by Dolbs and Smudge (sounds like a kids TV programme!) sees the ball delivered high towards the back post and stand-in skipper for the night Gav Smith comes ghosting in to head home and send most of the crowd into wild celebrations. That's how it stayed for the rest of the half and as the whistle blows, we get the chance to stand up and stretch our legs. Billy has his noisy boys' shirt on with the name Fishy written underneath the noisy boys' logo. John says to him, "Billy, what's the Fishy for?" All of us shut up talking and look at John and say Billy the Fish in unison. It's a cartoon character in Viz magazine, Billy being a goalkeeping fish and 'our' Billy being a budding goalkeeper himself! Stu say's to John, "I can't believe you had to ask the question, just about everyone in the stadium knows who Billy the Fish is." Andy replies on John's behalf, "Well, he's not been well," which raises more than a few laughs. Most of the players are back on the pitch, apart from the Worksop number eleven. He was getting some stick from the noisy boys in the first half as he's carrying more than his fair share of weight, so they regaled him with a chorus or two of, "You've never seen a salad!" Anyway, when he does eventually wobble back onto the pitch one of the lads shouts," I couldn't get a half time pie because of you!" This again has us laughing aloud.
The game restarts and after a while their 'keeper goes down injured after a challenge. While he's being attended to the Worksop number eleven comes to the sideline and calls for a drink from the dug-out. As he's drinking, Tim shouts, "What's in there, Slimfast!" Even the players were smiling at that one. As Sheffield attack Deano spots an Eddie Stobbart lorry passing the ground as there's a little gap on the far side which you can see high sided vehicles pass, we tell him it doesn't count as we're already in the ground and not travelling. Mind you, we had to be quick to think that one up! With twenty minutes to go Sheffield get a corner which Worksop fail to clear properly and the ball bounces kindly to the feet of Gav Smith, who fires the ball home for his, and the teams second goal of the night. Cue more wild celebrations and the slow exodus of Worksop fans who can't take it anymore, which is a bit disgusting when you think about it. I mean, they've reached a cup final, you think the least they would do would stay till the end to acknowledge the efforts of the team. I know our fans would stay to the bitter end, even if we were getting thumped, which happened a few times this season, still, that's what we're like and is possibly one of the reasons, apart from the playing side of things why clubs are jealous of us, because we are, the biggest non- league club around these parts despite what the Stocky in-breds think. Well, with the game virtually over we celebrate every pass and rejoice when the ref finally blows his whistle. Of course we wait for the presentations and sportingly applaud the vanquished as they collect their runners-up medals; after all there were hardly any of their fans left to do it. Then it was time for the cup to be presented, and as we were all near the steps where the players would come back down they all received and handshake or pat on the back. We wait to watch the photo's being taken on the pitch then it's time to head to the riverside suite for some after match celebrations. There was still another presentation to be made this evening too as we hadn't yet handed out the BTF player of the season award. Once the players had all arrived Deano got me and one of the others to hold our flag up whilst John presented the champagne to this years winner, Vill Powell. Time for numerous photos before the celebrations continued. Me, John, Deano and Maz then decided to call it a night so, after saying all our farewells, which took about another half hour we made our way out. We stopped at the chippy on the way and John got a fish buttie and I got a fishcake buttie which we ate as we strolled homewards on a warm and very pleasant evening. We stopped to say goodbye to Deano and Maz, who had got their supper wrapped up at the chip shop and made our way to the top of the hill. The timing couldn't have been better as we both finished our al fresco supper just before reaching John's house. Just time for him to dump our rubbish and let Lynne know he was just dropping me off home and then away we went, back to Firth Park. What a great way to finish the season.
Many thanks to all who contributed to my scribbles, whether that be accidental or on purpose, don't forget I'll have my eyes and ears open next season (apart from when I'm in the car!) so watch out! My football isn't over yet though as I'm off to visit our 'German branch of BTF supporters and we'll be taking a trip to Austria to watch the European Championships in Vienna, so look out for that in the near the future. Enjoy your summer, and, until next time.
Happy Travelling
Trev
Nantwich Town v. Sheffield
Play-off Final
03/05/08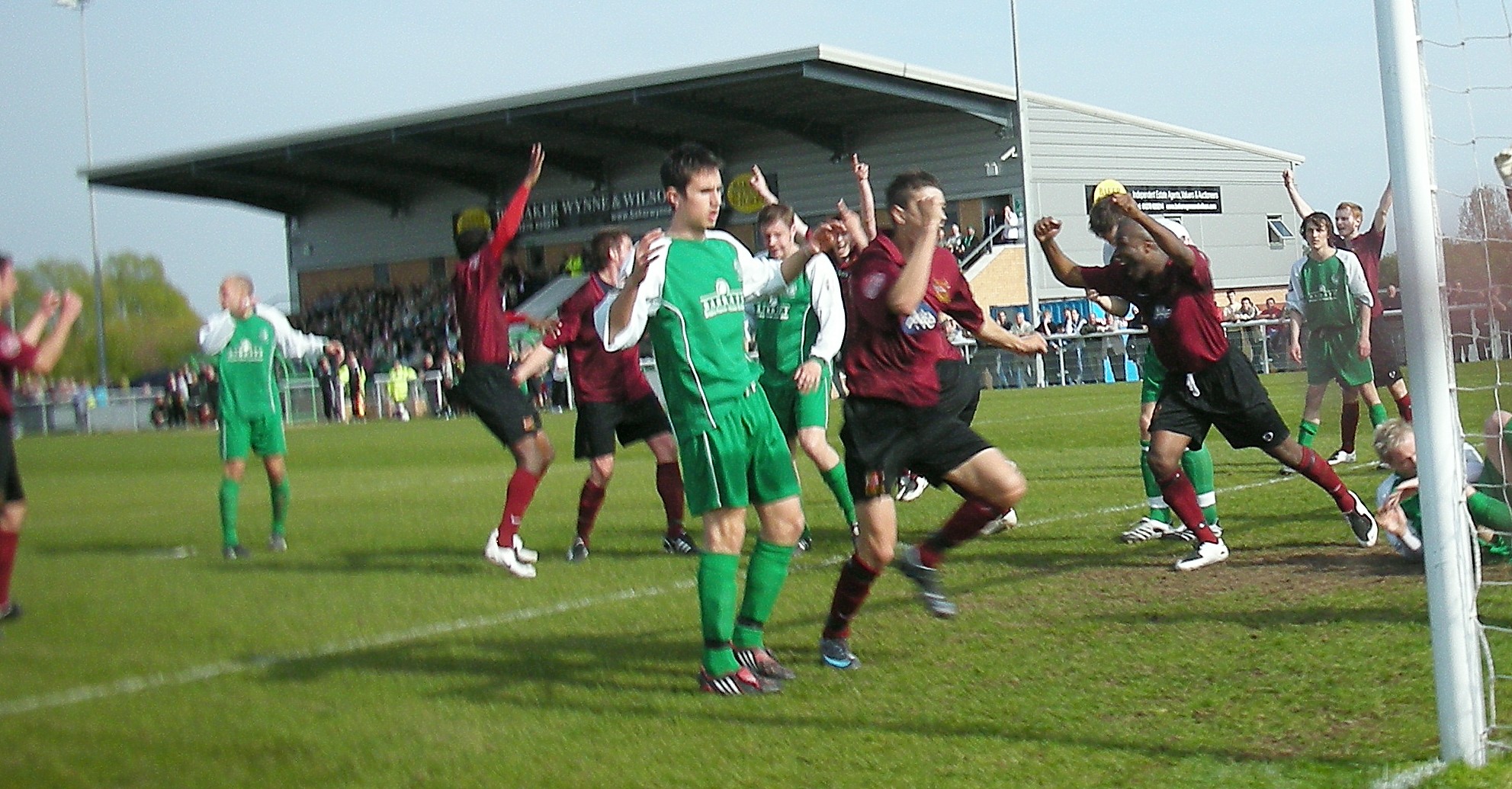 Well here we are at the end of a fantastic league campaign, just 90 minutes (unless it's extra time) from the ultimate success of gaining promotion to the UniBond Premier League at the first attempt.
Even though I'm working today I'm in good spirits, especially as it's now light as I stroll down to the bus stop at 5am, with the birds (the feathered variety !) just waking up in the woods. It's a midday finish today, and John is already waiting as I emerge outside, with Deano already comfy in the back seat. Maz isn't coming along today but we do have another passenger, as we head up to Woodhouse to pick up Deano's brother Steve. He's outside waiting for us as we pull up. so I dump my coat and rucksack in the boot, along with Steve's coat to give us more room and then we're off. Although I read there may be showers later, it's warm and sunny at present so I've got clothes to cover all occasions. That's one disadvantage of going to a game from work, you can almost never be sure what the weather will do, apart from Winter when you knows it's going to be freezing cold and wet!
We've only just got on the motorway and John already spots a James Irlam go whizzing past us. Soon after that, up pops the rarity of a Preston's of Potto, swiftly followed by not one, but two Eddie Stobbarts, all spotted by John, he's on fire today. He claims another Eddie Stobbart a bit further on which was a bit unfair as I was looking at the back of my eyelids at the time. I did claim 22 Eddie Stobbarts later on, but that was only because we were driving past their depot, and the others refused to acknowledge it as the lorries weren't actually moving at the time!
After listening to the radio for a while , John hands me the directions that Stu put on the site. Unfortunately they were written to take a different route than the one we've chosen, so basically, they may as well be written in Arabic for all the sense they make! After a couple of slight detours we head straight for the town centre. Once there, me and Deano are able to direct John, via our knowledge (no, don't laugh) from our previous visit when we walked round the town looking for a chip shop. We find the ground with no problem, and make our way into the car park just as Stu, Craig and Liam arrive. There's already a big crowd, as expected as we make our way inside. We see Tim, Sue, Paul and Debbie, along with some of the noisy boys busy blowing up red and black balloons which we'll release before the kick-off. I'd emailed Tim earlier in the week to get the programmes for us, just in case we were going to get hold up, or they sold out, but there seemed to be an ample stock of them today. Nevertheless, once Tim had got his breath back we say hello and he gives me the programmes while Sue takes the money and puts it in her purse. I think he's too starved of oxygen at this moment to realise that's the last he'll see of that!
Jeff (from St. Helens) had emailed John to tell him he'd be here today, so he went to the bar to find him, before joining me, complete with a pasty, as I get the teas. I'd already had something to eat on the way down as I grabbed a sandwich out of the dining room before meeting the others. The teams emerge into bright sunlight and we go and take our places behind the end we're kicking towards. There's over 1300 people here so you can imagine, space is at a premium as we stand against the railings elbow to elbow. The pitch is very bobbly, making the ball difficult to control and the first twenty minutes are a very edgy affair. On the half hour mark Nantwich take the lead after lots of pressure, but the lads pull level on the stroke of half time as Smudge hits a free kick into the bottom corner, much to our delight.
As you can imagine, with such a large crowd there's a massive queue at the snack bar so we don't bother waiting and just take our time to wander round to the other end of the ground. It's still sunny but a bit more breezy this end as we no longer have a wall to shelter us. There's two Dabber fans stood near our lot exchanging banter with the noisy boys, although some of it is far from nice, but we just let it ride. It's a tense and cagey affair out on the pitch but with less than twenty minutes left it's the home side that go in front again. Things look dead and buried as the home side (prematurely) start celebrating, but in added time a Sheffield corner sees Wardy get on the end of it and we equalise. Suddenly it's all gone quiet on the home front as we start to sing. There's only just time for Nantwich to restart the game before the referee blows for full time.
At this point one of the stewards gets very officious, claiming that one of our young supporters is damaging the fence surrounding the pitch which was a load of rubbish. Steve then gets involved in a heated 'discussion' with the two Dabber fans who have been giving it large all the game. Once more the steward steps in, and advises Steve to leave the ground before he gets thrown out. Back on the pitch the teams have changed end and the noisy boys have gone round to the other end, but we can't be bothered as it will be time to make back here again by the time we get up there. The lads have the better of this period but can't convert their superiority into goals. Nantwich come more into it in the last couple of minutes, putting the pressure, but the referee eases the situation by blowing up for the end of the period just as they are about to take a corner. The second period of extra time is just as tense as the players are tired and do not want to make a mistake, especially our lot who've had such a busy schedule these last couple of weeks, some of them are doing well just to stand up. No goals arrive, so it's going to go down to the lottery of penalties, not an ideal way to finish such an important game, but until they come up with something different that is how it's going to be.
The kicks are going to be taken at our end, so quite a few more fans arrive before the shoot-out starts. It's Nantwich to start and they score. Up steps Smudge, who also scores to keep us level. Nantwich score again but Gav has his kick saved. Third round of kicks and the home side increase their advantage with Jamie well beaten every time so far. Young Matty Lowton is our next kicker, and it's vital he scores, but no, their 'keeper saves once again. It's now shit or bust as Nantwich have to miss this one or Jamie at least has to save it to give us some hope of coming back from the dead (so to speak). The atmosphere is so tense as up steps the Nantwich player, he shoots.....and scores. a mass eruption of noise emanates from all sides of the ground as the fans run onto the pitch to celebrate the Dabbers victory. Us lot, we're just stunned and more than anything I'm mentally exhausted. For the neutral supporter the penalty shoot out is great to watch but if your side is involved it can be heart breaking, especially today. We've won some before, so we know what that's like too , although the stakes haven't been this high before. We congratulate the players as they go off the pitch, and also the Nantwich team too, after all, we've played them four times this season and they've won them all so credit is due.
We eventually make our way out as John gives me the car keys while he goes to the loo. Steve is already waiting there for us and once John arrives we join the queue to get out of the car park. Whilst we're waiting John notices that no one has put the boot door down. I tell him it's a new aerofoil to help with speed like on the formula one cars. I go and close it and we finally get out of the car park and on our way home at 6pm. It's all quiet on the journey home as we listen to Bolton playing Sunderland on the radio, it's not that interesting but there's nothing else to listen to, and to be honest, we're all too knackered to care! Looking on the bright side, it's been a tremendous season and could still end with silverware as we have the Senior Cup Final to play next week. The pressure is on to win as the under 19's won their League Cup, the reserves have won promotion, the ladies are Champions of their League and have got promotion, so there's only the first team with nowt to show for their efforts. Come on the lads! Until next time.
Happy Travelling
Trev
Sheffield U19 v. Alfreton Town U19 League Cup Final At Staveley Miners Welfare 28/04/08
It's my second day off in succession and I spend it by chilling out and basically doing bugger all, it's just nice not to be at work. I did go to the movies this morning, it's great when the kids are at school as it's nice and peaceful there. John picks me up early as we've given ourselves plenty of time to get there, even though it's not far away. We wanted to make sure we got a space in the car park. Well there was very little traffic to hold us up and we actually arrived just gone 6.30! So we just sat in the car for a while listening to Chris Evans on the radio which was funny. If you are a regular listener you'll know he has a record of the day in which listeners can send in texts and emails to say whether it's a hit or a miss. Well today's song was by Scarlett Johanson, yes, the actress, who was doing a cover version of a Tom Waite song. Let's just say that she shouldn't give up her day job as it was bloody awful, and that was the overall opinion of all those that voted too.
After that, we decided to make our way inside and it's only £2 which is great value for a Cup Final. The ground is looking as good as ever, it's a lovely place and I always enjoy our visits here, which have mainly been for a pre-season game, we also generally have to put up with a downpour too, so I warn John of the fact that we may get wet at some stage. One of the first people we meet up with is Clucky, who is now in charge of the Alfreton side. Just some information here for the noisy boys and other Sheffield late-comers to our growing band of supporters - he used to play for us and at the time was the 'hard' man of the side, you'd have liked him for his wholehearted commitment, a sort of Copnell, but with a brain! After that it's snack bar time, I'd already had something earlier before setting of so it was just John who tucked into pie, chips and peas from a very extensive range to choose from, we both had a cuppa though.
The game kicks off and looking around, there's a really good turn out to watch this match and there are a lot of people come to support our lads. Sheffield take the lead on 34 minutes when Danny Mackenzie punishes a hesitant defence to walk it past the 'keeper, leaving Alfreton defenders and 'keeper arguing as to whose fault it was. We keep the lead for the rest of the half and spend the break talking to Graeme and Helen. Helen is off to see Howden Clough play their last match tomorrow, and that's when our ladies will officially know they are champions, because even if Howden win, they still have to score over 30 goals to beat our goal difference!
The second half starts with Alfreton putting the pressure on, and coming close with a header against the bar, but that's really the nearest they came to scoring all night as ten minutes later Danny once again scores, turning exquisitely in the box to put the ball beyond the 'keeper and Ted Cribley puts the seal of approval on a fine display by grabbing Sheffield's third in the last minute. Time for celebrations all round as the cup is presented to the young 'uns on a fine evening's display of football. It's a very pleasant and short journey home as we look forward to tomorrow's clash against Stocksbridge in the play off semi-final, surely they'll not be as lucky as they were in scraping a draw as they did last Friday and class will finally tell this time! Until next time.
Happy Travelling
Trev
Alsager Town v. Sheffield 26/04/08
It's the last league match of the season and it's traditional weather too, sunny and boiling hot. So why have I got five layers of clothes with me? Well, I was working this morning and at 5 am it was hard to tell what the weather would do so I made sure I was prepared for all eventualities. Thankfully I was able to discard a couple of layers prior to leaving work to meet John. As I'm stood waiting for him at the park gates opposite the hospital I was tempted to buy an ice cream, but thought twice about it as I'm sure John would have wanted one and he couldn't really drive and eat an ice cream at the same time (although once he reads this bit he'll probably tell me that he CAN do such a thing, especially where food is concerned.)With me on board, we headed up to Gleadless, where we were meeting Stu and Craig so we could all travel down in one car. We see him just arrive home from work as we pull up outside the house. Once Craig arrives we all jump into the car and off we go.
The main talking point is the rumpus at the end of last night's game against Stocky. Apparently there's been a lot of postings on the site, but not having read them I can't comment so I'm just listening to the others. Just before we get to the motorway we're held up in a traffic jam, which appears to be because there's a car boot sale in the field next to the slip road. John says, "Fancy having a car boot sale on a match day, in fact look, there's men there. Why aren't they going to a football match?" Once we're on the motorway it all goes quiet as me, Craig and Liam all nod off and Stu is trying his very best to keep his eyes open. Thankfully John is wide awake! It's a lovely run and we arrive about ten minutes before kick-off. Just as we're about to go inside John says, "I reckon we've just got time to find the snack bar before the game starts. Well. Lo and behold, as soon as you get through the turnstile the snack bar is the first thing you come to. So we each have a lovely hotdog with proper fried onions.
We go and meet up with the others as the teams decide which way they are going to kick first. The game starts and we're still walking round to the end we're going to be attacking when the referee blows up after an altercation between Daz and one of their players which results in both players being sent off within the first minute of play. Neither side nor the fans could believe the ref had brandished the red card when all it needed was lecture to both players to sort it out. That sort of set the tone then as he was intent on being in the spotlight and it was obvious it was a new whistle he'd got as he sure liked to hear it's sound! There's a cheer goes up as we find out that Nantwich are losing at home to Goole. This is followed by John's phone ringing as he says, "I bet this is Lynne telling me that Wednesday are losing, " and sure enough, they're one down at Leicester. Some of our fans spot a couple of kids watching the game perched up in a tree just outside the ground, so they come in for some good old Yorkshire stick from the noisy boys. On the pitch it's Alsager who take the lead just after twenty minutes. Their goal is leading a charmed life as we get ever closer to scoring and we're having some good banter with their 'keeper too. Thankfully, with less than ten minutes of the half remaining Holmesey conjures up one of his specials into the top corner to level things before the break. Nantwich have also equalised in their game too and the Owls have missed a penalty.
We make the trek back up to the snack bar and John tucks into pie and peas, he's certainly missed his food while he's been ill but he's determined to make up for it now.
We all basked in the sunshine as the game re-started with the lads now kicking down the slope, but despite having the majority of the play it was the home side who re-took the lead ten minutes in. Of course, Deano then sends me a text to say that Nantwich are winning, (which would mean them finishing third and us fourth, with a possible meeting in the play-off final.) Worse was to follow when totally against the run of play Alsager get a third goal. It was all Sheffield now, but you could tell from the busy schedule of games that most of the players were absolutely knackered and had all on to stand up never mind play football. With less than ten minutes left Vill poaches a goal back and Alsager are content to get every player behind the ball and hang on for a memorable win. However, a minute from time Holmesey is tripped on the edge of the area and young Tom Carney steps up to coolly slot the ball over the wall and into the top corner, a goal even Ronaldo would have been proud of! Of course, we all go completely mental while the home players sink to the ground. In fact they were desperately seeking the referees whistle to finish the game as the lads almost clinched a victory at the death. However, a 3-3 draw in a very entertaining game (despite the referee) was good enough to see us clinch fourth spot in our first season in the UniBond and qualify for the play-offs with a juicy tie at home against those upstarts from Stocky our reward. So it was a very pleasant trip back to Sheffield, and once we'd dropped Stu, Liam and Craig off it was home to get some rest, draw breath and get ready for just a few more games before our season finally ends. Until next time.
Happy Travelling
Trev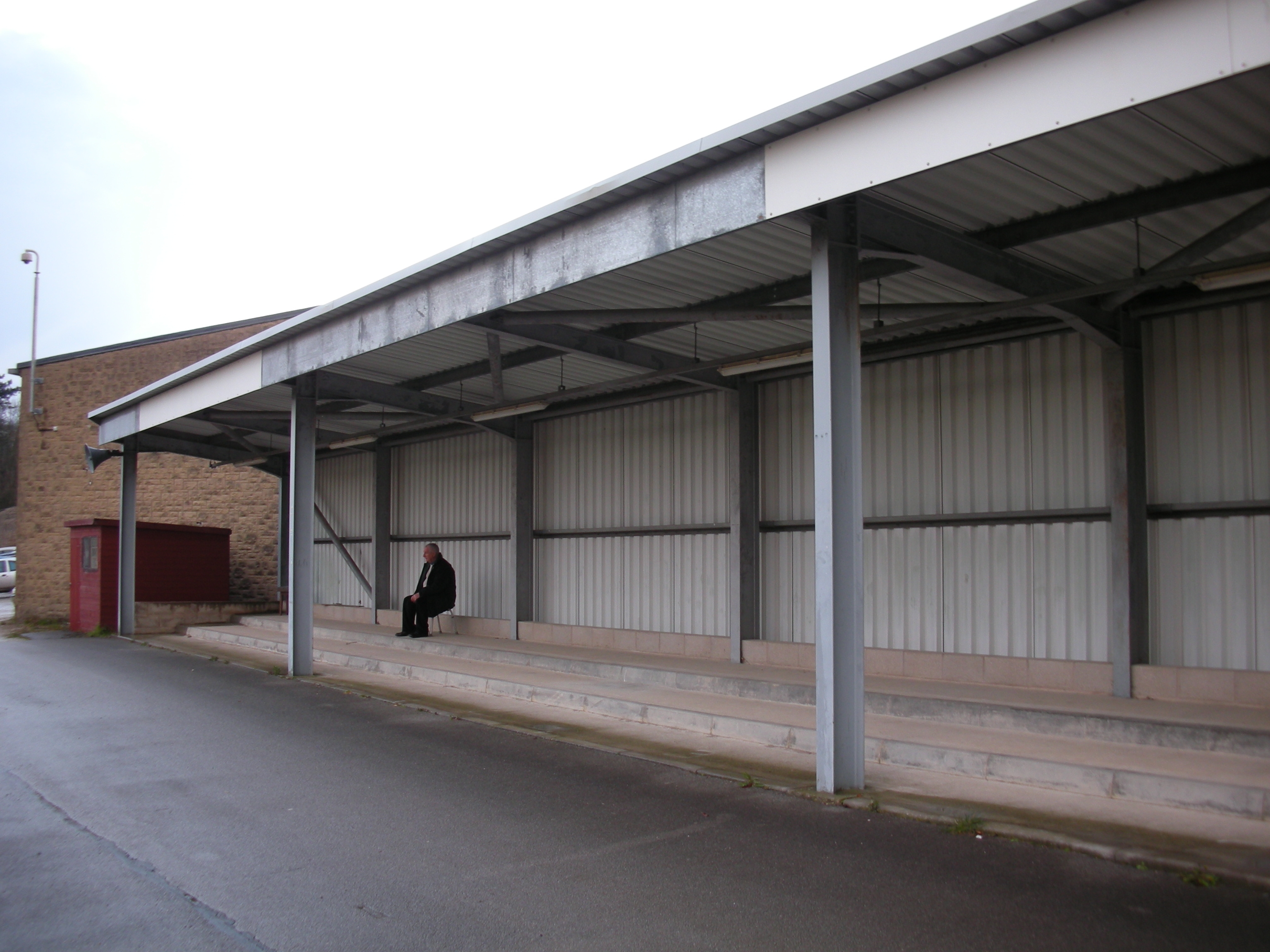 Belpers new executive one seater stand - see Trev's Belper Travels below
Belper Town v. Sheffield 15/04/08
I've been working today and I can't believe that on my way home I actually encountered hail and sleet. In fact when John picks me up its still raining as we head into town to pick Deano up from work. He was telling us how he had to let Maz out (of work) as they were the last two people in the building, and he has to lock the place up. He was also telling us about him putting his trousers on to go down the stairs to unlock the building. I'm not going to tell you anymore to that story, you can let your own (filthy) minds think what you like, but I will tell you that this little tale ends with Deano turning up at the car carrying a new toilet seat!!
It's good to see John getting back into the swing of things regarding the away matches, me and Deano even suggested to him that if the driving to and from the games and then watching the action was getting too much, he could just drive us there and spend the time while the game was on just resting in the car, gaining his strength ready to drive us back home, Needless to say, he wasn't too impressed with our suggestion. We'll all miss the trip to Colwyn Bay on Thursday due to work , but Stu will keep the proverbial (Behind the) Flag flying as he'll be able to make the trip, despite now working up in Leeds.
It's a good journey down, with John spotting not one, but two Eddie Stobbarts. Well, he said he spotted them; I was busy looking at the back of my eyelids and listening to the radio! The rain had just about stopped and the sun was trying to peak out from behind the dark clouds as we arrive at the ground. John had made very good time, as it's only taken us an hour to get here. We park behind the ground at a place called Belper Meadows, but after today's rain it's more like Belper Waterpark as we try and dodge the very large puddles on our way back round to the turnstiles. Once inside we get a view of Belper's new one seater stand (see photo), and then it's straight off in search of food. You can tell John is feeling better as he orders himself a jumbo sausage with chips and peas. I settled with a plate of chips, and Deano finally succumbed to the sight and smell of our food to indulge in a plate of chips for himself, which is a rare occurrence. We go and sit in the stand to eat our food; of course I'm finished first. This is due to me shovelling it down as quickly as possible, a trait I had to learn at work as we only have a limited amount of break time where we're expected to get food, eat it and relax, yeah, right! While the other two are finishing off their meals I go into the clubhouse in search of a Belper pin badge for my mate. I don't know about a badge, they could sell them as saucers, they're that big. While I'm in there I see Stu and Neil just on their way out to find us, so I join them and take them to our 'spot' in the stand. Me and Stu had already decided we had to look after John as this was his first proper away game for quite a while and he had to take things easy. Funnily enough, when I mentioned this to Deano when we arrived he said, "Sod that, he can look after himself now we're here." He soon stopped laughing when I pointed out that we still had to get home!
There's a lot of support for the lads here tonight, Billy has even brought his drum, to accompany those noisy boys who've managed to make the trip. The pitch is looking in good condition, with plenty of grass still on it, and thankfully the weather has cleared up too, although we're under cover anyhow if it decides to rain. Things on the pitch looked good for the lads when, with twelve minutes on the clock, Pete Davey sent over a cross which was flicked on by Jamie Smith and Asa was on hand to apply the finishing touch which didn't go down too well with the locals as he used to play for Belper. The noisy boys were in fine voice and the team were more than holding their own, although Belper were at least showing more determination than when we came here earlier in the season and won 4-1.With five minutes of the half left Daz threaded the ball through a statuesque home defence and Vill was on hand to double the score, much to our delight, and Neil's misery, being as this is his home club. In fact he decided to head for the bar to get the drinks in for him and Stu before the half time whistle blew! A couple of minutes later I headed towards the snack bar behind the stand in order to get drinks for me and John and as I was stood in the queue I heard a cheer go up and someone behind me said that Sheffield had scored again in injury time and it was Asa once again, getting his second of the match.. They have home made soup here and I got me and John some, it was cream of vegetable and very tasty too. I was certainly enjoying the evening, especially as the local behind me ordered the soup too, only to be told I had just had the last two portions!
Back in our seats, Stu has gone to join Neil in the bar and we have a chat and watch the rain which has started to fall once again. By the time the second half gets underway it's absolutely chucking it down, but it doesn't deter the noisy boys from standing out in it, singing their hearts out, bless their little cotton socks!. Despite the rain both sets of players are putting on a decent show although it has to be said that the home sides players seem to be going down more easily than Linda Lovelace. Ten minutes into the second half and an incident involving Jonah sees the Sheffield captain taking an early bath. Despite their numerical advantage Belper still can't breakdown a resolute Sheffield side as Danny once again makes a good save to thwart Anthony Wilson, the lanky ex-Hallam player we all love.......not! A minute later and Danny is also on his way off the pitch, although this time it's due to injury. So, with no reserve 'keeper on the bench, up steps Wardy to take over in goal. This man is amazing, he's played in several different positions already this season, so this is just another one to add to his CV. This seemed to excite the home crowd who I suppose were now looking at the prospect of scoring against our ten man team and maybe clawing back something from the game. However, Wardy has only been on the pitch for a minute when he launches a kick upfield and Vill was on the end of a flick on to coolly slot the ball home for goal number four, which sees the Sheffield fans dance with delight as the noisy boys start chanting, "Ten men, and you still can't score." Poor old Neil is taking some stick off of us, but he's man enough to bear the teasing we're giving him. With just under ten minutes left Belper finally get on the score sheet, amid ironic cheers from their fans. They did have a chance three minutes later too, but Wardy pulled off a brilliant save. So as the full time whistle blew the Sheffield fans were loud in their congratulations as the players left the field, whilst the few remaining Belper fans were busy grumbling as they shuffled out of site. Well what can you expect, being beaten 4-1 at home, not once, but twice! At least Neil was honest enough to say we thoroughly deserved it. It may also make some sense to me as to why he's always off on his own travels, visiting different games most weeks instead of having to watch Belper all the time!
After John has been round our fans to get the man of the match vote we head off back to the car park in almost total darkness as the floodlights are turned off, nimbly (well, as nimbly as we can be) avoiding the puddles as we go. It's really difficult to see but we know where the car is, or we thought we did. You see, as we're heading towards it we see Craig stood next to it, (he has the same make) and in the split second that John activates the electronic key to unlock the doors Craig must have done the same and we all stood and watched as he got in the (John's) car. It was only when he got behind the wheel he realised it wasn't his as he doesn't have a crook-lock like John's got on his car. By now we were right beside him and it was so funny to see the reaction on his face when he got back out of the car. It was definitely a moment we should have captured on film! After we'd all sorted out that we were in the correct cars it was homeward bound as we listened to the radio and once again made good time with little traffic to worry about. I finished off the evening with a few Jaffa cakes and a cuppa before falling asleep in front of the television! Until next time.
Happy Travelling
Trev
Collingham Tadcaster Ladies v. Sheffield Ladies 06/04/08
It's my weekend off and I have visitors too as Kay and Martin are up visiting from Brighton. So it's a relaxing morning as we all tuck into a late full English breakfast before they set off to visit Kay's daughter and grandkids. I did ask if they fancied a trip out to see some football, but they declined. I walk down to meet John, who was determined to make this game being as it's the last away game for the ladies. He's still not a hundred percent fit, but Lynne has given him strict instructions and I'll keep my eye on him too. It's very sunny but also deceptive as there is a chill in the air too, in fact it's more like autumn than spring.
It's an easy enough journey, even passing through a snow flurry at one point. Once we get in the general location of the ground it's just a case of looking around to see what looks like a group of players on a football field, which I manage to spot while John is scanning the opposite side of the road. The changing rooms are situated at the end where the ladies are warming up and there's a little shelter there so John parks himself on the bench while I set about retrieving balls from behind the goal.
The referee today is Nigel, who I guess volunteered to take charge (he is fully qualified) in order to get the fixture completed as Collingham have had a few problems in the past getting someone to officiate or on the odd occasion, even getting a full side together. Jon and Liz have made the trip to see the game, and it was nice to see Lisa Handy again who's up in the area visiting and taking a break from her University Studies in Brighton I think......so that's three people I now know in Brighton!
The game kicks off in sunshine and cold but we're soon warmed up after eight minutes when Lisa G. starts the scoring for us. After that it turns into rout as the ladies score another seven goals before the half time break, all this and snow too. Yes, we actually get snow and they're pretty big flakes that are falling too but thankfully they're not settling. As soon as Nigel blows the whistle for half time it's a sprint for the changing rooms so the ladies can all get warm again. Thankfully (as usual) John has brought a flask of tea which we certainly need today, just to warm our hands on if nothing else.
Nigel eventually coaxes both sides back onto the pitch for the second half and once again it's one way traffic as the budding champions elect are relentless in their pursuit of more goals. The fact that we had to wait until almost the hour mark was un believable as the shots reigned in on the Collingham goal with the woodwork saving them on numerous occasions, but Nell got the scoring started for this half before another four went whizzing past the hapless 'keeper with Clare having a field day scoring five of the thirteen. Poor Caz in the Sheffield goal was frozen stiff, having been a virtual spectator for the entire game. So that's another bagful of goals in the 'for' column. Now it's just a case of getting a result against Keighley in a month's time and we're home and dry, dry being the word of the day after the snow today!
It's a good journey home and I spend a pleasant evening in the company of Kay and Martin and a packet of Jaffa cakes before it's time for bed. So another great season on the road following the ladies and next season should see us visiting new grounds and longer distances too (work permitting) which we're looking forward to. So, until next time.
Happy Travelling
Trev
Cammell Laird v Sheffield 05/04/08
It's my day off, yahoo! As usual I'm still awake early so intend to make the most of the day as I have a busy morning ahead of me. First stop is Firth Park for my hair cutting, and I get soaked on the way back as it decides to start raining just as I'm in the middle of the park with no shelter and only a light coat. So I change coats, (of course the sun is shining now) and proceed into town and end up getting soaked once again!
So it's third time lucky as I put on a dry coat and set off to meet Andy and Caroline. Deano had already informed me he wasn't making the trip as he'd still not fully recovered from his virus, and he's also passed it on to Maz now so his weekend is going to be spent looking after her. The bus seems to take forever just to get to town so I let Andy know I'm running a bit late. I eventually arrive at Meadowhead and we're on our way. It's a straightforward drive with very little traffic delays which I'm thankful for being as we were cutting it fine in the first place, even before I turned up late. We pass a place called Port Sunlight which Andy informs us was a community built by the Lever Brothers for their workers with all the houses being identical. They're the people what make Palmolive soap among other things.
The sun is shining as we reach the ground and it's just ten minutes to kick off. Inside we meet up with the rest of the Sheffield fans which seem to increase with each match. Some of the noisy boys are there and Liam appears, showing me his new 'Noisy Boys' shirt that Stu has had a hand in getting organised for our vociferous bunch of supporters.
It's sunny but quite windy too. Just before the start I go and get a cuppa and burger, which wasn't too bad at all. Then it's round to the opposition goal to stand with the rest of our gang. Things don't go to plan on the pitch as we go one goal down with less than ten minutes played. Nevertheless, the chant goes up for, 'Dave McCarthy's Barmy Army,' and would you believe that Stu actually forgot the words! Things don't get much better in front of us as the home side score another goal. It's not that we were playing badly, they were just getting the breaks and were assisted by a strong wind too. Tim and Sue start up a rendition of 'Ferry 'Cross the Mersey' and Gleadless's premier lounge singer (that'll be Stu) joins in with his own version, completely taking over. At least it was more entertaining than the match at this point. There's no more goals before the break, so as Stu (and Liam) head off to the social club as guests of Glocko I once again avail myself of the catering facilities.
The second half has us now facing the wind, so it's a bit like being on the sea-front as it certainly clears your sinuses. On the field the lads are trying their best to get something out of the game and there's a glimmer of hope as Cops pulls a goal back with ten minutes left. Cammell are having to do a lot of defending now, although they still cause a couple of scares with breakaways upfield, but Danny was on hand to save the day. Into the last minute and it's like a siege on the home goal as Sheffield go all out for an equaliser committing men forward looking for the breakthrough. So what happens next ? The home side break upfield, and with most of the Sheffield players now caught out of position they grab a third and decisive killer goal. Just to rub salt into the wound they also grab a fourth in added time to give a scoreline that looks like they won this game easily, when in fact they were hanging on for dear life until the very last minute. So yet another 4-1 reverse, they seem to becoming a bit of a regular occurrence at present. As Stu travelled over on the coach he has time to kill until the players are ready to leave so he's off to the club house to drown his sorrows (literally it seems, from what I heard a few days later!) We make our way back to the car and start the long journey home. Surprisingly it seems to pass fairly quickly and Andy is kind enough to drop me off at home, thus saving at least another hour to my journey and I settle down to some chicken curry and a box of Jaffa cakes which helps ease the pain of today's result. Oh well, at least we got some sunshine and fresh air. Until next time.
Happy Travelling
Trev
Kidsgrove Athletic v. Sheffield

02/04/08

It's a quick about turn after work, just time to grab a sandwich before heading out to meet Andy as he's taking me tonight. John is still not fit enough; even Deano is suffering from a sore throat and with Stu starting a new job in Leeds he's going to the game straight from there. I suppose I could leave the house a little later, but being as it's going to be the so called 'rush hour' I want to allow plenty of time to get to Meadowhead so Andy is not waiting around, being as there's nowhere to park at that time of day. I arrive at Meadowhead just as Andy calls to find out where I am before leaving his house. It's only a few minutes away and then we're off and running. There's no Caroline tonight either as she's spent the day being pampered at a health spa with her mum. Andy doesn't have his usual Sat-Nav with him as Caroline has borrowed that one, so he's borrowed one from work; it even lets you know when you're approaching speed cameras. We make good time and it's a smooth trip as we pass the time talking about all things footy.

At the ground we eventually find a place to park and wander inside. All the programmes have already been sold and even one of the regulars were complaining that they never print enough. Stu is already here and even he forgot about getting the programmes. As usual there's a healthy support made the trip down from Sheffield, probably doubling Kidsgrove's usual support. The hosts take the lead on thirteen minutes as the players struggle to come to grips with the match. I said, "It's because we're not used to playing on grass," and Tim adds, "We've still got our sand studs in." After seeing another attack go to waste I say to him, "I don't think it's the sand studs Tim, I think they've got flip-flops on." We have a female referee tonight and thankfully she's as bad for both sides, with some strange decisions. Wardy gets an equaliser before the half hour mark then we're reminiscing about places like Borrowash and Brodsworth last year where we totally outplayed them and still lost thanks to a seventeen stone centre forward who had the turning power of an oil tanker........oh happy days! Just before the break the lads concede a sloppy goal. I go to the snack bar to get drinks for me and Stu before the second half starts. It's clear that the lads are so tired with such a heavy fixture schedule as Kidsgrove take full advantage by playing the ball around and expecting the lads to chase after everything. They go 3-1 up just after the hour mark. Cops gets fouled from behind and someone shouts, "Get a card out ref!" Stu replies with, " No chance, she's expecting the men to get the cards out, I know, because that's what happens when I go shopping with Lynn." With less than ten minutes to go Kidsgrove put the game to bed with another goal and we resign ourselves to defeat. It's a quick getaway from the ground, this time I'm travelling home with Stu and we're soon bombing down the motorway. It's been a long day for both of us, I'm just glad that I don't drive as I start reading the back of my eyelids for a while! Thankfully it doesn't seem as long to get home and I've just time for a cuppa before falling asleep in front of the TV upstairs. Not long to go before the season ends, but oh so many games to fit in before then. Until next time.

Happy Travelling

Trev
Sheffield Ladies v. Howden Clough Doncaster Keepmoat Stadium 30/03/08
Today's the day. It's the big one against our nearest challengers for the league title, beat these and we're almost home and dry. John is finally out of hospital again and on the mend and is making the trip today. With our pitch being unfit, and the fact that there should be a first team game there tomorrow the ladies game has been switched to the Keepmoat Stadium at Doncaster, home of Doncaster Rovers. Well, that's not quite right because where we are playing is the adjoining pitch next to the said stadium. This pitch is usually used by Doncaster Belles for their home matches, so Helen has managed to pull in a few favours for us to be able to find somewhere to play. The directions he had were fine until it got to the bit containing about six roundabouts. In fact even that was going well until we discovered that the sixth one didn't even exist as it had now been replaced by traffic lights and a new junction. We eventually turn round and head back the way we've come. It's then that I notice that John has put the destination postcode in he'd been given, and it isn't the Keepmoat we're heading for but a cul-de-sac! I direct him back onto the route we've just taken and tell him, "Follow the signs that say football stadium, you can't miss them as they're bright yellow things!" Mind you, saying that, John's always told me he's partly colour blind and usually works traffic lights out by instinct and bloody good luck! We soon get there and there must be something happening in the big stadium as the car park has plenty of cars in it and a couple of attendants. When we stop at the gate she says to us, "it's £5 to park." We told her we were just coming to watch the ladies play, pointing to the pitch opposite. So she replied, "Oh, well in that case it's £3." The cheeky sods! If we'd have thought on we'd have turned around and used the unmanned car park about 100 yards away but we just couldn't be bothered. It's a nice place as we take our seats in the well elevated stand. Despite a good opening spell of play we soon find ourselves two goals down. Jon and Liz turn up at this point and Jon says, "I presume that's one nil to them is it?" (He'd just seen them score the second one on his way to sit with us.) So we put him straight, but it doesn't get any better as the half ends with Howden Clough winning five - one! Admittedly most of the goals were just giveaways, but we had the wind at our backs during that half so fear the worst for the remaining forty five minutes. Thankfully the ladies come out in the second half and, with 'nothing' to play for relax and virtually play the visitors off the park, pulling a further two goals back, but just couldn't get anymore, although those extra goals could prove vital if the title ends up being decided on goal difference. Obviously the players were disappointed about the result, but John tried to be positive by telling them they won the second half two-nil. We have no problems finding our way back to the motorway and in no time John is dropping me off at home. It was good to see him up and about again, he was even getting all the Eddie Stobbart lorries on the motorway too so he must be feeling better! Until next time
Happy Travelling
Trev
Stocksbridge Park Steels v. Sheffield 24/03/08
I'm off today so it cereal an Easter eggs for breakfast! No, I'm only kidding, I didn't eat any chocolate until, let's see, it must have been eight O'clock, after all, I had to let my cereal digest first. I spent a leisurely morning catching up on a couple of travels and also watching the footy highlights I'd taped last night. With John still not well, me and Deano had arranged with Richard for him to pick us up at Hillsborough as he'd be passing that way on the way to the match. In fact Deano called mid morning to say that he was full of cold so he wouldn't be going to the game either.
I set off for the rendezvous in blizzard-like conditions. The snow was coming down that fast that it was hard to see the bus coming as the flaky stuff was blowing straight into your eyes. Once I was on the bus I'd only travelled a couple of stops and reached the Northern General Hospital and the snow had vanished and the sun was out, although it was still cold. Having been up to Bracken Moor on a number of occasions I know what to expect so I'd made sure I was well wrapped up for any extreme weather we may encounter. Because it's a Bank Holiday Monday there's not too much traffic about and I'm off one bus and straight on another in less than five minutes. With time to spare I get off two stops before I should just so I can have a walk and kill some time until it's time for Richard to show up. He arrives bang on time with his brother-in-Law and off we go. With last summer's floods there's still part of the A whatever road closed off so we take the detour before getting back on track. Richard hasn't been before and all he knows as we approach Stocksbridge is to look for the clock tower. I'm able to help him out as we approach it, turning sharp left to go up the dreaded hill. Well. It's okay if you're in a car but it damn near kills you if you end up having to walk up it as you're in urgent need oxygen and a drink by the time you get to the ground. We arrive in plenty of time to get a place in the car park and pull up next to Glosso, who's also just arrived. He's on his own today too as Victoria has the dreaded flu bug so Debbie is having to look after her. He did tell me a funny story though about his journey here. Apparently he was driving along and noticed he was following Jon and Liz (Ball). So being as he'd never been to Bracken Moor before he just decided he'd follow them. Well, they eventually pulled over and got out a map, so when Glosso approached them they told him they weren't going to the match today, they were just of out for a walk. (You see Glosso; you ought to know by now that anything like that I just can't resist putting in the travels!) Anyway, we walk across the road and into the ground. The pitch is looking really good, in fact it's a good day weather-wise now, apart from the cold, at least the snow has disappeared...........for now. The noisy boys are here and it's not too long later that Stu and Liam turn up. Liam is shivering, but he has his coat undone and is carrying his woolly hat instead of wearing it. Just before the players come out I notice a steward carrying a stretcher down to the side of the pitch and I say to Stu," Looks like they've found out Cops is playing." Once the teams have decided which way they're kicking we go and stand with the noisy boys. With it being a local derby there's a big crowd here but I reckon the majority of support has come to cheer Sheffield on. The announcer is getting on our nerves(for want of a better description) by repeatedly saying "Sheffield's top team" every time he talks about Stocksbridge, and of course their fans are lapping it up by singing that we're from Derbyshire not Sheffield, but the noisy boys give as good as they get with some well chosen songs of their own. On the pitch Stocky take the lead against the run of play, then to make matters worse their goalie blatantly fouls Vill in the area and ends up with just a yellow card instead of red. Just to add insult to injury the bugger then make a double save from Smudge's penalty kick. Despite numerous chances for the lads they go further behind with five minutes of the half remaining and then to cap it all they get a third from the penalty spot on the stroke of half time. We're all shell shocked as we make our way round to the far side for the second half. I text Deano to let him know what's happening, he can't believe it either but responds with, "Well at least I'm sat here nice and comfy and warm!"
Of course, their 'keeper comes in for a load of stick as soon as he steps onto the pitch for the second half. The lads pull a goal back just before the hour mark when Vill slots home but soon after Stocksbridge increase their lead again when Smudge is adjudged to have brought down a player in our area (despite getting the ball) and once again they score from the spot kick. I suppose we ought to be thankful the ref didn't send Smudge off as it's just been one of those days. The noisy boys are bored too, so, standing on the hillside they begin to sing the 'German Bomber' song and throwing themselves down the banking. (this was due to the fact that there is a bus load of German tourists here for the match.) And that, as they say, was that. We made our way out, while some of the Stocky fans gave us abuse from the back of the stand, it's funny that, I thought that all alcohol was banned from the ground and could only be consumed in the club premises. I must remember to ask their chairman that very question if I bump into him when he comes over to our ground. I have no problem about losing as you cannot argue with the scoreline, but I do object to having foul and abusive language hurled at us, especially with women and young kids around. Back at the car park and Richard is waiting for me. As a neutral observer his brother-in-law enjoyed the match, but it was hard trying to explain what went wrong to him (from our point of view at least.) Thankfully Richard takes me all the way home so I have plenty of time to drown my sorrows with some ice cold Bailey's and a couple of Easter eggs to finish off the day...Happy Easter! Until next time
Happy Travelling
Trev
Ossett Albion Ladies v. Sheffield Ladies 16/03/08

At last a day off! I managed to sleep in a bit, but that was only after waking up at the usual time, getting a cuppa and then watching what was left of the Australian G.P. With John still too ill for travelling I've arranged a lift with Helen (the manager), to go to the game. First of all it's the bus into town, no problem with that part. It's only when I get there that the confusion starts as there are diversions all over the place due to the City centre being cordoned off as people are due to run the Sport Relief mile around the city. Eventually find a convenient stop and head up to Somerfield's to get something to drink for later and some nibbles. Of course the shop open at 11, just as the main event is about to start, meaning I'm pinned on the (wrong) side of the road and stuck for about ten minutes before I can get across and make my way down to Argus to get the number 53 bus. Guess what? It doesn't stop there anymore! I found this out the hard way as I saw it sailing past me and heading towards the market, so I legged it and just managed to catch it, I think I would have given Linford Christie a run for his money, even I didn't know I could run that fast. Mind you, once I'd sat down I did know much as my head was spinning and my heart was beating like it was playing a drum solo! It had calmed down by the time I reached Hillsborough and Helen arrived on time. Then it was off to Tankersley to meet up with the rest of the team so Helen would know that everyone who said they were available would be there. It was Nigel who was last to arrive, for which he got some ribbing for, then it was off to Ossett convoy style, and of course, with it being Ossett the clouds are already gathering ready to drop some rain on us.

We get to the ground and there's no improvement in the car park, it's still full of pot holes, but overall inside it's looking good. It's had a lick of paint but the thing that surprised us all was that the pitch had grass on it! I'm not being sarcastic, well, okay, maybe I am just a little, but on previous occasions it's always been somewhat threadbare of the green stuff or just mud but it was such a pleasant sight to see, especially as the girls like to play the ball on the ground.

I go and get myself settled next to our dugout while the team go and get changed to start their warm up. I'm okay as I have a sandwich and a cuppa while I read the magazine from yesterday's morning paper. Even the sun is trying to shine as the girls line up for a team photo before the game kicks off. I have a chat to Martin (the twins dad) and say how there are quite a few people here to watch. He told me that the group of girls over in the stand are in fact the Howden Clough team, who played on Friday and so have come to support Ossett in the hope that they can do Howden a favour be beating us. Now Ossett has always created problems for us, in fact we've only won there once, but today the team were well up for it and took the game to their hosts and went ahead after 25 minutes when Clare was brought down in the area and Caz came up to score from the resulting penalty. Ossett responded positively but the Sheffield defence soaked everything they could throw at them. There was no lacking in commitment either as Gemma caught the full force of the ball in the face, getting a bloody nose for her trouble.

Half time, and as Helen gives her team talk, I tuck into yet another sandwich and a cuppa, ready for the second half which will be played in the sunshine by the look of things. It's a similar story on the field as both sides go for it but the crucial next goal falls to us as a pin point corner into the area from Gemma finds little Rachel whose bullet like header gives their 'keeper no chance. The point were finally sealed on 73 minutes when a quick free kick from Clare caught their defence cold and although Lisa G's shot was miss hit it fell to Wakey who made no mistake, game over and what a big win.

Afterwards I waited for Helen then it was off to the designated pub for the after match hospitality as we had a drink and watched a bit of the Man City v. Spurs game while the players filled up on some well deserved food. Then a pleasant and happy drive homewards. Another three points in the bag as it gets ever closer to that elusive prize at the end of the season. Until next time.

Happy Travelling
Trev
Nantwich Town v. Sheffield 15/03/08

It's my day off today but I'm still awake at five o'clock, as I'm usually going out for the bus for work at this time and yes, in case some of you were wondering..........there are two five O'clock in one day. I was thirsty so went to make a cuppa and then decided to go on the computer and finish off one of the 'Travels'. Once I'd done it I sent it off, only to receive an email from Stu almost straight away saying, "What do you think you're doing up at this time on your day off? In fact, what am I doing up at this time as it's my day off too!" Anyway, I potter about for the rest of the morning until it's time to set off for the game. Stu is taking us so first stop is to get to his house. After the performance the other night using the tram I decide to use the tried and trusted method of catching the bus, just managing to get one before it was about to pull away (otherwise it would have had to be the tram again.) No problems today as it sails through and by the time I've got to Stu's it's almost time to set off for Nantwich. Lynn say's, "I'll not offer you a drink Trev as I know Stu's just about ready to set off."

Once again Stu has Shaun the Sat-Nav guy up and running and he says," I'll not be able to use him on Monday." (I've already guessed what's coming.) "Why?" asks Deano. "Because it's St. Patrick's Day and he'll be pissed out of his head," shouts Stu, laughing. (Referring to the fact that' Shaun' speaks with an Irish accent). Deano holds an imaginary gun to his head and fires, saying, "I fell for that one didn't I?" Then we have a general discussion about footy and as we drive along the motorway we actually pass the team coach. As Stu accelerates past it Deano is pointing to his watch as if to indicate that they're late, which they are by their standards. I don't rest my eyes today, I just fall asleep! When I wake up they're both ribbing me about the photo on the site with me even 'dreaming' of the travels, a fact borne out as we pass the very same road sign which is featured on the picture. Once again we've made good time as Stu crawls for the last nine miles so we don't get there too early. We park the car and head out of the car park for a walk into the town centre. On our way we see the team coach arriving, so this time we all point to our watches to let them know they're late. We are off in search of a chip shop for some dinner and we look all over but can we find one? It seems that Nantwich is full of charity shops, Big Issue sellers and hairdressers! As we search in vain we keep on saying to each other that we're going 'Dabbing', a reference to the fact that Nantwich's nickname is the Dabbers. The thing is, we can put it in any context we like, but once said, it was usually followed by us 'singing' the tune to 70's porn movies and describing the actors and actresses! (You had to be there to get the full effect.) After much traipsing about we eventually spot a woman with said bag of chips and accost her to find out where she got them from. She points us in the right direction, which was just round the corner from the street we were on and must be the only street we failed to venture down. Sure enough, there it is in all it's glory and guess what? It's shut!!!

After much gnashing of teeth and swearing we end up at Nantwich's answer to Cooplands and I have a steak pie whilst the other decide what they want. We eat our al fresco lunch on the way back to the ground and then venture inside. Of course, it's then that I realise I've left my glasses in the car because they were in my bag which is in the boot, but I'm not alone in forgetting things as Stu has forgotten his writing pad for doing the match report. Thankfully the steward lets us nip out to retrieve our much needed items. Some of the noisy boys are here again; they're getting quite regular travellers these days which is good. It starts raining as we stand behind the goal, but it's not enough to drive us for cover. We take the lead with a great header from Asa, well, we thought we had but for some reason the referee awarded a foul on the defender. A few near misses for both sides but no goals, so it's a walk round to the snack bar for a well deserved drink. There's no home-made leek and potato soup today (they had it on when we played them a few weeks earlier), so I opt for a coffee whilst Stu has Bovril. Of course, despite our late lunch Liam is still hungry, so he has a chicken balti pie!

The second half starts and the noisy boys are having fun at the Nantwich 'keeper's expense, commenting on the size of his nose. He takes it all in his stride which is a good job really as he was a big bugger, and I don't mean just his nose! Nantwich take the lead, and despite putting the pressure on we just can't get an equaliser, not only that but it starts raining more heavily now, to end a dismal day (on the pitch at least.) It doesn't take us too long to get out of the car park and we're soon heading home. Deano rings Maz to ask her what the other scores in the league were, but she was too busy watching 'The Waltons', to put teletext on. So he phones Steve instead, and as he's reading them out, Deano is shouting them out to me while I'm trying to write them all down, no mean feat considering it was now almost pitch black and we were on the motorway with very little light to work by. So, a disappointing day for the football but apart from that, we enjoyed ourselves and got to see the delights of Nantwich, which is like a mini Chester...........but without more than one (closed) chip shop! Until next time

Happy Travelling
Trev
Quorn v. Sheffield

01/03/08

It's my day off today so I have a nice relaxing morning, that is after I've retrieved my garden fence from out of next doors garden! It's the transport meister John's birthday today, but he's been unwell all week so won't be attending the game. At least we can call off the fire brigade we had on stand by in case all the candles on his cake got out of hand. With Stu working too, me and Deano are travelling with Andy and Caroline. It's another bright and sunny day as I set off but it's still cold and windy. With Maz also otherwise engaged and meeting Deano in town so we can get the same bus up to Meadowhead where we're being picked up. I've got a bit of time to spare once I get to town so, being as I haven't eaten since breakfast I pop into the market. I was going to get a bacon sandwich but couldn't resist a dripping cake instead. Deano arrived just in time at the bus stop, just as a number 53 was pulling in so we hopped straight on. We arrive at Meadowhead bang on one o'clock and would you believe there was a number 75 bus right behind ours, we could have got that one too but knowing our look if we'd have met five minutes late we'd probably have been struggling to make it on time, you can never rely on these things. The company does run a scheduled timetable but I'm sure it's just for show as the buses rarely run on time. Andy and Caroline turn up and wave to us to attract our attention. This is because it's not Andy's usual car, he's gone all posh. I can't remember what make it was but when we commented about it Andy said, "It's the boss's car. I ask, "Does the boss know you've got it?" and Deano enquires if we need to wipe our feet before climbing in and also if there will be ice cream served during the journey. Andy nods towards Caroline and replies," She's the lady with the tray, you'd better ask her." It's very smooth and comfy which finds me 'resting my eyes' in no time at all while Deano reads his rugby magazine. It was all going according to plan, following Andy's Sat-Nav until he realized it was taking him right through the middle of Loughborough. So it was stop start for a while as we hit every red light there was and there were plenty, usually spaced about fifty yards apart! We saw a man walking about with a Tri-corn hat on, nothing like looking out of place is there? I said, "I bet they nicknamed him Spannerhead." We're still well on schedule time wise and we set off an hour later than the coach.

We found the ground, this after the Sat-Nav woman had a 'blond moment', trying to send us the wrong way. The car park is inside the ground so you have to pay as you enter like at Belper, the bloke on the gate takes one look at me and quotes me the pensioners' price! Of course the others start laughing their heads off at this............the cheeky sod. He takes the money and the car park attendant points to the bottom of the car park and says, "There's plenty of room down there m'duck." We then have a discussion about the names we use for people in general, like calling people love. Caroline says she hates to be called 'petal', so folks, if you want to wind her up, you know exactly what to call her now. Being as we're early we sit in the car for a while to keep out of the wind and cold before it's time to brave the elements. I go and get the programmes and then head to the clubhouse for a cuppa and something to eat. I ended up with a tray of chips for a change.

The game kicks off and me and Deano go behind the goal while Andy and Caroline go and sit with some of the regulars who've made the trip here. We're exposed (not literally) as the wind is right at our backs. After their heroics at Gresley in midweek some of the noisy boys are here again. There are only four of them but they're singing their hearts out and at least creating some kind of atmosphere. Apart from a couple of scares we take control of the game as Jamie Smith puts us in front and one of the other Smith triplets (Gav) doubles the lead from the penalty spot.

Half time and we go into the clubhouse to warm up before the players take to the field again. The other end sees us facing the wind, in fact it's that strong that Andy has taken the flags down as they keep blowing all over the place. As usually happens on days like these, the 'help' of playing with the wind is no help at all as the ball is hit too long or the wind catches it, whereas Quorn have more chances this half playing against it. Overall we stay in control of the game and finish the job off with a diving header from Steve Hawes. I get the man of the match votes with frozen fingers before heading back to the car. Once my hands have thawed out I text Stu and John with the score. John replied saying he would stay away for good as they always seem to win when he's not there. I send him back a message to say that 'Deano says you can still take us to the games, but just don't come into the grounds.' I'll leave you to guess what John's reply was!

It's nice and cosy as we head off back, this time avoiding Loughborough town centre. We listen to 'Sports Report' well, three of us do. Deano has his earplugs in listening to music as he didn't want to know the Harlequins score as he was taping it to watch tonight when he got home. Of course, I'm that relaxed that I'm drifting off to sleep until I hear Andy shouting me as he wanted to know which way to go to drop me off at home which was a welcome blessing as it saved at least an hour travelling on the bus, and if I fell asleep on there God knows where I would have ended up! Until next time.

Happy Travelling

Trev
Gresley Rovers v. Sheffield

27/02/08

With John still not well it was Stu who was going to take me and Deano to Gresley tonight, the first job being to get to his house. Well, what a stressful journey that turned out to be. First of all the bus from home was full of school kids playing their crap music, each trying to outdo each other with the volume control, then, once I got to town I decided to take the tram for a change. What a mistake that turned out to be. Now, not being familiar with trams going Gleadless way I looked at the route on the shelter and it indicated that only the Herdings tram actually stopped at Town End, so being as I'd just missed one I had to wait half an hour for the next one and when it came it was that full that I was stood all the way until it was time to get off. When I eventually arrived at Stu's, Lynn was just getting ready to leave to take Liam for his karate class and while Stu was out of the way I gave her some chocolate that Jeanie had left. So what does Liam do? He shouts," Dad, Trev's brought chocolate!" and Lynn said, "Liam! Why did you have to tell him, I was going to keep it for us?" I tell her about the tram ride and she then informs me that I could have got on the 'Halfway' tram as well as that stops at Town End too. I replied, "I wish I had known that as I let two of those buggers go!" Still, I'll know in future. She asks if I want a quick cuppa but Stu comes into the room and says, "No time, we'll be off any minute." Sure enough, Craig turns up a minute later and we all pile into the car and off we go, stopping at the top of the road to pick up Deano who was waiting at the petrol station for us. We're chatting away when for some reason we get onto the subject of our word association game which crops up from time to time and I can't remember which game we were referring to (think it was a Fulham game) but Deano comes up with, " Apparently Michael Jackson thought it a real Thriller, but then he was told to Beat It."Stu pipes up with, "Pity he didn't go to West Ham, then the fans could sing I'm forever Blowing Bubbles." which made us laugh.

It's a good journey and as we head towards the ground Stu starts to 'sing' the tune from Deliverance' and we all join in as the place looks like the back of beyond, it makes Maltby look positively palatial! It's like travelling back to the 70's, in fact we could well be featuring in an episode of 'Ashes to Ashes' as I write! We park the car on some waste ground just outside the entrance and wander in. The gatemen are a bit perturbed as Craig shows a visitors pass and goes straight through unchallenged while we wait to pay, they think he's someone who's just walked in off the street, (which I suppose he is, but you get my drift). There's a great sight to meet you as you turn the corner, the men's toilet! Now, a few season's ago Deano took some photo's of some of the more, let's say, prehistoric urinals we had to use and this one would certainly have made the top three, it wouldn't have beat the one at Bridlington Town though (ask Deano about it.) Not only that, but perched above was the 'hospitality suite. Gresley have a mascot but we haven't seen it as yet, it's someone dressed as a dog and guess what? He's called Elvis. Get it....Elvis Gresley - the hound dog! Some of our noisy boys had made the journey over to support the lads which was good to see, but it's interesting to note that Gresley have a lot more noisy boys, it's just a pity that they're not interested in the football, they're too busy singing obscenities at our noisy boys and generally making a nuisance of themselves to anyone wearing Sheffield colours. Credit to their Chairman though who, in his programme notes was berating the behaviour of these so called 'fans'. The team start positively and are soon in control. after a few early scares at the other end. With nothing for the Gresley fans to shout about they make their way round to stand next to our noisy boys, who were totally outnumbered. Thankfully the stewards stepped in between both sets of supporters and herded the home fans away. The funniest thing was, as they were walking behind us a couple of them started to run and one went arse over tip which had all his mates in hysterics. On the pitch the lads finally took the lead with a typical Gav Smith effort.

At half time me and Deano wandered down to the far end while Stu was busy talking to a bloke he knows who he see's regularly when he goes on his jaunts. We get talking to one of the stewards, a lady who told us that most of the so called Gresley mob here tonight they've never seen before. It appears that the regulars must have hired some extra help in their search to make trouble, a fact borne out as the steward told us she was hit by one of them as they were segregating them earlier in the game. It's more or less one way traffic in the second half with Pete Davey doubling the lead just before the hour after some great work by Vill. The striker then capped a fine performance by grabbing himself a goal just on full time. There was one funny moment about ten minutes from the end when, with Gresley on the break the ball fell to Jonah who hoofed it out towards the hospitality suite, the next thing we heard was the sound of breaking glass!

Once the final whistle went we didn't hang about and made for the exit. There were quite a few police in evidence outside, trying to disperse the local noisy boys. We checked we still had all four wheels on the car and set off for home, heading the wrong way down a one way street, well the police never told us we couldn't go that way although Stu upset a couple of motorists who were trying to come the other way. After that it was plain sailing all the way home, the main talking point being about the crowd not the game and the fact that our noisy boys stood their ground despite immense intimidation and did the club proud by not getting dragged into anything unsavoury. WELL DONE LADS YOU ARE A CREDIT TO THE CLUB! Until next time,

Happy Travelling,

Trev
Nantwich Town v. Sheffield

19/02/08

Hmmm, well here we are, on the road again. We were half expecting, nay, hoping that tonight's game would be postponed, due to the fact it's so bloody cold. It's already been a long day for me and John as we were on the road at 6.30 this morning to take Jeanie back to Manchester airport for her flight home; it was minus 7 degrees then as we headed over Woodhead. It did warm up on the way back home, but only to freezing point! So with icy roads and freezing fog it made driving 'interesting' for John.

It was early afternoon when Stu called to confirm the game was still on and he wasn't too pleased about it either as he was doing the driving tonight. John picks me up at home with Deano already on board and then it's over to Stu's, with the sun shining but it's still cold. We arrive bang on time and John parks 'Sammy' up as we transfer to Stu's car. Liam has decided he's not going tonight which is probably a wise choice as it's going to be so cold, but it does mean he has to attend a flower arranging class with his mum. When Lynn told me this I said to Stu, "Well if that's the alternative, you lot go without me. I'm going with Lynn and Liam as it'll be a lot warmer and she'll drop me off at home long before the game has ended." No such luck though as Stu tells me to get in the car and stop bleating. He's gone all 'modern' too as we notice he's wearing his Bluetooth earpiece, so he gets his leg pulled about that and then we notice the Sat-Nav on the dashboard. Apparently it's called Shaun and 'he' talks with an Irish accent! Me and John want to know if Stu can show videos on it too so we can watch from the back as he drives.

John is the first to start 'resting his eyes' which is a big change for him as he's the one usually doing the driving, although he did say to me later that that never stopped him before!

With it being an evening game Stu had allowed us extra time to contend with any delays with the night time rush hour, so you can imagine what happened can't you........we had no hold ups what so ever. 'Shaun' even gives you an estimated time of arrival before you set off on your journey and he'd said we should arrive at 7.09. In fact we arrived at 7.07 and that was despite Stu driving as slowly as he could for the last three miles or so and also circling the Nantwich car park a couple of times which caused chaos for the drivers trying to get out (there had been some kind of kids event on at the ground beforehand.)

We have a look in the club shop before heading inside. It's not a bad ground but the pitch is in an awful state as there's more sand than grass. Deano asks," Where are the deckchairs?" I replied, "I don't know but I can see the donkeys," as our lads start their warm up (see Deano, told you I'd put it in!) There are no programmes on sale tonight as they've failed to be delivered, I think I've heard that one before only nearer to home; in fact it was at home! Stu has got me a cuppa, which is just the job to warm me up as Deano is trying to get a photo of the three of us (me, Stu and John) drinking but one of us always moves at the wrong moment. We go for a walk around the ground to kill a bit of time before the game starts. Some of our noisy boys are here which is good as they create a good atmosphere plus it's their second away trip in five days so we're honoured. Perhaps at last we're convincing them it's more fun to come and watch the lads away from home than go to Hillsborough or Bramall Lane. The game starts and we take up position behind the goal we're attacking. It's not long before Deano is shouting at the official, "Can we have another ball ref? They won't let us play with this one." It's not too far into the game when Andy turns up. Originally he wasn't going to be making the trip, but with the rest of the family going out for the night he decided to come along. He hadn't missed much as Nantwich were doing all the attacking and asked us, "Is there any score?" We replied, " No, but we've hardly had a kick yet."Almost on cue Nantwich score to take the lead. Of course, Andy gets some stick for this as we collectively put the blame on his shoulders but it's not long before the enigma that is Stuart Copnell produces a touch of magic to level the scores. After last Saturday's antics at Grantham he's getting some ribbing from us with things like, "Come on Cops, are you hungry for this?" and "Let's get in some biting tackles." There's no more goals but plenty of chances, most of them falling for the home side so we breath a sigh of relief when the ref blows for half time and walk round to the snack bar. On the way round we get talking to an old bloke who's local. He said he used to play for Stoke, he was called Johnny King. I said to Andy, "I wonder if they used to nickname him Jo King, bless him." Actually it was quite interesting as he was naming players who used to play for United when we were kids. In his heyday he scored 106 goals for Stoke plus another sackful for Crewe and Cardiff.

I go and stand in the queue for the snack bar. Jeanie sends a text to say she's got back home then the phone starts ringing. I manage to retrieve it before it goes to voicemail and it's Deano! He wants me to get him a steak pie, he must be cold, hungry or both as he doesn't usually indulge in eating anything at the grounds, unless it's Thackley of course where he can't resist their hot-dogs. Anyway, I ask his whereabouts and he replies, "I'm stood three yards away!" Sure enough, I turn and can see him. He said he didn't want to be seen as if he was pushing in. So I get him his pie and a cuppa for Stu. Me and John decide to try the home made leek and potato soup and it was very nice indeed, in fact we're due back here again soon so I'll have to remember that. The second half sees us kicking towards the 'beach' end and we actually take the lead which quietens the home fans as they start to blame the officials for some dubious calls. It was Salmon that claimed the goal but it did come off their number three. We enjoy our lead for just over ten minutes before Nantwich equalise as the lads play offside but the linesman doesn't give it and the ref awards the resulting goal. With time running out we're all thinking, well, it would be a bonus to pick up a point here tonight but what happens? With two minutes remaining we have an attack which breaks down and they go upfield and score the winner. Time to make our way back to the car as the home side celebrate in front of their fans as the final whistle goes. It doesn't seem as long getting back to Stu's (thankfully) but that may well be because both me and John were 'resting our eyes'. A quick change of cars once again and then it's home. I give Jeanie a call to let her know the score and tell her that it was probably just as well she missed the game as then we would have been asking questions as to whether her 'good luck' status as turned to bad luck with the team losing two on the trot, plus of course, she watched the ladies lose on the Sunday too. Not a good week for results during her stay, but she still loves to come over and watch the games. I'm glad I'm on a late shift at work tomorrow, oops, just looked at the time, it's now 'today', I suppose I ought to go get some sleep! Until next time.

Happy Travelling

Trev
Sheffield Wednesday Ladies v. Sheffield FC Ladies @ Maltby Main 17/02/08

It's a nice sunny day again although still chilly, but at least it's not as cold as yesterday. Me and Jeanie are already waiting outside the house when John arrives to pick us up. First stop is to call at Morrisons, so John can get rid of all his plastic bottles, but guess what? They've got every kind of bin there for recycling stuff except one for plastics! No problem though as John say's he'll try Meadowhall on our way home. We arrive at Maltby and actually find a place in the car park. Let me tell you folks, the ground hasn't changed one bit as John tries to get 'Sammy' into a space whilst avoiding the numerous and vast pot holes which are everywhere. We're about to enter the ground when a bloke stops us to tell us that it's £3 to get in. After almost having a heart attack he did then explain further that it was only a pound each, plus a pound for a programme, obviously the Owls Ladies are just like their robbing parent club as John tells the bloke that, " we're not used to paying to see the Ladies." Not only that but the 'apology' of a programme wasn't a patch on what Helen produces and she gives hers away! Thankfully we won't be visiting them again (at least not this season.)

To our surprise even the snack bar is open, and while me and Jeanie get a drink John can't resist a sausage and tomato sandwich. We walk round to the playing area and John points out to Jeanie where they run the whippet racing, (which, for those of you who don't know once resulted in a Sheffield first team match being delayed because they (the dogs) were still racing when the game should have been starting.)

This is a big test today, as the Owls team play three divisions higher than our ladies, but it's an opportunity to see how far they've come and also a light relief from the pursuit of trying to win the league. We see Cheryl arrive with Charlie, and he comes bounding over to greet us. He's going to be in doggy heaven today scratching round for rubbish and bits of paper to chew! The game starts and the Owls show how good they are as they pressure from the start and go in front after 10 minutes. They're just that bit quicker to react to each situation and punish every little mistake. Jeanie gets in on the act as she stops a wayward ball which is heading our way from knocking the teas over, which we've placed on the ground. Despite some good approach work the girls find themselves 4-0 down at the end of the first half, but it's not through lack of effort. John has brought a flask of tea so we go and sit on one of the benches facing the cricket pitch to sup our drinks. Although it's still bright sunshine you can clearly see the moon, which, once we establish that fact gives Jeanie the chance to break out into her version of 'Aquarius'! I think she's had too much caffeine today and it's not even three o'clock! The teams are out for the second half, and with the game just about over as a contest the pressure is off and the girls are more relaxed and really start to pin the Owls back in their own half. The referee then decides to make a name for himself by calling a fouled on Caz for picking the ball up from a (supposedly) back pass. This, after she had asked the ref three times if she could pick it up (him saying nothing at all). Thankfully it didn't result in a goal although the Owls did score two more this half which were against the run of play and made the scoreline very flattering in their favour. Try as they might, the girls just couldn't get the ball in the net, but overall it was a great performance and nothing to be downhearted about.

It's a pleasant drive home, calling at Meadowhall first so John can get rid of the plastic bottles. So with two games in two days and both defeats it was decision time for me and John regarding Jeanie. We decided that our 'lucky mascot' had had enough traumas missing her flight over last Wednesday, so she could stay until her official leaving day. Mind you, if you'd seen the state of the bedroom there was no way I'd be able to get all her stuff in the cases in a couple of hours, that's going to be a major task as it is ! After dropping us off at home we decided to get over the 'sorrow' of our defeat by going to the cinema and then, once back at home, relaxing with a hot chocolate and a box of Bailey's truffles, which I can highly recommend! Until next time.

Happy Travelling
Trev
Grantham Town v. Sheffield 16/02/08
As I'm on holiday it's a lazy morning, just going for a stroll across the park to Somerfield's with Jeanie to get some shopping in and also for her to pick some goodies up to take back home with her for her relatives and work colleagues. In fact it worked out on nearly £20 of chocolate, things such as Penguin bars, Aeros and of course, Jaffa Cakes! Apparently they all go mad when she takes the stuff to work to put out for everyone to help themselves.

It's gloriously sunny but cold as John pulls up outside the house. With Deano in the front and Maz already strapped up in the back it's my turn to sit in the middle and fathom out how to fasten the double seat belt which I eventually manage with the help of Maz. Then I have to help Jeanie get strapped in, then once we're all sorted it's off we go. John and Deano are chatting in the front while we're having our own conversation in the back as Jeanie is telling Maz all about her trip so far. After a while it all goes quiet as we settle down to listen to the comedy hour on the radio. All is going well for an hour and a half until we take a wrong turning, missing a diversion sign and end up on a road that has been blocked off. John turns the car around in a farmers drive and we retrace our steps and pick up the diversion signs for Grantham. Now, the ironic thing about all this is that John had planned a route to avoid the hold up on the motorway but would you believe that the diversion is taking us all the way to that point! We give a big cheer as John tells us that Sammy has just clocked up 40.000 miles although he did add that we should have been marking this milestone on the way home! I give Stu a call to ask him to get the programmes for us and he can't believe where we are as he set off later than us and sailed straight through using the original route as there were no traffic jams at all! We arrive with fifteen minutes to kick off and head for the snack bar - Jeanie's treating us. John was thinking of having a hot dog but when he saw the size of them he said," I'm not having one of them, it's a right rip off, they're that small" We do get drinks and pies eventually after we've decided what is good value for Jeanie's hard earned money. The ground is council owned and has a running track circling the pitch, so we stroll round to the other side and stand in the sun where it's a bit warmer and eat our food. It's also a good spot because there's a little wall where we can rest our drinks instead of having to juggle with everything. The sun maybe making things warmer but the thing is, it's that bright that we can't see the game, so once we've eaten our pies we walk round to where Deano and Maz have taken up residence at the far side, high up on the uncovered terracing, with our backs to the sun. The noisy boys are here, savouring their first away trip and giving the Grantham a run for their money in the singing stakes. At least our lads keep it jovial and don't resort to bad language coming from the locals. We go a goal down so Jeanie tries to cheer us up by handing out the sweets she's brought with her. It does help and a little later we draw level as Jonah slots the ball home. Unfortunately Grantham take the lead again before the break. It's another walk to the snack bar but just for drinks this time and then we go and stand with Stu and Liam and some of the others who've gathered at the other side of the half way line. Stu has just come back from holiday and he hands Jeanie a box of Belgian chocolates he and the family got her, and she hands over the Hershey chocolate which they crave. When I ask where my Belgian chocolate is all I get is a mouthful of abuse.

The second half gets underway and the team are certainly playing below their best as the home side go further in front. I comment to John, "Are you free in the morning to take her back to the airport?" A reference to Jeanie, who, on her trips over here in the past four years has never seen the team lose. He said he'd think about it while Jeanie say's to me," If you can pack my cases in half an hour then fine." She knows she's on a winner there as it usually takes me most of the evening to get them sorted out! With less than ten minutes left Macca goes for broke and brings Wardy and Cops on. It almost pays dividends when with increasing pressure Sheffield get a penalty which Smudge converts to make it a grandstand finish. We get a corner and Macca even sends Danny Haystead the goalkeeper up into the area to see if we can pinch a draw. That one is cleared, but when the next ball goes into the area there's a harmless clash involving Wardy and their 'keeper. All hell then breaks loose as other players get involved and of course who is at the front of all this? Why Cops of course! On the field for seven minutes before getting sent off (along with a Grantham defender). We thought it was because he threw a punch but later on someone said he'd bitten one of their players! Of course we played on this by saying things like "He was hungry to get into the game" or "the team lacked bite until the appearance of Copnell". Of course, once the referee had sorted all that out he was quick to get the game finished, which he did as soon as the ball went to midfield. So it's Jeanie's first loss, but she just enjoys coming to the games although football wise she's not having a good time this week. She missed the game at Brigg due to the fact she was stranded in New Jersey as they had a snowstorm and when she got here the day after I had to tell her that the Nantwich game (which was due to be played the night before she flew home) had been put back a day so she'll miss that one too. Deano cheers us up by taking photo's of us acting about as we walk across the car park back to John, who had gone on ahead to get Sammy heated up as we were all so cold . Once we've sorted the seatbelts out again it's off we go, this time taking the original route which takes us half an hour less and 30 miles shorter than the journey here. Back at home and once we've unpacked our stuff I can relax as Jeanie cooks dinner for us before we settle down to watch some TV which she finds fascinating, comparing some of our programmes to theirs. Until next time.

Happy Travelling
Trev
Brigg Town v. Sheffield

13/02/08

Once again it's been a lovely day, more like June than February with bright sunshine and a cloudless sky. We should have had our lucky mascot Jeanie with us tonight, but she missed her flight due to a severe snowstorm that hit New Jersey. It took her just over four hours to get to the airport, whereas it normally takes an hour at the very most and she missed her plane by fifteen minutes. Not only that, she's ended up sleeping at the airport due to the fact there were no hotel rooms available. Luckily her cousin lives in Philadelphia so she was able to go there first thing this morning(her time) to rest up. So there's one less for the journey as John arrives to pick me up, then it's off to town to pick up Deano from work. As he gets in the car John tells him about the fact that Jeanie's not there. He say's "Oh, I forgot she was supposed to be here." John tells us both to keep prodding him to keep him awake as he's been up since 5.30.I tell him I've been awake longer as I was getting up to date reports from Jeanie's mum regarding the 'will she-won't she' make the plane. Deano doesn't believe me. He say's "Is it because you're excited Trev?" Much to the amusement of both of them. John thinks she's purposely engineered it so she arrives on Valentine's Day!

Considering it's the tea-time rush hour we make really good progress with no hold ups on the motorway, just a couple of fog patches we had to negotiate our way through. Coming into Brigg we start to recognise familiar surroundings, even though it's been a while since we were last here. We find the ground with no problem and make our way inside. It's a cold night and a bit misty too, so we make our way to the snack bar to see what delights are on offer. Well, we didn't take long to choose what we were going to have as they were still waiting for the food to be delivered, (much to John's disappointment as he was starving) so it was just drinks all round to keep us going. I go and find Steve to get the team news, being as I'm multi-tasking tonight due to Stu's unavailability. He's at the opposite end of the ground from where we are stood so it gives me a chance to walk for a bit and get the muscles warmed up. Jackie and Bill are there with him too so we chat while Steve tells me the team. Our subs are just finishing warming up and one of the balls flies over the net and onto the hard standing. Wilko goes to fetch it (there was a small gate in the perimeter fencing) and as he comes back with it I shout, "Shut the gate Wilko, it's cold with that open." It got a smile out of him.

It's time to go back and join the others. The food has finally arrived and John got rid of his hunger pangs with a pie (I think). I'm not really sure what he had as there were only remnants left of whatever it was by the time I got back to them.

The game gets underway and we go and take our places next to the goal. The lads are well in control, creating chance after chance and finally get the breakthrough around 25 minutes when Daz Winter pops up to fire us into the lead. Surprisingly there are no more goals this half, so it's back to the snack bar for me and John. All the hot food has already run out, apart from one lonely Cheese and onion pasty, so John ends up with a soup while I have the usual cuppa and a Twix, then we walk round to the far end ready for the second half. The substitutes are busy warming up and Wardy sends the ball over the bar. Deano goes to retrieve it but fails to kick it over the three foot wall surrounding the pitch, so I end up throwing it back.( I wasn't going to try and kick it over, not after watching Deano.)

The second half starts and we score again within a minute as Gav Smith has the ball in the net, much to our delight and the Brigg 'keepers despair as it was an easy shot to save......he must have had a 'Gary Sprake' moment. (Kids, ask your dad, he'll tell you all about him!) The game is so one sided at this point that me and Deano are taking bets as to how many goals we'll score tonight. Oops, we spoke too soon as it all starts to go pear shaped. Brigg pull a goal back and all of a sudden the team look like they've never played together before. Three minutes later and the home side have drawn level as the lads struggle to contain them. It's backs to the wall stuff now and it takes a while before we create anything of note and with time running out, we just can't snatch a winner. Okay, we didn't lose, but we did throw away two points. We go into the club house for a quick warm and also to use the facilities before heading for the car park. Deano decides on a change of scenery for the journey home so he sits behind John. Mind you, this may well be because the van parked next to 'Sammy' is really close and I had a struggle to get in even with my athletic physique! (Go on feel free to laugh.)

Once again we have a good journey home as there is not much traffic about. Deano spots two Eddie Stobbarts on different occasions but me and John never saw them, we were too busy concentrating on trying to keep our eyes open. Just as we were passing Meadowhall I got a text from Jeanie to say she's already back at the airport and her bags are checked in. She's not taking any chances with the weather tonight as she's arrived four and a half hours before take off so watch out Grantham, she's on her way! Until next time.

Happy Travelling

Trev
Wickersley Ladies 0 Sheffield Ladies 5

27/01/08

Well, after all the recent bad weather me and John are being spoilt as this is our second game of the weekend, after the watching the men's first team play yesterday. In fact it was our first visit of the year to the Coach and Horses and we almost had to resort to phoning Stu to give us directions as it's that long since we were last there.

Anyway, back to today and after all the lousy weather it made a change to come out of work into bright sunshine with clear blue skies, even if it was a bit on the windy side. Of course, a lot of our travels have a twist somewhere along the way and today was no exception. As we made our way down to West Bar we found that our intended route had been blocked off and we had to follow the diversion signs right back towards the Upperthorpe dual carriageway before getting back on track. If we had known of the diversion in the first place we could have come straight down the dual carriageway when John picked me up and saved ourselves 15 minutes messing about on the ring road....or should that be the wrong road? Not only that but we'd got Dick Van Dyke 'singing' on the radio, doing his best Cock-er-ney accent from Mary Poppins. Jeanie said that when she saw the film when she was a little girl....yes, it's that old, she thought that was how people really talked in London! It's a straight forward drive to the ground which is situated at Wickersley High School. We pass it first of all as we have trouble spotting the entrance, but manage to get into the car park which is quite crowded as there are some games just finishing and another two in progress besides ours, as there are three football pitches and a rugby pitch on the site.

With little room between the pitch we're playing on and the one next to it, we decide to stand on the other side, which means we're facing into the sun. Charlie and Cheryl arrive. They've been here a while but were sat in the car, Charlie decides to 'christen' the goalpost as they walk across to join the rest of us. The ladies get off to a good start when Rachel heads home after 10 minutes to settle everyone down. Charlie is happy as he has plenty of people to fuss over him and when he gets fed up of that he goes and eats the pile of biscuits Cheryl has put down for him, it doesn't stop him wandering into the undergrowth though now and again looking for bits of paper to chew on! The team totally dominate the half and are rewarded just before the break with a second goal as Gemma scores direct from a corner.

At half time Charlie goes to join the players for the team talk while me and John have a drink of Oxo. Of course, Charlie's smelt this so he abandons the team and sits right in front of John giving him the 'big watery eyes' look. But this doesn't make any impression on John and so he decides to go and eat some more of his biscuits. It's like a summer's day now with the sun slowly sinking over the far side of the playing fields.

Back into action for the second half and Wakey increases the lead before the hour. It's then leading scorer Lisa B. who gets in on the action with a brace of well taken goals, before being substituted. Charlie goes over to her and Lisa promptly drops a bag on his head, sending him running, and dizzy too. John says to her, "You'd better get back on the pitch Lisa, you're less danger there." The full time whistle goes and it's victory cheers all round for yet another great display by everyone. After saying our farewells we head back to the car and I say to John, "It's been like summer this afternoon. In fact I can feel my face burning."' It's a happy journey home as we listen to Pick of the Pops' before John drops me off. With all that fresh air and sunshine I'm sure I'll sleep well tonight. Until next time.

Happy Travelling

Trev
Castleford White Rose 1 Sheffield FC Ladies 2

13/01/08

After the downpours this week it was quite a surprise when John called me to tell me that today's match was on. I was at home having a well deserved day off, even if I say so myself. Mind you, I'd been down to the paper shop earlier and it was quite windy so, it'll be blowing a gale when we get there. We went last season to watch the girls earn a memorable draw, although they should have won that one and now know how exposed the pitch is, so I'll be making sure I'm well wrapped up for all eventualities, all I really need now is a waterproof pen and notepad as it's bad enough trying to decipher my own writing on a good day, never mind if it's been smudged by the wet weather as well! John arrives to pick me up and we're just about to set off when we both got a missed call from Helen. We thought she was calling to tell us the game was off, but no, she was just checking that we'd got the directions. We get as far as Ecclesfield and we have to make a diversion as our intended route has been blocked off. Last year it was the Parkway that had a tailback of twenty minutes wait due to a lane closure, and there wasn't even anyone working on it. Back to today and we do get stuck in traffic despite the detour, but once we've negotiated that (after yet another twenty minutes) it's pedal to the floor as we head, full throttle along the motorway. I did spot a James Irlam which John swears he never saw, but he was going to give me the points anyway. John spots an Eddie Stobbart but then realises it's only the front cab, of course he still wants half a point for it. Coming off the motorway we miss the exit we need so go round the roundabout, only thing is, the exit we need is blocked from this roundabout so need to make a slightly bigger detour but we're soon back on track and still arrive fifteen minutes before kick off.

It's pretty muddy but we find a semi dry patch the park the car and stroll over to the pitch. There's a ladies rugby match taking place on the pitch opposite with quite a good crowd there to watch. There is also a good crowd turned up here to watch our girls, best I've seen for an away match. John has an Oxo as the girls retire to the changing room for a last minute team talk. Well, he eventually has an oxo once he gets the lid off, obviously Lynne is fighting fit and full of strength as he struggles to loosen it, he's ready for a drink by the time he does get the lid off. Cheryl turns up with Charlie, she'd been here ages but had been sat in the car. Of course, all Charlie wants to do, after greeting us is hunt for paper to chew.

It's a very tight game with the girls just shading the first half, but no score to either to side. The second half sees us take the lead through Jodie, and everyone on our sideline goes mental. Of course. White Rose hit back strongly and all was going well until they equalised, especially as we had a player down injured at that point, but to be fair, I wouldn't have expected us to give up a scoring opportunity like that. Despite the protests of Caz and Nell there was no way the referee was going to alter the decision. Clare comes on as a substitute and make a big splash, in more ways than one when she's tackled and lands in a puddle, I turned to John and said, "She'll be okay, she's in the fire service so she's used to water!" It was no means her only contribution, as she then set up the ball for Nell to run on to and fire home. It's getting very dark and gloomy as the action goes from end to end and we just keep our fingers crossed that the light will last until the final whistle. It's a very nail biting last ten minutes, due to the fact that as each minute ticks by John keeps telling us all how long to go. Nell has a great chance to put the game out of sight but her effort is saved this time. Finally the full time whistle goes and it's jubilation all round, especially as it's the first time we've beaten them on their own ground.

Eventually we make our way back to the car and slip and slide our way out of the car park. Back on the motorway and John sees an Eddie Stobbart, complete with trailer this time. I must admit, I never saw it, but then again I'm in such a good mood I'd have given it to him anyway. Once back at home it's time to celebrate, so I sit down and scoff a whole packet of Jaffa cakes , washed down with a couple shots of Bailey's Irish Cream . Needless to say, I slept very well! Until next time.

Happy Travelling

Trev
Retford United 2 Sheffield 2

01/01/08

First of all........Happy New Year to everyone! It's off to visit the table toppers today as we make our first trip of the season to Cannon Park. I've been working this morning and it was surprising how many people were out and about at 5.30 this morning. Quite a few of them were playing this kind of new game where you put one foot in front of the other and try and walk in a straight line! After John picks me up it's over to Gleadless to pick up Stu and Liam. This is John's first away game where he's back behind the wheel after his recent stay in hospital. We start off as we mean to go on as he takes a wrong turning and we all start laughing. John just say's, "I've not been well you know." Liam compounds matters by turning to his dad and saying, "Have we gone the wrong way?" We're soon back on track and get there without any further problems. Once we're inside I go to buy a badge for my mate Lee. The guy in the shop thinks he's a comedian as when I say, "Can I have a badge please?" He replies with, "There are eleven badgers on the pitch, which one do you want?" (The Badgers being the nickname of Retford) I force a laugh to please him and then go and join John in the queue at the snack bar. He's got his appetite back now and gets a plate of chips, even Deano gets in on the act too, although he say's it's mainly because he got up late and wasn't organised enough to get any breakfast at home before setting off. It's very dull and misty. The Retford fans are in good voice, along with the drum banging. We laugh as they sing "You're just a pub team with money." We even have a bit of banter with Chris Kingston, the Retford goalie, teasing him about coming to play for us as we could actually pay him. He's always good for a laugh. The drums fall silent after 17 minutes when Cops scores a great individual goal, much to the delight of the large travelling Sheffield supporters, large being in numbers, not in size, although on second thoughts some of us look like we had a really good Christmas! Half time arrives and we head back to the snack bar. Sue is busy going around giving us all a New Year's kiss, then telling everyone that's all she's come for. I eventually get to the front of the queue, thankfully John has waited for me so I give him his food and drink and then make my way around to the goal where we're stood carrying drinks for me, Stu and Liam. Retford get an equaliser through ex-Clubbie Mickey Godber and then take the lead as Harvey out-jumps the defence to head home. Things are looking bleak, both in the sky and on the pitch but with five minutes left Leon Wainman comes off the bench and with virtually his first touch fires the ball beyond the outstretched arms of Kingston and into the net which is the signal for us all to go mental. There's just time for a punch up, as Retford player Ryan Ford is sent off for hacking down Matt Roney and then it's all over. Not a bad way to start the New Year. Back at home it's a relaxing evening as watch some TV while tucking into yet more turkey sandwiches and Christmas cake before nodding off on the sofa. Until next time.

Happy Travelling

Trev
Shepshed Dynamo v. Sheffield 22/12/07
It's the last Saturday before Christmas and my first day off since God knows when, so I've no intention of doing any last minute shopping for presents as I'm well organised on that score. After two weeks of inactivity due to postponements we final have a game to go to, and of course, it's bloody freezing. I only went to the post office earlier this morning and I thought my fingers had dropped off ! With Stu working and John just not fit enough we're travelling with Andy and Caroline today, we, being me and Deano. As we're being picked up at Meadowhead I make sure to start early from home, knowing how unpredictable the buses can be, I think this is one of the factors why First Line are putting the prices up again, they must think that 'unpredictability' is a good selling point. Just before setting off to meet them I get a call from Deano," Trev, I've slept through the alarm and Maz has only just woke me up!" So that puts paid to his day out as by the time he's got himself ready and had something to eat it would be too late to set off. It's Sod's Law isn't it? I thought I'd give myself plenty of time from my house to Meadowhead as there is usually heavy traffic around Abbeydale and Woodseats and what happens? Yes, the bus sails through without hardly any hold ups at all and I'm there with twenty minutes to spare. So I decide to get the 'Star' and then go to the bakery for a sausage roll and a cuppa, at least I can stay warm in there. Andy and Caroline are bang on time and I make myself comfy in the back of the car. Caroline gets a text from Glosso to say that he won't be making the trip today now as he's going Christmas shopping, really, how inconsiderate ! I know Tim and Sue had already got something planned so we're going to be very thin on the ground supporter-wise today.
There's plenty of Eddie Stobbarts on the motorway today, pity the others aren't here to witness it as I must have spotted about 20. We were expecting a fair bit of traffic on the journey but it was very free running with no hold ups at all which means we arrived earlier than planned at the ground. We did follow the directions and noticed where we should park but decided to go nearer the ground to check it out. The ground is at the end of a lane Butthole Lane to be precise, honest, I'm not kidding, that's the name of where the ground is, quite appropriate really but it does open itself up to all sorts of jokes. The team coach is already there, just about blocking everything else in so we back up and go and park in the school car park at the top of the hill. Stu said the club officials were very welcoming and friendly and he was right. Once inside I bought four programmes and the bloke gave me a big hug (I don't think he'd ever sold that many in one go before), he said if I was a woman he'd have kissed me, so I quickly moved on ! Into the club shop to pick up a badge for me and a mate and once again the bloke in there was chatting away, told me where the snack bar was which was what I needed. It's very grey and drizzly which added to the cold makes it a perfect day for watching football....not. We decide to go and get ourselves settled in the stand.Andy puts the flag up and it's only then that I realise he's hung it right in front of the tannoy, which is blasting out music right behind where I'm stood. I wander round to the snack bar and also do my other job of the day, official postman, as I have Christmas cards from John and Stu to give out, as well as my own. Apart from Andy and Caroline, there's only Jackie and the Turnidges here to give them to so the rest will have to wait until Boxing Day. After getting a cuppa and a burger it's back into the stand along with the others as well as Bert and his mate. We're between two sets of Shepshed supporters, what seems like the regular crowd to our left, who came to Dronfield and some little oiks to our right, all bravado and no brains. Kicking towards our right, the lads are straight on the attack and it's a signal for their fans to start singing. Gav is coming in for some stick from the oiks but he shuts them up by netting Sheffield's first just before the break. Time for another walk to get a drink.I'm also supposed to be picking up some paperwork off Macca for Liam and Billy to do the player profiles but he's left them on the coach so I go to collect them, after first having to unlock the turnstile to let myself out. The driver is nice and comfy and warm, relaxing listening to the radio and I'm in two minds whether to join him for the second half instead of going back in the ground. I eventually drag myself back outside as the second half gets underway and go to join the others. Plenty of effort and some good defensive work keeps the home side at bay and just to cap it all off Gary Townsend scores the second goal just before the end, which finally shuts the home supporters up. It doesn't take long to gather the man of the match votes and a quick call in the club house to see the results and use the toilets then we're off back up the road to the car. I ring Deano to tell him the score so he can get it on the site. Once again it's a fairly straightforward drive home with very little hold-ups and as we approach Dronfield Andy says he's going to drop Caroline off at home first then he'll take me home. I can tell you that it was like getting a Christmas present hearing that ,as I wasn't looking forward to another hour waiting and travelling home on the bus as I'd probably have fallen asleep and ended up at Chapeltown! Until next time.
Happy Travelling
Trev
AFC Preston Ladies v. Sheffield Ladies

11/11/07

It's an early finish at work for me today in order to get to the game, which is taking place at the other side of Hull. Normally I would have told John that I couldn't make it, but wanted to make the effort today as it will be his last away game for a while as he goes into hospital tomorrow which will see him incapacitated for a few weeks. Someone suggested that while they were operating on him it might be a good idea if they could fit a SAT-NAV system in there as well, which would be very appropriate as he got lost yesterday on the way to Carlton. Mind you, I blame Deano for that as he should have been navigating, being as I was travelling to that game with Stu. John is always making a joke about us folks that take holidays in the football season and miss matches, so now it's time for me to get my own back. After thinking for a while he says, "You know Trev, I bet I could have had the operation done at the end of last season if I'd have thought about it earlier."

Anyway, John arrives bang on time, and with the problems on the Parkway recently we decide not to risk that route but venture down towards Meadowhall and pick up the motorway there. I'm just cooling down, having come out of a hot kitchen, into an even hotter changing room and then putting on numerous layers of clothing to cover all eventualities on the weather front for today's game. When we get to Tinsley roundabout, we decide to go round it twice, just for the hell of it - well it worked as a lucky omen on our last trip to see the girls play at Manvers. We even have the same football shirts on. This is just co-incidence, but we do seem to match up, even though we never discuss what shirts we're going to be wearing. In fact quite a number of people still get us mixed up and think that we're brothers. Of course, if we were then he'd be the (much) older one! The traffic is flowing quite freely along the motorway as we listen to REM live on cd which me and Jeanie had bought John for ferrying us about during her latest stay over here. Although we're not officially running a 'lorry league' this season, it still doesn't stop us from looking out for them, John spotting two Eddie Stobbarts in quick succession.

As we head through yet another rain shower John asks, "Where's the sun we're supposed to be getting?" As if on cue, it pops it's head out from behind the clouds as we approach Hull. Just before that we look across from the motorway and see where Goole's ground is, we can recognise it by the phallic symbol just outside the ground, although it does seem strange viewing it in daylight as both our trips there this year have been for evening games. The directions are spot on as we negotiate what seems like endless mini-roundabouts and actually arrive 25 minutes before kick-off. We did have plenty of time to get lost.....but decided against it.

I suppose you could say that Preston and Sheffield have something in common as we both play miles away from the centre of the places we represent! When we drove through Preston the directions told us to head out of the place and it seemed like we were driving about 4 miles into the countryside before finding the ground. They actually play at Humbleton Cricket Club. It's a nice little ground but very exposed to the elements which we are fully aware of as we watch the girls warming up. We decide to warm up ourselves...(not physically!) by having a cup of Oxo in the confines of the car before braving the elements outside. When John suggested we warm up, I didn't realise he was going to pour the stuff all over my hand and his trousers. No doubt Lynne will have something to say about that although John already has his answer ready as he'll say, "Well at least I didn't get mud all over them this time."

As we stand on the touchline with the wind blowing the referee checks the girls for any jewellery, then they go into their pre-match huddle. John asks if we can join them in order to keep warm, sadly our request is lost in the wind.

The first half sees the girls dominate the play and take a two goal lead, both goals coming from Clare Holmes. The substitutes are pretty cold, a fact demonstrated by Ozzie who's sat down wrapped in layers of clothing and a pair of shorts on her head to keep her ears warm! Helen then asks Sophie to take some photos of the game. What she does, along with Rachel and Ozzie is take pictures of the scenery, a close-up picture of the grass and various photo's of one another sat on a bench, and that was just what I saw so I've no idea what else went on the camera as I got back to watching the game in order to do the match report!

Once the half time whistle blows and the girls retreat to the dressing room, me and John tuck into our goodie bag. We're spoilt for choice today because as well as Lynne sending the flask of Oxo; we also have chicken sandwiches to tuck into. Even the sun comes out, and although it's very bright, it's still bloody cold and not hot enough to warm us up. We look at a double rainbow as we gorge on our picnic along with a second cup of Oxo as we'd made sure to save enough from our pre-match partaking of the liquid refreshment. We both then do the same thing, which is take a big sip of Oxo. With the cups being plastic and quite cool due to the weather we didn't realise how hot the Oxo still was, so we both had tears in ours eyes and a burnt mouth as the players emerged for the second half.

There's a bit of rain, but nothing life threatening so we stay where we are. Unfortunately things on the pitch don't go according to plan as Preston pull a fluky goal back and then make matters worse by equalising and, despite constant pressure late on, the girls couldn't grab the winner.

We trudge back to the car and first of all John gets the heater going so we can defrost ourselves before setting off for home. It's just going dusk so we listen to 'Pick of the Pops' and look at the lovely cloud formation above us, as well as the oil refinery which is all lit up like a Christmas tree before driving by the Humber bridge, which always looks impressive, especially on the way out of Hull and yes, I do mean it in a sarcastic way. I manage spot an Eddie Stobbart just before we come off the motorway but John tells me, "You're not going to pull this contest back to 2-2 against me pal." So that told me didn't it! (And he was right.)

Back at home, and after something to eat and a bit of telly watching it's an early night for me. I think all that fresh air has tired me out. Until next time.

Happy Travelling

Trev
Carlton Town v. Sheffield

10/11/07

After all the pomp and circumstance of Thursday night down at the Lane, it's back to reality today with a trip out Nottingham way to face Carlton. It's also remembrance weekend, so it's a reminder to me and the Posse that last season Carlton were one of only two sides to do the double over us (the other one being eventual champions Retford), so let us hope that it's a better result this time around.

Once again I'm a two-car man for today's 'Travels', travelling there with Stu, and returning home with John. After the freezing cold of the other night, I've come prepared today with plenty of layers of clothing, as it is, at 5 O'clock in the morning you have to take it as it is and not rely on weather reports. So, coming out of work it doesn't feel too bad, just a bit blustery. Stu arrives on time, along with Liam (of course) and Craig. Heading out of town on the new ring road Stu is telling us about getting lost on it, before running through a red light. Liam then starts to tell me and Craig about how he (Stu), nearly got them hit by a tram while on the way to Meadowhall. Of course, once he's started telling me this, my face lights up and the pen is out. When Stu sees me in the mirror he say's, "Oh no Liam, not while Herrington's in the car." "Why not? Said Liam in all innocence. "Why? Because he'll put it in the travels!" I look at him and reply, "Too late Stu, I'm already writing it down as we speak." All Liam could say was, "Well you did nearly crash into the tram." After that it's just general chit-chat whilst Liam (paper and pen at hand as usual) is busy compiling his best Sheffield team, in a 4-3-3 formation, I take a little time out to 'rest my eyes'. This going back to work lark is not good.

I then get a call from Deano, asking if they need to go through Glapwell. Stu say's "Yes." Apparently we've already been through it....I must have blinked and missed it! He then calls me again to ask whereabouts we are, so I tell him (with Stu's help of course), so he comes back with, "I think we're lost." Then I have a right time trying to tell him which way to go as I'm relaying information from Stu to Deano, who's then telling John and questions are flying back and forth. Apparently they're somewhere out towards Kirkby-in-Ashfield, Stu says, "Anywhere but there!" Stu tells him to head back to the A38 and then call again then hopefully he'll be able to put them on the right track. I'm so glad it's not me doing the navigating today! By this time Liam is spark out asleep, leaning farther and farther over towards me, his head dangling and bobbing about due to the safety belt, doing little kiddie snores as well !

We arrive about ten minutes before kick-off, straight off the new ring road they've built and into a massive car park. The two attendants are fighting for our attention, eventually being shown into the middle of the car park. We get our coats and then Deano calls back, so I hand the phone to Stu so he can tell him directions himself. I get the programmes whilst Stu goes to get the team line-ups. I then head into the bar for some teas, only to be directed outside again as there is now a new purpose built snack bar, which I walked right passed when we came in. It's very impressive, and even the snack bar ladies are very pleased with it, even the food tastes better!

Stu says that John is running about ten minutes behind, so we go and take our place behind the goal. They're not the only ones on the last push as Tim and his crew turn up just as the game kicks off. Tim and Billy are telling us all about their exploits of Thursday night, and we all congratulated the little TV star for his performance on Newsround.

John and his passengers turn up just over ten minutes later, which is pretty good going considering the last time I spoke to them they were running twenty minutes behind schedule. We could actually see them arriving as they turned off the ring road into the car park. John is starting a diet today in readiness for his stay in hospital, so is going to stick with Bovril today, only to find that they've not got any in the snack bar. Poor bugger, what with being late and no drink, they say everything comes in three's so what else is around the corner for him? It's very overcast, or maybe it's just because we're playing here. Anyway, as usual against Carlton we concede a goal around the half hour mark, but manage to contain them for the rest of the half. Back to the snack bar, and John decides he'll have a weak tea. When I ask the ladies for the drink she say's, "That's the kind of tea we serve anyway", laughingly, and of course, the locals join in then as well berating them about the quality of the food and drink. He's sticking to lean meat as well so any food from here is out of the question, but, as I'm hungry I manage to grab the last burger and onions. While I'm attempting to sweeten John's tea and move away from the counter with the drinks I said to him, "Here John, hold this for me please." As if by instinct he holds his hand out and I place my burger in it and get hold of the teas as we move to a safer place to drink them. John looks down in his hand and say's to me, "You cruel bugger!" He then tells Deano and the rest of them that I'd given him the burger to hold on purpose. Well, we all thought it was funny, even John saw the funny side eventually but I'm sure I'm going to pay for it big time sometime later in the season for that trick. I suppose you could say that was the third thing to happen to him today.

We make our way to join the others who've took up residence in the stand. Things get off to a bad start in the second half when Carlton score again, and, despite the wind in our favour, we're struggling to get a hold of the game. There is hope ten minutes later when a big boot upfield ends up in the back of the Carlton net courtesy of a great header from their defender. I then hear John's phone going off, it's a text from Lynne. He say's to us all, "I can't remember upsetting Lynne this morning, but she's just sent me a text saying, 'sod you." Of course he then explains it is in fact information that Akpo Sodge has scored for the Owls! It's a bit of light relief from John considering what's happening on the field. Some abysmal officiating sees 'Cops' sent off for apparently kicking the ball away. The striker was in fact frustrated at not being able to keep the ball in play and when he started his run the linesman never flagged for offside, only deciding to do so just before 'Cops' booted the ball into Nottingham town centre. The misery is completed when Carlton score another two goals in the last few minutes. Everyone is struggling to pick a man of the match as we wander round to the main entrance.

I'm travelling back with John so, just before we all get into the respective cars Stu asks, "Do you want to follow me?" John say's "Yes." Off we go and at the first set of traffic lights we see that Stu is indicating to turn left. So, just for a laugh John pulls up two cars behind him, and indicates to turn right! We can see Liam jumping up and down in the back seat indicating to his dad what we're intending to do. Stu goes along with the laugh and also starts to indicate to turn right before we both seed off to the left, much to the annoyance of the surrounding cars. We're all very quiet in the car and just sit back to listen to the radio while we thaw out. We eventually depart company with Stu near Chesterfield and go our seperate ways, homeward bound. At least I've got something pleasant to look forward to end the day as there's a sweet and sour chicken waiting for me in the fridge. I may even have to resort to a full packet of Jaffa Cakes to comfort myself from the stress of the day. Until next time.

Happy Travelling

Trev
Sheffield v. Inter Milan at Bramall Lane

08/11/07

Today is the big one, the culmination of the 150th birthday celebrations, so what am I doing up at 5 O'clock in the morning? Well. Jeanie flies home today so John has kindly offered to take us to the airport. Once we get there we have the usual routine of having a breakfast only this time it's not at the normal place where you just serve yourself. No, this one is tucked away in the corner and it's waitress service but still cheaper than the usual fare (and better!) As we're looking out over the airport we spot a dome on the horizon and John says," I think that's Jodrell Bank over there." Sure enough, on enquiring at the desk on our way out it is indeed the satellite tracking station. I also tell the cashier that we really enjoyed the food and wondered how long they had been here. Imagine my surprise when he said 11 years....we'd never noticed it before. I said to John, "Well, we know where to come in February when we'll be making the same trip again." The guy says, "Actually Sir, we'll be closing down as they're revamping this floor to accommodate more check-in desks." After that I can't remember if he said they were moving to somewhere else on site or just closing for good, I was gutted. Still it will give us something to look for the next time we're over here.

After saying our goodbyes we head back to the car and on the drive home John is telling me about his upcoming operation and how he'll be missing for a good few weeks. In fact we're that engrossed we miss the turn-off for Sheffield, eventually doubling back and getting on the right road. Back at home it's time to do the boring things like getting stuff ready for work, yes, it's back to reality tomorrow. With the game being at Bramall Lane, I've arranged to meet John, Deano and Maz in the ground as it's easier for me to get the bus straight there. I set off earlier as I'm also meeting Stu, Lynn and Liam at the ground, we couldn't get seats together but they're sat just a few rows in front of us. Despite the big crowd I see lots of familiar faces as all the regulars are mostly sat in the same area. I'm chatting to Stu when Richard shows up. He's been sat watching the under 17 match that was playing before our game. He said, "I hope you're well wrapped up as it's freezing sat up there." He even got a t-shirt they were giving away and gave it to Liam. Stu is going to do a match report tonight so he's thought ahead and actually run a sheet off his computer with the Italian squad on it, to make it easier for him to get the names/numbers down when the teams are announced. A guy sees him with this paper and thinks it's an official team sheet (which they sometimes sell at games) and offers to buy it off him until he explains what it is. Some of Stu's workmates are here too, at last they can see what he fusses about each Saturday having cajoled them into joining him for the game. They're all busy having a beer, although Stu is struggling to get the last pint down as the teams are being announced. He then almost spits his drink out as he says to me, "Trev, Trev, turn round," and, pointing further down the concourse he carries on, "look, it's a Don King look a like." IIt's true as well. This guy looked like he'd had his fingers in an electrical socket! We eventually make our way up to where we are sat and Richard was right....it's bloody freezing! I'm so glad I put my thermals on, as well as about another three layers of clothes. John, Deano and Maz then turn up and get seated along the row. We spot Tim and Sue at the side of the pitch. They've got ring side seats so to speak due to the fact that Billy is being feature on Newsround on BBC TV to do a report of the game which will be screened tomorrow night. He's also the official mascot too, a big honour for him and his parents, especially Tim who is looking forward to meeting Pele, the guest of honour if he gets the chance. At least Billy will get to shake the World's Greatest Footballer's hand. We've even got a top premiership referee for the game tonight, Howard Webb getting the honours.

The kick-off is actually delayed because of the amount of people waiting to get in. Deano says, "It's because United aren't used to getting crowds this size." Then it's time for the fun to start as Pele is introduced, running onto the pitch to a cacophony of noise. He looks very well for a 67 year old bloke, not a grey hair on his head, in fact he's even got more hair than me, Deano, John and Stu put together. As he runs round the pitch I can't help but laugh as his 'minder', a very large chap follows him as best he could. Deano comments, "It looks like something off Benny Hill.," as we start to sing the music to the chasing scene that happened each week on his television programme. Then it was time for the teams to be introduced. Sheffield have their full squad lined up, each player with their own little mascot, and Pele, to his credit embraced each player, shook their hands and also took the time to involve the little ones too. They may not realise the occasion just yet, but in years to come they'll be able to say 'They were there', and met the great man. Macca is dressed in a suit tonight and John says to me, "He looks like he's just come from court."

The game starts and the lads get an early chance to upset the Italian giants, but it's wasted. With just under 10 minutes gone, they're one up. The announcer asks the crowd to start a Brazilian wave. Brazilian wave? I've heard of a Mexican wave, I guess it's just to honour our special guest. Deano says, "You don't get this at Parkgate Reserves." I replied, "That's because they weren't enough of us, and that included all the players on the pitch too." The 'wave' does the rounds for a while before people get bored and decide to just watch the football. Inter get another goal. Although it's really a reserve side, they do have world cup winner Marco Materazzi in defence plus a host of young full internationals, but Sheffield are not overwhelmed by them. Just before half time the Italians grab their third goal of the night. Looking into the directors box I spotted our chairman Richard Timms in a suit, not only that, he was actually wearing a tie, which is a first for Richard as he's used to being 'As one with his people.'

At the break Stu asks John if he'll be taking man of the match votes tonight. John says, "I'll be here until 3 O'clock in the morning if I do that." Not surprising really as the crowd figure this evening is 18,741!

Into the second half and Inter go four goals to the good five minutes in. Macca starts the substitutions, making sure that everyone of the squad will get some action on the pitch on this special night. On the hour mark the biggest cheer of the night goes up as Sheffield pulls a goal back. Copnell claiming the goal despite a massive deflection. There was more excitement to follow as Chris Dolby floated a free kick into the box and Wardy was on hand to head home a textbook finish. One to reminisce on when he gets as old as us! With three minutes left the scoring is completed when Inter score once again with a cracking shot from distance. At the final whistle we all wait behind to applaud the players off then start the walk back to the car which John has parked in the multi-story park next to the crucible. All the talk on the way home is what a great job everyone had done to get the fixture arranged and how we all enjoyed it. Back at home and it's time for a cuppa and celebration Jaffa cakes as I lie in bed and read the programme. What a night! Until next time.

Happy Travelling

Trev
Parkgate Reserves v Sheffield FC 06/11/07
We're on our travels again, this time with 'The Mad American' Jeanie joining us...(John's description, not mine !) To be fair, in the last four years she's been visiting these shores she's brought us good luck as she's never seen the team lose. Originally the fixture list had us playing Stocksbridge at home in the league, in our first derby of this season, but the cup competition meant that game going by the wayside and so she gets to see the delights of Parkgate instead ! Not bad though considering it's her third game in a week before she departs on Thursday, although if we'd have known beforehand about the Inter Milan game then she would have arranged to fly home Friday, never mind. Oh by the way, she arrived on Halloween and as we approached the airport to pick her up John said to me, " Can you see any broomsticks coming in to land Trev?" I said, "No, but I wouldn't be surprised if she emerged in arrivals wearing a black pointy hat !"
Obviously with Jeanie being here I'm on holiday, so today she got to see the delights of Graves Park, especially the animal farm which had seven cute piglets who were born last week. Back at home it was time to spend a couple of hours doing the Krypton Factor - trying to get so many items into two small spaces, normally known as packing Jeanie's cases ! We did well this time, I only put my back out once!
Then it's off to the delights of Parkgate. The journey runs smoothly up until we get in the vicinity of the ground but then we get lost, taking a right turn instead of a left, so Jeanie gets to experience first hand one of John's famous detours before finally arriving at the ground. Inside we meet up with Jackie, Bill and Richard. Richard asks, " Did you get held up in the crowd?" They've even got the snack bar open tonight, but with five minutes to kick-off there's no sign of any tea as the ladies are waiting for the kettle to boil ! Luckily John has taken extra precautions tonight and brought a flask of tea with him, lovingly prepared by Lynne,as he didn't think there would be any refreshments available and to be honest, we've been here on quite a few occasions and the snack bar has never been open before. We take up our places stood near our dug-out. Jeanie is still impressed as to how close we are to the actual pitch and the players. It's a good first half for us with Matt Roney scoring twice to put us in command of the game. Half time arrives and we wander round to the stand to sit down so John can dispense the tea. I also take the opportunity to get the teams written down as well, being as I'm multi-tasking as Stu can't make it due to work. We've got some peanut butter M&M's with us, but we can't tempt Deano into having any.
With the players strolling back onto the field, we go and take our places once again only this time with a hot drink in our hand while John decides to finish his sat down. He eventually comes to join us, and also tops the tea up for us too. There's no more goals but plenty of chances for both sides. Just before the final whistle Stu phones so I can give him brief details of the game to put on the site - not easy when you're trying to watch the game and read him the team line-ups whilst you've got John talking to you in one ear and Deano talking at you from the other side. Eventually the game ends so I hand the phone to Deano to have a chat to Stu as we walk towards the exit. Just before Deano can ring off I tell him to hold on and tell Stu that Jeanie wants a word with him. He hands the phone to her and she starts panting and making suggestive comments (in between the laughing that is). After I get the phone back he says , "Is that it? I was expecting something a little more explicit from her." I told him," You'll have to pay her premium rate if you want that. Although a Bailey's Irish Cream and a box of Thorntons would work just as well !"
Back in the car park and Deano has to wait while John backs the car out as it's too near the one at the passenger side and although he could just about struggle to get in, if he starts with his famous cramp dance then he'd be in big trouble, so he's taking no chances.
It's an easy journey home as we listen to the Owls match on the radio. Back at the house I have the luxury of Jeanie making us a cuppa and something to eat while I get the match report done, then we settle down to watch Gordon Ramsay's 'Kitchen Nightmares' which I'd taped earlier.
So once again, the American keeps her record intact of never having seen Sheffield lose. This visit saw three games (at various levels) and three wins. It's just a shame that on Thursday when we play Inter Milan, she'll be halfway over the Atlantic on her way back home. Still, she's back in February, so let's hope there's some important games taking place while she's here so we can be guaranteed three points! Until next time.
Happy Travelling, Trev
Silsden v. Sheffield Under 18 FA Youth Cup 3rd Qualifying Round
"So, what are you doing on Monday?" said Stu at our last home game. "The young 'uns are in the youth cup and it's the last qualifying round before the first round , and the winners will be away against a proper league club, Bury." We missed the last round at Ossett Town, mainly because we didn't know it was taking place so , with it being within easy travelling distance for a Monday night the Posse decided to go along and give their support. Stu is taking us there, so that means John can have a rest from driving for a change. Stu picks me up from home and then it's off to town to pick Deano and Maz up to ferry them home, after first calling in the petrol station next to their place of work. We tell Liam to stay sat in the middle on the back seat so they can get in at each side, so what does he do? Yes, shuffles himself over to one side before we tell him to go back. Once everyone is sorted out it's off to Baxter Drive to drop these two off , Liam having to eventually get out of the car anyway to let Deano out, due to the fact that he's cramped in the back and can't get his boots over the foot stall without laying down first (I always thought he was too big for his boots!) Then it's off up to John's at the top of the road. We're earlier than expected so lynne's surprised when I ring the doorbell and she finds three men on the doorstep, well, two men and a boy wonder. Once John is ready it's back into the car, us three taking the back seat so Deano can have a bit more room sat in the front,and thus avoid showing us his cramp dance which we do get to see quite regularly anyway. The talk on the way down is about Club's television coverage on the Unibond site at our home game against Cammell Laird. At that game we were larking about when the play was at the end we were stood at as we pretended to swear and gesticulate at the visiting 'keeper and then staged a mock fight between ourselves. Well, apparently this had been caught by the camera and was actually shown and apart from Copnell's goal we thought it was the best bit of the game. After that the boys in the front start talking about something else and I ask Liam what he's up to. As usual he's equipped with pen and paper and this time he's talking to me about speedway.His latest task is writing down the teams he wants to see riding in the various leagues next season. I look across at John to see that he's 'resting his eyes'. At least he's doing it from the comfort of the back seat and not behind the steering wheel! He's also acting as unofficial pop bottle holder for Liam to save him bending down all the time and losing his pen on the floor.
As we're heading through Bradford I say to John,"This looks familiar". It was a roundabout we'd encountered a few weeks earlier when we came this way to see the ladies play, the only thing being we'd approached it from a different route, that was at the mid-way point of us getting lost that day! We see the information signs for the tourists, Bronte country being one of them.So Stu comes up with, "We didn't see any dinosaurs in Haworth, but the Bronte-saw-us." (Cue tumbleweed blowing down a deserted street.) We arrive at the ground in plenty of time, Silsden actually play at Keighley Cougars Rugby League Club. After getting well wrapped up we go inside and head upstairs to the bar area. There's no hot food available, in fact there's no food at all apart from crisps and no where to get a cuppa either, hot drinks only being provided to club members and visiting officials, which means Bill. He thanks us for coming to support the team and when we tell him of our predicament he smooths things over and arranges for cups of tea to be provided to us. You see sometimes it's not what you know but who you know.Which is a good thing really because I don't know a lot to start with ! John is starving, not having had anything to eat since lunchtime so I give him a bag of Animal Crackers I'd brought with me which Jeanie had sent over from America. With the teams out on the pitch we go and take up position behind the goal we're going to attack. Silsden have their own version of the Dronfield noisy kids, singing similar songs to ours but of course missing out our favourite which is: "Danny's a pretty boy. " So we decide to sing that one ourselves although I think we're putting off our striker Danny Mackenzie every time we start to sing it. There's less than 5 minutes on the clock and already the home side have scored. Then 12 minutes later they double their lead. The lads are finding it very hard to play their brand of passing football because the grass is very long, which is to be expected being as it's a rugby pitch after all. No more goals for either side at the break, and with it getting colder and spitting with rain we decide to watch the second half from the back of the stand near the half way line. It was like climbing Everest to get to the top of the stand but at least it's slighly warmer, with a great view of the pitch and also Macdonald's just over the other side of the road which is making John feel hungry although he did admit to me then that he's never ever set foot in a Macdonald's in his life. A couple of years back we finally got him into a KFC at Bolton so I think it's high time his lost his virginity to a Macdonald's too ! Never mind the News of the World, I'll have the scoop on that one when it happens !!!!
The second half starts well for us as the lads pull a goal back in the first 2 minutes. The heavens then opened with a heavy downpour, so it was a good job we moved when we did. Of course, the weather makes the football very 'interesting' with players from both sides slipping and sliding about and the ball flying here, there and everywhere. Sheffield are pressurising the home team more and more in search of an equaliser but despite all the pressure it's Silsden that get the next goal to make it 3-1 and secure the victory on the night. It's a shame because it would have been a good experience for the lads to play at a league ground, still, they've done well to get this far and it saves a dilemma for me as I wouldn't have been able to make the next round anyway.
Heading back home and as we're driving along through Bradford a car full of lads pulls alongside us shouting and laughing. When we all look across we see that they're holding up a 'top shelf' magazine open for us the view. So Stu has a laugh with them, slowing the car and then speeding up to keep next to them, making us all laugh. Even Liam was impressed and we thought he hadn't seen it. When Stu asked him what he saw he said, " Pictures of naked ladies," with a big grin on his face. After that we all settled down for the rest of the journey, Stu turning the radio off as there was only a jazz programme on. I'm not sure about Deano, but the rest of us in the back took this time to 'rest our eyes'. In fact Liam was off to sleep with John cradling his head in his arms, Deano siezing the opportunity to take a photo of the scene, but as yet I don't know if it turned out. In fact he probably took one of all of us ! The rest of the journey is uneventful as we nod off to the soothing sound of the car engine and Liam snoring. Back in Sheffield Deano is the first out of the car, swiftly followed by John a few minutes later. I move up into the front for the ride over to my house then it's Liam's turn to take over the hot seat as Stu leaves me on the doorstep ending with the customary toot on the car horn, despite the lateness of the hour. Despite the result we've had a good night out as per usual. Until next time.
Bradford Park Avenue v. Sheffield 20/10/07
It's off to Bradford today for a cup match, which suits me as I'll be leaving from work. The previous round had Bradford playing FC United of Manchester, and although it would have been financially better for the club to be playing them it would have meant me missing the tie, so I'm happy Bradford won that one. I'm also a two car person today as Stu is picking me up (as well as Craig) but John will be taking me home. At least I hope he will !
I'm outside work just before Stu arrives and plonk myself in the back seat next to Liam. He's busy playing with his playstation (or whatever it is) and it's keeping him busy.All I can here is the little noises from the machine which sound like R2D2 from Star Wars. The rest of us are talking football. Not long into the journey and Deano calls with a traffic update for us as they set off about 15 minutes before us and are well on their way. About five minutes later he calls again to say we'll be coming up behind a James Irlam lorry on our side of the motorway, but neither me or Stu can lay claim to it as John has already done so. While Craig and Stu go on to talk about rugby league I take the opportunity to 'rest my eyes' for a short while. With my eyes now 'rested' me and Craig are talking about Billy two pies when Stu pipes up with, " Anyway lads, I'll just tell you that I've missed the turn off for the ground and we're now in Calderdale." ( This from the guy who writes the 'awaydays' directions on the site !) Craig finds a safe place for us to spin the car around and back we go. Deano calls again to ask how far away we are from the ground, so when I tell him we've passed it he starts to laugh, but we're only five minutes away. As we turn onto the road next to the ground John is parked near the top and is 'ushering' us into a space just in front of him, but Stu drives past in order to turn the car around only to find a space bang opposite where we've turned right behind Glosso's car so he puts it there instead. John , Deano and Maz walk down to meet us and we make our way inside, after being robbed of £7 first ! I've decided, either other clubs just love fleecing their fans or else we're just too cheap with our admission charges at home.Well, we know Deano's cheap, but that's another matter !
The ground is a bit like Don Valley, except there is just a single stand down one side of the pitch, it still looks big enough for us to have a row of seats each. Me and John head for the snack bar and they do a nice line in burgers, they smell nice with the fried onions and I can't resist one. We get the programmes and go and take our places in the stand with the rest of our gang of supporters, and it's a good view as we're sat just in the shade on this sunny afternoon.
It's almost a disaster from the kick off as the hosts hit the bar, the rebound falling to one of their forwards who taps it in, only for the ref to blow for offside. Just after the quarter hour mark we're celebrating a goal. Chriss Dolby makes inroads into the Bradford area and is brought down and up steps Wardie to put the penalty away with ease. The home fans are getting quite restless at the lack of any positive effort from their side, one particular old bloke (who Stu had told us about) keeps on shouting, "Come on Avenue" and "Mark 'em tighter" in a kind of Jimmy Clitheroe voice. For all you yound 'un's, ask your parents who he was and if they don't know then tell them to ask Sheps as he's the oldest of us lot so he's bound to know ! Stu starts to mimic him, and he's so good at it, I bet the bloke thinks there's an echo in the stand. News from John's Lynne is that the Owls are 1-0 down but then go 2-1 up, all in the first 25 minutes ! On the pitch here Sheffield increase their lead as Gavin Smith latches onto Karl Colley's cushioned header (try saying THAT after a few pints!) to put the ball into the net. By the time we reach half time the lads are well in control of the game, as for the Owls, well their game is now at 2-2.
Back at the snack bar and I can't resist another burger, would you believe I had something at work too before Stu picked me up ? Stu's in the chair for the food and drink and by the time everyone has ordered, he's asking the lass behind the counter if she will take a credit card to pay for it all !
We move further along in the stand this time so we are looking into the half the lads will be attacking. There's a cameraman setting up in front of us and as well as taking film action of the game he's also pointing the camera at us on occasions and would you believe it, we're all a bit camera shy....even Tim !!! Liam and Billy are sat behind Stu and are getting bored as they start practising karate moves on each other. Billy has a can of 7-Up and asks, "Why is it called 7-Up?" Stu replies with, "It's because the lemons are fermented for 7 years." Billy thinks about this and then says, "I know how it got it's name. It's because it's 7 years old and makes you throw up!" Which I thought was a pretty quick reply to Stu's original answer. With nothing of real excitement on the pitch he then decides to tell us all a joke: Cammilla Parker-Bowles walks into a Burger King and asks for two whoppers, so the assistant says to her, " You're a beautiful woman and one day you'll be queen." - get it ? We thought it was hilarious at the time. As for the game? Well there was no more goals from us and Bradford never looked like scoring, in fact it's almost a perfect day as the Owls win 4-2 and the reserves win 2-0, it's just a pity that United managed to get a draw, still, I'll not be greedy. I'm in my homeward car now, John taking over the task of ferrying me home, allowing Stu to get straight off home with Craig...not literally, I don't think Lynne or Craig's wife would be too happy about that situation ! There's a nice setting sun as we drive home, an indication that it's not going to be too long now before we're driving home in darkness as the clocks change for winter. Both me and John spot an Eddie Stobbart (different ones), but apart from that it's just a case of listening to the radio and relaxing before pigging out on a chicken curry in front of the telly for the night ! Until next time.
Goole v. Sheffield 16/10/07
After the excitement of winning in extra time against Gresley Rovers in the last round it was somewhat deflating to see that we'd drawn Goole away for the next round of the Unibond Challenge League Cup, being as we'd already been there this season, we would have prefered to be visiting a new ground. Still, we won on our last trip so there's every hope that we'll do it again.
It's a long workday for me so the plan is to go straight to John's after I finish and we'll set off from there as it will mean John not having to go from one side of the city to the other and back again. Of course when I come out of work it's raining and by the time I get to town the queue at the bus stop is massive. So much so that I can't get on the first bus that arrives as it's full. I eventually get one at 5.15 and sit down for what I though would be a 20 minute ride and walk to his house.....WRONG. I actually arrive there as it's just going 6!This throws all my plans out as I was intending to have a sit down with a cuppa and a chat with Lynne. Instead, John is just about to depart, he was going to drive to the bottom of the road and look out for me there. So it was a quick 'Hello/Goodbye' to Lynne and I was in the car in a somewhat damp state from the rain as we headed back towards town to pick Deano up from work. In hindsite it would have been a lot easier for me to wait there, but I wasn't expecting to spend 45 minutes getting to John's, I'll remember that in future though! It's a steady drive to Goole as we listen to the radio, with Deano on the lookout when we got to the end of the Parkway just to make sure the traffic on the motorway was moving okay as we didn't want to get stuck in a traffic jam like last time, but he gives the all clear and down the sliproad we went. Once again we make excellent time and manage to park in roughly the same place as on our previous visit. Walking to the turnstyle John asks " Have you two got the right money as I only have a twenty?" I said " No, mine's a twenty too." Deano chips in with " Mine's a tenner", so I guess the bloke taking the money better have a lot of change. It's no problem and we all file inside, me and John stopping off to buy programmes. First stop is the snack bar. Now you know that Deano never eats at these places (well, very rarely) but tonight as he's stood with us he can't resist the smell of freshly fried chips and succumbs to a plateful of them, he wanted a pie as well as he was drooling over John's pie, chips and peas but thought better of it. We head under cover to devour our fare and then I venture outside to write down tonight's teams from a notice board they have by the entrance.Not an easy task using a pen and paper in the rain. As you can guess from all of this I'm multi-tasking again as Stu is at work. While I'm over that way I also call into the club shop to get a badge for one of my workmates who collects them in general, but is now starting on non-league stuff. The guy in the shop asks if I'd come far and we have a conversation for a few minutes about Sheffield and Goole before I go and rejoin the others. We meet up with Geoff and his trusty sidekick Dave, Duncan is playing for Goole tonight, oh, and they're also giving a start to Craig Marsh who joined them from our club a week or so ago, so we start taking bets as to who will get sent off first, Marsh or Colley !
As we're standing at the end where the lads are kicking into we decide to stay here for the first half. We're joined by Richard and his mate and also Mr. and Mrs. Davey . Andy is here too but this time he's on his own. Apparently Caroline has hurt her back and she hasn't made the trip, she must be in some pain to miss the footy. Andy says she's taking these very strong painkillers that send you 'a bit floaty.' I told him he should have brought some for all of us, it would help us get through the game !
As usual the lads give the opposition a goal start, this coming after just five minutes, John hadn't even finished his pie. Nothing much else of note happened. A few chances for each side and the inevitable squaring up of Colley and Marsh but no red cards, I think the referee was more content on staying alive !
Half time sees us back at the snack bar before making our way around to the far side, where we stood on our previous visit, only this time we stay under the covering. For some reason me and Deano start humming the theme tune from 'Strictly Come Dancing' and it's one of those tunes that you can't get out of your head. We decide it would be good to use this whenever we score or some other incident happens, only finishing it off with a pelvic thrust.....Ooh missus ! Four minutes into the second half and we can use it in an official capacity for the first time as a good block by Andy Taylor sees the ball land kindly for Vill who takes a step forward before blasting it home - de,de.de.de.de.de.de - de.de.de.de.de -thrust! Both sides then take it in turns to attack, but you just know that on a wet night miles away from Sheffield this game is going to go to extra time and maybe even penalties, which is exactly what Deano predicted, also adding that he hadn't used his camera all night so he'd have enough battery capacity to get them all on film for BTF TV. Extra time came and went with few chances for either team to break the deadlock. With just two minutes left and our ace penalty taker (Wardy) still on the bench as one of the subs we all agree that Macca will bring him on for the shoot-out, which is exactly what he did, (it's easy this managing job isn't it?) We make our way towards the goal where the penalties are going to be taken and Deano gets ready to film.
First up is Chris Dolby who makes no mistake. Goole score theirs then we see the figure of Karl Colley looming up to take the second one.We remember his last effort at Hallam, which cleared the goal, the wire netting and almost the pub across the road but the big man makes no mistake this time. Goole skipper Hill then hits the post with his effort giving us an advantage. Next for the lads is Vill Powell. It's at this point that Deano decides to tell us that he has never, ever seen Vill score a penalty, he's seen him miss quite a few though. Thankfully Deano can rejoice in recording on film Vill scoring from the spot. Goole convert their kick as David Wilkins comes forward to take our next one. The striker is just coming back from injury and it was he who missed a spot kick the last time we were here but he made sure this time around. Once again Goole score theirs, despite Jamie getting a hand to it. So, a goal here and we've won.Now at this point we all reckoned it would be Wardy stepping up to finish the job off but no, it's debutant Andy Taylor to take the vital kick and he dispatches it with ease to send us into the next round much to delight of the travelling faithfull. I don't know why we were worried, after all, Andy takes the penalties for the reserves (and previously the under 19's.) There's no great celebration on the pitch, I guess everyone was just glad to get the match finished.As they trooped off we clapped as usual but, being as there were only four of us stood around this side they probably never saw us, John shouting and waving, "Hey lads, we're over here, don't mind us, we've only been stood here in the rain for over two hours, thanks for the acknowledgement", somewhat tongue-in-cheek. Andy is on the phone to Caroline to let her know the outcome as Deano is saying he's booked some time off work tomorrow to watch the England game. It's my day off anyway, so no early start for me. Andy thinks we've planned it all as they'll only be him and John working a full day, but I told him mine isn't a holiday it's just the way the rota falls.He tells me I'm a lucky bugger . As for Wardy, well, he was on the pitch for two minutes of the game and never touched the ball.The only action he got was warming up kicking a ball about ready for the penalty shoot-out but in the end he wasn't needed, no doubt we could turn that into a trivia question in the years to come. Back to the car and John says we're listening to a CD on the way home, it's a sort of documentary about the Sheffield steelworks with music thrown in. I didn't get to hear it all but later on he told me that he couldn't have timed it better as it finished just as he dropped Deano off at home. I wonder where we'll end up for the next round ? Until next time.
Manvers Ladies v. Sheffield Ladies
(07/10/07)
It's quite warm and there's bright sunshine as John picks me up from work. I'm tired today due to a late night at the Arena watching a band called Rush.most of you young supporters have probably never heard of them, being as they've been on the go since before all the ladies team were born . In fact the lead singer is even older than me, but not as old as Sheps ! Hopefully the nice weather and scintillating football will keep me awake. As we head for the Parkway John gets confused on the new ring road, but we eventually find our way around it. We're following a different set route this time but still manage to get lost, well, not so much lost as we decided to take a scenic route.You see we went round this roundabout (one of very many in the directions) but took the wrong turning, only to find ourselves making a circular route and ending up back at the same roundabout, this time going straight across it when, if we'd have just took the next left the first time we were here we would have saved ourselves about 15 minutes travelling time. We did eventually have to ask a local because we missed the turn off at the giant Tesco store, we did have a trip around the car park until we realised that this wouldn't lead us to the ground ! We arrive at the ground and pull into the car park. Oops, there's only three cars there, no nets up on the pitch and no sign at all of any players. John thinks that perhaps Manvers couldn't raise a team and the match has been called off, or maybe they've changed the venue at the last minute. The problem is he's left his mobile at home. so if Helen (Mitch) has left him a message there's no way he'll know. I asked if I should call Lynne and she could access his phone but that was a no go being as she was up at Helen's (daughter.) I check my phone and I have two numbers for Helen so I ring them both but they go straight to voicemail. The only thing we can do is head back home. John just hopes that the game hasn't been moved to somewhere else and we've missed it because he forgot his phone. we get all the way back to Tinsley roundabout when my phone rings. It's Mitch ! " Hi Trev, you tried calling, we're late starting (20 minutes) and are only just kicking off, where are you ?" I tell her we went and saw no one there so turned round for home. She replied, " Oh, we've been moved to the other pitch, the one behind the trees." So that's why we couldn't see any activity ! I'm relaying all this to John and he say's, "Tell her we're on our way."
So we carry on all the way round the roundabout and head back for the game. John is in match mode now as he burns the Sunday drivers off the road. We park the car and it's just a short hop over a ditch and we're right on the sidelines. Charlie is the first to spot us as he comes bounding over wagging his tail in anticipation of any food we may have brought for him. We walk along the touchline to join the others and find out we're already a goal to the good through Rachel. The girls are playing some really good stuff on a small and bumpy pitch and totally dominate, adding a couple more goals before half time through Lisa G. and Natalie. Clare is a substitute today, finally ready to play after her broken arm sustained in the Arsenal game.
As usual John has brought a flask of tea for us , so we can quench our thirst, while Cheryl supplies the wine gums, which the players all seem to enjoy too.
The second half sees the best move of the whole game. A flowing move from defence to attack and involving over half the team before Lisa G. threads the ball through to Lynne who makes no mistake. If it had been Manchester United or Arsenal they would have shown it on tv over and over again, surely a strong contender for goal of the season even at this early stage. After that it was just a case of making sure of the victory (which was never in doubt) and keeping a clean sheet once again. So yet another win as the girls stay top and undefeated in the league as the players trudge off. They don't even have the luxury of a changing room today, having to change in or behind their cars with the afternoons dirt still on them, although Caz looked surprisingly clean, mind you, she could have stoods and watched the game with us and Manvers still wouldn't have scored ! This is life at grass roots level. So it was a happy journey home for us (for the second time that day), just pleased that we hadn't missed the game after all. Until next time.
Hallam U19's v. Sheffield U19's
(03/10/07)
The youngsters are in cup action tonight so me and John decided to take the very short trip up to Sandygate to watch them in action. No rush to get there as he picks me up after seven O'clock and we're still there for half past. Straight to the snack bar as John hasn't had any tea yet, so he indulges in a plate of chips, he offers me some but I knew he didn't really want me to have any, I could tell with the look on his face ! We meet up with Bill but no sign of Steve Hall yet which is very strange, no, not Steve (well, I suppose you can make your own judgement on that), but the fact he's not there.With it being Sandygate I've come prepare with numerous layers of clothing due to them having their own micro-climate which usually consists of wind, rain and freezing cold, but tonight it's quite mild. The lads dominate the play but go behind through a good strike by the Hallam centre forward. The lads then had a perfectly good goal dissallowed when the Hallam 'keeper and a defender collide and Callum Paine sidefoots the loose ball home, but the referee gave a free kick instead, saying Callum pushed them ! Parity was restored four minutes from the break when a Danny McKenzie free kick was headed home at the near post by Callum.
Half time finds us back at the snack bar and it was then we remembered that Steve was attending some sort of course tonight (no, don't get your hopes up, it wasn't a stop smoking course! ) and he'd only told us about this on Monday night. Seems like our memories are starting to go, we'll soon have to start wearing name badges ! Anyway, I tried a hot-dog while John succumbed to a sausage roll. mind you these sausage rolls were different from previous seasons.....they weren't burnt ! We walk down past the stand and me and Bill hop over the chain used to block the players entry onto the field. John steps over the first one, but as the second one is a little higher and he's balancing tea, food and his rucksack I decided to unfasten the chain for him as I reckoned it was just a little too high for the old guy, plus the fact that I didn't want to see my hard earned money wasted if the tea and sausage roll went flying if he tripped! Steve finally showed up and joined us for the rest of the second half. with this being the League Cup the game would be played to a finish tonight, so the last thing either of us wanted was extra time or even penalties but thankfully we were spared that as Sheffield took the lead with a penalty from Danny McKenzie, which proved the match winner. It doesn't matter what level team we send here , it's always nice to win at Hallam. So it was with relief (at the normal finish time) and Joy (for the win) that we headed home. I even managed to watch a bit of telly too AND turn it off before falling asleep! Until next time.
Belper Town v. Sheffield
(11/09/07)
It's my day off today, so no need to rush around as usual. It was nice to spend a relaxing afternoon watching the England ladies in their first group game of this year's Women's World Cup as they took on Japan. It's amazing that seven of the players on show were from Arsenal and just a few weeks ago were up here at our ground turning on the style in a prestigeous friendly against our ladies team. To say it was a roller-coaster game was a bit of an understatement. Despite having the majority of the play and numerous chances they fell behind to a free kick. It looked like that would be it as their luck just wasn't in, but two goals from Arsenal star Kelly Smith set them on the road to victory, only for the nippy Japanese to equalise in the fourth minute of added time , (once again from a free kick, which was never a foul in the first place.)Oh well, it's only the World Champoins Germany to play next. They 'warmed up' in their opening match against Argentina by thrashing them 11-0!
After all that, it was time to get organised. I'm meeting John and Deano up at Stu's again, so this time I'm going to give myself plenty of time to get there as I don't want to be late twice in a row or I'll never hear the end of it from Deano!No major hold-ups this time getting into town, and as I'm waiting for the number 51 for Stu's the driver almost goes straight past without stopping.It's not as though the bus was already full or he couldn't see me as I was almost in the middle of the road when I realised it looked like he was driving past, closely followed by another eight people in the queue behind me. He must have been in 'bus man's world'. So I arrive in plenty of time, Stu letting me in and then disappearing upstairs to carry on with one of his jaunts he's trying to finish. Liam is downstairs with one of his friends ( I think it's his girlfriend but he won't own up to it.) Both their mum's are at weightwatchers so Stu's looking after them, meaning....keep the noise down while I concentrate upstairs! When Lynn and her friend came back from their class, (minus half a pound), she made us a cuppa before nipping out again to take Liam to Karate. Stu did offer to make a sandwich but that sort of backfired, being as they'd run out of bread! The other two arrive on time, me and Stu taking up our places in the back seat. We both buckle up before Stu realises he's still got his fleece on, so he proceeds with the James version of Houdini to extricate himself from the said article of clothing without the aid of unbuckling the seatbelt. It's a very pleasant journey down and we're pulling into the car park with time to spare as the traffic was moving consistently and we didn't hit any jams for which we'd allowed extra time for. After buying the programmes Stu heads straight to the clubhouse where he's meeting Neil for a drink or two, or three. He was trying to convince me (mainly by begging,) to do the match report so he could concentrate on socialising for the night, but I declined his very generous offer! Me and John went in search of food and were rewarded with a great catering facility and pretty decent grub too. With it still being light, and the club having those garden trestle tables outside it was like having a picnic as I tucked into a chip butty and John had a beef and onion pie. In fact when John asked what pies were on offer the lady reeled off the selections available, and as we were waiting for our order some of the other Sheffield supporters were also arriving and asking the same question so to help her out I was shouting out the pie variations for her. It's a nice ground and looks better in daylight.The last (and only other time) we've been here was in the middle of winter for an under 19's fixture a few season's ago, it was a damn sight warmer then last time too!
The game kicks off and the lads get off to a great start scoring two goals in the first five minutes from wardy and Pete Davey, and Deano manages to get both efforts on film...just.There's plenty more chances for both sides but no more goals this half. The Belper keeper is a right mouthy sod, argueing about decisions which have nothing to do with him. Towards the end of the half there was a slight altercation on the halfway line and he thought he'd join in, until our 'man-mountain' Karl Colley told him to get back in his area. Well, it was something like that. Anyway, the keeper said something derogatory to him and as Karl was making his way towards him, I could almost see the keeper's shorts changing colour with every step! Thankfully our players managed to calm him down as the half time whistle blew I could see Katrl making his way to the keeper to give him some 'advice' on how to live a long and healthy life!
It's back to the snack bar for me and John as more food and drink is required to keep us going for the second half. The second half see's the lads controlling the game and they increased their lead on the hour mark when Vill got on the scoresheet. With just over ten minutes left it was substitute Leon Wainman who adds his name to the goalscorers with a deft header at the backpost, in fact I think there was only his head actually in play as most of his body was nearer to us than the pitch. With the game virtually won Macca decides to unleash Marshie into the action, his first contibution being to hit a shot which almost smashed the church clock behind us! He even does a bit of dribbling as John says, "Look, he thinks he's Rodney Marsh." Deano replies, "No John, I think you mean Romney Marsh." Belper do manage to grab a consolation goal towards the end, but once again it's another pleasant awayday for the lads and ourselves. Until next time.
Warrington Town v. Sheffield
(27/08/07)
It's Bank Holiday Monday, and just for a change it's nice weather ! I wasn't intending to get to this game due to work commitments, but a bit of juggling of the rota and a favour or two enables me to rescue the situation. Just as well really, as I'll be multi-tasking again because Stu has to work and can't make the trip. I'm sure Deano will be pleased as he can now concentrate on taking footage of the game and also sneaky film of us lot to put on the site.
I get out of work on time and wait for the others at the park gates, right next to an ice cream van. I was going to buy me, Deano and Maz something when they arrived, but when John pulled up, he was the only one present. I couldn't really get him one as he was driving and if he kept handing it to me to hold then I'd just start eating it, which he wouldn't like. Just so as not to rub it in, I refrained from buying one for myself. The reason he's alone in the car at present is the fact that we'd be going back towards his house so he'd arranged with Deano and Maz to pick them up after picking me up first, that way it would give them a bit more time before having to set off.
It's a hot and sunny day again, so it makes a change that I remembered to take my shorts to change into after work. John is wearing his, which is normal for this time of year but even Deano has got his on too. I'm sat in the front today, so that means navigating duties (oh God!).Mind you, I do have my sunglasses on too, so John won't be able to see when I start 'resting' my eyes. Of course, by the time we're driving over Woodhead there's some dark clouds gathering, still, it's great to be out and about as we listen to Dale's groovy sounds of the 60's....his words, not ours, and try and guess the years the records were released. Me and John were well away when he decided to play a medley of Beatles songs. By now it's started to rain (not because of our singing I hasten to add) but that soon clears and it's sunshine the rest of the way to Warrington. Despite the directions we do get slightly lost, but this is mainly due to the local council putting a street name right around the far side of a blind corner, so by the time we notice it's the road we should be taking we've already passed it. We then end up going over a bridge, only to look down to our right and see Warrington's ground beneath us. A quick turn round and we finally make it. We pay our £6 and we're in. I meet up with Paul who I'd asked at our game on Saturday if he could get the programmes just in case we were late. They were £2 each ! It's a good job I'd already given him some money or that would have almost cleared me out being as I wanted four of them, talk about daylight robbery.
Me and John head for the snack bar. They have home-made mince pie on, which one of our gang had recommended to John, so while he tucked into that, I had a plate of chips.There was a little alcove just round the corner and some of our lot were sat there so we joined them until kick-off. Being as I'm on match reporting duty today as well I go and get the team line-ups. We seem to be overun with Smiths today as there's two on each side ! I guess if I'm not sure of a certain player I could always put Smith, I'm bound to get it right eventually. The first half sees us totally dominate the game but only have one goal to show for it, that coming from cult hero Karl Colley. The break sees me and John back at the snack bar, this time John just wants a soup, while I plump for a hot-dog. I must say, it was as good as the ones we used to get at Thackley. By the time I've been served the game has already resumed as I make my way to join the others. John sits at the back of the stand while I take my place stood near Maz. She takes one look at me struggling to get the food in my mouth (yes, it's hard to believe isn't it ?) before saying, " That's a big one Trev." As I nod and say , "Yes", while chewing away she replies with, "You're supposed to say 'Thank You'." It was only then that I got her meaning ! She's got a dry sense of humour. The rest of the half see's us moan and groan as chance after chance goes begging and with four minutes left the inevitable happens as Warrington equalize. This brings out more decibels from Sue who shouts, "It's not over until the fat lady sings, and I'm only just warming up!" Unfortunately there was no way warrington were going to relinquish the point they'd just been gifted as they hoofed the ball to safety as soon as it got anywhere near their goal. It's odd that, as we walk round the ground to the exit everyone is dejected that we only got a draw.Yes, we should have had the game sewn up by half time but it shows just how far the team has progressed to warrant such a feeling. Well, looking on the bright side, with a new league I suppose a point away from home is always a good result. Even the sun has vanished as dark clouds move across the sky, but thankfully these soon cleared as we pull away from the ground. John says, " Sheffield here we come, unless we make the wrong turn, in which case it's a night out in Liverpool instead !" We did get the directions right and it was a pleasant trip home, now, with it being a Bank Holiday all I have to remember is that today is Monday and NOT a Saturday otherwise I'll end up going to work on the wrong shift tomorrow ! Until next Time
Happy Travelling
Trev
Goole v.Sheffield
Well here we go a travelling , throughout the Unibond, (sing along now !). A new league, different grounds to visit, so how come we end up at one we've been to thousands of times ? Okay, a very slight over estimation there, but believe me, each time you go there you seem to age by a thousand years ! Goole's ground is actually called Victoria Pleasure Grounds, the only pleasure I can fathom out is the exit on the way out to go home, although the food is pretty good.
It's a one car job tonight as Stu and Liam are going with us, so my first task is a couple of bus rides to get to Stu's where we're all meeting up. Deano calls me just as I'm about to get off the bus near Stu's house wondering where I am, being as I'm five minutes late, but I never thought it would take almost 80 minutes to get from one side of the city to the other ! Liam is wearing his new Manchester City shirt and both the James clan look well after their recent hols in sunny Cyprus. As usual Liam has pen and paper with him as he's designing a game for himself. Stu also has some kind of electronic device (and I don't mean he's been tagged ) he's playing with. Liam says, "He's brain training." ..........no comment !
As usual we allow plenty of time to get there, especially as it's the evening rush hour, but it takes us less than an hour as we pull up outside the ground. Get the usual programmes (£1.50) and talk to the rest of our supporters who have made the trip. Debbie and Victoria are here (courtesy of Tim and Sue) but no Paul as he's working tonight. Debbie says, "We,ve left him at home blubbery away because he's got to go to work." Andy and Caroline turn up too. Then we see a familiar face....it's Geoff ! Duncan (Bray) now plays for Goole, although he's not playing tonight as he's still suspended. It's nice to see the old bugger again, of course he's got his sidekick with him, Dave. We follow them to the snack bar, but he turns a deaf ear to our requests to get the drinks in. Me and John have a cuppa and a plate of chips each. As we're all stood about chatting Andy somehow manages to drop Carolines mobile phone on the floor, I never knew there were so many bits could fly off all at once ! She's not too annoyed with him. Some of them wander off to look in the club shop and come back laughing. When they can eventually stop long enough to draw breath Billy tells us the joke. Inside the shop they've got a promotion on......'Pens,- buy one and get an old one free !' Now it didn't say if the old one was a used one, or just old. Anyway, Billy made sure everyone in Goole heard when he shouted out, " That's a crap offer !" Craig, John and Stu are talking about our programme and how it's printed, going on about PDM, Word and Acrobat . I'm just looking at them as though they're talking a foriegn language. Tim says, " Oh, I know that," sarcastically, whilst John says, " Acrobat - is that where you have to stand on your head to write it ?" You should all know by now that you can't have a serious conversation when you're in 'Club World' !
Tonight we've decided to walk round to the far side of the ground, facing the main stand and take up a position in line with the penalty area we're attacking and to one side of the covered terracing. The game starts and Goole go straight on the attack. John then says," Shall we go and stand on the terrace, we'll be nearer the goal we're attacking ?" We all look at him quizically before Deano and Stu tell him that we're kicking this way, we were playing in our blue away strip so as not to clash with the red shirts of Goole. Bless him....it's his age you know. After much frivolity John then comes out with, " The worrying thing is , I'm driving us all home..........that soon sobers us up !
Goole score on 12 minutes with a diving header , to the delight of the grumpy buggers in the far stand. Things look a bit healthier when Wilkins is brought down in the area as we all shout , Penalty ! The referee agrees and points to the spot. Wilkins decides he wants to take it, but the keeper makes a fine save to keep the Vikings in front. Just before the half hour mark (now where have I read that before ?) Colley is on hand to head home a Dolby corner to bring us level, much to the delight of most of the fans on this side of the pitch. (There were a few Goole fans on the terracing). Stu then does his impression of a headless man. or as we've christened him, the headless fan, by pulling his coat right over his head so Deano can put it on you tube. Somehow, I think he may become a regular occurence at away grounds....depending on Stu's working arrangements. The home side then have a speculative punt upfield which drops wide of the goal, and Holmshaw had it covered anyway, but to the home fans on the far side from us it must have looked as though it was just inches wide, so a lot of them shouted 'Ooooooo', (as in soon.) Richard shouted back, " You only get an Oooooo in Goole !"
Half time and it's back to the snack bar for us. Little Billy and Liam are jabbering on about South Park and American wrestling, God knows why, I reckon they've had too much fizzy pop and chocolate today ! We decoded to try the hot-dogs this time, very nice too.The game has already restarted by the time we'd got served and walked back round to join the others. The team were more in it this half, in fact both sides had enough chances to take the lead. Of course, the home fans (and players), were getting more frustrated as the game wore on. It looked like they might have clinched it when one of their forwards launched himself at the ball. It looked all on a goal as it sailed towards the top corner, only for 'Shilts' to make the outstanding save of the night and keep the scores level. With little time left to play someone asked, " How long left?" Me and John both said, "Five minutes." but Stu said, "No, it'll be ten minutes, because he'll add at least another five minutes on." The lads were doing well as we approached the ninety minute mark by keeping the ball and not giving it away cheaply. In fact we were still pushing forward. Goole gave away a corner and it was time for one last chance as all the 'big guns' went up for this one. Holmsie swung the corner over, and from where we stood it clearly looked as though it had gone out just beyond the far post, but , with everyone waiting for the refs whistle, one of our lads knocked the ball back into the area and Jonah stabbed it home while the Goole defence played' Statues'. There was a kind of hesitation then as the ref blew the whistle, as we wondered if he'd given a goal kick, but no, the goal stood, much to the delight of us lot who started jumping up and down as the Goole players came and surrounded both the ref and his assistant to complain. The game restarted and the ref did decide to add on five minutes, but the lads held firm and secured the three points. Of course the home fans and players were not too chuffed about the end result and made their feelings known as the officials walked off. All that was left was for us lot to milk the situation for all it was worth, well, you have to take the luck when it's there as I'm sure we'll be on the wrong end of some dodgy decisions as the season unfolds. As you can imagine, it was a very pleasant journey back home, having first dropped Stu and Liam off, the little one trying his best not to fall asleep as we approached their house. Thankfully, with Stu being at the game I didn't need to do the match report, so it was time for a quick cuppa before hitting the sack as it was way past my bed time ! Until next time.
Doncaster Belles Academy Ladies v. Sheffield Ladies
After the euphoria of last Wednesday night's game against the all conquering Arsenal team it was back to earth with a last pre-season game against the academy side of Doncaster Belles.
Due to yesterday's first team friendly at Curzon Ashton having a 2pm kick-off, I (thankfully) missed the 5-1 debacle, prefering instead to work a late shift, in order to finish early enough to get to today's game.
John was waiting for me as I finished work, and with the air conditioning on due to the glorious weather off we went. Despite having the directions in front of me we did manage to get lost. The directions were fine, it was the missing signposts that caused the problems. We did eventually find the ground , after we'd already passed it once. This was due to it being behind some trees, and the road where we should have turned onto actually said..'Public Footpath '! Thankfully on our way back past it, once we'd turned around we saw our girls warming up so knew we'd finally got it right. The timing was spot on anyway as there was only five minutes until kick-off.
It was quite blustery, with the wind blowing across the pitch, so at least it wasn't going to favour either team whichever way they were kicking. Of course, the dark clouds started moving in as well. We saw Claire in her tracksiut and her arm in a sling.When we asked what she'd done she said she broke it during the Arsenal game. She told us she was joking with the other players during that game about playing on with a broken arm but honestly thought she'd just badly sprained or bruised it, but at the end of the game it was still troubling her so she took herself off to the A&E department where they confirmed she'd broken it !
There's a couple of new supporters today too. One of them is called Cheryl, and she's come along to give the team some support, in particular one of our new players Rachel, being as it's her daughter. Her companion is called Charlie....he's an 8 year old Cavalier King Charles Spaniel. He's a right character. His main hobby is wandering about picking up pieces of paper and chewing them to death, and he's got a good bark on him to encourage the team.Mind you, that usually coincided with Cheryl offering him some biscuits too. At one point he could see this bit of paper blowing near him across the pitch.Without any hesitation he just got up and wandered on to pick it up before coming back to lie down again.
The game was beng played in three 30 minute periods again and despite some intense pressure by our girls the first period remained scoreless. Whilst Helen was talking to the players John got the flask out. As usual, he's been helping Lynne with her rehabilitation by getting her to make a flask of tea for us ! Seeing all this happening, Charlie is intrigued and wanders over to inspect what's happening. Despite Cheryl's calls for him to go back to her, he was having none of it until he found out what was in the mystery object. He sits in front of John, giving him the 'puppy dog' eyes, but John says, "It's no good looking like that, it won't get you anywhere." So Charlie eventually wanders back to Cheryl, who's fetched his water bowl for him.
The second period sees the girls once more dominating the play, despite some very dubious refereeing calls (for both sides) and they eventually take the lead when Hayley breaks through to score. It's amazing how better she plays when she hasn't got her coach (and now partner) telling her what to do ! Somehow the second period ends with no more goals, but it's not through the lack of trying.
It's time for me and John to finish off the remnants of the flask, together with a bag of crisps, while Charlie takes advantage to go and hoover up the paper on the pitch. The third period saw Belles score early on through a breakaway. The girls still control the game but you can tell that Helen is getting annoyed as her language starts to get worse as the game goes on ! Against the run of play, and with only three minutes left, Belles take the lead giving our girls little chance of drawing level as they whack the ball to safety as soon as it comes anywhere near their penalty area. It's hard to believe we lost, but there you have it.At least it was only a friendly. After saying our farewells it's back into the car and this time we had no difficulty finding our way back as we listened to Pick of the Pops on the radio. It was a good way to spend a Sunday afternoon, fresh air, football and tea, and it didn't even rain. Until next time.
Barnsley Ladies v. Sheffield Ladies
I've been staying at Joy and Les's house this week, looking after their pets while they're on a cruise. It's been a fairly leisurely morning, getting things organised for their return later today and I'm just sitting down having a cuppa when John rings me. "Ah, so there you are." he says. "Where are you?" I ask. " I'm right outside sat in the car." Oops ! We'd had a slight communication breakdown. I thought the game was at 2 O'clock, but it's a 1.30 kick-off, so the extra half hour I thought I had instantly disappeared as I got myself ready. Of course Ella, (the dog) thought it would be a good idea to have a play now, so I ended up chasing her in and out of each room before finally managing to put her in her bed. Thankfully Amber, (the cat) just sat there taking it all in, and then curling up to go to sleep. Luckily for me Monty, (the goldfish) gave me no trouble at all. Yes, you may well be thinking that's quite a risky situation having a dog, cat and fish all under the same roof, but they all get on fine, apart from Monty who goes a bit wild and thinks he's jaws when we pour wine into his tank !
John has got the directions for the ground which he's stuck in front off me, but we still manage to get lost. It wasn't really our fault though as what was written down didn't coincide with the proper road signs. In fact at one point the road signs totally disappeared. Luckily I spotted a signpost we needed and we picked it up from there.God knows how but we were back on the right route.
We found the sports centre with no trouble and although there was no one playing on the pitch in the middle of the running track, I spotted some figures in the distance, down the embankment behing the main stadium. We got to the pitch just as the game was starting, the ladies deciding to play three periods of 30 minutes, which works well, and was a lot better with it being such a warm afternoon too. It's a small squad today with just three substitutes and Mitch has actually started the game in defence, so today she's a player as well as manager and organiser. The grass is almost as long as my back garden and it's bumpy too. The fact that the girls are playing against a wind this period doesn't help a great deal either. There's a couple of new faces for us to get used to as well, but we do know just about most of the team by now. The first half hour ends all square, chances at both ends but no one can get a decisive touch to break the deadlock. As well as playing a team from a higher league the girls also have to contend with some dubious refereeing decisions. Mind you, looking at him, it looks like he's only just finished school.
John has brought a flask of tea so we settle down to have a drink, which we eventually do once we've struggled to get the lid off. I said to John, "Who put this on?"
"I thought she was taking it easy after her operation ? It's on even tighter than normal." We eventually succeed and enjoy our refreshment while the girls take shade beneath the trees for a team talk. The second period sees the team kicking downhill and it's a very even game with chances for both sides. It's the home team that open the scoring though on 48 minutes, somewhat against therun of play at that point. It's all square two minutes later when Lisa B. threads the ball through to Jodie who toe pokes it home.
End of the second period, and as we're having the last of our tea and the girls are resting the ref comes over with one of the Barnsley officials who tells us that the ref has hurt his back (allegedly) and can't continue so he would take over if that was okay.He said he was qualified and actually he was the spitting image of the recently retired Italian referee Colina. Anyway, he couldn't be any worse than the one we'd had for the first hour.
As the girls were lining up for the last period we had a word with Martin (Nat and Jodies dad) We asked where his wife was. Apparently she's at home busy packing as they're all off to egypt tomorrow as part holiday part birthday present for the twins as they reach their 17th birthday. Yes, they're only 17 but play with such maturity you'd think they were a lot older. The downside to their holiday plans is that they'll miss the big game against Arsenal, which is a pity as they both deserve to play some part in the game,oh well, that's the way things go.
Back to the game and on 68 minutes Sheffield take the lead through Lisa G. the team are playing well and it's hard to believe that Barnsley are supposedly the higher ranked team. However 4 minutes later the scores are level again after a defensive mistake. Sheffield had a lot of the ball leaving Caz in goal virtually a spectator at times, and when she was called into action she produced some stunning saves, let's hope she's not peaked too soon ! There were no more goals and the refereeing this period was execellent too. We said our goodbyes and made our way back to the car. There's a lovely smell of food as we head across the car park. John said, " That smells nice.Mind you, I cooked myself some bacon and eggs before I came out and washed up too............I'll be glad when Lynne's feeling better and back on her feet again !" On the drive home we passed a group of cyclists, all dressed in their proper cycle gear. I said to John, "These are a bit lost aren't they. Shouldn't they be on the Champs-Elysees for the final stage of the Tour de France?" John replies, "No Trev, they're still on the first stage, probably thinking,'We've been cycling for three weeks and still haven't found Canterbury!'"
I'd just like to mention that it's still hot and sunny today. That is the extent of our summer so far this week, although there is rain due later.Well why not, it's rained at some point just about everyday this week. a quick stop off at the garage at Meadowhall so John could put more air in the tyres,(apparently they were flat on the bottom). To say he enjoys watching Formula 1 you'd think he'd have took a lot closer notice of the pit stops....we took ages and we weren't even re-fuelling! He dropped me off at the bottom of the road so I could call in and see that the intrepid explorers had finally got home. A quick cuppa then it was off up home myself and get things ready for work as it's back to the grindstone (or in my case,oven) in the morning.Until next time.
Armthorpe Welfare v. Sheffield FC
Pre-season friendly
Tuesday 17/07/07
After years in the NCEL we were so glad to be leaving this division for better things and also new grounds to visit. No more Brodsworth, Maltby Main etc,etc.So where does Sheffield's first away match take place ? Bloody Armthorpe!!! We thought we'd said our farewells to such places with our league visit last season.
After a nice day, the heavens decided to open about half an hour before I finished work, thankfully though it had stopped by the time I was heading home and I went to meet John with the sun once again shining brightly. First stop is into town to pick up Deano, then we're on our way . No Stu tonight, and it's not because of work either. In fact he just can't come up with a valid excuse for tonight except, "Well I avoided going to Armthorpe for league matches, so I'm certainly not going just for a friendly." All goes smoothly until we join the motorway at the end of the Parkway.Deano says to John "Go round the roundabout again," but it's too late, he's already turned onto the sliproad and straight into a traffic jam, which Deano had just spotted, hence the request for another turn around the roundabout. Deano puts it into perspective though by saying "Never mind, it's only Armthorpe and it is only a friendly". Anyway, it gives us a chance to listen to the last half hour of the Chris Evans show on the radio as we crawl along at a snail's pace, and that's a snail going very slowly. Finally, after about twenty minutes we're back up to speed and heading along the M18 and John has spotted a James Irlam, of course, I open my eyes to see it flash past us as I was just 'resting' them for a few moments. We still arrive in plenty of time and find the usual street to park on. John says, " It's a good job we have the chippy as a guide as to where to turn. It's just a pity we don't call in it." I said, "Well, we could if you wanted." But he declined, replying,"Oh no, let's get into the ground, I'm looking forward to the home made meat pie they have here." We then scare him by saying the snack bar might not be open as it's only a friendly.Thankfully when we did get there, they were open and did have some pie that John wanted, as well as the usual stuff of sandwiches, burgers and bacon butties(which were very tempting). I ended up with a cheese sandwich as I didn't fancy anything hot to eat but had already decided that I'd have a bacon butty at half time.
The game starts just as we leave the snack bar and make our way towards the goal, where Deano is already stood waiting for us. There's one or two new players to see tonight too, which means me making a trip round to see Steve (Hall) to ask who they are. Andy and Caroline have also made the journey over and join us. As the game progresses one of the local residents pops his head over his garden fence and asks, "Who's playing?" Andy tells him, "Sheffield." This is bad news as the bloke thinks he's now entitled to hold a conversation with us. His next question is, "How did you do last season?" Andy says, We finished fourth."
"FOURTH " we all shouted , looking at him in amazement, "We finished second!" Andy said, "I've been that used to saying fourth that it's become a (bad) habit." We forgive him and put it down to a touch of sun, being as we've hardly had any at all this summer. One of the stewards, who obviously knows this bloke then has a conversation with him about repairing the net fencing behind the goal. The bloke over the fence says," I can't do that, I've all on getting down from here." Deano turns to me and says, "We could push him down." Which raised a smile all round. No goals in the first half, so it's a walk back to the snack bar for bacon butties. I try and tempt Deano into having one, he resists, but it was a close call. Now if we had been playing at Thackley he'd have been the first in the queue for a hot-dog ! It's Caroline's birthday tomorrow so I ask her if she's going to see the reserves for her night out. It was little surprise that she said, "No."
Second half and we're facing directly into the sun, and it's at such an angle that it's right at eye level, making it difficult to see unless you shield your eyes.Even I'm having trouble and I've got my baseball cap on. The lads actually take the lead about five minutes in when good work by Vill sees him put the ball across the face of the area for Dolby to smash home. It doesn't last too long though as Armthorpe draw level from the penalty spot. At one point Colley makes one of his famed clearances, putting the ball out of the ground. One of the young local lads climbs the wall and is walking along the edge of it, and it's very narrow. Deano says, "He's a bit good, balancing like that." I replied, "He's probably a professional burglar on a night off." Even I laughed at that one. I wouldn't say the game had lost it's edge, but John and Deano were more interested in watching a beetle crawl up and down the perimiter wall and seeing where it would head to next. There were plenty of jokes and banter between all of us, some good, but most pretty bad, but as Deano said, "Well it's our pre-season too. We'll get better before the league games start, then it will be all downhill from there !" Thankfully, sorry.....finally the final whistle blows and we make our way back to the car. We even get to drive home while it's still light. It's been a pleasant enough night, a bit of food and a laugh and also a bit of footie to watch too, it's good to be back in the swing of things. Until next time