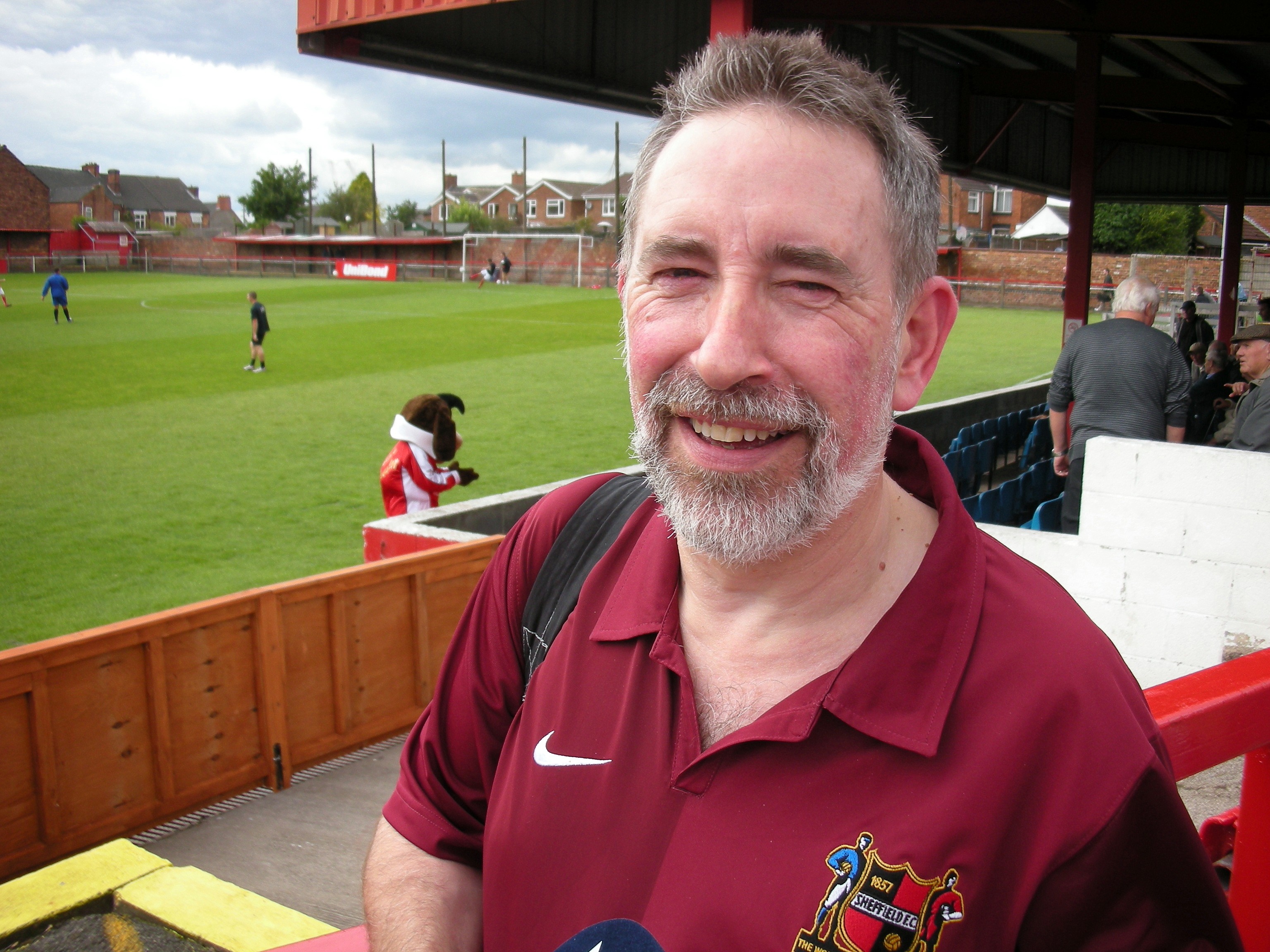 From Vienna to Elvis Gresley, welcome to Trev's 2008-2009 Travels !
Darlington RA Ladies v. Sheffield FC Ladies 10/05/09
It's the last travels of the season and what a way to finish up, with a title decider no less! Originally I should have been working, but as the last few games came and went, and the ladies kept winning it looked like it could go down to the last game and I certainly didn't want to miss such an exciting finale. So arrangements were made with Alison at work to swap our days off should the ladies win last Sunday, which of course they did! So, once Helen had texted me the score last Sunday then I was on the phone to Alison and everything was in place. Thankfully both her and Lee her husband are big footie fans so they know what this passion is all about.
It's been touch and go if John would make the trip as his neck has been giving him problems, but he arrives to pick me up and declares himself fit for the journey. Thankfully he's not driving there otherwise he certainly wouldn't have made it. No, there's been quite a bit of interest so Helen has arranged for a coach for the team and supporters, which consists of the usual suspects, plus just about all the ladies reserves, so we should be loud today. It's down to Meadowhall for the pick up. Well, it's just opposite the retail centre, and Helen has been able to get permission to use one of the councils secure car parks, thanks to her working there. We're one of the first to arrive, along with Graeme who had just been dropped off, and we follow Helen into the car park. As all the others start arriving we help to unload her car with all the stuff needed for the trip and make our way to the coach. Once we've put the stuff in the outside lockers we take our seats. Graeme is doing a video of the day, so he's busy shoving the camera in everyone's faces and asking their opinion of the day. We all agree that considering it's our first season in this league, we never thought we'd be in this position at the start of the season, saying that if we'd have finished mid-table it would have been a success, but now we will finish no lower than runners up!
Off we go and once we're on the motorway John settles down to rest his eyes. I spot an Eddie Stobart and I was going to shout it out to him, but decided the old bugger needed his sleep, plus I didn't want him jerking his neck either. I have a little read, before we pull into Woolley Edge services to pick someone else up. Whilst we're waiting for them Cheryl takes advantage to hobble into the main building to use the loo, being as it's the only stop until we get there. She's done away with her crutch now, but has one of those 'moon boots' on instead. As there's no one sat next to her she can stretch her leg out too to rest it on the way there. Just before we get there Ozzie comes round with a sweepstake for the first goal-scorer, I get Maz, and I forgot who John got.
We get to the ground just before 12.30 and Lynne is there to greet us. She's been visiting her parents in Sunderland and so made her own way here, being as it was just about on the doorstep for her. The ground is a bit similar to Maltby's. The clubhouse is open so we all pile in there. John has a coffee while I get a shandy and we find somewhere to sit and start on the food we've brought with us. Some of the young 'uns go for a wander locally and come back laden down with crisps and other food they've found at the local corner shop. The players are out warming up while we watch the footie on the TV. We have a bit of a downpour then, so some of the players and supporters come inside for a brief respite until the storm passes over, which only takes a few minutes. It's warm by the time we go outside to join the others just before kick off. They've took up a space right between the dug outs, which we fill with ease.
We start the game like a train, over-running the home side and creating plenty of chances. We finally manage to convert one just after ten minutes when Steph is on hand to head home from a set piece amid screams from our supporters, and that was just the men! With half an hour gone it's two as Maz floats over a corner which their keeper flaps at and the ball ends up in the net. We can't believe what's happening. Darlington are being totally outplayed, and on the few occasions that they do get into our half the defence deals with the danger. More chances are created, and missed before the referee brings to an end a very entertaining (for us) half.
We head back to the club house for more refreshments and also some of Cheryl's home-made cookies. Back outside, and all the talk is how we should be celebrating for the second half as we should have been at least 4-0 up, but at 2-0 it's still in the balance as Darlington only need to draw to win the title.
Well, the second half is a totally different story as the home side attack from the off and we can't seem to get the same momentum going as we had in the first half. The next goal would be crucial , and with only just over 20 minutes left to play it falls to Darlington as one of their players heads home. Just over five minutes later and it's all square as their keeper launches a ball forward which runs through and as Caz comes out to block their attacker just pokes the ball beyond her and races on to slam into the empty net.
After the initial shock, we find our voices once again to urge the players on, and, throwing caution to the wind they go all out for the winner but alas it wasn't to be as the game finishes 2-2. Naturally the home side are jumping around celebrating while our lot slump to the ground, before picking themselves up to shake hands with their opponents. There's the presentations to take care of and then it's back to the bar while the players get changed and then come for their hospitality food. We finally get back on the coach, and there's plenty of 'Well dones' to all the players as they board the coach. It's also good to note that a few of them are already saying, "We've come so close, we'll just have to win it next year now." It's a fairly quiet journey back, not all doom and gloom though, and it's just that everyone is knackered both physically and emotionally after what's gone on today. It doesn't stop Ozzie and Caz coming round to organise a few drinks later tonight, and also doing a couple of speeches on the PA system.
We finally arrive back at Meadowhall and everyone chips in with carrying equipment back to Helen's car. Then it's time for farewells for another season as some of them rush off, so they can get ready for the night out in a couple of hours time. As for me, well John drops me off then it's the usual phone call to Jeanie to let her know about the day, even though she did get up to the minute texts of all the action as it happened, and then, with an early start at work it's time for some sleep. What a day, what a season.......what a team!
Well that's it for this season, all done and dusted. As usual it's been a roller coaster journey and once again my thanks to everyone who has contributed to the travels, whether they realised it or not! I look forward to more 'adventures' next season. Until next time..........
Happy Travelling
Trev
Huddersfield Ladies v. Sheffield FC Ladies 30/04/09
Well here we are again. The first team may have finished their season, but the ladies still have plenty to play for. After beating the league leaders Darlington at home last Sunday, they now have three away games and, if they win them all then they'll win the league and gain a second successive promotion. It's a tall order, but at present their confidence is high. It is a case of 'taking each game as it comes' as to what will happen. That's the reason we're off to Emley tonight to cheer them on, apart from which the original match got postponed and this was the only alternative date available in order for all teams to end the season on the same day.
We give ourselves plenty of time being as it's tea-time traffic and head towards Meadowhall. Just before the M1 John spots an Eddie Stobart on the flyover, then, we've no sooner got on the motorway and he spots another one, this time pulling a James Irlam trailer.......and then another one. All this and we've only travelled about five miles. Mind you, I was writing notes at the time so he had no competition at that stage. What am I saying? He has no competition at ANY stage when it's just me and him in the car, in fact I'm sure he gets a sadistic pleasure out of it all, torturing me with all these so called lorries he sees! He then points out another one in front of us but I tell him, " There's no way I'm letting you have that one as I'm sure it's the one you saw on the flyover and we've just caught it up!"
We're still a fair distance away from the ground but John spots the Emley Moor transmitter and say's to me, "I can see the ground Trev." (Huddersfield Ladies play their home games at Emley FC). I tell him," Now you're just taking the piss!" As we get nearer you have to admit that the mast does look imposing, but my everlasting memory of it was one dark and freezing winter's night a few years back when Sheffield had were playing here in a cup game and Geoff, who's son Duncan (Bray) was playing for us at the time looked at it and announced to all in earshot, " That thing will never get off the ground." It's a classic moment from the travels history.
We arrived, and negotiate the very tricky entrance. There are already quite a few people there, but only a couple we recognise as supporting Sheffield. Carly turns up, complete with her dog which is being good. Cheryl also shows, but she's left Charlie at home. With the game about to start there's more support for the ladies as most of the reserve team have arrived to give their support. The game starts and we come under a bit of pressure at first, but once Clare puts us in the lead with just under ten minutes played the ladies settle down. A quarter of an hour gone and the lead is doubled as Nell scores, a novelty in itself, but with a volley from the edge of the area? We must be on song tonight! Just past the half hour mark and it's Clare once again who gets on the scoresheet after outpacing her marker following a Huddersfield attack. Two minutes later and it's virtually game over as Lisa B. got the ball 30 yards out, looked up to see the keeper of her line and coolly lobbed the ball over her and into the net.
Half time and we're all in a very happy frame of mind while all around us is stunned silence from the home supporters. We go and sit in the stand to rest our legs, and I've brought some soup and rolls for me and John. We'd already planned this, as usually there are no refreshment places open when we've watched the ladies (except at the home games) but tonight they have the bar open and one or two of our lot go in there for a drink. It's getting a bit chilly now, but it's not surprising being how high up we are. Cheryl has made some rocky road slice so we dive into that too, saving some for later in the second half.
The players are back out so we go back to where we were stood before, suitably refreshed. There's no let up in the ladies play as they carry on from the onslaught of the first half and within ten minutes they've scored again. This time it's Lisa B. again who scores from the penalty spot, having been brought down as she tried to jink her way through the defence. With over an hour gone it's time for the other Lisa......G. to make her mark, firing in from the edge of the area as the Huddersfield keeper watched it flash by her. With another important game on Sunday it was time to bring on the subs and rest some players, but it didn't disrupt the play, it just gave the Huddersfield defence more running around to do to try and compete with 'fresh legs'. Caz was having a very quiet game in our goal, although the home side did threaten more than they had in the first half. Sheffield were awarded another penalty not long after Huddersfield burst of energy when Marie was upended in the area. With Lisa B having been substituted earlier, up stepped Caz, who blasted the ball home. With the game won Lisa G. came off with a slight injury, and with all the subs already on the team were content to play the game out a player short. Huddersfield finally had something to cheer ten minutes from time when they got a consolation goal with a good strike from the edge of the area. The scoring didn't end there though, as a minute later the ball was knocked forward to Rachel, who turned her marker and raced goalwards before hitting a cracking shot into the top corner. We celebrated by finishing off Cheryl's rocky road slice.
It was a while before we left the car park as we were busy chatting to Helen and some of the players, but once we were on our way we settled back and listened to the radio. Of course there was the usual lorry spotting, but there were only two Eddie Stobbarts this time.....and I managed to get one of them. I was well chuffed with that, especially as it was dark, I mean, I have enough trouble in daylight!
Back at home and I'm still hungry, despite the entire slice that Cheryl forced me to eat....not! So end up with a chesses sandwich and call Jeanie to tell her the result. Then it's off to bed and an early morning start for work. Now, at this stage I can't say whether this is the last travels for the season. You see, the ladies are at Blyth Spartans on Sunday, and they need to win to keep their title hopes alive, as the game after that will be at Darlington a week on Sunday. So hopefully for now, with fingers crossed, I'll just say....until next time.
Happy Travelling
Trev
Willenhall v. Sheffield FC 25/04/09
Well here we are, it's still only April and we've reached the last match of the season, and what an eventful season it's been. Okay, no play-offs or cups to end the season with, but at least we still have a club to support! It's Jan and Tanja's last full day here as they're off to London tomorrow for a couple of nights before flying home. Me and Jan tried out best to convince Tanja to join us today, but I think we've worn her out over the past couple of days with all the walking we've done, so she's stopping at home to finish packing the cases, relaxing and watching some of the DVDs she's bought while she's been here. With Stu working and Deano off once again to watch the Harlequins it was an ideal opportunity for us to go on the coach so Jan could experience what it's like travelling with the team and our supporters. The weather forecast is good even though we hit a bit of a shower on our way over to the Coach and Horses where we're setting off from. We decide to 'share' Jan today, so John is sitting with him on the way down and I'll sit with him on the way back. We get settled and off we go. I read the paper while those two have a good natter before they too start reading.
Everything is going to plan until we're almost there, and then we get totally lost. We end up stopping outside a garage so Steve can go and ask for directions. John says to Jan, "That's why I'm glad I'm not driving today, it looked like trouble when I saw the directions." We end up retracing our route and finally arrive at the ground, two and a half hours after leaving Sheffield! The turnstiles aren't open yet and we can see them just finishing mowing the pitch. Once we can get in we head for food and all get a burger. Me and Jan head to the club shop to buy a couple of badges. The guy in there was asking if we had a good trip. We told him how we got lost. He said that the club were considering moving into another league next season due to all the travelling they have had to do this season. I hope their application is successful as this place is a bloody nightmare to find and it would certainly be on my 'one to miss' list for next season.
The playing surface looks really big and dusty too. Once it's been decided which way we're kicking we go to stand behind the goal and the game starts. Andy and Caroline turn up a few minutes later. They'd got lost and they even had their Sat-Nav on. Apparently they ended up having a grand tour of Walsall, including Starbucks and Ikea, and when they stopped to ask a local for directions he had no idea either!!
We had Jamie Holmshaw in the net for us today and as he said as we got off the coach when we arrived, "This is my one game of the season." Of course the supporters are lapping it up and give him a rousing cheer every time he touches the ball. It's Willenhall who score first, despite Jamie's valiant efforts to keep them at bay. It's quite a scorcher out there today and we're baking in the sunshine. Not long after we pull level as Lee Cooksey heads home for his first goal for us, and it was no more than we deserved, having made their keeper work a lot harder than their forwards were doing to Jamie.
Half time and we need a drink to quench our thirst, plus more food of course. Jan is enjoying himself. He's been to quite a few away matches when he's been over here during the years and knows quite a few of the other supporters, but also gets chatting to some of the 'newer' ones he's not met before.
The second half gets underway, as we once again brave the searing heat and take our place at the other end. Despite neither team having 'anything to play for' it's fairly physical at times, but class shines through as we take the lead when Matt Roney lofts a ball goalwards from the sideline and the keeper completely misses it and sees it go over his head into the net. After cheering for Matt it's time to laugh at the keeper, who actually had a sort of smile-cum-grimace on his face once he'd got off the floor and noticed the ball nestling in the back of the net. Willenhall try all they can to get back on terms but Jamie is playing out of his skin as his personal fan club break into a chorus of, "There's only one Jamie Holmshaw", quickly followed by, "England's, England's number one!" At the final whistle some of them run onto the pitch and rush to hug Jamie, all in a good natured way and the stewards have no trouble as they enjoy the afternoon sun. We always take a good away following wherever we go and they know that we were just in high spirits and having a laugh, and it's the end of the season too.
We head to the clubhouse to look at the results and also to relax as we wait for the players. We eventually leave the ground at ten minutes to six and some of the fans want to start a sweepstake as to how long it's going to take us to get home, someone shouts," four hours and ten minutes!" We've only travelled about a quarter of a mile before the coach pulls up at a small store so the lads can buy some liquid refreshment for the journey home. I bet the shopkeeper couldn't believe his eyes when Alan gave him the order. I lost count, but I know one of the lads had two trips to make and on each occasion he came back laden with booze.
Guess what? We got lost on the early stages going home.....we were making the most of it by singing, "The magical mystery tour, and we're all going on a summer holiday!" In fact there were quite a few sing-songs on the way back. Then Alan and Pat came up with the idea of everyone having a go at naming all the players who's played for us this season. I think we eventually got them all, even Micah Bleau who only made a couple of early season appearances. It was funny though as someone would say a name and then you'd hear comments like, "He was good, played a blinder against so and so." Then, when the names of the players who's left the club when we were in crisis were mentioned well, to say the response was wasn't very good was putting it very mildly indeed, and totally justified! We arrived at the Coach and Horses at eight, and it was about fifteen minutes later before we were in the car, after saying goodbye to the players and the rest of the gang.
Once John drops me and Jan off we drop our stuff off and, along with Tanja go for a walk to pick up fish and chips for supper. Time for us all to talk about what we'd been doing all day and then Tanja is off to bed while me and Jan try our best to watch Match of the Day, but in the end we're falling asleep so decide to call it a day. A great way to finish the season, and I'm pleased that once again Jan was able to take part too. In fact I think over the past ten years or more when he's been over here he's only seen the team lose a couple of times. Well that's it for another season following the lads, I still have one or two trips to make though before my football season ends as the ladies have a couple of very important league games which could see them finishing their season as champions and gaining yet another promotion, so watch this space. Until next time.
Happy Travelling
Trev
Shepshed Dynamo v. Sheffield FC 21/04/09
It's the penultimate game of the season, and a trip to Shepshed Dynamo for this re-arranged fixture. With Stu and Deano unavailable and John not well I'm travelling with Andy and Caroline tonight. Jan and Tanja are over from Germany and he was due to join me, but we looked at the weather forecast a few days earlier and it appeared it would be breaking up by tomorrow, so him and Tanja are off to Blackpool for the day instead, I was working anyway, so they could make a full day of it.
With a 4.30 finish at work I took a steady stroll into town and grabbed a steak bake from Gregg's before making my way to the bus stop. It's a lovely, sunny afternoon and I made the journey up to Norton roundabout without too many traffic hold ups. Seeing as I was early, I just sat on the wall soaking up the sun until Andy and Caroline arrived. Jackie is also on board for tonight's trip, having just returned from America after visiting her son in Seattle. On the way down she's telling us about Tim's adventure with his new car. Apparently the guy at the car place showed him all the controls and Tim got into it and promptly reversed at speed into the showroom! Luckily the showroom doors were open at the time. Now knowing Tim, you can imagine him doing that and as the sales people look in horror he would have been as calm as anything and making a joke of it.
We arrive at the ground a quarter of an hour before kick off. As we walk in I get the programmes for me and the lads and the bloke says, "You lot from Sheffield have gone programme mad. We've almost sold out, our bloody fans don't bother with them" I said, "Well being as I'm buying four can I have a discount?" He just laughed and said, "No, but I'll let you have a go on the raffle for another quid"
I go and get the team news, then phone Deano with it so he can get it on the site. Then I go and join the others in the stand behind the goal. The seats are rubbish. They're just wooden benches, with very little elevation which is a bit of a bugger if you get someone big sat in front of you. There's no problem of that tonight though as, apart from our car load, the only other people sat with us are Tim, Sue and Billy. We can have a row of seats each if we want. With both teams in mid table the game is flat and more like a pre-season friendly, although even in the early stages of the game their keeper, for some reason is already reverting to time wasting tactics! We go a goal down, but not much is happening at all and we have more fun talking to each other. Our lads finally pick up their game just before the half hour mark and even score, but Milky is ruled offside.
Half time and I go and get a drink and some chips. I give Deano a call to update him on the game so far and then go back to the others. Sue has bought Tim a chicken soup and it comes complete with skin on too....Ugh! Second half sees us up the pace and Matty Roney scores to level the game. Funnily enough, their keeper has now abandoned his time wasting tactics from earlier. Despite having the better of the later stages we can't get the winner and have to settle for a draw. I go round and get the man of the match votes (God I'm busy tonight!) and then it's back to the car. I give Deano a call so he can put the score on the site and text the others with the result. It's a good drive home which takes us just over an hour which is pretty good going as, at one point near Chesterfield we were on this minor road and there were temporary traffic lights on there as only one side of the road was passable, the only thing was, the lights were stuck on red! We could see the cars at the other end of the roadworks and it was a case of should we go? Shouldn't we go? In the end, Andy just went for it, and thankfully the other driver realised that we had set off so waited until we'd passed before going himself.
Andy drops me off at Meadowhead, just in time to catch the last through bus home - what great timing. It's a good journey to town and then of course we encounter 'the drunk on the bus'! All he kept saying was, "I live at Pitsmoor and I haven't been home all day." In between all this, and wandering along the aisle talking to anyone daft enough to engage him in a conversation he'd come out with, "I'm worried." All I can say is thank God he didn't sit next to me! Once he's finally got off the bus, after telling the driver once again that he hadn't been home all day it's a quiet ride to home.
Jan and Tanja are still up even though it's just after midnight. Jan wants to know how the match went and then they tell me briefly about their day out. This goes on longer than we planned, I had some tea and biscuits while we chatted and I finally got to bed just before one, so, only another three hours and it'll be time to get up for work ! At least I'm off for the rest of the week then and we can plan our trip for the last game of the season which once again is away, this time at Willenhall. Jan will certainly go to that one and we'll try our best to get Tanja to go too, she can bring as many books to read as she wants to stop her being bored. Until next time.
Happy Travelling
Trev
Brigg Town v. Sheffield FC 10/04/09
It's Good Friday, so start of the Easter holiday, and a Bank Holiday for me although I've been off all week anyhow, it just means that it's an official works holiday instead of me using up one of my holiday days. I've a feeling today's game is going to throw me out for the weekend, as I'm used to us kicking off at 3pm on a Saturday, not a Friday, still not to worry. Once again it's a lazy morning, especially as Ella had me up at 4 am because she wanted a pee, then of course, she wanted to play and then the cat woke up and she wanted food. Thankfully, the goldfish had the sense to sleep through it all!
It's a nice morning so after a wander to the shops across the park I get myself ready to meet John and Deano. Of course, by the time they show up it's gone all cloudy once again. Just as I'm about to climb in the back seat Deano gets out of the front and says, "Here Trev, you go in the front as I'll probably fall asleep." What with me 'resting my eyes' and Deano nodding off, it's a good job that John stays awake, at least that's what he tells us he does. I know he lies as he'll say he's spotted umpteen lorries while we're in our comatose state. What do you mean you can't tell the difference! Cheeky buggers!
Off we go and yes, it does start raining off and all through the journey. When we get there the turnstiles aren't open yet, so we just sit in the car and listen to the radio. Once we can see life inside the ground I go and get the programmes and then we go to the snack bar for a drink and John has one of those 'special' sausage rolls that are burnt on the bottom. I thought they only did them at Hallam. Obviously word must have gotten round that Mr. Shepherd would be at Brigg Town this afternoon!
Someone has got a bonfire going in their garden just behind the goal. We said it might be the ritual burning of the UniBond flag, being as Brigg are rooted at the bottom of the table. In fact I think up to this point they've only won one league match, and that was against us at the BFS. Thankfully I missed that as I was on holiday at the time.
The game starts and not long into play we get a corner. It's played short, as we all cry, "No, play in long into the box." John says, " Do you think that in training Dolbs says, I've got a new short corner routine, only this one will work" Well it did actually work, but despite pressuring the home side we can't score as Brigg put up some stiff opposition and go on to score.
Half time and it's refreshment time. John settles for a bag of crisps this time while I have a Twix and a cuppa. It's been a poor first half by our standards and it's pretty dire to watch in the second half too as Brigg are making a mockery of their league position and making us look very average. One things for sure, if it carries on like this the match report is going to be short. Even I'm getting frustrated as the players are fannying about with the ball outside the Brigg area and I shout," ****ing shoot!" which surprised John and Deano, and even me!!
The bonfire in the garden is still alight and Deano says, "Let's throw something on it and get the game abandoned." I said, "Why not start with some of our players!" Brigg score again from a penalty, and it's only then, with the game going into the dying stages that our players start to rally, but to no avail, and to be honest, we've looked second best all game. Thankfully the game ends. John asks for the man of the match votes and guess what, only six people can offer a vote, that's how bad it was. The result keeps Briggs very slim chances of survival alive, as Gresley lost 4-0 at home to Stocksbridge. The only problem being that Brigg need to win all their remaining games and Gresley lose theirs. Mind you, one Brigg bright spark said to me," If we could play the remaining games just against Sheffield then we stand a fair chance." Cheeky sod. The thing is we've got Stocky at home on Easter Monday and if we play like this again we'll get slaughtered. I don't mind losing to anyone, apart from those in-breds.
Back in the car and John says, "I'm going to do some comport eating of Easter eggs when I get home to offset the trauma of today." It sounds like a bloody good idea to me; I may well take up that option myself. We settle back and listen to the radio, it's listeners requests, so there's a good variety of music, from the Beatles to Led Zeppelin and everything in between. Deano falls asleep in the back, whilst John picks off the Eddie Stobart lorries before I get a chance to open my mouth. I almost got the last one, but I'm up against a professional spotter here, so basically, my chances are zilch!
It's raining and really dark with heavy clouds when we get back to Sheffield. John drops me off and I get the report out of the way then head down to look after the animals at Joy and Les's. After something to eat I've just about got today's game out of my system and am now looking forward to Monday's derby against Stocky, but still pinch John's idea and end the day watching the TV with some comfort eating of an Easter egg. One down and three more to go....yummy! Until next time
Happy Travelling
Trev
Quorn v. Sheffield FC 07/04/09
I'm on holiday all week with Joy and Les being on their cruise and I've been following their progress on the computer. Today they're in La Coruna for the day while I've been chilling out in the garden with Ella. Of course, by the time John and Deano pick me up there's a fair amount of clouds gathering and also a strong breeze blowing too. As we're driving along Attercliffe John is telling us about one of their cats (Felix) who's been having fun hiding in the middle of the roll of new carpet waiting to be put down in their bedroom. Along we go past the retail centre when John suddenly says, "Why am I going this way?". Deano said, "I wondered that too!" Anyway, we get back on track but hit quite a bit of traffic on our way to pick up Stu. Eventually we get there, and we're not that far behind time. Being as it's the school holidays, Liam is coming with us tonight too. He's sat in the middle in the back seat between me and Stu. Liam can't get his seat belt fastened so both me and Stu have a go, but it's John that has to come around and sort it out while I stand outside. While he's doing that I tell Lynn, (who's been stood outside the door watching the fiasco to put the kettle on as we could be here sometime! Once we're sorted we're on our way and immediately hit rain! It doesn't last long though, and soon the sun is shining again. There's lots of Eddie Stobart spotting on the way down, mostly between John and Stu, because basically, not to put too finer point on things, me and Deano are crap at it unless we sneak up on one without the others noticing, and that's never going to happen is it ? Now I'm not sure if any of you lot are aware of this, but each lorry has been christened with a girl's name which is usually displayed just above the front wheel arches. As we drive past one Deano says to me, "Did you see the name of that one Trev?" I replied with, "I have enough problems seeing the bloody lorry looking at the big print on the side of the trailer, how the hell do you expect me to read the small print?" Just as I say that smarty pants Stu spots another one.....on a different motorway in the distance!
We arrive ten minutes before kick-off and it's still light and dry. The ground has altered since my last visit as they've now erected a covered stand at the car park end. As we were running late I'd phoned Andrew, who got the programmes for us, just in case they ran out before we arrived. First stop is getting the teams which are written down and displayed outside the clubhouse, and while we're there we get some drinks and John has food. They use proper cups here too, so we wander round to the far goal with them, where the rest of the usual suspects are stood. We have a new player starting on the bench for us tonight, Lee Cooksey from Dinnington Town. As the game progresses I take mine and Stu's empty cups back to the snack bar and buy one for John. I notice on the big screen TV in there that Manchester United are losing 1-0 at home to Porto in the Champions league, but by the time I get back to the others to tell them, Caroline says that Rooney has already equalised for United.
With just over twenty minutes played Quorn get a penalty when the ball bounces up and hits Roney's hand, which of course results in a booking, but young Tom Cross in our goal pulls off a fine save to keep the scores level. The lads take the lead with five minutes to the break when David Graham heads home giving us a much deserved lead for the second half.
It's back to the clubhouse for more refreshment as me and Stu get the tea's in, and a bacon buttie for John, while John takes Liam to sit down as the young 'un is showing him how his brainteaser game works. John is thinking about buying one for a present for Lynne's birthday. You can tell it's getting towards the end of the season as, outside, they've already kicked off for the second half while we're busy sat chatting and John is monopolising Liam's game! We do eventually decide that being as we've travelled all this way we may as well make an effort to watch the second half and go over to the new covered stand. There's several chances created for the lads but it's Quorn who score the next goal to level things up. It doesn't stay that way for long though as two minutes later Jordan puts Jack through on the right of the area and his slide rule pass to Graham sees him get his second goal of the night for both himself and the team. The game is sealed in the dying minutes with a bizarre own goal from the Quorn right back, despite the announcer awarding the goal for Jack. Of course, we take the piss out of the right back for the remaining minutes and he's first off the field at the final whistle before we get round to the changing rooms to applaud the team off.
After John has done his man of the match collecting, it's back to the car. This time we don't have as much trouble getting Liam strapped in and off we go. Although it's one of our longer journeys, I do like visiting Quorn as it's a nice, tidy little ground, and with the addition of the new stand is even better than it was. It's a quiet journey back as we listen to the radio, although it's not long before Liam is lolling his head on me, fast asleep. In fact, despite us waking him up just before home, he still fell back asleep.
Back at home and I need a night time cuppa to unwind. Of course, Ella wants to play now, so she has most of her toys out of the basket before I get her settled down for the night. Me, I've got my second wind so to speak so start to watch the rugby union highlights, hoping to see Deano on screen when he went to see Harlequins play at Bath. He did get on there, at the end of their game when the interviews were taking place, but by that time I was fast asleep (he told me about it the following day). It's been a good evening, and I don't have to get up in the morning either, I could get used to this. Until next time.
Happy Travelling
Trev
York City Ladies v. Sheffield FC Ladies 05/04/09
After yesterday's trip to see the lads at Lincoln, today me and John are off to York to watch the ladies play. I spend a leisurely morning watching the Malaysian Grand Prix and reading the papers, before John arrives to pick me up. It's a nice, sunny day again and the first stop is the garage at Meadowhall so John can check the tyre pressure on the car.
On the journey down I spend some time looking at the back of my eyelids, while I can hear John shouting out every time he spots an Eddie Stobart. Once I sit up he spots another and says to me, "I've seen two more, plus a James Irlam and a Preston's of Potto while you've been asleep." I tell him he's a cheeky bugger for lying as I'd been taking a crafty peek through my slitty eyes every so often.
We find the place with no problem, it's a school and sports complex all rolled into one big site. We decide to leave our coats in the car being as it's so warm and head inside the complex. Once there, we get a cold drink from the vending machine. It's one of them bottle dispenser ones which has a crane contraption which grabs the bottle off the appropriate rail, very impressive (it doesn't take much to please us does it?). We head back outside and find our way to the pitch we'll be playing on. We know which one it is...it's hard, bobbly and full of daisies, pretty poor really, but as Helen explains to the players before kick-off, "It's the same for both sides so just get on with it, but don't try and dribble your way out of trouble from the back, just hoof it!" The twins are back playing for us today as they're on holiday from university.
We're playing against a fairly strong wind in the first half and create a few chances but end up 2-0 down at half time due to two opportunistic goals (wind assisted) by the home side. John's sciatica is playing him up a bit so he sits down for a while, although God knows how he'll get up again! We spend most of the second half sat down watching the game. We do pull a goal back and bombard their goal, but all to no avail as the score finishes 2-1 in York's favour.
Finally get John stood up and moving again and head back to the car. There's a new line up of programmes on the radio now, so we listen to 'Sound of the Seventies' with Johnny Walker on the way home. As usual John spots an Eddie Stobart and this time I wasn't asleep. He then spots another one about half a mile in front of us, and just as I'm writing that down the bugger then spots another one! As we're passing the one that was in front of us, I'm busy looking to see what it's called and John spots yet another one on the other side of the road. Once we're on the Barnsley stretch of motorway he spots another one on the opposite lower carriageway, which was a bit unfair as I could only just make out the top of it as it was on his side. Then again, I may just be clutching at straws. As we get near home he says, "It's been no contest these past couple of days Trev." I tell him, "What do you mean? I nearly got two yesterday!" On that score - and with John grinning like a Cheshire cat - he drops me off. We can have a days rest now before heading out again to Quorn. Until next time.
Happy Travelling
Trev
Lincoln United v. Sheffield FC 04/04/09
I'm up early today to see Joy and Les off on their cruise as I'm house-sitting, looking after Ella and company, as well as being hosts to Kay and Martin who are travelling up from Brighton for a week's stay. It will work out well as they will sleep here while I sleep at Joy's. It's a cool start to the day, but by the time John picks me up it's already sunny and bright, not only that but 'Pick of the Pops' is back on the radio on Saturday's once again, so we listen to that on the way down. It's only the two of us travelling today as Stu is once again working and Deano is off to watch Harlequins play.
John spots an Eddie Stobart and I look across the carriageway and ask, "Where?" He points straight ahead and says, "There!" I never noticed it as it had a new livery of white with green writing instead of the other way round. I'm going to have to write to them. I mean, I have a hard enough time as it is trying to spot one, without them changing the bloody colours! You can tell that Easter is not far away as we encounter quite a bit of traffic early on as people make their way to their holiday destinations and there are a lot of cars towing caravans too, which John is not too keen on as he yells, "Bloody caravan-ers!" every time we pass one. As we're driving along John remembers part of the route from when he used to visit his dad in Skegness. He says, "There's a Little Chef just along this road." Well, it turns out that now the Little Chef has turned into an adult store. I said, "Well I suppose we could go in and ask for a couple of sausages and see what they come up with!"
He hands me the directions just as he spots another Eddie Stobart (I think he did that on purpose). Luckily he has a rough idea of how we get there. We have to pay a toll of 30 pence to cross the River Trent for some reason; I guess it's a local thing. Part one of 'Pick of the Pops' ends with Simon and Garfunkel singing Bridge over Troubled Water' (how appropriate). We don't get to hear the second half of the programme as we arrive at the ground with no problems at all. We did miss the actual turn off for Ashby Avenue, but that was only because there was a bus parked right at the end of the road so we couldn't read the sign. As we parked up, Joy called to say they'd just arrived at Southampton.
I go in first, and John asks for a concession but is refused as they say it's 65 and over before that applies, which is a bit strange as most other grounds in this league use 60 as the age for concessions. Still, John's not that fussed as we make our way to the snack bar. Andy and Caroline arrive - quickly followed by Tim, Sue and Billy. It's Tim's first away game of the season, so if it all goes belly up we've already told him he'll get the blame. We ask what's on offer and the lady points to the menu and says, "We have everything except gravy as we've ran out and somebody forgot to get some more." (Looking at her assistant). John says, "Aww, I just fancied a cup of gravy." (Joking). In the end he has some chips and peas and I get a cone of chips. It's boiling outside now, so we sit inside in the shade and watch a bit of telly. It's Grand National day so it's all about the big race. We both have horses that were picked out of our sweepstakes at work, so that's the only incentive of watching it, although the race itself is usually quite a spectacle.
Back outside ready for the kick off and the pitch looks very wide, which hopefully will suit our wingers. We have the sun in our faces for the first half so we can get a tan while we watch the game. Just like at the BFS, Lincoln take the lead against the run of play and despite several decent chances we go into the break a goal down. Back to the snack bar for a cuppa and watch the jockeys getting ready for the big race. We did think about staying in there to watch it, but decided against it and made our way around to the far end and took some much needed shelter behind the goal, out of the sun.
Our subs are running along the touchline warming up and John notices that Leon has had his long locks cut off, so he shouts to him, "Leon , tell us who did it and we'll get him for you?" which brought a smile out of him as well as some laughter from us. On the pitch one of their strikers has a wild shot which almost goes in the snack bar, John shouts "put some gravy on it!" which has me doubled up with laughing. Despite a lot of effort, some poor finishing along with some good goalkeeping keeps us at bay and we lose by that single goal. At least we got plenty of sun and fresh air. Before we can say anything to Tim, he's already apologising and takes all the blame for the defeat, but we'll let him come again as he makes us laugh with some of his comments, especially at the officials.
Stu phones, so I give him the details of the game so he can get it online. Deano sends a text to say that 'Quins won 19-3 and I tell him our result and how disappointing the game was, so he's happy he made the right choice today. Back on the road and I flick through the programme while John spots another Eddie Stobart. This time it's a 'traditional' one of green with white writing. It's nice to be travelling home in daylight despite the fact that the sun has decided to hide behind some very dark clouds. There's one last Eddie Stobart which John sees just as we approach the turn off for Meadowhall. There's quite a bit of traffic about, but I think a lot of them are going to the Arena to watch 'Dancing on Ice', so we cut down Weedon Street and go that way home. Back at Joy's it's time to feed Ella, Amber and Monty, and of course Ella wants to play. So we play with the never ending toys she seems to find in the bottomless basket before I put them all away and settle her down (and Amber) and head up to meet Kay and Martin. I finish the day with some beans on toast and, with all the fresh air sleep very soundly. Which is just as well, with away games we have coming up this week. Until next time.
Happy Travelling
Trev
Glapwell v. Sheffield FC 31/03/09
Well summertime is on the way.....we changed the clocks back at the weekend, so it makes a change to be waiting for John in daylight, even if it is very cloudy tonight. It's been a mild very day, but I bet it will feel a lot colder later as the game goes on. Once we're on the move I give Deano a call. We're picking him up at work, so this way he knows he can start locking up and be ready for when we arrive. You see, it's just like a military operation organizing our travels....you can compare it to the D-Day landings, although, on some occasions it's been more like the charge of the light brigade. I suppose at our age we could tolerate being called Dad's Army !
As per normal, we spend the time listening to Chris Evans drive-time show, I'm sat in the front tonight so Deano can relax in the back. Me and John both spot an Eddie Stobbart, and it's a double trailer one, so we call it a draw. Of course, John gets to spot a Preston's of Potto, but while he's gloating over that I get the chance to gain another Eddie Stobbart to my measly tally, but then he spots one too. Further up the road I'm sure I can see another so I gamble, but as it gets nearer it's only the cab, which doesn't count, and John said he'd spotted that it didn't have a trailer on, that's why he didn't shout for it. Of course, he's smiling while he's telling me this. Deano is in his own world in the back listening to his iPod.
It's nice to arrive in daylight too, it had taken us exactly 50 minutes from when I got in the car which was pretty good going considering we had to go through town too. They've got stewards doing the car park now and we're directed into a space behind three other cars, and as we sit there a while listening to the radio the stewards start to direct cars between our line and the one opposite us. This doesn't bother us as we're usually not one of the first out of the ground, but what it dies mean is that those at the front of the line are going to blocked in until the ones at the back move...nice.
There's been a few alterations since our last visit. They've now dispensed with the spectators snack bar in the club house, apparently this is only used for the officials now, but they've erected a burger bar in front of it, and also a new hospitality bit and a further small snack bar that sells stuff other than burgers. they've also upgraded where the players emerge onto the pitch. We both have a burger, while Deano gives them a miss. John goes for a sit down in the bar (he's getting old now and needs to rest his weary legs!) while me and Deano go and look at the team line-up. I'm getting the details wrote down for Stu, who will be here in Millennium Falcon mode to get here as he's setting off late due to Liam being involved in a footy match. There's a few canines wandering around with their owners as Deano pipes up with, "There's a few dogs here tonight Trev," but he wasn't referring to the four legged kind. He has a soft spot for Glapwell as you can imagine by the comment. Just before the players emerge there's an announcement to say that spectators are no longer allowed to stand behind the goal at the top end of the ground, so we make our way up there and stand at the side of the pitch. We see John, Stu, Caroline and Andy walking the other side of the pitch and they take up a position behind the goal. They're looking at us and wondering why we're not joining them, until a steward comes along to move them to the side as well. We told them that we already knew you couldn't stand there, that's why we didn't join them.
It's a good start for the lads as Jack puts us in front after seven minutes with an audacious effort from almost where we were stood. It gets better shortly after when we're awarded a penalty for hand ball and DG steps up to knock it in via the post. It's all exciting stuff as five minutes later Glappy pull one back from a corner. They then grab an equaliser which suits Stu in his goal quest. He's on a mission this season about goal averages, along with Steve and Neil, (the Camden Market fan.......it's a long story!) and at present Stu needs to see at least four goals a game, although naturally, where Sheffield are involved, he'd like them to win. Anyway, back to the action, and it's pretty heavy stuff out there as there is no love lost between both clubs. Things take a turn for the worse for the lads when DG gets his marching orders for retaliating to a challenge from a Glappy defender, who, once the red card is shown makes a miraculous recovery and is fit to resume without even a limp. All this and we've not played half an hour yet! I said to Stu, " I'm glad you're doing the report for this one." The rest of the half is quite uneventful then, considering what had gone before and the teams went into the break level at two apiece.
We walk back to the other end and John goes to get the drinks. It's still a pleasant evening weather-wise too and the footy is certainly keeping us entertained for one reason or another. The second half is only five minutes old when we have yet more controversy as Milky goes in for a challenge on their keeper, both falling to the ground and Milky wrestling the keeper. Of course, everyone starts piling in then, and the Glappy full back takes matters into his own hands by shoving Milky over. The result being a straight red card for him and red card for Milky for a second bookable offence. So with ten playing nine it certainly opened things up on the pitch, with Glappy pressing up the slope, but the lads looking dangerous on the break. With time running out the ball was pumped forward once more for Sheffield where Jordan got it under control, and with shouts of , "Take it into the corner!" from us, he promptly turns his marker and delivers a pass to the feet of 'Harry', who uses his magic to dispatch the ball home and send us all mental! What a way to win, thus denting Glappy's promotion hopes and also gaining revenge for the 4-0 thumping they gave us at the BFS. In a season of ups and downs this is certainly something we're going to remember.
Just time for a quick man of the match count and then it's back to the car to see if we can actually get out. We can, but not before some idiot is just sat there blocking some others while he waits for someone. Once we're on the road it's time to listen to Danny Baker, who's always good for a laugh, and it seems like we're home in no time at all.
I'm still on a high after the game so manage to actually stay awake for a while and enjoy some television whilst scoffing away at some cheese on toast. Well after a succession of home matches, that's the first one of four away matches out of the way. It's off to Lincoln United next. Until next time.
Happy Travelling
Trev
Philadelphia Eagles v. Arizona Cardinals 27/11/08
It's me again folks. Sorry about the delay on this one, but I thought I'd lost my notes and only found them the other day when I was getting the case out again ready for my trip to see Jeanie at the end of May.
Yes, it's a travels with a difference, it's still football, but it's American football, and it came as a total surprise to me too. When I arrived over there I was just sat in the kitchen having a cuppa with Jeanie and her mum when Jeanie gave me an Eagles baseball cap as a prezzie which I thought ,"Great, I already have a Phillies caps (the baseball team) and now this. She then passed me an envelope and told me to open it, which I did, still none the wiser, and there inside were the tickets for this game, to say I was gob-smacked would be putting it mildly. I was literally speechless! On my trip over last year we went to a baseball game to see the Philadelphia Phillies and I said it would be nice to see the Eagles play, but tickets are like gold dust. Well it just so happened that the Eagles were due to play at home on Thanksgiving Day evening (for the first time in 17 years) and Sissy, one of Jeanie's work colleagues (along with her husband) are season ticket holders, but being as it's going to be a Bank holiday they'd both be too busy with family to attend the game, so she offered the tickets to Jeanie as she knew we were trying to get to see a game, not particularly this one, just any would have done. She wouldn't even take any money for them either, telling her it was a gift and to just go and enjoy ourselves.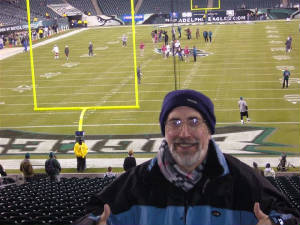 Well the day finally arrived and Thanksgiving is a great occasion over there, almost better than Christmas, I certainly enjoy being over there at this time of year. We're eating at Tom and Margie's for our Thanksgiving dinner, but we'll have to leave around 4pm. The game doesn't start until 8.15 and it's live across America, it should only take us about an hour to get there, but we want to give ourselves plenty of time and find out where to park. We also want to take in the atmosphere and watch the people tail-gating. This is when they set up barbeques and have cook outs, although with it being Thanksgiving I should imagine a lot of them will already be full!
We have a great meal, (just like having a Christmas dinner) and afterwards me and Tommy go for a stroll outside, where he shows me the wreckage of a world war two jeep which has been left in the woods at the edge of their property. Once back inside we just have time to sample one of the four desserts on offer before getting ready to depart, which in my case was lemon meringue pie.
We put on extra layers of clothes, just like getting ready for a match here really. I'm that full I could just fall asleep and so could Jeanie, but thankfully we both leapt our eyes open, which was just as well as she was driving and I had the directions! There's a beautiful sunset as we cross the bridge into Philadelphia and the directions are easy to follow that we have no trouble at all finding the stadium. It'll probably be totally different on the way home in the dark and with all the crowd expected, but then again the Eagles haven't been doing too well as of late and the Philly crowd are very passionate, so they may well leave before the end if things aren't going their way. The stadium is situated in a sports complex that also has the baseball stadium, the Flyers ice hockey stadium plus a couple of concert halls too, so you can imagine it's quite a big area. We decided to park up in the first available car park we could see opened, and then at least we knew that we were near to the road for getting straight out. It had taken us just under an hour as there was hardly any traffic on the road on the way up, so we have just over 3 hours to kill before kick off! There are already quite a few people here setting up trestle tables for their food, with radio's and TV's on too, watching the earlier game that's being broadcast. We just sit and relax for a while. Jeanie had purchased some little hand and feet warmers for us to try, so we put the feet warmers in our shoes ready and then decide to go for a wander as the stadium is about a quarter of a mile from where we're parked.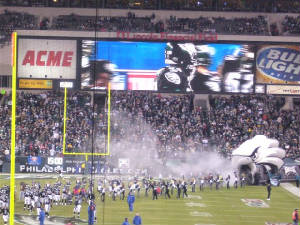 Did I say most people would be full from their Thanksgiving dinner? Not a chance! There were people here who had complete stoves and cookers on the go cooking whole turkeys! With beer crates stacked as high as their cars and portable TV's and radio's blaring out it was a fantastic sight to see. It took us longer than expected to walk to the stadium as we stopped every so often just to look at what people were doing. Once at the perimeter of the stadium we went through the security checks and then into the complex. The gates to actually get to your seats were still closed but there were plenty of stalls open outside, selling food and drink, there was also a live link up with the TV people who had some guys on a panel doing a question and answering session on the game and an area that had local bands playing live music. I also got to meet 'Swoopy' the 7 foot tall Eagles mascot! We go and have a look in the official club shop then, when the gates are open we go up to find our seats.
We've got a great view, right behind one of the goals and on the back row too (on the lower level). Just above us are private boxes and we can actually look up and watch the TV there. The stadium is very impressive, even though it's still fairly empty at this point. I'm so glad we're not sat up in the higher seats as you'd have to duck for the low flying aircraft, it's almost that high! I've no idea what the really best seats cost, but I worked ours out to be around the £50 mark, and that was each. At each end of the stadium they have the giant screens where you can watch the action on the pitch, even as the game is playing, so there's no getting it wrong for the referee's or they'd know about it from the crowd. With 15 minutes to go before the start the cheerleaders come out to do one of their routines, it's just a pity that they have tracksuit bottoms on and sweater tops, but you can still tell that it's cold........if you get my drift!! Then it's the big fanfare as the giant Eagles head in the far corner blows out smoke and the team comes onto the field, the last and major players being introduced individually to the crowd, who lap it all up. There's a great atmosphere as the Eagles get ready to receive with a full house of 67,594 fans waiting for the action to start.
I do enjoy watching this game but seeing it live is so different as you get to see what's going on on the sidelines too, and I don't just mean watching the cheerleaders all night! The Eagles take a 14-0 lead at the end of the first quarter. One thing I should tell you is that, every time the Eagles score, the Eagles song is sung, with the words put up on the big screen for those that don't know them. There are a couple of guys who also run onto the pitch with massive flags, like the ones you usually see at the Italian footie matches too. By half time the score has moved on to 24-7. Jeanie goes in search of the toilet and reappears with food! Then it's my turn to go and I return with a couple of hot chocolates. It's getting colder now so Jeanie tries out her hand warmers I told you about earlier. They're made up of little crystals packages that you just rub together to generate the heat and they really do work, hers were still warm over two and a half hours later. We'd brought a blanket inside with us too, which looking round seemed like a lot of people had the same idea, so that went round her shoulders because after all, she's delicate... (Her words, not mine.) lol. Another observation was that as well as going to the food and drink stalls to get served, they have people roaming the aisles selling food and drink too, and if you're in the middle of a row people just pass the stuff along to you, it seems to work although I can't see that happening over here because if I was the last one on a row and the food was being passed along by Stu, John and Deano there would be nothing left of it by the time it reached me!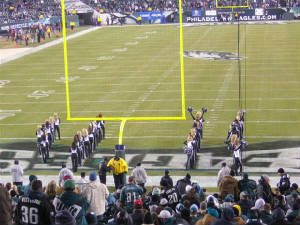 The game is going better than even the fans expected as the third quarter sees the home side go further in front to the sum of 34-13. After a recent slump there's hope that this will revive their play-off hopes. The game ends up 48-20 in the Eagles favour and we couldn't have asked for more, plenty of touchdowns, some fierce tackling and of course, me getting to see the cheerleaders.....lol. As it's going to be a while before we can get out of the parking lot we take a slow walk back to the car. There's still people eating even now, and having 'one last beer for the road'.
It wasn't as difficult as we thought to get out into the main stream of traffic, although some of the driving you have to see to believe, and I don't mean Jeanie either. People just cut across to get into the lane they want to be in, and then decide to signal. It's straight forward out of the complex, just nose to tail traffic, but once we're over the bridge and back in New Jersey it was a steady drive homeward as we listened to some classic rock on the radio. I must admit , I'm quite proud of the directions I gave Jeanie to get us there, although to be fair, John (her ex-boss) made them that easy that even I couldn't go wrong !
It's what is called Black Friday here now as it's already passed midnight, (we've only been at the stadium just over 6 hours). It's similar to our Boxing Day, where everyone goes sales mad at the shops, with some of them opening at 4 and 5 in the morning, and one or two just after midnight. We did think about going into Deptford Mall and seeing what was on offer, but decided against it and instead called at a WAWA for a hot-dog, hot chocolate and a Tastycake for afters. Just to explain, these places are like roadside convenience stores where you can get food to buy to cook at home as well as take away food like ours, and sandwiches and salads etc. It's just part of daily life that people drop by these places and grab a 'coffee to go'. I love them and Jeanie has even bought me my very own WAWA mug which goes everywhere with us. We finally arrived home on the stroke of 1am, and of course, we're no longer tired so end up watching the TV until some unearthly hour before finally falling asleep. It was certainly a football game with a difference for you regular readers, but a great experience for me. Until next time.
Happy Travelling
Retford United v. Sheffield FC 10/03/09
It's the last day of my long weekend, and I spend most of it just chilling out and going to the movies. I get an email from Deano to say he's not going tonight due to feeling a bit rough and also having a busy week ahead of him, but he's going to call me when we're there so he can do a regular up to date report of what's happening on the site. It's been a nice and sunny, if somewhat cool day, so I'm going to make sure I get well wrapped up as I reckon it will feel a lot cooler later on.......especially if we're losing.
Once John has picked me up it's off to pick Stu up. It's Sod's Law that we've allowed extra time to get there because of the tea-time traffic and yet we sail through with no traffic jams anywhere, arriving ten minutes earlier than expected. Mind you, this usually happens when Stu is coming to pick me up for a night match, so we usually have time for a cuppa and a chat before setting off to pick the others up. Even the journey from Stu's to the ground is uneventful and we get there in plenty of time. The steward directs us into a parking spot, which is not too difficult as they have a massive car park. We then have a natter to him about gloves, because we're all there getting on our coats and hats etc and he say's he wished he'd brought his gloves as his hands were freezing. Funnily enough, the guys in the next car, (also Sheffield regular away supporters) are just about to walk to the turnstiles when the steward tells them that one of them has dropped a glove. He then say's, "I should have kept quiet shouldn't I? Then at least I could have kept one hand warm."
Me and Stu go through and wait for John, who finally shows up with a smile on his face. We wonder what he's smiling for until he announces, "Well chaps, it's a momentous occasion as I've just paid my first concession price to get in." You see, getting older does have some benefits! It's off to the snack bar and chip butties for me and John while Stu goes into the clubhouse to find Steve. We also get some teas and Stu some Bovril, which is getting cold as we wait for him. He eventually shows up, apologising as he'd got chatting to Steve and forgot about us. Anyway, we follow him and go and sit with Steve to finish our food and drink in comfort.
He and Steve are talking about watching Manchester City in their European games this season. Steve is a City supporter and Stu is one by proxy thanks to Liam! Anyway, Stu was telling us about his latest escapade to get tickets. Now it seems that being as most of the games are being covered live on the TV the club have reduced admission prices to something like £10 adults and £5 for kids. Well, Stu went online to buy the latest ones and had trouble getting the correct details up. He was putting Liam's City supporter membership number in but it wasn't giving him the correct details, as he could only see prices for kids and no adults (or something like that). Well the upshot of it all was that in the end he ended up getting two tickets for a fiver each, thus saving himself £5 and with an excuse that if he should get stopped at the gate he'd just say something like. "Oh, I didn't realise that both tickets were at the child's price." Knowing Stu, he'd pull it off with no trouble at all.
It's almost time for the kick off so we wander outside and go behind the goal. Although it's a bright opening by us it's the league leaders who go in front just after ten minutes, and then it catch up football from then on. The lead was extended just before the half hour mark and we were glad of the half time whistle to at least give us a break. Back at the snack bar and John is still hungry so he has another chip buttie while I just have a drink. We've already assembled round the other end when the announcer gives out the winning raffle numbers and guess what? Steve's won! As soon as he read the number out I remember seeing his ticket on the table while we were chatting in the clubhouse, so at least someone's going home happy despite the scoreline, and with £17 in his pocket he never had before half time.
Our lads huffed and puffed but Retford were holding us comfortably and just letting us get to the edge of their area before spoiling the fun for the travelling masses by clearing any danger. The game was well and truly over as a contest with 20 minutes left to play as Retford got a third goal (all scored from set pieces).
It was just a case of seeing if we could actually breach the Retford defence at all, which we did, but then Ross Turner would spoil it for us by making a save, even though we asked, then pleaded with him to at least throw the ball into the net to give us a chance. It's funny because I wasn't expecting us to get anything here, but I was still disappointed, mind you , it only lasted until I got home, then I remembered I'd got a cream filled chocolate éclair which was crying out to be eaten, so I put it out of it's misery and went to bed a happy chappie! Until next time.
Happy Travelling
Trev
Ossett Albion Ladies v. Sheffield Ladies 04/03/09
It's a pleasant change for us tonight as, due to Ossett having a backlog of fixtures we're going to watch the ladies play under floodlights in this rearranged midweek League Cup fixture. Ossett seems to be a place where we're always guaranteed some excitement when the ladies play. It could be a dismal loss when we outplayed them, or like a couple of years ago when we won 3-2, scoring the winner in the last minutes after being 2-1 down with only five minutes left. I called John before he was due to set off to ask him if he wanted me to make a flask of soup for us. He was very tempted but had to check with Lynne as she was planning to do a flask of hot chocolate for us. It turned out I was about five minutes too late, as the milk was just about ready to boil, he said that Lynne wished I'd called earlier to save her a job! It's an easy trip up to Dimple Wells, a ground we're very familiar with and in fact, from our side of the city it only takes us just over half an hour to get there, whereas it takes us longer to get to a Sheffield home match. Of course, the trip is punctuated with about seven Eddie Stobart lorries, all spotted by John. I actually bought him a model one for his birthday and he say's sometimes he annoys Lynne by pointing at it and shouting "Eddie Stobart".
It's a bit nippy tonight, but we've come prepared with plenty of layers of clothing to keep us warm. It's Caz's birthday today too, I'm sure she didn't expect to be celebrating it by playing football! With us arriving in plenty of time we sat in the car for a while before venturing into the ground. The ladies were just finishing off their warm up and heading back to the changing room when they spotted us and said 'Hi', and thanked us for coming to watch them, we just asked them to make sure the game doesn't go to extra time! There's no Helen tonight, although she may show up later, so Nigel is in sole charge.
Just before the start the referee asks Nigel to fill in the team sheet and he has to ask us for help as he's not sure of their correct Christian names! What's even funnier is that the four subs we've got are all from our reserve side so even I'm not sure who they are, although John guesses right on two of them. Picture the scene if you can of Nigel gathering the subs together then asking them, "What's your name?" This is then followed by, "What position do you play?" To top it all, if you added up all their ages they would only just be a couple of years older than John on his own!!!
Anyway, onto the game, and despite creating and wasting several chances there's only really one side in it as Sheffield take the game to the hosts. It takes 20 minutes before the deadlock is finally broken when Lisa B. turns her marker before firing into the net. Four minutes later and she increases the lead. Despite the one way traffic, the Ossett keeper was playing out of her skin, making quite a few good saves. Just after the half hour mark Lisa completed her hat trick, lobbing the ball over the keeper from the edge of the area. The game was over as a contest four minutes from the break when Rachel played the ball in and Clare was on hand to tap home from close range, much to her own relief, having squandered quite a few chances beforehand.
So half time and it's time for the hot chocolate. I'd brought some Jaffa Cakes too so we could indulge ourselves. We offered some to Charlie, Clare's mate who declined at first, but in the end succumbed to the chocolate temptations on offer. Despite the healthy lead the Ladies carried on where they left off, creating plenty of chances. Ossett were just playing for pride, and making a good job of it too, but their one real threat on goal produced a fine save from the birthday girl Caz. Moments after that Lisa B. was on hand again to nip in front of her marker and slide the ball under the keeper for her fourth and the teams fifth of the night. Helen eventually did show up which pleased John as he was getting cramp sending her texts every time we scored. It was time to introduce the young uns into the action now so some of the squad could take an early rest, knowing that there was an important league game to consider at the weekend, the unlucky one not to get game being the reserve keeper Georgia. However, Sarah R., Holly and Sarah C. didn't look out of place at this level once they'd adjusted to the pace of the game. On the hour marl Lynne scored what was probably the goal of the game, cracking in a shot from the edge of the area and with three minutes left Sarah C got the seventh goal when her shot squirmed through the keepers hands. That's pretty good going for her as she scored in the last round too, perhaps Helen ought to make sure she's on the bench again in the next round, she may well turn out to be our 'super-sub!'
There was relief from the home support when the referee finally blew for full time and joy in the Sheffield camp as all three supporters joined in with the celebrations. If anything it helped to get the circulation going again as it had turned really cold, a fact borne out as we walked back to the car and there was visible frost on the roofs of the cars and the thermometer inside Sammy registered an outside temperature of -1! Once the heating was on it wasn't long before we were nice and warm and before you know it we were back in Sheffield. John dropped me off and I decided to toast the victory by having a Bailey's and the Jaffa cakes that were left....and we were worried about the game going to extra time! Until next time
Happy Travelling
Trev
Goole v. Sheffield FC 24/02/09
Well there were no travels to take Jeanie to on her trip over from the States, but at least she left in a good frame of mind, having seen us win 7-0 last Saturday against Spalding. Today's been my day off, not bad to say I only started back yesterday, but then again I'm working right through until a week on Saturday now. So the day's been spent on doing laundry, a bit of shopping and catching up on some reading. I thought I'd got out of this fixture as it was scheduled for when I was away earlier in the year. But of course it was postponed then, and as Deano so rightly said, "Why should we all suffer going to the (so called) Pleasure Gardens while you get away with it?"
There's a bit of added spice tonight as Cops returns to his previous club, having left there a few weeks back not on very good terms. It's always good to go there with something positive to look forward to. If he's does get a game tonight then we'll be taking bets on what minute the red card arrives!
Deano calls to sat they're on their way, so I make my way down to the bus stop and then we head over to pick Stu up. Just after we've set off we pass a couple of fire engines and a cop car attending some kind of incident. Both Deano and Stu say, "Get it in the travels Trev, just in case there's not much to write about at Goole". Funnily enough, a bit further on in our journey we see an ambulance and John says," We only need the coastguard now for the full set." It's a pleasant drive over with very little in the way of traffic hold-ups. As we approach the town centre we take a wrong turn, turning down a road before we should, but we can see the floodlights so we just follow this road and keep turning left until we come to the main road and head back down there in the opposite direction from where we entered the town. As we come up to some traffic lights Stu is pointing at the train station and telling us some tales of previous jaunts up here and having to run back to the station when he had to get the train one time. While all this is going on John goes through the lights on red, he said he thought they were on green, but then again he's colour blind so we'll let him off as he rarely gets it wrong! We have to stop anyway as the level crossing barrier is down, awaiting an oncoming train. Once that's been negotiated Stu tells John, "Turn left down any of these streets John, they all end up at the ground." So John does exactly that and we end up at a dead end! So we try the next street....same again. I said, "You know Stu knows Goole like the back of his hand? Well he must have had his glove on tonight." It's third time lucky and we pull up just beyond the turnstiles.
Once inside it's a case of buy the programme then head for the snack bar, where they've got home-made steak pie on offer. Just in front of us in the queue are a few young Goolies who are quizzing us as to how many fans we've brought. John tells them four(our car full) which somehow confuses them, then we tell them they'll be about 30 or so by the time the game kicks off. We've only been playing just over five minutes when we go a goal down; I think it's going to be one of those nights. Twenty minutes later and we're 2-0 down and struggling to get past Danby and his pie munching side-kick in the Goole defence to trouble their keeper. Five minutes from the break and Jack goes off injured to be replaced by Rob Cam. John say's, "If this was being televised he could be the subject of a Cam cam." Which he then follows up with, "perhaps he's just making a Cam-eo appearance." Thankfully the ref blows the whistle for half time to put us out of our misery.
Stu and John head off to the snack bar whilst me and Deano wander round to the other end and take up our position there. With the pitch being situated in the middle of an athletics track we're stood on the sidelines tonight as otherwise it's too far away to see if we go directly behind the goals. Stu comes back with a burger which he says is pretty substandard after sampling the pie on our arrival. Back on the pitch and Sheffield get back in the game in a somewhat strange way when we're awarded a penalty. Jordan hits the bar with his spot kick, and just as he's about to strike the rebound (which would have given the opposition a free kick) Danby's sidekick flattens him and we get another bite of the cherry. This time Jordan makes no mistake to the delight of us and outrage from the Goole fans and their players. At least they've woken up. Of course it's like Custer's last stand then as Sheffield pile on the pressure, and Goole do anything to get the ball out of their half. Unfortunately things take a turn for the worse with about ten minutes left when Daz is red carded for a second booking, blocking their winger as he tried to go on a breakaway. He knew what he'd done as he was already walking towards the changing rooms before the ref had got his cards out of his pocket. Despite this, it was all Sheffield for the next five minutes or so with what seemed like 8 attackers and one defender, but all to no avail as Goole held on and then played 'keep ball' for the last few minutes of the game.
As we made our way towards the exit me and Deano just looked at each other and then said, "Well at least we don't have to come here again this season." Once John has got the man of the match votes in, it's back to the car and off home, listening to 5-live for a change. I must admit I did nod off at one point as I was knackered and once John had dropped me off I couldn't even be bothered to open the packet of Jaffa cakes I'd left out ready for my home coming, instead, going to bed intending to watch some footie highlights, but instead, falling asleep as I'm sometimes prone to doing. Oh well, it's only Retford away on our next journey! Until next time.
Happy Travelling
Trev
Rushall Olympic v Sheffield FC 31/01/09
It's my day off, so it's no lugging all the outdoor clothing to work today for a change, and boy are we going to need those extra layers as it's predicting temperatures just above freezing. Stu is working so I'll be trying to multi-task again, so no chance of me being able to keep my hands in my pockets, although if it's anything like last Tuesday's match against Glapwell, then there could be a chance of me leaving my hands in my pockets as they'll be bugger all to write.
First thing this morning is a trip into town to pick up some tickets to see Thunder in July. No, I'm not a long range weather forecaster, it's a group, or as the terminology is these days.....a band! For some unexpected reason I fancy a liver and onion sandwich, so I call into Somerfield's and get the appropriate stuff while I wait for the City Hall box-office to open. Once I've got the tickets it's back on the bus and out with the frying pan. After my sandwich there's just time for a glance at the paper before getting ready for the match. It's a noon start for us today as John arrives with Deano. There's a hell of a lot of traffic on Attercliffe, probably on the way to Meadowhall. We thought that perhaps there way have been a crash, but I think it was just the volume of cars heading to the shopping centre. John say's, "Haven't they got any consideration for people who need to get to a football match? They could have gone shopping at any time!" Once we're through the hold up it's a good run down, mostly by dual carriageway and the time seems to fly by, as does a couple of Eddie Stobart's and a James Irlam too.
We've done that well with the journey that we arrive at the ground before two and have no trouble parking. We sit in the car for a while to listen to the rest of the Jason Byrne show, it was so funny. We eventually decide to drag our arses out of the car and go into the ground. They produce a really good programme, it's almost like a mini novel even if a lot of it is local news, and at least it's not full of adverts. It's just a pity that the ground isn't of the same standard as it's a bit run down to say the least. First stop as usual was the snack bar. This was more like our own burger van and it was the most up to date thing on show there, especially as they had 'real' burgers and giant sausages for the hot-dogs. It was almost on a par with Thackley for that.
After that it was a trip to the gents for me and Deano and no, this was NOT to act out any George Michael scenario, we just needed a pee. Well, whoever fitted the urinals in there must have added at least another foot on their measurements as they were so high up even I had to almost stand on tip-toe to aim straight...God knows how Deano went on with his little legs! On the team front, we had two 'new' signings on show, although one of them had been with us before. In the starting line-up was Adam Fretwell who was at Worksop, amongst his previous clubs and the other one was a welcome return to Stewart Copnell, yes, Cops is back and all the Sheffield supporters I talked to were very pleased with this news. We wondered what all the police vehicles were for on our last bit of the journey here! As the subs came out Cops came over for a quick chat and we shook his hand. John then said, "Better count your fingers lads." Believe it or not, he is a great guy to know, but once he's in his kit and crosses onto the pitch you definitely want him playing for you and not against you. I once remember me and Stu going to watch a local end of season final down at Bramall Lane and Cops wanted to take on all the visiting supporters.....and he wasn't even playing, he was just sat in the dug out with his team mates!
The first half see us create chances to take the lead but it's the hosts who go into half time with a 1-0 lead. We head back to the snack bar and John avails himself to some soup while I have a hot chocolate for a change. Then it's a walk round to the other side. I pass Mal on the way and ask him if they (Rushall) have any badges, but he tells me the club shop has been shut all day and no one was there to open it, how's that for business. I walk in front of the stand, part of which is seating consisting of breeze blocks with planks of wood on them, it reminded me a bit of the olden days when we used to go to Denaby. In fact I remember going to Manchester City once to watch Wednesday and the away stand there had planks of wood with numbers painted on them...as if you're going to get a load of highly excited, not to say inebriated football supporters to sit in the right place on a plank of wood!
Anyway, back to reality, and as the temperature drops another few degrees we settle down behind the goal for the second half. It doesn't get any better early on as the team struggle to find any way through, and to make matters worse Rushall increase their lead when Walker watches a free kick from just inside the Sheffield half sail over his head and into the net. I keep myself entertained by watching the traffic in the sky as the planes fly in and out of East Midlands airport.
At last there's something to cheer when Cops is brought on and he immediately livens things up. The team at last start to have that 'edge' and get back into the game when Woolley jinks inside the area and squares the ball across and Cops is there to smash the ball home, almost taking the goalie with the shot too. The excitement didn't last too long though as with about ten minutes left Rushall went and got a third goal, negating all the efforts of a resurgent attack. However, we did have the pleasure of seeing one of the best goals of the season when, on 90 minutes Cops got his, and the teams second goal with a scissor kick, volleyed into the roof of the net before the keeper had time to react. Needless to say, our cult hero ended up with the man of the match, not just for the goals but for the enthusiasm too, which seemed to lift his team mates when he came on.
With the evenings drawing out too it was nice to get back to the car just as it was dusk. We have a laugh on the way back as Deano reads us out the rest of the footie scores from his blackberry in his best James Alexander-Gordon voice. Then it's time to sit back and listen to some music on the way back for a change. We've all warmed up now, and hopefully looking forward to more warmer weather to come, mind you, it is only the end of January so who knows, we may be in for snow or a plague of locusts before we get to spring! Once John drops me off I get the report done, talk to Jeanie and have some spaghetti on toast to eat as I can't be bothered to do anything else. At least I manage to get it all in my mouth and not everywhere else because you know what spaghetti's like. I figured then I may as well head upstairs to watch the TV, needless to say, that didn't last too long before I was sound asleep, finally turning the TV off around 2.30 when I got up for pee! Until next time.
Happy Travelling
Trev
Leek Town v. Sheffield FC 24/01/09
It's a work day again so after arranging a pick-up time with John last night at badminton I'm ready and waiting for him outside the hospital. It's a new ground for us to visit today which is one of the big advantages of finally getting out of the NCEL. After all, there are only so many times you want to be visiting places like Armthorpe and Brodsworth! It's quite a pleasant day when John pulls up, a bit cloudy but bright nonetheless, if a little on the cool side, but after coming out of a hot kitchen I'm glad of some fresh air. I've come prepared for the match anyway, with about five layers of clothing on.
It's a good drive over and we don't get lost once! Parking is restricted but we're early enough to find a place on the road bang opposite the ground. Once inside the first stop (as usual) is the snack bar. I have to say here and now that they serve some of the best food we've tasted all season. I just had a bacon sandwich as I'd had a bite to eat at work beforehand. John tucks into meat and potato pie with peas and gravy and can't praise it enough. In fact in the end even Deano is tempted and goes and orders the same, this is after he'd already had a burger and onions! We've also got our eyes on the sausage rolls too, which we may well sample at half time if there's any left. Some of the others arrive and as they're queuing up to get served John is telling them about the pies. I tell him to keep quiet or else they'll be none left in case he wants another one. I actually go and ask the ladies serving what make they are......they're made by a local butcher which probably makes all the difference. I tell her it's the best we've had, which she thanks me for, but doesn't offer any free samples out.
After the last weeks debacle at Belper we wonder what's in store for today. Sheffield start the game well and have a great opportunity early on when Sean Gordon shoots but the keeper saves, however the rebound falls straight back to him but he fluffs it by putting it wide of the open goal. We all let out a big groan and Stu says, "I thought Burkie's miss at Pickering a few years ago was our worse miss, but it's just been eclipsed!" Funnily enough, we all agreed, as we've now re-christened him Gordon Bennett. The lads take the lead on 23 minutes though with a cracking shot from outside the area from Jack Muldoon the nestles in the top corner, and it was fully deserved too as the lads are playing really well. Then, just after the half hour mark (as Stu would say), Sean makes up for his earlier miss by heading us further in front to the shouts of , "Gordon's Alive!" from our massed ranks behind the goal. Leek manages to pull one back after a goalmouth scramble but things are looking good. Just before halftime I start to make my way back to the snack bar for more supplies which is a first as we don't usually move until the ref has blown for half time, but the allure of something in pastry is too strong to resist and we don't want them to run out of stuff before we get there.
You can tell just what an impression the pies have made on John as he wants another one! He asks for steak pie this time, but they'd run out of those so he has the same as he had before the match. I get one of the sausage rolls, Deano is still full so doesn't want anything and Stu just wants a drink. We make our way around to the other side and John plonks himself down on the steps for an alfresco picnic! I didn't taste the pies but the sausage roll melts in your mouth too. Back to the action and the lads have to do a lot of defending the second half as Leek press forward, but they still have chances to go further in front but can't capitalise on the opportunities. Just over ten minutes to go and Leek equalise, but the lads hold strong and earn a deserved point. Some might look at the result and say we squandered a two goal lead, but to those that were there, this was a battling performance that certainly deserved something, and after last week's match you wouldn't have had much faith in the team today but they did us proud and could even have taken all three points.
Me and Deano went to find the toilets before the long journey back while John collected the man of the match votes. Then we lost him as he must have been waiting for us at the clubhouse as we were waiting fir him at the turnstile. Anyway, we made our way out and saw him walking to the car. The main talk on the way home was the excellent food, and making sure we study the fixture list when it comes out next season to see when we're due here again.
No problems on the way back, though I do hope that next season's fixture will not be in December or January when there's more likely to be bad weather around, the food will sustain us, but first we have to get there. Funnily enough, I'm not that hungry when I get home and end up just having a bowl of cornflakes, followed by some Jaffa cakes and a hot chocolate with a Bailey's in it........no wonder I slept well that night!!! Until next time
Happy Travelling
Trev
Belper Town v. Sheffield FC 17/01/09
I've been on holiday this week so it's nice to be able to stay in bed a little bit longer than usual, which in my case means waking up around 6am instead of 4am! Downstairs I take a look outside and it's pi...err, raining very hard. Hopefully it will clear up pretty soon. Thankfully, by the time I venture out it's just a slight drizzle, and if it gets bad this afternoon at least we can take shelter in one of the stands if we so desire. I need to make a trip into town, so get that out of the way early on, as soon as the shops open. On Monday I went to get some more safety shoes for work, so I've been 'wearing them in' this week whenever I can. Of course I'll be doing the same this afternoon as they should keep my toes nice and warm too. It's just a bit of tidying around this morning and ironing some uniform ready for work, and then I can settle down and read the paper and watch the TV for a while.
I set off to walk down the road to meet John and Deano, scoffing a mince pie along the way. Only another dozen to eat then all thoughts of Christmas will be over....oh, apart from the three Christmas puddings in the cupboard and the fruit cake that Joy made! It's a bright sunny day, with a clear blue sky, but there is a cold breeze blowing so although it looks nice, unless you're wrapped up you're going to be freezing your bits off! We spend the first part of the journey discussing the latest issues surrounding the club and the comings and goings of the playing staff. In between all this John still has time to spot two Eddie Stobbart lorries, one in the normal livery and one in white with green lettering. A bit further on our journey Deano spots another one coming towards us on the other side, then he realises it's just the cab that's an Eddie Stobbart, so he turns to John who's smiling and says, " So that's why you never shouted for that one." Then it's time to have a laugh listening to the comedy hour on the radio. We actually get to the ground a little quicker than we expected and park round the back of the ground like we did last year, only this time we tried to avoid most of the pot holes instead of driving through them.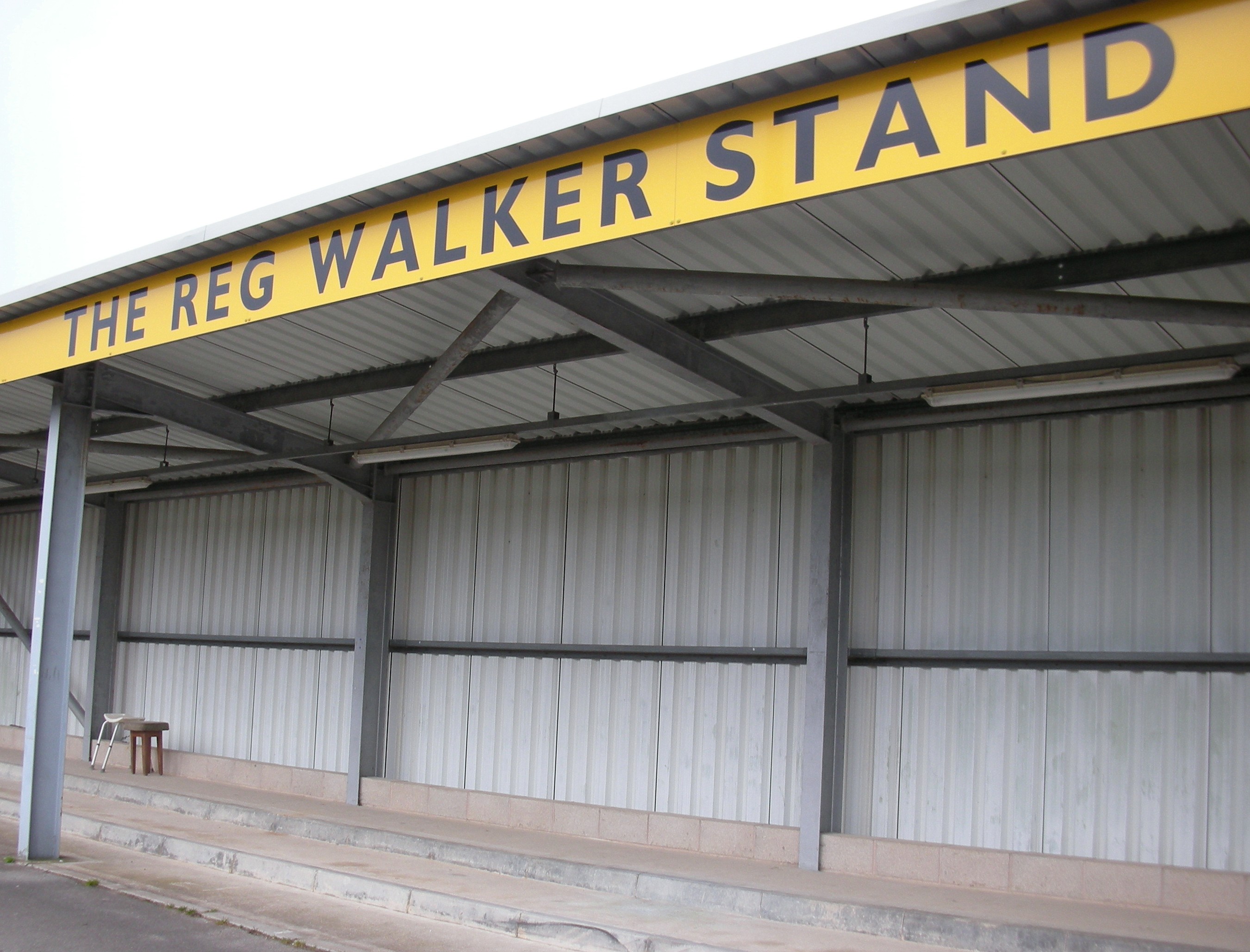 We get into the ground and notice straight away just how well Belper are doing financially as since our visit last season they've doubled the seating capacity in the Rag Walker Stand.......there's now two seats instead of one! One thing about coming here is that you know the grub's good, so, as Deano takes a photo of the said stand John is almost at the snack bar, drooling for food. I settle for a portion of chips while John has sausage, chips and peas. Deano goes in search of the team line-up (they usually have one posted in the bar) and comes up with the novel idea of actually taking a photo of it instead of writing it down, saying, "Why didn't I think of that before?" A bit later he said, "Perhaps I could paste it onto the top of the report Trev, Trev?" I'm busy chewing on a chip so can't talk. He said, "There was just no recognition of what I'd just told you then." I replied, "Yes, I fixed you with my steely gaze!" He just rolled his eyes.... (so I rolled them back to him.)
I go to write the team down as Stu is unavailable today and it's then, as Deano is talking to Chris that I hear that Vill has also left the club and Joined Stocksbridge. That's partly the reason why we've got four new players in the side...well, five if you include our manager whose spent most of this season on the sidelines. Geoff phones Deano to say he's at Glapwell, watching them play Stocksbridge; rumour has it that Smudge might be the next to join the Stocky bandwagon.
Now last season we came here twice, scored early and went on to win. Well obviously someone's changed the scripts and not told our players, as it's us that go behind to an early goal this time. The ball goes out of play behind us, but none of us are willing to go and fetch it as there's a big patch of mud to cross first and no one wants to chance going head over heels and becoming the laughing stock of our merry group, because you just know we'd laugh our heads off before going to see if they were alright. Eventually someone in a suit from Belper tiptoes across the mud to get the ball. Well we're only 1-0 down at half time, which is not bad considering that the players don't really know each other.
It's back to the snack bar for us, this time to have a cup of home-made soup which was very nice, and well appreciated, at least I had a chance to warm my hands on the side of the cup during the break. Just in front of the snack bar they've put up one of those portable cover things and John comes out with, "That wasn't there last year was it Trev?" "No john, it wasn't."....."In that case it must be an early awning system." Oh come on, why should I be the only one to suffer!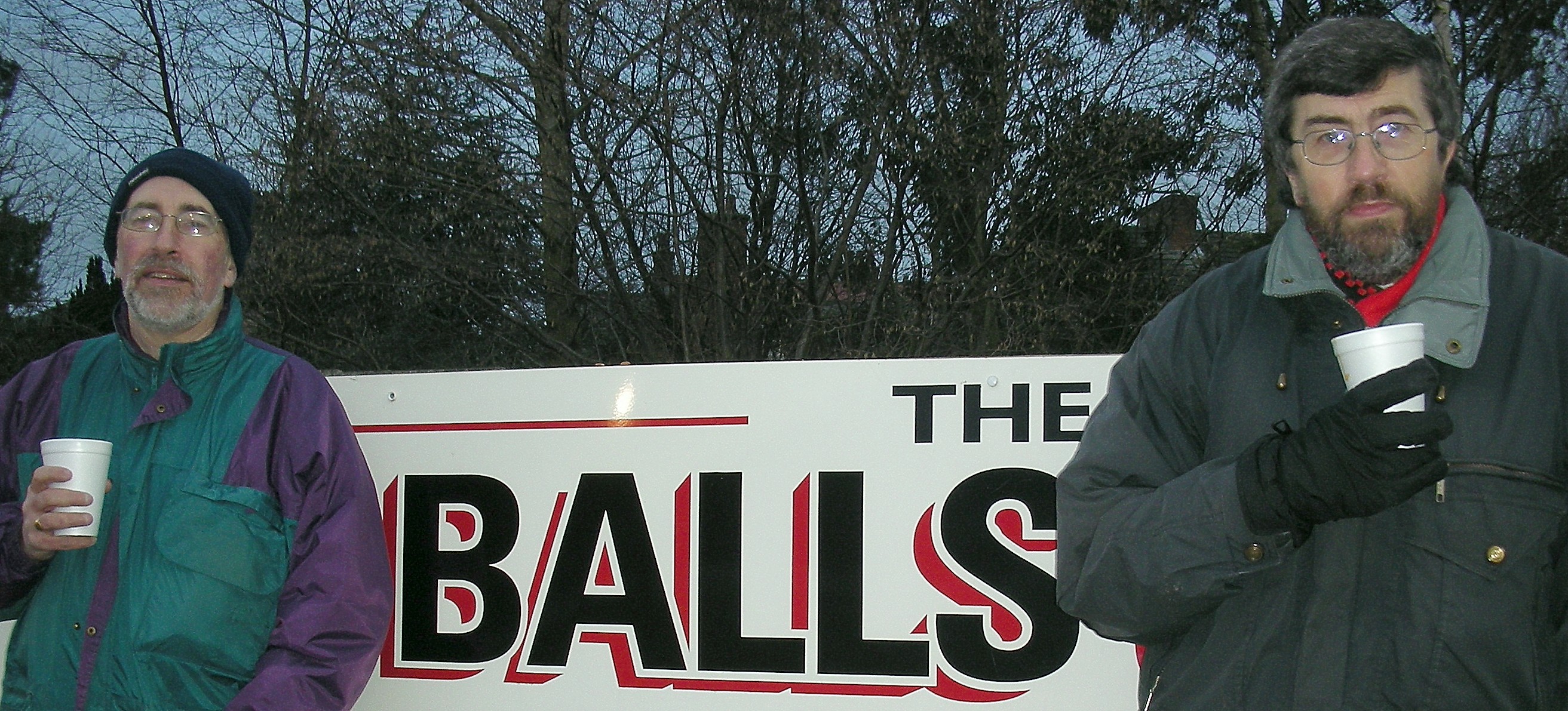 The second half was painful to watch as once again Belper scored just after the restart twice, but thankfully one of those goals was disallowed. There was little for the travelling supporters to cheer as the team never looked in it and were struggling to string passes together. Belper wrapped the match up with a third goal and there was still over half an hour left to play. At this point Deano took a photo of me and John stood either side of a sign that summed up today's game (see Picture). We even see Deirdre and David sneaking out before the end. We were going to wave, but they turned the car round so didn't have to pass us on their way out of the car park. At the final whistle John went to get the man of the match votes and when he came back he said, "It's been a struggle to get anyone to vote today." We'd even thought of suspending it for this match, but thankfully there was a winner, and you never know, at the end of the season one vote could swing it for anyone....providing whoever wins at the end of the season is still here at the club!
It's a good drive back home, listening to the radio as usual and once I've thawed out I get on doing the report, which doesn't take long and then settle down for the night. I even stayed awake to watch the football for a change! We've no midweek game so being as I'm working next week I can plan on whether or not I need to finish early. Until next time.
Happy Travelling
Trev
Hallam v. Dinnington Town 14/01/09
I'm on a week's holiday this week, and with last Saturday's game being called off I had to console myself with just reading the Green 'Un that night to get my fix of non-league news. I noticed that the fixtures for this coming week included Hallam V. Dinnington Town, and being as we didn't have a midweek game ourselves(and depending on the weather of course) I thought I'd bear this in mind. It would be somewhat like watching a Sheffield practice match with all the ex-Clubbies involved from both sides, and of course, with us now being in the UniBond and Hallam having no chance of promotion the trips to Sandygate are now few and far between. I'd informed the Posse of my intentions and both Deano and John made an early decision to give it a miss. Stu said he'd phone me the day before as he was working on a project at work, so it was subject to him getting that out of the way first.
I spent the day relaxing, going to the movies and tidying away the stuff from Christmas...too many clothes bought and nowhere to put them! Stu called around two O'clock to say he would be at the game and to meet him there as first he had to pick Liam up from football training. I set off and made my own way there on the bus, no trouble getting there as it was a familiar route being as I used to get the same bus when I worked at Lodge Moor Hospital. Stu told me specifically not to get him a programme as he didn't want to feed the coffers of Hallam any more than was necessary, also adding that their programme is crap anyway. I must admit, I did buy one, so I could send it over to Jan, but it took me only five minutes to read it all, and I'm a very slow reader!
I must admit, I have a soft spot for Dinno (although Sheffield will always come first) as Me, Stu and John have visited Phoenix Park when Steve Toyne (our ex-reserve team manager) first started out there, having to erect barriers and dug-outs before each match. I had a chat with him when I arrived. He also still has one of my favourite ex-Sheffield players Liam Cartledge still playing for them (returning this season after a serious injury). Also on show for Hallam were Wardy, O'Carroll, Tev and Billy Rowley. They also had a pie muncher at centre half, who I didn't recognise at first until I turned to Stu and said (Pointing), "That's Ben Cressey!"
Stu turns up just before kick-off, having dropped Liam off at home first. Steve is also there; he's a mate of Stu's and couldn't believe that he (Stu) had turned out for this. I told him it was my fault as I had persuaded him. I go and get some chips from the snack bar, made a change from the usual 'well done' sausage rolls. The game gets underway and it's clear that Dinno are the better side as they make the Hallam players run around like headless chickens. They take the lead after only 7 minutes when big Gavin Allott out paces his marker on the right and fires a low drive past the keeper. They should have increased their lead ten minutes later when Cartledge is fouled in the area, but Gavin Allott hits the penalty against the post. Whilst all this is going on we're busy nattering about all sorts. Apparently Steve likes American football like me and was sad to hear that the New York Mets had lost to Philadelphia Eagles in the play offs. Being as I'm an Eagles fan it gave me the chance to gloat. We talked about our trips over there. My first experience of a live game was this year (see my travels on it at a later date) whilst he's been going every year for a few years now, visiting at least a couple of games on each trip. Anyway, with that out of the way we then get discussing the situation at Manchester City. Steve also watches them and Stu HAS to go and watch them occasionally as it's one of Liam's favourite teams. On the pitch it's still Dinno making all the play, and when Hallam do get forward the defence hold firm. By the way, Wardy was playing as a centre forward but had very little service.
Half time and it's back to the snack bar, but only for drinks this time. We get talking about their recent trip to Leicester to visit the new Walker Stadium, another first for Stu. They were meeting Neil there and they were telling me he was well tanked up when they met, but still went for another drink before the game.
The second half here gets underway, and with Dinno now playing down the slope it's difficult for Hallam to get the ball out of their half, oh I was so enjoying this. Dinno went further ahead when the ball was only half cleared and Axcell's first time shot from 30 yards found the bottom corner of the net. Back to Stu's story, well they all ended up sitting behind this family and Neil was being very loud, so at half time they made their way back to the bar and then decided to go and sit somewhere else. So when they found some seats, who should be sat in front of them again? The same family....they had also moved to get away from Neil!! Back to the action and Dinno were now totally in charge as our Liam (Cartledge) scored a stunning goal...from all of three yards out, a typical effort from him.
Hallam brought on Tev and moved Wardy to defence, his long ball finding Tev one-on-one with the keeper who had no chance. That was on 80 minutes, but their rejuvenation only lasted five minutes as Gavin Allott grabbed his second and Dinno's fourth of the game. The hosts made the score a little more respectable when Knaggs grabbed a late goal on the stroke of full time. Stu was kind enough to take me home so overall it was an enjoyable if somewhat cold evening and with the recent postponements it was good to watch some live non-league footie, even if one of the teams were Hallam! Until next time.
Happy Travelling
Trev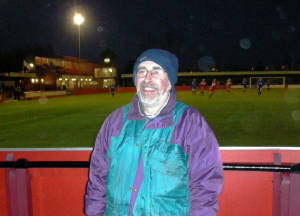 Read all about Trev's Big Clock, or rather Ilkeston's big clock
Ilkeston Town v. Sheffield FC 03/01/09
First of all I'd like to wish everyone a Happy New Year! After the victory over leaders Retford in yet another cracker of a match against them it's back on the road and at last a Saturday game. After all the Bank Holidays followed by weekends I tend to lose track of exactly what day it is as they all seem to blend into one when you're at work. Today we're off to UniBond Premier side Ilkeston Town for our last chance of cup glory this season with a Fourth round tie in the UniBond League Cup.
On the way back from badminton with John last night I arranged with him to be picked up a little earlier than normal from work, and if I can get out any earlier than that then I was to Phone Deano as they would be parked up nearby somewhere. Of course it's bloody typical that I do in fact finish earlier than expected and once I'm outside I try and call Deano but I can't get through with either a call or text as the message on the phone keeps saying the system is busy! So when they arrive at the allotted time, they ask, "What happened to the phone call?", so once I've explained that I clamber on board and off we go.
As usual we listen to the comedy show; today it's a new one 'starring' Ivan Brackenbury in a spoof hospital broadcast which was really funny. I also took the opportunity to 'rest my eyes' although now and again I kept on hearing John voice shouting "Eddie Stobbart". I wake up just as John spots another one going past on the other side of the road. It's overcast and cold, but I'm well wrapped up for standing in this weather, I just hope it doesn't rain. The journey down is straight forward and we have no trouble finding the ground. We park up around the back of the place and John has a natter to one of the officials as we walk towards the entrance. John is first through the turnstile and as me and Deano follow him there's one of the local ladies (on raffle ticket duty) holding two cups of tea. So I said to Deano, "Hey look at this Dave, they even give you a cup of tea as you walk in," and go to grab one of the cups which makes everyone laugh. It's a tidy little ground with its own clock tower over in one corner plus what looks like a new stand which looks a bit odd as it only reaches from the touchline to the edge of the penalty area. After getting the programmes the first stop is the snack bar. They've got burgers on the menu and I can see that they have a proper griddle too. John say's he'd like a burger, but asks the gut if they're the boiled ones. He replied, "No, do you want a boiled one?" John say's "Not on your life, we've only just got rid of those at our ground!"
Stu turns up with Liam just before kick-off, which is pretty good going being as he didn't leave work until 2.10 and in his travel notes he said to allow around one hour ten minutes to get from the centre of Sheffield to Ilkeston!
We go and take our places on the terracing behind the goal, quite a novelty having what know as 'old style' terracing with barriers. They're even thick enough to rest your cup of tea on. As usual Liam is eating a pie with sauce on. Stu tells us about the number of occasions when he's taken the young 'un to watch Man City and he's wanted something to eat on the way into the ground which usual results in his blue replica shirt having the added colour of red, brown or yellow, depending on which sauce he's decided to drown his food in! It was a pretty patched up side to the one which played against Retford forty eight hours earlier with a few of the under 19's drafted in and even manager Chris Dolby in the starting line-up. Even the bench was like a hospital waiting room with both Asa and Gav named , but carrying injuries anyway, so very unlikely to set foot on the pitch. So if changes were going to be made it would a chance for youngsters Danny McKenzie and Joel Purkiss to take their chances.
It was a good first half, with the lads creating some good chances, whilst at the other end Ilkeston were wasting some clear cut opportunities to get on the scoreboard, with 'Grizzly' Walker also playing his part with some stunning saves. Despite being well wrapped up the cold was still getting through so it was good to have a walk at half time to try and defrost my feet! John said he was going back to the car to drop his bag off while I got in the queue for some hot drinks and a plate of chips for John. I have to wait a while to get served and John is still nowhere to be seen so Stu helps me to carry the food and drinks round to the other end. We eventually meet John who said he'd had a right job trying to get out of the ground. He asked a steward and ended up having to go to the very far corner to the gate there as all other entrances were locked and bolted. As John pointed out, what if we had had to evacuate the ground in a hurry?
We went to join Andy, Caroline and Jackie behind the other goal. Not as good a view here but being as we were the only ones in that spot it wasn't as if our view of the game was blocked. The lads are doing well considering the strength of the side and the opposition and I said to John optimistically, "It could be another Halifax," (meaning that we had a makeshift side out that night and almost caused an upset.)John's reply was, " Yes, but we lost that one too!" As if to hammer the point home the hosts took the lead just three minutes after the restart. We then get on about the ornate clock tower they've got. Deano says, "We could have one of those in the far corner of our ground," My reply to this was, "Yes, but ours would probably just be one of those big kitchen wall clocks on a stick!" Despite being a goal down we're still creating chances, Vill hitting the bar with the keeper stranded, but that was the end of our joy as Ilkeston then scored another two goals in quick succession. The young subs got a chance to have a run out, but the game was already over as far as Ilkeston were concerned as they shut up shop and kept their goal intact. At last the final whistle puts us out of our misery, not so much for the loss, but the fact we were all freezing cold! John didn't get many man of the match votes as most of our fans had rushed into the clubhouse for a warm. We hobbled our way back to the car on frozen feet and thawed out for a while before we set off for home. It seemed a very quick journey back and I warmed myself even further with a bowl of soup before settling down for a night of TV watching , which of course ended up with me falling asleep while the TV played to itself. Nothing new there then! Until next time.
Happy Travelling
Trev
Stocksbridge PS v. Sheffield FC 27/12/08
It's back to the travels after missing the last few fixtures due to work. I hope you all had a good Christmas, all I seemed to have done is work and sleep, but still enjoyed having my Christmas dinner at Joy and Les's. Actually today is a bonus for me, because if the match had been yesterday (Boxing Day)as was originally planned, then I would have missed it as I was working an afternoon shift, but today it's an early shift so I'm outside and waiting as John, Deano and Maz arrive to pick me up. It's an easy drive up to Bracken Moor and we get parked up and stay in the warmth of the car for an extra 15 minutes before braving the elements. The temperature is hovering around the freezing mark, and being as this place usual has its own micro-climate anyway I made sure I was well wrapped up before leaving work. Although it's cold, at least this time we can see all the pitch and both goalmouths, unlike our last trip here which the records show we lost 3-0 but to us it finished 0-0 as we never saw the Stocky goals due to the fog! Geoff is here, loud as usual and full of good wishes, although it doesn't extend to buying us a cup of tea. John is hungry so he has pasty and peas while I just have a drink. As usual the Stocky announcer tries to be funny, or in our case just being himself, (which translates to an arsehole), by introducing the lads as the team from Dronfield.
Once we're ready to brave the elements it's back outside and we see the lads are kicking this way (towards snack bar) first, so we go and stand behind the goal. Chris is here once again, visiting family during the holiday and even Les and his son Chris have turned up, I only saw Les yesterday and he never told me he was coming. It's an entertaining first half which Stocky could have opened the scoring with in the first minute. Nice to see Vill back in action after his early season injury, it's almost like having a new signing. He misses a couple of chances early on but gives the lads the lead five minutes before the break, cashing in on a cock-up between defender and keeper to coolly slot the ball home.
Half time and Les heads off to the snack bar for Bovril while we give it a miss this time and take the walk along the front of the stand to get behind the far goal. John asks me if Les and Chris will be giving me a lift home, so when they get back from the snack bar I ask Les, "Any chance of a lift home?" and he says, "Yes, no chance at all!" Combining this comment with an evil laugh. Thankfully he was only kidding, so John will be able to go straight home with the others instead of driving more or less past their houses before having to drop me off.
The lads almost doubled the lead straight from the restart, but young loanee Newsham does all the hard work before hitting it straight at the keeper. It's end to end stuff now and it's inevitable that the Steels draw level just before the hour mark, when it seems from where I was stood our lot were trying once again to play the Arsenal offside game! Both sides had chances to win the game, but I suppose we'd have taken a point before a ball was kicked this afternoon. I give John my man of the match vote and head off with Les and Chris for the car. It's an easy journey back home and I'm getting warmer by the minute as Chris has the heating on to thaw out the blocks of ice that started the day off as feet! Once I'm home it's time to eat, let's see, what can I have? Well, I end up having cold turkey and stuffing sandwiches and just to make the day complete, follow this with a couple of mince pies, how's that for originality! Until next time.
Happy Travelling
Trev
Grantham Town v. Sheffield FC 06/12/08
Having arrived back from America on Wednesday and then having two hectic days back at work I'm glad I'm off today and also getting back to watching some live footie. Mind you, it's still been a busy morning, finally getting all the clothes and other stuff from my trip stored away, having to nip into town and then going down to Joy and Les's to look after the animals while they have a weekend in York.
There's no Stu today as he's working and won't get finished in time to get there, so I'll be attempting once again to multi-task with this and the match report. It's a really bright and sunny day, but very chilly, so I'm making sure I'm well wrapped up as by the time the second half starts the sun will be vanishing for the day and it will feel even colder. We spend the journey down with our usual routine of listening to the comedy hour on the radio and I also take a long look at the back of my eyelids. I opened my eyes again to find us in a bit of a tailback, and in front of us is an Eddie Stobbart which I point out to Deano and John, but they told me they'd spotted it a while ago. John then shows his prowess by spotting a Preston's of Potto as one of those rarities goes past us on the opposite carriageway. He then seems to be the first to shout at every Eddie Stobbart we see before me and Deano have time to react. It's just after 2pm and even now the moon is out which is kind of a strange, as if I turn my head and look the other way I can still see the sun shining. When it's almost time to leave the motorway John hands Deano the directions to follow, and just as we get to the slip road John completes his 'hat-trick' by spotting a James Irlam, which is quite a feat as I think it's only been done a couple of times before since we started this lorry spotting all those seasons ago. Me and Deano are in agreement that he planned to give Deano the paperwork at that particular point as it was just a cunning plan on John's behalf. Once we're off the motorway it's just a few more minutes and we're there.
Inside the ground I go and search for Andrew as I'd sent him a text to get us the programmes just in case we got held up. Once that's sorted out it's snack bar time. Both me and John have a pie, John complimenting his with some mushy peas as well. We go and stand with the rest of the gang who've travelled here and Deano informs us that the Stocky game on Boxing Day has been moved back 24 hours which suits me just fine as I'm working a late shift on Boxing Day so would have missed it altogether. He said it had been moved because of the other (professional) games taking place locally that day and that they were looking for a bigger crowd on the Saturday when no other games would be taking place in the area. He (Deano) then points to me munching away at my pie and says," It will be a bigger crowd if he keeps eating like that!" I replied with, "Oh it's good to be back." Then turned to Jackie and said, "He's missed me really as he's had no one to insult for a fortnight."
We take up our places for the start of the game and John says," The sun is setting behind us, which is the west, right?" We all agree. Then he points to the sign of the stand to our left and says," So why have they called the stand next to us the east stand?"On the pitch it's all change as there's two players making their debuts, Marc Newsham and Dan MacPherson, plus another guy I haven't seen play for us yet, David Heggerty. Dennis has turned up to grace us with his presence. Someone shouts to him, "What's up Dennis, aren't Hull playing today?" This in reference to the fact that he seems to have deserted us for most of the season to go glory hunting with Hull City in the Premiership. He gives one of his, "Come on Sheffield" shouts to which Jackie say's, "Dennis is back." The Grantham fans of course now start to make a noise, mostly grunting and swearing, and then they wonder why no one likes them. At least he's encouraging the team, although at one point he says, "It's too far away." (Referring to the distance between the pitch and the terracing, as it's a sort of inferior Don Valley) I reply with, "Not far enough." Meaning Dennis and his shouting, which makes Deano laugh. Sheffield have the majority of the play in the first half and, despite losing Ben Leonard, who was red carded after half an hour, should have been going into the break ahead.
We were just glad to move around and get the circulation going again. It's back to the snack bar for me and John to get a hot drink inside us, and we'd be able to warm our hands on the outside of the cup too. With me doing the match report too I've not been able to put my gloves on so my fingers are frozen! The second half gets underway and Grantham have a bit more possession which you'd expect being as they had the extra man, but the lads were doing well and still creating chances, new boy MacPherson blazing over a great opportunity with only the 'keeper to beat. Our little band of frozen fans had something to shout about just past the hour mark when Smudge's free kick was touched home by Scotty Partridge to give us a well deserved lead. It also silenced the locals for a minute or two as well, but they soon recovered to spit forth yet more abuse and venom at anyone who was interested. Dennis was still shouting for us as well, only thing was he was stood right next to John and making him jump. In the end John said to him, "Shout as much as you like now Dennis, I've turned my hearing aid off. I can still hear you but at least it's not ringing in my ears!" As you can imagine the Grantham team were getting desperate, none more so than ex-Hallam player Lee Mellon who was fouling every Sheffield player he came into contact with, the ref finally giving him a yellow card after a hefty challenge on Walker. With ten minutes left the home side pulled level and at this point thought they could probably snatch a victory, but that thought soon went out of their heads when Mellon was sent off for a crude tackle on Gav Smith.
So it finished all square and we waited to cheer the lads off the field. Even the Grantham Stewards had something to moan about, one in particular thinking he was 'superior' to us. Me and Deano encountered him in the car park and got into a 'debate' about all the swearing and abuse from the home fans. All he could come up with was that he was a prison officer in the real world which just about sums up why he's there.....looking after all the local criminals on a day out!
We listen to the radio on the way back and I manage to spot two Eddie Stobbarts. Well one of them was a tie between me and John, but I claimed it being as he nearly always gets them! He drops me off at home and I get changed before heading down to spend the evening at Joy's looking after the animals, which were more behaved than the ones encountered this afternoon. Until next time.
Happy Travelling
Trev
FC Halifax Town v. Sheffield FC 11/11/08
It's been cold and raining all day, at least whenever I was outside it was! Stu is doing the driving tonight and I'm the first on the list to be picked up. He arrives early so we spend about ten minutes in the house as we're too early to pick the others up. Somehow, whenever Stu is due to pick me up for a night match he always allows extra time due to the traffic, but he seems to get here without having any hold ups. You watch, the first time he thinks, "I'll leave ten minutes later", he'll end up being late! We set off to get the others, stopping to pick John up first, who sits next to me in the back, then down the road for Deano, who can relax in the passenger seat, it's still cold and wet.
Onto the motorway and Deano spots an Eddie Stobbart, it must be his front seat position, plus Stu has to concentrate on the road with the rain coming down pretty hard. Deano then goes on a roll, spotting more Eddie Stobbarts, in fact after a while he even stops shouting them out and just points instead as they go past, talk about cool ! We actually have to queue to get off the motorway for the Halifax turn off, for no apparent reason, it certainly won't be because all the traffic is heading to watch tonight's game. Now normally they charge a tenner for admission, but thankfully they've halved the price to a fiver tonight, being as its 'minor' cup competition. Good job really, because as it stands I can't imagine there's going to be that many there with the weather being as it is. Mind you, they still have the cheek to charge £3 for parking, so Stu tells them we'll not bother and promptly turns the car around and we park down the lane opposite the ground for free.
We walk back to the ground and go straight in. First thing we see is a food stall, but we bypass that for now in order to go in search of the programmes. Steve (Hall) is stood at the corner of the stand and asks if we want the side (for the match report). I thought I'd got my days mixed up and the under 19's were playing here tonight as there seems to be a lot of the youngsters playing and, (no disrespect to them) I fear the worst. With the programmes and teams taken care of we head back to the snack bar. They've got fried onions on the go which smell great. As we near the front John decides he'll have a hotdog, once he's discovered it's the proper meat sausages you cook and not the ones you just boil in a pan. I have a beef burger and onions, and even temp Deano into having one too. We wander off to get a look at the pitch and it's a great view from behind the goal as it's the old fashioned terracing with crush barriers and it's also very steep, so you know you'll get a good view even if someone stood in front of you. Mind you, there's no chance of that happening tonight as the weather will have put most people off, and it's not exactly an attractive fixture for the locals as they're expecting to win anyway.
The game starts and after an initial period of settling down and getting used to the slippery conditions the lads start to play some decent stuff, Matt Roney taking up a central striking position. His pace is worrying the home defenders. The home side create a fair few chances too, but we're pleased at the way we're playing. I've got a right t**t stood next to me, always shouting every time we tackle one of their players but disgruntled when the referee gives any decisions in our favour, talk about the character Ron Manager, there he was! Eventually I can't resist and start shouting myself, and Deano joins in. The bloke gives as good as he gets and it's all the usual banter. It's especially pleasing when we tell him how they're side is struggling to score against our mostly under 19 side!
There's no score in the first half, and we head off back to the snack bar for a cuppa and then walk round to the far side. We can't get behind the goal at this end, so take up residence at the top of the stand around the 18 yard line, some of the others are already there, further down near the front. It was good to get away from the bias of the regular home fanatics, now we're stuck near the old farts! Matt gives us a deserved lead, scoring from a tight angle as he chips the keeper, and once again we inform this other lot of supporters about all the youngsters in the side. Ten minutes to go and the buggers equalise which wakes the locals up, now we're worried it may go to extra time! It was funny because one of the old buggers was on his way out to go home when he heard the cheers to indicate that they'd scored, and he came shuffling back and sat back down. For all the effort from both sides no one could get the winner, so a collective groan went up when the referee blew for full time as now we were going to play an extra half hour. Then we witnessed one of the weirdest things I've seen. A lot of the locals sat round us, actually got up and left. I reckon they either had a curfew at the mental institute or had to get back to the old folks home.....or maybe they simply had Alzheimer's and forgot that the game would be played until a winner was found!! The lads battled on bravely and were five minutes from taking the game to a penalty shoot out when the home side scored. Another goal in the last minute gave the score a somewhat distorted look but the lads deserved the standing ovation they got from the travelling supporters. Back into the car and away we go. Thankfully it didn't seem to take as long to get back to Sheffield and once Stu had dropped off Deano and John then it wasn't long before I was home too, Stu foregoing the horn blowing as he pulled away due to the (very) lateness of the hour. I was that tired that I didn't even make a cuppa, I figured I'd be up in a few hours for work, so I may as well hang on to have my morning cuppa instead! Until next time.
Happy Travelling
Trev
Stocksbridge Park Steels v. Sheffield FC 04/11/08
It's yet another cup game for the lads, and tonight it's the tie of the round against our nearest and dearest in defence of 'our' Senior Cup. It's been my day off today, so apart from picking up parcels and nipping into town it's a day of leisure at home which suits me just fine as very dull, drizzly and basically a crap day outside. I open the parcel Jeanie sent over and find that she's included the photo of me and Jeanie which Deano took for us at the game against Bacup Borough when she was over here as it's been printed in her local newspaper, "The Daily Journal", complete with our website address included too....nice one Jeanie. She said when she emailed the photo in, the person responsible got in touch and told that she was also a football supporter so perhaps that helped to swing it, and let's face it, those of you who've met Jeanie know she's not short of a word or too so she probably used her persuasive powers to clinch the deal !
Anyway, I digress. The rest of the day is spent writing up a previous 'Travels' and ironing stuff for work while I watch TV....so much for a restful day off!
With tonight's game being played at Stocksbridge I arranged with John that I'd make my way to his house so we could set off from there as it's almost on his doorstep (so to speak.) So, not wanting to go through town during the afternoon rush hour I decided to get the bus to Lane Top where I could then wait for the number 1 or 17, whichever came first. Well it looked like I'd just missed the number 1 but I knew there was a 17 due in five minutes or so. Eventually it turned up twenty five minutes later ! It's a good job I gave myself plenty of time. It's ages since I've done this trip (at least a couple of years) and I didn't know it now took a route which more or less amounted to driving up and down every road on Parson Cross! It eventually gets back on track where I can actually identify some places through the bus window. I still end up getting off at Fox Hill shops and walking the rest of the way. John is still at work when I get there, but Lynne is in and I tell her all about my bus adventure. In fact I just realised that it took me an hour and twenty minutes to get there, and if I'd have walked it I would have done it in about three quarters of an hour. Lynne makes me a cuppa and tells me about her bus encounter today too...it appears that the driver asked her if she had a bus pass, which didn't please her too much. In fact what she said to me was, " I felt like telling him no, but I've got a good right hook!" It did sound funny but Deano helped to clarify the bus drivers' statement later as he and Maz sometimes get the bus there after shopping and the drivers ask the same question because a lot of people (me included) have a bus pass now, not just the old age pensioners. John arrives and goes to get ready while I finish my drink and chat as we watch the local news. Then it's time to go and pick Deano up. It's a straight forward drive to Bracken Moor and we're one of the first in the car park. With the crappy weather we've had even I thought there might be a chance this game would get called off and there doesn't look like much activity inside at the moment even though the lights are on so we sit in the car for fifteen minutes and listen to the radio. Who should pull up near to us.....only Geoff ! It's ages since we've seen him, and no doubt we'll lose now he's here. We decide to wander into the ground and it's very misty as you can only just see the far end of the pitch. First stop is the snack bar where John tucks into a pasty and peas and even I indulge in a pie for a change. Some of our regulars turn up and we have a chat and then eventually head outside ready for the game to start. Well the fog/mist has come down heavier since we arrived and we can only see the end nearest to us properly as the far end just looks like players in silhouette, not only that but it's raining too. Stocky score and we saw the player shoot and heard a cheer from the crowd at that end but we'd no idea who scored until it was announced, which is really helpful as I'm supposed to be doing the match report tonight too. Twenty minutes in and Sheffield finally get going and put in some sustained pressure which is good for us as we can actually see the action taking place at this end. Just before half time we're reduced to ten men when Daz gets sent off for a second bookable offence, so it's not going to make it any easier in the second half.
There's speculation as to the sending off, with about three or four different versions being given, even Daz himself isn't sure why he got his marching orders as he said he was making a comment to someone else and not the ref. Once all the players have trooped off at half time I say to the others, "Are we going round to the other side?" and John comes back quickly with, " But it's foggy that end too!" Anyway, we do make the walk and it is actually getting worse. I'm so glad I put extra layers of clothing on too as it's damp and cold too. Once the game restarts we can only just see the linesman on the far side and now we can't see the far goal at all, it's a bloody farce ! Of course it's the same for the people at the other end too as they can't see what's happening up here. I've no doubt the ref could follow the action but there's no way his assistants could see each goalmouth properly. The hosts score again and by now we've almost lost interest and are talking about anything as there was very little too see on the pitch. We did get excited when the lads were attacking and in fact we actually got a penalty as Scotty was held down, but the normally reliable striker failed with the spot kick as their keeper saved it, it just wasn't our night. Just to rub it in they get a third goal near the end and this time I don't even hear the announcer tell us who scored it. Thankfully the game ends soon after and we can all make our way home. Of course the Stocky fans are gloating about the win and think we're just bad losers. Well, it's always hard to accept defeat against your local rivals, but the thing that pissed most of us off was the fact that we couldn't see anything, I mean. You'd complain if you went to the movies and they only had half the film on one side of the screen wouldn't you? Anyway, at least we find our way back to the car easy enough and head home. Deano say's we shouldn't be too unhappy because as far as he's concerned it finished 0-0 as he never saw any goals, if only the FA would agree! lol. Thank god the heating is still on ! First job is to get the kettle on for a coffee which I lace with Bailey's then it's time to decipher my notes and write the report, with the help of the UniBond website, just so I can put down the scorers ! Then it's time for bed where I can watch the footy highlights on the TV. Yeah right, as if that's going to happen, because as usual I end up falling asleep and turning the thing off around 3 am! Until next time.
Happy Travelling
Trev
Barnsley Ladies v. Sheffield FC Ladies 26/10/08
Last night was the official end of summer time as we put the clocks back for an extra hours sleep. Well not in my case as I'd arranged with Jeanie to call me at 3am in order that we could watch the World Series (Baseball) together, (even if we were on opposite sides of the Atlantic Ocean!) The Philadelphia Phillies are playing the Tampa Bay Rays and we can chat on the phone as we watch the action. The game actually started late due to rain so I wasn't able to see the finish as I had to set off to work, but Jeanie let me know that the Phillies had won, to take a two game lead in the best of seven. It's a miserable day outside, cold and wet, I just hope it's going to clear up by this afternoon.
I'm out of work and John is ready and waiting. He's got the directions from the AA, so we're following these today, as on the corresponding journey last year we got totally lost at one point. With these directions we actually realised where we went wrong last time and it wasn't our fault, as the road signage had been changed. We got to the ground with no trouble at all, and even remembered some of the local landmarks too, which always helps. Mind you, it could have been different in the dark! Maybe it's just us, but sometimes we may have visited a ground watching the first team two or three times on a Saturday afternoon, but change it to a night game and it's like visiting a new ground altogether, and vice versa.
It's a lovely, bright and sunny day now and once we've parked up we wander into the main building of the Dorothy Hyman Stadium and get a coffee from the vending machine before heading for the main pitch. Last year we were playing on one of the pitches at the bottom of the hill, but today's league encounter sees us playing on the best pitch, a sort of Don Valley scenario but on a smaller scale. We decide to sit near the top of the stand and eventually find a place which is not too crowded, which was fairly easy to do as a quick head count reveals a crowd of 12 are there at present!
All we're waiting for now is the ref to start the game and John is getting slightly agitated as he doesn't want the game to overrun as he's been promised pancakes once again when he gets home. The game eventually starts, and a few more are now watching as the crowd has almost doubled in numbers. Cheryl turns up with Charlie and they come and sit with us. They've been here for quite a while, but were sat in the car. Charlie is well chuffed at this stage as he wanders between me and John, tangling us up on his extending lead. When he decides to stop sniffing around and lift his head up he can actually look over the seats and look down on the action on the pitch, which must make a great change from only seeing their boots and shins!
The ladies make a great start by taking the lead in the first five minutes through Lisa Bailey. In fact Sheffield was well in control, and taking full advantage of the wind at their backs. Despite a full set of officials the refereeing was somewhat haphazard at times with assistants giving decisions one way while the ref sees it as the other team's advantage, much to the dismay of the players and the spectators. I think the ref wanted to make sure the players knew who was in control and was taking no mouthing off of the players, a point he'd raised before the game apparently. All was going well until just before the half hour mark when the assistant flagged for a foul, saying that Caz had carried the ball just outside her area before kicking it. The resultant free kick saw Barnsley draw level as it flew into the net. Worse was to follow a few minutes later when Lisa Giampalma was adjudged to have fouled one of their players. What I actually saw was them both going for the ball with a foot up and the ball striking Lisa's boot and then ricocheting into the Barnsley player's face. Needless to say Lisa was none too happy with the decision and told the ref what she thought. The ref was none too happy at this and handed her a straight red card for foul and abusive language. Well, it was certainly foul and abusive once he'd done that. Even the Barnsley players couldn't believe it. She made her way to the touchline and was heartbroken. After a few more minutes play the ref came over and told Helen that Lisa had to leave the playing area completely, so she came and sat with us, comforted by Chloe who was one of our substitutes today. Needless to say it took a few minutes for the team to reorganise and also to get their composure back, but they hung on till half time.
I went back to the main building to get some drinks for me, John and Cheryl, John turning up to help me carry them back. The second half was going to be a real test, especially playing against the wind too, but the ladies stuck at it and actually you would be hard pressed to realise we were a player short as we were doing most of the attacking and when Barnsley did threaten, Caz was on hand to produce a couple of top class saves. I counted three or four times when the assistant was just guessing (or it seemed like it) at offside decisions, yet the one clear cut offside , which involved Chloe, he never flagged at all and she almost won the game with that chance. Charlie was bored by all of this though as he was sniffing round for any bits of paper lying around, he has a kind of fetish for chewing rubbish! As he couldn't find anything he decided to inspect John's bag and actually got his head in there and pulled out John's tablets! Luckily the box was sealed so he didn't eat any, although I'm sure he'd have been happy just chewing on the cardboard box they were in.
At the full time whistle, we all make our way down to our dug-out at the side of the pitch and can hear Helen giving the ref a piece of her mind as she has a 'quiet word' with him. Wanting to know how we can have a player sent off for swearing, but nothing was done about the home sides swearing in the second half. After that it was praises all around for a sterling performance from the team, who played some fine football and were unlucky not to come away with all three points.
We make our way back to the car just as it clouds over and starts to rain. So it's on with the radio for 'Pick of the Pops' and homeward bound. A very easy drive back home and time for a quick snack before writing the match report and having a nap. After all, it's World Series action again tonight, (well, the early hours of the morning for me) so it will be another very early alarm call! Until next time.
Happy Travelling
Trev
Blyth Spartans v. Sheffield FC 25/10/08
As soon as the draw was made for this 4th Qualifying Round of the FA Cup I realised that they would be playing on ,(to me), a work day and there was no way I would be able to leave early enough to get to see it. So I called in a couple of favours and managed to swap my day off. We're hoping we can go that one step further than we achieved at the beginning of this century when we reached the same stage but lost out to Northwich Victoria.
We're going up on one of the supporters coaches being as it's a three hour trek to get there. I'm almost ready and am just waiting for John and Deano to turn up at the house when I remembered; I was supposed to be meeting them at the bus stop! So it's a quick jog down the road to our rendezvous, and who should I see just emerging from the old library car park? Jackie!! That totally confused me as I wondered what the hell she was doing down here, but it appears on enquiring that she's got to work all day here at the First Base Centre (which is what the old library is now called) and will miss the game. I told her, "If I'd known you were going to be here you could have called in (at home) and had a cuppa before starting." She say's, "Well at least I'll have my mobile handy to get the score."
John arrives with Deano and it's off to Tankersley for the second week on the trot. The club have laid on free travel today so there are two coaches going, as well as those people travelling up independently. There's a really fierce and chilly wind blowing and most of our lot have crowded into the bus shelter to keep warm. Us three stay outside, getting ourselves 'acclimatised to the conditions because as Deano pointed out, and "This is probably only a slight breeze to those hardy souls at Blyth"... (At least I THINK he said hardy souls!) The coaches eventually turn up 20 minutes late which is good going by their standard and once we've all knocked the ice of ourselves and actually got some circulation back into our legs, we climb aboard and away we go. Thankfully for our hearings sake we managed to avoid the noisy boys coach as Deano plonks himself towards the back of the coach whilst me and John are sat opposite one another on the aisle seats. I'm sat just behind Andy and Caroline, who finally decided to take advantage of not having to drive there and back.
I spend the next couple of hours reading and occasionally 'resting' my eyes, while John takes full advantage by dozing just about all the way. We pull in at the services for a break, and as I'm on the aisle a grab my coat out of the overhead locker and head for the door, telling John as I pass, "Come and find me, I'm getting in the queue for the teas." He eventually catches me up and notices someone ordering toast just in front of us, so he decides to have some too. Well, once it arrives it's two really big pieces, about two inch thick so he tells me to have one of them as we settle down to munch on brunch and wash it down with what seems like half a gallon mug of tea!
After that we waddle back to the coach for the last leg of the journey, which doesn't take too long. Once there, the drivers can't find the way in, and when they do there's just no way one, never mind two coaches are going to get up the narrow street, so they drop us off on the street. There's a chip shop on the corner, and being as we're on the coast we contemplate having some, but in the end decide to go inside and see what's on offer there. Once we've got the programmes we look for the snack bar, which turns out to be one of those portable caravan type things. John wants chips so he has to wait because they're not ready. I go for a burger and onions and now wish I'd bought some fish and chips....nuff said! John eventually gets served but as we stand chatting he has to take shelter in an alcove as it's still very windy and it's blowing his chips out of their container. Once we're all fed and watered we walk round the ground and find Chris, who's made the 'short' trip down from Scotland with his mate. As usual we greet him with, "Oh bloody hell, what are you doing here?" He has that effect on us as he's a kind of jinx, and today we were so full of optimism until we saw him!
The noisy boys take up residence at the covered end and once the teams have decided which way they're kicking, we head towards the open end. We stand right at the back, with the wind in our faces, so at least the wall will stop us from being blown over. At the other end the noisy boys are battling it out with the locals (singing). With the wind in our favour we're having the better of the early chances and take the lead when Scotty latches onto a long clearance from Leigh and lofts the ball over the stranded keeper. It wasn't all one way though, as some desperate defending and woeful finishing from the hosts ensures our heart rate are fairly high. Further chances fall to Club but we just can't increase the advantage. I hand round some mini Jaffa cakes before half time, just for medicinal purposes you understand.
At the break it's time to make our way to join the noisy boys, only most of them have vanished....either into the clubhouse or to get food, or both! At least we're under shelter now and the 'permanent' smile we've all had in the first half can now begin to relax as we try and exercise our jaws by eating some of the grub we've brought with us.
The second half almost gets off to a flyer as Scott finds himself with the goal at his mercy, but manages to scoop the ball over the bar. After that the Spartans take the initiative and it's only some unbelievable saves from Leigh that keeping our noses in front. Alas, it wasn't to last long as they equalise and then go further in front. Of course, now we have to attack to get anything from the game, but with the wind in their favour it leaves us vulnerable to the breakaway and yes, you've guessed it, the ball is played out wide by the home side and a shot that Leigh had covered takes a wicked deflection and ends up in the net. Try as they might there was no way back as the referee called time on our FA Cup dream for another year. Of course it's raining now as we wait silently for the coach. Thankfully it's not that long before we're all aboard and on our way. We'd only been travelling about five or ten minutes when the driver pulled up on the hard shoulder just on the slip road of the motorway and cut the engine. All I could think of was, "That's all we need now. To break down and have to wait God knows how long for a replacement." Thankfully the delay was short-lived and we carried on, taking a different route this time and going through the Tyne Tunnel which was quite good. We tuck into what's left of the food and then I settle down to read for a while, before 'resting' my eyes once again. Thankfully there's no stop on the way home so we make good time back to Tankersley. John gets the heater on in the car and it's homeward bound. I'm glad I got the heating to come on a little earlier tonight at home as all that fresh air today was getting to me. I was going to have something else to eat, but I just couldn't be bothered. Instead it was a case of, get a drink, and talk to Jeanie and then head for bed, ready for an early shift in the morning. Of course, lunchtime saw the second round draw of the cup and who would we have got? Only highfliers Shrewsbury Town at home! Oh well, there's always next year. Until next time.
Happy Travelling
Trev
Skelmersdale United v. Sheffield FC 18/10/08
It's my day off today, so there are no issues about getting to the game. Half way through the week John got in touch with Jackie to see if there was room on the coach for me, him and Deano, and with the answer being a 'yes' it means we can all relax on the way there now.
I still woke up at six, but at least I'd had a couple more hours extra sleep than normal. It's still dark as I venture outside to pick up some parcels from the sorting office before getting back to have some cereal and a warming cup of coffee before catching up on some stuff that I'd videoed earlier in the week.
I said to John that being as we were going on the coach I'd make us some sandwiches and get some snacks, so I need to go to the shops too and set off early as I figure I'd call in for a haircut too. There's no one in the barber's when I get there and Nicola (shop owner) asks where I'd been all morning, bearing in mind it was only just past eight O'clock at this stage. She said, "I've been here a couple of hours already and only had six customers!" Gradually a few more start drifting in as she's giving me 'the usual'. After that it's a quick trip around the supermarket and back home to get the stuff prepared and packed ready for the trip.
John and Deano arrive and off we go for the short ride to Tankersley, where we're leaving 'Sammy' and picking up the coach. There are quite a few of the players waiting too. The coach actually arrives from the other direction, so we all play 'chicken' crossing the road and pile on and grab our seats. I spent most of the journey split between reading and 'resting my eyes'. John also enjoys the freedom of not having to concentrate on driving by dozing too, whilst Deano is occupied with his Rugby magazine and Ipod. The players are sat towards the back of the coach busy chatting before starting up a card school, which gets noisier as the game goes on.
We arrive at the ground before one thirty and we can see them mowing the pitch, which from this angle looks very wide! Three of the noisy boys are here, having made their own way here and just pulled into the car park behind us. It's pretty windy and cloudy, and with very little shelter available I'll be happy if it doesn't decide to rain too. We're waiting for the snack bar to open, so in the meantime me and John go and sit in the stand to eat our sandwiches. Deano comes to join us and, even though the sun has made an appearance from behind the clouds I can feel spits and spots of rain in the air. From where we're sat we can see that the snack bar has opened, so John goes to get us a cuppa. He arrives back with the said drinks just as the Skelmersdale players start to come out to warm up and they are wearing UniBond tee-shirts, John says, "They probably have to wear them as they're in the UniBond league." Deano replies with, "But this is the FA Trophy, nowt to do with the UniBond, so that's where your theory comes unstuck." Get it? It's showery now, but we set out from the stand to head to the club house end of the ground and stand under the shelter there, behind the goal. John has another trip to the snack bar and reappears with a hot-dog and onions! It's quite busy under this little bit of shelter, but we have a great view of the pitch , and once the teams wee ready to start the game it was ideal for us as Sheffield were kicking towards us. Not too much to get excited about to start with as Skem, as the locals refer to their team almost score with their first chance. The lads eventually get into the game and probably shade the half but can't convert the chances into goals. I get Deano to take a photo of the ball boy who's sat all alone behind the goal.....it's similar to the photo he took of the 'one seater stand' at Belper last season. Then we also have the local 'comedian' standing behind the goal, disputing every call the officials make in favour of Sheffield, however blatant.....talk about 'rose-coloured spectacles'.
Half time and it's still level as I join the queue to get the teas which was very conveniently situated almost next to where we were stood. With it still being cold, very wet and dismal we decide to take up residence in the stand with the rest of our supporters for the second half. We're not alone as about half a dozen very small and annoying home supporters keep standing up blocking our sight lines. James (one of the noisy boys) keeps goading them but I'm sure they don't understand half of what he's saying to them. It's sod's law the Skem go and score then , which gives the little bleeders free range to gloat at us and give some 'mouth' back. Despite going all out attack for the last ten minutes (and almost conceding again in the process) all looks dead and buried until the referee award us a penalty in stoppage time after Gav is tripped in the area. Of course, the locals are incensed at this, while all we can think of is 'replay on Tuesday night'. In the absence of 'Senders' it's 'Milky' who takes the responsibility for the kick, (and how sweet that would be as he's been a right thorn in their side all afternoon, and not necessarily for the football) but the 'keeper guessed the right way to make a very good save and the rebound was wide of the mark. Of course, there's much cheering (and jeering) from the other side of the stand, while we ponder on what might have been. The game ends a few minutes later and it's our first cup defeat of the season. We wait for the players to leave the pitch then go and look at the other footie results in the clubhouse. The players still have a while to get the hospitality on offer, so we head back to the coach to finish off our grub. Eventually we're on the move for home and all is going well. The players start their card school again, the team have bought some beers to drink on the way home whilst the rest of us, read, chat or listen to the radio. When we're on the M67 a cry from the back of the bus shouts, "Can we stop for a toilet break!" It's Jez; he's desperate for a pee. The players offer all sorts of suggestions for him such as, peeing into one of the empty beer bottles! Funnily enough, there are no motorway services between here and Sheffield, as both me and John are well aware of, having made the trip many times to and from the airport. By now Jez is almost doubled up and the driver finally pulls over in front of one of the petrol stations at Mott ram and at least half the team make a quick exit to the back of the building.....it was the best team movement of the day! You could see the utter relief on their faces as they got back on board the coach. Time for them to carry on taking the Mickey out of each other (or in this case should it be 'taking the piss? lol) but it's a lot quieter as our journey nears its end. Once at Tankersley, all those that need to disembark and make their way back to their cars. John is finding it difficult to get out of his seat, until he realises he's still got the seat belt on! He eventually extricates himself and off we go to find 'Sammy'. It's straight on with the heating as we drive back home and I'm glad the heating was on when I got home too. After all the food and fresh air today I'm not particularly hungry, just tired. So once I've unloaded the bag and straightened things up I get the match report done (as Stu was unavailable to go to the game today), make myself a drink and head upstairs as I thought I'd be going to bed soon enough anyway, I may as well not bother messing about with the lights and TV in the room as I can watch stuff on the portable upstairs. Of course, I can't remember what the hell was on, all I know is I heard the music for Match of the Day and that was it. The next time I saw the screen I was turning the thing off as it was time to get up! Until next time.
Happy Travelling
Trev
Sheffield Ladies Res v. Doncaster Parklands Ladies 12/10/08
With no ladies first team game today me and John are off to watch the reserve side again. I'm on the last push leaving work but get out in time to see John driving down the road to meet me. The team are playing at Oughtibridge, so it's almost on john's doorstep. We've got directions to look for the War Memorial Ground, and end up getting lost as it's not where we think it is. It's only on the second circuit of the one way system that I spot our players coming out to warm up as I peer over a wall at a playing field. They're actually playing next to the cricket pitch, which, if we'd had known we would have found straight away as we walk past it on one of our walks we occasionally do.
It's a lovely sunny afternoon as we head towards the pitch after parking the car. we have a chat to Helen about yesterday's men's game and then she informs us that we have a bit of a crisis as Bex (our goalie) wasn't feeling at all well, so one of our young strikers (Megan) is taking over and is having some last minute practice.
Sarah's dad is here and is trying to round up the players who haven't had their pen pics taken yet, so of course, they're all trying to look their best without a hair out of place. Doncaster were late arriving so the kick-off had been put back 20 minutes so they had a chance to warm up properly. John tries to phone home on his mobile but it's coming up with the message ' Emergency calls only' so he borrows mine. In actual fact ,to him it is an extreme emergency as Lynne said he could only come today if he got back home for 5pm, otherwise he'd miss out on having pancakes for tea! Anyway, the upshot of it is he said it would probably be about quarter past five by the time he'd dropped me off (see, I do come in useful sometimes, even if it's just to be used as an excuse!)
Clare (Holmes) is having a run out today for some fitness training after her recent lay-off and it's nice to see some of the first teamers here too to cheer the girls along, even Cheryl has turned up with Charlie, who's only opportunity of 'watching' the ladies teams is at away games as he's banned from the Bright Finance Stadium. He must be the only mascot not allowed to support his team, by the way, for the uninitiated, Charlie is a Spaniel (and very well behaved too). Sheffield have the better of the play and Megan does well when called upon to make a save or close down any danger from Doncaster. At the other end, the ladies are creating plenty of chances and just on the stroke of half time take a well deserved lead when Ashton beats the offside trap to score, with three other Sheffield handily placed if she decided to square the ball across the area.
At the break we decide to stretch our legs and go for a walk round to the other touchline to have a chat with the first teamers. Charlie has made his way to my side and wants some attention so I fuss him for a while. Of course, once I stop stroking him he starts to bark because he wants some more. I give him half a biscuit, which I usually keep handy to give to Ella and that seems to placate him for a while. Once that's gone and he can see there's no more treats he soon deserts me. The ladies double their lead on 77 minutes when Sarah latches onto a back-pass to slide the ball home. Time for chocolate as I hand round some Hershey sweets that Jeanie had left with me to take to the games, there's also wine gums going around too courtesy of Cheryl. John says, " I'll just have one being as I'm driving." Three minutes later and it's more or less game, set and match as the ball is pumped upfield and this time Clare is free to run on and score easily. At the full time whistle we don't have time to hang around as John needs to get home for his pancakes, so it's a quick 'goodbye' to everyone and a swift walk back to the car which we'd left on the main road about 10 minutes away. Once in, it's on with the radio for 'Pick of the Pops' and homeward bound. As John drops me off he looks at the time and realises he'll be home earlier than he thought, so he's hoping there may be more pancakes to eat for being a good boy! On the other hand, Lynne might just shout at him for messing up her routine....lol. As for me, well I just settle down in front of the television with some chicken and rice I prepared earlier. Another good day, sunshine, fresh air and a win, what more could you ask for? Until next time.
Happy Travelling
Trev
Guiseley v. Sheffield FC 11/10/08
So we're off again, and this time it's the FA Cup. We've been playing that many cup games recently that it's hard to keep track which competition it is until we get to the grounds. We were supposed to have a break by playing a league game last Tuesday but that was called off at the eleventh hour, well, actually it was seven O'clock, but you get my meaning. After all, we were already in the car park waiting for the turnstile to open.
As I'm back at work now after my holiday John is picking me up there. Although it's only the other side of Leeds I'm finishing a little earlier to give us a bit more time, just in case we hit a lot of traffic or we get lost (what? Us? Never!) I get out of work on time to meet John, Deano and Maz already settled in the back seats so I'll be navigating. It's cloudy but warm so I'm not sure if we may get a rain shower later. Following on our cup tradition this season of incorporating food at some point we have a treat in store after the game as we're going to Harry Ramsden's for fish and chips. I think this was the first one to open (Deano can probably tell me) and it's within walking distance of the Guiseley ground. We would more than likely have gone before the game if I hadn't been working, but it's too tight to fit it in so we're doing it afterwards instead. Even though Deano did suggest to John that they leave me behind and set off earlier! We did visit here once before after we'd played a game at Thackley, (we also visited the set of 'Emmerdale' at the same time too).I can't remember much about the match but the food was great. This time we'll check twice before leaving , as last time John almost drove off whilst Maz was still inside 'powdering her nose'!
As usual we sit back and listen to the comedy hour on the radio. All is going well until we get to Leeds and then somehow we get lost and end up going in the opposite direction and it's not all my fault as I was only reading the directions out! Anyway, after sorting which way we should be going by way of John consulting the road atlas he decides to go the way he knows, so we head towards Shipley. I had called Stu earlier about him getting the programmes and he said there were big traffic jams further ahead, but since we'd changed our route we totally missed them and arrived just as the teams were emerging from the changing rooms. There's a big crowd for today's encounter, and once it's decided which way we're kicking we take our places behind the goal and I go and get me and John a cuppa. The ground is compact, although they've recently had a bit of vandalism here and in fact two thirds of the stand is closed off as some bugger tried to burn the thing down! Guiseley get straight into their stride and our lads are having a hard time even getting a kick at the ball or an opponent as they're running rings around us. They take the lead on 10 minutes and then score again ten minutes after that. All this despite some tremendous saves from Leigh (Grizzly Adams) Walker. John say's, "They're shooting at will, and Will's getting fed up of it!" From where we stood you get a great view of the planes taking off from Leeds/Bradford airport, but eventually I have to get back to reality and start to watch the game again. Just past the half hour mark and Guiseley score their third goal. At least Stu had something to smile about as the Guiseley player Bambrook was sent off just before the break for lashing out at 'Milky'. Apparently he'd bet Liam that something would happen between these two and he was proved right..........pity he can't pick the lottery numbers too ! Jeanie had left me with some Hershey chocolates so I hand them out as we digest, not only the chocolate but also the first half display. We're all of the opinion that if we can hold them to six goals then it will be a job well done...LOL. We tell the others that at least we've got something to look forward to with our impending trip to Harry Ramsden's. We walk round to the other end, along with a bunch of Guiseley urchins who are enjoying the fact that their team is winning and keep on telling us so every few minutes. What followed this half was unbelievable to say the least. As expected, the hosts were content to sit back on their lead, especially being a man short but Sheffield came out with a 'do or die' attitude and had Guiseley on the back foot. 20 minutes in and we're finally on the scoreboard as Scotty gets on the end of 'Bombers' cross. Five minutes later and Matty Outram heads home from Scotty's cross. Things are looking up for us as Guiseley are looking decidedly shaky at this point. I start handing round the chocks again and wonder where Stu is, then realise he's stood on the sideline with Liam and some of the others. I send him a text to tell him I've got his favourite chocs and why doesn't he join us? He replies to say that it's a superstition of his NOT to stand behind the goal when we're losing 3-0 at half time. I guess it must be a Jamesie kind of thing, but it seems to be working. Funnily enough, the urchins aren't singing as much now. Two minutes to go and, with Guiseley desperately hanging on, the ball is swung into the area and up pops Gav to head into the corner amid cheers all around the ground from the Sheffield faithful. By now we were all hyper with excitement, we even thought the miracle would be complete as the lads went close to snatching a winner, then again we breathed a big sigh of relief as a corner in the last minute for the home side was cleared out to the edge of the area , only for us to see one of their players unleash a shot which came off the framework of the goal. The end of the game and the contrast in the support was amazing, Guiseley fans wondering how the hell they let a three goal lead slip and us in jubilant mood for rescuing a lost cause, oh us of little faith! If there were any neutrals there today well they certainly saw a good game of football, and the draw means they'll have to travel to our place on Tuesday now, where hopefully we'll be able to carry on where we left off and not give them three goals start this time! After John has taken the man of the match votes and we've had a good natter to some of the others it's back to the car and a five minute ride up the road to Harry Ramsden's. With the England World Cup qualifier on TV at five o'clock there was hardly anyone there so we decided to sit in the restaurant. I've never seen Deano move as fast as when we were heading to get to in. We all ordered fish and chips, but just to make the waitress work for her money, I had beans with mine, John has garden peas and Maz had mushy peas. Deano decided to try 'Harry's Challenge' which was a whopping big fish, a mountain of chips and two lots of mushy peas! It all looked rather grand as we had our dainty cups of tea on the table too. Needless to say, Deano soon overcame Harry's Challenge and we were all that full that there was no room for anything else, even though the sweet selection looked delicious too. We eventually managed to get out of our seats and waddle back to the car, after Deano had taken a couple of photos from outside. John say's "I'm avoiding Leeds at all costs." So we head back more or less the way we came. We listen to the second half of the England versus Kazakhstan game on the radio, Alan Greene venting his spleen about the 'morons' who were booing the players, well, player, who made a mistake to gift them their goal. John spots a James Irlam as I try to gabble the answer, then he gets an Eddie Stobbart just ahead of me too. England won the game 5-1 and John says, "Kazakhstan got stuffed by England, and we got stuffed by Harry Ramsden's!"
Back at home and it's time for a celebration Bailey's but I forgo the Jaffa Cakes as I'm still full. Jeanie thinks I've got a sore throat when I call her, but I tell her it's only from the shouting at the game. After all the fresh air and a belly full of food it's not long before I settle down for the night. At least I'll not fall asleep watching the footy on TV tonight as there are no highlights to watch! Until next time.
Happy Travelling
Trev
Parklands v. Sheffield Ladies Reserves 21/09/08
It's a very cool morning as I set off for work, exactly the same conditions as yesterday which turned out into a baking hot afternoon, so I'm hoping it's the same today. The ladies first team should have been playing but it's the women's FA Cup weekend, and being as we got knocked out last round they have a free weekend so John asked if I fancied a trip out Donny way to watch the reserves, so the plan was put into operation.
It's gloriously sunny as I leave work and make my way across the road where John is due to pick me up at the museum gates. It's clear blue skies and really hot, so I take advantage and buy an ice cream from the van parked there while I wait for John to arrive. He shows up moments later and is envious as I get myself comfy, complete with ice cream in hand, but I tell him, "I'm eating for both of us as I'd hate you to get caught eating whilst driving, that's why I didn't get you one." I'm not sure he believed me.
It's a good drive and John even spots a Preston's of Potto whilst I finish the cone off and we have no trouble locating the ground either. It's at a sports and social club and we actually see the ladies warming up as we drive past towards the entrance (having missed it at the first attempt.) There are three pitches on the site and ours is the one which has bends in the middle of each crossbar ! John tells Helen, " Tell them not to aim for the middle of the net." At least Bex (our goalkeeper) will be happy as she's only small to start with. There's quite a few of the squad we recognise straight away from the first team and also some of the young 'uns who've had their first taste of first team experience. The ladies take the lead on 10 minutes when Megan is on hand to put the ball in the net from Brooke's corner. Chris (Wright) turns up late, she got a bit lost. It's nice to see her here supporting, especially as she's been ruled out for the season through injury. The sun is on our backs as we watch the ladies toil away in the heat and at half time they don't bother going back to the changing room but look for a bit of shade by the fence for the half time team-talk, while we enjoy some blueberry Ribena and a chat with Chris. Lisa G. then turns up, she was another one who got lost. She was telling us about the gigantic bee that was in her car (her words, not ours). Apparently it was the biggest ever bee in the world, (mind you, she's only tiny herself) and it almost made her crash into the back of a police car as she was trying the get it out of the window.
Parklands start the second half the stronger as they now have the advantage of a nice breeze blowing behind them. We're still sat on the grass watching it from a more relaxed angle. Sheffield gradually get back into the game and start to take control. They double the lead on 75 minutes when young Sarah Coggins scores from the penalty spot. With just two minutes left the ladies completed a good afternoon's work as Emily latched onto a through ball to poke it past the advancing 'keeper and into the corner of the net.
It was good to watch and an enjoyable way to spend a Sunday afternoon in the sun. After saying our 'goodbyes' it was back in the car, (which thankfully John had parked in the shade) and time to listen to what was left of 'Pick of the Pops'. On the way home John spotted an Eddie Stobbart lorry, but it had a Tesco trailer so I told him it didn't count, but he made up for it with a 'proper' cab and trailer just before we left the motorway. Back at home and time to relax after an enjoyable weekend in the sun watching football. Until next time.
Happy Travelling
Trev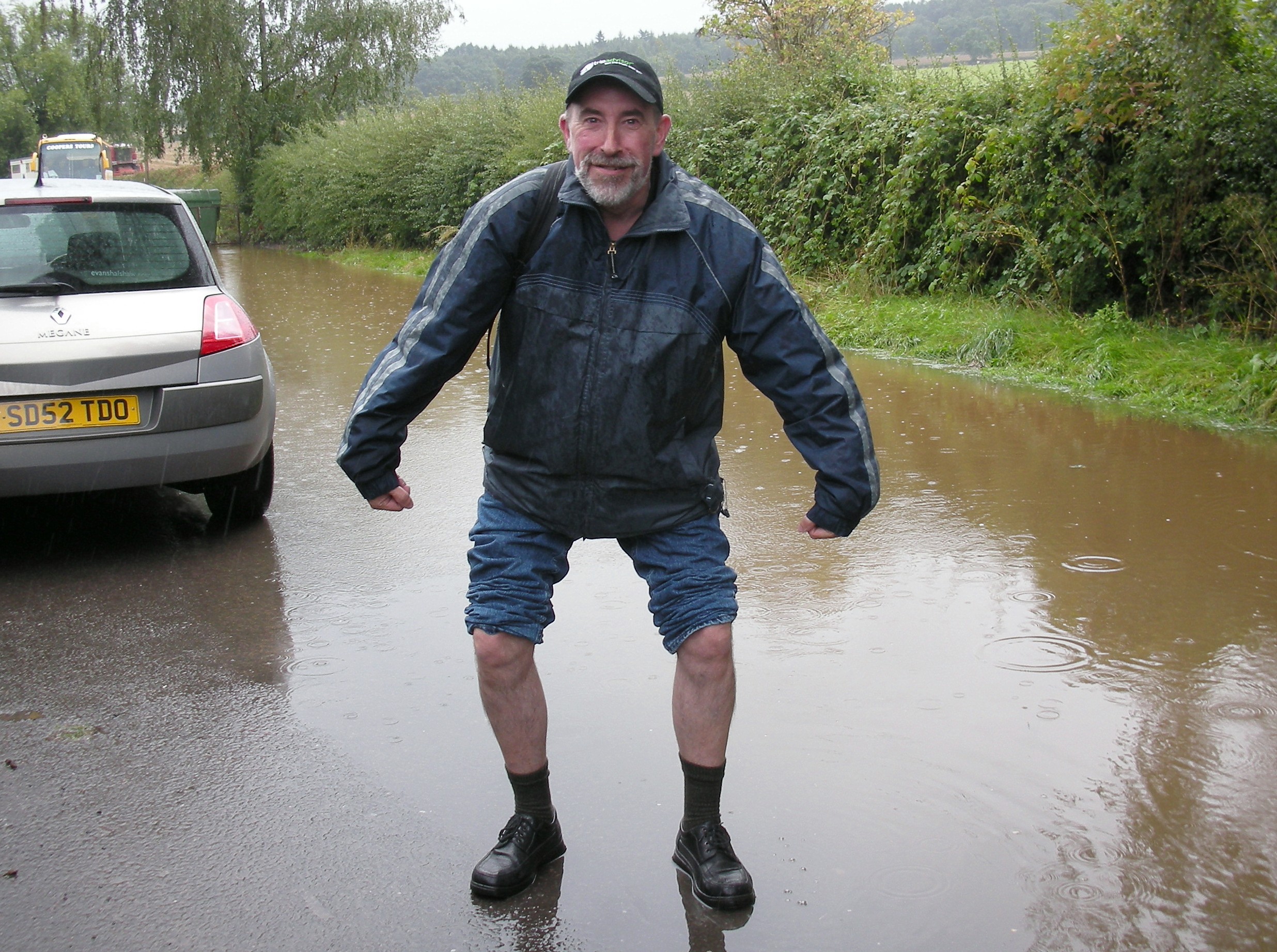 Loughborough Dynamo (6.9.08)
After all the rain yesterday and the heavy downpour last night I was half expecting John to have called me at work to tell me the game was off, but, so far so good. Although it's a fairly easy run there (according to Stu), I'm finishing work early just in case we end up taking a couple of detours along the way being as it's our first visit there. John and Deano both arrive to pick me up with the news that we're setting off for the game but it may still be off as there's a pitch inspection due around 1.30. Funnily enough the sun is shining at present but there are plenty of dark clouds around. John spots a James Irlam as we get on the motorway, I'm too busy writing to notice and then the bugger nabs an Eddie Stobbart too whilst I'm in the process of resting my eyes while we listen to the comedy hour on the radio. Later on he has the cheek to spot another Eddie Stobbart as I'm handing his phone to Deano after texting her for him . So we're disputing that call as we were both distracted on his behalf. The cheeky bugger than bags one that's in front of us. Well, I say in front, it was actually about half a mile in front but we're that used to looking across at the other carriageway that we totally ignore what's in front or behind us. Deano takes some photographic evidence of the said vehicle as we overtake it and as I'm writing all this down John spots another two whizzing past on the other side of the road. As yet another one passes by me and Deano tell him, " We're going to play our own game, and you're barred!" It's almost 2 O'clock now and still no news of the pitch inspection, so we figure that no news is good news. We've driven through some showers on the way here but figure that it must be clear at Loughborough.
We find the ground with no problem at all and pull up in the large car park. There's a steady drizzle falling as we emerge and stand under a tree whilst we get our coats on. We can see down the lane from the car park where the ground is situated and that's flooded. We see a couple of locals wading their way towards us and one of them informs us that the referee has just called the game off! Apparently, when he inspected it a little earlier he said it was playable so long as there was no more rain, but we drove through a couple of heavy showers and like I said, there was a steady rainfall now. We've come this far so we walk and paddle our way down to the ground anyway and go to the snack bar as John hasn't eaten any lunch yet and he was looking forward to having something. Stu phones me and I give him the news, he said he was half expecting it, well, hoping really, as it would have been the first game he would have missed this season. I wasn't too unhappy as it got me out of multi-tasking for the day. Andy would be happy too as he's on his way home from holiday, Caroline having come on the coach today with the others.
At the snack bar John orders pie and peas while I have a sausage roll and of course, we both get a cuppa as well. I go up to help him and one of the ladies asks if I want serving and John say's, "No, he's with me." I point and tell her, "He's my dad," to which John calls me a cheeky bugger as the women cracks out laughing. We sit down and eat, there's no need to rush. Deano is outside taking photos and chatting to some of our fans who've come down on the coach. Once we're finished we say our farewells to the others and make our way back to the car. Just as we approach it we see Pat just setting off for home. He winds the window down and says "I'll see you Tuesday," (for our next game). Just before he winds the window back John say's, "Have you got your man of the match vote?" It takes a minute before Pat realises what John said and he replies, "I was actually thinking of one for you then." as we all have a laugh. WE set off for home and I have a read of the programme while john guides us through some atrocious weather. With no Premiership or Championship games today, we listen to Ireland's World Cup qualifying game until we decide to change channels and listen to Dermot O'Leary instead. Despite the bad weather we still have a relative free run home. As we approach Meadowhall we're met with bright sunshine. In fact that's where our biggest hold up is as there are cars queuing up to get into the shopping centre.
Once I'm home I get something to eat and give Jeanie a call. I'm telling her about the journey and tell her to look on the site as Deano took a photo of me stood in the flooded lane. She asks, "How do you pronounce the team you were supposed to be playing?" So I replied, " D-y-n-a-m-o." Well, I couldn't hear anything from her for five minutes except laughing - of course, what she really wanted to know was how we say Loughborough! She's over here at the end of the month so don't forget to come over and say hello and spell Dynamo to her! After that it was time to catch up on some stuff on the video before toddling off to bed. Okay, so we didn't get to see a game, but we had a good laugh and as John say's, "Over a hundred miles for pie and peas, who would believe it!" Until next time.
Happy Travelling, Trev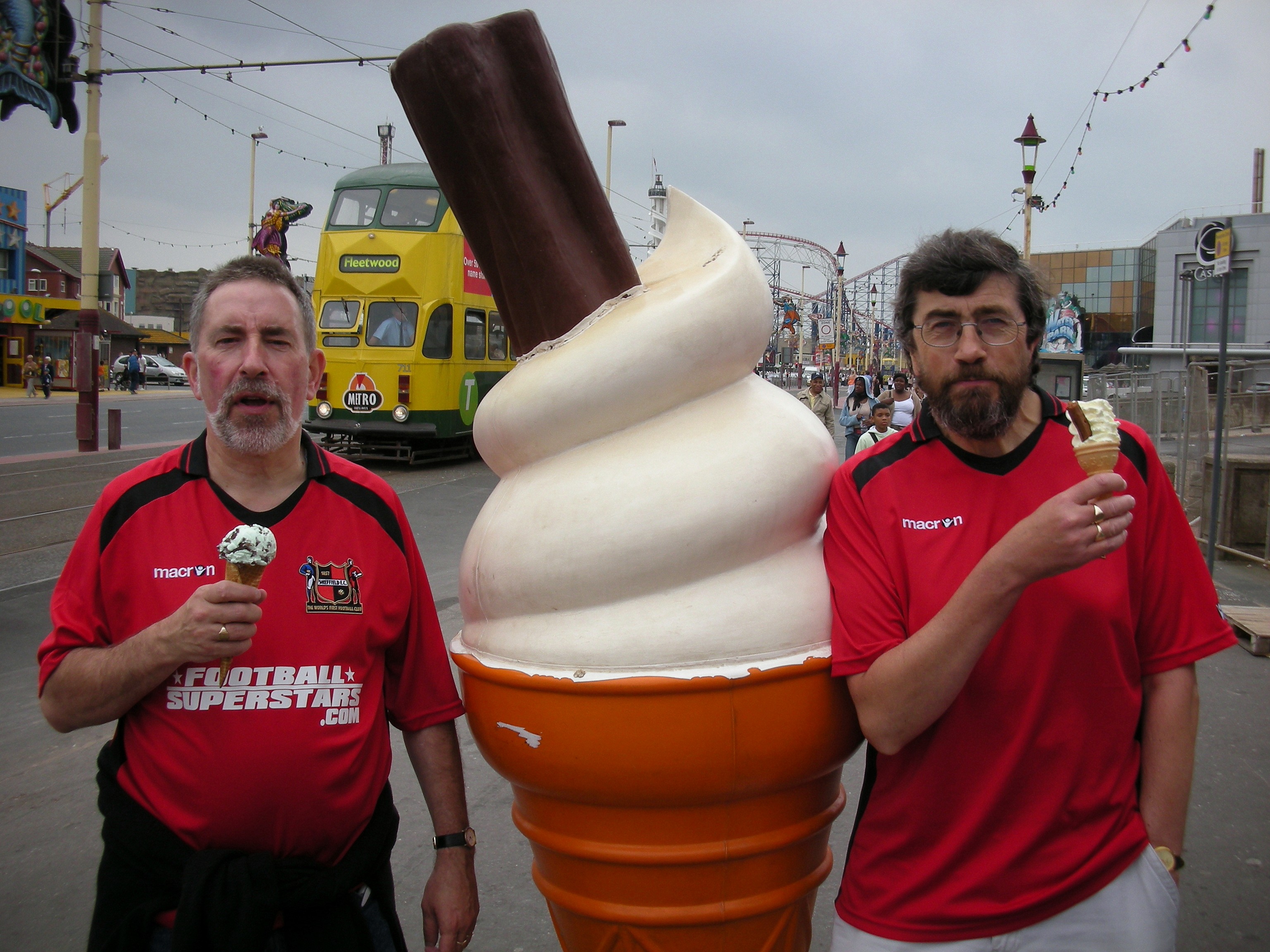 AFC Fylde v Sheffield FC (30.8.08)
We're off to Blackpool! Yes, when the draw was made we thought, great, we can have a day out like we did when we played Blackpool Mechanics a few years ago. Then I realised that I'd be working and couldn't finish THAT early to get to the match anyway. Luckily, some grovelling on my part meant that I ended up getting the day off as Jo swapped one of her days with me...bless her! So the plan was hatched, to make an early start and have a few hours beside the sea before going to the game and then setting off home afterwards. It was the first weekend of the Blackpool lights too, but we weren't bothered about that as we figured it would be pretty crowded at night and besides, there was only John doing all the driving as Stu was travelling up on the coach with Liam so it was unfair on him, especially as he's getting on a bit now! I phoned Stu early to ask him to get the programmes, being as he would get to the ground before us and at first I thought there was no one home as it was ringing for ages and I was waiting for the answer machine to come on, but Lynn picked it up sounding rather sleepy and put Stu on. He said he'd been up early for work then got back and both of them went back to sleep, I'm not sure if they were sleeping or not (if you get my drift!).Anyway, sorry for disturbing you both. Being as we're not sure exactly what the weather is going to do I pack my bag to cover all eventualities. It's cloudy but warm as John and Deano arrive to pick me up. Deano vacates the navigator's seat and takes residence in the back, where he can stretch out and read his paper. He manages to take a couple of photo's of me first, I guess he's in his creative mood today, or just stocking up photo's for future reference. I'd asked him at Spalding if he'd take a photo of me in the new shirt so I could send it to Jeanie. He actually took a couple, but said the other one he hasn't used shows my fat gut, so he's saving that so he can blackmail me at some point. I told him that Jeanie said I looked handsome and that her office pals said that I never take a bad picture, at which point both him and John almost threw up! John's got the sniffles this morning, so it's either the start of a summer cold, or he's started taking drugs.
We listen to the 'Sounds of the 60's' on the radio as we make our way across the Pennines, the heather is starting to come out on the moors, so it should be in full bloom by the time we pick Jeanie up next month. John has first spot of an Eddie Stobbart. But it's only the cab as the trailer part is Tesco's! When we join the motorway for Blackpool John shouts, "James Irlam!" I look around and say, "Where?" He says, "Behind us." I suppose that's the advantage of having a rear view mirror (the bugger!). The journey has taken less time than we expected as we didn't hit any major traffic hold-ups and so, just over two hours after getting into the car we're parked on the seafront outside the Pleasure Beach. We were expecting it to at least be breezy here, but stepping out of the car there's no breeze at all, so the bag is staying in the car. I take my fleece, but it's too warm to wear so I wrap it round my waist. First we have to find a ticket machine to pay for the parking. Of course, the one nearest to us isn't working, so we walk further down to the next one, then wait while John goes back to secure the ticket to 'Sammy's ' window. We were going to walk through the Pleasure Beach, but the entrance/exit nearest to us was locked, so we headed along the front. I'm dragging behind a bit as I'm trying to send some texts and John say's, "Come on Trev, keep up." So I respond with, " Okay dad." Then I carry on, in a loud enough voice so everyone nearby can hear, " Dad, dad, can we have ice cream, can I go on the big dipper, can I have a bucket and spade, can I can I?" Much to everyone's amusement. First stop is the main entrance to the Pleasure Beach, where there are some food stalls. It's only just gone eleven but I make a bee-line for the fresh doughnut stall and buy us one each. Then we walk along the front. They've started building new sea defence walls so there's quite a bit of work going on. We manage to get right down to the front, John say's, "Look at the size of those pigeons." As they hover about for any morsels of food. We were going to have a game of beach football, but the pitch was waterlogged, due to the tide being in.
We're getting peckish now, so we decide to split up in search of food. Deano wants to walk on to the tower and buy some fish and chips from Harry Ramsden's, whereas me and John want to find somewhere to sit down for our meal. We'd already discussed this a few days before, so we set our watches and agreed to meet about an hour later. We passed one place straight away but headed inland. Surprisingly, we looked at about six other places to eat who were all doing everything with chips except fish. As we pass an Iceland shop I said to John, " Maybe we ought to go in here and buy our own fish, then at the next cafe we come to just ask them for a plate of chips and see if they could fry the fish we bought while they were at it!" Funnily enough, there was a fish and chip restaurant right next door , so we went in there. It was called Harry Rigby's, not that dissimilar to the famous Harry Ramsden's, and I guess if you've been out boozing all day you'd settle for this one instead of walking the mile or so to the Tower. We had the house special of fish, chips, peas, bread and butter and a drink of our choice, which of course was a cup of tea, how much more traditional can you get? I told John I'd buy him a sweet too as they did home made apple pie or jam roly poly, but we were that full I don't think we could have finished one between the both of us. After a sufficient rest to let the meal digest( and before we started to nod off) we headed out to meet Deano. He'd sent me a text while we were there to say he'd see us back at the car, then just as we got down to the front I received another one informing us that he was heading towards the South Pier. Just as I'm about to reply to him my phone rings and it's him. He's called to say that he can actually see us, so I turn my head to the left (as instructed) and sure enough, there he is stood right by the sea. He waits for us while we negotiate a way back to meet him and we carry on our walk. The tide is on it's way out and we can hear bells behind us as the donkeys are being led onto the beach. I tell Deano that we ought to go and queue up with the kids for a donkey ride, saying, "You can imagine what the poor buggers are thinking as the queue gets shorter and we near the front.......please, don't let him sit on me!"Just at the other side of the pier John treats us to an ice cream (see the photo) as once more the calorie count for the day increases. As we walk back to the car Deano drops some ice cream on the edge of his shorts and makes an even bigger mess of them, I noticed him doing it but he was quick to let us both know that it was an ice cream stain (if you get my meaning). I told him, "Yeah, and do you think Maz will believe you?" as we teased him until we got back to the car.
We had a little bit of trouble finding the ground, driving up and down the main road a couple of times until we eventually found the correct way to go as we tried to merge two sets of directions into one. We still managed to drive straight past it at first as we stopped to ask a local. He said, " It's just up the road, (pointing in the direction we've just come from) behind the pub, you can't miss it as you can see the floodlights." Well excuse me, but unless he can actually turn himself into a giraffe there's no way you can see the floodlights from the car. Luckily there was a steward in the car park and then we spotted a small sign saying 'AFC Fylde' stuck on the wall at the entrance to the car park. He directed us right to the very end of the car park and it's there you find a little lane that leads to the ground. There's a bouncy castle and slide at the back of the pub, so I tease John to let us all go on that , there's even a couple of donkeys too. We park in the field outside the ground and Stu comes to meet us, then we go inside. John goes to the loo and comes back saying, "Be careful when you go in there as the hot tap doesn't work and the cold tap is a bit fierce." The last bit of the sentence highlighted as he points to the wet stain on his trousers. I said, " I believe you John" smirking at him. Meanwhile Deano is having to explain to all and sundry that it's an ice cream stain on his shorts! As the teams are warming up, the Fylde goalkeeping coach asks Liam to go onto the pitch to take a penalty against him. It looks like he's going to bottle it and decline, until I tell him it's going in the travels and start writing, then he's on there in a flash. Deano even manages to capture it on his phone. Sheffield dominates the opening half hour, but it's Fylde who have the best two chances. Stu then comes out with " It's nearly half time. Well, fifteen minutes to half time." Deano say's, "You've no sense of perspective." To which Stu replies, " I've no sense of any kind of plastics." (Think about it). Half time and no score and we make our way round to the other goal. Deano's brought some choccie biscuits that he hands round. The announcer is telling us all about the winner of today's main raffle prize(which is a signed Fylde shirt from last years Cup Final). He says his name is Jordan, so Deano jumps in with "What a tit" The winner is actually from Sheffield, so when the announcer asks him what he's going to do with it, we all shout "Burn it" Deano gets the flag out and drapes it over the barrier which is very low. In fact if we want to lean on it we're probably going to go arse over tit sand land on the pitch! The game is being filmed by a bloke for the UniBond site, so we mess about every time we think we may be in camera shot. Five minutes into the second half and Scott is brought down right in front of us for a penalty. Unfortunately Smudge's effort hits the post despite sending the 'keeper the wrong way. It's certainly livened things up as 'Milky' and their 'keeper are having a running battle all of their own. As the game enters the last fifteen minutes one of the Fylde players makes a really bad tackle on Gav (not for the first time, he'd been booked earlier) and receives his marching orders for a second yellow. From the free kick Asa heads us into the lead. However Fylde equalise from the penalty spot and the last five minutes is real cup tie stuff as Fylde hit the post and we have a couple of chances to win too. So it ends up 1-1 and it's a replay on Tuesday now, at least we'll have the easier journey to get there. We tease their 'keeper who says, "I think I may not be fit enough to play" (he did take a knock earlier) but wasn't that bad he's just having a bit of banter with us. The clouds have now all disappeared and it's nice and sunny as we talk to the locals on our way out.
Back at the car and Deano hands out more choccie biscuits before we get in the car and then off we go. We listen to sports report and then commentary on Arsenal v. Newcastle and I actually spot an Eddie Stobbart. John points out Bolton's Reebok Stadium (where we've been before) and then promptly spots an Eddie Stobbart for himself while my eyes are diverted. It's hard enough to try and beat him to the shout when we're looking at the road without having to look elsewhere first! Sammy shows a clean exhaust pipe as he nips past a Rolls Royce and John gets another Eddie Stobbart just before it turns off the motorway ahead of us. We're just negotiating the roundabout near Hyde and I spot the back of an Eddie Stobbart waiting to get onto the roundabout and it's being towed by a James Irlam cab. John said he'd spotted it too, but couldn't shout as he was just sucking on a sweet I'd given him. (I love it when a plan falls into place.) Actually I had a sweet too, it was just a case of who would get to shout first. The rest of the journey is uneventful and once again we make good time as John drops me off just over two hours after leaving the ground. So let's see.....doughnuts, fish and chips, ice cream and chocolate biscuits, no wonder I'm not that hungry. So it's just a bowl of cornflakes for supper and an early night, as all that sea air has made me tired, so it's off to bed to (probably) fall asleep in front of the TV. Until next time.
Happy Travelling, Trev
Spalding United v. Sheffield (25/08/08)
It's Bank Holiday Monday, and although I'm working, I'm finishing early so I can make the trip to Spalding. None of us managed to get to the game last year as I was working (and couldn't get the time off), John was hospitalised and Deano was ill too so it's unknown territory for all of us, which should make it more fun trying to find the ground.
I'd emailed John yesterday to tell him to ask Deano to sit in front and navigate as I'd probably fall asleep (no change there then really!)Especially as I'm still recovering from getting up to watch the Tinsley Towers being demolished. I didn't go, but intended to watch it on the Calendar website, as they'd been advertising that they would be showing it live. So what happens? Up I get, switch the computer on, find the website, only to see a notice on it saying that it's not being broadcast........b******s ! Being as I was up and awake I did venture out into the garden to hear the explosions. I know what you're thinking, "Daft Bugger", but I was raised in Tinsley so they've been a part of my life since I was four years old. I can even remember the motorway and flyover being built. Anyway, enough of my reminiscing, let's get back to today.
Stu is taking Liam and Craig, so it's just the three stooges in 'Sammy' and we're all kitted out in our new SFC home shirts, Marilyn deciding to stay at home and enjoy the peace and quiet of an afternoon by herself. Despite some dark clouds the sun has finally made an appearance. What's even more remarkable is the fact that Deano got first spot of an Eddie Stobbart lorry. The last time I saw him that excited was just before he devoured a Thackley hot-dog!
We listen to the radio as John treats us to some roundabout magic, as we miss a turn off. He even spots a James Irlam before I 'rest my eyes' for a short while. Considering it's a Bank holiday we encounter very little traffic, and , thankfully it's nice and sunny as make our way along the country roads. We're all glad we're making this trip today during the day instead of in the depths of winter on a dark Tuesday evening in November because as well as the country roads there are ditches at the side of them .I'm sure many a vehicle has ended up in there. Once we get to Spalding we spend about fifteen minutes touring the town centre until we eventually find the front of the ground and park bang opposite (after phoning Stu first) in a old bus station. John sorts out the pay and display ticket and we literally just cross the road and we're there. There's less than fifteen minutes to kick-off, so first stop is the snack bar. I'm just ordering burgers and teas for me and John when Deano wanders over to join us and John says, "Do you want anything Dave? Trev's paying".(cheeky bugger).He does actually indulge in a Pukka Pie. The ground is quite open and there's is a breeze blowing, but it's at our backs for the first half. It's still sunny enough to leave the fleece off though. On the way around the ground I ask Deano if he can take a picture of me so I can show Jeanie the new home shirt. He say's, " All she has to do is look on the site as Gav's wearing one." "Yes I know," I said, "but she wants to see me in my shirt," Well, you can imagine the look he gave me! (He did take the photo though). It's a good start for the lads as they press forward but it's the Tulips (Spalding's nickname) who take the lead after some poor defending. Haywood and the noisy boys are here, but they're not very noisy at present. Mind you, with the ground being so open and the wind factor to contend with, they have to shout very loud or else the noise just drifts away in the breeze. Asa is fouled and Stu shouts, "He dived like a salmon then." (That's our nickname for him). Just before the half hour mark parity is restored when Smudge takes a free kick which Scotty gets in the way of, but he gets the ball under control and slots it home from a tight angle, cue a sing-song from the noisy boys.
Half time arrives and we make our way back to the snack bar. I'm just having a can of coke, while John has to wait for the chips being cooked, at least they will be fresh. He eventually joins us, and I pinch a couple of his chips. It's our turn for a sun tan this half, as it's shining straight at us. With the wind in our favour now the lads are dominating the play, but can't find the killer touch. Even when they breach the Spalding defence their 'keeper keeps them in the game with some fine saves. Then Spalding deliver the sucker punch by scoring with a breakaway goal. Try as they might, the lads can't save this one, and so it's a disappointing end as the ref blows for full time and we suffer our first loss of the season. Me and Deano get rid of some excess liquid before the drive back. Once John has the man of the match nominations it's back across the road and away we go. We listen to the radio and I read the programme before looking at the back of my eyelids for a while. Just as I open them I spot an Eddie Stobbart lorry the same time as John does, but I tell him I'm claiming it as he got the James Irlam on the way here. It's a pleasant drive back in the early evening sunshine. John spots one on his own as we're about to leave the motorway at Tinsley. It does look so different looking over the flyover and not seeing the towers there on the right. In fact Deano commented that it's a wonder we didn't drive past our turn off as the towers were the indication that we were home. Over the canal bridge at the side of Meadowhall and I'm able to look through the back window for another view from a different angle, it seems strange to see the houses on the far side of the hill. I'll take a closer inspection when I take Jeanie to Meadowhall in September. Back at home and after something to eat it's not long before I can feel myself dozing off, so it's off to bed, if I'm going to fall asleep watching the telly, I may as well do it in comfort, at least I won't have to move again, I'll just turn it off when I wake up which seems to be happening more regularly these days! Until next time.
Happy travelling
Trev
Gresley Rovers v. Sheffield (16/08/08)
So here we are at last, the start of a new season and what better way to start than at Gresley, the family club that gave us such a warm and friendly welcome last season. Oh sorry, I must have dreamt that last bit! Actually, the true Gresley fans that turn up week in, week out are very friendly, it was just the night match last season that proved a bit 'awkward' as the place was overrun with the local youths with nothing better to do than try and make trouble. Anyway, I digress.
It's an early start as I'm working this morning. I was on the last push to get the bus as I'd forgotten about the footie routine of packing my bag with, hat, notebook and various other odds and ends. I must remember to pack it the night before in future! It's pretty hectic at work too but the time soon passed. I was glad to get out in the fresh air and timed it just right for John picking me up. Deano is already comfy in the navigator's chair, so I sit back and chill out in the back of the car. We listen to the Olympics on the radio, as Chris Hoy wins yet another gold for Team GB. Then it's time to switch channels as it's time for a laugh by listening to the Jason Byrne comedy show. John is now fully fit and hoping to get in a full season this time and is on the ball, spotting FOUR Eddie Stobbart lorries before we've got time to blink! After a good laugh we put the sport back on. Stu phones Deano to ask if we need programmes getting, I tell him that I've already arranged for Andy to pick them up as we might be on the last push to get there. Not only that, but to my knowledge Stu said he wouldn't be able to get to the game. Mind you, I also said that, but managed to finish earlier in order to attend our opening fixture. I'm glad that he's going as it means I won't be multi-tasking this afternoon. (I can hear Deano thinking, 'He can't do one job right, never mind two!) We make very good time and have little trouble in finding the ground; parking is a different matter though. First we go to the car park right outside the ground, and we can see that it's already full as they have coned the entrance off, but the steward still insists on stopping us and getting John to wind his window down, before informing him that the car park is full! We eventually find a suitable place about what seems half a mile away. On the hike back to the ground we see Andy and Caroline just pulling into a parking spot, how did we miss that one? I say to Andy, smiling, "Don't bother getting our programmes Andy, now I'm here I'll do it myself."He just laughs. Once inside I spot Andrew and ask him if he's seen Stu. He say's he's in the clubhouse so I give him a call to check if he picked his own programme up. He comes out to meet us and we both say to each other, "I thought you weren't coming today?" It seems we both grabbed the unexpected opportunity to see the game. He then said, "I asked Andy if he'd got the programmes I asked him for and he had no idea what I was on about." I told him, "No Stu, you asked Andrew. That's Andy, (as I point to Andy, walking into the ground with Caroline) and that's Andrew, at least that's how I refer to them." I can see already it's going to be a long hard season! Me and John head to the snack bar. I'd had a chip buttie just before leaving work so wasn't hungry, just in need of a cuppa but John indulged in one. The players come out and we finally get to see Elvis. No, not the lardy arsed (dead) singer, but the Gresley mascot, who is in fact a dog called Elvis Gresley! Once the teams have decided which way they're kicking, we take up our customary position behind the goal. The team are awesome in the first half with new strike partnership of Powell and Partridge giving us a two goal cushion at the break which could have been quite a lot more but for some outstanding saves and desperate defending. The noisy boys are here, well, two of them are, Haywood and Moll and believe me they ARE noisy. Mind you, we were under a shelter and the sound echoed around, also Molls' constant banging of the overhanging piece of corrugated iron made the ringing in our ears even worse, as well as being aware of not putting our head too far over the railing in case the bloody thing fell off and decapitated us all! Oh and by the way Moll, when you were jumping up and down it wasn't the hard standing that was 'springy', it was the fact you were bouncing on my foot at the time...........at least the pain from that diverted the attention away from the ringing in my ears! Thankfully half time arrive and with it, peace and serenity. We made our way around to the other end, giving the snack bar a miss this time. The second half starts and the noisy boys decide to ridicule the Gresley captain for his ginger hair, although he did tell them in passing that it was strawberry blond! It also appears that the number on his back looks larger than the other players numbers so John say's, "Maybe he's deaf?" Deano say's, "He ought to have a big number two on his back." The lads finish off slating him for a while, after a chorus of, " Your hair, your, hair, your hair is on fire!" Haywood phones his dad, who's at the Lane to ask how the Blades are getting on. He's shouting that much down the phone that one of the gang says, "You don't need the phone, he'll be able to hear you from here!" John then say's, " Well I'm really partially deaf and I can hear him loud and clear". Back on the pitch and the lads have a wondrous seven minute spell when they knock in three more goals, courtesy of Vill and Scott once again, and Asa grabbing the fifth one. With the game won, Dolbs makes some changes in order to rest players, with a game on Tuesday to look forward to. Our new 'keeper Leigh Walker didn't have a great deal to do, but did still have to make one or two top class saves. Gresley did get on the scoresheet late on with a brace from Blenkinsopp to give the score a more respectable look for the home side. So it was job well done as we made our way round to the exit. John collects the man of the match votes and it's congratulations to another of the new lads, Matty Outram who gets today's honour, by a single vote.
After saying our goodbye's it's back on the hiking trail to find the car, thankfully it's all downhill this time. Once John has negotiated the way out of the one-way system we're homeward bound. Catch up on all the footy results and then listen to Sunderland v. Liverpool commentary. Back at home I settle down to a cheese sandwich and, being as I've no Jaffa Cakes, decide it's time to break open the whopping Toblerone bar I've been saving for a special occasion ! It's good to be back on the road. Until next time.
Happy Travelling
Trev
Austria v. Poland in Vienna (12/06/08)
Welcome to a new season of 'Travels' folks. Well, after the celebrations at Hillsborough in the Senior Cup Final I guess everyone was looking forward to a break. Okay the European Championships were on the horizon, but with England not qualifying would it hold the same excitement to watch? Well in my case yes, as I was on my way over to Germany to stay with Jan and Tanja and we were going to watch a game in Vienna. This plan was spawned as soon as it was known that Austria and Switzerland would be joint hosts, so you're talking about six or so years ago! Well, in the event, try as he might Jan couldn't get hold of any tickets. In fact we only got tickets for the match in Berlin at the last World Cup by sheer luck, thanks to Jan trawling the internet looking for the German FA auctioning of tickets for people who's bought them then found they couldn't go to the game.
Anyway, in the build up to my trip over there we had already decided that we'd go to Salzburg for a few days and take in a game or two at the fan zones which they set up in the host cities and which proved an enormous success at the World Cup. Well that plan was thwarted when Jan tried to find us some accommodation, as all the reasonably priced places had been snapped up, and to get anywhere to stay in our price-range would mean driving into the city as we'd have to find a place about two hours drive away. Anyway, in our email exchanges Jan said he'd been looking at the prospect of catching the train to Vienna for the day, well; actually it was the overnight train. He said, "I know it sounds crazy but it was just a thought." I took about 30 seconds to reply, saying, and "Let's do it! We're both on holiday so it's not as if we need to get our full quota of sleep as we can catch up on that after we get back." So Jan booked the tickets for the train and we were set to go.
It was an early start for the pair of us as we made our way to Plauen railway station. In fact it was 26 hours before the game was due to start! Tanja couldn't make the trip with us as she had to go to work, so at least she can have a couple of quiet nights in without having to endure any football for two days. Unlike over here, the station is spotless and the train arrives on time, so we settle back for the two hour journey to Nuremberg. I catch up on some reading and also 'rest my eyes' for a while and it doesn't seem that long until the train is pulling into Nuremberg station just as dusk is falling. This is a really big place with shops on three levels; it's like a small shopping centre on its own. We've got a bit of time before our connecting train so we wander outside to get some fresh air and admire the illuminated old town before it's back to a different platform for the train to Munich. This one is one of the German fast Inter-City trains and is shaped like the Japanese 'Bullet' train. It's fast, sleek, and very clean and you wouldn't believe all the leg room there is. It's also very quiet, so it's more reading for me and jotting down some notes of the trip so far.
We arrive in Munich, and once again it's a massive station with a couple of different levels of platforms as well as plenty of food stalls and shops, some of which are still open and quite busy even though it's almost midnight. We've got a little bit of time to kill before the train for Vienna is due to leave, so once again we wander outside. It's been raining here so there's some fresh air about as it's been so hot and humid over the past few days. I'm not sure what games were played tonight (Thursday) but there's plenty of cars driving around blowing their horns with guys hanging out of the windows. Munich is a very cosmopolitan city so no doubt; whoever it was who played there must have been plenty of fans here who watched the matches. It's finally time to go and catch the train and it's quite full. Luckily we have reserved seats, although we'd better make sure not to go into a deep sleep on the six hour journey or else we'll find ourselves in Budapest or Zagreb as this train is going right through Europe! The seats are situated two by two, facing each other but without a table in between, so you have to be careful not to kick the person sat directly in front of you. We've got a bloke sat directly opposite us who obviously has had a drink or two.....or three and it's funny watching him trying to get settled. First of all it takes him ages to decide if he's got the right seat. He then puts his case down on the floor, attempts to put his hand luggage on the rack above his head and promptly falls backwards, over the case and ends up sprawled on the floor! Of course, he gets up as if nothing's happened and decides it's probably best to put his luggage on the seat next to him. He then opens his newspaper (broadsheet size) and loses most of the middle pages on the floor, and of course, in the state he's in, he's never going to get them back together properly. We've no idea where he's heading to, but in his state if he falls asleep he's going to find himself at the end of the line by the time he wakes up........wherever that may be! Once we set off (just past midnight) we thought they'd dim the lights, but they didn't. We did fall asleep though, the travel pillows Jan had got sure did help in that respect as they moulded themselves to your head as they were filled with tiny polystyrene balls. I woke up properly around 5 am just as dawn was breaking over the countryside. Oh, and the guy opposite had already got off earlier. We couldn't help but notice that, as he fell over Jan's feet and made such a racket gathering all his stuff together. We arrive in Vienna just after six on a somewhat grey start to the day, but at least it's light. We walk into the city centre, which is about 2 kilometres from the station. It's nice and quiet and mostly deserted as people are just either starting to appear on their way to wok or are just finishing off tidying up the streets, making them nice and clean. Once in the city centre we can view some of the magnificent buildings which are all over this city. There is a cultural square which has numerous museums and the Parliamentary building too, all very impressive. The Fan Zone is a massive area slap bang in the middle of all this, of course it's closed at present, but even at this early hour there's activity going on as people are arriving to get the place ready for when it opens a little later.
We feel the first spots of rain so I put my SFC rain jacket on (to go with my SFC t-shirt I'm wearing for the occasion); it's the first time the coat has gone on since the day after I arrived last Monday. I needn't had bothered, as the rain stopped about ten minutes later. We take a walk around the ring road, which is a bit different from what we usually expect a ring road to be as this one passes most of the major sights of the City and half way round we find a place to stop and eat breakfast. After a leisurely break we get back on our sightseeing excursion and catch the underground to Prater Park, a large park and amusement area on the edge of the city. It has a rather large big wheel and we decide to go on it. The carriages are like little huts and can accommodate up to 12 people, but there's only eight of us in this one, so we have plenty of space to move around in and look at the views. There's a great view of the Ernst Happell Stadium, where tonight's game will be played, and we also dwarf the big dipper, roller coaster ride within the park. After a couple of hours there and some lunch we head back into the city and as you can imagine, it's pretty full now. Not just with the locals or people on holiday, but the place is swarming with footie fans. There's plenty of Poles about as well as German and Croatian fans, whose game kicks off before the Austria/Poland match. We do a bit more sightseeing and souvenir hunting then decide to head back to the station and put all our stuff in one of the lockers so we're not carrying everything around with us for the rest of the night. It's a lot more effort walking back to the centre this time as we try and dodge the people and make our way to the Fan Zone. Even though there's two hours to go before the first match is screened, the crowd is already building up. We wander around the site, which altogether has seven gigantic screens dotted about the place; part of it actually backs onto the rear of the Imperial Palace, which looks magnificent bathed in the evening sunshine. There's also a full size 'table football' game. You know, the one's where there are usually two of you on each side trying to score against the opposition. Well this one uses a full size ball and it takes two people on each handle to get the 'players' to kick the ball, it was fun to watch though as the fans from each country played against one another. We find a spot to stand and get ready to watch Germany against Croatia. Just as it's about to start a bloke comes up to me, and in his broad West Country accent say's "Are you from Sheffield?" Obviously the t-shirt helped advertise the fact. He was over here with his wife and some family members from Swindon! So we had a good natter and it transpired that they were actually going to the game tonight. Somewhere along the recent family tree they have 'acquired' a Polish relative and they'd all joined the Polish supporters club and got their tickets through the Polish FA!!! Anyway, once me and Jan had told him which exit to use to get out of here and which underground station and line to take (they would have to leave here at half time to get there in plenty of time) we said our farewells and got back to watching the game. It's a great atmosphere and even though Germany loses 2-1 Jan is still in good spirits and so are the majority of the supporters, even the German ones! We go for a walk round, which is not as easy now as there are over 50.000 people here, about the same amount who have actually got tickets for the game tonight! We're thirsty and decide to get a drink. We wanted to get a pint of shandy, which in German is Spatse, well, once we've got served and moved out of the crush we taste the drink, only to find she'd actually poured us two spritzers. So, with almost a pint of white wine each to drink, we just got on with it! It was certainly quenching the thirst and also making us hungry too, so we had a frankfurter each too. We had a walk in the official merchandise shop and then took our places at a different screen for the Austria/Poland game. There was a South Yorkshire connection here for me as the referee was Howard Webb, who comes from Rotherham. As it's now almost dark the atmosphere seems to go up a notch and it certainly is better for looking at the screen with no sunlight to worry about. Despite lots of pressure it's the Poles that go in at half time with a 1-0 lead, totally against the run of play. We need to make a quick getaway at the end of the game, so we decide to go for a walk during the half time break and take up a new position watching the rest of the game on a screen nearer to the exit we need to use. We're stood near some Polish supporters, who are of course enjoying the game, and as the time passes by and Austria fails to take yet another batch of chances they're singing away and waving their arms about, which normally would be okay, but when you've got a glass of beer in each hand, well, you can guess the outcome. No one takes offence though as they apologise for wetting the surrounding people. Somehow I couldn't see the English fans being so forgiving if it happened to them. With the game entering the final minutes, we decide to make a move, as we can still see the screen from the other side of the road on our way back to the underground station. There are already a lot of people making their way to the trains so we forego the last two minutes and are fortunate that a train arrives straight away, so we hop on and just under ten minutes later we're at Vienna's main railway station. We find out that the hosts scored in the dying seconds of the game to finish the game 1-1. The station is very busy as we await our train which is due to leave just after midnight. We didn't think the train would be that busy but it was very crowded and someone had even got the cheek to sit in our seats until Jan pointed out that we had booked them. There were a lot of German supporters who had obviously stayed in town after their match, and were now heading back to Munich. It's a little late leaving, but it doesn't bother us as we settle down after a very full day to try and grab some sleep. I sleep fit fully and wake up with the train stopped at Salzburg in the middle of an almighty electrical storm. Jan had been awake for a while and said we'd been stuck here for over twenty minutes. I go back to getting some shut eye, and finally wake up to a cool and damp morning as we head towards Munich. It's stopped raining by the time the train pulls into the station and it's running late, but we still have time to spare without rushing to get our connecting train to Nuremberg. It's already stood there waiting as we amble along the platform and once again, it's one of those 'bullet' trains I told you about earlier. Although it's only just past 6 am there are quite a few business people already on it, working away at their laptops. This could be because this train is going all the way to Cologne, so some of them may be heading there. Okay, it's not as quick as catching a plane, but it's still fast, quiet and very comfortable. They have a rolling destination board inside the carriage which tells you the next stop and when it's due to arrive. It also puts up other odd bits of information too. For instance, at one point it was informing us that we were travelling at 260 km/hr! We arrive in Nuremberg on time and we've got time to get some breakfast before our last leg of the journey. So we both get a coffee and a massive Danish pastry, and I also supplement my calorie intake with a ham sandwich, not bad for 8.30 in the morning don't you think? Oh, and guess what? I also bought a cheese sandwich to eat on the next train too! I've still got some film left in the disposable video camera Jeanie sent over to use up so I was taking an overall view of where we were eating and filming all the lovely food on display, but apparently filming is Verboten! As I found out - when the shop assistant started shouting at me. It was yet another smooth journey on the two hour trip back to Plauen. It looked like it had been raining quite heavy here, but we fell lucky as it had stopped when we arrived and all the summer storms over Germany that night didn't affect us as we were travelling all the time. There were one or two spits and spots as we walked back to the apartment, but that soon stopped. Once we got home we unpacked our rucksacks and had a welcome cup of Yorkshire tea, and then a well earned shower. Let's face it, since leaving here early Wednesday evening we've been out for just over 40 hours, thank God the trips aren't this long in the UniBond! It's been a wonderful adventure though and I'd do it again (and probably will at some stage.) The Women's World Cup is being held in Germany in 2011 so expect me reporting from over there when they're on too. Until next time.
Happy Travelling
Trev