Occasional Rants From Deano, The BTF Webmaster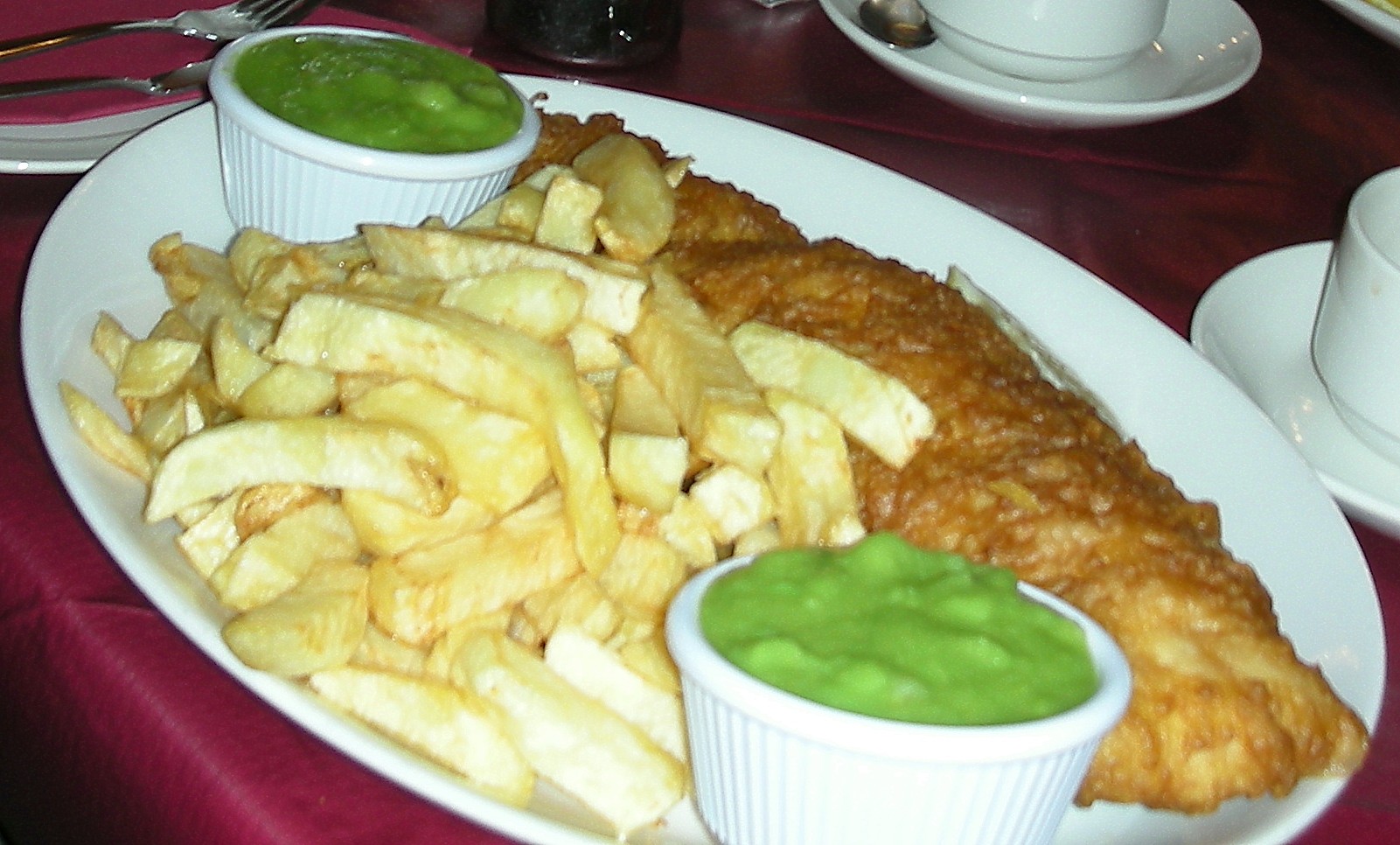 12/10/08 Well, it's the day after the amazing Guiseley comeback and after 11 years of following Club home and away I'm fast (or should that read slowly) arriving at the conclusion that watching Sheffield is not good for the health. I'm already on various medication for high blood pressure and cholesterol and yesterdays events could soon mean I probably need to double the dosage. When the equaliser went in it felt like my blood vessels were about to burst open so in a small way I'm almost glad we didn't snatch the victory at the death. I doubt the old ticker could have taken much more. But, in for a penny, in for a pound as they say. Harry Ramsdens was always considered to be special. Trips to Guiseley for fish and chips after a run out somewhere in West Yorkshire was always a nice way to finish the day. With the proliferation of Harry Ramsden takeaway outlets that have sprung up in the last ten years it probably doesn't have quite the same magical sound to it. Indeed I'd partaken of a portion of Harry's haddock and chips in Blackpool a few hours before our FA Cup tie at AFC Fylde a couple of months ago. Maybe there was a common denominator somewhere here. FA Cup ? Harry Ramsdens ? Who was I to buck the trend, purely in the name of superstition you'll understand, so into Harry's Guiseley restaurant John, Trev, Maz and I stepped. We were on a high, Harry's Challenge awaited. Not because I wanted to beat the challenge, no, simply because I wanted a giant fish ! It's not cheap but it's quality and it's still special.
So, what went wrong on Saturday ? Well, for 45 minutes we stood back, gave Guiseley space to play, and play they did. I always understood when you were playing higher placed opposition away from home in a cup competition you needed to get in their faces, stop them playing and take your own chances when they came along. For 45 minutes we did the complete opposite. For me there was only one Man Of The Match, Leigh Walker. Without Walker it would probably have been more than 3-0 at the interval. He was solid again in the second half too. Without that platform there would have been no opportunity for a comeback. But, comeback they did. I felt Guiseley were starting to take the mickey a little, becoming casual in their approach and there's no better way of responding than attacking at will and running your opponents ragged. As with the second half against Bamber Bridge, we had THREE wingers on the pitch at the same time, popping up on both flanks and down the middle too. The home side couldn't cope and their apparent complacency was made to pay. The unbeaten Unibond Premier League side have now had a warning, and with it a second chance. Club also know they need to be at the races from the off or Guiseley will repeat their first half performance of Saturday. I'm just a little concerned that if we progress into the next round I may have to ensure somewhere in the equation that there is a Harry Ramsdens in the vacinity. Maybe I should book that Doctor's appointment now, just in case.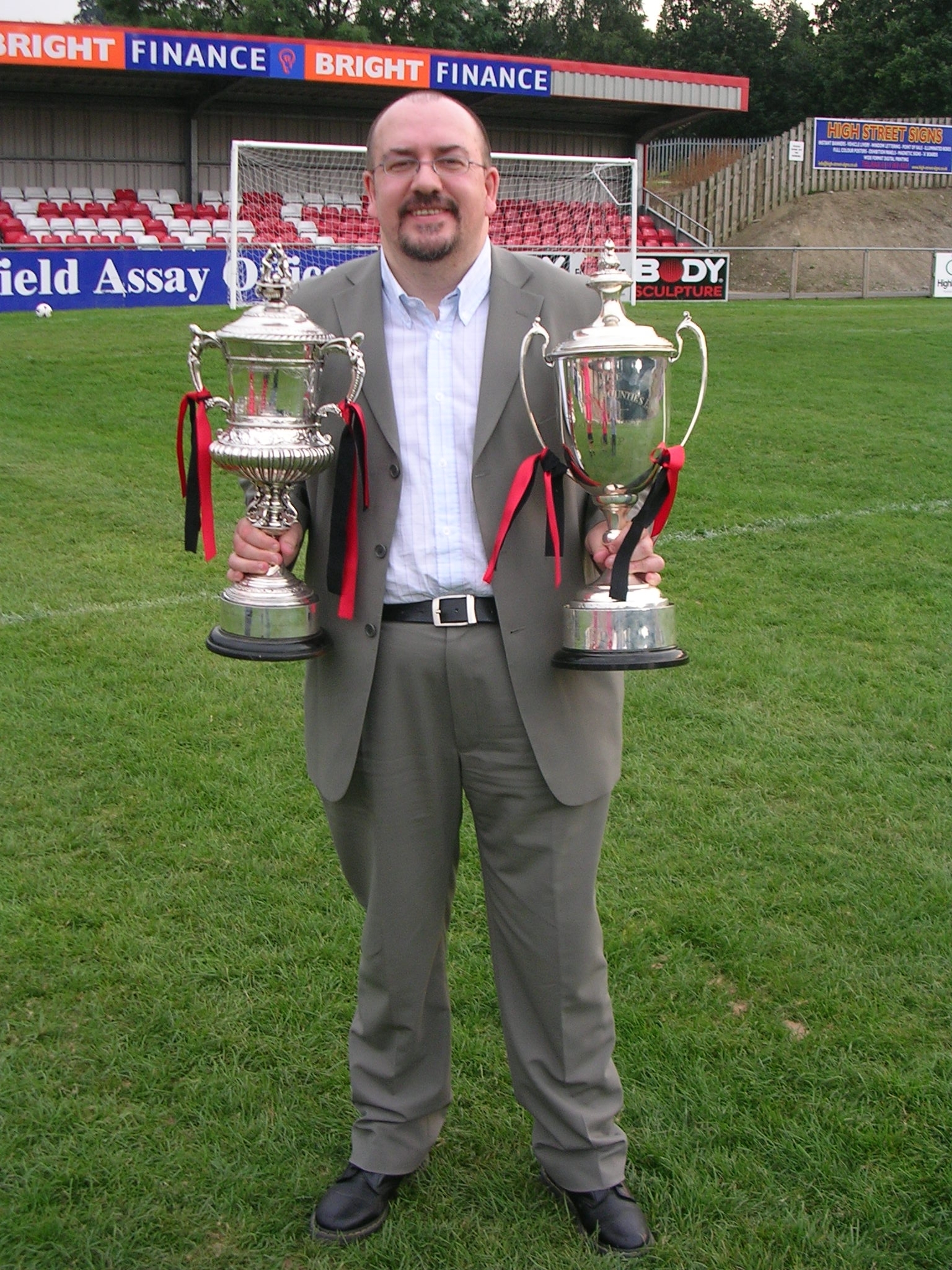 15/08/08 Here we go again. Another season of hope, dreams, anguish, excitement. I don't know about you, but the close season does seem to get shorter. Maybe it's down to having played so many friendlies, or maybe I'm just getting older. Either way the next nine months will, if we're in the promotion mix, either fly by, or if we're stuck in mid-table obscurity drag slowly along. We are of course entering a new era under 'Dolbs' and apart from the unusually entertaining pre-season friendlies we have little way at the moment of knowing what we have in store. It appears we're set to play with two wingers, and under Dolby he hopes his team will play 'fast open football'. Chris has been successful before at this level so he's hardly entering the unknown but we have several new teams amongst the group this season and most are going to be an unknown quantity. As I suppose Sheffield will be too under the new Manager.
So, thoughts turn to the potential title contenders. Chairman Rich asked me before the first ball was kicked last season who I thought would be up there. I said I could look no further than Retford, a side who were head and shoulders above everyone else, including Club, when they won the NCE Premier Division title. Last season they were still way out in front, but I thought it significant that in two league meetings Sheffield were able to compete with them and shared the spoils in both games. The only blot being the Presidents Cup clash. Most sides though did stumble against the Badgers, but what will be in store at Cannon Park in 2008/09 ? Having lost Neil Harvey and Mick Goddard would it be too obvious to say that they'll probably find it harder to score goals ? I hope I don't regret that comment when we meet them. However, I think they'll have a larger share of tighter games this coming season, and whilst they'll still be in the mix maybe they won't be so far out in front as they have been in the last couple of years. Stocksbridge have been finding their feet slowly under their new Manager and I think their prospects will depend on whether they can maintain last seasons momentum. I think they probably will. Grantham worry me. They took time to find their feet following relegation but once they did they started to look quite solid and snuck into the play-offs. Expect more of the same from them. As for the others, it will depend on how quickly all the new boys find their feet and who amongst them are the most ambitious. I'll reserve judgment on all of them although I do know that on any given day every team will be capable of beating any other in this division. Sheffield ? On the better pitches I would expect Club to be too hot to handle. Powell and Goddard were certainly looking a good combination in pre-season. But as we all know not all the pitches are good, so it may well depend on how we adapt as winter approaches, when there will probably be a need to grind out a result on occasions.
Gresley should be very interesting tomorrow. They're a side more than capable of turning it on but after a superb 3-0 win there last season we may very well be expecting more of the same. 'Dolbs' said he expects us to challenge for a playoff spot. I'd like to think we can aim higher than that. I hope I'm thinking similar thoughts at 4.50 tomorrow !
09/08/08 It's strange how things connect in football. Most of the people at the club who know me will know about my previous links with Scarborough. That link being my cousin, who having finished his playing career at Scarborough (under Neil Warnock), became Assistant Manager to Colin Morris, eventually becoming Manager there in his own right. I'd always watched 'our Raymond' at the majority of his clubs, including Chesterfield, Halifax Town, Swindon Town and Barnsley.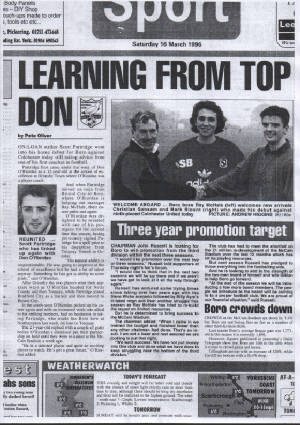 So, when I stopped watching the Blades I decided to follow Scarborough with the aim of seeing what football was like at the bottom end of the league ladder. The short spell that Sheffield United spent in the basement division had shown me very little of the survival struggle endured by many clubs. Watching the Seadogs struggle along with gates of between two and three thousand was certainly an eye opener, but I digress. This is where we encounter the latest connection. Early in 1996 with no funds available to buy players, Scarborough had to wheel and deal in the transfer market and use the loan system to full advantage. One such loan deal involved a young striker with great potential with pace and what looked to be an eye for goal. That player was Scott Partridge. Scott only played five games for 'Boro and I can't remember why he left, whether the loan ran out but certainly Scarborough were in no position to buy him. I rarely bought the local evening newspaper but I did buy one copy and it was on the weekend that Scott moved to the McCain Stadium. I actually kept that paper (sad but true) and when I heard Scott was to sign for Club I dug out that paper which included a picture of our new striker, but with hair ! I've reproduced that page on the right (click on the image to enlarge). Strangely enough one other player from the Scarborough side of that time, Jason Rockett (a class act in defence), is now the Chief Executive at Sheffield United. I wonder where our footballing path will take us in another twelve years time.
19/7/08 Well, our first 90 minutes is out of the way and we were certainly feeling it towards the end of the Barnsley friendly. Aching legs, feet and limbs aplenty, but then isn't that what these pre-season games are all about ? Conditioning the body and toning the muscles ? Heaven only knows how the players felt but we were certainly feeling it.
Football must be in the blood I suppose. My Uncle played 279 for the Blades (whisper it quietly, they signed him from Hallam !) whilst my Cousin also had a spell when he pulled on the red and white striped shirt and at one point was even captain. He also had the distinction of being purchased by Brian Clough, but that didn't last too long. For my own sins, it was back in 1966-67 that I had my first 'full' season of watching footie. Before then it had been the odd game now and again but my Dad took me to most of the Sheffield United home games the season after England's World Cup glory. I don't remember a lot about that season, apart from having my brand new red and white bobble hat snatched off my head on my birthday by a Leicester City fan. No segregation back then and my trip to the loo behind the Kop at half time proved disasterous. For some reason my Dad ended up blaming me, with a quick smack on my backside. Never quite worked that one out ! The following season I managed to get to all the home games, and to the Hillsboro' derby. I wasn't much of a lucky mascot though as the Blades were relegated - the first season they ever wore white shorts. I had to wait until season 1986-87 to manage every game home and away, finishing at Portsmouth on the day Alan Ball led Pompey to the second division title. United won of course, and we were lucky to escape alive that day and fortunately the presentation of the trophy distracted the encroaching home fans long enough for the police to shepherd us out of the ground and away. It was looking dodgy at one point though. But every season it's always tough for those first few games, standing up for two and a half hours can be hard work, especially if there is little happening on the pitch to distract you - which can be more often than not !
The Barnsley game had quite a bit to keep us interested though. First we were able to take in the new ground alterations which have gone quite some way towards making the ground look a lot neater. The pitch looked superb, but then again with Sheffield Utd Reserves playing their home games at The Coach and Horses this coming season it will need to look, and play, good, and for most of the coming nine months too. The team itself had a few new faces in there, with Mick Goddard looking particularly useful upfront with some well placed aggression added to the front line. I wonder if the luxury of two wingers will be suited to the Unibond First Division. I suppose if anyone knows it's Chris Dolby, having played many a game there himself. The prospects of a few goals this season along with some entertaining football appear to be quite high. Will it be enough to get us promotion ? Well, after so many seasons in the NCE I suppose we should all be simply grateful for the higher standard of football we're watching. I can't help being greedy though. The lads did well last season and it was exciting to the end. The Sheffield Senior Cup win helped soften the blow of promotion failure, but with the progress being made around the place surely there was never a better time for the team to step up to the mark and do the business on the pitch. The Dolby era is a new and unknown quantity but what better way to enhance your credentials than by taking the club to greater glory. No pressure then Dolbs !!!!